Monday, March 16, 2009
Progress Notes
This week I want to feature another in the series of Miller County physicians, Dr. George Washington Lansdown (photo 01).
Dr. Lansdown was one of the first physicians in Miller County to have a Medical degree having arrived here in the late 1830's (some believe he was the first Miller County physician). His influence was such that he is given credit by the authors of the Goodspeed History of Miller County (1889) as being the one who chose the name for Spring Garden, the town where he first settled. But Dr. Lansdown also was somewhat of an entrepreneur having a general merchandise business in Olean for awhile and also was known as a person who moved around quite a lot. Not only did he live in Spring Garden and Olean but also for several years he resided in Tuscumbia and Iberia. In fact, he lived a few years in Cole County where in approximately 1840 he built a home which is still standing. This home now is on the National Historic Register at this address: 5240 Tanner Bridge Road, Jefferson City Mo., Zip Code 65010.
I had some difficulty initially researching Dr. Lansdown's history, for one reason because he lived so long ago. However, his granddaughter, Dorothy Lansdown (photo 02), who passed away about a year ago, was a well known school teacher in the area, first in a number of one room school houses in Miller and Cole County and later in Eugene and Jefferson City.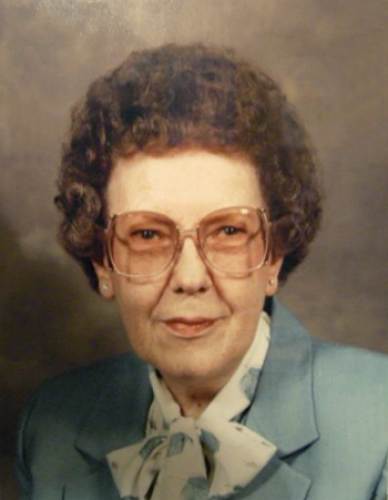 02 Dorothy Lansdown
One of our Miller County Historical Society board members, Betty Kallenbach, had known her since they had crossed paths occasionally, both of them being teachers. Betty put me in contact with Bertha Busch of Hickory Point who had been a good and close friend of Mrs. Lansdown, and Bertha gave me informational items such as Dr. Lansdown's biography from Goodspeed's History of Miller County and his obituary.
Mrs. Lansdown had taught in Cole County for fifty years, Betty told me, and was considered an excellent teacher. Mrs. Busch told me that Mrs. Lansdown spent most of her early life on a farm near the Highway 17/54 Junction and that the home is still in excellent shape. I took a picture the other day of the home (photo 03).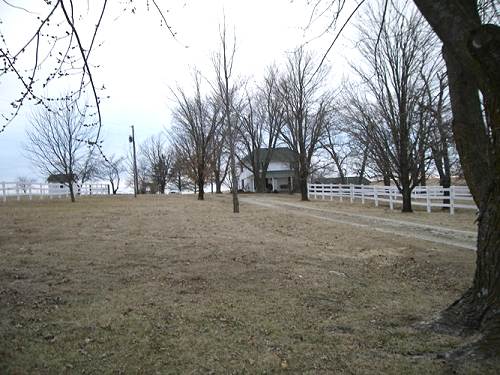 03 M. Waller Lansdown Home
I was told recently by Alan Wright (author of Murder on Rouse Hill) that his father, Garsy, used to perform carpentry work on the home for Dorothy's father, Waller Lansdown. As noted above, unfortunately, Mrs. Lansdown passed away a little over a year ago so I was not able to meet her. Here is her obituary (photos 04, 05 and 06).
The Goodspeed History of Miller County has a biography of Dr. Lansdown which is interesting since it was written in 1889 while he was still living. I will copy it here:
Dr. George W. Lansdown, a retired farmer and physician residing in Saline Township, was born in Virginia, April 22, 1814, and is the son of Johnson and Sarah (Motley) Lansdown, natives of Virginia. The father was a farmer and merchant by occupation, and lived the principal part of his life in his native State. He died in 1838. His wife died in the same State in 1858. Dr. George W. Lansdown was educated in the district schools of Virginia, and later attended the Red House College of North Carolina, a noted school at that time. He finished his course in 1831, and the next year went to Philadelphia, where he entered the Pennsylvania Medical College, graduating from that institution in 1833. He then came to Jefferson City, formed a partnership with William Bolten, a graduate of the same college, which partnership continued for two years. In 1838 Dr. Bolten, Dr. Lansdown and a Mr. Dixon formed a partnership, and Dr. Lansdown came to Spring Garden and started a store. He named the place "Spring Garden" in commemoration of his home in Virginia. Dr. Lansdown was married in Jefferson City February 24, 1835, to Miss Mary Dixon, a native of North Carolina and the daughter of Warren and Elizabeth (Moore) Dixon, both natives of North Carolina. Her father was a farmer by occupation and after the death of his wife came to Missouri in 1832, and settled in Cole County. He entered a tract of land, improved it, and here died in 1860. In 1835 Dr. Lansdown settled and named Spring Garden, followed farming, and in connection with his store practiced medicine. He was a resident of Miller County when it was organized, it being named in honor of Governor John Miller, then acting governor. The county seat was named Tuscumbia by brothers John Brazil and James Pryor Harrison. The doctor remained in Spring Garden for a number of years, after which he sold out and moved to Cole County, thence to near Tuscumbia, remaining there about fifteen years, then went to Iberia, where he remained about ten years. Mrs. Lansdown died at Mount Pleasant February 20, 1846. By this union were born five children…
Note: Clicking on the highlighted names of the children will bring up a PDF document showing their State of Missouri issued Death Certificate.
Sarah Elizabeth, wife of L.A. Lambert, who is a banker in Kansas City; Orilla Louisa, resides in Cole County; Warren J. married, and resides at Butler, Bates County, Missouri, who is a doctor and druggist, and owns the Arlington Hotel; Ann Motley, wife of Mr. Ward of Cole County, Missouri; and Mary Alexander, widow of Mr. Fletcher, and now resides in St. Louis, Missouri.
Dr. Lansdown was married the second time in Miller County, in June, 1848, to Miss Eliza Tennessee Taylor, a native of Tennessee, and the daughter of Baily W. and Delilah (Austin) Taylor, natives of Tennessee. Her parents were married at Nashville and the father was a blacksmith and farmer by occupation. He immigrated to Miller County, Missouri in 1837, entered a tract of land in Saline Township, and soon became the owner of 600 acres of land. He died here in 1860. His wife is still living, and resides with her youngest son near Olean. Dr. Lansdown moved to his present residence in 1878, bought an improved farm, on which he continues to make improvements, and is now pleasantly situated. He has taken an active part in politics, and votes with the Democratic Party.
To his second union were born these children: Alcena, wife of Mr. Burks, and a resident of Richwoods Township; Emily, now Mrs. Atkinson; William Baily, Robert Lee, Mattie, Milton Walter, and Lila.
---
Mrs. Busch also found in the papers of Miss Lansdown the following obituary regarding her grandfather:
Obituary: Unknown Publication, 1900
Dr. G.W. Lansdown, an aged respected citizen of this community, passed away last Saturday at the advanced age of 86 year. Dr. Lansdown had been very feeble for a number of years and for the past two years had been unable to leave his home. He was born in Virginia, April 22, 1814. He was educated at Red House College of North Carolina, and a graduate of the same college. In 1838 he came to Spring Garden, this county, and started a store. It is said that he named the place Spring Garden, in honor of his Virginia home. He remained in Spring Garden a number of years, afterward living near Tuscumbia about 15 years, and at Iberia about 10 years. He moved to the present homestead in 1878.
Dr. Lansdown was married twice; the first time to Miss Mary Dixon of Jefferson City, in 1835. She died at Pleasant Mt. Mo., in 1846 leaving a family of five children. He was married the second time in 1848 to Miss Eliza Taylor, who survives him. To the latter union were born eight children, Alcena, wife of Mr. Burks of Richwoods Township, Emily, wife of John Atkinson of Spring Garden, Baily W. Lansdown, a prominent merchant of Centertown, Mo., Robert who died in California some years ago, Mattie, deceased, Joseph C., Walter and Lila, the latter three at home.
Funeral services were conducted by Elder E. Wilkes at the Christian Church in Olean on Sunday afternoon, after which the remains were laid to rest in the cemetery west of town.
Mrs. Busch told me that although Walter, father of Dorothy, was really named Waller, as it is written on his death certificate, for some reason, he was locally known as Walter, not Waller.
---
Clyde Lee Jenkins, noted Miller County Historian (photo 07), wrote an article about Dr. Lansdown as part of a longer narrative on the Dixon family of Miller County which I will copy in a later edition of Progress Notes.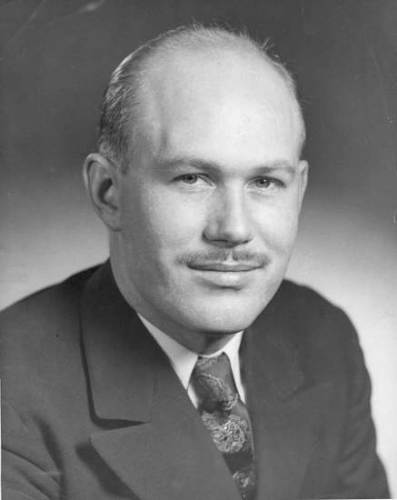 07 Clayton Jenkins
The significance of Clyde's article is that he supports the belief that Dr. Lansdown was Miller County's first physician and also confirms that he was a supporter of the Southern forces in the War Between the States. It was from Clyde's research that I found the photo of Dr. Lansdown copied above. Here is Clyde's article:
Dr. George W. Lansdown
Clyde Lee Jenkins
Miller County Autogram Sentinel 1973
This venerable gentleman was Miller County's first known physician. He commenced the practice of his profession at Spring Garden before Miller County was organized as a governmental unit. His parents, natives of Virginia, were Johnson Lansdown, who died in 1838, and Sarah Motley, who died in 1858. Johnson Lansdown, a Virginia merchant, was also a gentleman farmer during his lifetime.
George W. Lansdown, born on April 22, 1814, attended the district schools in his native state then, when of age enough, entered the Red House College in North Carolina, from which he was graduated when 17 years of age. The following year he entered the Pennsylvania Medical College in Philadelphia, and was graduated, with honors, when 19 years of age.
The following year, having emigrated to Cole County, Missouri, he entered into a partnership arrangement with a relative and alumnus of the Pennsylvania Medical College, Dr. William Bolton of Jefferson City. On February 24, 1835, Dr. Lansdown was married to Mary, a daughter of Warren and Elizabeth (Moore) Dixon, and in the same year, moved to the Spring Garden settlement in Southwestern Cole County (this was before Miller County had been chartered) where he practiced his profession while a partner in the firm of William P. Dixon and Company.
Dr. Lansdown remained at Spring Garden until 1840, then after having lived in Cole County a short time, moved to Mount Pleasant, where his wife, Mary died on February 26, 1846. They were the parents of five children, Sarah Elizabeth, Orilla Louisa, Warran, Ann Motley, and Mary Alexander.
In June, 1848, Dr. Lansdown was married to Eliza Tennessee, 14 years of age, a daughter of Bailey W. and Delilah Austin Taylor of Miller County. They moved to near Tuscumbia, and later, were at Iberia about 10 years. He also practiced a short time at Linn Creek.
Dr. Lansdown, a strong Jacksonian Democrat, was active politically. He supported Senator Douglas in his bid for the presidency in 1860. He upheld the Confederacy during the Civil War, and because of his strong stand, his home in the Big Richwoods was put to the torch in the decade of rage and passion following internecine conflict. He then moved to Saline Township, where he lived and practiced his profession until his death on June 9, 1900, at Olean.
Dr. Lansdown and Tennessee Taylor were the parents of eight children, Alcena, Emily, William Bailey, Robert Lee, Mattie, Milton, Waller, and Lilia.
Note: Waller was the father of Dorothy Lansdown, the teacher to whom I referred above.
Eliza Tennessee died on December 17, 1909, in the 75th year of her lifetime, at the home of her daughter, Mrs. Lila Walker, in Spring Garden.
Few men ever served their profession more honorably than Dr. George W. Lansdown, one of Miller County's earliest settlers, and first known physician.
(The author is indebted to Dorothy Lansdown, and her mother, Margaret S. Lansdown of Jefferson City, for the picture of Dr. George W. Lansdown.)
---
Our website has a couple of references to Dr. Lansdown:
"The first general store in Miller County was started in 1832 near Spring Garden by Lansdown & Dixon."
http://www.millercountymuseum.org/moreoldnews.html
Also at another site reference is made to the store Lansdown started in Olean:
"Lansdown and Currence general store in Olean"
http://www.millercountymuseum.org/communities/olean.html
Another reference I found in the Missouri State Archives:
Missouri State Archives
Missouri's Union Provost Marshal Papers: 1861 - 1866
Cole County
Jefferson City
1210-1861
"Certification from William Bivetrong (?) and John H. Burrows that they know Dr. Lansdown to be a civil man who is traveling to Jefferson City to take the oath. Lansdown wants to go home in peace."
This entry would be indicative that Lansdown, being a known southern supporter, had to officially declare his loyalty to the Union before suffering penalties and loss of voting rights.
The obituary of Dr. Lansdown indicates he was buried near Olean:
"Funeral services were conducted by Elder E. Wilkes at the Christian Church in Olean on Sunday afternoon, after which the remains were laid to rest in the cemetery west of town."
However, I was not able to find his tombstone in the Olean Cemetery west of town, the only one I know of in that immediate area. Because he was buried in 1900, perhaps that was a long enough time for the tombstone to have deteriorated and been lost.
In addition, David Statler, our webmaster, has found this Rootsweb genealogical study pertaining to Dr. Lansdown on the internet:
http://wc.rootsweb.ancestry.com/cgi-bin/igm.cgi?op=GET&db=lb72&id=I0086
Otherwise, we have very little information on our website about this once well known physician of Miller County. However, the National Historic Register website gives an abundance of detail about Dr. Lansdown in reference to the home he built in Cole County and you can read that here:
http://www.dnr.mo.gov/shpo/nps-nr/99001311.pdf
The significance of the Lansdown House (photo 08) is that it was for the times and area quite large and architecturally interesting.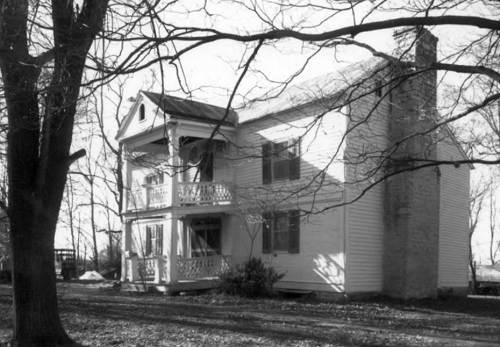 08 Lansdown Home
Even though Dr. Lansdown did not live in it for a very long time after he built it, his name has always been associated with it. As noted above, he seemed to be a man who wasn't particularly attached to any one location although most of his life was lived at one place or another in Miller County. The description of the house and its architectural significance is best described by the narrative located on the above cited website. Because the narrative discusses in some detail the architectural styles and designs of the larger homes first being introduced into this area of Mid Missouri in the early to mid 1800's I thought it might be of interest to some readers, so I will copy pertinent history and architectural details here from the website cited above. The narrative gives quite a bit of attention to two early styles of homes; the dog trot design and the L house. I have previously discussed the dog trot house design in earlier Progress Notes as well as the fact that we have a dog trot facade on display in our museum. Basically, this house design could be described simply as two one-room log houses with stone fireplaces having a roofed breezeway between them.
The L house design hasn't been discussed before so you might want to refer to this website to read more about it before going on to the narrative which follows:
http://www.architectureweek.com/2008/0102/culture_2-1.html
Some readers may not be that interested in a prolonged discussion of the historical architectural importance of the Lansdown home and may want to scroll through this portion of the narrative. However, I thought it was important to record the information on our website because not only was Dr. Lansdown Miller County's first physician but also he has received recognition for his architectural taste by the acceptance of his home on the National Historic Register:
SUMMARY: The Lansdown-Higgins House, 5240 Tanner Bridge Road, Jefferson City vicinity, Cole County, is significant under Criterion C in the area of ARCHITECTURE (photo 09).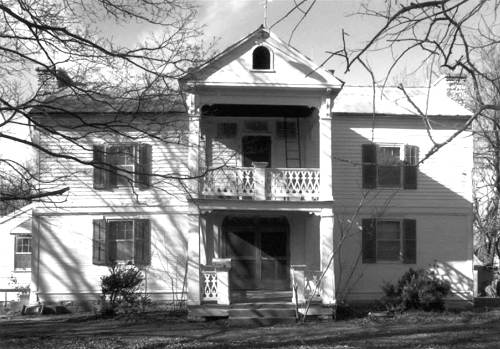 09 Lansdown House - Front
The central passage l-house was originally constructed as a log dogtrot, probably between 1837 and 1842. By 1854, but perhaps as early as 1842, the house had assumed its present form and style, with its impressive two-story Greek Revival portico and other modest Greek Revival detailing. In Missouri, the l-house form was among the most common of house forms from earliest settlement into the early twentieth century, while the Greek Revival style was the most popular style for domestic architecture from the 1830s through the 1860s. The exterior of Lansdown-Higgins House clearly reflects the Greek Revival style with its two-story pedimented portico supported by square Doric columns and rear pilasters, multipane transoms, correct windows, tiny attic windows suggestive of Tidewater examples of the style, and symmetry. A small rounded window in the tympanum above the portico may suggest a Federal or Early Classical Revival influence but neither style is developed.
Overall, the Lansdown-Higgins House stands out as a particularly good early example of the Greek Revival style in Missouri, especially as applied to a folk form. While its Tidewater design was the product of a Southern building tradition, the house was acquired in 1854 by German immigrants whose descendants apparently saw no need to make basic changes. Except for an enclosed gallery and a one story addition, the house today appears much as it did in the mid-19th century, inside as well as out. Also, the hewn square logs that formed the dogtrot or crossover are boldly displayed in the unplastered upstairs hall. The period of significance is from circa 1837 to circa 1854, representing a likely time frame for the property's original construction as a log dogtrot house through its metamorphosis into a central passage I house. While two associated agricultural properties from the same time frame are nearby, for various reasons only the house is being nominated.
The Lansdown-Higgins House (photo 10) exhibits integrity of design, materials, craftsmanship, workmanship, feeling and association.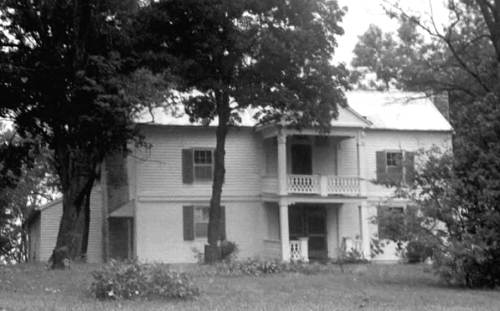 10 Lansdown House - Front
ELABORATION: The Lansdown-Higgins House is on land originally entered by members of the Skidmore family in the early 1820s, when Missouri's statehood was new and the population of Cole County barely topped 1,000. While the date of construction is unknown, Sommerer family tradition considers Dr. George Washington Lansdown, who migrated to Missouri from Virginia, as the most likely builder of the dogtrot house and possibly of the l-house conversion as well. From 1836 through 1840, Lansdown purchased the Skidmore land and some additional acreage at the base of and within a great bend in the Moreau River, a usually shallow tributary of the Missouri River. If the makeover from dogtrot to l-house was not initiated by Lansdown, another likely candidate was Joseph Higgins, a wealthy farmer who owned the property from 1842-50."
In 1833, Lansdown came to Jefferson City, Missouri, where he formed a medical partnership after graduating from the Pennsylvania Medical College at Philadelphia. Lansdown's partner apparently was William Bolton of North Carolina. The two are said to have met at medical school and Lansdown's sisters, Sara and Mary, married William and Walter Bolton, respectively, in 1832 before coming to Missouri. In 1835, Lansdown married Mary Dixon of North Carolina and settled in what became the town of Spring Garden a few miles southwest of the Lansdown-Higgins House. Lansdown is said to have named the town in memory of his Virginia home, Spring Garden, and to have opened the area's first store, farmed and practiced medicine there before purchasing the land on which the Lansdown-Higgins House stands.
According to Sommerer family tradition, Lansdown borrowed money from the Boltons and from his wife's brother Warren Dixon and had the house, known simply as the Lansdown House, built in 1840, perhaps with slave labor. Unfortunately, whether "built" means constructed from the ground up or something else is unknown. Pioneers had of course erected log houses in Missouri since the earliest years of settlement, but the tradition of log construction persisted well beyond 1840. The farm, meanwhile, had grown to 360 acres. By the early 1850s, however, Lansdown is said to have relocated to Tuscumbia in Miller County.
In 1842, Lansdown sold the acreage to Joseph Higgins who continued the development of its agricultural potential. In 1850, Higgins-married to Ellen Dellinger in 1848-harvested 500 bushels of Indian corn which was considerably more than needed for his few animals, as well as 200 bushels of wheat; he clearly produced for the cash market. The farm, by this time consisting of 440 acres with 150 acres improved, was valued at $2,000. Higgins valued his implements at $50 and his livestock-three horses and two milk cows-at $70. Animals slaughtered for personal use were valued at $60.
Although Higgins owned 33 slaves in 1850, only three of them were adult males and most were children. Later in 1850 Higgins sold the farm to William Riggins, who operated a mill in Jefferson City. Riggins, also a slave-owner, kept the farm only four years before selling it to Simon Kerl, a native of Germany who came to the United States with his parents in 1838, at the age of nine. The family of Adam J. Kerl settled at Osage City, east of Jefferson City on the Osage River. While it is possible that Riggins sided and otherwise elaborated on the house, rather than Lansdown or Higgins, there is no suggestion of this in a house and family history, "The Sommerer Home," written by Harold J. Sommerer and Jack Kaufmann. Riggins died while serving in the Confederate Army. Slave dwellings undoubtedly existed on the property before the Civil War but no record of their type or location on the farmstead has survived.
The purchase of the property by Simon Kerl in 1854 marked the beginning of a long period of German ownership by the Kerl and Sommerer families, which continued until 1996. Kerl was well-educated. After graduation from the University of Missouri in 1851, Kerl taught school in Jefferson City and New York. Later he received a master's degree from Washington University in St. Louis. Kerl's accomplishments included serving as a presidential secretary in the administration of Abraham Lincoln during the Civil War and, later, writing school texts, poetry and other books with titles like Kerl's Grammar. Kerl's Speller. Kerl's Arithmetic, and The Secession of Virginia. Although details of Kerl's experiences and duties as a presidential secretary are unavailable, Kerl-authored books still exist and copies were intact in the house itself until a few years ago.
While Kerl was in Washington and her own husband was on duty with the Union Army, Mrs. Heinrich Goetz-Kerl's sister-lived in the Lansdown-Higgins House. During the war, Confederate forces are said to have camped on the front yard while scavenging in the neighborhood. After the war Kerl returned to the farm and, in 1868, married Katherina Maria (Mary) Sommerer whose parents Mathias and Rosina Duenkel Sommerer lived just half a mile away. The Sommerers had immigrated from Bavaria in 1842. Despite his other talents, however, Kerl apparently was not a very good farmer and his name is missing from the agricultural census for 1860. Two of his wife's brothers, John Adam Sommerer and Mathias Sommerer Jr., are said to have taken care of the farm after Kerl married into the family. Unfortunately, the relevant agricultural census is either incomplete or out of place for 1870, at least on microfilm, so information about production on the farmstead during Kerl's ownership is not readily available. However, the farm increased in size during this period, to 640 acres.
Simon Kerl died in 1876, leaving his wife with a seven year old son, Thomas Theodore. Maria Sommerer Kerl married Simon's half-brother Markus Kerl soon after her first husband's death. But Kerl's management skills were inadequate to offset the drought, grasshoppers and unstable crop prices that plagued area farmers in the late 1870s, and by 1879 the family's debts had become overwhelming. When the farm was auctioned at the Cole County Courthouse, the successful bidder was Mathias Sommerer, Maria's father, who bought the farm for his two sons. Mathias Jr. received the western half and John Adam received the eastern half containing the Lansdown-Higgins House.
In 1881, Maria and Markus had a son of their own, Irving Kerl. When Maria died years later, Markus married her cousin Barbara Sommerer, a daughter of Mathias' brother John Sommerer, thus continuing a pattern of intermarriage which was common among German immigrants who settled in Missouri. A 1914 Cole County atlas depicts the Sommerer farmstead surrounded by farms belonging primarily to German families.
John Adam Sommerer took possession of his portion of the farmstead, 310 acres including the farm nucleus containing the house, sometime in 1879. He and Anna Ziegler, married in 1880, had eight children. The northwest addition and enclosed gallery may already have been in place, but if not they almost certainly were high priority items to accommodate such a large family (photo 11).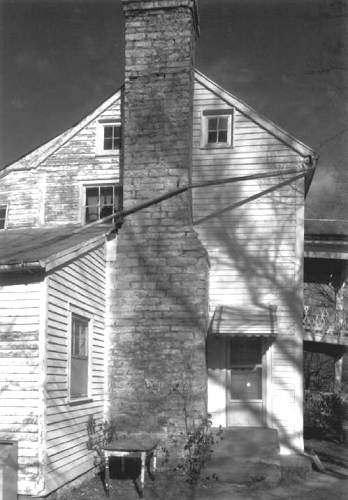 11 Lansdown House - End
Sommerer and Kaufmann also note that "John and Anna and their four sons and three daughters put more work into their half of the farm than had ever been done. They cleared more and more land for pasture." Under Sommerer's management, production was diversified but the farm was clearly involved in a market economy while providing most of the family's own food. According to the 1880 agricultural census, Sommerer owned 50 sheep and 50 swine, along with horses, mules, cows and poultry. Fifteen acres of Indian corn produced 600 bushels, more than enough for animal food. Thirty-five acres of wheat produced 600 bushels, most of which was probably sold since wheat was not generally fed to livestock and white flour was readily available and preferred for baking purposes. Surplus potatoes, fruit and eggs would also have been sold.
In 1889, a biographical sketch of John Adam Sommerer stated in part: "Mr. Summerer [the family name was temporarily anglicized] has a fine farm of 350 acres, with 125 acres well improved and well cultivated. He has good barns, out-buildings (photo 12), and has an unusually nice frame building as a residence.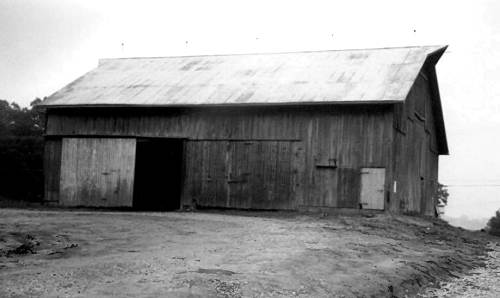 12 Shed
He is a Republican in politics, and is a member of the Lutheran Church, as is also his family."
After Sommerer died in 1927, a son, Fred J. Sommerer, purchased the estate from his siblings. He lived there with his wife, Emma Celesta Kaufmann, and sister, Maria Sommerer. Fred J. and Emma Celesta's son, Harold John Sommerer, born in 1932, inherited the property in 1972. He lived in the house, modernizing it only to a limited extent, and operated the farm until his death in a car accident in 1996.
According to Sommerer and Kaufmann's monograph (completed by Kaufmann), Sommerer "didn't like modern gadgets and didn't like to part with anything from the past. He had a TV and refrigerator and freezer but those were the main luxuries he allowed himself to enjoy."
From all indications, the Kerls and Sommerers were essentially caretakers for the Greek Revival l-House that was fashioned from a dogtrot at some point prior to 1854, making only minimal changes during their long tenure of ownership. The original building was representative of what McAlester and McAlester call the Midland log tradition, the dominant form of pre-railroad folk housing in much of the eastern United States. Typically, Midland houses were single-pen, double-pen, saddlebag or dogtrot buildings with walls of massive, square-hewn logs. Round-log construction also occurred, but usually houses or cabins fashioned from round logs were expected to provide only temporary shelter. The dogtrot form, with two parallel rooms separated by an open breezeway with flooring, all under the same gabled or hipped roof, typically had one or more exterior end chimneys which reflected its Tidewater South antecedents. The rooms were of equal or nearly equal size, with doors either in the facade or facing onto the breezeway. One, 1 1/2, and two-story versions were constructed. Frame as well as log dogtrot houses were built, although of course only log examples were representative of the Midland tradition.
Sometimes, the dogtrot form resulted from an expansion of a single-pen house, and the open passageway became a focal point for family life. Dogtrot houses probably were built in smaller numbers than other forms of Midland log houses because of their somewhat greater complexity (there were more corner joints to cut), while the problems of constructing tall walls of hewn logs made examples of more than one story relatively uncommon.
Today the sheer novelty of the form makes it widely recognizable. Talbot Hamlin illustrates log construction in Missouri with a photograph of a dogtrot house.
The Lansdown-Higgins House apparently began as a basic log dogtrot house with an open breezeway and an upper half story, bracketed on the ends by massive exterior chimneys. Whether facade entrances in the original pens became the present windows or whether the doors simply faced onto the breezeway, as they now face the central hall, is among the house's secrets. The application of weatherboards improved the sealing of the walls against drafts while, perhaps, making the house appear more civilized, more up-to-date. But since it also obscured the house's log construction system, only conjecture is possible about some things without removing sheathing.
For now, what can be learned about the house's log frame is generally limited to what can be seen on the inside. Fortunately, the texture of the hewn logs and their chinking is visible under the staircase and throughout the upstairs hall, where the logs were simply whitewashed rather than plastered as in other areas of the house. While it is possible that the dogtrot originally stood a full two stories, it seems more likely that horizontal logs were added in order to elevate the roof to its present height when it was transformed into an l-house. On both inside walls, for example, the uppermost two logs stand out because they have little if any chinking compared with the lower walls. This, along with other details, seems to indicate a later stage of construction, with different standards.
At the second floor entrance, a transom and its flanking windows are somewhat awkwardly inserted into the gap between the top of the original wall and the log that became the new top plate. A stud wall bridges the gap at the opposite end of the hall.
How common it was to elevate the roof of a log house is unknown. In Folk Houses of the Bluegrass Clay Lancaster describes a two-story dogtrot house in Fayette County, Kentucky, which presumably was created in that form by elevating the roof several feet above its original position, propping it with vertical log sections. The assumption is that the roof of the Lansdown-Higgins House was lifted in a conventional manner with horizontal rather than upright log sections when the building was reworked into the form of an l-house.
How long the Lansdown-Higgins House existed as a regular dogtrot house before being transformed into an l-house is unknown, but such a conversion was not radical. The floor plan of the central passage I house is very similar to that of the dogtrot house. As McAlester and McAlester point out, problems with log-wall houses usually stemmed from expansions and additions. Since the four corner joints work as a unit to provide structural strength, interrupting any log wall would weaken the overall building. But for conversion to an l-house, it was unnecessary to disturb the corners (which, as partially viewed in the upstairs hall, appear to be V-notched). Elevating the roof by adding hewn logs or other structural members to the tops of the original walls must have been difficult but probably involved considerably less work than building an l-house from the ground up. Otherwise, the transformation mainly involved enclosing both ends of the breezeway while constructing entrances at both levels and covering the log walls with weatherboard.
Greek Revival was a popular architectural choice for Missouri builders of the period, and characteristic multipane transoms were incorporated above the entrances. The main Greek Revival element, however, is the two-story portico.
The l-house, a British folk form originally introduced in America during colonial times, was built in Missouri from the earliest days of settlement into the first decade of the 20th century. Tall, shallow l-houses-two stories, two rooms wide and one room deep set parallel to the road to create the broadest possible facade--became especially popular in the Tidewater South. Cultural geographer Fred Kniffen is credited with "discovering" l-houses in the 1930s while studying forms and patterns of folk housing between Louisiana and Michigan. Along with their essential attributes, Kniffen noted various chimney placements and floor plans and found l-houses constructed of brick, frame, stone and logs. Most l-houses were made of frame or homemade bricks. Only rarely were they made of stone or, like the Lansdown-Higgins House, logs.
Kniffen also made the connection between l-houses and affluence, noting that the l-house "early in its movement southward...became symbolic of economic attainment by agriculturists and remained so associated throughout the Upland South and its peripheral extensions." In fact, Kniffen could almost have been describing the Lansdown-Higgins House when he claimed that the basal structure of the l-house was "often a simple, one-story dogtrot house (to which) with economic affluence a second story was added and the whole structure weatherboarded." From its location atop a low hill facing Tanner Bridge Road and adjacent to a former stage coach route, the Lansdown-Higgins House, with its pedimented portico and massive exterior end chimneys, certainly offered impressive evidence of its owner's status to neighbors and travelers through the area. Typically, owners of the farm were well-to-do professionals such as Dr. George Washington Lansdown and Simon Kerl or substantial farmers like Joseph Higgins, William Riggins and Matthias Sommerer.
In Folk Architecture in Little Dixie. Howard Wight Marshall called central passage l-houses "the most significant single group of houses in Missouri." Among other things, Marshall's locally-specific research found that the main dwelling forms in Little Dixie-an eight-county region north of the Missouri River-were also the main dwelling forms of the Upland South. Both dogtrot houses and l-houses were among the forms noted. While Cole County was not one of the counties studied by Marshall in totality, its northern edge bordering the Missouri River (an area including the Lansdown-Higgins House) was within a peripheral zone of transition around the focus area of the study. Appropriately, all early owners of the land on which the Lansdown-Higgins House is located, including members of the Skidmore family who originally entered the acreage, were transplanted Southerners who presumably were familiar with the I house form from past exposure.
Like other folk houses, l-Houses were often enhanced by elements of whatever architectural style was in vogue. Missouri builders from the 1830s through the 1860s frequently opted for Greek Revival, and antebellum l-houses with Greek Revival features have been documented in many parts of the state. Numerous Missouri examples have been listed in the National Register of Historic Places.
Since 1997, contexts for the Greek Revival l-house property type have been developed for two Multiple Property Submissions from Missouri. Identifying Greek Revival features commonly found on Missouri l-houses include an elaborated door surround with transom and sidelights, cornice and other trim suggesting a classical entablature, gable returns or full pediments, pilasters and pilaster corner boards, an entry porch supported by square or rounded classical columns, six-over-six double-hung windows with prominent straight lintels, and symmetrical facades. These and various other Greek Revival attributes are cited by the McAlesters in their architectural handbook, A Field Guide to American Houses.
In the early 19th century, sympathetic feelings for Greece in its war for independence, combined with American democratic ideals, led to an increasing interest in Grecian architectural models that were being unearthed by archeologists. Greek Revival became a popular style in the United States after public buildings designed by William Strickland, Robert Mills, Gideon Shryock and others pointed the way.
In 1798, Benjamin Henry Latrobe's Bank of Pennsylvania was the first American building with a Greek order; in 1818, Strickland's Parthenon-like Second Bank of the United States was an early milestone of the style. Disseminated by pattern books and settlers from the Upland South, the style flourished in Missouri until the Civil War then fell out of fashion in the postwar years.
On the Missouri frontier, architectural compromises were common with high-style elements often greatly simplified or omitted. This is certainly the case with the Lansdown-Higgins House, which lacks some Greek Revival features ordinarily encountered in even the more threadbare examples. For instance, the house lacks such staples as cornice trim, sidelights, returns or pediments in the gables and pilaster corner boards, while its relatively plain interior probably is derivative of folk Federal, which preceded Greek Revival. Still, the exterior house clearly reflects the Greek Revival style with its two-story pedimented portico supported by square Doric columns and rear pilasters, multipane transoms, correct windows, tiny attic windows (as seen on Tidewater examples) and symmetry. While the cornice is uncommonly plain, what could be considered an entablature band between the floors across the primary facade serves a similar purpose, if perhaps inadvertently. A small rounded window in the tympanum above the portico may suggest a Federal or Early Classical Revival influence but neither style is developed.
Overall, the Lansdown-Higgins House stands out as a particularly good early example of the Greek Revival style in Missouri, especially as applied to a folk form. While the house is primarily significant for its architecture, its history also reflects a common settlement pattern in central Missouri. Following the migration of Anglo-Saxon family groups into Missouri by way of the Upland South in the early 19th century, immigrants from Germany arrived and established their own communities and close-knit groups. The Southerners brought a culture that included the possession of slaves, a plantation farming system, and perhaps a preference for the Greek Revival style of architecture. According to Russell Gerlach, settlers from Kentucky, Tennessee and Virginia dominated Missouri's oldstock American population from 1830-60.24 The Lansdown-Higgins House was constructed by a Southerner, perhaps Dr. George Washington Lansdown who migrated from Virginia and owned the property for several years in the 1830s and 1840s.
German immigrants possibly attracted to central Missouri by Gottfried Duden or another of the so-called resettlement authors acquired the house in 1854 and it remained in the same family until the untimely death of Harold Sommerer in 1996.
Today the house remains an intact, strongly vernacular representation of the Greek Revival style as applied to a central passage l-House on the Missouri frontier. Combining an impressive appearance (an imposing facade with a pedimented two-story portico) with primitive simplicity (plank doors and visible logs), the house exhibits a notably high level of integrity of design, materials, craftsmanship, workmanship, feeling and association. Evidence of the building's evolution from a log dogtrot house to a Greek Revival I house is at least partially revealed in the upstairs hall, adding interest. The one-story addition on the northwest was probably constructed at least a hundred years ago, and the gallery also was enclosed at an early date. Although construction of the addition and siding of the gallery probably occurred after the period of significance, their impact on the overall effect of the house is minimal. Ambience remains high, and the Lansdown-Higgins House is worthy of nomination to the National Register of Historic Places under Criterion C for Architecture.
REFERENCES:
- Andrews, Wayne. Architecture, Ambition, and Americans: A Social History of American Architecture. New York: Free Press, 1978.
- Brunskill, R. W. Traditional Buildings of Britain: A New Introduction to Vernacular Architecture. London: Victor Gollancz, 1981.
- DeBres, Karen Jean. From Germans to Americans: The Creation and Destruction of Three Ethnic Communities. Ph.D. dissertation. New York: Columbia University, 1986.
- Gerlach, Russell L. Settlement Patterns in Missouri: A Study of Population Origins. Columbia, Missouri: University of Missouri Press, 1986.
- Hamlin, Talbot Faulkner. The American Spirit in Architecture. The Pageant of America Series, Vol. 13. New Haven: Yale University Press, 1926.
- Howe, Barbara J. Houses and Homes: Exploring their History. Nashville: American Association for State and Local History, 1987.
- Goodspeed Publishing Company. History of Cole. Moniteau. Morgan. Benton. Miller. Maries, and Osage Counties. Missouri. Chicago: Goodspeed Publishing Co., 1889.
- Manuscript Census Schedules, Agriculture, Cole County, Missouri, 1850, 1860, 1870, 1880.
Manuscript Census Schedules, Slaves, Cole County, Missouri, 1850.
- McAlester, Virginia, and Lee McAlester. A Field Guide to American Houses. New York: Alfred A. Knopf, 1984.
- Noble, Alien G. Wood. Brick, and Stone: The North American Settlement Landscape Volume 1: Houses. Amherst: University of Massachusetts Press, 1984.
- Parrish, William A. A History of Missouri. 1860-1875. Columbia, Missouri: University of Missouri Press, 1973.
- Sommerer, Howard J. and Jack Kaufmann. "The Sommerer House." Handwritten manuscript, undated.
---
Last week we had the excitement of seeing the story of our Osage River Bridge being important enough to be highlighted on the cable TV news shows. I found an old article in the Miller County Autogram written in 1933 which gave the details of the construction of the old bridge now being replaced. So I thought it would be appropriate to copy it on our webpage this week:
Contract For New Bridge Was Let November 4, 1932
Miller County Autogram
Thursday, November 2, 1933 (photo 13)
Saturday, October 28, will go down in history as a memorable day for Miller County. It marks the passing of the toll system for crossing the Osage River at Tuscumbia, and links North and South Miller County into a bond of closer relationship. For three fourths century the river has been a dividing line; if not in aims and aspirations, it has been a barrier in a business way. While we hailed the completion of the suspension bridge in 1905 as a big event, and it was; yet modern times demand, with heavier vehicles, a more substantial structure. The elimination of toll bridges from our state highways, likewise, has been a demand of the times.
Back in 1921, the passage of Missouri's Centennial Road Law, establishing a great State highway system, and a bond issue for financing same, gave the first ray of hope for a free, modern bridge at Tuscumbia, since the Legislature designated two routes (route 17 and 52) as intersecting at Tuscumbia, and 17 crossing the river.
However, at that time, restrictions were placed on the building of bridges over navigable streams with the $60,000,000 bond issue. When citizens along Highway 17 realized that it would require more legislation to authorize the building of a bridge here, a meeting was held in Jefferson City before the Highway Department when the House of Representatives chamber was filled with business men from various towns along Highway 17.
That was about the time there was agitation for another bond issue to finish the system as designated and to build supplementary farm to market roads additionally. Mr. Cutler assured the delegation that an effort would be made to have the new law so read that money would be available for a bridge here, as well as over other navigable streams within the state. Then the $75,000,000 bond issue was voted.
Attorneys in the Department had some misgivings as to limitations along this line, and after many delays and anxieties, a meeting was held with the State Highway Commission. Attorney W.C. Irwin was employed by the County Court to take up the matter with the Department and get a decision from the Supreme Court determining the Department's authority. On October 9 last year, the long hoped for ruling came in an opinion handed down by Judge Henwood and concurred in by all Judges of the Supreme Court. The Court ruled favorably, the contract would be let immediately; and in keeping with that assurance, bids were received November 4th (less than a month after the Supreme Court made its ruling).
The contract was awarded to the Industrial Construction Company of St. Louis, which specializes in railroad bridges and has been operating extensively in Missouri, Illinois and Arkansas.
Fred L. Hunt, project engineer in charge for the State Highway Department, began staking off the location of the piers immediately, and during the week beginning November 20th, Captain L.H. Davis, general superintendent of the Industrial Construction Company, M. F. Longwill, vice president, and Edward Rives, timekeeper and purchasing agent, came out from St. Louis and began making plans for the work to start. Heavy equipment began to arrive about the first of December, and a number of men were put to work clearing the right of way. Work began immediately on a barge which floated a derrick used extensively in excavating for pier foundations, driving piling and executing much other work which had to be done from a boat.
Most of the work during December was of a preparatory nature, such as the assembling of equipment and material.
In order to give a further idea of the size of the job the following figures are given. The structure is 1080 feet in length. The main span, over the stream, is 400 feet long, supported by three piers, one in midstream and one at either end of the span. This span and the two 180 foot spans rest on rockers which take care of the construction and expansion of the bridge. 200 car loads of sand and gravel were used; 16 car loads of cement; 1,141,000 pounds of structural steel; 24,700 pounds of castings and bearings; 249,870 pounds of reinforcing steel; 2700 lineal feet of creosoted piling; 4345 lineal feet of gas pipe and hand rail.
Excavating required 1000 cubic yards of earth for piers; 7000 yards of rock, also 242 yards of dirt for backfill on the hill at the south approach; and approximately 3600 yards of dirt for the fill at the north end of the bridge.
The bridge piers are of the cylinder type, two columns, or barrels, to the pier. There are five piers of this type; then there are the two abutment and six piers of the square column type, two columns to the pier. The large pier at the south water's edge is 106 feet above Rock bottom; the middle pier approximately 89 feet high, and the pier at the north edge of the water 73 feet. Then there are two 180 foot spans and eight 40 foot I beam spans.
About the middle of January the driving of piling for supporting the construction tramway across the river was begun, and sheet piling was being driven for te pier at the north edge of the river. About the 10th of January A. J. Baker took charge as foreman and continued in charge until the first of October of this year, when the bridge was virtually finished. During February the work was greatly retarded by extremely cold weather. Excavating for pier No. 10, at the south water's edge began March 1. Much difficulty was experienced in preventing water from entering the cofferdam for pier No. 8, and delayed the job two or three weeks. The services of a diver were required to find and remedy the difficulty. The foundations of the three main piers are 35 feet below the surface of the water.
The first structural steel was placed in position May 1, and two weeks later the first steel was erected for the 180 foot span on the north side. During the latter part of May and the first of June a flood delayed the work and took out 120 feet of the construction tramway, but by the 15th of June work was under way again on a large scale. Work was rushed on the piers out in the river by employing day and night crews. On June 25th the first section of the concrete deck or floor was poured.
About the 15th of July, E.E. Barber, of Fort Smith, Arkansas, arrived here and took charge of the erection of steel. Two crews of 16 men each began working in two six hour shifts to expedite this work.
One fatal accident occurred during the erection of the bridge. On July 23rd, Avery Baucom of Eldon, a structural steel worker, fell from the top of pier 9, in midstream, struck the top of a sheet piling 60 feet below, then rebounded into the river, ten feet lower. The body fell across a rope, and was recovered by George Davis, just as it began to sink. Baucom had worked on the job only 30 minutes when he apparently stepped off the top of the pier after he had been tightening a nut on a bolt through a steel beam. He died a few moments after he fell.
The erection of the main span was completed the middle of August, and it was then predicted that traffic would be crossing the bridge by the 15th of October. The last steel beam was in place on the first day of September, and the pouring of concrete for the deck was proceeding rapidly. Quite a force of men was employed during September on the rock cut at the south end of the bridge while traffic was being detoured under the new bridge on both sides of the river.
---
As I wrote last week, Fox News producer Marla Cichowski came to our museum to review some photos of the 1933 bridge as part of her research for the story on the new Osage River bridge construction which was the first project to be initiated by the government stimulus package passed last month. I thought readers might want to view the ones in which she was interested. First is a neat photo taken the day of the bridge opening ceremony November 2, 1933 (photo 14).
In this photo the new bridge, holding a parade of cars, and the old bridge are next to each other. You can read the story of that event on our own web site here:
http://www.millercountymuseum.org/events/bridgededication.html
Here are some others of the 1933 bridge taken at different times (photos 15, 16, 17 and 18). Unfortunately, we don't have the exact dates recorded when each of these photos were taken although I assume it would have been before color phototgraphy was commonly used.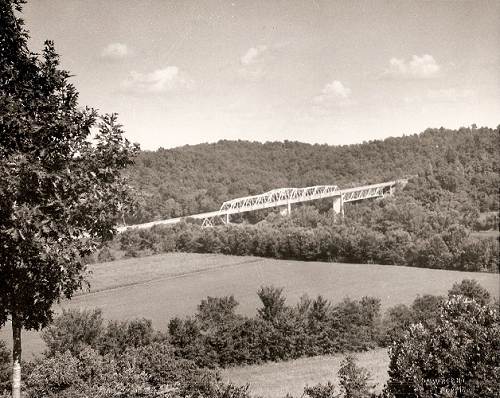 15 New Bridge at Tuscumbia - 1933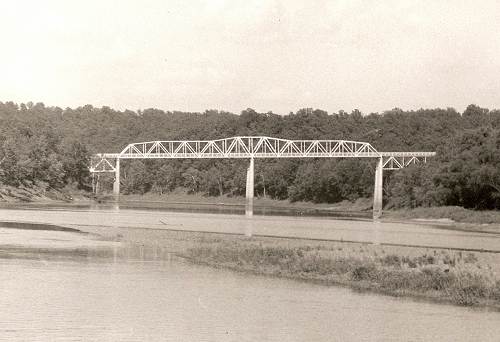 16 New Bridge at Tuscumbia - 1933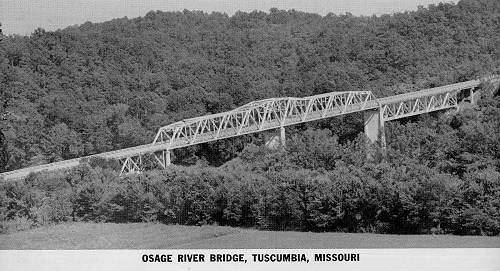 18 New Bridge at Tuscumbia - 1933
---
Finally, I wanted to place here a letter our Tuscumbia mayor, Lysha Thompson, sent to the mayor of St. Louis, Francis Slay. Maybe some of you saw the CNN interview with the mayor who disparaged the fact that we received government funds as part of the stimulus package for the replacement of our Osage River Bridge, which, as everyone around here knows, literally is "falling down!" The mayor spoke some pretty harsh words about our having received the funds (as opposed to St. Louis having received them) and CNN combined his comments with what I thought was an erroneous incomplete presentation of the dire need our community has had for the bridge's replacement for more than ten years, at least. Here is a copy of Lysha's letter which was printed in the Miller County Autogram Sentinel last week:
Mayor Slay:
I would like to clear up some misconceptions you apparently have regarding our town and surrounding community. Tuscumbia is not a nowhere town going nowhere. We are a proud community of humble, hardworking people who take pride in the area in which we live, and we are just as important as the citizens of St. Louis.
Yes, the population of our town is small but you are failing to consider the surrounding rural community that travels our bridge on a daily basis. I am a fourth generation resident of the Tuscumbia area, not because I have to live here but because I choose to live here. I have been a member of the Tuscumbia Village Board for five years and am starting my second year as Board Chair. This is a job I happily do because I love my community, and I do so for no pay. The Board works very hard on a next-to-nothing budget to keep the Village running. I am proud of our community, our citizens and the children we are raising to become the next voting citizens of this amazing area.
Agriculture is a large part of Missouri's economy and we are a rural, agricultural community. The farmers who live here all contribute to the state's economy. Semi-trucks cross the Osage River Bridge numerous times a day hauling turkeys, hogs, cattle, hay, and other agricultural products from our area to provide for the rest of the state and country. Chances are your Thanksgiving turkey was raised in Miller County and crossed the bridge on its way to your table.
I would also like to point out to you our proximity to the United States Army base at Fort Leonard Wood and Whiteman Air Force Base in Knob Noster. Have you even considered how those troops travel between the bases? Or to be deployed? And what if there were a national emergency? A large number of the military personnel who are currently protecting our county have to cross this bridge more than once during their time in Missouri. Convoys of military trucks cross an unsafe bridge with crumbling concrete and exposed rebar.
The Tuscumbia area is only approximately 30 minutes from Jefferson City. A large portion of our community members work in State government and have to cross the bridge daily just to go to work. These people work at the State Capital or other state offices as well as the state prisons. They need to get to work!
Mayor Slay, I could go on and on about the benefits of Tuscumbia, the community and the goodness of our citizens. I can only understand your comments as being misinformed or misunderstood. I would like to extend to you an invitation to visit us so that I can take you on a tour of one of the best places to live in the State and introduce you to some of the friendliest people you will ever meet. I will be waiting to hear from you.
Sincerely,
Lysha Thompson
Board Chair
Village of Tuscumbia
That's all for this week.