Monday, December 29, 2008
Progress Notes
Last week I received a nice letter from Morgan Pope, graduate of the School of the Osage. His home was located on "Pope's Hill" on old Highway 54 just past the Bagnell turnoff. His family owned and operated the original lumber and hardware store in what is now Old Bagnell. Morgan wrote to offer some additional information regarding the story three weeks ago in which I featured old time fiddle player, William Driver:
Joe
I really enjoyed your article about Bill Driver. He is a legend among fiddle players in Missouri as you know. In the book, "The Old-Time Fiddler's Repertory; 254 Traditional Tunes", compiled and edited by R. P. Christeson, the University of Missouri Press, 1973 he is prominently mentioned and several of his tunes are presented in the book. Miller County is also represented by Dallas Stamper, from Brumley and Burnis Harrison. It was wonderful to hear the two recordings of Driver. Thanks.
I've attached copies of two photos which I got from my aunt, Pauline Pope Eads. She was married to Henry Ford Eads, son of Alf Eads who owned the first Ford dealership in Missouri, I think. In the photo of the old car, she says the driver is Bill Driver. The small child is my Uncle Henry Ford Eads and in the back seat behind the child is Alf Eads. The other person is unidentified. I can't verify it is Driver, but...... it's tempting (photo 01).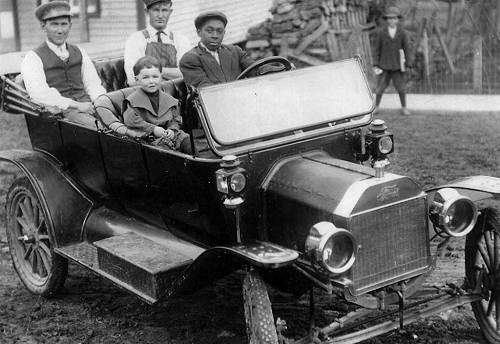 01 Front: Henry Ford Eads and Bill Driver; Back: Alf Eads and Unknown
The photo of the fiddler is Joseph Thomas Eads and lounging in the back is Glenn Robinson (photo 02).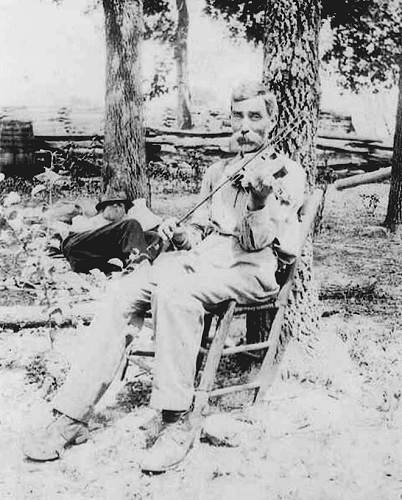 02 Front: Joseph Thomas Eads; Back: Glenn Robinson
I have no idea if Mr. Eads was a good fiddler, but he looks like a fiddler.
I enjoy the weekly notes and would also note that the log cabin at the museum belonging to Peter Lupardus is of considerable interest because he is my great great grandfather on my mother's side (photos 03 and 04).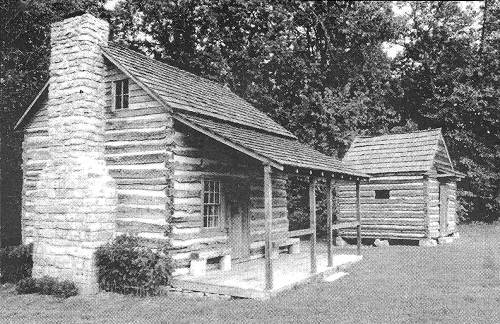 03 Lupardus Cabin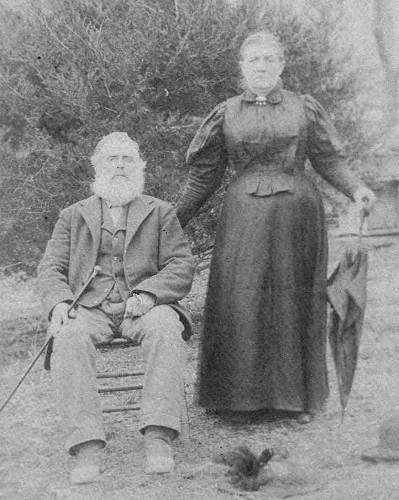 04 Peter and Joanne Lupardus
Morgan Pope
Thanks Morgan. Morgan is an example of many of our Miller County born and raised citizens who left the area and became successful in other areas of the country (and the world for that matter). I asked Morgan to tell us a little about what he did after being graduated from the School of the Osage. Here is what he wrote me:
Joe
I graduated from Osage in 1955, started at Mizzou in the fall, and then graduated from Mizzou with a BS in Physics in 1959. I then went to New Mexico Highlands University in the fall where I finished course work for an MS in Physics and Math in August of 1960. Finally, I finished the thesis in 1962. As a freshman at MU I had met Constance Clark and we married in September of 1960 after which we honeymooned to Oregon where I took a job as a physicist in the Research Division for Tektronix, Inc. (There was a 6 month hiatus to Fort Bliss, TX from Jan 1961 to July 1961 as a 2nd Lt. in the Army.)
Tektronix makes electrical measuring devices which in those days in particular were very high quality oscilloscopes. I spent 28+ years there as a scientist and manager of research and development labs. After that I took early retirement following which I consulted for the State of Oregon and City of Portland on work force development for high tech companies. Then I took a part-time job in the provost's office at Portland State University as coordinator for university/industry interactions, followed by 14 months as vice president for University Relations and then back to the provost's office. Finally, I became an associate dean in the College of Engineering and Computer Science, again acting in the roles as a coordinator for industry relations and the engineering college. I retired from Portland State University in 2002, but was kept as a consultant until the completion of the first building built specifically for engineering. My job as a consultant was to oversee engineering's needs in working with architects, construction companies and the university facilities group. I completed that position 31 December, 2005 and have been retired since then.
You wouldn't be surprised to know that growing up on and around the Osage River I have fished all my life. I fly-fish for trout and steelhead (but long to take my grandkids to a Missouri creek and catch a few perch), photograph, travel a bit with Connie, and spend as much time as I can with grandchildren. We have two boys, Clark and Sean, and we have 4 grandchildren, 1 boy and three girls. And they live within 25 miles, a wonder these days.
I remain very interested in my Miller county roots and have been working on the Sullivan, Pope and McDowell sides of the family. On a trip to Ireland in 2007, after seeing many O'Sullivan and O'Conner signs, I realized that my Grandmother Sullivan (Conner) was no doubt Irish also and so I'm off after that side of the family.
There has been some very nice work done on the Pope side and I think you have a couple of books in the Museum about them. The dilemma is that we can't positively identify antecedents further back than a marriage of William Pope to Jemimah Vardeman, July 3, 1785 in what is now Kentucky.
As for the McDowell's, there is a wonderful source of information on line published by Leo McDowell which traced that line back to Scotland.
I work with Karen Smith (Miller County Historical Society board member) on the Sullivan side, but we're also stuck at about 1800 with them. We have gone back a little earlier with the Lupardus side, but not back to Europe. I'm sure Gaylord Strange, before he passed away, would have had some good information in his work about the Conner's, so this winter I'll try to get to it. I've learned some exciting things about these different family ancestors and had the wonderful experience of meeting some McDowells near Larne, Northern Ireland, who are relatives. I would have loved to have done that for the Sullivans and the Conners, but....... Here is the title of a book highly recommended for anyone searching for their roots in Ireland, Scotland, and England: "Albion's Seed" Four British Folkways in America, by David Hackett Fischer. It describes much of my family pretty well.
Morgan
Thanks Morgan!
I had some questions for Morgan regarding three photos we have on file at the museum. Here are the questions and his answers:
Morgan, I have on file three photos having to do with your family which I am attaching. The first one shows members of the Pope family in which apparently the patriarch is Greenberry Pope (photo 05).
How is Greenberry related to you?
Greenberry or Green Berry is my great grandfather.
Is the house behind the family standing on the porch the one your father moved to after the flood?
No, the house in the photo is the family home of Green Berry and his family. It was not far from the swinging bridges near Brumley. This house was "bought" (by the company which built Bagnell Dam) and destroyed. Most of the family in the family graveyard which was on the property was moved to Gott Cemetery. By the way, according to my father the home was not flooded by the dam, but the bottom farmland was, at least on occasion.
For your information the people in the family in this photo from l. to r. are G B Jr., Nellie, Maud, Carrie, Arthur, Cora, John, Nancy and G. B. Sr. So this is my great grandfather and his children. It was probably taken just before G. B. Sr. had to move from the property. I have a date somewhere.
This next photo shows the A.M. Pope Lumber Yard at Osage Beach (photo 06).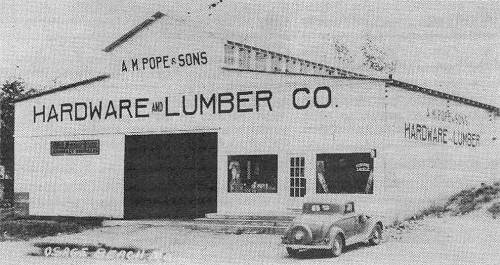 06 A. M. Pope Hardware and Lumber
How would A.M. be related to you?
A. M. Pope is Arthur Monroe Pope, son of Green Berry and my Grandfather. Arthur began with a lumber yard in Old Linn Creek about 1910 or 1911. It of course was inundated by the lake, so after that occurred he began the Lumber Yard in Osage Beach. Around the same time frame he established the A. M. Pope and Sons Lumber Yard in Bagnell, which was located just north of the depot in Bagnell.
The next photo shows the J.W. Pope General Merchandise store (photo 07).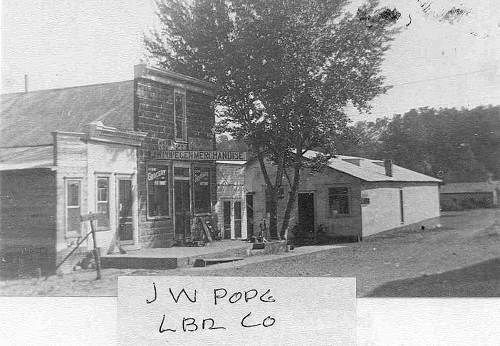 07 J. W. Pope Merchandise Store
What can you remember about this store?
For a better description of the store and various editions of it I would ask you to take a look at the two volume set of Memoirs by Nelta Pope Morgan which you have in the museum. It is entitled "John and Maud Pope, Their Lives and Times." On either side of page 113 there are really good descriptions of the store and some of its iterations as well as interesting descriptions of Bagnell. The store was located in "downtown" Bagnell, I think across the gravel street from where A.M. Pope's lumberyard was later which would have been toward the river from Madison Bear's store.

The next photo shows the lumber shed with your grandfather's name on it near the train depot during a flood (photo 08).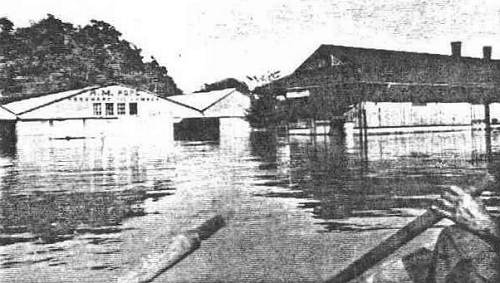 08 Depot and Pope's Lumber Yard - 1941
Someone has written the year 1941 on it. Was there a flood that high in 1941 in addition to the one in 1943?
Yes, this photo shows my Grandfather Arthur Monroe Pope's name on the lumberyard building which by 1941 my father, Walter Pope, owned. And yes, there was a big flood in 1941. Our home, which was on the banks of Blue Springs Creek (Little Gravois) had water around the foundation in 1941, but none in the house. But after the 1943 flood, the biggest ever in Bagnell history, we walked the railroad tracks to get out of Bagnell. That was common, almost any flood made the road between Bagnell and Highway 54 impassable. We left Bagnell then and moved about 2 miles away, far enough for sure to get away from high water. I was 6 years old then. My mother, father, grandmother, and Aunt Pauline (I think) walked out to the highway. I remember when we walked over the rail road trestle which was over Wright's Creek just before Highway 54, the water was sloshing up between the ties. Two days later Dad took a rowboat to Bagnell and moored it to a second story window. The water was 6 inches deep in the second floor. It was during this time that Dad had his moment of fame. He was interviewed by a reporter for the Kansas City Tribune and when asked if he planned to move back to Bagnell, replied rather succinctly, "Hell no!" I think I have a copy of that paper somewhere here.
I remember Bear's Store in Bagnell and here is why I knew the name so well. My Grandfather Arthur had a stroke in 1937. He and my Grandmother Martha Emmaline (Emma) were living in Bagnell in 1938 so Mom and Dad were able to help Grandmother take care of him. I was about 11 months old. On the 23d of March, Mom (Hazel Sullivan Pope) went to shop at Bear's store. She left me with Dad at the lumberyard. Grandfather Arthur was there (they often brought him in his wheelchair to be with Dad at the lumberyard). Apparently, Grandfather liked to hold me. I was not his first grandchild, but I was the first boy, by about 2 months. When Grandmother called to say lunch was ready he wanted to go home immediately to eat, so Cal Calkin and Dad were taking him home by pushing the wheelchair. He was holding me. As they came to the Rail Road tracks he pitched forward and Cal grabbed me while Dad kept Grandfather from falling out of the wheelchair. He apparently died immediately. I've heard this story many times and always the fact that Mom was shopping at Bear's store was mentioned. So I never knew my Grandfather Arthur, but he holds a special place in my life and in a strange way so does Bear's store in Bagnell.
I taped my Dad talking about old times and had them transcribed and put in pamphlet form. I think there is one in the museum, at least I heard that once. If not, I'll try to send you one. Since you like old times you might like to read it. It is called "Reminiscing with Walter Pope."
---
Thanks Morgan.
Regarding John Pope's General Store as well as Arthur Pope's businesses, you can read further information in a very interesting and extensive history of the Pope family written by Julia Spearman (including photographs) which can be found on our own website as part of the wonderful publication, Mill Creek: An Ozarks Heritage by Greg Huddleston. Just click on this URL to read it:
http://www.millercountymuseum.org/millcreek/v06.pdf
You will need to scroll to page 9 where the narrative begins after you pull up the above website which is in Adobe format (one easy way to get to page 9 is to click on the up and down arrows at the top of the page). Don't neglect to read this account written by Julia who knew the family well.
For now I will copy the following two paragraphs specifically having to do with John and Arthur Popes' stores:
"Mill Creek, an Ozarks Heritage, Winter 1992:
John Pope owned and operated a lumber yard at Bagnell for several years. The lumber yard burned during the mid-1920's and he then owned and operated a general store in Bagnell. He and his family later moved to Kansas City. At the time of his death he was living on a farm near Butler.
Mill Creek, an Ozarks Heritage, Winter 1992:
Arthur Pope owned and operated a lumber yard and hardware store at old Linn Creek until the Bagnell Dam was built. It is said the lake is forty feet deep where the lumber yard was. He and his sons also owned a lumber yard at Bagnell. It was managed by his son, Walter. The complete inventory was destroyed by the big flood of 1943. He also owned a lumber yard at Osage Beach during the time the Bagnell Dam was being built."
Since Morgan's father and mother, Walter and Hazel Pope, were very well known and respected in the Bagnell area, I thought I would copy here a biography Hazel wrote of herself and Walter for the Fiftieth Anniversary of Bagnell Dam book published by Union Electric in 1981. Here is a photo of Walter and Hazel which accompanied the article (photo 09), and here is the article: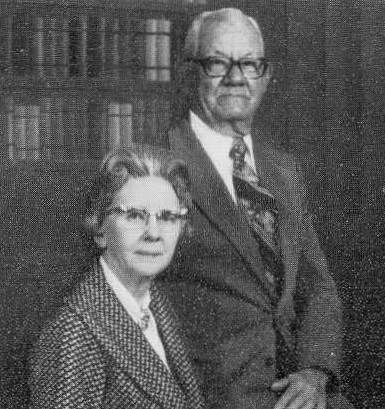 09 Hazel and Walter Pope
Walter M. and Hazel A. Pope
Fiftieth Anniversary of Bagnell Dam (Union Electric Company 1981)
By Hazel Pope
Walter Morgan Pope was born on a farm near Brumley, Mo., the son of Arthur M. and Martha E. (McDowell) Pope. At the age of six, his parents moved to old Linn Creek. After graduating from high school, he attended Missouri University and graduated from Draughans Business College, Springfield, Mo.
The 13th of April 1927, he came to Bagnell, Mo. to manage a hardware and lumber company which his father had established in 1923.
In 1933, Walter married Hazel A. Sullivan, Brumley, Mo., the daughter of William Burton (Bert) and Cecil (Conner) Sullivan. She graduated from Brumley High School, attended Iberia Junior College and Warrensburg State. She taught one year in a country school.
The Popes have one son, Morgan Dean. He is married to Constance Gayle Clark, daughter of Merritt A. and Hulda (Wallin) Clark. They are the parents of two sons, Morgan Clark and Sean Sullivan. Morgan is Manager of the Microlithography and Processing Labs Monolithic Circuits Engineering for Tektronix, Inc. Beaverton, Oregon. They reside in Portland.
Walter and Hazel continued to live in Bagnell and operate the business and a tourist court until 1943 when the town was inundated by the waters of the Osage River. The business buildings were torn down, but they moved their home to its present location on Business 54.
Walter was substitute mail carrier on Route 3 for 13 months. From 1952 until his retirement in 1973 he operated a drive up lunch stand below Bagnell Dam.
The Popes are members of the Lake Ozark Christian Church. Hazel is a charter member.
And as promised, I will place here links to the very extensive and interesting Pope family history as compiled by our museum director, Nancy Thompson. First is the lineage of Pope family descendents, and in reverse the lineage of antecendents.
Finally, having lived for a few years in the northwest myself, I asked Morgan to describe where he lives. Here is what he wrote and a photo he sent me:
We live west of Portland about 23 miles and south of Hillsboro. If you have Google Earth on your computer you can put in the address and see the place. On the rare clear day we can see Mt. Rainier in Washington, Mt. St. Helens in Washington, Mt. Adams in Washington, Mt. Hood in Oregon, and the top of Mt. Jefferson. On a really clear day the tip top of Broken Top can be seen. Here is a photo of Mt. Hood taken from my home (photo 10).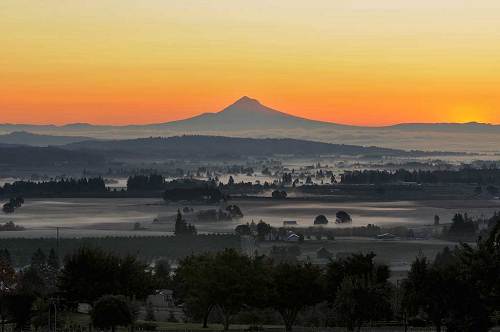 10 Mount Hood
Thanks Morgan for all the interesting information about yourself and your family heritage here in Miller County!
---
The stories of the Pope family this week and the Volmert family last week featured interesting details of Miller County people who travelled to areas outside the county to live and enjoy successful careers. The next two stories are about a couple of men who immigrated into our county from other areas to live out their lives.
The first story is that of Jack Clark. I asked Elmer Brown (photo 11), a frequent contributor to this site, to send me a narrative about Jack and his wife, Rose, since he knew them well: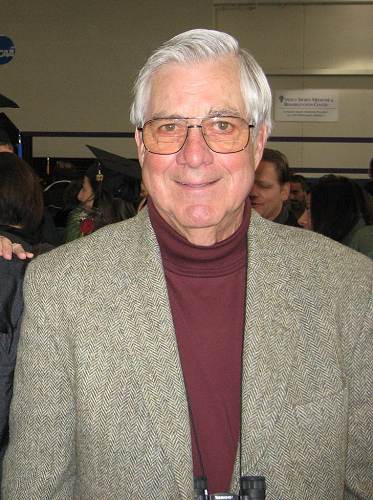 11 Elmer Brown
Jack and Rose Clark
Jack and Rose Clark (photo 12) got acquainted with and became close friends with my family when they all lived in Kansas City in the teens of the 20th century.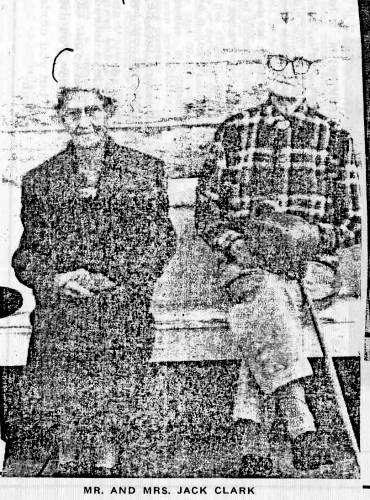 12 Mr. and Mrs. Jack Clark
They were always Aunt Rose and Uncle Jack to the Brown kids and, over the years, many other young people in the local community came to address them the same way.
Uncle Jack was born and raised somewhere in New York. I have this vague recollection that his origins might have been Rochester and that he had run away from home at an early age but don't remember that with any degree of certainty. I don't remember ever hearing that he had any living relatives. Rose was born somewhere in the Oklahoma Territory and had at least one niece living when I was growing up. I remember her coming to visit once or twice. I presume they met in Kansas City but don't know that for sure.
I had always heard that Uncle Jack ran a drug store in Kansas City but don't know if he owned it or managed it for someone else. I don't think he was a registered pharmacist but I'm not sure you had to be in those days. I'm pretty sure the requirements weren't nearly as strict as they are today.
They acquired the property on what is now Highway 52 sometime before they moved there. I can't tell you when but think it might have been about 1918. I have no idea as to what their motivation was. Perhaps they were following the Great American Dream of owning their own place in the country.
My folks moved from Kansas City and lived on the Clark's house for some time, probably in 1919. My father was never in very good health and was advised by his doctor to get out of the city and into the country where the air was clean and pure. When the Clarks decided to move to Miller County my folks moved to what was known as the Bell place that was located off of what is now Hall Store Road near the junction with Gum Creek and Brockman Spring Roads.
I don't know if Uncle Jack ever actively engaged in farming. By the time I came along he was working in Eldon and they had a small orchard, strawberries and a large garden. I don't remember them ever having any livestock or chickens.
Uncle Jack was a clerk in the Eldon Hardware store for a number of years. I recall that he had skills as a tinsmith and if you wanted something fabricated out of sheet metal he was the one in the store who would do it for you.
I remember that he owned a Ford Model A pickup at one time but in the mid 30s acquired a 1935 Ford sedan. Can't tell you if it was new or used but do recall that he was always very careful to make sure it was put away in the garage at night.
He left Eldon Hardware sometime in the early 40s and I have no idea why. Perhaps with the war on they didn't need him or perhaps he retired.
He then worked for my Uncle Harry Chalmers who was a local contractor and cabinetmaker with a shop on Oak Street. With the war on, construction dried up and virtually all available carpenters were in the military or working higher paying defense jobs. Uncle Harry began producing toy sub-machine guns made entirely of wood. As I recall they were pretty realistic looking and made a satisfying rat-a-tat noise when you cranked the handle on the side. I always wanted one but no one ever offered to give me one and I didn't have the money to buy one.
When my uncle died in 1943 the shop closed and I don't think Uncle Jack worked after that.
Uncle Jack was not very tall and rather chubby. He was called on to play Santa Claus frequently at Christmas time and had the Ho-Ho-Ho laugh down to a science. He was always a favorite of the young women in the community. His favorite way of celebrating New Year's Eve was to gather a group of friends around where everyone would partake of ring bologna and saltine crackers.
I was fascinated by the fact that he owned a pistol that he used to shoot rabbits that raided his garden. Before he died he passed it on to my sister, Marie, who gave it to me. It's an Iver Johnson .32 Long Colt made in about 1910 and though it is in full working condition, except for a badly rusted and corroded bore, I've never shot it.
Aunt Rose was always the lady and somewhat more reserved but still a very friendly person. When I was about 10 she would hire me to cut her grass. The mower was a reel type for which the operator supplied the motive power. It wasn't too bad except when there had been a lot of rain. I think she paid me 50cents per cutting and those were some of the hardest earned 50 cents I ever acquired.
I don't remember when Uncle Jack died but do know that he preceded Aunt Rose by several years. She lived out her days in the Miller County Nursing Home. They are both buried in the Tuscumbia cemetery.
Thanks Elmer.
The Autogram had an article written by Clare Mace years ago about the Clarks' which I found in a collection of newspaper clippings someone donated to the museum. The clipping didn't have the exact date but the article is interesting so I will copy it here:
Clarks to mark 60th anniversary
By Clare Mace
(Date not specified on clipping)
A grand old couple, Mr. and Mrs. Jack Clark, will celebrate their 60th wedding anniversary on November 4.
The Clarks were recently photographed when they were at the county courthouse to sign the deed to their 70 acre farm which they recently sold to Mr. and Mrs. Carl Atwell who own and live on an adjoining farm.
The Clark farm is located on Highway 52 between Tuscumbia and Eldon. The Carks have a lifetime (20 year) lease to continue living in the home at $1 per year.
They came to Miller County from Kansas City 43 years ago on February 2. Mr. Clark had been in poor health and a brother Odd Fellow, L.N. Musser, advised him, "Jack, you are too jolly to die. You need to go to Miller County for the good healthful drinking water." Mr. Clark followed the advice and thinks it worked just fine.
He celebrated a birthday on October 1, although just which one is rather indefinite. Mr. Clark is variously reported from 90 to 95 years old. He laughingly says that the older age was credited to him by another and that he accepted it. Mrs. Clark's age is also an evasive figure. She says Mr. Clark is the statistician in the family, but he says that she only told him she was "as old as her tongue and a little bit older than her teeth."
He was born in New York City, his father English and his mother Scotch. He remembers wearing Scottish kilts to school. After completing the ninth grade at the age of 13, he left home to make his own way in the world. He later attended night school and became a druggist.
Mr. Clark returned home only for an occasional visit but never forgot that his father told him to always paddle his own canoe, to never forget his family, and to always remember that he could bring any problem that he might have to them and they would always be ready to help hem.
Throughout his travels, he says that his life has always been guided by his mother's prayers and that wherever he went a Christian home was always provided for him.
Mr. Clark is often referred to as "Jolly Jack" and he calls himself a "Jack of all trades." A man of strict morals, he is never the less characterized by his joviality and as a prankster, singer and jig dancer. Wherever he went he liked to organize quartets and choir groups.
Besides being a druggist, farmer and fine gardener, his other occupations have included a variety such as railroad fireman, clerk and stock keeper for various firms including 16 years employment at the Eldon Hardware and at an Eldon factory during World War II. Since his retirement from public life, Mr. Clark has taken special pride in the fruits, flowers and vegetables raised on the farm. Mrs. Clark has taken special pride in the fruits, flowers and vegetables raised on the farm. Mrs. Clark has also had a hand in this work. In August this year they had a display of "Magic Lilies" with over 1500 blossoms counted at one time.
Mr. Clark met his wife, Rose, who was originally from Arkansas at the Worlds Fair St. Louis in 1904. He was a receiving clerk and stock keeper at the "Inside Inn" which was practically a community in itself, even complete with ministers and priests to conduct religious services and where from four to five thousand people were fed daily. Rose was working in a millinery shop in St. Louis and came to the fair in the interest of that business. After Mr. Clark left the fair he went to Kansas City where she later joined him, and they were married in Independence.
Here, Mr. Clark managed a drug store during World War I. Although he refused to sell liquor as had been customary, and Mrs. Clark ran a soda fountain instead, the store, which had been in bad financial condition when he took over, prospered and became a respectable place for women and children.
Many pictures and keepsakes were destroyed when their home in Kansas City burned in a fire.
One childhood experience which Mr. Clark vividly recalls was when he and another boy found an old coat and sold it to the "ragman" for a penny, with which they each bought their first cigarette. Mr. Clark's mother saw him smoking it and spanked him with her slipper, he recalls.
He loves to reminisce of those early days and clearly recalls scenes of his youth in New York, Chicago and other places.
The Clarks have no children but have always loved and helped neighborhood children. The R. Brown family was special favorites. Mr. Clark has two sisters in New York and one in Oregon. Mrs. Clark's relatives live in Bentonville, Arkansas.
Mrs. Clark enjoys showing her collection of pitchers, all of which have been given to her by friends.
"We have had a happy life, my only regret is for the sorrow and heartache I caused my parents by leaving home so young, Mr. Clark said.
Thanks Clare.
The Clarks' farm is now owned by Paul and Sharon Holder with the exception of the old home place which was adjacent to Highway 52 just a short distance north of Rush Road. The original home is now replaced by another house having been built more recently. Elva Steen, mother of Sharon Holder, lives just a mile away and remembers the Clarks' well. She said that Jack raised strawberries which he gave or sold to all the neighbors. Elva and her daughters regularly during season would go to the Clark farm to pick strawberries which Elva told me were "huge and the best tasting she ever ate."
Jack didn't drive a car but rode once a week to Eldon with Elva's husband, Holmes Steen, when Holmes took his weekly hatch of carefully sand paper cleaned and candled eggs to the IGA store. Elva said that Jack spent the time that day at the Eldon Hardware where he had worked in the past talking with old friends.
---
The next story is that of shoe repairman, Joe Safire (photo 13), who immigrated to this country and eventually to Eldon from the country of Lebanon.

13 Joe Safire
I talked to Bob Wyrick who has barbered in Eldon for more than fifty years on Maple Street. He told me Joe's first shoe repair shop was across Maple street from his barber shop. Then Joe moved into a building which was next to and behind the present Henley Jewelry store. Bob remembered when Joe left town and he confirms that he never ever returned. Bob said there was another shoe repairman in town, Edward Uber, whose shop was behind the old Sanitary Market on Maple street across the corner from Reed's Clothing Store. After Mr. Uber died, maybe twenty or more years ago, Bob said that no more shoe repairmen came to put up a shop in Eldon. The story below about Joe Safire is copied from an article in the Advertiser written sometime in the 1960's:
In a Nutshell
Eldon Advertiser (date approximately 1966)
Shouting "Goodbye Eldon, Goodbye Eldon," Joseph Safire with tears in his eyes, left Eldon recently to return to the land of his birth.
Joe, who operated a shoe repair shop here for 53 years before leaving for Beirut, Lebanon, is believed to be Eldon's oldest merchant and the one in business the longest.
We talked last week with Joe's son, George, who operates a thriving shoe repair shop at Tipton. George Safire accompanied his father on the 24 hour 10,000 mile jet trip to the Middle East.
"He (Joe) wanted to to back to Eldon the same night we got to Lebanon,"George said.
A new Lebanon, and Joe's love for Eldon, explains Joe's attitude of wanting to come back to Eldon almost immediately, his son said.
The Lebanon that Joe Safire found in 1966 is far different from the one he left in 1909, just as Eldon has changed since Joe Safire opened his shop here in 1913.
Joe went back to Lebanon in 1906 after five years in America, but then returned to the States in 1909, eight years after his first arrival in America.
"Everything over there reminds you of America," George Safire said after a three week stay in his native land. "There are American cars, filling stations, soda pop and so on," he said.
Throughout his half century in Eldon, Joe had retained ownership of his home in Beirut. A sister, Miss Josephine Safire, has lived in the home since Joe returned to America.
Will Joe stay in Lebanon? we asked his son. With a slight smile, George answered that he didn't know. The son said that in the last letter he received from Joe's younger sister, she said that Joe hadn't mentioned anything about Eldon recently. "So maybe he is getting used to being over there again," George said.
The trip to Lebanon followed several unsuccessful attempts by George to get his father, who is now 87, to move in with him or another son, Ray, in Fulton. Ray Safire, like his brother and father, is a shoe repairman.
"He would start yelling "No!" before we ever got through asking him," George said.
Unsure of what Joe's decision would be about staying in Lebanon, George Safire purchased his father's shoe shop here before they left the States. But he has no plans for the little brick building with its rear and side gardens in Eldon, because of Joe's friendly habit of taking bouquets of flowers to nearby restaurants, and giving flowers to customers and visitors to his shop.
For a little while at least, the shop and grounds will be just as Joe left it, for as George said, "it would break his heart if my father came back and his shoe shop was gone."
"He thinks there's no place in the world like Eldon," George said of his father. What happens if Joe decides he wants to come back again? "Well," George answered, "That's one reason I'm leaving it be for awhile. It'll be here if he wants to return."
I tried to find out more about Joe Safire, and a few old timers around Eldon remembered him, but had little information otherwise. I tried to call one of the Uber family who ran the shoe repair shop after Joe left but of the three Uber names in the phone book, two were disconnected and the third was unanswered.
---
My cousin, Sandra (Bear) Shelton who was raised in Eldon had some information to contribute concerning Paul Simmons, whom I wrote about a couple weeks ago. He and Don Woody were the two Miller Countians who co wrote one side of Brenda Lee's first commercial recording named Bigelow 6-2000. Here is what Sandra wrote me about Paul:
Joe, I have some information regarding Paul Simmons, about whom you wrote a couple weeks ago who was the one who co- wrote a song (Bigelow 6-2000) with Don Woody that Brenda Lee sang and made kind of famous. Well, Paul was one of our best friends. He and his brother grew up in David's (David Shelton, husband of Sandra) neighborhood and we all went to school together. He was in our wedding. We always thought it was so funny about Paul and that song, because he was never all that interested in music. He did play a trumpet in the band, but he never sang or played piano. He was an outstanding athlete, though. After college, he taught school here in Rolla and became high school principal here, too. Then he became superintendent of schools in Steeleville, where the town named their new high school after him. He died about two years ago, but we stay in touch with his widow, Seena. They had a wonderful marriage and his death was hard on her. Paul's brother, Bill, also died quite young in his 30's.
Thanks Sandra.
---
Lois (Mace) Webb, former Tuscumbian who now lives in Stilwell, Kansas, had some additional information to send me after reading last week's story about George Volmert, who wrote about his experiences trying to farm with a team of blind horses.
Joe,
The George Volmert story this week brought smiles and remembrance. He and Maxine attended THS (Tuscumbia High School) reunions each year, so kept up with them in some measure through the years. He was of the THS class (group) that included Doris (Edwards) and Rex (Wyrick), Eileen (Edwards) and Irvin (Snodgrass), Frances (Thompson) and LeRoy (Snodgrass) ---- that era. While they were close because of school years, I figured their bonds of friendship were strengthened because of service in WW II and the gravity of the times.
I told my daughter-in-law, Wendy, about the George Volmert story because, as I read George's obit, I noticed that one of his pallbearers was Wendy's uncle, Bob Laptad. He and his family, most from Joplin, have spent Thanksgiving at D&Wendy's (David and Wendy Webb, son and daughter in law of Lois) house the past couple years. His grandson Jake Laptad, whose parents live in Tulsa, is a player of significance, whatever that means, on KU's football team, sooo..you can imagine the importance of Thanksgiving week, KU football, and a place to stay at D&W's. Other players who cannot go "home" during that week also come to dinner at the Webbs'. Talk about big boys and healthy appetites -- last year the cooks prepared 35 pounds of potatoes. Anyway, such has been my more recent acquaintance with Bob Laptad and his family. Wendy will likely forward your story to her uncle Bob in Joplin. Never know what trails your stories find!
So true, Lois! That's one thing nice about the internet in how it reaches out to people all over the world who may have a small but interesting anecdote to add to a story and I'm so pleased when people such as yourself take the time to write and add their own part to the narrative.
Another addition to the George Volmert story is his own autobiography which I found just a few days ago in a booklet entitled "Tuscumbia High School Fiftieth Anniversary" (photo 14) which I will copy here as George wrote it (photos 15 and 16).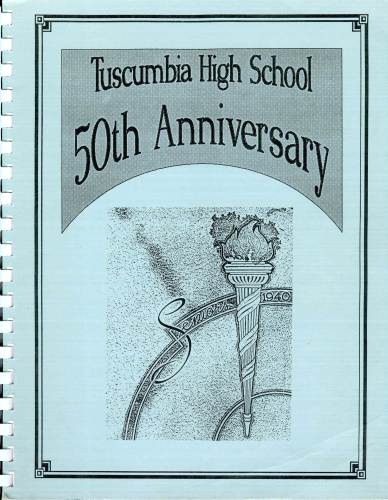 14 Cover
15 George Volmert Bio. - Pg. 1

16 George Volmert Bio. - Pg. 2

Click images above for larger view
And that's all for this week and this year!