Monday, December 22, 2008
Progress Notes
I have always been curious about the subject of Miller Countians who left here to go to very successful careers elsewhere. So that is why I was so interested in a newspaper clipping the other day I came across in an old edition of the Autogram (the date was not written on the clipping). It was a story written by George Volmert about his early experiences at farming in Miller County (photo 01).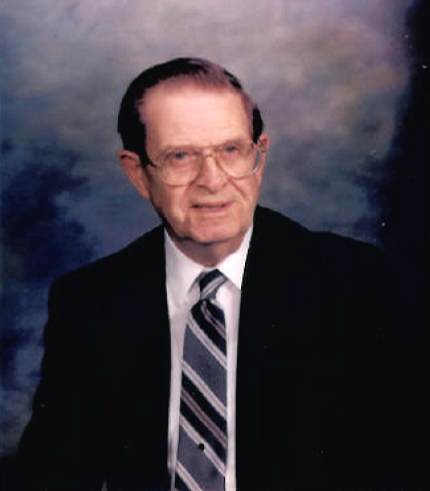 01 George Volmert
I thought it was a humorous narrative and decided to copy it here. I didn't know Mr. Volmert although he and his family were from St. Elizabeth. However, my mother remembered him attending high school as a member of her class in Tuscumbia when she attended (at the time St. Elizabeth did not have a high school). I called Mary Ann Lindenbusch of St. Elizabeth and she told me she knew George Volmert as well as his brother, Lester. They were born on a farm next to where the nursing home in St. Elizabeth is now. Lester became a carpenter and George a teacher who moved to Joplin. Mary Ann said that George was her husband, Emil's, best friend. I then called George's niece, Virginia Farquhar as well as George's daughter, Karen Tippey, who sent me a photo and his obituary. Unfortunately, George passed away in 2004. As to the question whether the story was a whimsical semi fictitious narrative or not I called Ray Doerhoff of St. Elizabeth, former superintendent of schools there for many years, to seek his opinion. Although Ray had not read the article he told me that George was well known for having a "keen sense of humor," and that he was fully capable and apt to have written it. At any rate I found it humorous and wanted to let others read it:
A Modern Farm Story
The Harrowing Experiences of a Would Be Farmer and His Two Blind Mares
Composed and Written by George Volmert
In every man's life there sooner or later occurs an incident that will be remembered by the individual for the remainder of his life, and will be told and retold to the generations following him, if there are any. I have always considered myself a liar, but the following incident, sorry to say, is the truth.
Having been an idle man for nearly a quarter of a century, a sudden impulse took possession of me. I decided someone has to make history and I might as well be one of the many whose names are written in the golden book of fame.
Ignorant as I am, I probably chose the last and least way to become rich and famous at the same time. I made the same mistake many a poor man has made in the past, I bought a farm.
I really didn't know much about farming, but I wanted the Miller County farmers to look up to me as a sort of idol, but alas, I was considered neither an idol nor an ideal, only just another boneheaded farmer; but I tried. I even gathered all the local information and read all the books and pamphlets ever written on the subject, but somehow it just wouldn't soak into my spacious dome; but I did learn that a farmer not only supports himself and his family, but the government and several million relief workers as well. Being a man with very little sense and still less experience, I decided to give it a try anyway.
With the few dollars I had accumulated by begging, borrowing and stealing, I bought what I thought was a very good farm, but which evidently had once been a goat farm, by the looks of the stumps and sprouts which adorned every meadow and field; but a man with my determination could not be hindered by a little thing like that.
Among my list of needed items was all the necessary equipment to make farming profitable. My only means of transportation was a pair of trusty feet, so I started walking one intensely warm and windy afternoon to purchase for my use, a brand new team of horses. Of course, I knew where I could get a matched pair of excellent qualities.
On my walking tour, I happened by a place where an auction sale was in full swing. I, like the raccoon, am very inquisitive, and dumb, too, and let curiosity get the better of me. I decided if everyone else could bid I could too, and before I was ready to proceed on my journey, I had bought a disc, hay rake, with only a few teeth, a mower which was minus a tongue and one wheel, a binder patented in 1882 and made the same year, and a buggy any new farmer would be proud to own.
I gave the clerk a check for $75, which was $65 more than I had in the bank, and shed many a salty tear as I bid good bye to those 75 frog skins. Having procured sufficient machinery to start my spring work, I still lacked a good team; so on I went to a farmer who could say more in five minutes than a politician could say in a year. In less than 30 minutes he had me convinced that the mares I had just bought from him were the best team in Missouri. I reluctantly gave him a check for $300, which he claimed was a sacrifice price.
With this in mind, I drove my team home, full of confidence, and, and still thinking I had gotten a bargain (photo 02).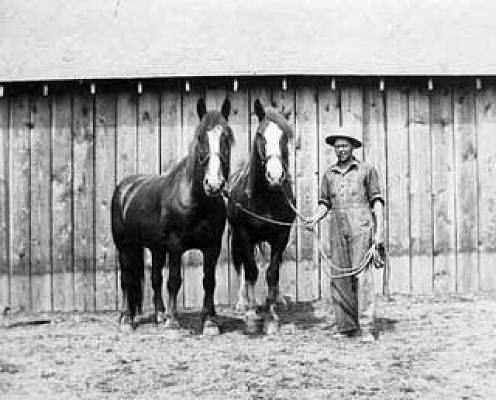 02 Team of Horses
The next day dawned bright and cheery but still windy. I decided to take a little trip and try out my new mares; then, too I could view Mother Nature and get acquainted with her at the same time.
I hitched my prize mares to the wiggly contraption called a buggy and, to my dismay, saw that both mares were blind, deaf and loco, which meant that they were crazy as a pet "coon." Having made the proper contact between the trace chain and the singletree, I was finally ready to start on my sight seeing tour. All went well for about one fourth mile, when a pesky jack rabbit decided the opportune moment had come to take a nose dive over an Iron Weed. The rascal flashed through the atmosphere about a foot from my mares' noses. Being neither able to hear nor see, the loony mares' sense of smell, which was the only sense they really had, told them something was wrong. They were not very long in making up their minds what to do about it; both gave a vicious tug on the trace chains, the first tug they had given since we started, and the dilapidated buggy started so fast both rear wheels spun around four times before the blamed thing really started to move. When it finally had gained momentum, the mares were doing top speed, approximately 20 knots per hour. Things began to happen pretty fast after that, much too fast, for comfort. All I could do was to hold on with both hands and yell at the top of my voice; but to no avail. After we had scattered bolts, nuts and pine wood for several miles, the top finally loosened from its moorings and rose into the air like a billowing parachute, followed closely by the spring seat.
All this time, my eyes were feasting on the tongue which was bobbing up and down like a cork on the Atlantic. Finally, force overcoming resistance, the tongue broke and buried itself about six feet in the ground. I was hurled bodily into space for, I am sure, more than a hundred feet. On my way up I collided with the spring seat which had also been sent up to view the stars. We met in just the right place, and down we came. When we finally made contact with Mother Earth, I was sitting in the seat trying to imagine what had happened. After the springs had done their duty, I was sent on my second trip to the firmament. This time I had nothing to come down in, so I started praying, for I knew my life was not far from an end. Suddenly, I felt a prickly sensation, which did not feel exactly like sitting on a cushion. I opened my eyes and found that I had landed right slam smack in a patch of blackberry briars. I was hurt in spirit as well as in flesh. At that moment, I decided something must be done if I was to succeed as a first class farmer. I started after my mares who had finally come to rest 'neath the shade of a small hickory tree. The reason for this was, one had tried to go on one side of the tree while the other decided the opposite side was best and, being connected by a neck yoke and plenty of rope used for lines, their plan failed, just as my farming plan had.
After speaking a few consoling words, mixed with a few vulgar curse words, the mares tried to calm their wobbling knees and, still panting from sheer exhaustion, I led them to my make shift barn and fed them some of my best seed oats and a few wormy ears of corn. I closed the barn door, the hinges of which squeaked for lack of proper lubrication. How any one of the deaf mares ever heard this is beyond me, but one of them let out a vicious kick with her hind feet, and her aim was 100% perfect. The door was hit in the midsection and swung open with unhindered action and hit me squarely in the face. I took several barrel rolls before I came to a stop in the shade of the old apple tree. Gathering my wits together, I proceeded to limber my aching joints and headed in the direction of my house, undecided as to the future.
After eating a light lunch, I decided to give those ornery Cayuses one more try out and if it proved unsatisfactory this time, my mares would go to the glue factory.
I had a small field of lespedeza that needed trimming very badly, so I again hitched my mares to my antique mower and started to clip the crop. The ground was so rough and rocky that the clover was torn off rather than cut. But I was going to cut my clover crop, and I did, for awhile at least. Now to give you an idea just how rocky the ground really was is hard to do because the rocks were so thick that the cutter bar got so hot from contact with flint rock that I had to stop at intervals of five minutes to let it cool a bit and rest my mares, for they were very cagy, since the runaway episode previously.
I resumed my job of making hay while the sun shone, and all went well until the cutter bar buried itself in a half rotten stump, there was a keen buzzing and whizzing at the base of said stump. And, curiosity getting the best of me, I decided to investigate, and, lo and behold, I was given a rousing welcome, for I had run into a bumble bees' nest and they protested vigorously against their disturbance. About a thousand decided to take it out of my hide. I started on a hundred yard dash and my mares soon followed suit. I think the whole bee family and all their relatives escorted me to the house. The mares probably thought they had run into a machine gun nest, for they were leaving the mower and plenty of dust behind.
I finally gained the entrance of my ancient adobe, and when I looked in the mirror, I was surprised to see a red faced man look back at me. My face was swollen and bright as a balloon and two bees were still clinging to each ear.
I caressed each bump as gently as possible and decided that this time I would let my mares go where they pleased: horses were old fashioned anyway. So I called the nearest tractor dealer and told him to deliver a new Oliver 70 at once (photo 03).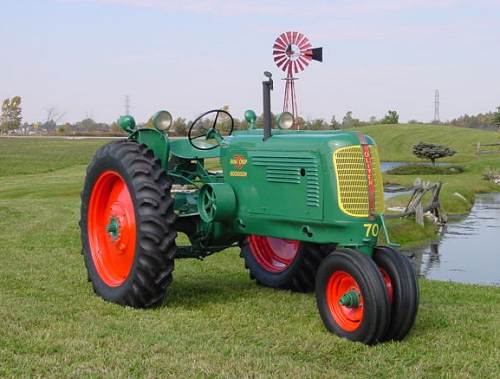 03 Oliver 70
When it came, I found it to have a very gentle disposition and a spring seat as well, which was very welcome, after my recent encounter with the black berry patch and the bees.
I am now farming 772 acres of the best river bottom land in Miller County and am considered probably the wisest farmer for miles around.
I've had many hardships but the best news I ever heard was about two weeks ago when I received a telegram from a man in Oklahoma saying my mares had just passed his house and were starting another dust storm. They were headed toward Texas and would probably arrive there in a few hours.
I did some tall thinking for a minute or two and then I wrote these words to him. I said: "Mister, if you can catch or shoot my mares and keep them out of Missouri, I will pay you whatever the government don't get out of wages." And to this very day I have never heard of my mares again and I hope I never will.
I am still making oodles of money and I am now helping Uncle Sam support the PWA, the AAA, and all the rest of the alphabet.
In just a few years, I will be able to draw my old age pension. From then on, I'm going to live my life in leisure and live only in the future. But the experience with those two mares and my first year on the farm will live in my memory forever!
The End
Thanks George.
I asked Peggy Hake to give me some information about the Volmert family of St. Elizabeth. Here is what she told me:
Joe,
The Volmert family came to Missouri from Prussia about 1851. The Volmerts were my husband Ambrose's ancestors and they first settled in the Westphalia/Rich Fountain area of Osage County. For a short while they also lived near St. Thomas in Cole County and finally made a move to the St. Elizabeth area of northeastern Miller County before 1880.
Thanks Peggy.
Nancy Thompson, our museum director has access to several genealogical resources and she researched the Volmert family in detail. For those who are interested you can study it from the chart Nancy prepared.
George had a very successful career in Joplin. I think his obituary sums it up best so I will copy it here. I am grateful to his daughter, Karen Tippey, for sending it to me to share with George's Miller County relatives and friends:
George H. Volmert, of Joplin, died Thursday evening, May 27, 2004 at a local hospital. He had been ill for several years. Mr. Volmert was born February 25, 1917 in St. Elizabeth, Missouri to Bernard F. and Elizabeth Dickneite Volmert. He graduated from Tuscumbia, Missouri High School. He received his Bachelor of Science Degree from Northeast Missouri State University (now Truman University). He worked in the Veterans Administration Office as psychometrist and vocational appraiser at Truman University while working on his Master's Degree. He earned his Master of Arts Degree in Business Administration from Truman University in 1951.
He was a veteran of WW II, serving with V Corps, U.S. Infantry as interpreter in Czechoslovakia. He was discharged with the rank of Staff Sergeant. He came to Joplin in 1949 as the first counselor in the R 8 School System. He remained in that position until 1966. In July 1966 he was hired as Registrar at Missouri Southern State University. He retired in 1987.
He was a member of St. Mary's Catholic Church where he served as an usher for 50 years. He was a life member of the Knights of Columbus; member of the Missouri State Teachers Association; Retired Teachers Association of Missouri, American Heart Association, American Legion Post #13, AARP, American Bowling Congress, Joplin Elks Lodge #501 and a 50 year member of the Kiwanis Club of Joplin.
He married Maxine Edwards on February 20, 1943 in Fairfield, Iowa. She survives. Also surviving is a daughter, Karen Tipey, of Houston, Texas. George and Maxine celebrated their 60th wedding anniversary on February 20, 2003.
A funeral mass will be celebrated at 10:00 a.m. Tuesday at the St. Mary's Catholic Church. Reverend Justin Monaghan will preside. Burial will be in the Ozark Memorial Park Cemetery. Pallbearers will be Richard LaNear, Truman Dearing, Floyd Leonard, Chuck Lonardo, Bob Laptad and Loren Smith. Full military honors will be provided by American Legion Post #13. A prayer service will be held at 6:00 p.m. Monday at the Thornhill Dillon Mortuary with a visitation to follow until 7:30 p.m. Contributions may be made to the American Cancer Society or St. John's Hospice Program.
Karen also sent the following note about some of George's culinary interests. Karen reported that George
"was a very good cook, and that one of his specialties was chili which he made in large quantities for the family, church and Kiwanis Club groups. He gave the recipe only to family and I make it every winter. He also made a mean pie, as well as noodles from scratch. His holiday meals are sorely missed."
One final note about George's story. If he only had ten dollars in his bank account, which is what he mentions in the story above, it must have been a stretch that he could have bought an Oliver 70 at that point in time (of course, we all understand the story is really just a parody). In those days the Oliver 70 was the top of the line in motorized farm vehicles; and tractors were beyond the means and dreams of most farmers then anyway. On the following website is another photo of one of the old Oliver 70's and a short description of it (I'll copy the description below):
http://www.ytmag.com/profiles/ol70prof.htm
"The Oliver 70 was part of the "Streamlined Series" which also included the Oliver 60 and the old style Oliver 88. It was manufactured from 1937 to 1948. The row-crop configuration could have either dual or single front wheels, and even had an adjustable wide front end option. The Oliver 70 was also offered in the standard, orchard and industrial configurations.
They were sold in the USA as the Oliver 70, painted green with red wheels. When sold in Canada they were painted red with cream colored wheels and were sold under the Cockshutt brand as the Cockshutt 70. With the optional 6 speed transmission these tractors are capable of traveling 13 mph down the road. An early advertisement states "Power when you want it - power when you need it - power to help put in crops when field conditions are right and time and help are limited. That's the power you'll find in an Oliver Row Crop 70." The tractors produced during these years were among the finest and best performing of the world's farm machines."
---
Last week I included a couple of items having to do with the native aromatic cedar tree of our area of the country. It occurred to me this week that the subject of cedar trees is still relevant as we approach the Christmas season.
By now I imagine most people have gotten their Christmas tree and decorated the home in anticipation of Christmas. Today most people buy their tree from a vendor somewhere, at least in the metropolitan areas. But here in rural Miller County I imagine quite a few still cut a cedar tree down somewhere out of a nearby field or woods. I remember that when I was a boy and even afterward we always cut a tree off the farm my dad owned (it was originally the Goodrich farm in Tuscumbia; dad and my Uncle Ansel Pryor bought it from Wiley Berry). From where I lived in Tuscumbia (on Highway 52 where it leaves town going north) we crossed the highway to a vacant field where we always found a suitably sized tree regarding both shape and height. That area in years past had been the Tuscumbia baseball field. I don't remember anyone having chain saws then; dad always cut the tree down with a hand saw. He never was too much into the romanticism or nostalgic spirit of Christmas so mom, I and my sister Trish (Pat to many) got to pick the tree. We also decorated it. I remember decorations were amazingly simple then compared to now. We had a garland or two, a bag of those thin narrow aluminum strips which were supposed to look like ice cycles, and the old double stranded cord of electric lights which from year to year never worked even after you finally got the strand unscrambled (photo 04).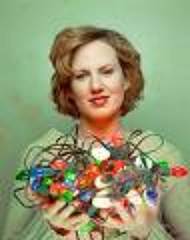 04 Vintage Christmas Tree Lights
You can read more about the history of Christmas Tree Lights at this website:
http://www.ideafinder.com/history/inventions/christlights.htm
But for us it was always great fun. I think what I remember the most distinctly about the tree as we decorated it was the pleasant cedar tree aroma. However, the one advantage of commercially raised trees is the absence of significant shedding of needle debris and berries which dropped on the floor, especially if the tree dried out. Also, I think the cedar tree is pricklier to handle. However, on the other hand, I hadn't ever seen or heard of the commercial trees so I didn't think about the debris or prickles. And no commercial tree ever will offer the pleasant aromatic aroma which is emitted by the cedar, something I really miss these days. In fact, not infrequently, when my folks were in the business of selling cedar souvenirs, I heard them say that people bought the little cedar boxes as much for the aroma emitted from the inside of the box as anything else.
Another thing I especially remember about Christmas then was listening to the old 78 rpm Christmas records we had stored away ready to play again each season. The record player was part of a big wooden cabinet which also included a radio receiver. My favorite records to which I would listen continuously while eating little colored pieces of rock candy were Gene Autry's Rudolph the Red Nosed Reindeer (photo 05) and Here Comes Santa Claus.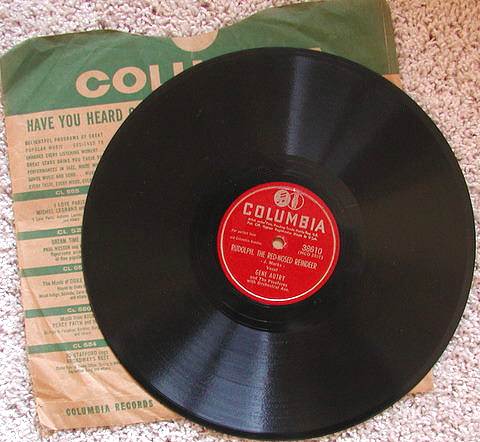 05 Gene Autry 78 rpm -
Rudolph The Red Nosed Reindeer
Here's a YouTube video of a slideshow of Christmas photos with Gene's famous Rudolph song playing in the background:
I also liked to listen to Bing Crosby's White Christmas and some of his other Christmas carols. Isn't it amazing these songs were so popular that even today we hear them played over the sound systems of the most up to date stores in the big shopping centers?
Here you can listen to the 1946 Christmas Day radio broadcast of the "Holiday Inn" classic of White Christmas by Bing Crosby:
Many thanks to David Statler, the internet consultant who uploads my part of our website each week, for finding and uploading the two YouTube selections above. David is one of those indispensable individuals who is a genius at creating the layouts each week of photos and narrative.
Other memories include the eggnog, the ham and the turkey, and the decorated sugar cookies my mother always made. I especially liked the Santa Claus one. Always there were Christmas related dinners at various relatives' houses.
We always opened our presents Christmas morning; how else could you get them? Santa only came down the chimney while you were sleeping the night before!
Christmas was my favorite time of the year. I would even dream about it. One dream was so real that as soon as I awoke one morning I ran down the steps to see what was under the tree. But there were neither tree nor presents! Then I looked out the window and saw the green grass and the green leaves on the trees in the woods….it was the middle of July!
I suppose it is natural that I have such strong memories of the secular aspect of the Christmas season. But my mother always had an angel at the top of the tree and she had a crèche of the nativity scene prominently displayed in the living room. The schools then didn't have to deal with the issues we have today; our Christmas program at school included the old carols and references to the birth of Christ came naturally and frequently. Our church always had a program in which we children were the major participants.
I thought it would be interesting to get an idea how Christmas was celebrated in Miller County a generation or so before me. So I asked a couple of people to write something about their memories. My mom (Susie Bear Pryor - photo 06) wrote the following about her memories of Christmas in the 1920's: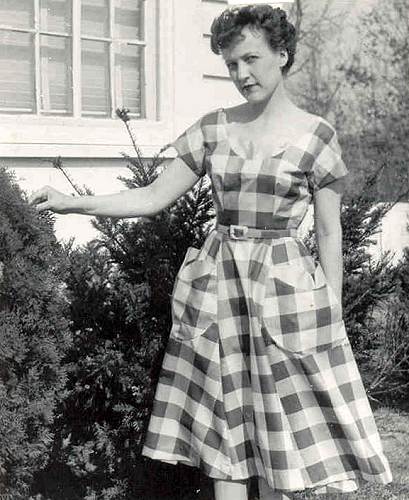 06 Susie Bear Pryor
Christmas in the mid 1920's in Tuscumbia
Ah Yes, CHRISTMAS! Still my favorite time of the year. There were five of us kids; the first four were all four years apart. I remained the youngest for seven years. I never did help go cut the tree down and bring it in for that job always fell to one of my two brothers, Arthur or David, whichever one was still home. They would just go out into the woods somewhere close and pick out the prettiest one they could find. It didn't matter who owned the land for no one cared and I don't know if they ever got permission or not. We started decorating it pronto, using lots of conjured up things we could find around the house. My brother David says he made chains out of popcorn; cut balls and trees out of construction paper, which would add color; and cut tin foil to make icicles to hang down.
When I got old enough to want to help, by that time there were pretty, colored ropes you could wrap around the tree, different colored balls to hang on the branches and other pretty, colored decorations you could purchase at the store. We always carefully packed the decorations away after Christmas to keep for next year. Christmas was a big affair at our house and we all got in on the act. My Mom also took a great part in it and I think her excitement rubbed off on us kids. I remember when I was quite young that my sister, Marie, made a huge fruit cake and baked it in a dish pan early before Christmas for it had to set a certain length of time. Then she soaked it in wine that she poured over it every morning. That was a big deal I remember.
Christmas back in those days never had such the frenzy and commercialization it has now. We celebrated it in the way that it was meant to be; and that was honoring Christ's birth. But there was merriment among all the people. Gifts were placed under the tree to open on Christmas morning but never such expensive gifts as are given today. I think that Christmas gradually grew larger as time passed. Most folks made all kinds of homemade cookies and candy was present in every home to be given to others to share in the Christmas Spirit and also to those who were less fortunate. I remember my Mom and Dad saying that all they ever got for Christmas was an orange and since they had to be shipped in from other states that was considered a big treat. Our whole family looked forward to Christmas and so did all the townsfolk there in Tuscumbia. Every year there was a huge celebration held in our large school gymnasium and it was filled full of grown-up's and children. We would have programs given on the stage by the young folks of the town about the birth of Christ, having the Crèche with the baby Jesus with his Mother Mary, and father Joseph with all the animals around. Of course the angels with their large white wings were in the background. Christmas Songs were sung that were popular back then, such as Silent Night, Oh Little Town of Bethlehem, and many more. And then, the GREAT Finale! Santa Claus came running down the steps entering the gymnasium yelling HO, HO, Ho and then pandemonium took place for he was handing out sacks of candy with an orange on top and that was the biggest celebration of all the Holidays which was held on Christmas Eve. There was no reason for any child to be left out of Christmas in the surrounding countryside.
At that time my brother was old enough that he recognized that the Santa Claus one year was our Uncle Charlie Abbett. I guess because he had a big belly and a nice red Santa Suit with a red cap and a huge beard like a big white snowball hanging down. I'm sure I didn't recognize him as Uncle Charlie because I can't ever remember that there wasn't a real Santa Clause; that made it more exciting for me.
When I was six I began to ask for a baby sister and my Mom told me to pick one out of the catalogue and ask Santa to bring me one next year. So I excitedly pored through the catalogues and picked out the prettiest baby I could find in it and showed my Mom and she dutifully obeyed. I kept waiting for my baby sister to show up and finally in the month of June she appeared. But for a moment or two I was disappointed and told my Mom that was not the baby I ordered. But I finally accepted her and let her enjoy all the wonderful Christmas's we all shared together. She was named Bonnie.
Thanks mom.
Next I asked Lois Mace Webb (photo 07) to write something about her Christmas memories which mostly would have been in the 1930's in the Brumley and Tuscumbia area: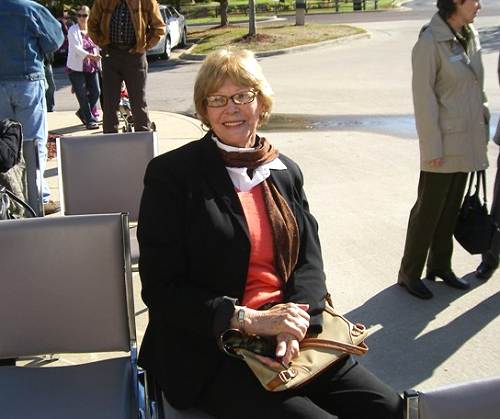 07 Lois Webb
Hi Joe,
Once again, thanks for prompting me to jog memory buttons, this time for Christmas traditions in our family -- the Lucian and Clare Mace family of Tuscumbia. After checking with sister Sue and her son, Mike, who live in Iowa, and with son David in Kansas, we came up with similar remembrances, so I suppose that's why certain customs qualify as traditions.
Unanimously we remembered our admiration that dad (Lucian) could always find the just-right size and shape of cedar tree to bring in for Christmas. This knack held fascination for brother Lee and me, as children during the 1930s when we lived near Brumley; carried on for Sue, a child during the 1940s when we lived in Tuscumbia; and on to Lucian's grandsons, David Webb and Mike Wyrick, who were children during the 50s and 60s respectively.
Through the years, at the appropriate time, dad gathered the hand-saw and whichever kid was available and went to the woods in search of the Christmas tree. The tree was found, duly processed and returned to the house for decoration. Particularly with the grandsons, he likely led them to an area where they, seemingly by virtue of their own keen discernment, "discovered" the perfect tree. This is to say that it only occurred to me long after I was grown and walking through areas of the farm with dad and mom, that I caught on that stalking for the right tree for Christmas was a year-long exercise. His knack wasn't magic after all, rather an ongoing dedicated pursuit. And it worked.
Mike was around eight or ten years old when dad died in the early 1970s. Sue said Christmas was never the same for Mike after that because he missed his treasured trek to the woods with Grandpa Mace to cut the Christmas tree. She said that unto this day, Mike cuts a live tree from a nearby tree-farm for their family Christmas, partly in remembrance of those early years in Miller County where he always found the just-right cedar tree with Grandpa. Likewise, David remembers the Christmas tree hunt with Grandpa and has carried on a similar tree tradition with his family.
I called on others to help remember some of those long-ago customs. When I asked son David about his early Christmas memories -- and I've surely conveyed that the custom was to go to Lucian and Clare's home in Tuscumbia for Christmas -- he remembered more rituals. "Well," he said, "after the big dinner and we exchanged gifts, the men went into the next room and played cards."
True. For many years, mom prepared the big Christmas Eve dinner for early evening and along with whatever aunts, uncles, cousins, were around, in addition to Lee and Joyce (Mace), Sue, Jack, and Mike (Wyrick) and Charles, Lois, and David (Webb), we drew up to the feast table. After my grandparents (George and Maggie Mace) died, most years we were joined by dad's sister Ollie and husband Hig (Atkison), his brother Vanus (Slim) and wife Eva; then sometimes Norman and Amy Wyrick (Jack's parents) joined us. We usually exchanged smallish gifts, often with enough of a prank involved to keep everyone alert.
After the dinner and gift exchange, and while the women went about clearing away food and washing dishes, the men migrated to a table where a deck of cards appeared. Sue remembered that they played penny-ante nickel limit poker; David just remembered that they played cards. Pitch was a popular game, but I expect penny-ante poker won as the game of choice. Shouts that suggested winning and groans of apparent defeat interrupted the ongoing game throughout the evening. The game came to an end only after influence (read hounding) from the women, who had finished the dishes, put away food, and likely had time to do laundry and clean house, called a halt -- usually around midnight. The adult party ended after a snack of leftovers. The little ones had long since gone to bed and during the night Santa brought gifts which the little boys (each in his own time) found around daylight as I recall. The immediate family exchanged more meaningful gifts, had breakfast, and moved on about post-Christmas activities.
Sue recalled a food preparation ritual important to mom -- her special fruit salad, the recipe for which she brought from her youth. Ingredients included REAL whipped cream and a cooked lemon sauce made with REAL butter. Mom allowed a can of pineapple and an occasional can of fruit cocktail, but for the most part, she insisted on REAL (as opposed to canned) fruit. The salad always garnered good reviews and a special occasion dinner was not complete without it. Mom never droned on about customs or events of times past. In fact, she spoke little of the past. Perhaps that's the reason it took Sue and me longer than it might have to determine the degree of luxury that fresh fruit, a scarce item in Brumley, likely represented during mom's youth. (Throughout her lifetime, mom never skimped on fresh fruit, which, according to current theory, may have contributed to her longevity -- 94 years.) With the advent of oleo (fake butter) and compressed chemicals called whipped cream, REAL butter and REAL whipped cream likely became a luxury equal to fresh fruit. Regardless, mom's special fruit salad, with REAL ingredients, carried as much if not more importance than the main dish. I believe we all duly expressed our appreciation. Sue still has the recipe.
I witnessed this Christmas event in our house in the 1940s when World War II was in progress. We lived in Tuscumbia. Dad served as Miller County Sheriff and we lived above the jail. The prevailing national mind-set centered around concern for soldiers fighting in two heated wars, one in Europe and one in the Pacific. Dad's three brothers were in ;military service. Hardly any family went untouched by the seriousness of world events. Listening to radio evening news became a paramount event for virtually every household. A grim countenance hung heavy on most adults.
In hindsight, I wonder if that era marked the beginning of a cultural shift when adults commenced going the extra-mile to celebrate special occasions, presumably to lift the spirit. For instance, everyone wanted to shield the children from the sadness and concern harbored by most adults during wartime. That's the time I became aware of a bigger deal being made out of celebrating Christmas, birthdays, etc., than I'd remembered. And so it was in Tuscumbia.
Tennyson Clay Wright, TC as he was affectionately known, became something of an iconic figure in Tuscumbia. He served the community through school, church, and civic endeavors as well as in ways I could not know. One year during sister Sue's early childhood, word went out that on Christmas Eve, Santa Claus would visit the homes in Tuscumbia where children lived. He would pick up a sack of gifts as he entered the door and the children would experience the wonder of his presence.
Our family readied for the joyful event and arranged for cousin Gloria Jo, daughter of dad's sister Cleo, to be at our house at the appropriate time. Gloria was about a year older than Sue, so they were aged around three, four or five. I do not recall if we alerted the children about a surprise visit or not. I do remember that our evening meal came early and the table was cleared more quicly than common. Grandma and Grandpa Mace (George and Maggie) were there with Gloria.
Then we heard a loud knocking and a hearty ho-ho-ho at the door. Sure enough, here came Santa Claus, a man about the size of T.C. Wright, and he bounded through the door with two sacks of gifts -- one for Sue and one for Gloria. Santa knelt to speak with them eye to eye and I thought Gloria's eyes would pop out of her head. I smile now as I recall her expression of excitement. Sheer wonder! Conversely, Sue frowned and backed off. Mom eased her into the hall so as to not dampen the moment and in effort to determine the problem. Mom signaled the rest of us to keep up the excitement with Gloria. We did, and Gloria was positively enthralled.
Santa left, and during an adult whisper campaign, we learned that Sue had seen behind Santa's white beard and "he had whiskers just like daddy's." She didn't buy into the red suit, hat, and white beard business at all. Further, she was bent on telling everyone else, including Gloria, about her discovery. She recalled, as we discussed it by phone today, how mom and others tried to keep a lid on her disillusionment and at least let Gloria bask in the excitement of Santa's bringing a bag full of gifts.
Today I also phoned Gloria, who has lived in St. Louis all her adult life, and she laughed heartily in remembrance of the event. She had no idea, until I told her today, that Sue had not shared the grandeur of the moments. We were evidently successful in keeping a lid on Sue's skepticism. Gloria enjoyed the memory and recounted her excitement about the occasion. She remembered her thought process at the time -- that she'd heard about Santa Claus, and now she could actually SEE him here he appeared before her very eyes and knelt by her side. Could it really be true! She said the experience ranks near the top of wonderment and awe in her lifetime. She said she would never forget the feeling of surprise and good fortune at actually SEEING Santa Claus. Gloria and I enjoyed a pleasant mental revisit of the occasion by phone today.
Somehow, I fancy T.C. Wright might be smiling.
And for sure, the presence of Santa Claus helped abate war worries for a time in our household that Christmas season during the 1940s. And I expect the spirit of Santa did the same in households throughout the nation while adults sought to shield the children from circumstances less beautiful. Do you suppose similar scenarios are taking place in our midst today. As the saying goes, if we do not learn from history, we are bound to repeat it.
Blessed Holy Season. Lois Webb
---
Thanks Lois.
Finally, I thought I would include some photos having to do with Christmas. The first one is an old postcard showing a scene of Tuscumbia from the late 1800's. It belonged to Ida Hauenstein Hix and Janet Hix Buthold, her daughter gave me this copy (photo 08).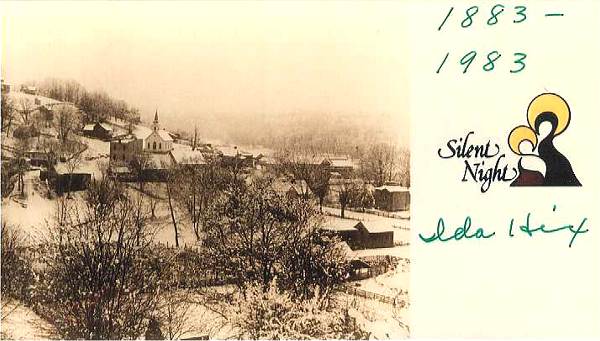 08 Christmas Scene Card from Ida (Hauenstein) Hix
Janet is quite a collector of Christmas memorabilia. Here is a photo of one collection she has (photo 09).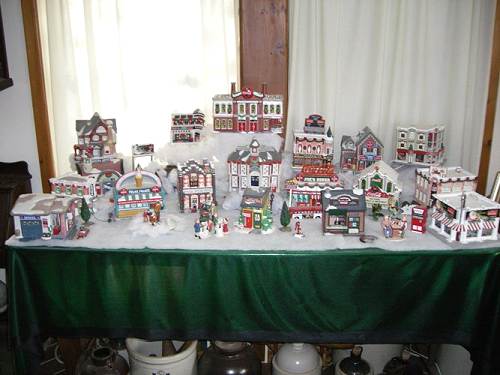 09 Christmas Scene with Miniatures - from a Janet Hix Buthold collection
You can read more about Janet's collections at this URL:
http://www.millercountymuseum.org/080324.html
A couple of weeks ago when I went to the College of the Ozarks to bring back the old Presbyterian bell I took some photos of Christmas themes there. This photo is from one of the shops in old Branson (photo 10):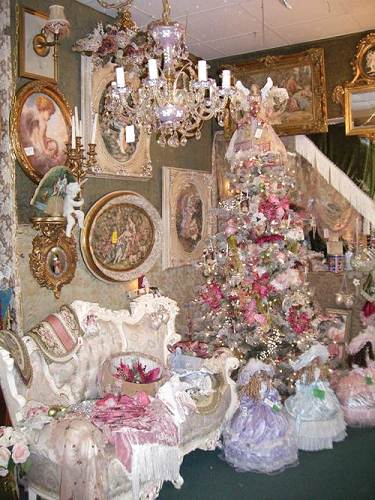 10 Christmas Display
Branson has a new Hilton Hotel. This photo is of the big tree the hotel placed in its great hall entry (photo 11).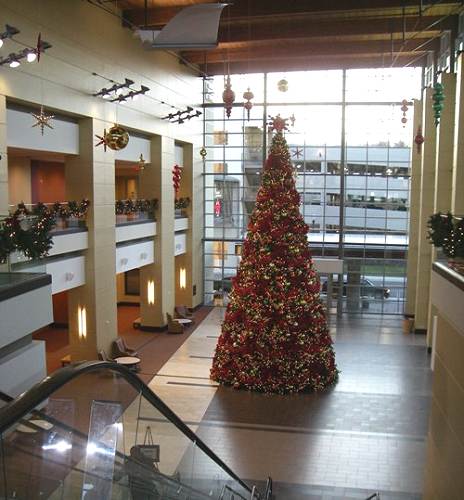 11 Hilton Tree
At a new development called the Branson Landing, on the bank of the Taneycomo Lake is this outdoor tree. Notice the full moon just to the left of the tree (photo 12).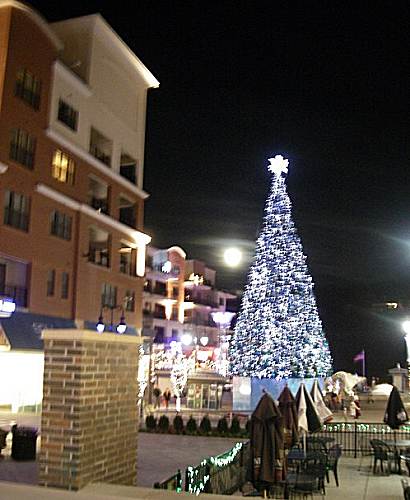 12 Landing Christmas Tree and Moon
That's all for this week.
Merry Christmas!!