Monday, December 15, 2008
Progress Notes
Last week I wrote that I planned to write some more about our experience at the College of the Ozarks where we went to load and return the old Presbyterian Church bell to our museum.
While on campus after we loaded the bell to take it back, we toured the famous Ralph Foster Museum (photo 01), which has on display just about one of the largest collection of historical items and artifacts having to do with Missouri history you will find in our state.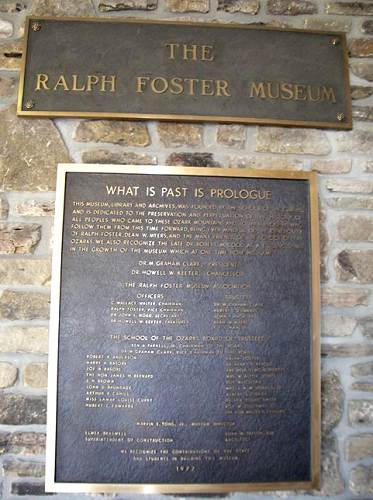 01 Memorial Plaque on Entrance Wall to Ralph Foster Museum
And who was Ralph Foster (photo 02)?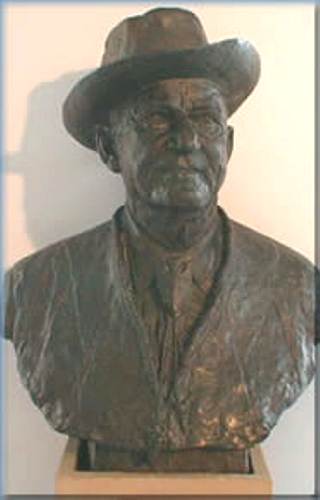 02 Ralph Foster Bust
Well, just about everyone knows about radio station KWTO in Springfield; that station belonged to Ralph. And he, along with Si Simon (photo 03), was also the producer of Ozark Jubilee, one of the first national country music shows in the country.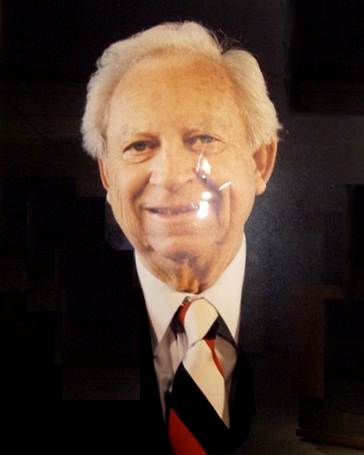 03 Si Simon
Ralph donated to the museum one of the largest gun and wild animal taxidermy displays I have ever seen. For further information I have copied below this biography of Ralph Foster taken from a website devoted to him:
http://www.rfostermuseum.com/ralphfoster.asp
"Ralph Foster was one of the true pioneers of radio -- one of the first to realize its vast potential, both educationally and as a new and exciting field of mass entertainment.
In 1924, Ralph Foster and his partner, Jerry Hall, set up a 50-watt station, KGBX, in a corner of their Firestone tire store in St. Joseph, Missouri.
It began simply as a hobby, but as businesses increasingly sought to advertise over the air, the station blossomed into a full-time vocation. It wasn't long before a brand new one-stop super service station and glassed in studios for the radio station were built a few blocks north of the old tire store located on Frederick Avenue. The age of radio had begun!
In 1932, Ralph Foster moved the station to Springfield, Missouri. Later, unable to get a power increase for KGBX, he purchased the license of a radio station in Grant City, Missouri, and moved it to Springfield.
Ralph Foster asked for and received the call letter K-W-T-O and soon the slogan "KEEP WATCHING THE OZARKS" was on everybody's lips. Ralph Foster, as president and general manager of KWTO, devoted all his time and energy toward making KWTO the dominant station of the Ozarks area. KGBX was sold in the early 1940's.
Live talent broadcasts dominated programming. Many famous country music stars either got their start or appeared on KWTO, such as Slim Wilson, Porter Wagoner, Chet Atkins, the Carter family, and Homer and Jethro.
The long popular weekly television show, OZARK JUBILEE, was a Ralph Foster achievement through Crossroads TV Production, a KWTO subsidiary. It starred the late Red Foley and guest starred many well known country music personalities.
For many years, Ralph Foster had been collecting Indian artifacts. His interest in The School of the Ozarks prompted him to turn this vast collection over to the School's museum.
Because of his abiding interests and generosity, The School of the Ozarks Board of Trustees voted to rename the museum the "Ralph Foster Museum" in the mid-1960's.
Ralph Foster passed away on August 11, 1984. His wife Harriett passed away on December 5, 1986.
Who was Ralph Foster? He was an avid hunter and fisherman, a strong conservationist; a man who was close to nature; one who loved his fellow man. He was compassionate, understanding, generous, and had a rich sense of humor."
The Ralph Foster Museum is large and filled with many items pertaining to the historical, botanical, and wildlife characteristics of Missouri. Following is a quick photographic tour which by no means is even partially complete. First the museum has an unusual number of large animal specimens (photo 04).
04 Caribou and Wolves
The gun enthusiast can spend several hours here browsing the many gun displays (photo 05).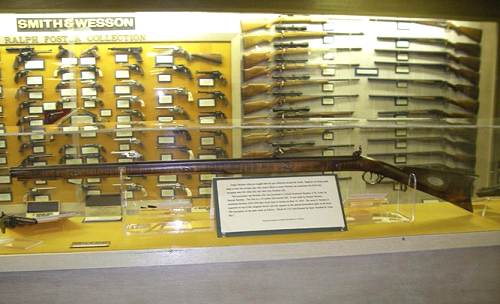 05 Original Hawken Rifle
The bird taxidermy display contains about every specimen in Missouri (photos 06 and 07).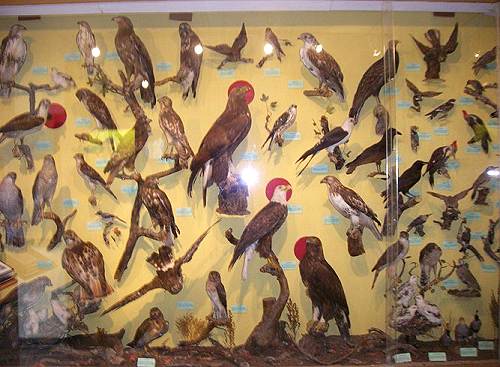 06 Large Bird Mounts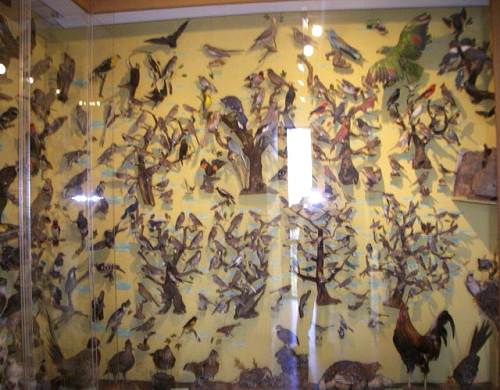 07 Small Bird Mounts
His personal office which has been moved to the museum is another display which showcases his interests (photo 08).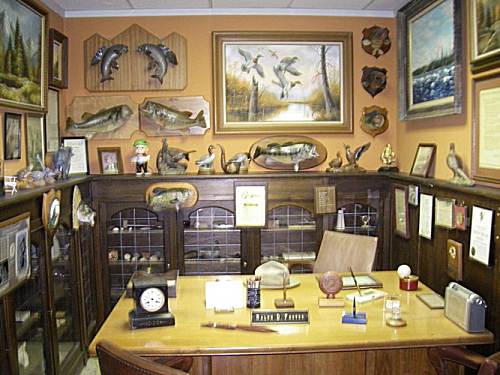 08 Ralph Foster's Office
But for those of us who lived in the KWTO listening area who can forget the great live radio presented by that station in years gone by? A nice summary of the history of the station is found on Wikipedia:
"KWTO was founded by Ralph Foster and first began broadcasting on December 25, 1933. Ralph applied for and got the call letters KWTO, which stood for "Keep Watching The Ozarks". In the beginning, since FCC rules at the time prohibited the playing of recorded music on the air, the station had their own live bands that played on the air. During the 1950s, KWTO played a key role in launching the careers of stars such as Porter Wagoner, Chet Atkins, and The Carter Family, all of whom were regulars on the station before finding fame and fortune in Nashville. KWTO was also the radio home of regional stars, such as Slim Wilson, The Goodwill Family, and the Tall Timber Trio"
And, Wikipedia, don't forget Bill Ring!
According to the book, Country Music Humorists and Comedians by Loyal Jones, The Ozark Jubilee TV show out of Springfield was a joint venture of Ralph Foster and Si Simon. It was the first and, many say, the most successful televised country music show in the country. Si was a promoter at radio station KWTO who had many contacts with country music stars. It was he who recruited Red Foley to serve as host and then sold the show to ABC-TV. This show launched the careers of such performers as Porter Wagoner, Brenda Lee, Bobby Lord, Ferlin Husky, Billy Walker, Carl Smith, Jean Shepherd, Hawkshaw Hawkins, and Chet Atkins among many others. And who can forget famous local performer, Slim Wilson? The Foster museum has a special section devoted to Si Simon where Slim Wilson's guitar is on display (photo 09).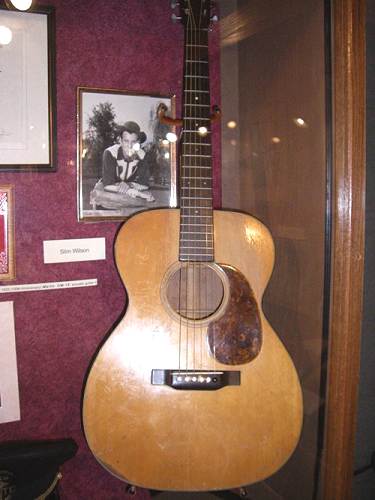 09 Slim Wilson's Guitar
But I want to remind readers that one of our own Miller County natives participated in the success of the Ozark Jubilee during the 1950's. His name is Don Woody, who is the son of Cleo and Inez (Wyrick) Woody. Inez was a brother to former Miller County Representative, Rex Wyrick, whom I featured on this web site a few weeks ago. Rex's daughter, Karen Smith, is a Miller County Historical Society board member and a first cousin of Don's, so I asked her to give us some information about Don Woody. Here is what she wrote me:
Joe,
Don Woody is my cousin. Here is a photo of him when he was a teenager (photo 10).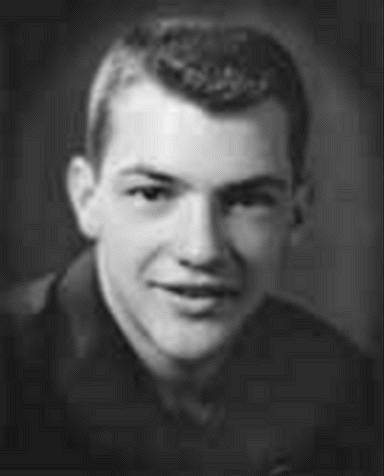 10 Don Woody
He is the youngest son of my Aunt Inez and Uncle Cleo. Believe it or not, he has a bit of a following in Europe and still gets a royalty check every now and then. A couple of girls in Russia are big fans and have put together a website. You can read all about him there.
You can also glean some info by doing a Google search. In April of 2007 he was invited to perform at the Viva Las Vegas Rockabilly festival. I think he was a little nervous about it, but I have seen videos on YouTube and I thought he was wonderful.......I'm just a wee bit biased. I believe he and his friend from Eldon, Paul Simmons, wrote the first song that Brenda Lee recorded. When he was in college he was a DJ at a Springfield radio station (KWTO). He kept me supplied in 45's....even brought me a large stack of them on his wedding day.
He lives in San Antonio, is retired from Sears and sells real estate. We rarely see each other and I don't hear from him very often, but he is one of my favorite people.
Early on, the Woodys' moved from Tuscumbia to Clinton; I'm not sure of the year they moved to Clinton, but they were living there when Daddy (Rex Wyrick) went to College. We lived in their yard in a two-room trailer during that time....I was about two or so which would have made it around 1948-49. Don graduated from high school in Clinton. Uncle Cleo had the Cadillac and Oldsmobile dealership there.
I found the following news article that I had transcribed into my genealogy program. I do not have the name of the paper nor the date, but I suspect it was the Miller County Autogram. I think it was written sometime about 1957, because if Don was a sophomore in college he would have been about 20 years old at the time and he was born in 1937:
COLLEGE BOYS' SONG ON MARKET: A songwriting team from Southwest Missouri State College, Springfield, sophomores Don Woody of Clinton and Paul Simmons of Eldon, have had their first song released on the market.
It is "Bigelow 6-200," recorded by Brenda Lee, 9-year-old Ozark Jubilee singing star (photos 11, 12 and 13).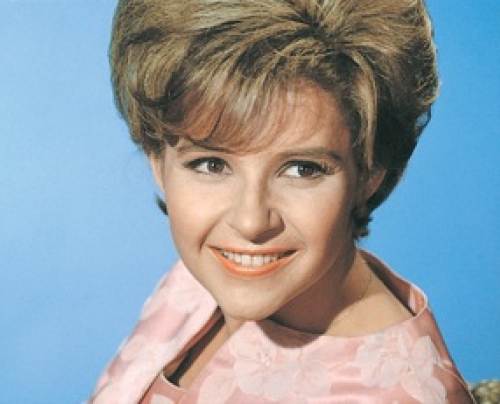 11 Brenda Lee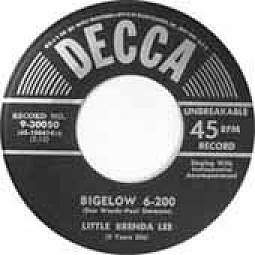 12 Brenda Lee's First Hit
| | | |
| --- | --- | --- |
| 13a Record Cover | 13b Brenda and Elvis | 13c Brenda Lee Singing |
Flip side of the Decca disk is "Jambalaya," currently getting a revival in connection with the forthcoming movie based on the life of Hank Williams, "Your Cheating Heart."
Watch Brenda Lee singing "Jambalaya" via this YouTube video:
The record will be distributed in both the country and popular music markets, according to a Decca Executive Paul Cohen. It is to be reviewed Saturday on the Ozark Jubilee.
Woody is the son of Mr. and Mrs. R. C. Woody of Clinton, while Simmons, a provisional basketball letterman, is the son of Mr. and Mrs. R. M. Simmons of Eldon. Mrs. Woody is the former Inez Wyrick of Tuscumbia.
Simmons, noted as much for his athletic ability as his musical talent, long has "dabbled in crazy little rhythms," his mother said.
Now that rock 'n roll has moved into the foreground, he may have found his medium.
Thanks Karen for the information. The Si Simon section of the Foster museum has a very interesting display devoted to Brenda Lee who got her first national exposure on the Ozark Jubilee (photo 14).
You can also read more about Brenda Lee at her official website located at this URL: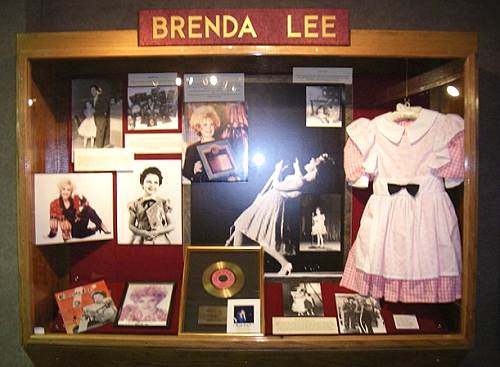 14 Brenda Lee Display
Here is a biography of Don Woody from the website
http://clayton.rockabilly.nl/references/messages/don_woody.htm
DON WOODY
Born 29 June 1937, Tuscumbia, Missouri
Next week, during the 12th edition of Viva Las Vegas (April 5th-8th, 2007), Don Woody will step out of a musical retirement that has lasted for over four decades. So far, Don has turned down all requests to return to the stage, but Tom Ingram, the promoter of VLV, assured him that he will only have to do four songs, the ones that he is best known for. This fits into a new policy that Ingram has developed for Viva Las Vegas since 2006 : having four or five original acts in one set only doing their own songs. After all, who wants to see an older act doing another Elvis cover?
While attending college in Springfield, Missouri, Don became a disc jockey at a small radio station, KICK. Springfield hosted a national television show at that time called The Ozark Jubilee and Don was given the chance to do a stand-up comedy act before the show really started. One of the stars at the Ozark Jubilee was 11-year old Brenda Lee, whose very first record was a Don Woody composition, "Bigelow 6-200", a song that Don co-wrote with Paul Simmons, his roommate in college. This led to a request from Decca Records to record some demos for the label and eventually to Don's own recording session, on December 21, 1956. At Bradley Studio in Nashville, four tracks were recorded, all Woody-Simmons compositions : "Bird Dog" (for those few who are not familiar with the song : it has nothing to do with the Everly Brothers hit of the same title), "Barking Up the Wrong Tree", "Morse Code" and "Make Like A Rock And Roll". The backing was supplied by Grady Martin and the Slew Foot Five, plus Owen Bradley on piano, who also produced the session. Only the first two songs were released (on Decca 9-30277, April 1957). An excellent rockabilly single, but it sold poorly and Decca decided to keep the other two songs on the shelf. Undeterred, Don's manager, Gary Walker, encouraged Woody to put out another record. "Not I" and "Red Blooded American Boy" were cut independently and sold to a small label in Wilkes-Barre, Pennsylvania, called Arco Records. They didn't have any money to promote the record, so that one (released in May 1958) failed to sell as well. Don continued to write songs and was still employed at the radio station, but then he was called up for military service. By the time he got out of the Army, he was married and soon had a child to support. A career in the music business didn't seem the most lucrative thing to Don, so he went to work for Sears-Roebuck in 1961 and retired from that company in 1991, as a regional manager.
In the mid-seventies, "Bird Dog" was discovered by European rockabilly fans, thanks to MCA's "Rare Rockabilly" LP. At that time it was unknown that Grady Martin played on the Coral LP by Johnny Burnette and the Rock and Roll Trio. The guitar intro of "Bird Dog" has Grady Martin copying his intro to "Sweet Love On My Mind" by the Burnette Trio almost note for note. So, back in 1975, many people thought that the Burnette Brothers were playing on "Bird Dog", which turned out not to be the case. "Barking Up the Wrong Tree" was released as a single in the UK in 1976, hoping to repeat the success of "Jungle Rock" by Hank Mizell. It bubbled under the Top 50 and got lots of airplay. Soon it was discovered that there were two unissued Don Woody tracks lingering in the vaults and "Morse Code" and "Make Like A Rock And Roll" finally saw a commercial release on a UK compilation LP, some 20 years after they were recorded. The British group Matchbox covered "Make Like A Rock And Roll" as early as 1976 (on their first LP, "Riders In the Sky") and since then there have been quite a few covers of Don Woody songs by contemporary rockabilly acts:
http://www.hot.ee/donwoody/covers.htm
Don's recorded legacy is limited to the six songs mentioned above, but all six are great sides. Virtually everything that has ever been written about Don (including a Now Dig This interview from July 2006) has been assembled on his official website, which was started (and is still run) by two Russian girls, Lotta and Kitti:
http://www.hot.ee/donwoody/index.html
where you will find much more information. We wish Don lots of success in Las Vegas.
Dik
Here is a YouTube recording of the song "Bird Dog" by Don Woody at that "Viva Las Vegas" event last year:
And here is another very interesting website with a biography of Don Woody:
http://www.theriversonline.com/Don_Woody.htm
As noted above by Karen, Don's cousin, Don and his wife Betty are now living in San Antonio where he has retired (photo 15).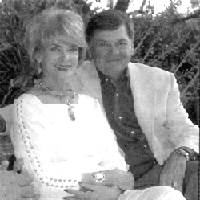 15 Don and Betty Woody
---
One of the interesting display items in the Ralph Foster museum is the original car used by the Jed Clampett family on the Beverly Hillbillies show (photo 16).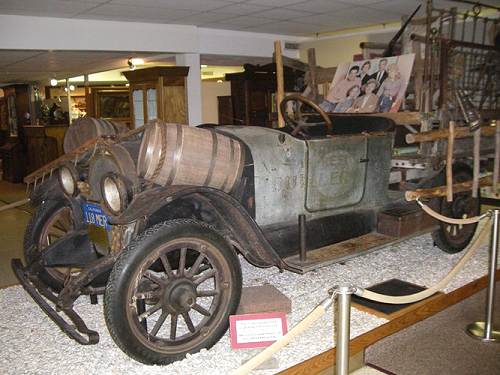 16 Beverly Hillbillies Car
Here is another photo of the Clampetts riding in the car (photo 17).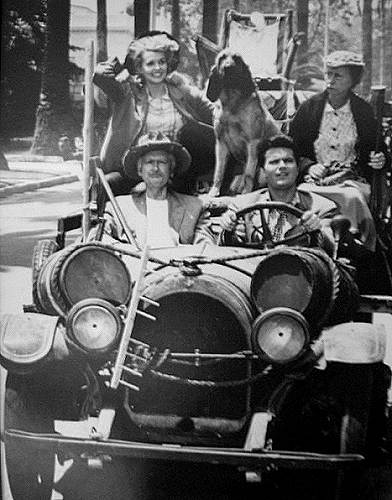 17 Beverly Hillbillies taking a Ride
You may remember that the producer of that show, Paul Henning, chose to be buried with his wife in the Burris part of the Tusumbia Cemetery. I discussed that story in the Progress Notes of August 4, 2008. Paul was one of the individuals very important in the early recreational development of Branson and Silver Dollar City.
So through Paul Henning we here in Miller County have another connection with the College of the Ozarks in addition to our Presbyterian Church Bell! And added to that we have a connection to the Ralph Foster/Si Simon originated Ozark Jubilee with Miller County born Don Woody and Paul Simmons.
---
I have a copy of the book cited below, which details a number of superstitions claimed to have been prevalent among Ozarkians years ago. The one I am copying here caught my interest since it had to do with cedar trees. My family made its living harvesting cedar trees and working the cedar logs up into lumber which could be used to make boxes, chests and other items which could be sold as souvenirs to tourists who came to the lake area. I guess we made it OK without any untoward event, maybe because we never transplanted a cedar tree to my knowledge. You can look up the entire book, which is online, at the following URL. I am copying here a short section that had to do with cedar trees:
http://www.archive.org/stream/ozarksuperstitio032343mbp/ozarksuperstitio032343mbp_djvu.txt
Ozark Superstitions
VANCE RANDOLPH
COLUMBIA UNIVERSITY PRESS
NEW YORK 1947
Mrs. Marion B. Pickens of Jefferson City, Missouri, editor of the Missouri Magazine, wrote me (Oct. 1, 1935) of her ex- perience shortly after buying a country home on the Osage River, near Tuscumbia, Missouri. "The new place is a beautifully located farm house," she said. "We planned to move some native cedars into groupings and had great difficulty in finding someone to do the work because moving cedar trees was known to bring untoward happenings, nearly always a death to the immediate family (photo 18).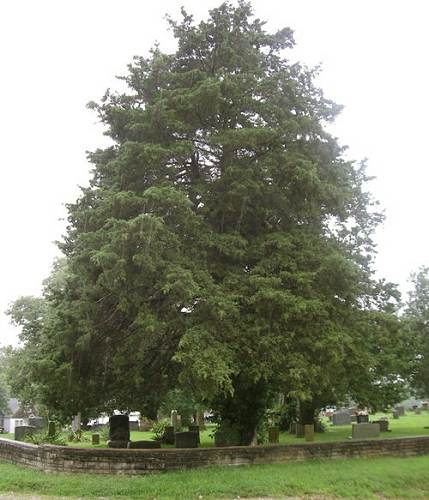 18 Big Cedar Tree at Tuscumbia Cemetery
And these Tuscumbians cited actual cases to prove the rule. We finally found a native who was willing to risk the welfare of his family, but he had worked on the big roads out in the valley and had acquired a certain bravado or recklessness in tempting the powers that be. This is a bona fide experience."
Mrs. Frances Mathes, of Galena, Missouri, once told me that years ago she transplanted a little cedar on the Mathes farm. Her young husband just grinned when he heard of it, but her father-in-law was almost prostrated. He urged Frances to go instantly and pull the tree up. Frances refused, and always after that the old man felt that she was destined for an early death. But the cedar tree is still flourishing, big enough to cover half a dozen graves now, while Frances Mathes outlived her husband and the whole Mathes family.
The prejudice against transplanting cedars is known all through the Ozarks, and doubtless in many parts of the South. Other superstitions about trees seem to be local, or even limited to certain family groups or clans. There are people in southwest Missouri who will not under any conditions plant a willow. I once asked a hired man to "stick" some willows in a certain gravel bar, in order to turn the creek the other way and prevent it from cutting into my field. Without mentioning the matter to me, he went out and hired another man to attend to this. "It's sure death for us folks to fool with willers," he explained later, "so I just got one o' them Henson boys. The Hensons is eddicated, an* they don't believe nothin'."
I had written last year a series of articles about the crafting of cedar wood souvenir boxes and other items beginning in the late 1930's by a number of natives of the Ozarks area for the purpose of selling them to tourists. About six or seven families were involved in this enterprise over a good number of years. My family continued making and crafting items out of cedar until just last year when, after seventy years of production (having begun in 1937), the business was closed due to declining sales and increased expense of production. The cedar wood shop originally was located in an old stable on the hill above the river not too far from the Tuscumbia school (photo 19).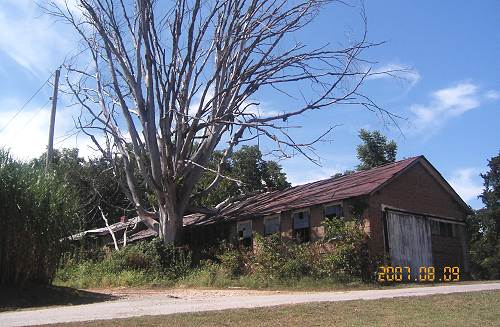 19 Old Converted Stable
First begun by my father and his two brothers, the business last was owned by my cousin, Tim Pryor, son of Fred Pryor, my uncle. An interesting (to me, I guess I should add) article about the family business was published in the Jefferson City Tribune, Wednesday, September 30, 1987:
Tim Pryor (photo 20 from article)
Business a Novelty for Tuscumbia Man
By Susan Wortman
News Tribune
September 30, 1987
Tuscumbia:
Outhouses, honest to goodness, real live outhouses were the start of it all some fifty years ago. It started as a kind of a joke, but if it weren't for the pristine privies, those commodious relief stations, Tim Pryor wouldn't be doing what he is now. Outhouses were the humble beginnings of a hillbilly venture that is now one of Tuscumbia's oldest industries. At 23 years old, Pryor is president of a company more than twice as old as his age…the Pryor Novelty Company.
Souvenirs are as much a part of our Lake of the Ozarks as boats and water, and that's the business of Pryor Novelty. The company makes cedar wood boxes, cedar plaques with pictures on them, cedar pen holders and, yes, little wooden outhouses. In an industry that seemingly died with rubber tomahawks and cheap postcards, cedar…the grandfather of souvenirs in this area, is alive and doing well.
"The company was named wrong," Pryor said. "When you think of novelties, you think of junk. It should have been named Pryor Gifts or something more artisan like. Everyone associates the word novelties with tourist traps but that is where you still can sell cedar products."
No matter the name, they sell a lot of cedar. They sell to buyers at the lake, and they sell nationally to Dollywood, Six Flags and Worlds of Fun. They even sell their cedar overseas. Every one of those souvenirs is made in a work shop area consisting of two buildings located just inside the Tuscumbia city limits. It's nothing fancy…one building is long and white with "Pryor Novelty Co." lettered on the side in bold, black letters (photo 21).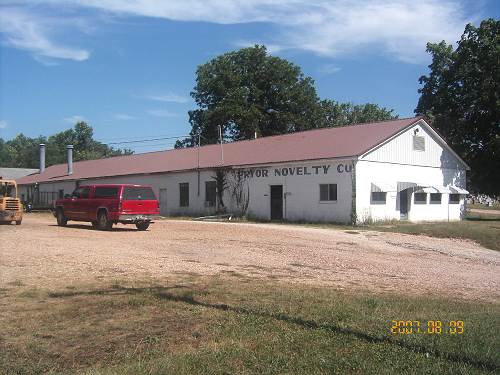 21 Finishing and Packing Building
This is where the office is located and where the souvenirs receive the finishing touches such as varnish and lacquer and special order requests. Tuscumbia is a quiet town, and from the outside, that name on the building, "Pryor Novelty," seems to fit right in.
A second building to the west is where the cedar wood rough lumber is unloaded from trucks, and is worked up into pieces to be sawed, sanded, nailed or glued to make the individual souvenir (photo 22).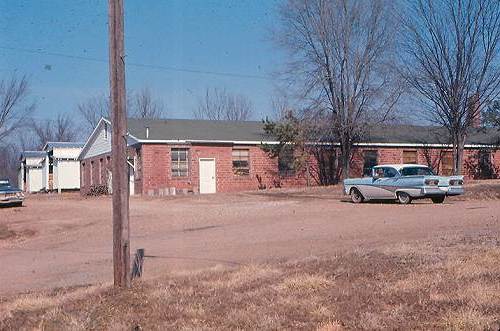 22 Woodworking Building
Inside, the saws buzz, the sanders hum and pieces of wood clack as they are stacked together by the company's 20 to 30 employees. In one day, the employees can build more than 2000 souvenirs and finish up to 40,000.
"We do everything except cut the tree down and saw off the bark." Pryor said. "At one time in the beginning we cut local cedar and had our own sawmill."
Why was cedar wood selected for making the souvenir items? Tim replied that cedar was readily available since so much of it grows in the Ozarks and it was inexpensive. Pine is not adaptable to varnish or lacquer and oak or walnut are more expensive to buy. But most of all, cedar has an aroma that is almost addictive. "That's why it's called Aromatic Cedar," says Tim.
Tim, who is 28 years old, headed back to work in Tuscumbia, the small community where he was raised (population 250), after a stint in the Marine Corps.
He grew up in the cedar wood industry, part of a second generation of wood workers that has owned and operated Pryor Novelty Company. The company was started in an old stable (see photo 19 above) in 1937, the idea of his sanitation engineer uncle (Ansel Pryor) who worked for the county health department (photo 23). In fact, the idea started almost as a joke.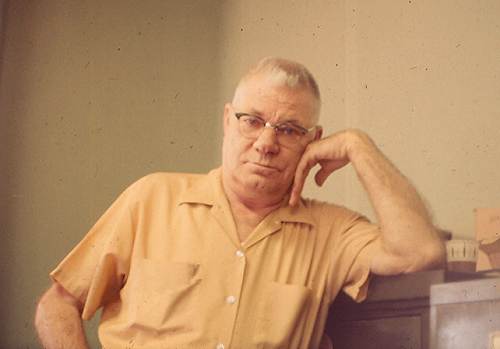 23 Ansel Pryor
Back in the 1930's, Uncle Ansel was a sanitation engineer for Miller County and one of his projects at the time was remodeling outhouses to lessen the danger of contamination and pollution near the living quarters where people lived. Ansel fashioned a small model outhouse to show residents of the county how they should build their privies in a way that would help prevent disease. But as he carried his model privy around people couldn't help but laugh and poke fun at it; so much in fact, that Ansel decided he was trying to sell the idea of his privy to the wrong clientele. "Maybe I'm in the wrong business," he was heard to say.
Back during the depression, there was a shortage of souvenirs for the local rental cabins, motels and service stations to sell to their tourist customers. What was from the Far East was cheap but not particularly attractive or interesting. And it certainly wasn't native made, something tourists in those days were seeking. Besides, "No one had the money or the know how to import anyway, so there was a need for locally made souvenirs," Pryor said.
So Ansel and his two brothers, Fred and Harold (photos 24 and 25) went into business, making dozens of the little outhouses (photo 26).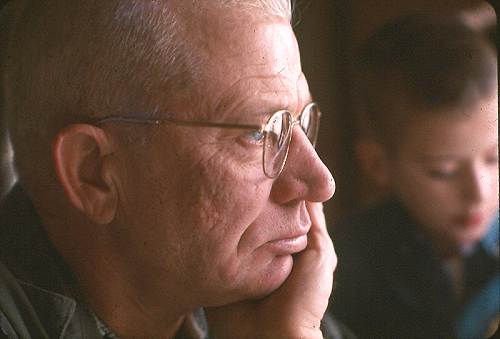 24 Fred Pryor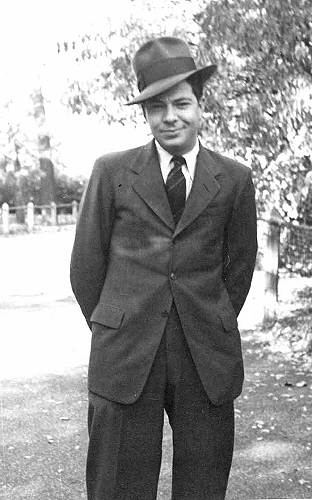 25 Harold Pryor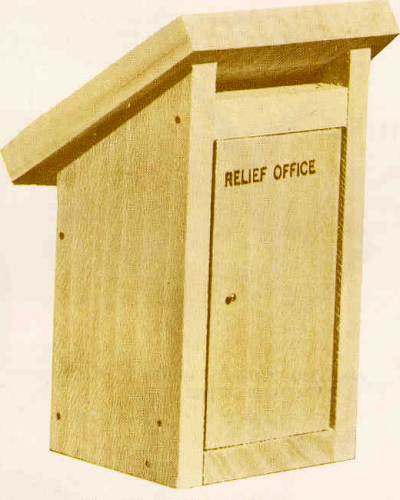 26 Relief Office
The name on the door, "Relief Office," really originated from the depression still causing economic problems for the country. Many of the rural counties had a place where the poor and destitute could get help such as food or clothing and it was commonly known as the "Relief Office." Of course, the same name has an obvious application in reference to an outhouse privy as well. Slowly the business began growing, and one by one the Pryor Novelty Company began hiring employees.
The business has stayed in the family for the past fifty years, and still is family owned and run. While Tim runs the front office, his older brother, Jim (photo 27), takes care of the shops.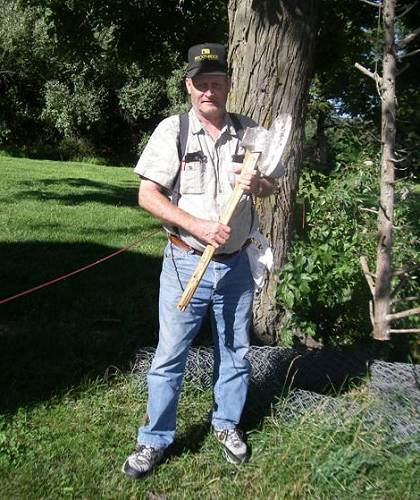 27 Jim Pryor
Tim's sister, Linda (photo 28), works part time, filling in on the assembly line where needed.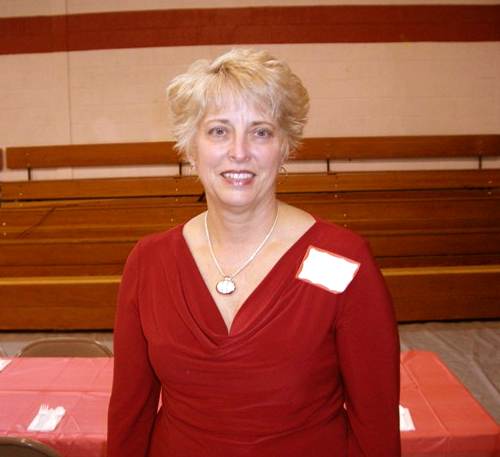 28 Linda Pryor
Even though Jim is older, he doesn't mind letting Tim be president. Mostly it's just a title, he said. And besides, they work together to run the business.
"I wanted to stay with what I knew, and I knew the shop." Jim said. "Plus, I didn't want to meet all the people."
And, he admitted, he would rather be around for quail season instead of being on the road selling products.
Most of the products are made of cedar bought from southern Missouri and northern Arkansas. Early on, the original Pryor brothers cut their own cedar locally, but the further south one went the cedar was more concentrated making it more cost effective to harvest there. The rough cedar boards come on trailer trucks, 14,000 feet at a time. Oddly, though, that original outhouse wasn't made of cedar…it was made of oak. And it still is.
"That's our heritage, Pryor said. "Why change it now?"
The cedar industry isn't just making little cedar chests any more. Pryor is taking it in a whole new direction.
"The souvenir market, in general, has changed," he said. "You don't see kids buying tomahawks. They want T-shirts and caps. Years ago, cedar didn't have to compete. How it is in direct competition with T-shirts and caps, socks, glass and toys. And today's buyer has changed. They don't mind spending the money if they feel they're getting a quality product. Today's buyer is smarter."
"We're trying to change, to keep up. Change…you have to change."
The novelty company has expanded into custom work. Pryor has already contracted projects for J & B Scotch and Mitsubishi. And they are looking into new markets…those overseas. The Pryors have opened up markets in England and Australia, for example. Those countries do not have cedar wood, so it is new to them. They especially like the smell, Pryor said.
"The Japanese were asking for shipments between 500 and 50,000 of one item. They wanted to know if we could produce that many. I told them that I have a lot of cousins and if they wanted it, I can make it happen."
This year, they are introducing a new line of laser cut products. Somewhere in between all the orders, the machines still find time to turn out some of the old outhouses. They don't sell that well anymore, but it's one product of the company that Pryor doesn't want to change. After all, if it weren't for those outhouses, he wouldn't be where he is now.
---
Yesterday, the Miller County Historical Society celebrated its annual Christmas potluck dinner and members meeting. The meeting room was beautifully decorated by Judy Pryor. Here are some photos. First, the corner Santa Claus (photo 29) received a lot of attention.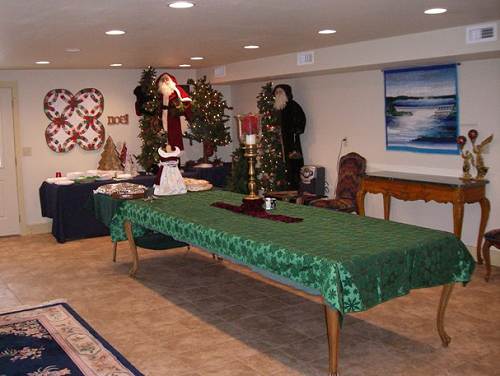 29 Corner Santa Claus
Member Elva Steen took a seat by the Crèche display which emphasized to all the true meaning of Christmas (photo 30).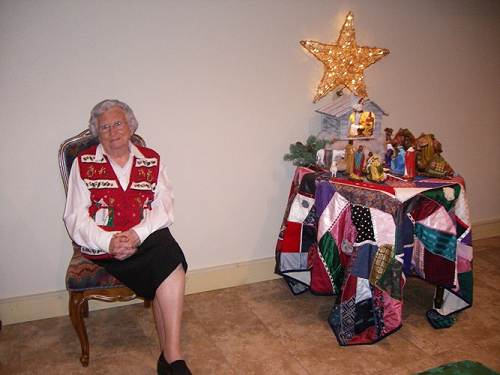 30 Member Elva Steen
Christmas decorations such as the one shown here handmade by member Doris Wiggins (photo 31) were placed on all the tables (photo 32).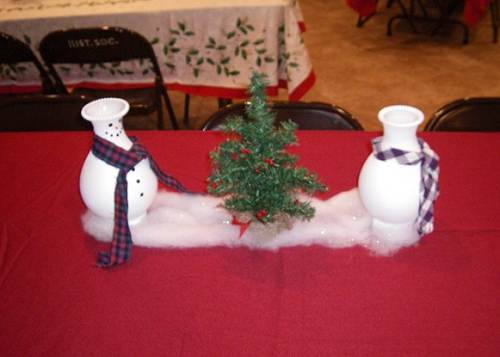 31 Handmade by Doris Wiggins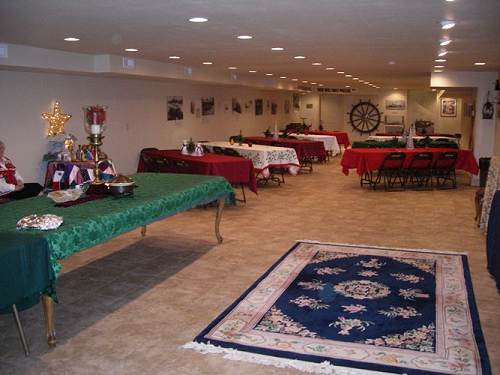 32 Tables Decorated
Member Emeritus Bamber Wright stood in front of the old roller mill (made in 1889) used by his family in the Anchor Milling Company; and on the floor at his feet is the old mill stone used by his ancestor James Lawrence Wright in the old water wheel powered carding and grain mill on the Little Saline Creek (photo 33).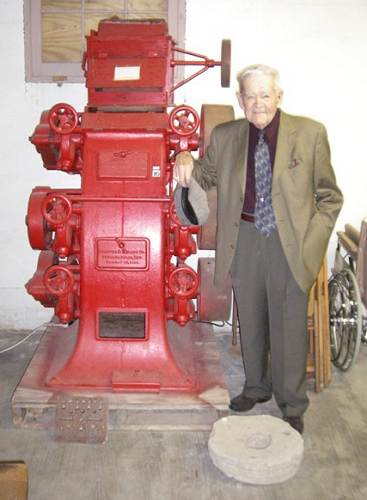 33 Bamber Wright and Old Historic and Mill Stone Grinder
Christmas music and singing were brought to us by Tuscumbians Frank and Colleen Schlesinger (photo 34).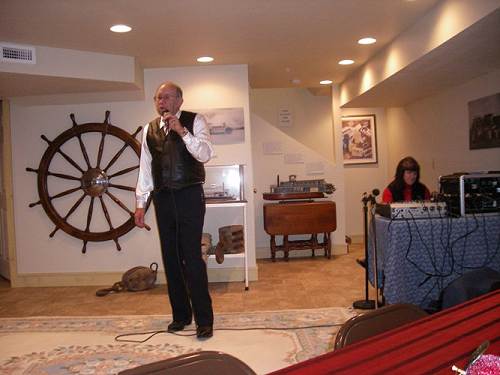 34 Frank and Colleen Schesinger
And the entire audience was surprised by the appearance of a special guest who truly "brought the house down" (photo 35).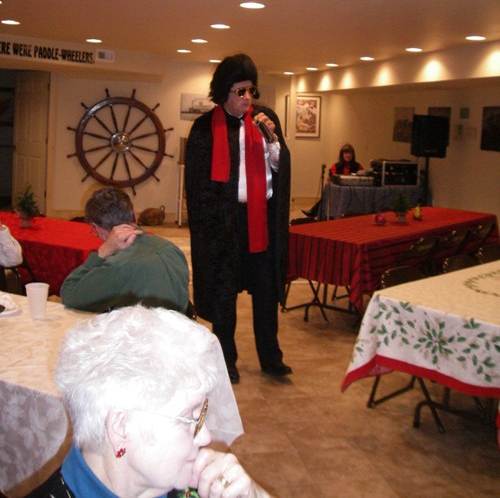 35 Special Guest
That's all for this week. Merry Christmas!!