Monday, December 1, 2008
Progress Notes
Winter is arriving causing cold mornings and some sleet and frost. The woods now are full of leafless trees and the landscape is brown. Homeowners who nurture plants accustomed to warmer environments bring them inside or watch them die to be replaced next year. But did you know that in Miller County a plant which requires a warm environment has survived for more than one hundred twenty five years due to the meticulous attention of its caregivers who over the years have ensured that it avoids the harsh extremes of Miller County winters? Well, Miller County Historical Society board member, Karen Wyrick Smith knows about this plant and here is her story:
The Lemon Tree (as published in the book: Edwards Family Memories)
Karen Wyrick Smith
August 20, 2005
My earliest memory of The Lemon Tree (photo 01) is that of seeing it in the lobby of the old Bank of Tuscumbia located "under the hill" (photo 02).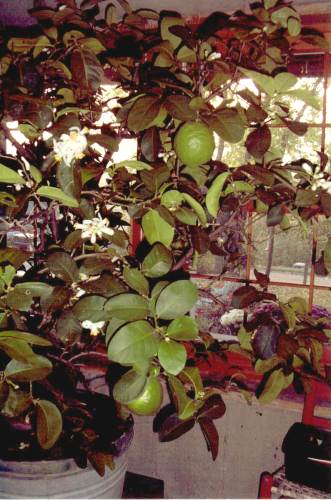 01 Lemon on Tree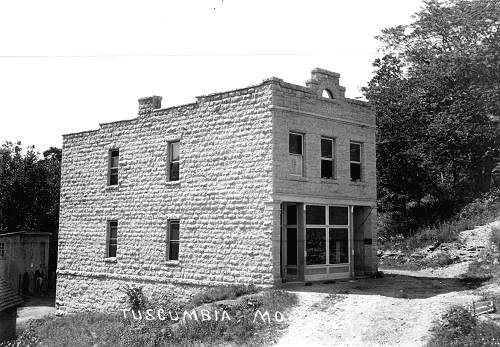 02 Bank of Tuscumbia
At that time the lemon tree belonged to Clyde and Lucy Hawken. The employees of the bank cared for the tree and put it on display while Clyde and Lucy were in Alaska (photo 03).
The lemon tree was started from a seed that was mail ordered by Great Grandpa George W. Edwards from the Burpee Seed Company (photo 04).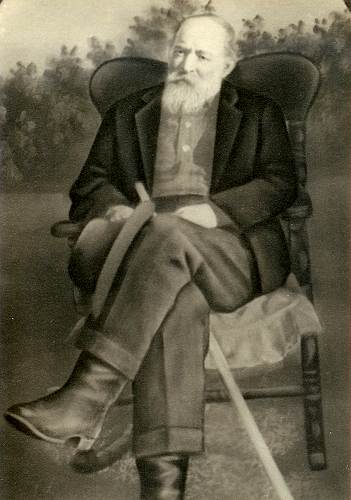 04 George Washington Edwards
I do not know when he ordered the seed, but most probably some time before 1900. The tree was estimated to be about 100 years old in 1986. It began producing lemons in 1906 and has continued to do so yearly to this date.
As Great grandpa neared death, he wanted his prized lemon tree to be passed on to someone who shared his love for horticulture. Oscar and Etta Abbott, the parents of his grandson Clyde's wife Lucy, agreed to care for the tree. He summoned them to come, which they did with a team and wagon, and he presented them with the lemon tree in August of 1928. After leaving the fruit cellar of the old Edwards home place, it received the same tender, loving care by its new owners. During this time the lemon tree was the subject of an article in the Cappers Weekly Magazine which featured a picture of Etta and the tree (photo 05).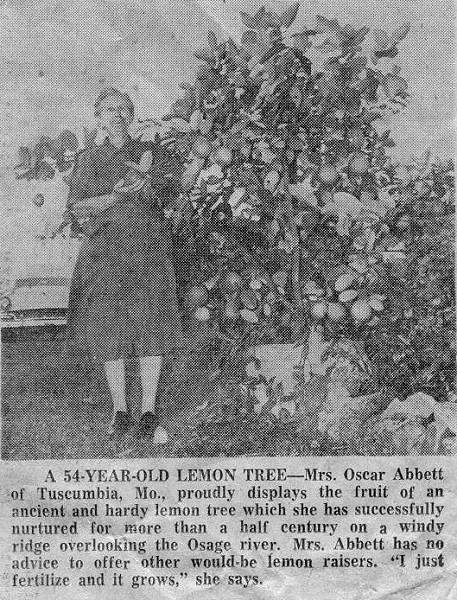 05 Mrs. Oscar Abbott with Lemon Tree
Also during this time Shaw's Garden in St. Louis contacted Etta about acquiring the tree. Fortunately, she told them no.
Following the death of Lucy's parents in 1976 and 1980, respectively, the tree was lovingly cared for by Clyde and Lucy for many years. I remember seeing it in the basement of their home and I remember how large the lemons were…certainly nothing like those you see in the grocery store! Lucy kept a large stock tank to catch the rainwater to water the tree and she fed it periodically with African violet fertilizer.
Shortly before his death, Clyde asked if I would take the tree and care for it when they no longer could. I was thrilled and felt it quite an honor to be asked to care for this unique family heirloom. I acquired the tree on October 2, 2003. It continues to bloom and produce lemons yearly and at times has blossoms, green lemons and yellow lemons all at the same time.
Thanks Karen. Karen gave me an article from a Tuscumbia Autogram edition from sometime in the mid seventies which adds some additional detail:
Lemon Tree Delights Family For Generation
By Carolyn Pryor
Tuscumbia Autogram (mid 1970's)
The pale, yellow citrus fruit that lemons produce yearly are very sour by nature, but the history behind this estimated 100 year old spiny, semi tropical tree is a sweet one, according to local grower, Clyde Hawken.
The 80 year old Tuscumbian can recall trying to lie under the tree he currently owns at his grandparents' home when he was very young. He was spanked for his actions.
The grandparents were the late George W. and Tennessee (Tenny) Barnhart Edwards, whose old homeplace will be remembered as the farm owned now by Gene and Janet White, just a short distance down the Osage River banks from Tuscumbia. The Edwards' both had a great love for horticulture and this still alive, prolific lemon tree was started from a seed they ordered through the mail from the Burpee Seed Company.
As Mr. Edwards faced death, he desired that his prized lemon tree be passed on to someone who shared his love for horticulture, thus entered his grandson Clyde's wife, Lucy Hawken's parents, Oscar (photo 06) and Etta Abbott (photo 07).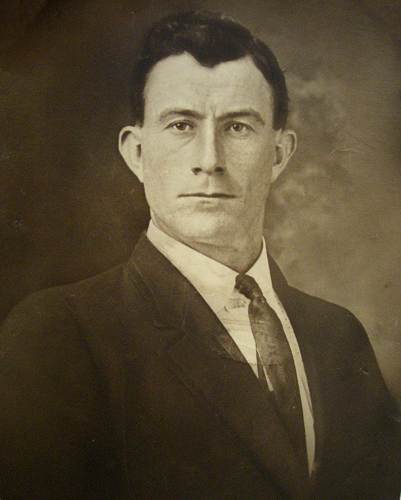 06 Oscar Abbott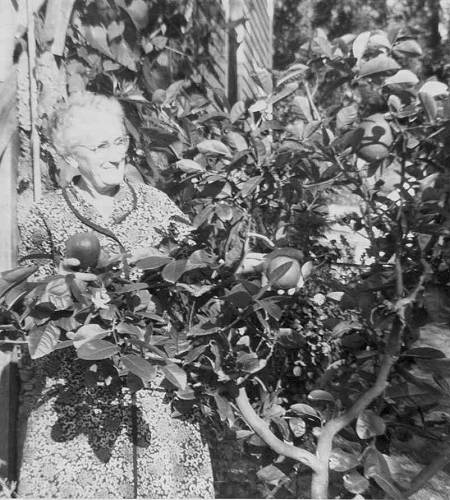 07 Etta Abbott and Lemon Tree
He summoned them to come, which they did with a team and wagon, and Edwards presented them with the lemon tree in 1928. After leaving the fruit cellar of the old Edwards home place, it received the same tender, loving care by its new owners.
Now, the tree is being expertly and carefully taken care of by Clyde and Lucy since the death of her parents in 1980 and 1976, respectively (photo 08).
It is kept in their basement with the sunlight of the South reaching it during the winter months and when the first sign of frost is over, they roll the 4 ½ foot tree, potted in a washtub, outside.
Its various stages of life give them great joy.
"I enjoy watching the large swarm of bees pollinate the blooms, which without them it wouldn't produce," said Clyde.
These blooms develop following the bursting of the buds shortly after the ripening of the lemons near the end of February each year. Little lemons will appear after two or three weeks of blooming.
"The fragrant, pleasant aroma from the tree, when loaded white in blooms yearly, is one of my favorites," commented Lucy.
It has 12 lemons on it this year. Although they get much larger in diameter than commercially produced lemons, they have a thick skin. Nevertheless, one lemon will provide enough juice to make two or three lemon pies on the average.
This legend has not gone without notoriety over the past years. Shaw's Garden in St. Louis contacted Mrs. Abbott about acquiring the tree; and she was pictured in a feature article in the Cappers Weekly magazine several years ago. They have shared many with friends and acquaintances since its bearing years, even sending lemons to Des Moines, Ia. and other states.
One year, the employees of the Bank of Tuscumbia, when it was located under the hill, cared for the tree and placed it on display while the Hawkens' were away in Alaska, where he had employment in the field of construction.
Both Clyde and Lucy modestly accept praise for playing a part in the longevity of the tree but do admit to repotting it with new soil, giving it plant food and at times pruning it. A personal observation: the transmission from parent to offspring of certain unspoken characteristics is strongly embedded in the roots of this tree, and those who have received a lemon from them over the years taste the pungency of that tradition while eating their piece of pie.
Here are some current photos of the Lemon Tree supplied me by Karen (photos 09 and 10):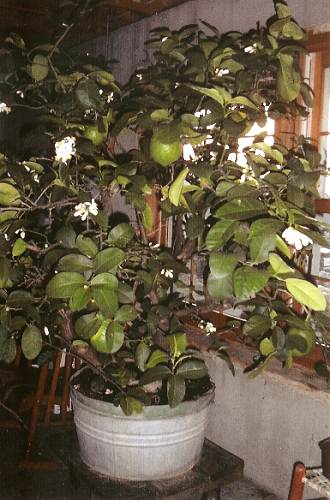 09 Lemon Tree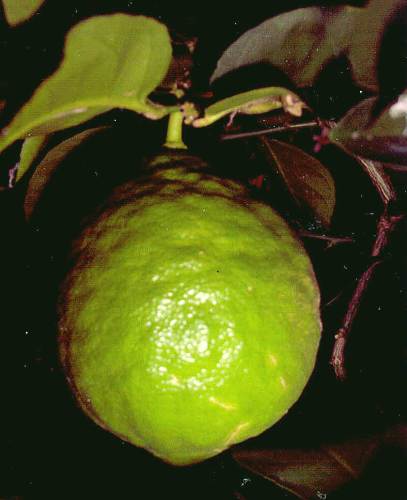 10 Lemon Closeup
---
While we don't have lemon trees naturally growing in Miller County, we have always been known in this area to have our share of large oak trees. Even today, logging is an active and profitable business. One thing we don't have so much anymore are the really large oak trees; they have been logged off and sold. One of the largest oak trees harvested in Miller County was featured in this Tuscumbia Autogram article in 1938:
Tuscumbia Autogram
Old Monarch of the Forest "Goes to Town"
April 7, 1938
Otis W. Wright of the Little Saline reports that the big burr oak a short distance down the creek from his home has been felled, and has been shipped out to a furniture company in Indianapolis. He sold the tree to Lonnie Crane, and it made one 8 foot and two 9 foot logs.
This massive tree was 57 inches in diameter after it was barked, and the three logs contained 2000 feet of lumber.
A very interesting side light on the old tree is gained by "reading" its history. The 268 rings indicated that it was a sprout 268 years ago. The tree therefore came into existence about the year 1667, only a few years after the Mayflower landed in America; or over a 100 years before the Declaration of Independence was signed.
It is claimed that the amount of growth between each successive ring indicated whether or not the growth of that particular ring was made in a dry year or a wet growing year. If true, this old burr oak could tell an interesting story of the seasons this area had 150 years before the white man settled Missouri.
Otis Wright was the oldest son of Green Lee Wright, who himself was the son of James Lawrence Wright, the progenitor of the Miller County Wrights. Otis lived on the "home place" on the Little Saline Creek where the Wright family had a carding mill (photo 11).
His brothers included C.B. Wright and Homer Lee Wright. C.B. was the father of Homer Clay Wright and Homer Lee was the father of Bamber, Barbara and Betty Wright.
---
Elmer Brown (photo 12) recently sent me a short narrative about his brother in law, Frank Martin of Tuscumbia, a man whom he respected much as did many others who knew him.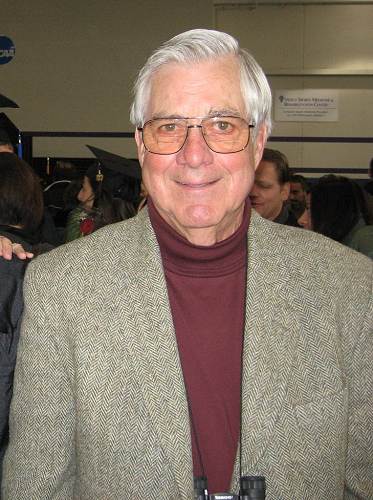 12 Elmer Brown
FRANK MARTIN
By Elmer Brown
2008
Frank Martin was my brother-in-law, who married my eldest sister Kathleen on December 29, 1940 (photo 13).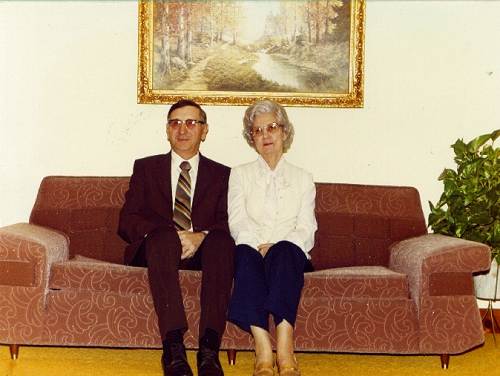 13 Frank and Kathleen Martin
At the time, he was a candy, tobacco and chewing gum drummer and operated out of a Chevy panel truck selling to the various small stores in Miller, Maries, Pulaski, Camden, Morgan, Moniteau and Cole Counties in South Central Missouri.
I thought Frank was pretty neat, because he had a soft spot for kids and I could usually wheedle him out of a candy bar or some chewing gum when he came to call on Kathleen. This he did with great regularity every Thursday and Sunday. If the creek was too high to ford or the snow was too deep, he would park as close as he could get and walk through the woods. Thursday evenings were usually spent visiting with the family. He would often entertain me with stories about his times working as a ranch hand in Montana. I never tired of hearing them but as I think back, I'm not sure but what he didn't change the content from time to time just to keep them interesting.
Sunday evenings they most often attended the movies in Eldon and this presented a bit of a problem. His panel truck had only the driver's seat so when they went on a date my sister would sit on a wooden ammunition box that I used to store toys and with a cushion from the living room couch. Being a bratty eight or nine year old, I was sometimes known to complain about the repeated use of my box but my mother was made of pretty stern stuff and, other than getting a swat on my behind, I gained nothing from my laments.
They dated for about four years and were engaged for at least a year before they finally got married. Being of the age I was, I never gave a lot of thought to the length of the courtship. As I look back I still don't know. Was it uncertainty on the part of one or both? Was it lack of confidence in being able to afford marriage? Was it the unsettled times? I don't suppose I'll ever know and honestly, it doesn't really matter. They remained dedicated to one another their entire lives.
When I was about ten someone decided I needed a livestock project. Frank's dad had a flock of sheep on his farm south of the river and Frank had worked with sheep in Montana. I don't know if it was Frank's suggestion or not but, between him, and my mother, the die was cast. I was going into the sheep business. I didn't know anything about sheep but was lured by the promise of making money so who was I to argue. I started with two old, bred ewes and kept sheep until my late teens and learned a great deal from the experience. Frank was always ready to offer advice when asked and step in and perform the unpleasant and, sometimes, messy chores of docking tails and castrating the male lambs.
He was married by the time WWII started so it was several years before he was called up. By that time my niece, Kathy, had arrived and though he possibly could have gotten a hardship deferment, he accepted the call at the age of 34. Although destined to be sent to northern Europe as an infantry replacement, he was shifted to an army air force fighter outfit in Italy at the last minute. Though I doubt if he had ever touched an airplane, they were desperate for mechanics so that's what he became. Apparently his hard work and mature attitude impressed his crew chief who took him under his wing and taught him the ropes. They formed a friendship that lasted their entire lives and visited back and forth between Missouri and Iowa fairly often.
Frank was not a large man, being about five foot, ten, slim and wiry. However, he had tremendous energy and the most prodigious appetite I think I have ever seen. When he and my sister were dating he frequently arrived just as we were finishing supper and with his arrival, went any hopes of my having that last piece of pie, pork chop or slice of meat loaf as a bedtime snack. Over time, I learned to accept the inevitable with a certain amount of grace since my mother liked him and, as I have said before, any complaint on my part would have resulted in some degree of corporal punishment.
I remember one instance when I was about 16 in particular. Frank and Kathleen owned their own farm about three miles from home. This one summer Frank had a particularly good hay crop and had hired a crew, including myself, to help get it into the barn. In those days when you hired people to help with farm work, it was understood that you would provide dinner in the middle of the day.
It was about 10 AM when Frank climbed down out of the haymow and announced, "Boys, I'm hungry. Let's go to the house and see if Kathleen has anything to eat."
As I recall she brought out a large tray of sandwiches, a couple of pies and some iced tea. Figuring that this was going to be dinner, most of the crew dug in with gusto.
Two hours later, Frank announced, "Boys, its dinner time."
Back to the house we went, where Kathleen laid out the traditional harvest meal of fried chicken, roast beef, mashed potatoes, vegetables, cole slaw, sliced tomatoes, two or three kinds of dessert and Lord knows what else. Though most of them weren't really hungry, everyone did their best. It was an insult to the cook if you didn't eat what she set in front of you, and besides, my sister had the earned reputation of being a good one.
We staggered back to the field about one o'clock with bulging bellies. A siesta would have been welcome but was out of the question. Of course the temperature had continued to climb and it was easily a very humid 95 degrees, probably in excess of 120 up in the barn loft. Those first couple of hours were pure misery for all of us with the possible exception of Frank. He seemed to be just hitting his stride.
Along about four PM when everyone was just starting to feel comfortable again, guess what? You bet! Frank announced that he was hungry again and that Kathleen should have some food ready. Back we went for another round of sandwiches, cake, cookies and lemonade.
My best friend, Winston Wright, was part of that crew and he always remembered that incident and Frank's appetite.
As I said a little earlier, Frank had a soft spot for kids and mine were no exception. As we visited home during their growing up years, they would always beseech Uncle Frank to saddle the horse for a ride or, if it was in the fall or winter, take them on a possum hunt. They never really had to beg too hard and within minutes the group of anywhere from five to seven would head out into the woods. Of course, any possum that didn't hear them coming would have had to be totally deaf. I'm sure they and all other game species headed in the opposite direction as fast as possible. I don't recall that the hunters were ever successful.
On occasion, Frank would take any visiting nieces, nephews, cousins or whomever, "snipe" hunting. He would very seriously issue every one of them a gunnysack and instruct them how to hold the sack open at ground level. He would then station each of them some distance apart in a large semi-circle and tell them to be very quiet and that he was going out to round up the snipes and drive them into their bags. It didn't take long before they would start getting a bit nervous, being out in the woods, in the dark, with no lights. They would timidly start calling to one another, even though they had been instructed to keep quiet, and gradually begin moving closer together. Once they had congregated, Frank would materialize out of the darkness, which typically brought shrieks and screams, and with great seriousness inquire as to how many snipes they had collected. He usually couldn't keep from laughing and pretty soon they would figure out that it was all a hoax. Whenever a newcomer who had not been initiated would visit, the old hands would always talk Uncle Frank into a snipe hunt. They took great pleasure in helping pull the wool over the eyes of the unsuspecting.
I never knew Frank to be a fisherman and, in fact, I don't think he particularly liked to eat fish. However, one summer when I was in my late teens he decided that we should put out a trotline in the river at Tuscumbia since some of the local fishermen had been having good luck. I liked to fish and had never tried trotline fishing so I was all for it. He bought the necessary heavy cord and hooks, made arrangements to borrow a boat and we proceeded to set out our trotline.
The concept is really quite simple. One end of the long heavy cord is tied to something sturdy on the bank. You then row out into the river, paying out the line until you come to the end. You have a significant weight, usually one of Miller County's plentiful rocks, tied to the end and drop it in the water. You then go back to shore and start attaching the drop lines with baited hooks at intervals as you work your way back to the mid stream end. After some time, often overnight, you "run" your line and hopefully will be rewarded with numerous, large channel cats, drum, etc.
About the second day we had our line out we were running it one afternoon when the river started rising rapidly. Union Electric had started generating power and was releasing a lot of water. The water was coming up very quickly and the current was really moving. We were down near where the old Anchor Mill was located and had to make our way back up stream to the landing by Hauenstein's store. The boat was a heavy wooden (as I remember Elmer Flaugher had made it) affair and with the swift current of the rapidly rising river, we weren't making any headway. We tried getting in next to the bank, hoping there would be less current there. No such luck. We tried going over to the other side but all we succeeded in doing was getting further downstream. Finally, exhausted, we made it back to the Anchor Mill site, left the boat and hiked back to where we had left the car. The next day when they had stopped generating, we pulled in our trotline and returned the boat to its owner. I don't remember that we caught many fish but we both lost our enthusiasm for trotline fishing at that point.
While in college, I fell in love with Mary who became my first wife. She was ahead of me in school and graduated a year and a half before I did. Her first job was teaching Home Economics at Urbana. I didn't have a car but where there is a will there is a way. I was able to soft talk Frank into loaning me his car a couple of times to visit her in Urbana and keep the flame burning. The following year she returned to her home town of Houston to teach and, again, I was able to prevail on Frank and Kathleen to borrow their car on occasion to pay her a visit.
I have many other pleasant memories of Frank, too numerous to recount in this space. Needless to say it was quite a shock to receive a phone call here in Wisconsin telling me that he had passed away very suddenly. He had been a combination father, brother and friend since I was about seven.
Thanks Elmer.
Elmer's memories of Frank Martin of Tuscumbia are personal but serve to highlight some of the characteristics of one of Tuscumbia's most community minded citizens of the recent past. I always knew Frank was a community leader but never realized just how much he filled that role until I read a summary of his life's accomplishments and activities supplied me by Kathy Martin Fields, Frank's daughter. Listed below are some but not all of the activities and positions held by this very energetic and personable man:
He was a member of the Tuscumbia School Board (photo 14), Tuscumbia Presbyterian Church (serving as elder, deacon, and Sunday School Superintendent), Tuscumbia Lions Club, Eldon American Legion, Miller County VFW, Tuscumbia High School Alumni (and one of the original organizers), Tuscumbia Picnic Board, Tuscumbia Cemetery Board, Miller County Republican Committee (Chairman from time to time), Miller County Ambulance Board, Miller County Historical Society, and Eldon Methodist Church.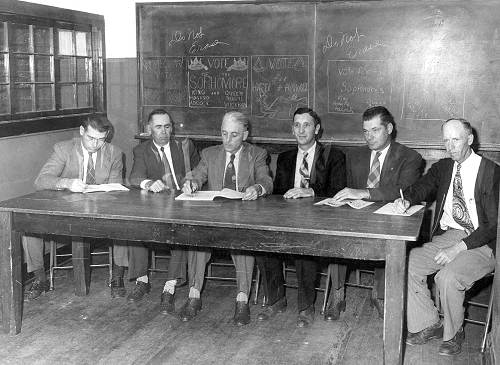 14 School Board - Doctor Humphrey, George Barron, Garrett Berry, Frank Martin, Ansel Pryor and Herman Abbett
He held positions as Miller County Collector and Election Judge, and was appointed frequently as an executor of estates of the deceased.
His occupational career included (in addition to those mentioned above) grocery clerk, ranch hand (cowboy in Montana), candy salesman, farmer, airplane mechanic, bookkeeper, and bank teller (photo 15).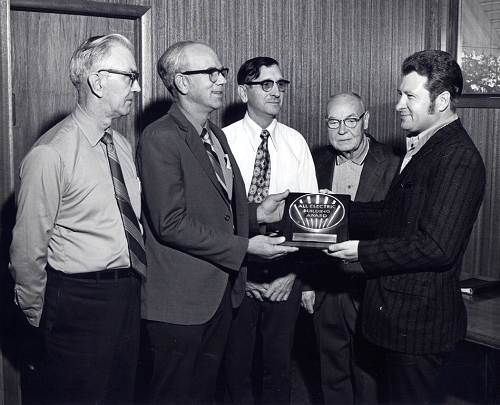 15 Bank of Tuscumbia - Glen Warren, Ralph Riemensnider, Frank Martin and Dewey Kallenbach
He was an avid sports fan who enjoyed playing baseball, and was the type of person who put out flags on Memorial weekend at Tuscumbia and Mt Zion Cemetery for many years (a task he took seriously). After grade school (photo 16) Frank was a Tuscumbia High School graduate in 1929 (photo 16a).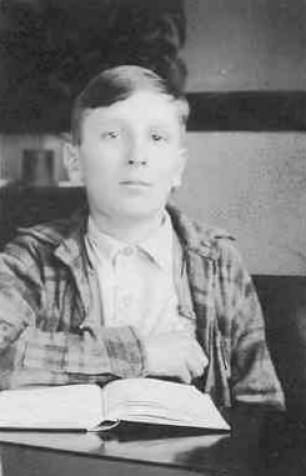 16 Frank Martin - Age 12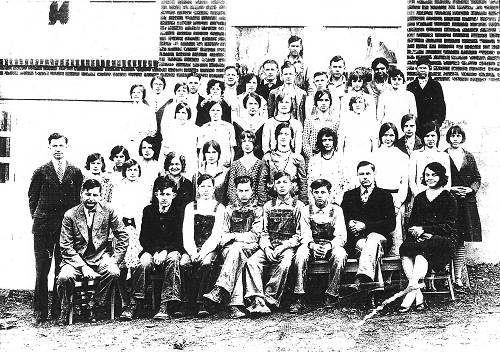 16a THS 1928 - T.C., Frank Martin, Bob Maylee, Helen Wright and Walt Smith
Click image for larger view
Frank served his country in WW 11 (photo 17).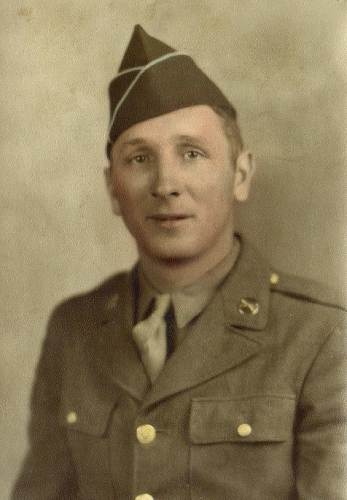 17 Frank Martin in Uniform
He was a friend to all and did everything with a wry smile and a twinkle in his eye. He could be said to have been a tease at times. Always he had a big garden to share. It was his custom to fix holiday baskets for those who were alone in town.
He loved his grandchildren and many nieces and nephews for whom he kept a horse long after his own children, Elizabeth and Kathy, had grown and left home.
Another source of information highlighting some interesting features of Frank's life is the following article printed in the New Iberian at the time of Frank's retirement from the Bank of Tuscumbia:
Frank Martin Retires!
New Iberian December 1975
(Author unknown but style is that of Earl Brown)
Back yonder in the year of 1929 a young man by the name of Frank Martin left his home and became a grocery clerk and delivery boy in the store of Madison Bear at old Bagnell (photo 18).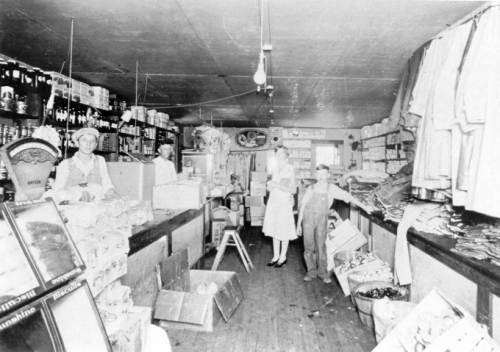 18 Madison Bear Bagnell Store - Frank Martin, Madison Bear, Unknown and David Bear
At that time the Bagnell Dam was getting under full steam for the second time and thousands of employees swarmed into the community. Bagnell then certainly was not geared to meet the sudden economic demands thrust upon it, so new businesses quickly came to town and opened up. Madison Bear of Tuscumbia (photo 19), familiar with the grocery world, was one of those men who expanded his business and set up, or opened, such a store in the town of Bagnell. During the construction of the Dam his store prospered. He needed extra help. He brought Frank in.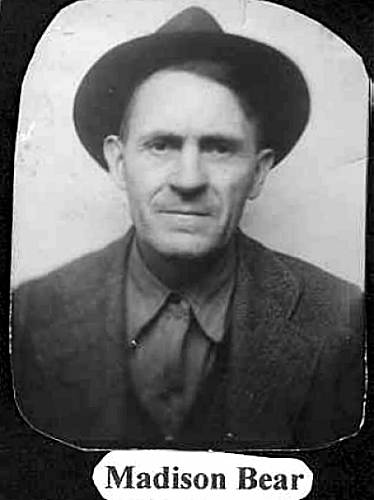 19 Madison Bear
This reporter believes Madison was an uncle of the above mentioned world aspiring young Frank Martin. If the said Frank is a cousin of retired grocery man, Arthur Bear in Eldon (photo 20), then one could assume Frank was a nephew of Madison Bear, or Madison was an uncle of Frank's.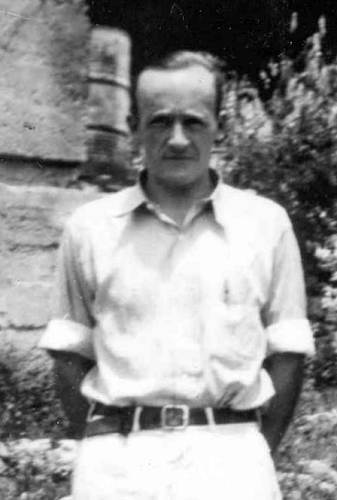 20 Arthur Bear
Dear reader, take it as you will. This story is limited to the one Frank Martin, who now resides, and has for quite a spell, on his little farm just north of Tuscumbia on Highway 52 towards the great metropolis of Eldon, Missouri.
So when Frank became an employee in the grocery store at Bagnell, he began the first period of his public career which did not end, one way or another, until this January 1, 1976.
He became associated with the Bank of Tuscumbia in 1966 and when he retired two weeks ago, was an assistant Cashier of that institution. Ralph Riemensnider, Executive Vice President of the Bank, said Frank retired with honor and distinction. He was so well liked by his fellow employees and his fine services to the Bank were so highly appreciated by the Bank's officers that he was presented by them with a most handsome electric digital wrist watch as a retiring present. Upon its reception Frank shed a tear and was grateful (photo 21).
Frank told this reporter for the first year he and Kathleen, that's his wife, were just going to take it easy and do some of the things that required longer time than they were able to do while in active duty (see photo 13 above). They are going to have extensive visits with their two daughters and families: Kathy who is Mrs. John Fields and lives in Kansas City, Mo. and Elizabeth who is Mrs. (Dr.) Larry Deffenbaugh of Tulsa, Oklahoma. They will probably spend a little extra time in Kansas City with Kathy's family because Kathy and John have given them two lovely grandchildren whom they say they have never had enough time to spend with; John Martin Fields who is 5 years of age and goes by the name of Martin, and Rebecca Sue Fields who is 3.
Frank likes to fish a little and said he probably would do some of that as time permitted (He is now retired, you know). He has two very fine hobbies in which he excels: he is a fine gardener on his little farm and his farm is still large enough for his second hobby which is raising Black Angus cattle.
Succeeding Frank as one of the Assistant Cashiers at the Bank of Tuscumbia is Carl Kemna. He began work at the Bank the first of December so he could become familiar with the work done in Frank's office before Frank retired one month later. Carl was formerly an Assistant Cashier in the Bank of Iberia.
The Bank of Tuscumbia is a friendly bank and shores up the income ledger of The New Iberian by its consistent advertising in the paper's columns.
Thanks Earl (I think it was Earl)
Carl Kemna, mentioned in the above article, now is the current President of the Bank of Tuscumbia. He and the bank have been very helpful to the Miller County Historical Society through the years. In particular, we are grateful for his allowing us the opportunity to display our raffle quilt each year in the bank foyer. We sell more raffle tickets bought by passersby who see the quilt in the lobby than in any other venue we show the quilt. A lot of people pass through the lobby of the Bank of Tuscumbia, that's for sure!
Frank was a member of a quartet which was used regularly by many families for a song service at funerals for their loved ones. But on the lighter side, he never minded looking foolish if it brought laughter to someone. For example, in the mid sixties Tuscumbia had a "Womanless Wedding," an affair which was popular in those days to raise money for various community activities, and sure enough, we have photos of Frank in the Womanless Wedding of Tuscumbia in June of 1965 (photos 22, 23 and 24).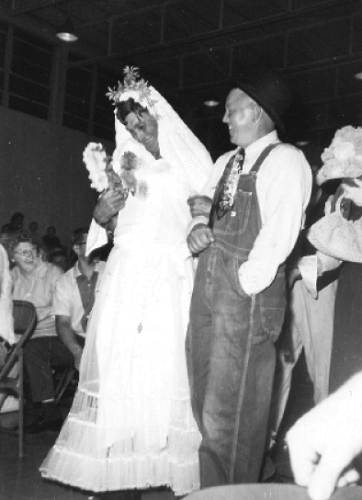 22 Lucian Mace and Jack Edwards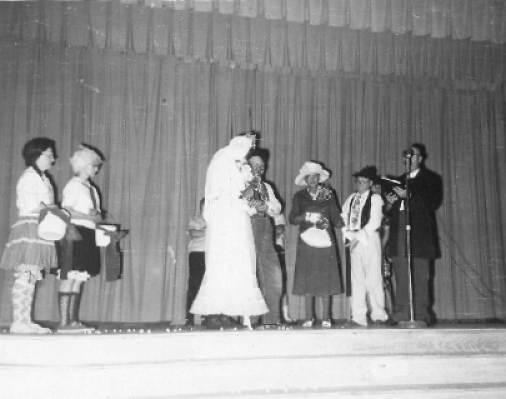 23 Imogene Horton, Maudeen Edwards, Lucian Mace, Jack Edwards, Frank Martin, Stanley Humphrey andJim Harrison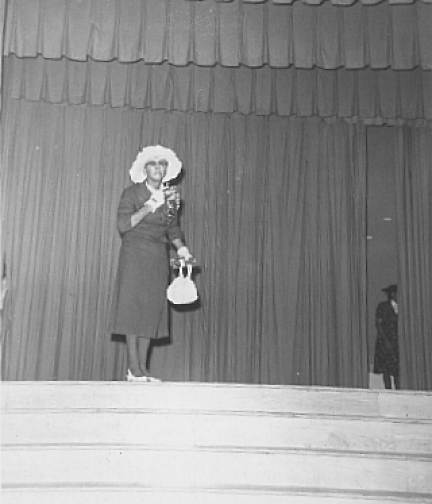 24 Frank Martin
Frank's roots go way back in Miller County on both sides of his family. For those interested in genealogy, here is a diagram of Frank's Martin ancestors as researched by Robert M. Stillwell, also a Martin descendent (photo 25).
Briefly, Moses Martin 1 of Virginia (1755-1837) was the progenitor of the Miller County Martins, and descendents of Moses came to Miller County at various times throughout the mid 1860's. Frank's direct line ancestry from Virginia is Moses 1, John, Moses 2, George (first of Frank's line to come to Miller County in 1869 settling near Ulman), General James Clay, and Theodore, father of Frank.
Frank's mother was named Christina Bear, whose family came to Miller County in 1857 originally from Pennsylvania.
On our own website a rather complete history of the Martin families of Miller County is detailed. Just go to this URL:
http://www.millercountymuseum.org/bios/bio_m.html
You will need to scroll part way down the page to reach the section on the Martins'.
For completeness, here is Frank's obituary:
Franklin Clay Martin (photo 26)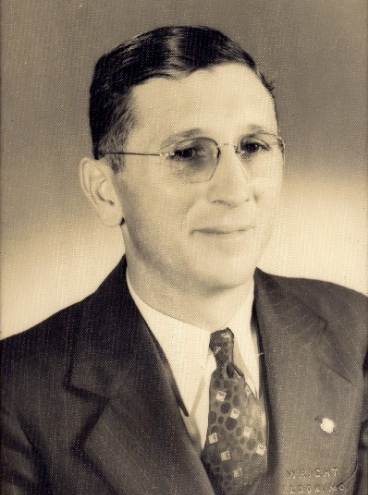 26 Frank Martin
Franklin Clay Martin, 72, Star Route, Eldon, died unexpectedly Thursday, October 28, 1982, at his home near Tuscumbia. At the time of his death, Mr. Martin was serving on the Miller County Ambulance District board of directors.
He was born June 29, 1910, to Theodore (photo 26a) and Christina Bear Martin (photo 26b).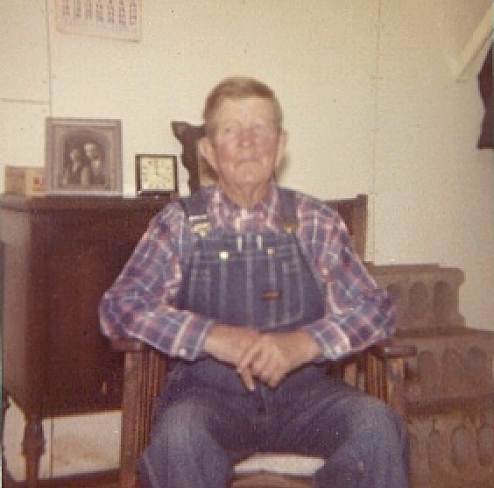 26a Theodore Martin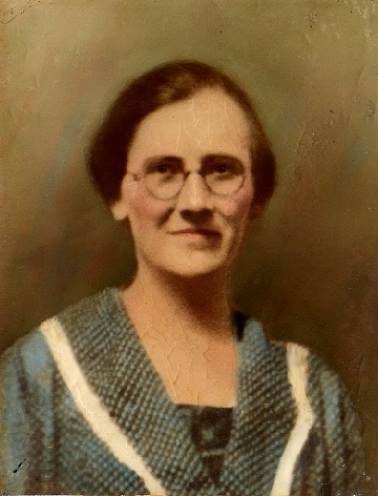 26b Christina Martin
On December 20, 1940, he was married at Crocker to Kathleen Brown, who survives at the home.
In addition to the ambulance board, Mr. Martin was serving terms on the Tuscumbia Cemetery Board and the Farmers' Home Administration Advisory Board. He was a member of the Eldon United Methodist Church and was a trustee of that church. Previously, he had been a member of the Tuscumbia Presbyterian Church before it closed. He was also a member of the American Legion, Veterans of Foreign Wars and Miller county Historical Society. During World War II Mr. Martin served in the Army Air Force (photo 27).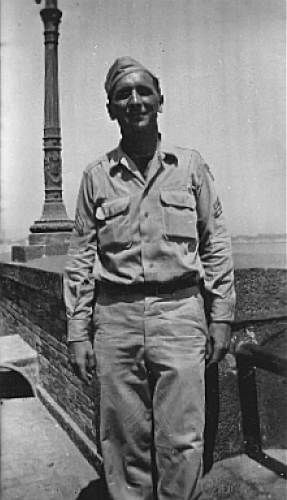 27 Frank Martin in Uniform
In 1975, he retired as an assistant cashier at the Bank of Tuscumbia. He also was engaged in farming at the time of his death.
In addition to his wife, Mr. Martin is survived by two daughters, Mrs. Elizabeth Deffenbaugh, Joplin, and Mrs. Kathy Fields, Kansas City; four grandchildren; and several nieces and nephews, including Mrs. Mary Vernon and Robert Maylee, both of Eldon.
Funeral services were held at 3:30 p.m. Saturday at Phillips Funeral Home with Dr. Gary William Metcalf officiating. Burial was in Tuscumbia Cemetery.
Memorial contributions may be made to the United Methodist Church of Eldon or the Presbyterian Home For Children, 412 West Liberty, Farmington, Missouri, 63640.
---
Thanks Frank, for being an example of how to live a life of service to our community and for bringing so much happiness and encouragement to your friends and neighbors while you were on this earth!
---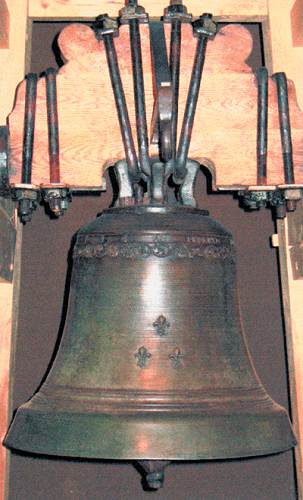 28 Bronze Church Bell
The Miller County Museum is delighted to inform members and the public that the College of the Ozarks in Hollister, Missouri has made the decision to return to the community the old Tuscumbia Presbyterian Church Bell for permanent public display at our museum. The bell, weighing 800 pounds, was brought to Tuscumbia by steamboat in 1889, the year the church was organized. In the late 1970's the church was closed due to declining membership, one of the unfortunate consequences of the national phenomenon of rural population translocation to metropolitan areas. However, the board of elders of the church, desiring that the bell be preserved in an honorable manner, made arrangements with the College of the Ozarks in Hollister, Missouri to have the bell removed to the large museum on the college campus where it resides today. The local church had always been a faithful supporter of the College, which is a Presbyterian supported institution very well known for the inspiring mission of providing education to underprivileged young people, not only from Missouri but from the nation. The bell was rung for the last time by Elder Frank Martin on July 4, 1976, the date of the national sesquicentennial celebration honoring the Declaration of Independence. The bell could be heard as far away as three or four miles from Tuscumbia. Not long after that, the bell was removed and taken to Hollister. Soon, those who live in Tuscumbia and the surrounding hills and valleys once again will have opportunity to hear the bell ring, for it is returning home.
---
Notice:
The Miller County Historical Society board members recently approved some changes to our Constitution and Bylaws along with some Proposed Amendments. You can read the details by clicking the above links or by going to the "What's New" section (which can be found by clicking on the "About Us" drop down box on the left side of the home page) and then clicking on the announcement for November 5. The membership will have the opportunity to discuss and then vote on the changes at our December members' meeting.
That's all for this week.