Monday, October 6, 2008
Progress Notes
A few weeks ago I discussed the service station on old Highway 66 started by Iberia area resident, George Morrow.
(See website: http://www.millercountymuseum.org/080908.html
Scroll down the page to get to the section about the Morrow family.)
This week I will discuss another Miller County service station owner, Johnnie Mead, whose name and service station for many years was associated with the long stretch of Highway 54 which ran through the valley in which Wright, Blue Spring and Little Gravois Creeks are located. Ever since I can remember this long valley was known as "Mead's Flat." As a child my family often took a weekend car trip which passed through this stretch of Highway 54 when we would leave our home in Tuscumbia to go to Camdenton to visit the family of my father's sister, Lois (Pryor) Cunningham. She was married to Lieutellus Cunningham Jr. who at the time was prosecuting attorney for Camden County.
(Note: Lieutellus's father, Lieutellus Sr., had been prosecuting attorney for Cole County in the early part of the last century. His biography is interesting and can be found at this website:
http://www.colecohistsoc.org/bios/bio_c.html
Scroll down the page half way to read about Lieutellus Sr.)
On our way to Camdenton we sometimes stopped at the Mead service station to get gas. The station was located on the west side of the southern half of the long valley through which Highway 54 made its way toward Bagnell Dam, over the Osage River. I never really knew Johnnie Mead but many people did as he was a well liked and well known person of the area, having been born and raised there.
A few months ago I had the opportunity to visit with Barbara (Mead) and Richard (Dick) Riley to learn more about the Mead family. Barbara is the daughter of Johnnie and Opal Mead and was raised in their home in Mead's Flat. Richard, although not originally from the area, has been very interested in the history of the Mead family. The same day I visited Barbara and Richard we went over to the office of Barbara's brother, James Mead, who is a Senior vice president at Central Bank at Lake of the Ozarks. Together we discussed the family's history and I scanned some family photos for this week's Progress Notes. They told me that William Mead (photo 01), Johnnie Mead's father, had owned a farm just above where the dam is located near where the old lighthouse was built.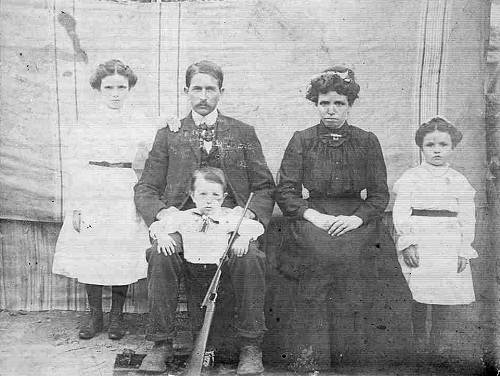 01 W.H. Mead and Julia Mead, Bertha, Johnnie and Sophie
More precisely, Dick says, "We've pinned the location of the William H. Mead farm down to an area on the East side of the Osage river ( before the dam was built) near the end of what is now called Lighthouse Road ( CR W-24 ). This is where he began his family. He later bought land along Highway 54 after Union Electric Company bought his original farm as it was located in the watershed area of the future Lake of the Ozarks.
(Here is a photo (photo 02) of an old newspaper column in the Autogram from the year 1895 recording the event of William's marriage. I thought this article also was interesting in that at the bottom you can read about a woman who apparently had had eight husbands!)
Johnnie attended school at Pleasant Grove School located near Old Bagnell. Here is a photo of the school in which Johnnie is standing on the right of the fourth row (photo 03).
Richard Riley made things easy for me since he had already written a short family history narrative:
John William Mead Biography
By Richard Riley
Johnnie Mead (John William) and Opal Gladys Thornsberry Edwards* were married in the Bagnell Baptist Church in Miller County on June 19th, 1926 (photo 04).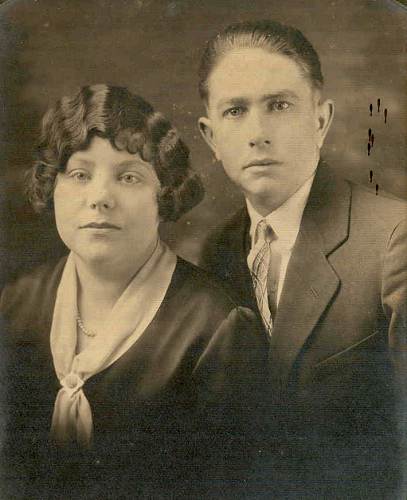 04 Opal and Johnnie Mead - 1926
They started their life together in Kansas City, Kansas shortly after their marriage, where Johnnie worked in an ice factory and Opal worked in a dress factory. Opal's skills with needle and thread were good enough to allow her to make the first pattern for some of the dresses that the factory produced. In addition to working in the ice factory, Johnnie bought and sold eggs in the wholesale markets. They were in Kansas City for approximately 5 years before returning to the Bagnell area where Johnnie bought land from his father W.H. Mead. Bagnell Dam was being completed, and Johnnie and Opal built 2 cabins and a service station next to Highway 54 in the area now known as Meads Flats. A son, James William Mead, was born to them in 1935 while they lived in one of the cabins and rented the other one out.
While Johnnie farmed and operated the station, they built a new two story rock house just west of the station, where they lived until the highway became a four lane in 1972 (photo 05).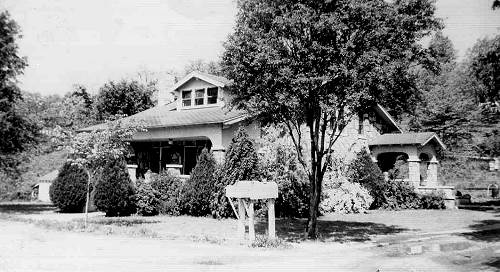 05 Johnnie Mead Home - 1940
While living in the rock house, the upstairs of which was rented to tourists and local workers, they had a daughter, Barbara Jean, in 1939 (photo 06).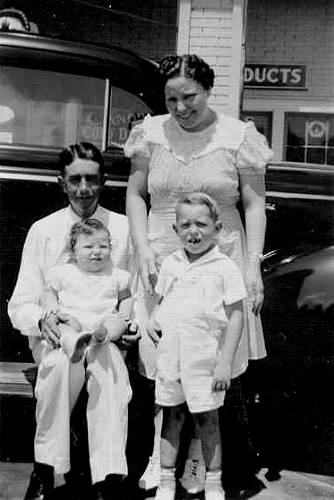 06 Johnnie, Opal, James and Barbara - 1940
The service station was the only such facility between Camdenton and Eldon for many years, and became a landmark for travelers on Highway 54, along with various businesses on the opposite side of the road (photo 07).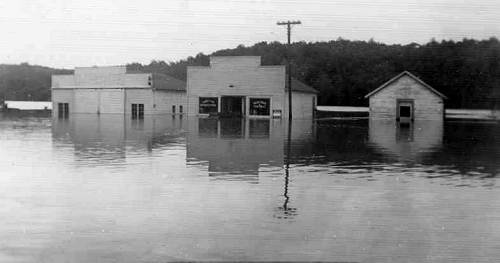 07 Buildings across road from Station during 1943 Flood
At one time, there was the Bagnell Baptist** church, a garage operated by A.C. Cook, a grocery store operated by Joe and Sophie Martin (Johnnie's sister) and later by Homer and Roxie Quinn, and a cabinet shop operated by Arthur and Alice Edwards (Opal's adoptive parents). Johnnie Mead owned the land on the South side of the highway where the other buildings were located, and later purchased land west of "V" road where the Karrs family now has fish ponds.
Around 1948, Johnnie Mead bought a large piece of farm land located along the Osage River South of Bagnell Dam. This was known as the "Airport Farm," because there was a small airport located there prior to Johnnie's purchase. Stories have Charles Lindbergh landing there back in the 1930's, making it a famous spot near Lake Ozark.
Johnnie and Opal built a new house in 1972 just west of the service station (photo 08) as a result of the highway acquisition, and the rock house was torn down.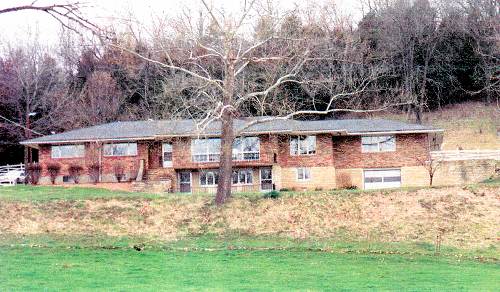 08 2nd Mead Home built in 1972 by Clay Wall
The station was leased a few years before 1972, and it, too, was removed for the highway project, along with the original cabins from the 1930's. Johnnie Mead passed away in 1977 and Opal in 2001. Nothing remains of the Meads Flat original buildings except the name and a few cinders from the railroad track that ran behind the cabins and the service station down to Bagnell.
*Opal Mead (photo 09) was raised by Arthur and Alice Edwards when her father, a widower, could no longer care for her when she was 9 years old.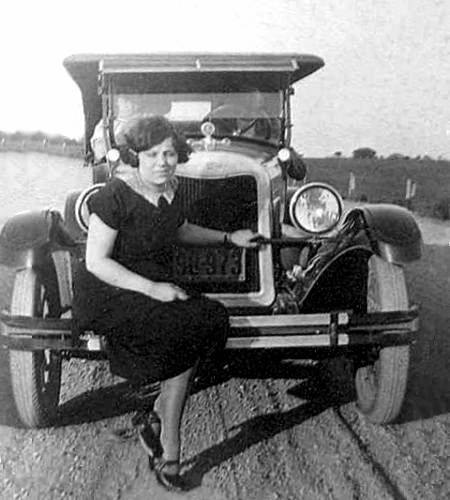 09 Opal Mead
**The Bagnell Church was moved from the town of Bagnell to its location South of Highway 54 after the flood of 1943, and was later moved to its present location at the intersection of Highway 54 and Business 54, and now known as the Mt. Carmel Baptist church.
Thanks Richard.
Here is a photo of the old Baptist Church in Bagnell also used as a school for a period of time (photo 09a).
Copied from our own website:
http://www.millercountymuseum.org/baptist.html

is this summary of the history of the Old Bagnell Baptist Church:
"BAGNELL BAPTIST CHURCH
By Rev. Wendell Estill and F.S. Brooks
Organized in 1898 with 18 charter members, Bagnell Baptist served a mostly rural community. Various buildings have served the church in the town of Bagnell, then on old Highway 54 in Mead's flats and since 1970 at its present site about one-half mile north of Bagnell Dam at the intersections of U.S. 54 and Highway "W".
(Note: As noted above, recently the name has been changed to Mt. Carmel Baptist Church.)
Two brothers, John and Jim Northrip, along with their wives, were instrumental in organizing the church and the building of the first church in Bagnell, high upon a hill. In 1915 a new building was built in downtown Bagnell mainly through the efforts of John Maryland, pastor at that time and Albert Thompson. A big flood in the 1930's covered all of that building except the church steeple.
On May 10, 1949, excavation began for a new church to be located on Mead's flats. With the aid of volunteer labor, the church was able to hold worship services in the building only six weeks later.
Twenty years later the decision to build a new four lane highway near that building prompted another move. In 1969 it was decided to move the existing building to the new location. This was done by dividing it into three sections. Services were held in a Quonset hut at the present location until a completion of the new auditorium. The complete facility was dedicated in March 1971."
Richard and Barbara also told me that William Mead, in later years, lived in a cabin his son Johnnie had built near the service station on Highway 54. For awhile he had a wood working shop in Old Bagnell but after a number of floods moved it across the road from the service station on highway 54 owned by his son Johnnie.
Johnnie, according to Richard, had one of the first stations in the area with a covered driveway. As time passed Johnnie remodeled the station three different times. Here are some photos of the original station at various times throughout the years: (photos 10, 11 and 12):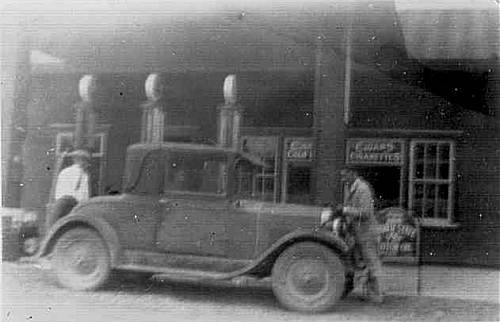 10 Original Station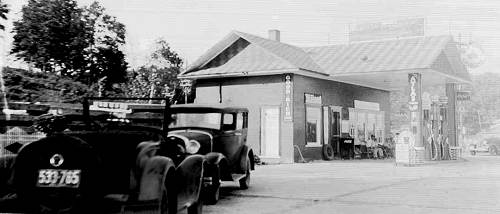 11 Original Station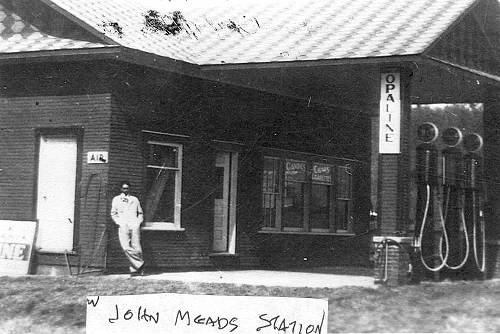 12 Johnnie Mead standing at Original Service Station
The station had a remodeling done in the early 1940's (photos 13 and 14):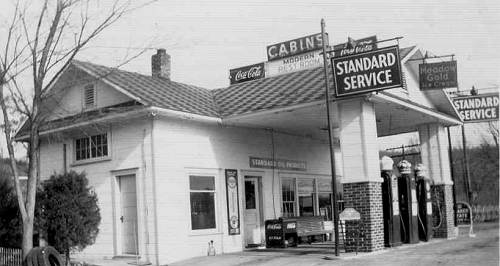 13 2nd Station - 1942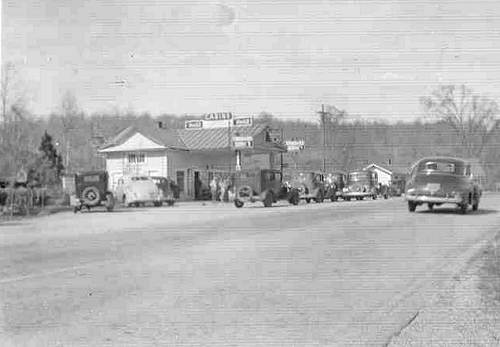 14 2nd Station looking East toward Eldon
And a third redo shortly thereafter (photo 15):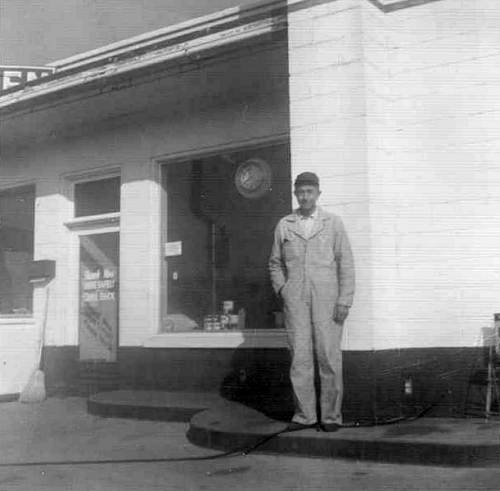 15 Johnnie Mead in front of Station after Last Remodeling
For further information about Johnnie Mead and his service station, I called Jay Quinn of Eldon (photo 16). Jay knew Johnnie well because he worked for him for in the early 1940's at the station.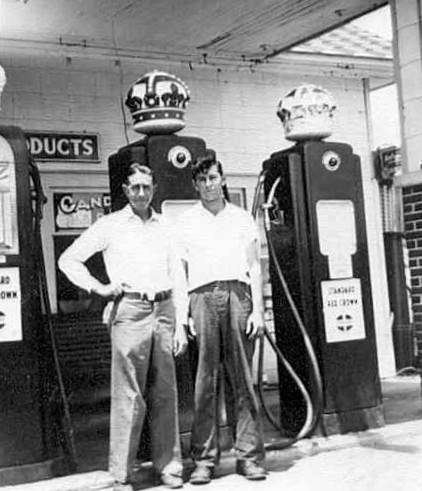 16 Johnnie Mead and Jay Quinn
Jay later bought the station business (although not the building) in 1943 and later sold it to Floyd Brown in 1948. After that, Jay isn't sure who ran the station. It was eventually removed by the Missouri State Highway Department for the construction of the new Highway 54 in about 1972. Jay reported that Johnnie spent the latter part of his childhood on the second farm his father William owned which was in the area of where the station was located. Jay remembered Johnnie remarking that as a teenager he "hoed corn for fifty cents a day." Jay said that Johnnie told him that Johnnie had promised himself, "Someday I'm going to own this farm!" Jay observed that Johnnie meant what he said because he did indeed own the farm later and in 1937 built his first service station on it.
Johnnie and Opal were members of the Bagnell Baptist Church. On Opal's 83rd birthday in 1990 she was honored by the church as being its oldest living member. You can read more about the Bagnell Baptist Church (in addition to that recorded above) in this copy of an article in the Eldon Advertiser published July 19, 1990 on the occasion of the celebration of Opal's birthday (photo 17).
Here is a photo of the pulpit area of the church in which Johnnie is pictured participating in the service (photo 18):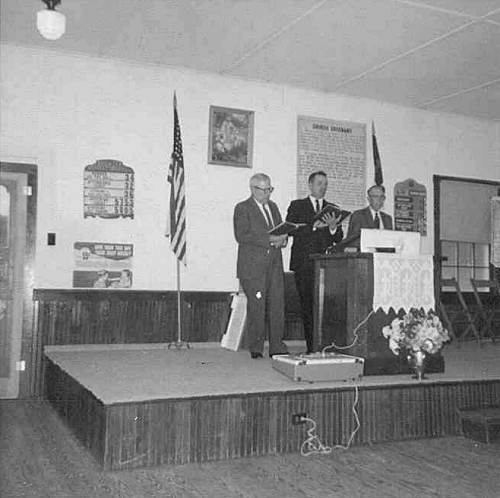 18 Bagnell Church - Jess Quinn, Garland Platter and Johnnie Mead
Johnnie and Opal celebrated their fiftieth wedding anniversary June 19, 1976. Here is a photo of that event (photo 19). Unfortunately, Johnnie passed away in 1977, one year later.
It is difficult now as one drives down the new Highway 54 through Mead's Flat to visualize just where exactly the station and home were located since they are gone now and other buildings are present in the area built since then. But for many years the Mead's Flat and Mead's Service Station were well known Miller County landmarks so that is why I am remembering them now on our website.
---
Another Franklin Township family was brought to my attention by Sandra Kerr of Sedalia (photo 20) who came to our museum a few months ago to research information we had about her great great grandfather, LeRoy Busick (photo 21).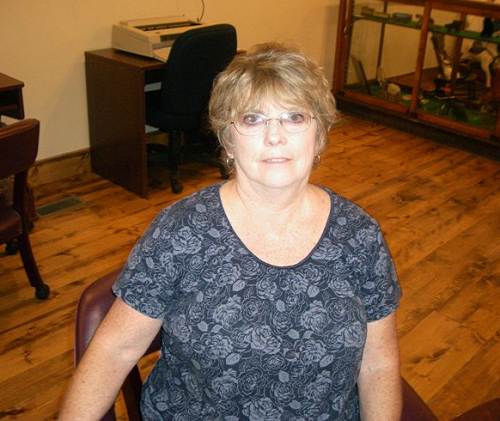 20 Sandra Kerr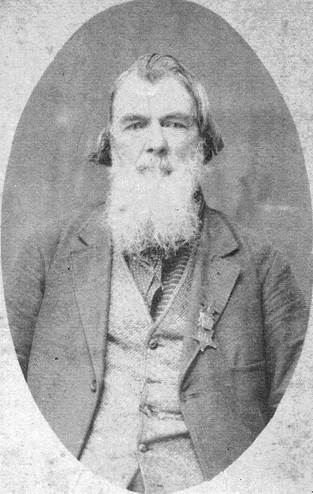 21 LeRoy Busick
LeRoy, who lived in the Rocky Mount area, was at one time the Constable of Franklin Township during the Civil War era. Sandra told me that LeRoy was the father of George Busick, her great grand father, and Zebidee Busick (photo 22), who was the brother of George. Her major interest at the moment was to find out more about Zebidee, her great great uncle.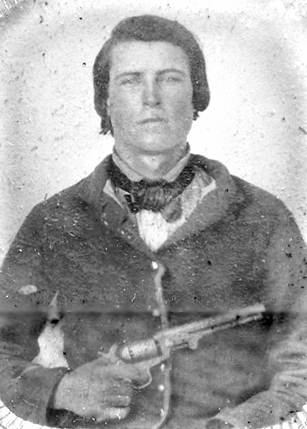 22 Zebedee Busick
Apparently, Zebidee had been involved in a number of activities following the Civil War in which he along with others was accused of participating in violent acts of revenge related to events which occurred during the War. Sandra told me Zebidee was rumored to have "run" with Jesse James at one time.
In the immediate post Civil War era these stories of violence related to revenge were common. Clyde Lee Jenkins, in his book, "Judge Jenkins History of Miller County, Missouri" Volume 2, End of the Civil War through 1900" recounts a number of stories related to this subject of aggrieved former soldiers (and sometimes, perhaps most of the time, just common criminals) exacting acts of violence throughout the county. One of Sandra's family members copied from Clyde Lee's book the following information about this time period in our county's history:
"When hostilities ceased in the spring of 1865, Miller County was a place of divided families, many political factions, and community rivalries. Nothing made sense in the days after Price's raid through the area, or for approximately ten years afterward. The "Loyal" forces were in the saddle, and persons regarded as rebels or southern sympathizers in any particular, were humiliated, disenfranchised, or chased from the county. They believed the first order of business in Miller County was the stopping of robberies and the killing of peaceable citizens; deprivations were constantly being committed in all parts of the county. In the autumn of 1865, many houses were burned to the ground in the northeastern part of the county. Most people believed the Confederates of Miller County were responsible for the county's difficulties and chastised them. However, it would be more than fair if written here the Confederates were not responsible for the county's difficulties, since many people, unable to make a living, commonly turned robber to obtain subsistence, and this they did in such great numbers, the county was overrun by them."
The following anecdotes were collected together by the Busick family taken from Clyde Lee's book in which their ancestor, Zebedee Busick was involved. These paragraphs were taken by Clyde Lee from courtroom testimony. In some places it is difficult to know which is Clyde Lee's narrative or which is from the court transcription:
Edward A. Henry Almost Killed:
On February 12, 1866, Isaac Stepp and Zebidee Busic were in J.H. Sloan's house at Pleasant Mount. "They were very peaceable while at my place," Mr. Sloan said, "but mentioned they wanted to whip somebody."
H.C. Atkinson, going into the store, overheard Stepp and Busic talking about E.A. Henry. Stepp said, "I want to hit Henry five licks!" Busic said, "I want to knock him down first." Stepp then said, "I want to give Henry a good licking."
Entering the store, Stepp and Busic, confronted Albert P. Hart, Joel B. Clark, Thomas J. Spalding, and H.C. Atinson by the cracker barrel. Edward A. Henry was at the counter. Busic said sarcastically, "Why it's Mr. Henry!"
The following narrative by Edward A. Henry clearly unfolds what transpired between them.
"I came into Pleasant Mount and hitched my nag close to Spalding and Brother's Store." E. A. Henry said, "I immediately started to the Post Office, but upon seeing it closed, returned to the store of Captain Franklin. From there I went to Spalding and Brother's store and called for some articles I wished to purchase. I stood at the counter and as the clerk wrapped up my articles, I took out my money. While standing with the money in my hand, I noticed Isaac Stepp and Zebidee Busic outside the store door in conversation."
"Isaac Stepp came into the store with Zeb Busic behind him. Stepp stopped near me, while Busic stood near the stove. Stepp said, by way of invitation, 'Why here is Mr. Henry! He must go with us!'
"I refused to go. Stepp then turned around and whispered to Busic. I walked across to the other counter, and picked up the things they had for me there. Stepp turned around and said, 'I am a Radical. Not only that, I wonder if everybody here is a Radical.' "He then asked several persons in the store if they were Radical. He asked me if I was. I said yes. He asked me if I was ever a Rebel. I answered no. I think he then laid his hat on the counter and asked, 'Will you swear to that in front of the All Mighty God and these witnesses?' He repeated the question. Both times I answered in the affirmative in order to avoid a difficulty."
"I think no more was said until Isaac Step struck me twice; one very hard lick in the face. I moved toward the back of the store, warding off Stepp's blows as best I could. About this time Stepp drew a revolver out of the scabbard from under his coat, and presented it with the muzzle toward me. He was going to shoot! I struck at the revolver, and either hit it, or his arm. The revolver dropped to the floor."
"About this time I saw Zebidee Busic trying to strike me with an ax handle," Henry continued. "It was a common new handle. Busic, chopping fashion had it raised in both hands. I cannot say he hit me, but something struck me harder than a fist. I then retreated to the front door of the storehouse. As I passed Zeb Busic, I think John Busic, his brother, had a hold of him. I ran about two thirds of the way to Franklin's store. Stepp having a hold of me part of the time, and striking at me part of the time. We stopped and here I saw Zeb Busic coming after us in a run. Breaking away from Stepp, I ran through the store of W.T. Franklin into Captain Franklin's house. Near the door, I met Captain Franklin coming out, and told him to stop the men after me, for they meant to kill me!"
"I then heard Mr. Franklin in loud talk with others. The captain told them they could not go in. While he stalled them, I slipped out of the back door, crossed the field and ran into the woods," Henry concluded his testimony.
E.A. Henry was discovered about the same time. He was leaving the field. Someone hollered "Yonder he goes!" Stepp, jumping upon a horse, went a short distance, taking up Busic behind him. Rapidly riding, they hastened around the south side of the field to about where Henry had got into the woods, but never got nearer to him than two or three hundred yards.
Captain W.T. Franklin said, "I was near my dwelling house when Mr. Henry passed me, bleeding like he had been in a fight. Entering my house, he asked me to stop the men after him."
"Stepp and Busic, coming up, told me they had been in a fight with a Rebel," Captain Franklin continued. "They told me he had run into my house, and they were going in after him. I prevailed on the boys not to go in, and Busic, having a small bowie knife in his hand asked me if I would harbor a Rebel? I said I would not."
It was Captain Franklin's opinion if the boys had got Henry out of his house "they would abuse Henry pretty damned rough!"
Thomas J. Spalding thought the parties friendly until Stepp said to Henry, "I believe you are a damned Rebel!"
"I thought Stepp was going to mall Henry like thunder," Spalding concluded.
The Death of Joseph S. Adcock:
On February 22, 1866, Joseph S. Adcock was in the Blue Spring's community, collecting for Dr. Rial M. Hargett, a physician and surgeon by profession, of Pleasant Mount.
Rachael Jones said, "Last Thursday, the 22nd of February, Joseph S. Adcock was at my house about one-half hour, collecting for Dr. Hargett. He left my place going toward the Blue Spring Church house. I saw him until he got out of sight. I did not see him again. His horse came to this place two days later without any saddle or bridle on."
"When Mr. Adcock came into the house," Rachael continued, "there was no one in except myself, Joseph Jones and the little children. There was a young man who had just stepped out, his name, I think, Zebidee Busic. I know of no cause for his leaving. He was close to the house, but he never came in while Mr. Adcock was present. I left home that evening and went to church."
"I was at Rachael Jones' place on Thursday," George W. Babcock said, "and noticed several horses at her house. The horses belonged to Thomas and William Conner. They were loose, running out. When I left, one horse was in the stable. I first saw this horse tied to a bush in the southwesterly course from the house, with Zeb Busic standing close by the animal. What called my attention to the horse in the first place was the bursting of some four or five caps, which Joseph Jones and myself investigated. We found Zeb Busic and Benjamin "Bub" Jones standing together. After talking with Busic a few minutes, we returned to the house, Zeb and Ben Bub with us, where Busic spoke of loading his revolver. He asked Joseph Jones for some powder, and was handed the powder horn. Then I left, but noticed, when some two hundred yards from the house, a man on a dark gray horse, riding up, stopped at the gate, and getting down, went into the dwelling."
"I went on to Sally Conner's place," Babcock continued, "where I stopped and talked a few minutes, then started for Davy McCombs. I had got across the creek when I heard the report of two guns, about one minute apart, in a westerly direction from me. The firing occurred from one half to three quarters of an hour after my leaving from the Jones place."
Nehemiah Jones said, "Joseph Adcock came to our house last Thursday, on horseback, collecting for Pleasant Mount's Dr. Hargett. My brother, Daniel J. Jones, was at home, and my mother was present. George Babcock just leaving, was in sight of the house. He was looking for dogs that had been killing his sheep."
"Mr. Adcock was in about half an hour," Nehemiah continued, "between 1 and 2 o'clock p.m. he went from our house toward the Blue Spring Church. Mr. Adcock was riding a dark gray horse."
Almena Conner said, on "Thursday evening I saw Thomas Jones coming from the spring and going towards home. Benjamin "Bud" Jones came to the house and inquired if anyone had seen Tommy? I answered yes, he's out back, talking to Daniel Conner, close to the house."
Sally Conner stated, "George Babcock was at my house on Thursday. When he left he started toward David McCombs, east of my house. Fifteen minutes or so after George left I heard the report of two guns. The report of the guns was west from my house, in the direction of where Adcock was killed. I hurried to the home of Rachael Jones after the guns fired."
On February 25, 1866, Joseph S. Adcock, having been robbed and shot, was found by Josiah Elliott, about one half mile from the Blue Spring Church house.
Mr. Eliott said, "I found the body about 4 o'clock in the afternoon. From all appearances he was killed right where he lay. Myself and others were on the search for him as he had stayed over his time; we came onto a horse track, and pursuing it, came to the body. It had the appearance of a man track walking beside the horse. The body was way from the road, lying in a hollow, about a half mile from the Blue Spring Church, in a westerly direction."
"I found his papers around his body in various directions," Elliott continued. "Also, close to the body, I found a place where a horse had been hitched, apparently for some time. There was a bridle tied to a tree, a saddle blanket lying close to it, and riding blanket, not too far distant. The deceased was lying on his back, left hand under him, the right hand extended, a hat nearby. Close to him I saw no indications of track, but I did a short distance from the body in a westerly direction. The body had the appearance of having been there two or three days."
Finally, we have this summary by the Busick family regarding their ancestor Zebidee Busick:
"We don't know if Zebidee was convicted for this crime (murder of Joseph Adcock). However, he ended up in prison at Jefferson City, Missouri as several letters from him to family members attest, so this murder could have been the reason. As noted above, according to Busick family records, Zebidee was known at times to have ridden with the James gang."
So I want to thank Sandra Kerr for sharing with us this interesting window into those years of turmoil and violence in the immediate post Civil War era in Miller County which involved her own family.
As I noted above, Sandra's great great grandfather, LeRoy Busick, was an honorable and respected citizen of Franklin County, serving as Constable. Several stories exist concerning his encounters with bushwhackers in the Rocky Mount area, Sandra tells me. The Busicks' were generally buried in the old Dooley Cemetery near Rocky Mount. In recent years a modern family tombstone has been placed in their part of the cemetery which is in the oldest section (photo 23).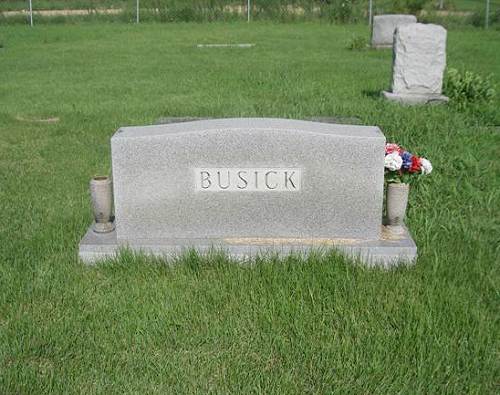 23 Busick Headstone
Some of the burials of the Busicks are very old and the head stones barely can be found. Here is a list of the Busicks known to be buried at Dooley:
Busick, Alfred
19 Feb. 1822 - 8 Sept. 1878
Busick, Clinton L.
8 Jan. 1873 - 16 Nov. 1956
Busick, Emma E.
4 Jan. 1871 - 20 Nov. 1898
Busick, Glover H.
8 Apr. 1904 - 5 Apr. 1982
Busick, John
4 Apr. 1875 - 4 Sept. 1876
Busick, John
no dates
Co. B 8th MO. S.M. Calvary
Busick, Leroy
no dates
Co. B 8th MO. S.M. Cavalry
Busick, Mollie E.
23 Oct. 1875 - 27 Nov. 1963
Busick, Sarah
26 Feb. 1837 - 13 Feb. 1901
Busick, Sarah H.
1845 - 1934
Busick, Tabitha
26 Feb. 1838 - 9 Jan. 1916
Busick, Vera G.
20 Feb. 1902 - 15 Jan. 2001
I think the most interesting aspect of the Busick story is that these events occurred in areas of the Miller County that are familiar to us although certainly now containing modern buildings and other features of life as we know it in the 21st century. But just try to imagine someday when you walk across a field or a wooded area that perhaps a century and half earlier in the unsettled times following the Civil War, events may have occurred which could have been violent in nature, perhaps accomplished secretly, so that no one ever knew of them. Many other stories like the Busick story are included in Clyde Lee Jenkins' History of Miller County V.2 which document that our county at one time was violent and unsettled, with neighbor against neighbor, harboring grievances and anger resulting from the violence of the Civil War.
---
The following is a public invitation I received from Lois Webb, sister of Lee Mace, about an upcoming event at Osage Beach (photo 24).
Our museum is supplying some of the posters from the Lee Mace display to be shown at the honorary ceremony at Osage Beach, Thursday, October 23. Jim Phinney, assistant to Joyce Mace, is the one who set up the Ozark Opry display at our museum and he will be using some of those display items for the ceremony. It is a public event so feel free to attend to honor our famous Tuscumbia native, Lee Mace.
---
Last week we returned from a two week trip to the canyons, gorges, and colorful stone formations of the national parks of Arizona and Utah. This area of our country is one of the most unusual in the world regarding its beautiful, overwhelmingly magnificent geological wonders, especially, of course, the Grand Canyon. Interestingly, more Europeans and people of other parts of the world were touring the area than Americans, it seemed to me. Apparently, foreign tourists are told to make this region of our country a priority to visit. If you haven't been to our national parks of these states you must plan to do so. Here are a couple of representative photos (photos 25 and 26):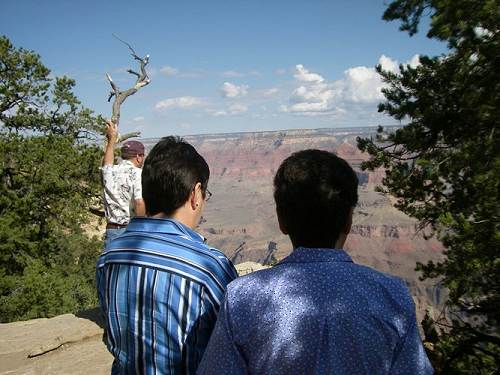 25 Paul, Judy and Sharon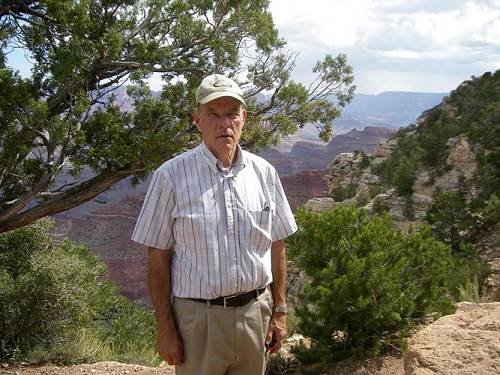 26 Joe
Whenever I travel, I always try to see if some connection historically can be found relating to Miller County. On the part of the trip through Utah, a state which was settled by people predominately of the Mormon faith, I wondered if any Mormon churches had ever been established in our Miller County area since as the Mormons moved ever farther west on their journey to find religious freedom they spent some time in Missouri. On return home I wasn't able to establish that a Mormon church was started in Miller County during the 1830's when they migrated into Missouri. Most of them settled around Liberty, Missouri. I did find a couple of references to Mormons who owned land here but no proof they lived here. For example, on this website you will find reference to a John Shelton who held a land patent here:
http://www.sheilagibson.org/resrchtime1800.html
I consulted Peggy Hake if she knew of any Mormons passing through Miller County and she responded with this interesting note:
Joe,
I don't think Miller Co. ever had Mormon Churches prior to the ones that have been established in more recent years. I have studied some Mormon history and know they had their beginnings in upstate New York. There is a place there called Mt. Cumorah that I have visited and is supposed to be where Joseph Smith received the written slates from God......where ever they moved they were run out by local townspeople until they finally made it to the Salt Lake City, Utah area. Earlier they had tried to settle in Kirkland, Ohio; then moved to Nauvoo, Illinois; later crossed the Mississippi and traveled across northern Missouri and tried to settle near Liberty, MO, but once again were mistreated terribly and were forced from their homes there. They eventually made it to the valley of the Great Salt Lake and were finally left alone. I have a great book called MOUNTAIN MEADOWS MASSACRE where some Mormons were accused of slaughtering over 100 men, women, and children just south of Salt Lake City. It has been proven that a group was involved (but dressed as Indians) who took part in the massacre. The captain of the wagon train was Capt. Alexander Fancher who once lived in Miller County for a very short while but moved his family to Crawford County, Arkansas in the late 1840s or early 50s.....he led the wagon train out of Arkansas; went northward to the old Westport area and picked up more pioneers along the route before heading westward on their way to California. The big mistake was going into Mormon country instead of the southern route.
Best wishes,
Peggy
---
Thanks Peggy. You can read more about William Fancher at this website:
http://freepages.genealogy.rootsweb.ancestry.com/~wallner/mmmfanch1.htm
Another interesting possible link to Miller County I found when we stopped in Moab, Utah, where the largest Uranium deposit in the world was discovered in 1952 by Charles Steen, who had come up to Moab from Texas (photo 27).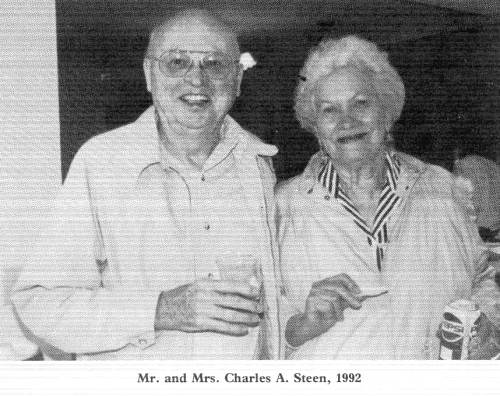 27 Mr. and Mrs. Charles Steen - 1992
His story is very interesting and can be read at this website:
http://www.spiritus-temporis.com/charles-steen/
I first learned about Charles Steen when I was in a store in Moab and saw a book for sale containing his biography. The name attracted my attention because my wife's family, also named Steen, was from Iberia and we had always known that one of her great great grandfather's brothers had gone to Texas. Apparently, Charles Steen was the best known personality of the small town of Moab and was very famous around there. So upon returning I was telling my mother in law, Elva Steen, about possibly finding one of the Steen family's long lost relatives. Was I surprised when she remembered that about fifteen years ago a Charles Steen was traveling through the area talking to members of the Steen family for the purpose of researching his family history! Even more interesting was that Charles told Elva the whole story about his mining operation and the fact that eventually he lost all his wealth due to tax difficulties with the government. So you just never know what kinds of interesting connections you can find if you have some curiosity about things.
You can read more about the Charles Steen story by clicking on the website listed above.
---
For the last two weeks volunteers Jim Clark, and his brother in law, Bob Annett, of Tuscumbia have been excavating by hand the south and west walls of the Miller County Museum building to repair water leaks (photo 28).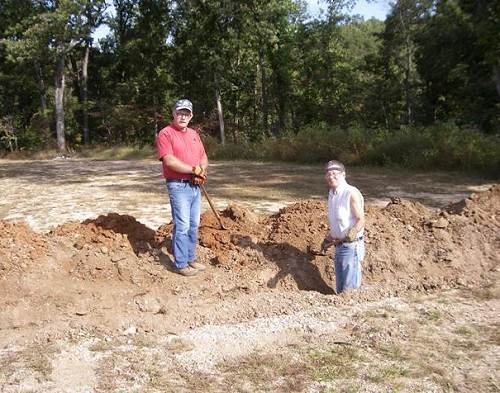 28 Bob Annett and Jim Clark
This was tough hot work but because of the close proximity of electrical and plumbing lines underground a back hoe could not be used in much of the area. Where a back hoe could be used Stanley Booth of Eldon offered his help (photo 29).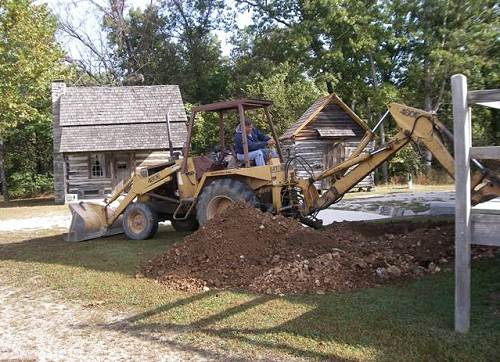 29 Stanley Booth
The day he came, his towing vehicle had a flat tire, but he came anyway driving the back hoe to Tuscumbia all the way from Eldon. In addition he gave us a big discount on the work he did. We at the museum are certainly appreciative of the work Jim, Bob and Stanley have done for us.
---
This next Saturday, October 11, our museum will be open two hours longer than usual from four p.m. to six p.m. to allow those who are coming to the Tuscumbia High School alumni meeting to have the opportunity to visit us before attending the meeting. So drop by and take a look at our new museum renovation and expansion. I think you will be pleased by what you see.
That's all for this week.