Monday, September 29, 2008
Progress Notes
This week I would like to continue with our series of biographies of Miller County physicians of the past. Dr. Anton Paul Nixdorf was probably the first physician in the county to have received an authentic medical education from an accredited medical school, not only here in this country but also in his home country of Germany before he emigrated here (photo 01).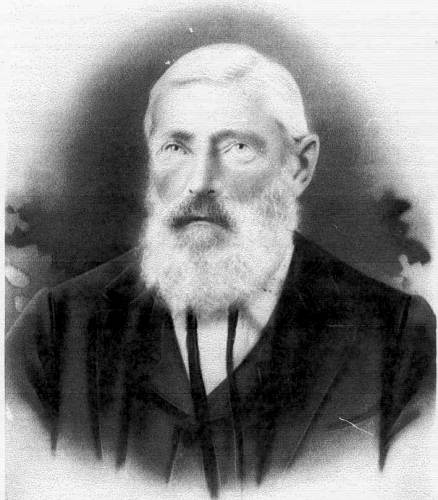 01 Anton Paul Nixdorf M.D.
He was a very popular and active physician having been involved with many community activities. Not only was he a physician but he also served as Postmaster at Tuscumbia as well as Pleasant Farm, where his home was located, for a number of years. Pleasant Farm is one of the now abandoned "Ghost Towns" of Miller County. You can read about it as well as Dr. Nixdorf and his son Perry, who also was a physician, as written by Kelly Warman-Stallings at this URL on our website:
http://www.millercountymuseum.org/communities/pleasantfarm.html
I encourage you to click and go to the story now as it is very interesting.
One method of determining who were the more important or well known citizens of the county in the distant past is to refer to the Goodspeed chapter about Miller County, written in 1889. Copied here is what was written about Dr. Anton P. Nixdorf as well as his son, Perry, both of whom were physicians:
Goodspeed's History of Miller County
1889
"A.P. Nixdorf, M.D., postmaster and druggist at Pleasant Farm, Mo. was born in Breslau, Prussia. January 14, 1832, and is a son of Anton F. and Caroline Finke, who were also natives of Prussia. The father served twenty seven years in the army, and participated in the wars against Napoleon Bonaparte, and upon his resignation obtained a position as one of the university officials at Breslan. A.P. Nixdorf, our subject, after receiving private instruction at home, in the elementary schools and at Dr. Rantour's Academy, entered a gymnasium, and upon the completion of his studies there became a student of medicine and surgery at the university. Some time after, a young American, William Sedgwick, who attended a law course at the same university, and who in later years practiced his profession at St. Louis, Mo. and who was killed during the Civil War (being a major in the Federal Army at the battle of Antietam), became intimately acquainted with him, and advised him to visit America. Upon his arrival in this country he located first in Lenox, Massachusetts where he took a position as professor of the German language in the Sedgwick Female College, and occupied his spare time by reading medicine under Dr. Worthington, a graduate of Pittsfield (Mass.) Medical College. After a stay there of one and a half years he came west to St. Louis Mo. and with a view of entering the medical college there he took employment in the wholesale dry goods firm of Crow, McCreary and Co. as shipping clerk, at a good salary. He spent his evenings at the Mercantile Library Association of which he had become a member and read medicine assiduously until eighteen months thereafter, when he entered the St. Louis Medical College graduating from that in the class of 1856 (photo 02).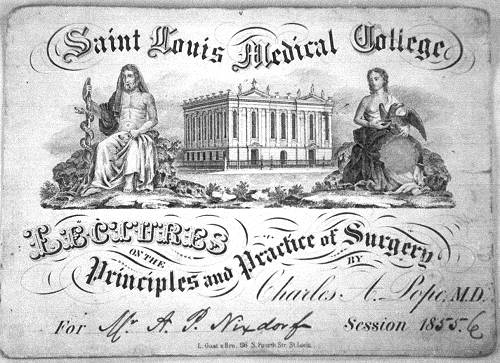 02 Medical School Document
After practicing in St. Louis at the Hospital of St. Louis (photos 03 and 04) for some time he came to Miller County, Mo. where he purchased land, practiced his profession, and where he still remains.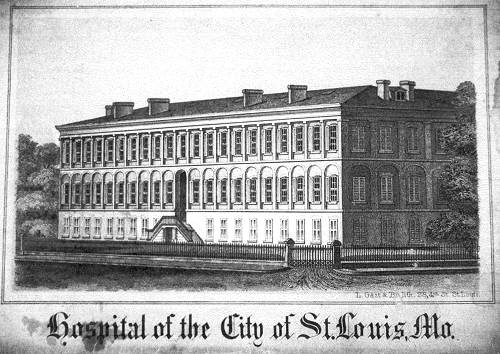 03 Hospital of the City of St. Louis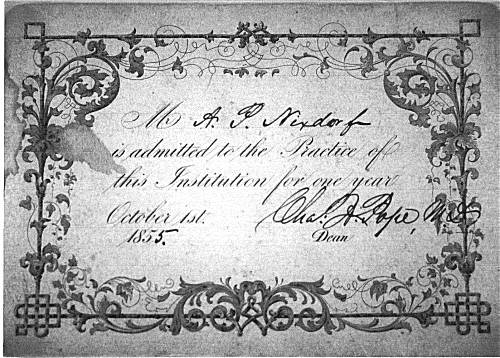 04 Hospital Permit
He conducted the post-mortem examination in the noted Jack Wilson case, where, after the intestines had been removed, the body was filled with salt, sewed up and placed in the coffin, which was then deposited in a small cave high above the entrance to the famous Wilson Cave and securely walled up (photo 05).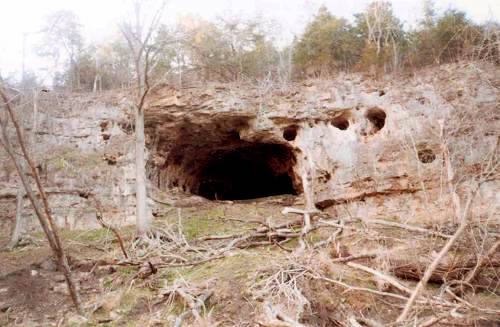 05 Wilson Cave
Note: you can read more about the infamous story of Jack Wilson at this URL on our website:
http://www.millercountymuseum.org/articles/wilsoncave.html
Don't fail to click and read this fascinating story!
During the war he enlisted as surgeon in the Home Guards, and became afterward surgeon of the Miller and Camden County Rangers, commanded by Captain John Salsman. He has been postmaster at Tuscumbia and Pleasant Farm for the past twenty four years, and in his political views is a Republican. In 1856 he married Miss Wilhelmina A.C. Moehle (photo 06), who was born in Breslan, Prussia, in 1838, and by her became the father of fourteen children, twelve living: Perry T., Camilla A. (Patterson), Franz Siegel, Jane C. (Rhoades), Minna A., Bismark Otto, Cecilia, Anton Paul, Pauline, William Carroll, Nancy A, and Victor Emanuel. Oscar Louis and Robert August are dead.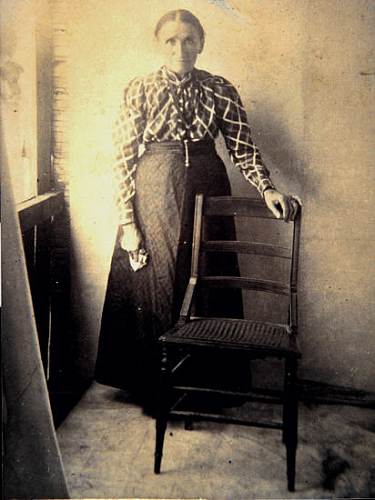 06 Wilhelmina Nixdorf
Dr. P. T. Nixdorf, a resident of Charleston, Miller County, Mo., and native of the county, was born in 1858, being the eldest of fourteen children born to Dr. A.P. Nixdorf and Wilhelmina Moehle, who were born in Breslau, Germany. Dr. P.T. Nixdorf resided on a farm until seventeen years of age, and then taught school for two years. He studied medicine under his father for a number of years, and afterward graduated from the Missouri Medical College at St. Louis, taking his degree in 1885. He entered on his practice at Charleston, and has become one of the popular practitioners of the county. In 1880 he was married to Nancy Brumley, a daughter of W.C. and S. (Wilson) Brumley, and by her is the father of one child, Camill R. After their marriage they settled in Osage Township on a farm, Dr. Nixdorf's time being also spent in teaching school. He has always been a Republican in politics and was coroner of Miller County in 1886. He belongs to the A.F. & A. M. and I. O.O. F. at Tuscumbia.
As noted in the Goodspeed biography above, Dr. Nixdorf and his wife, Wilhelmina, had fourteen children. This, undoubtedly, is the reason that the Nixdorf surname has survived in our county, because he was the only Nixdorf ever to have come here to live having been born elsewhere, as far as I know. Many people in the county and elsewhere have a Nixdorf in their family history. And those who aren't directly related can recount some story or other happening in which they had some type of association with the Nixdorfs'. In my case, Victor Nixdorf, son of Dr. Anton Nixdorf, married Lydia Bear who was a first cousin of my grandfather, Madison Bear. A son of Victor and Lydia Nixdorf, Paul Nixdorf, chose to be buried in the Bear cemetery where his father also was buried. Paulís son, also named Victor (of Leeís Summit, MO), presently is the Bear descendant who is responsible for the care of the cemetery.
Although the Nixdorf home no longer is standing, at one time it was the center of family activities. In this photo of the original Nixdorf home at Pleasant Farm (photo 07), Victor and Lydia Nixdorf are standing next to Minnie, wife of Anton, who is seated.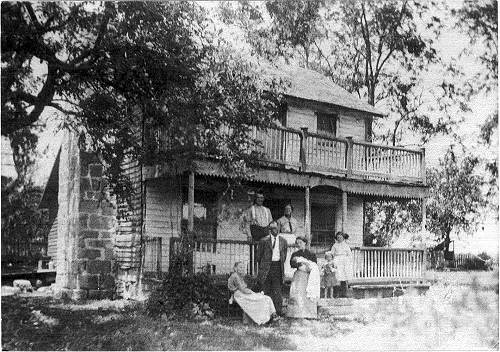 07 Dr. Nixdorf Home
On the porch are Carroll and Josie Nixdorf and on the steps are their children, Cleo and Jessie. Jessie was a well known school teacher in Miller County having taught at several schools including Tuscumbia and School of the Osage. She was my eighth grade teacher at Tuscumbia and my wife's Seventh and eighth grade teacher at School of the Osage.
Carolyn Burks Levell, Miller County native now living in Springfield, has compiled a family history chart of the descendents of Anton Paul Nixdorf (photo 08) which gives more detail about the members of the extended Nixdorf family.
The obituary of Dr. Anton Paul Nixdorf I copied from an old 1906 edition of the Autogram (photo 09) which is interesting. Because the original is difficult to read I will copy it below:
"Dr. A.P. Nixdorf, postmaster at Pleasant Farm for many years, died at his home at that place at six o'clock last Saturday morning. He had been very ill for a week, hence his death was not unexpected. He was buried Sunday afternoon at the family graveyard on the farm. The deceased leaves a wife, five sons and four daughters, besides a very large circle of friends to mourn hi death. Dr. Nixdorf was 74 years and 13 days old. He was born in Leignitz, province of Selascia, Prussia, January 14, 1832. His mother died soon after, leaving 5 small children. At an early age his father remarried and moved to Breslau, Prussia, where he reared his family. He graduated at the University of Breslau with high honors, and then pursued the study of medicine. His studies were interrupted by having to serve one year in the military of Prussia. Sometime thereafter a young American, who was studying law at the university, advised him to come to America. He first located at Lennox, Massachusetts, where he accepted a position as professor of the German language in a female college. He was thus engaged for more than a year when he came to St. Louis where he entered the St. Louis Medical College, meanwhile working his way as a billing clerk for a wholesale dry goods firm, graduating from the class of 1855-56. After practicing there for some time, he came to Miller County, locating in Tuscumbia. He then purchased the Pleasant Farm land, residing there until his death. While living at Tuscumbia, his was one of 21 votes recorded in Equality Township for Abraham Lincoln in 1856. He enlisted as a surgeon in the Home Guards and later was made surgeon of the Miller and Camden County Rangers, commanded by Captain John Salsman. His wife was Miss Wilhelmina A.C. Moehle who was born in Breslau, Prussia in 1838, to whom 14 children were born, nine of whom are now living.
Card of Thanks
We wish to thank our friends who so kindly helped us in the fatal illness of our beloved husband and father, A.P. Nixdorf Sr.
Mrs. Minnie Nixdorf (wife) and children"
What I found interesting, among other things, in this obituary was the low number of votes counted for Abraham Lincoln in Equality Township. The fact is, before the Civil War, Miller County heavily favored the South. But after the war started, renegade outfits called "bushwhackers" from out of this area began robbing, pillaging, raping and killing local citizens under the guise of being Southern sympathizers. Their actions were so ruthless and destructive that the attitude of the citizenry changed dramatically to favor the North in the War. These events are well described in Clyde Lee Jenkins' history of Miller County.
For completeness here is a copy of the obituary of Wilhelmina Nixdorf, wife of Anton Paul Nixdorf (photo 10):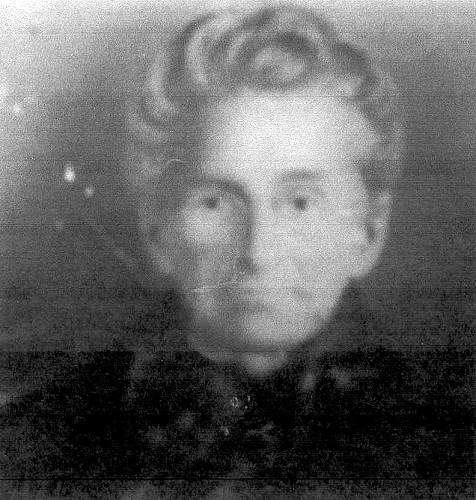 10 Wilhemina Nixdorf
Wilhelmina Nixdorf was born April 8, 1838 at Breslau, Germany, and was confirmed and taken into the German Evangelical Lutheran church in the year 1853 at the age of 14 years. In the year 1905 she took membership in the Presbyterian church of Tuscumbia. She was married on May 19, 1856 to Dr. A.P. Nixdorf, also of Breslau, Germany. To this union were born 14 children, 9 of whom are now living, namely, Dr. P.T. Nixdorf, Mrs. Camillia Patterson, Mrs. Jane Rhodes, Mrs. Minnie Kallenbach, O.R. Nixdorf, A.P. Nixdorf. Jr., Wm. C. Nixdorf, Mrs. Ada Burks and V. E. Nixdorf, all of Miller County.
She died September 13, 1916, at the age of 78 years, 5 months and 5 days. The funeral was held at her home and was conducted by Reverend C.M. Sooter, after which her remains were laid to rest in the family cemetery. Beside her children she leaves two brothers of St. Louis, Mo., forty seven grandchildren and thirteen great grand children and a host of friends and relatives to mourn her loss.
---
In our museum medical office display we have some of the medical instruments of A.P. Nixdorf which have been donated by the family (photo 11).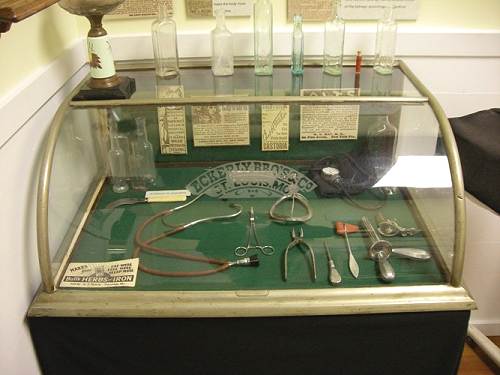 11 Medical Instruments of A.P. Nixdorf
In summary, Anton Paul Nixdorf M.D. was one of the most influential citizens of Miller County of the 19th century and many of his descendents themselves have carried on the tradition of community service and public welfare as did he.
---
One of the most remembered shootouts in Tuscumbia was the killing of brothers Oscar and Douglas McGowan (photo 12) which occurred about eighty years ago on December 9, 1933.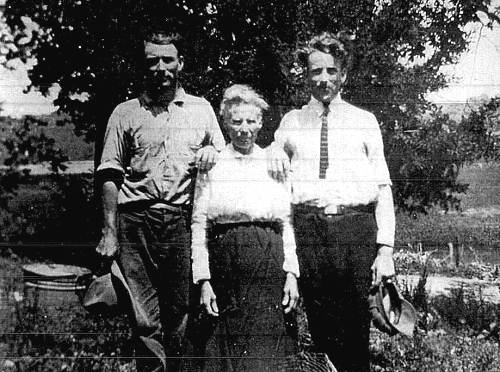 12 Everett Douglas McGowan, Minerva Willis McGowan and Perry Oscar McGowan
The event was witnessed by a number of people including Arthur and David Bear (photo 13) and their sister, Susie Bear (photo 14).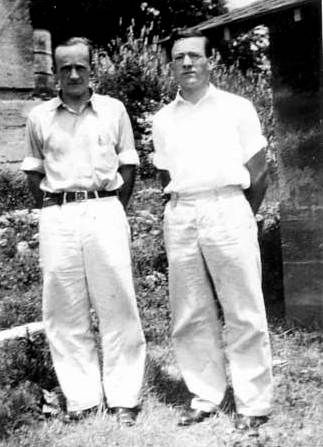 13 Arthur and David Bear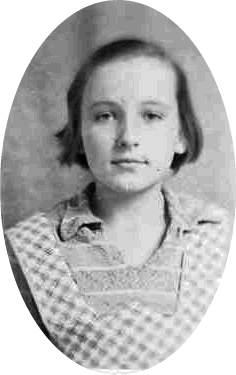 14 Mary Susie Bear
Arthur, David, and Susie were standing on the porch of the general store (photo 15) owned by their father Madison Bear and watched the entire shootout occur.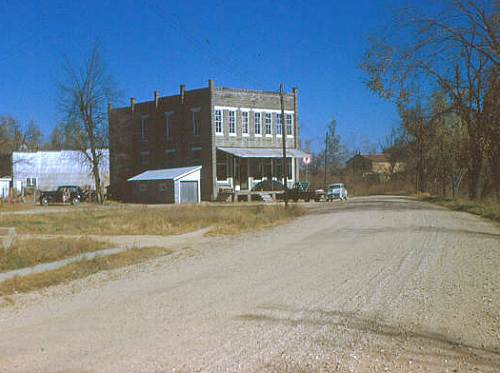 15 Bear General Store - 1947
This next photo taken about the same time frame as when the shooting occurred (photo 16), shows the approximate location on the porch in front of the store where Arthur and David were standing when the shooting started.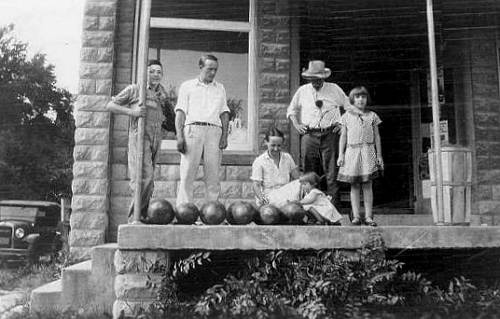 16 David, Arthur, Sadie, David C. and Susie Bear
Susie was pulled inside the store by her mother, Sadie (however Susie says she "snuck out to the porch soon afterward"), but apparently Arthur and David were sheltered by a woodpile on the porch such that their mother Sadie didn't realize until later that they were not inside. Madison, their father, was working at his store in Bagnell and wasn't present. At the time Arthur was about fifteen years old and David eight years old. The McGowan brothers lived in a house two doors up the street from the store (photo 17), and the blacksmith shop (photo 18) where Os was shot was directly across the street from the porch of the store.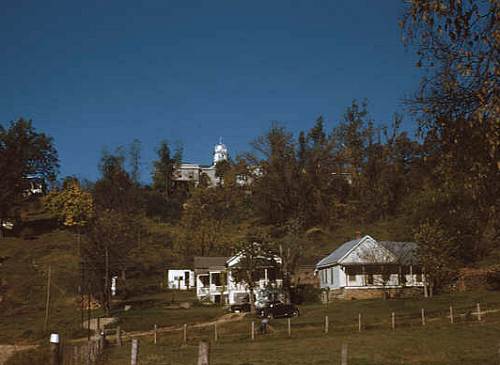 17 McGowan Home on Right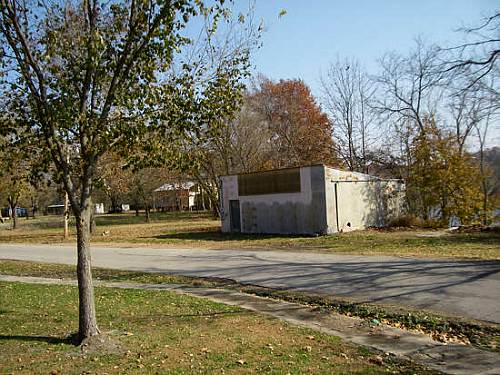 18 Approximate Position of Blacksmith Shop
Although the McGowan brothers were somewhat rowdy at times, few in the community agreed with how the situation was handled by law enforcement authorities and the incident was remembered by many as an unnecessary tragedy.
To better understand the events of this tragedy I will record here eye witness accounts from the Bear siblings and the Autogram article with a few lines from the diary of C.B. Wright. First, the eye witness account of Arthur and David Bear as recorded on a tape recorder in 1991:
Arthur and David Bear
David: We mentioned Os and Doug McGowan earlier. Os was married and had about three children. Doug was single, but had been married at one time in his life. Os spent considerable time fishing and selling the fish to townspeople. They always seemed to have a little money, not much; they were still poor. It was thought by some that maybe a little bootlegging went on. Doug always had plenty of liquor (called moonshine in those days) to whet his appetite. One time Os and Doug got in a fight at the home of Os where Doug also lived. Their house was close to our store. One of the daughters in the household got scared and wanted the fight stopped, so she ran up the hill to the Sheriff's office, and asked him to come stop it. Os and Doug didn't care much for the new sheriff, and neither did many people in Tuscumbia. He was the lone Democrat elected to county office in the Roosevelt landslide but the general dislike had nothing to do with politics; he just had a way about him that put some people off. Well, Os and Doug sure didn't like him, so when the Sheriff got out of his car down in Cracker Neck, they started taking shots at him. That was the last that anybody saw of the sheriff for that day. He called the city lawmen in Eldon who had deputy commissions. I don't know what kind of story he told them, but he was probably quite distraught. They came down, but while they were enroute, Os went uptown to buy more ammunition for his shotgun. He came to our store first, didn't he, Arthur?
Arthur: Yes, he came to ours first. It was the closest to him.
David: What was his conversation with you?
Arthur: Well, he wanted some heavy load shells. I had some heavy load, but not the brand he wanted. I had Peters High Velocity with number four shot. That was a good shell, but Os wanted another brand, so he went up to Hauenstein's and got what he wanted.
David: All right, after he got his shells from Hauensteins, he walked back down the street. He walked by our store, and went to an outside privy on the river bank by the blacksmith shop. He stopped there, and if he hadn't stopped for some kind of relief, he could have made it back home before the officers from Eldon arrived. Anyhow, he left the privy and walked alongside the blacksmith shop, and just as he got to the wide doors of the shop, the officers from Eldon arrived. I don't know what kind of story the sheriff had given them, but I'm sure they expected the worst. There were three officers in the car. They stopped alongside Os and said something to him, and, as he turned, the shotgun turned with him. Whether he was attempting to shoot at the officers, I don't know. I saw the whole thing from across the street a few yards away, but the car was between me and the incident, so I was blocked out of a full view. The guns blasted and Os was killed immediately without having fired a shot. I was observing from the front porch of our store which was across the street from the blacksmith shop. The bib of Os's overalls was peppered with little holes where the shots went in. Just as Os was shot, more shots were being fired by Doug from the house where Os and his family lived. One of the officers from Eldon must have been a good shot. These officers got behind the Thomson garage and peeked around to return the fire. When Doug had his body half way out of the doorway of the house to fire, he was hit in the heart area. He staggered into a bedroom and died immediately. Shortly after, the wife of Os, Sylvia, came out and told the officers to stop shooting, that Doug was dead. Thus, ended the gunfight. Both were killed. This was a traumatic experience for a young boy. Now that you are back from your relief mission, Arthur, can you tell us the names of the law officers who were in the gunfight?
Arthur: There was Asa Gunn and Bill Lear, and I don't know the other one.
David: Monroe Rowden, local constable, was there, but he wasn't involved in the shooting. Arthur, I was talking when you had to leave. Is there anything you wish to add?
Arthur: The McGowan brothers, especially Doug, were a little on the rowdy side. At the Saturday night dances that were held frequently in homes around the community, Doug sometimes would get drunk and become a bit belligerent. I remember one time that Doug was brought in all cut up, and Doc Kouns had to get his needle and thread out again and do his stitching. Some young buck from across the river wielded the knife that cut Doug. I knew this young buck and found him very supportive of me on two occasions when I, was accosted by bullies. I always said, "Bully for you, Gene (Wickham)."
---
Now the account of the shooting as remembered by Susie Bear when she was about eight years old:
I was a kid about 8 yrs. old, I suppose, when a terrible occasion shook the whole town. In Tuscumbia in those days, nobody much locked up their doors for everybody trusted everybody and for the most part nobody had any enemies. We even liked the bums of the town for they were our bums. Some imbibed a little too much but it was kept among themselves. One day two brothers carried it a little too far and it started out with a little argument but it escalated quite a bit further this time. The father sent his daughter uptown to purchase some shells for his gun. She came into our store looking very frightened and it so happened we didn't have any that would fit his gun so she went to another store and apparently she didn't get them for in a little while the father came up himself. Course by now the town knew something was brewing and everybody was being very cautious for in the meantime a member of the brothers' family called our local sheriff, Lafe King, and he thought this was too big a job for him alone so he called the constable, Ace Gunn, from Eldon and he came a travelling at break neck speed along with his deputy around the corner of our store and people were all out watching on porches to see what was going to happen. As they rounded the corner, here came Os McGowan around from behind Elmer Flaugher's Blacksmith Shop and when he yelled "Stop!" Os raised his gun and pointed it at the officers and "Bang!" Os was dead. Then, since all this was going on just a hundred steps from Os's home, his brother Doug was standing out on his porch and raised his gun and dead on the spot was Doug.! This was a sad happening to this family and nobody felt good about it either.
This was a family fight that caused a fight with the County Sheriff and two Constables from Eldon. People of the town thought the fight could have been avoided and that they were trigger happy. But never the less it was a terrible happening for our small town. Os's daughter, Icle, was a very intelligent person who was graduated Valedictorian of her Senior Class. She made her speech with tears in her eyes. Os and Doug made their living from selling the fish they managed to catch out of the Osage River which ran right through town.
---
Miller County Autogram, Thursday, December 18, 1933
Shoot out in Tuscumbia
Last Thursday (December 9) one of the most sad and disturbing incidents in Tuscumbia history occurred. According to witnesses, brothers Oscar and Douglas McGowan were quarreling and threatening each other. One of the neighbors called the sheriff's office informing the office about the arguments the brothers were having. In the meantime, Os (as Oscar was known locally), had gone to town to buy shotgun shells. Merchants had heard of the trouble in the lower end of town, so they refused to sell them. Then Os came up to town armed with his gun, and went to Hauenstein's store where he told them his business. They tried to argue with him and told him he was drunk and that he was playing a losing game with the officers, but he defiantly walked behind the counter and helped himself to the ammunition, paying for it.
The family car had been prepared for making the trip to Eldon and a suit case had been placed in the car. The brothers had an argument as to who would take Mrs. McGowan to Eldon, or as to whether or not she would accompany Oscar, which seems to have been partly responsible for the trouble. The necktie and the pair of socks found in Oscar's pocket after he was slain, were other factors. These were tied up in a small package and on the wrapper was written, "To Oscar McGowan."
As he started homeward he met parties on the way, and declaring, "if they take me, they'll take me dead. I'll show them they can't come to my house and run my business." He stopped at the closet back of the old blacksmith shop, and it is presumed that he then reloaded his shot gun. This was his undoing, for he failed to reach the shelter of his home. According to Gunn's (Eldon Police Chief) statement at the inquest, when they turned the corner at Bear's Store they saw Os coming around the corner of the blacksmith shop going toward home. Lehr (Eldon Police officer), who was driving the car, stopped the car when they neared Os, Gunn stepped out of the car and said, "Oscar, drop that gun, you are under arrest." He paid no attention to the command, but changed the gun from under his left arm as though preparing to shoot. He repeated the command, "Oscar, drop that gun, you are under arrest." Os raised his gun to fire, when Gunn fired two shots; again he raised the gun to fire when Rea (Eldon police officer) who stated on the witness stand that Gunn was in a serious situation, fired with effect. Gunn's weapon jammed after firing two shots without halting McGowan, but Rea, perhaps, saved his life by firing. Os fell backward with his gun across his body and his finger on the trigger.
Doug, who was at the house, hearing the shooting, sallied forth from the McGowan house and began shooting at the officers, part of the time with a rifle and then with a shot gun. The officers lined up behind the Tuscumbia Garage building, and after a number of shots, perhaps three or four from the officers, Doug, firing till he emptied his gun, then went back into the house for more ammunition or to change guns, but a shot fired by one of the officers struck him just above the heart, and he then failed to come out of the house again. During the battle, the McGowan family was inside and Mrs. McGowan attended Mr. McGowan when he was fatally shot after which she yelled to the officers that he was dead.
Os was arrested on one occasion for violation of the prohibition law and was fined. Doug, has not only been in jail here a number of times, but at Kansas City, Kansas as well. Neither had very many difficulties with others while they were sober, but both were feared when intoxicated.
The Eldon Funeral Home brought an ambulance to Tuscumbia and both bodies were taken to Eldon for preparation for burial, and Dr. J.R. Ellison, county coroner, ordered an inquest held at Tuscumbia at nine o'clock Monday morning, after a jury which viewed the bodies, had been empanelled here.
Prosecuting Attorney R.P. Stone conducted questioning of witnesses in the presence of the coroner and the jury was composed of Cairol Abbett, P.P. Richardson, G.T. Edwards, A.B. Barron, .J.S. Hawkins and Cordell Martin.
The inquest jury returned the following verdict "We, the jury find that Oscar McGowan and Doug McGowan came to their deaths from gun shot wounds in the hands of officers of the law in self defense in the discharge of their duties, and that such killing was justifiable.
Oscar, the elder brother, was married and is survived by the widow who was formerly Miss Sylvia Workman, and three children: Icle, 18, Margie, 15, and Mozelle, 8. Doug was married twice, but had separated from both wives. He has a child by his first wife, who was a Heldstab living at Kansas City. The brothers have a sister, Mrs. Lewis (Rose ) Hawken, and two brothers, Marcus and Toney, living at Kansas City. Both brothers were born near Tuscumbia and were sons of Monroe and Minerva McGowan.
During the two gun battles there was very little noise other than the repeated fire of the guns, first a shot gun and then a rifle. Cars passed within a block of the scene, the occupants never suspecting anything more than a shooting match for turkeys or something of that sort. In both the second and third clashes townspeople coolly watched the firing from a distance, while some few rather unsuspectedly or indifferently were in the line of fire. The Edgar Hicks house is spattered with perhaps 100 shots. The Atwell truck was struck by numerous shot and the glass broken out. Five shots struck the Tuscumbia Garage, one breaking the glass bowl on a filling station. A glass was broken out of the blacksmith show window and shot struck the buildings. Several shots struck the McGowan building, the Atwell house and perhaps other buildings.
It has been almost 40 years since Tuscumbia has witnessed a scene of this kind. It is deeply regretted that such affairs should occur. Liquor and the defiance of law and order are largely responsible for the tragedy.
Funeral services were held at the Tuscumbia Christian Church Monday afternoon in the presence of a crowd which overflowed the building, after which the two bodies were conveyed to the Tuscumbia Cemetery and were buried.
---
C.B. Wright (photo 18a) was a son in law of Phil Hauenstein, the business man who started the Anchor Milling Company along with Robert Marshall.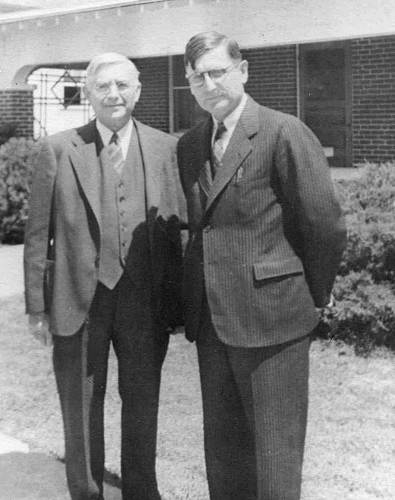 18a C.B. and Tennyson Wright
C.B. eventually became president of the Anchor Milling Company before he died. In the years following his death, his son, Homer Clay Wright, who succeeded him as President, submitted to the Autogram every week one of C.B.'s daily entries from his personal diary going back to 1913. These diary entries have become a wonderful source of commentary and history about Miller County and help to confirm or amplify the details of concurrent events which occurred during C.B.'s lifetime. So, I thought it would be interesting to post here some of the comments C.B. made regarding the story of the McGowan brothers' shootout. The next photo is a scan of the page containing C.B.'s entry of the day of the shooting (photo 18b):
Finally, I really hate to leave this page containing such a sad story. So I found something that probably occurred as a result of the McGowan brothers' shooting. As I noted above and as some of the narratives mentioned, the entire town of Tuscumbia and surrounding area were shocked by the sudden and violent nature of the death of the two McGowan brothers, who, although known as being occasional "binge" drinkers, were not considered to be criminal or "bad" people. Some of the citizens took stock of their own lives and reconsidered the issue of imbibing "spirits" and other intoxicants in their own lives. And it just so happened that during my research for this story, Doris Wiggins, one of our museum researchers, found the following story pasted in a scrapbook of old newspaper articles which had articles near it with dates from the same time frame as the shooting. I copy it here:
I Had Twelve Bottles Of Whiskey!
I had 12 bottles of whiskey in my cellar, and my wife told me to empty the contents of each and every bottle down the sink, or else…So, I said I would and proceeded with the unpleasant task.
I withdrew the cork from the first bottle and poured the contents of the bottle down the sink, with the exception of one glass, which I drank.
I extracted the cork from the second bottle and did likewise, with the exception of one glass, which I drank.
I then withdrew the cork from the third bottle and poured the whiskey down the sink, with the exception of one glass which I drank.
I pulled the cork from the fourth sink and poured the bottle down the glass which I drank.
I pulled the bottle from the cork of the next and drank one sink out of it, and threw the rest of it down the glass.
I pulled the sink out of the next glass and poured the glass from the bottle.
Then I corked the sink with the glass, bottled the drink and drank the pour.
When I had everything emptied I steadied the house with one hand, counted the bottles, corks and glasses and sinks with the other, which were 29, and as the house came by, I counted them again and finally all the houses and bottles and corks and glasses and sinks I counted except one house and one bottle; which I drank!!!
---
We have moved our Raffle Quilt to the Central Bank of Tuscumbia (photo 19) where if you would like to participate in the raffle, you can buy your tickets there at the counter; we will pick them up later before the raffle.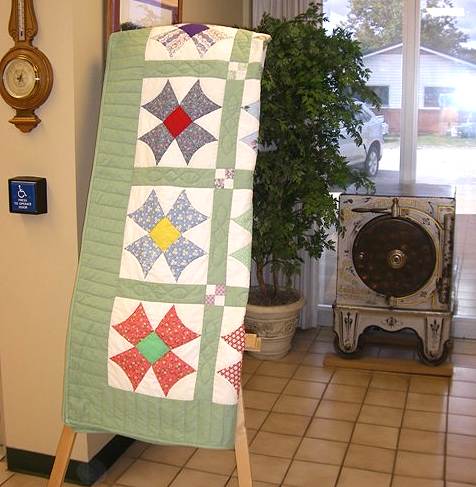 19 Raffle Quilt
Behind the quilt you can see the old original safe bought by Robert M. Marshal when he started the Bank of Tuscumbia below the hill (photo 20).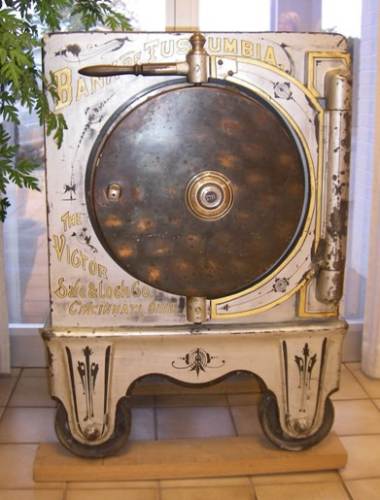 20 Original Safe
Here is a photo of the original Bank of Tuscumbia (photo 21).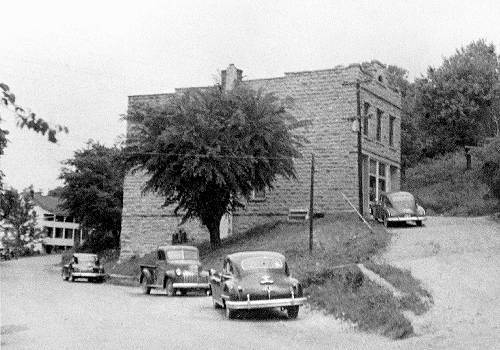 21 Bank of Tuscumbia
And here is a photo of Robert Marshall in the original bank lobby along with Fred Fendorf, cashier (photo 22).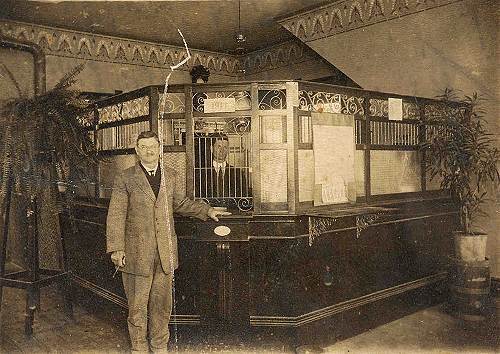 22 Robert Marshall and Fred Fendorf
The new bank on the hill also has several original photos of scenes of Tuscumbia from the distant past as well as of Robert Marshall, first president and financier of the bank. We are very thankful to our local bank for allowing us to place our raffle quilt in the lobby for all the customers to admire!
---
That's all for this week.