Monday, September 15, 2008
Progress Notes
One area of our museum which draws the most visitors on a regular basis is our research room. Every week we receive guests who live away from here, even from other states, who come to review our records to acquire information about their antecedents who once lived in Miller County. Sometimes I find that I am unfamiliar with the surnames in which these guests are interested, but because of prior research they have performed before arriving, they are able to give us enough detail to find something about their ancestors in our files. These files include obituaries, probate files, numerous family histories, and even old store records. We have records from old stores once located in various areas of the county from Iberia to Olean. One interesting record from an old Tuscumbia store interestingly enough now is on display in the State Capital Museum which contains records for the dates of November 5 to November 15, 1853 (photos 01 and 02).
| | |
| --- | --- |
| 01 Storekeeper's Journal - 1853 p1 | 02 Storekeeper's Journal - 1853 p2 |
Click images above for larger view
The name and location of the store is not given; this is not too surprising since Tuscumbia, like many small towns, had quite a few small retail establishments which would come and go even from the same building. These kinds of records indicate who was living at that time in a certain area and help to establish an approximate date when the family first arrived to our county. Another aspect of these types of old records which interests me is how one surname might be very prevalent for a couple or three generations and then disappear from all our records. For example, in the record shown above, some of the surnames are still very prevalent in Miller County such as Wyrick, Plemmons, Burris and Conner. Many others are no longer present.
This week I would like to highlight one family which came to Miller County in 1880 but by the end of the last century, the surname practically disappeared. This family was that of Archibald Small, who came here in 1880 with his wife and seven children. Presently, only one listing for a Small in the local telephone book can be found. That doesn't mean that Small descendants are not here, but the surname is no longer present.
One member of the Small family who was here when I was growing up was Kelly Small of Eldon who was the son of Hendrick Small. He had joined Lawrence Admire of Eldon in an earth moving company. In fact, he and Lawrence bull dozed out the ground for my family's house in Tuscumbia.
Another family I knew growing up who were Small descendants was that of Minnie (Small) Messersmith. Minnie's father was Arthur Small. One of her children, Mildred Messersmith Gray, provided much of the information to me about the Small family. Mildred's sister, Juanita Messersmith, was the Miller County Centennial Queen in 1937. You can read all about the Miller County Centennial at this URL on our website:
http://www.millercountymuseum.org/events/centennial.html
The following biographical histories present the story of the Small family's arrival into Miller County and some of their history while here accompanied by a number of photos supplied me by Mildred Messersmith Gray. The photos are one feature which appealed to me as they give the history more life and interest; many times we have well written biographies but to have both the written history as well as photos makes for a better presentation on the Internet.
First I will begin with the story of the arrival of Archibald Small (photo 03) and his family into Miller County as summarized by Mary (Small) Barton and Glenna (Small) Harryman, who were children of Hendricks Small, a son of Archibald: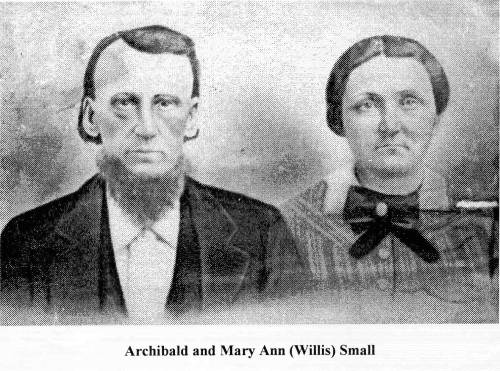 03 Archibald and Mary Ann Small
Notes for Archibald Small:
Folkways and Folklore of the Small Family
Mary (Small) Barton and Glena (Small) Harryman
October 22, 1988
The Archibald Small family came to Miller County, Missouri from near Princeton, Indiana about 1880. They came by covered wagon drawn by oxen. Evidently, some members of the family came first while others followed at a later date. Those coming were parents Archibald and Mary Ann Small, sons Archibald, Arthur, Daniel, Willis, Levi and Hendricks and one daughter, Mary. A son named Perry, for reasons we do not know, did not accompany them. Also driving one wagon was an uncle named Johns. Hendricks, the youngest in the family, was four years old at the time. He told of riding on the seat by Uncle Johns because that was the fun place to ride. He said Uncle Johns never said "whoa" to the oxen, but always said, "Be still Buck and Lill" and the oxen stopped immediately. There were other funny things Uncle Johns said, such as "that gives me the heebee jeebies" and "for the nonce" (meaning for the time being).
The Smalls settled on some acreage about one mile north of Tuscumbia, Missouri. There were two dug outs on that farm which were still there as late as 1935, as we remember playing in them as children. These dug outs were used as a place to live by the Small family until a log house could be built. One dug out was across the road from the Small Spring. The other was just below the large white oak tree, south of the house.
Archibald Small was a school teacher in the state of Indiana. In our old trunk was a prized teaching certificate issued by a Thomas A. Hendricks who was superintendent of instruction for that state. T.A. Hendricks also became Vice President of the United States under President Cleveland. A statue of Mr. Hendricks was erected and still stands on the grounds of the state capital of Indiana. Our father, Thomas A. Hendricks Small, was named for this man. We do not know of our grandfather Small teaching any terms of school after he came to Miller County. He died in 1883 and is said to have had some kind of fever which caused his death. He is buried in the Tuscumbia cemetery.
Archibald's wife, Mary Ann, later married a local man named Phillips. He was a veteran of the Civil War and received a pension which was of great financial help to the family. An old Military Medal of Honor was among the contents of the family trunk. We thought Grandpa Phillips had merited that medal for something special he had done in the war. He is said to have been a very fine gentleman and treated the family well. He also is buried in the Tuscumbia Cemetery, as is Mary Ann Small Phillips.
The Small boys obtained work on the Wells' farm near Tuscumbia. They also cut wood and made railroad ties to sell, obtaining wood from the acreage where they settled. They cleared the level and slightly rolling land for fields which were put into cultivation. Some have thought that the Smalls selected this area because of the abundant timber. I have also heard that some of the boys became cooks on the steamboats along the Osage River. Our own father, Thomas A. Hendricks Small, became a school teacher and taught 14 years in Miller County. Later, he found employment as a streetcar conductor in Kansas City and worked at that about 13 years.
Our Uncle Arthur became blind but went to the woods anyway to cut timber. Laughingly, he said, "I can't see good, but I'm a good feeler."
I've heard that some of the boys left Miller County walking with their axes on their shoulders and headed south. Perhaps this was Levi and Willis, as both men settled in Arkansas. They had land there and farmed. Uncle Levi was also a preacher in some of the churches near him in Arkansas.
Dan Small obtained employment in Union, Missouri, in a shoe factory. Aunt Mary married Seymour Sparks and they moved to Oklahoma. Our father and Arthur were the only ones who remained in Miller County and both are buried in the Tuscumbia Cemetery.
On rainy days, when we could not work outside, we children spent some time looking at memorabilia in the family trunk. Much of what we know about his family comes from our remembrances of the contents of that trunk. In it there was a thick packet of letters that had been returned to our grandparents when Uncle Perry died. They were letters written by Grandpa Small to Perry. He always closed the letters, "If we don't meet again in this world, we will meet again in the next." They never did meet again in this world. I always cried when I read the above closing. Grandpa's letters were beautifully written and grammatically correct. We think he was a man on whom the family depended for comfort. There were letters from kin people left behind in Indiana. These letters spoke of hard times, suffering, and death of loved ones, and included statements like, "Dear Uncle, if only you had been here to comfort us." There were no letters written by Grandma Small in the trunk.
Grandfather Small spoke of his two brothers, Bob and Phil, who left Indiana and went to Illinois. They were never heard from again. When Leonard Small became Governor of Illinois, our father wondered if he might be a descendant of the lost Small brothers, Bob or Phil. Governor Small was later accused of mishandling state money. Our father rethought the relationship and disclaimed any relationship. Governor Small was acquitted.
About church relationships, Grandma Small and daughter Mary attended the Tuscumbia Christian Church. Our father was converted at an old brush arbor on the land where the Roy Smith family lives. William Freeman Jones was the preacher. Families attending were the Will Kallenbachs, Green Lee Thompson, the Peelers, and Roy Smith. This was a Church of Christ. They also met in homes, including our home. Our father attended a large church while working in Kansas City and sometimes wrote about the minister's sermon. In his weekly letters home, he would say, "All of you must go to church and Sunday school every Sunday. Ma, too." Later, beginning about 1930, he became an elder in the Tuscumbia Christian Church and taught a boy's Sunday school class for several years. He often sat in the yard under a tree and read the Bible in his later years. He is buried, along with his wife Minta Lenora Goodrick Small, in the Tuscumbia Cemetery.
Written by Glena Small Harryman as told to her by Mary Small Barton
Next I copy here the stories of Arthur and Hendricks Small, the two sons of Archibald who stayed in Miller County:
Arthur Small of Miller County (photo 04)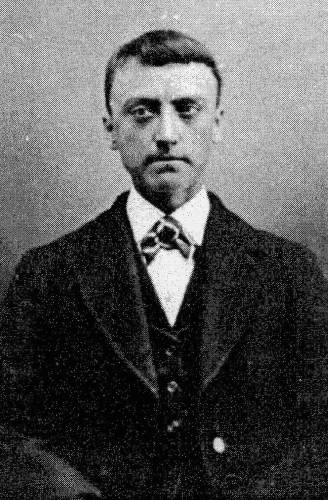 04 Arthur Eliot Small
by Mildred Messersmith Gray
It is hard to determine where in Europe our Small ancestors originated because the name could have been anglicized at the point of entry. One researcher wrote that they were "Dutch." "Dutch" as from Holland, or the often used or misused "Pennsylvania Dutch," which is actually German.
Our Smalls were in Kentucky and Indiana. Many Kentuckians were from Virginian or Pennsylvania. But in the census records we find ours in Pike County, Indiana, which is just across the line from Kentucky, in the southwestern part of Indiana. But Smalls are also found in Tipton County (which is further north) with the same first names…Archibald being used several times and being the first name of our great grandfather.
In 1860 when the census taker went to the home of Archibald and Mary Ann Small in Pike County their youngest child was Arthur, two and a half months old. Other children were Levi, Mary, Willis, Sarah, Perry, Nancy, Daniel and Hendricks. Granddaughters Mary Small Barton and Glenna Small Harryman wrote that their father, Hendricks, said that there were two other sons, William and Phillip who left home and were never heard from again.
The year Archibald and Mary Ann Willis were married is not known but he was born in 1832 and she in 1838. If he was married at 21 it would have been about 1853 and Mary Ann would have been about 15. The first child of record is Perry, born in 1856. So there could have been a child or two born before Perry.
Archibald was a school teacher but Mary Ann could neither read nor write. When Arthur was a young man the family packed up and moved from Indiana to Missouri making their final stop at Tuscumbia. They traveled by wagons pulled by oxen. One son, Perry, remained in Indiana.
In Miller County Arthur met and married Nancy Ann Hawken (photo 05), daughter of John David and Anna Hays Hawken. Her brothers were Sam and William and her sisters were Martha and Emma.
05 Nancy Ann Hawken Small
The children born to Arthur and Nancy were Minnie (my mother), Olive, Irvin, William and Irene (photo 06). Three others, Alpha, Basil and Eva died young.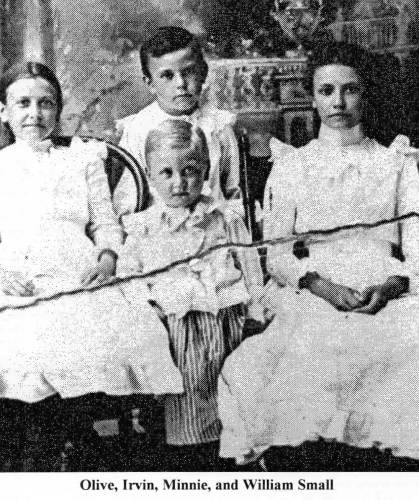 06 Arthur Small's children: Olive, Irvin, Minnie and William Small
Arthur's wife, Nancy, died in April 1906, leaving a four month old baby, Irene. Minnie, the oldest girl had married in 1905 and she and her husband, Charles Messersmith (my father), took the baby to raise as their own (photos 07 and 08 of Minnie and Charles). Seven months later their first child, John, was born.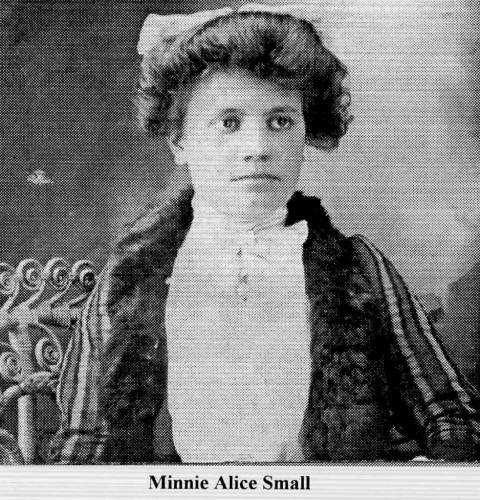 07 Minnie Alice Small Messersmith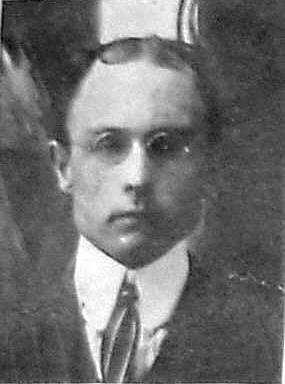 08 Charles Messersmith
So Arthur was left a widower with five children. He either advertised for a wife or read an advertisement in a newspaper by a woman who wanted a husband. Whatever the truth is, Mrs. Lucy Mildred Abbett came by train from Charlottesville, Virginia to become his blushing bride. It did not prove to be a marriage made in heaven. Miss Lucy had left a son and daughter in Virginia and the daughter in later years, told Minnie that they never knew their mother. That didn't bode well for Arthur's family.
Her stepchildren stayed close to Minnie for food and comfort. Olive (photo 09), the second child of Arthur and Martha, finished high school, taught in a local school and went to the Academy at Iberia.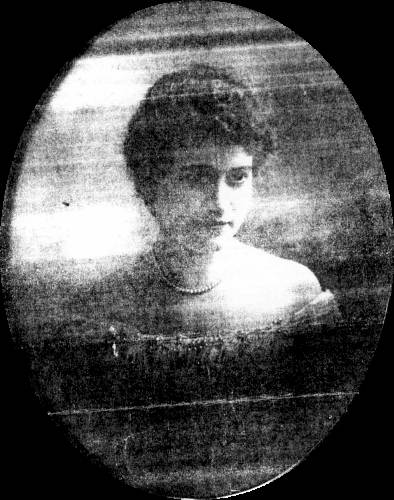 09 Olive Smith
Then she went to Springfield to both Drury College and Draughons Business School. She worked as a stenographer in Chattanooga, Tennessee then in Shreveport, Louisiana. Their children were Richard and Betty and the family lived in Dallas, Texas. During World War 11, Olive worked in Washington, D.C. where stenographers were badly needed.
Irvin (photo 10), the third child of Arthur and Nancy, joined the Navy out of high school.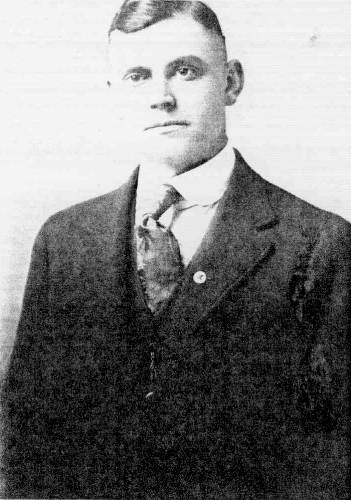 10 Irvin Small
He later made his home in Kansas City. He met Henrietta Kennedy from Leavenworth when she and her sister were in Kansas City for a teachers' meeting. She became his wife and their children were Matt and Barbara. Irvin's career was with the U.S. Postal Service.
William (Billy) Small (photo 11) became a barber and he owned his own shop in Kansas City, Kansas. He married Mildred Cheesman. Their children were Nancy and Bill, Jr.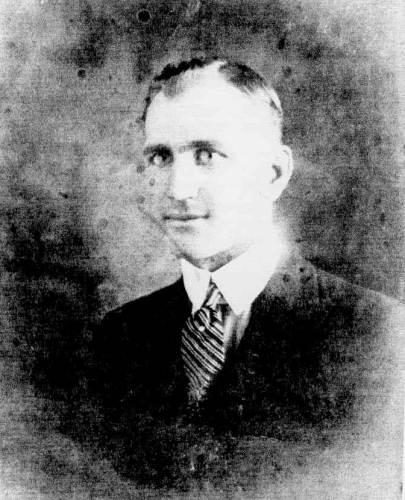 11 William "Billy" Small
Arthur Small (grandpa) lost his sight and spent some time at a school for the blind. It may have been at Fulton, Missouri as that is where the state's eleemosynary institutions were located. It isn't every day that one gets to use the word eleemosynary!
(Webster's Definition:
Main Entry:
el·ee·mo·sy·nary
Pronunciation:
\,e-li-'mä-sə-,ner-ē, -'mō-; -'mä-zə-\
Function:
adjective
Etymology:
Medieval Latin eleemosynarius, from Late Latin eleemosyna alms — more at alms
Date:
circa 1616
: of, relating to, or supported by charity)
Grandpa wasn't sick very long before he died. Miss Lucy surely didn't cook much for him. I know this because my mother cooked food for him and I carried it down the hill, past the Baptist Church, to Grandpa's house on the street which is part of the old Eldon road. I was about twelve years old and he could tell which child I was by putting his hands on my face. He died in 1929.
His widow outlived him by many years. My mother treated her well but Grandma was kind of a recluse. Once in awhile we would see her walking by our house on her way to the bank or the post office but she never stopped in to visit. My mother Minnie reached the conclusion that Miss Lucy had been an "adventuress." Oh, my!
My mother made contact with Grandma's daughter in Virginia and if my memory serves me right the woman came out to Missouri to see her mother.
I wasn't given a middle name so when I was old enough to choose one my mother asked me if I would like Lucy Mildred. Thank you very much, but no thanks!
Mildred Messersmith Gray 2008
Mildred told in the story above about taking food to her grandfather Arthur Small's house near the old Baptist church. The other day I photographed a framed aerial photo of Tuscumbia taken around 1961 by Ted Teaney, now owned by Harold Flaugher, who kindly took it off the wall so I could take the picture. If you look in the left bottom corner you can see the beginning of the old Tuscumbia Versailles Road and the Baptist Church, and just to the left of the church is the rather large house in which Arthur Small was living in the 1920's (photo 12).
Now the narrative of Hendricks Small:
Hendricks Small of Miller County (photo 13)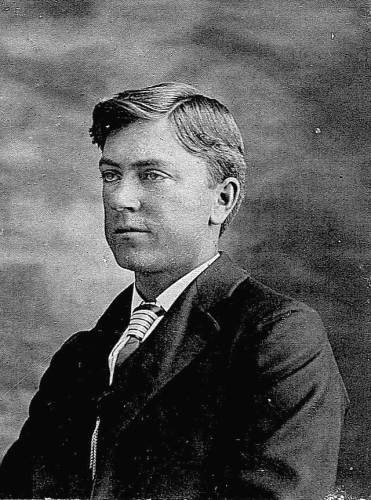 13 Hendricks Small
by Mildred Messersmith Gray
The other son of Archibald and Mary Ann Small who lived in Miller County was Hendricks. He lived near Tuscumbia except for a few years when he lived in Kansas City and worked as a street car conductor. His story has been told by his two daughters, Mary and Glenna, at the beginning of this booklet, so I will continue it with a list of his descendants.
He was born September 27, 1876 in Pike County, Indiana. After he came to Missouri, he married Minta Lemora Goodrick on 12/26/06. Minta was born in 1877.
Children of Hendricks and Minta:
1. Nellie Marie. Born 7/25/07. Married Elmer L. Kleasner. One child : Linda Nell. She married Stacy Scott. Children of Stacy and Linda: Stacy Lee, Kenyon Allen, and Michelle Lynn.
2. Mary Anna. Born 2/14/09. Married Curtis Barton. One daughter: Mary Kay. Mary Kay married Dr. David M. Rust. Their children: Amy and Harlan Rust.
3. Dorothy Dean. Born 5/15/10. Married C/Wesley Harbison. Their children: Kenneth Clay and Lois Dean Harbison. Kenneth and his wife , Nellie have no children. Lois Dean married Kirk Booker and their children are Michael and Cheryl Booker.
4. Bonnie Faye. Born 5/10/12. Married Robert W. Kallenbach. Their children are: Deanne, William R. and Rose Faye. Deanne married Charles W. Murphy, Major USAF. The children of Deanne and Charles are Charles Jr. and Karalyn Kay. The children of William M. and his wife Judy Lenon are Robert Louis and John William. Rose Faye is married. No children.
5. Kelly Clay. 5/19/14. Married Dortha May Admire. Their children are Daniel Kelly, Gary Clay and Darlene May. Kelly's second wife was Virginia Partain Morgan. She had five Morgan children:
a) Daniel Kelly Small married Marlene Bradley and their children are:
Tammie Lou
Twins, James Kelly and Daniel Alan
Jonna Lea
Twins, David Clay and Charlene Mae
b) Gary Clay Small married Ann Massey and their children are:
Carla Ann and Ryan Clay
c) Darlene May Small, first husband Leo Case, second husband, Garland L. Clark, deceased in 1987, one child, Amy Darlene presently married to James Ferguson.
6. Glenna Dora (Glen). Born 3/3/18. Married George T. Harryman
Their children: Mary Elaine, George T., David and Jon Mark Harryman. Mary Elaine married George Purvis. They have children. I have no information about George, David and John Harryman.
All six of Uncle Hendrick's children are deceased.
Now a short narrative about Daniel Small, who lived in Tuscumbia a short while before moving:
Daniel P. Small of Miller and Franklin Counties (photo 14)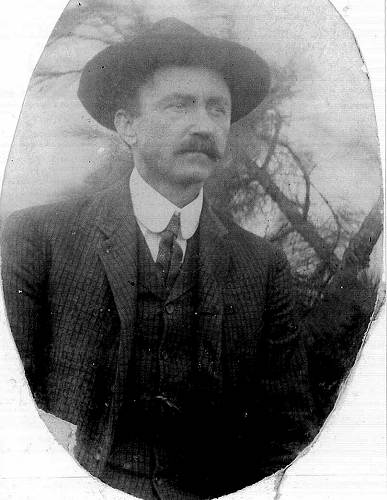 14 Daniel Small
by Mildred Messersmith Gray
Another son of Archibald and Mary Ann Small who married a Tuscumbia girl and lived for awhile in Miller County was Dan. He was born May 31, 1868 in Pike County, Indiana and came to Missouri with his parents and brothers and sisters. He married Cordelia Ann Scrimager in 1891 at Tuscumbia. Their daughter, Christina, was born in Miller County and their second daughter, Gertrude, was born in Franklin County. Then two sons, Sherman and Byron were born in Franklin County. The last child was another daughter, Berdie also born in Franklin County.
Uncle Dan came to Tuscumbia to visit when I was a child. He visited his brother Hendricks and he came to our house, too. One time his granddaughter, Lena Mabel, was with him and my sisters and I enjoyed her antics. She made up with crepe paper and put on a show for us. She sang a song which she composed which went something like this: "Don't bawl when the old cow bawls or you'll get bawled in the bawler if you do." It had several verses of similar sentiment.
And now a short narrative about Levi Small:
Levi Hughes Small (photo 15)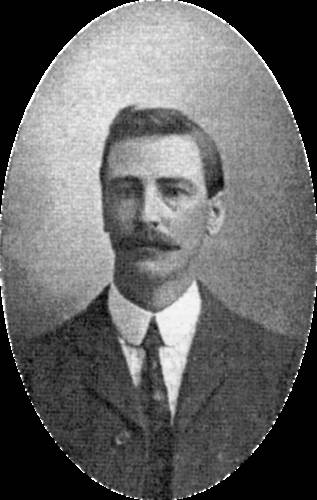 15 Levi Hughes Small
by Mildred Messersmith Gray
Levi Small was one of Archibald and May Anne's sons who did not remain in Missouri but made his way to Arkansas to live out his life. A descendant, Sandra Petersen of Bloomingdale, Michigan sent some information.
Levi Hughes Small was born December 21, 1870. He married Murtice Ophelia Shay. He died June 6, in Arkansas.
They had eleven children.
Sandra wrote that her grandfather Levi was a farmer and a logger. He was also a preacher. "He once preached revival services for a week at the little church next to the Pine Grove Cemetery near Floral, Arkansas. That's about all I know about my grandfather except that he also played the fiddle, was loved by his wife and children and is spoken of highly by the all."
---
Kelly Small, grandson of Archibald Small (who was the original Small in Miller County) was one of the Smalls who stayed the longest in Miller County (photo 16).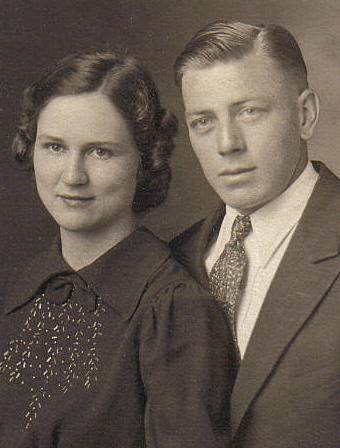 16 Dortha and Kelly Small
He and his siblings went to school in Tuscumbia and all were well known and liked. Later, Kelly married Dortha Admire, sister of Lawrence, and with Lawrence owned and operated an excavation company. My mother remembered well Kelly and his sisters and visited often where they lived when all of them were in high school together:
"The Hendrick Small house was a nice two story structure, well kept, and was located a ways up the hill on the right side of the Tuscumbia Versailles road as you drove north one or two miles out of Tuscumbia up toward Eldon. Across the road from the house was a pretty little spring called Small's Spring. Everybody in Tuscumbia knew about the Spring as it was a part of their farm. It had sort of a little grassy park near it. Often times some of us kids would go up there to have picnics. One time I and a group of us kids went up there but unfortunately I sprained my ankle really badly and had to hobble all the way home. That was many years ago. The last time I passed by there I couldn't see it; I just wonder if it has dried up and all overgrown with brush and the like?"
I received the photo of Kelly and Dortha located above (photo 16 above) from their daughter, Darlene Ferguson, who also sent the following memories:
Regarding my great grandfather Archibald Small, he and his family remained on the farm they originally settled one mile north on the Tuscumbia Versailles Road. I was always told that they lived in a dug-out until their log house could be built. I believe my grandfather, Hendricks Small, built the house that my Dad, Kelly, and his 5 sisters grew up in. It's right next to where Walt and Bryce Smith grew up and lived until they both died a few years ago. Their parents were Roy and Ida Smith. Since my Dad grew up with 5 sisters, Walt and Bryce were like brothers to him.
Arthur became blind. I've never heard just where he lived or how his life was in his later years. You may be correct about where he lived in later years next to the Baptist Church, as he and Grandpa Thomas A. Hendricks Small apparently were the only two that stayed in Miller County.
My cousin, Deanne Murphy Kallenbach, is a walking encyclopedia on our family history, as she is the oldest of "us cousins". She can even remember our Grandpa Small. As I'm sure you know, she moved from Tuscumbia from the old Kallenbach homestead a few years ago and lives in Boliver, Mo., where she was raised. Her mother, Bonnie Fay Small Kallenbach, my Dad's sister, died on the same day as my Dad. Their times of death were only officially 13 minutes apart. They were trying to notify us at the same time that we were trying to notifying them of our parents' death. It was so amazing, as my Dad and Aunt Fay were the two that were the closest growing up and through the years "best buddies".
When I think of my Small ancestors who came to Miller County I can see the strength, hard work, determination and endurance they had. It's no wonder that I've had people tell me that Kelly Small must have been the strongest man in Miller County. Bob Maylee once told me that he used to watch my Dad work when he was a kid and he wanted to grow up to be just like him. Used to cut and make railroad ties and carry two of them on his back out of the woods. Charlie Banner has told me that while hauling hay with my Dad as a kid, there would be times that he would throw the bale clear over the wagon. I can see that it's no wonder that my brothers have never been afraid of hard work and that I had twenty three years of perfect attendance out of twenty six years with SW Bell. Not to be bragging....just the facts. Ha!
By the way, the old trunk that my Aunts wrote about was in our basement while I was growing up on the farm. My brothers and I used to go through it on rainy days also, when we couldn't work out side. When we finally moved into town, when I was a senior in high school, someone stole that trunk, in between trips of moving our belongings. Was very sad and have often wondered who on earth would have done such a thing.
One more tid-bit....my Dad was valedictorian of his class at Tuscumbia High School. I was told that instead of buying a class ring, his Dad (Hendrick) had a ring made with the initials, THS, engraved on it and gave it to my Dad. So he wore that for his class ring. I remember the ring from my childhood. Dad lost it one time while cutting brush. We were never able to find it.
Thanks Darlene.
The house was torn down several years ago and no longer is inhabited. Clifford Hill, who lived near the Small farm, remembers that the next owners of the property had the name Sealy and were from Chicago. Clifford says that Mr. Sealy told Clifford's father that he had gotten caught up in a financial scandal and had to leave. Clifford remembers that the couple seemed somewhat out of place; Mr. Sealy always wore a dark suit and tie and smoked cigars, and his wife often sported a fur stole and smoked cigarettes with a long cigarette holder. Not much more is known or remembered about them.
What is fascinating to me in researching these stories for our website is that as I talk to people about one thing, they remember other stories not immediately related (like the Sealy family) but are tantalizingly interesting, even more so now so many years later when it is nearly impossible to know much more than a tidbit here and there.
That's about all I could learn about the Small family from records available. I believe Kelly was the last one who kept the Small surname within boundaries of Miller County. Two other persons with the Small name are listed in our local phone book; one is from New England and not related, as far as he knew, to the Miller County Smalls. The other's phone number was no longer valid.
For completeness, copied below is Kelly Small's obituary:
Kelly C. Small
Kelly C. Small, 85, of Eldon died Sunday, July 25, 1999, at St. Marys Health Center in Jefferson City.
He was born May 19, 1914, in Tuscumbia to Thomas Hendricks and Minta Lenora Goodrick Small. On March 27, 1988, he was married in Manchester to Virginia Morgan, who survives at the home. His first wife, Dortha M. Small, preceded him in death.
Mr. Small attended Central Missouri State teachers College, earning his teaching certificate. He also was a farmer and was co-owner of Admire/Small Bulldozing co. He was a charter member and deacon for many years at the Ninth Street Christian Church in Eldon
In addition to his wife, Mr. Small is survived by two sons, Daniel Kelly Small of Concordia and Gary Clay Small of Richmond, Mo.; a daughter, Darlene May Ferguson of Eldon; two stepsons, James Morgan of Jefferson City and Mike Morgan of Dixon; three step daughters, Carol Morgan of Columbia, Kathleen Norment of Powder Springs, Ga. and Marilyn Jenkins of Eugene; eight grandchildren; 10 great grandchildren; a great great grandchild; 10 step grandchildren; 15 step great great grandchildren; and a sister Glenna Harryman of Louisville, Ky.
Visitation was held from 4 to 8 p.m. Wednesday at Phillips Funeral Home in Eldon.
Funeral services will be held at 1 p.m. Thursday at Ninth Street Christian Church in Eldon with the Rev. Roy Weece officiating. Burial will be in the Eldon Cemetery under the direction of Phillips Funeral Home of Eldon.
---
A few weeks ago I wrote about the tie industry in Miller County which was quite large in the early 1900's about which you can read at this URL on our website:
http://www.millercountymuseum.org/080728.html
A follow-up on this story is the "Tie Whacking Contest" held in Tuscumbia during the Bicentennial Celebration in 1976. The contest eventually was won by Arthur Clark, father of Jim Clark, one of our board members. Jim supplied me with an Autogram article about the events on that day celebrating the Bicentennial at Riverside Park in Tuscumbia. I thought it was an interesting followup to the story about the tie industry I mentioned above so I will copy it here:
Miller County Autogram
September 4, 1976
T. Arthur Clark, Tuscumbia, took the tie championship during the daylong celebration at Riverside Park, Tuscumbia, Saturday billed as the "Oldtime Tie Wackers' Convention".
Amid bicentennial hoopla, the park rang with the sound of broadaxes as Clifton and John Workman (photos 17 and 18),
Charlie Porter, Robert Polly, Elmer Flaugher (photo 19) and Arthur Clark (photo 20) demonstrated their skills in making railroad cross-ties.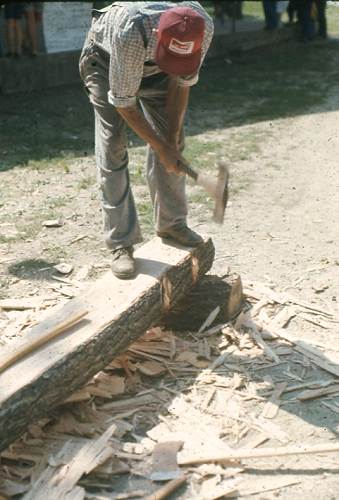 19 Elmer Flaugher
Visitors also saw demonstrations of board and shingle making the old time way, and crosscut sawing, along with fun and games.
A tie made by Arthur Clark was selected as the top product by Amiel Seaton, Mt. Pleasant contest judge who formerly bought ties for T.J. Moss Tie Co. St. Louis.
Clark, who learned to hack ties as a boy growing up on a farm near Capps where his family bought timber and made ties, last hewed ties in 1939, but he hadn't forgotten the skill. He was presented a $25 savings bond donated by the Reverend Earl Basil Brown, editor of the New Iberian (photo 21).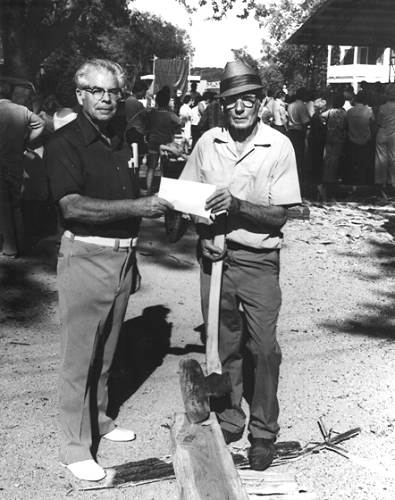 21 Arthur Clark receiving award from Earl Brown
The ties were auctioned off at bids ranging up to $23 after the contest by Cecil Apperson, and brought a total of $77.50.
One of Clark's ties will stay in the family. It was bought by Mr. and Mrs. Clark's son in law, Robert Annett, who has returned from a three year tour of duty with the Army in Alaska, and has bought the Clark's home place near Capps. He plans to have the tie coated at a craft shop and then raised above the yard gate at the home near Capps.
The day of activity Saturday was geared to be of interest to adults as well as youngsters. A "dunking tank" was a feature attraction. Judge James M. Myers, County Clerk Clyde Lee Jenkins, Mayor Donald Abbett, Danny Slone, Marshall Humphreys, Max Pryor, Connie Wyrick, Rebecca Howard and others took turns riding the board and getting "dunked "into what was termed "very cold" water .Proceeds from this event, along with the tie sale, go to help pay for the roof over the dance floor at Riverside Park.
The day wound up with country music and dancing from 8:30 p.m. to midnight. Musicians included "Fiddlin' Jim Skiles, Charlie Hill, Joe Jeffries, Bob Trusley, Virgil Clark, and Jenkins.
The crosscut sawing contest was won by Robert Polly and Elbert Whittle with a time of 50 seconds. Each received a $2 bill.
In the horseshoe pitching tournament, the men's doubles championship was won by Kenneth Wyrick and Harold Hawk, and the women's doubles by Wilma Warren and Judy Harwood for two dollars each.
Emerging as the champion of the skillet throwing contest for women was Nina Martin who had got into the championship round with a first place win in the 19-25 years division. Other division winners were Connie Humphrey, 12 years and under; Kim Workman, 13-18 years; Ruth Workman and Betty Helton a tie in the 26-54 class and Joan Roark, senior citizen. A silver dollar was awarded each of the division winners and a $2 bill for the championship.
In the tugs of war, the south side teams were the winners in both the men's and women's competition. One team in each was made up of residents living south of the Osage River and the other, north of the river. The men broke the big rope twice, "causing terrible pileups," it was noted. Finally, a steamboat line, kept in storage by Homer Clay Wright for many years, was sent for and it held!
(Note: the following photo (photo 22) was taken of the very rope described in the paragraph above at our museum where presently it is on display.)
22 Heavy Rope
Other contests were held both morning and afternoon. These included the Whiz-Ring tournament, Frisbee Tournament, Bubble Blowing, Cracker Eating-Whistle Contest, Hula Hoop, terrapin races, and Sack Races.
---
The Classic Car show last Saturday on the museum grounds was unusually successful considering the rain forecast coming up from the south. The day began with clouds and sprinkles and for a while a light rain; I didn't think anyone would want to bring their car and get it all muddy getting here. Kenneth Abbett of Tuscumbia, who is a cousin a few times removed from me (his grandfather Theodore Abbett and my great grandfather Eli Abbett were brothers) had just finished painting his vintage 77 model Trans Am Pontiac so instead of driving it over in the rain, he brought over a photo recently taken of his beautiful car (photo 23).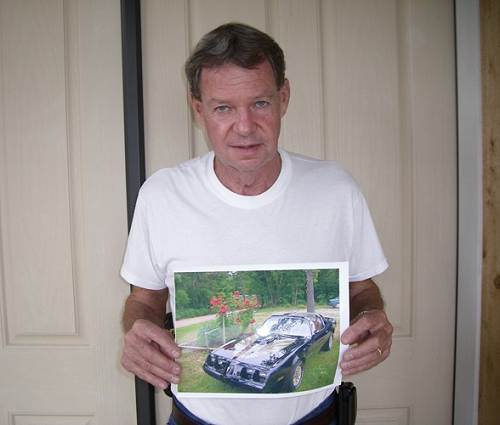 23 Kenneth Abbett with his 77 Trans Am
Jack Lupardus of Eugene, to whom we owe many thanks for organizing the event, brought his Jaguar sedan and 1950's Cadillac Coupe (photo 24).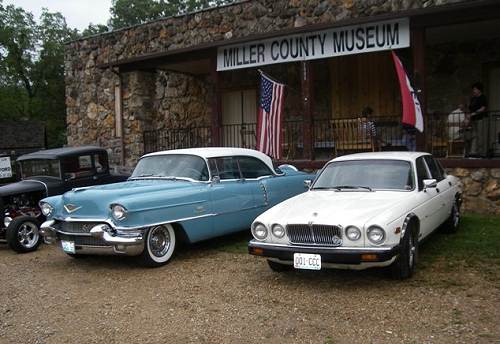 24 Jack's Cadillac and Jaguar
Johnny Keeth of Iberia drove his '31 Model A (photo 25) and Wayne Juliano, also of Iberia, brought his 77 Chrysler Cordoba (photo 26).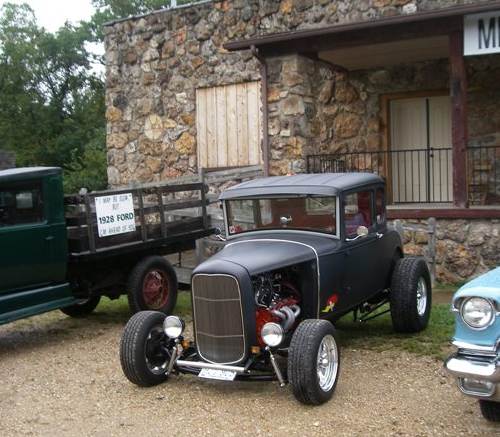 25 1931 Model A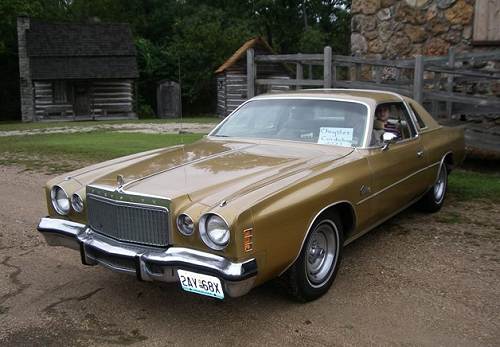 26 Wayne Juliano's '77 Chrysler Cordoba
The Bob Rush family of Tuscumbia brought their Model A pick up truck (photo 27) pulling it over to the museum with their 66 Ford pickup (photo 28).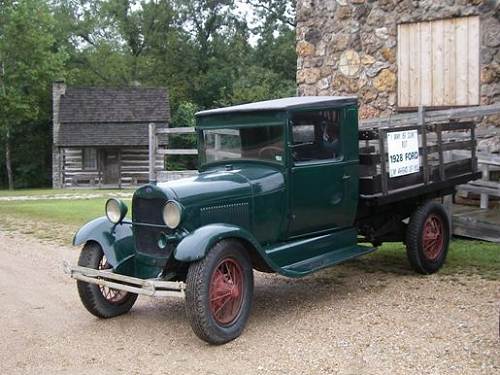 27 Bob Rush's Model A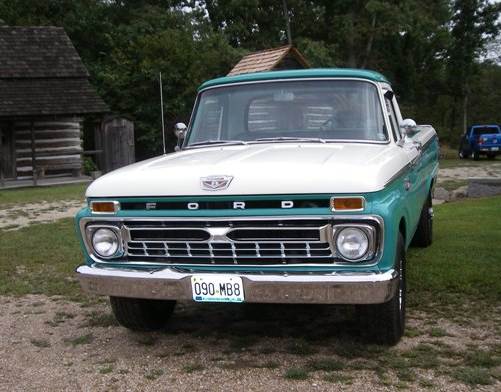 28 1966 Ford Pickup
Jack Brumley of Tuscumbia brought his 57 Ford Coupe (photo 29) and 59 Chevrolet Coupe (photo 30).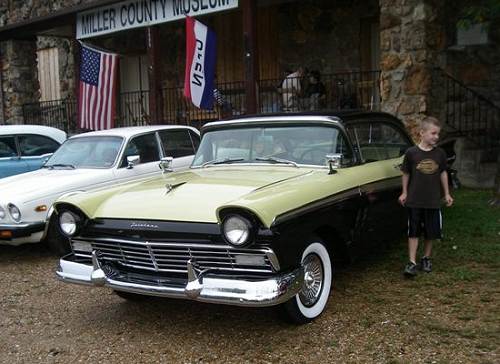 29 1957 Ford Coupe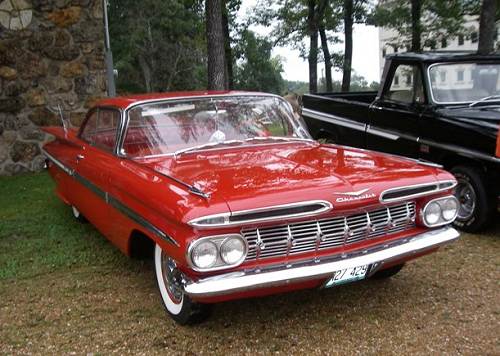 30 1959 Chevy Impala Coupe
Just to the right of Jack's Chevy you can get a glimpse of the black '66 Chevy pickup brought by Bruce Williams of Iberia. Ernest Flaugher of Eldon brought a beautifully refinished 1917 Model T (photo 31).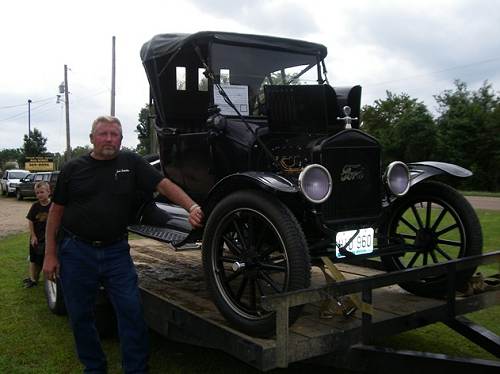 31 Ernie Flaugher and his 1917 Model T
The car most unusual was also brought by Ernest. It was a 1923 Model T Ford which had a working moonshine still on the rear and an number of tools and articles of diverse nature and origin hanging from various perches along the sides of the car (photos 32 and 33).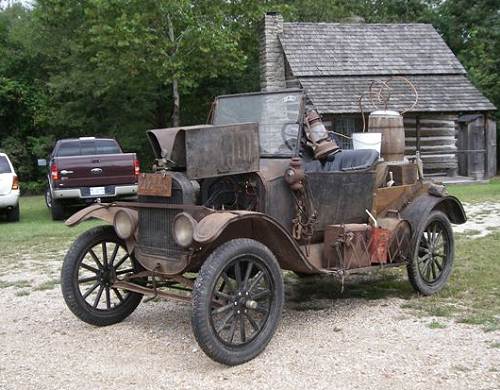 32 1924 Model T with Still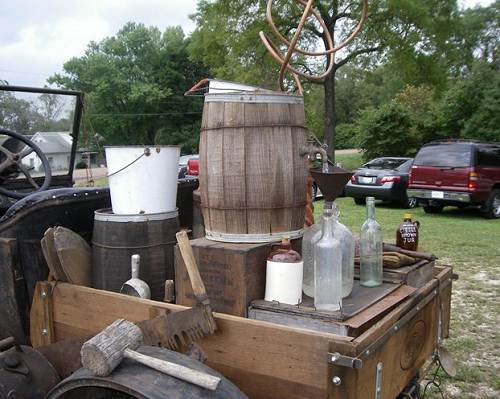 33 Working Still on back of Model T
One of our visitors was Jim Whitfield of Sedalia who was just passing through but stopped to take a look at the Classic Cars parked in our museum display concourse (photo 34).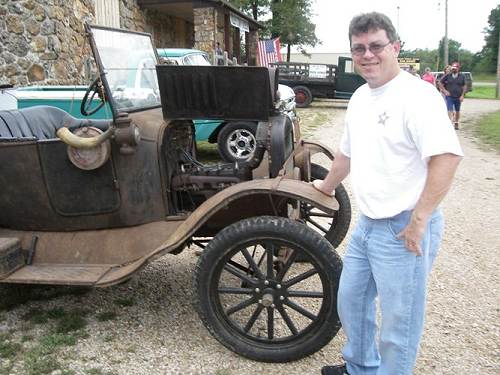 34 Jim Whitfield
Jim has worked for more than twenty years for the Hayes Wheel Company of Sedalia (formerly known as the Kelsay-Hayes Company and more recently as the Lemmerz Company) and he pointed out to us that both Model T's of Ernie's had old original Hayes wheels on them.
Here is a photo of a group discussion of the merits of each car (photo 35)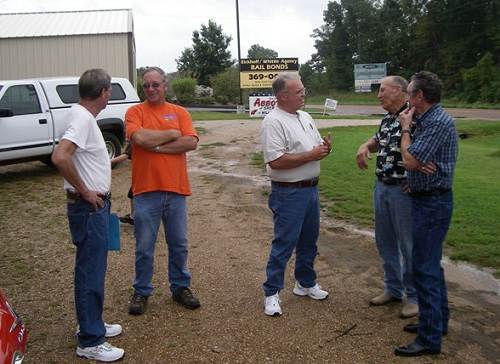 35 Kenneth Abbett, Johnnie Keeth, Bruce Williams, Jack Brumley and Jim Clark
---
Bamber Wright of Jefferson City, who was born and raised in Tuscumbia, attended the car show and lunch last Saturday. Bamber is the great grandson of William H. Hauenstein Sr., the German immigrant who came to Tuscumbia in the mid 1860's and established a water driven mill west of town on Gum Creek. This business venture eventually became Anchor Milling Company after Mr. Hauenstein moved the mill to town near the Osage River where his sons, William Jr. and Phil Hauenstein, took on the business and enlarged it to become one of the county's largest most long lived mills. At one time the business owned six steamboats which plied the waters of the Osage River as far away upstream to Warsaw and all the way downstream to Osage City on the Missouri River. In addition, Mr. Hauenstein started a large general store on the banks of the Osage River in Tuscumbia which was later owned and operated by his nephew, George T. Hauenstein. So we were so delighted and grateful that Bamber brought us a gift to honor his great grandfather William H. Hauenstein Sr. It was a large framed photograph of William Sr. which has been in the family for well over one hundred years at least (photo 36).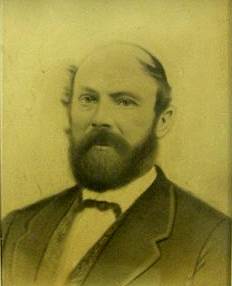 36 Wiliam H. Hauenstein
We will give this photograph a prominent place on our "wall of patriarchs" in the main level of the new museum addition.
We have a biography on our website of William H. Hauenstein Sr. written by Peggy Hake at this URL on our website:
http://www.millercountymuseum.org/bios/bio_h.html
You will need to scroll half way down the page to read it, so for convenience I am copying it for you to read here:
HAUENSTEIN FAMILY
In April, 1981, I wrote a short article about the Hauenstein family and the following is an excerpt from that story:
"In 1872, William H. Hauenstein set up a saw mill in what is now Riverside Park in Tuscumbia. The following year he set up a grist mill also. He placed his oldest son, William Hauenstein Jr., in charge of the grist mill and his younger son, Capt. Phillip Hauenstein, managed the saw mill. In 1888, he and Capt. Robert Marshall formed a partnership and established the first roller mill in Miller County. They sought a more suitable location for their mill and moved it from the low ground of Goose Bottom to a site east of the town and started their new operation in June, 1894."
The Hauenstein's were an interesting family who came to America from the Rhine country of Bavaria in 1853. William Hauenstein Sr. was born 15 February 1822 in Bavaria. After his school years, he was appointed by the government as a district clerk, which office he held as long as he was a citizen of Germany. In 1845, he married Marie Elizabeth Stiegleman and they became parents of nine children.
The children were:
1. William Henry, b. 1846-1936, (1) m. Sarah Elizabeth Goodrich, (2) Martha V. Challis
2. Elizabeth, b. 1848, d. 1876
3. Augusta Phillipina, b. 1850, d. 1921, m. (1) Theron A. Folsom, (2) John W. Fogleman
4. Phillipina, d. 1854
5. Philip Ferdinand, b. 1855, d. 1924, m. Sarah R. Riggins
6. Carolina, b. 1857, d. 1877, m. Samuel H. Sone
7. Emma Augusta, b. 1860, d. 1950, m. Robert M. Marshall
8. Alfred, d. 1863
9. Maria Barbara, d. 1864
William Sr. came to America in 1850 and returned to Germany during the same year. He was so well pleased with this country he arranged his affairs to make the United States his home and in1853 moved his family from Germany crossing the Atlantic on a ship during the stormy season of March, being 36 days on the ocean. After reaching New York, he remained there for 2 years and then moved to the state of Michigan in 1855, locating in the southeast corner of the state in the county of Monroe located on the western edge of Lake Erie. They lived on a farm there until 1862/63 and decided to come on to Missouri where they landed at St. Louis; then traveled up the Missouri River to Boonville in Cooper County; and the same year went into the mercantile business in California, Moniteau County.........in 1864 he came to Tuscumbia where he lived the rest of his life. As a child he became a member of the German Evangelical Church and he may have attended the Presbyterian Church in Tuscumbia since some of his children were members of that church.
The Hauensteins were merchants, mill owners, and they also took interest in the steamboats that plied the Osage River. In 1870, William acquired the "Alice Gray" steamboat and other members of the family operated boats and barges up and down the river. They had interests in other steamboats including the 'Frederick' and the 'Hugo'. When they first came to Tuscumbia in the mid 1860s, they set up a mercantile business and in 1864, during one of Price's Confederate raids, their store was entered, vandalized, and the contents were all destroyed.
Marie (Stiegleman) Hauenstein died in 1888 and was buried in Tuscumbia Cemetery. William lived until 17 Nov 1915 when he died at the age of 93 years. He was buried beside Marie at Tuscumbia Cemetery and several other members of this old pioneer family are also buried there.
---
That's all for this week.