Monday, September 8, 2008
Progress Notes
Through the years of our County's history, occasionally Miller Countians have sought to improve their fortunes by migrating to other areas to find work, especially during periods of local economic downturns. During the depression of the thirties many went to Kansas City or the St. Louis area. Most of us who were born and raised here can name any number of members of our families who migrated away for work, sometimes staying permanently, sometimes returning. Peggy Hake's history of her Bilyeu ancestors documents one branch moving to Oregon in the mid 1800's where their own Bilyeu Cemetery was established. You can read her story at this location on our website:
http://www.millercountymuseum.org/bios/bio_b.html
Dr. Paul Howard of Tuscumbia moved with his parents to the Kansas City, Kansas area where he spent his early childhood before returning to Tuscumbia to go to high school (Paul's father wanted him to go to high school in Tuscumbia so that he could be mentored by T.C. Wright, the very well respected educator). Dr. Paul remembered that the annual Miller County reunion of Kansas City, Kansas had almost as many people attend as the Tuscumbia Homecoming Picnic in those years!
Sometimes these translocations had unexpected outcomes. My mother's Aunt Alma Abbett, in the early 1930's, went to Granite City, Illinois near St. Louis and met and married Bob Craven, a restaurant owner. Soon afterward they came to Miller County for a visit. Bob was impressed with the business potential associated with the recent construction of Bagnell Dam and the Lake of the Ozarks so he bought some property. My father said that Bob had foresight to understand that one day the Lake area would be a booming tourist attraction that many locals just never anticipated. Bob had one of the first restaurants on the strip at Bagnell Dam which he named "Bob's Chicken Kitchen," which some even now may remember, although the building itself was torn down years ago (photo 01). The irony being that while some were moving away for economic reasons, a few like Bob were able to see potential here.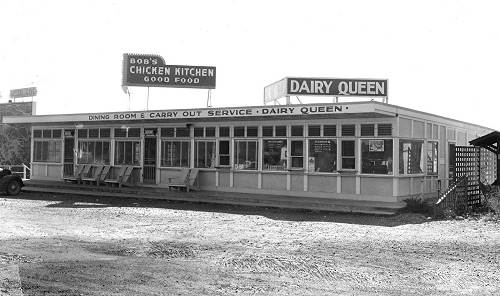 01 Bob's Chicken Kitchen
During my memory another place which attracted local people for work was Alaska, which during the last half of the 1900's experienced a construction boom, especially for building highways. Alaska has certainly been in the news recently, not only regarding the Anwar area oil reserves but now, in addition, the news is very animated and lively about the Republican nominee for Vice President, Alaskan Governor Sarah Palin. So, I thought it would be timely to revisit the experience of some local Miller County people who helped build the Alaskan Pipeline back in the 1970's. Ginny Whitney Duffield wrote an article back then for the Vernon Publishing Company in which she interviewed Mary Warren Graves, wife of Raymond, about his and other Miller Countians' experiences working on the pre construction preparation for this famous pipeline:
Area Men Work on Pipeline
Ginny Whitney
July 25, 1974
Though actual construction of the trans-Alaska pipeline by Alyeska Pipeline Service Co. is far removed from Miller County, several natives of the area are in the north country, helping build the 789 mile crude oil pipeline from Prudhoe Bay to Valdez east of Anchorage.
Raymond Graves, a veteran of Alaskan construction work, is stationed at Dietrich Camp, one third of the way down the pipeline route. He is superintendent of a road crew. His son, John, 18, a graduate of Tuscumbia High School, also is there, working as a welder.
The older Graves "loves that kind of work," his wife (Mary Warren) said. "He hates to be so far from home," she continued. She and the couple's two children still at home are living near Tuscumbia. An older son works and goes to college.
She and the children have been to Alaska several times with Graves, including one winter. No families can be with the pipeline company workers now, however, because of lack of housing and transportation facilities.
Mrs. Graves said she hopes by next summer families will be able to live near the construction or at least in Fairbanks, near the southern end of the line.
Willis Abbott, whose family lives in Montgomery City, is a 20 year veteran of Alaskan work, his sister, Mrs. Clyde Hawken of Tuscumbia, said. Mrs. Garland Adcock, also of Tuscumbia, is another of his sisters. Abbott has a son with him in Alaska, also. Abbott is a construction supervisor working on worker housing at the labor camps along the route.
Others from the area working in Alaska on the Alyeska project include Wilford "Bill" graves of Iberia, Bill Graves of Tuscumbia, and Tim King, grandson of Lafe King, Tuscumbia.
Note: Here is a map indicating where some of the Miller County people worked along the pipeline (photo 02):
They all work for Green Construction Company, an Iowa based firm that specializes in Alaskan construction. No work has yet been done on the actual pipeline. Preliminary work being done includes building a road for construction access now and maintenance later, building of airfields along the way and construction of camp towns for the workers. Some 14,000 are expected to be employed with directly building the pipeline.
Mrs. Graves said the housing shortage in Alaska is critical and the cost of living is high. She advised no one to go to Alaska expecting to find work unless he has a firm job commitment. Her husband, Raymond, she says, is paid well, works seven days a week, 12 hours a day, for 10 or 12 weeks and then gets two weeks off. Because he is a supervisor, the company will pay his fare home. Regular workers get free transportation to Fairbanks only.
Right now crews are working around the clock because the sun never really goes down. Mrs. Graves said because of the closeness to the Arctic Circle, the darkest it gets in the summer is like heavy dusk here.
The Alyeska project, when finished, will bring approximately two billion barrels of oil a day from the northern oil fields around Prudhoe Bay to an open water port near Anchorage.
---
Thanks Ginny and Mary.
Because I knew that Raymond and Mary Graves would have some photographs of their years in Alaska, I went over to their house in Eldon the other day to copy some of them. Mary met me at the door; Raymond was in Versailles with John Graves, their son, at a horse sale. By the way, Raymond's champion mule, which was shown by son John, won first place in the Mens' Gaited Pleasure Class at the Missouri State Fair a couple of weeks ago (photo 03).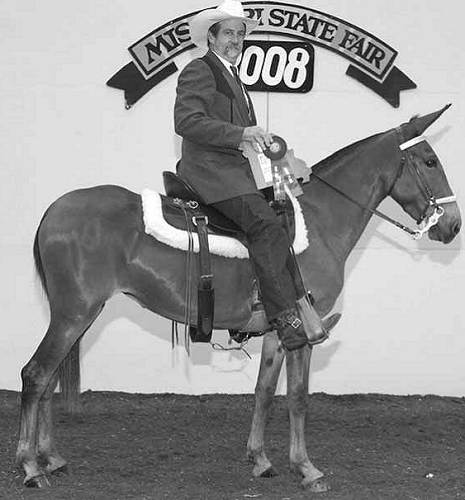 03 John Graves First Place - Men's Gaited Class
Raymond has always been an equestrian and was a charter member of the Tuscumbia Saddle Club. Here is a photo of him with one of his first horses (photo 04).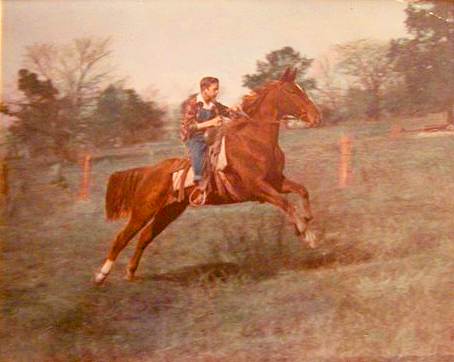 04 Raymond at age 13 on Horse
Mary told me that the first Miller Countian she knew about to go to Alaska was Clyde Hawken in the mid 1940's for road construction with the Green Construction Company as noted above. Soon Walter Graves (father of Raymond) joined him (photo 05) and Raymond came later in the 1960's.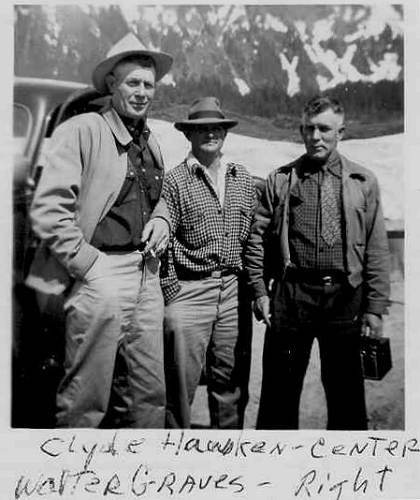 05 Clyde Hawken - Middle and Walter Graves - Right
In 1974, work began on laying out the roads necessary for the building of the Alaskan Pipeline. Raymond was one of the first to join this effort (photo 06).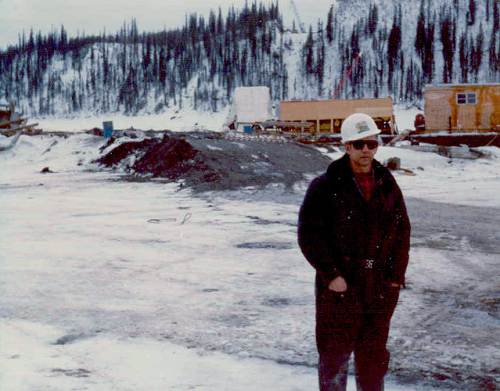 06 Raymond Graves, Pipeline Construction - 1975
Harry Graves, one of Raymond's brothers, also came up to Alaska to work (photo 07) as did Raymond's three sons, Randy (photo 08), John, and Mike.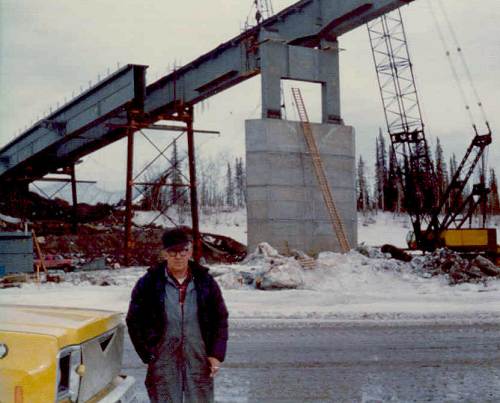 07 Harry Graves, Pipeline Construction - 1975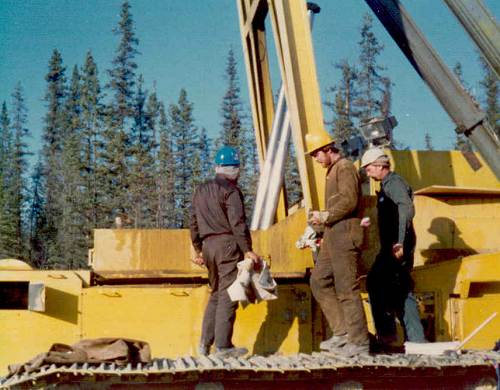 08 Randy Graves (in the Yellow Hat) Pipeline - 1975
Others from Miller County in addition to those mentioned above in Ginny's article included Wendell Patterson of Ulman (photo 09), Ron Gardner and Burl Gladden of Iberia (photo 10).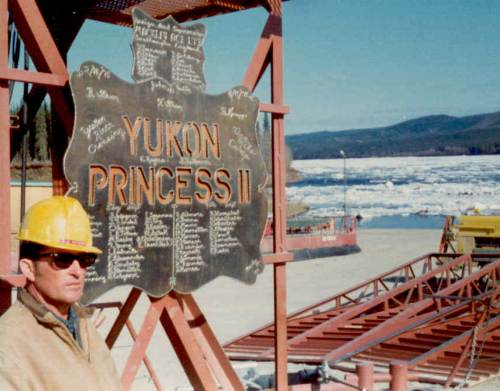 09 Wendell Patterson - 1975 - Pipeline Yukon River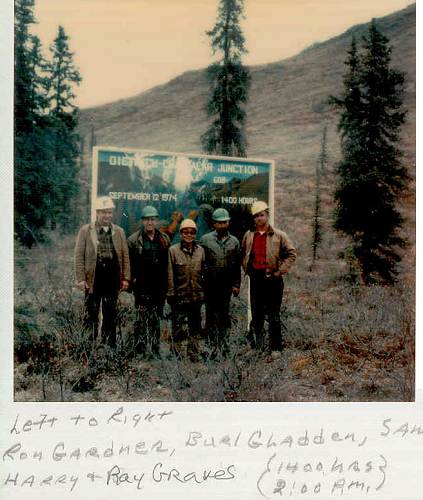 10 North Slope
Work on the pipe line itself began about 1975. Here are two photos of the pipeline taken by Raymond Graves (photos 11 and 12):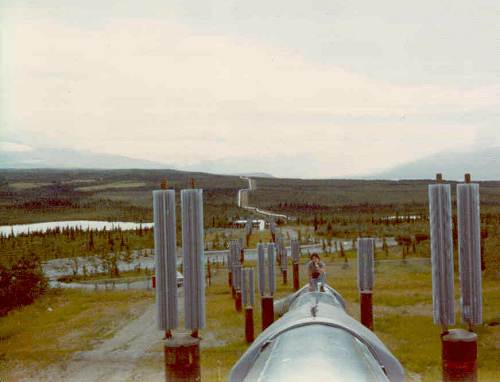 11 Pipeline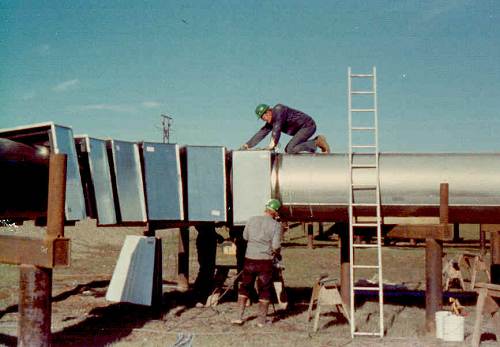 12 Pipeline Corner
While in Alaska the Graves' enjoyed a lot of fishing. Here is Mary overlooking a "fish wheel" on the Copper River taken several years later in 1987 (photo 13).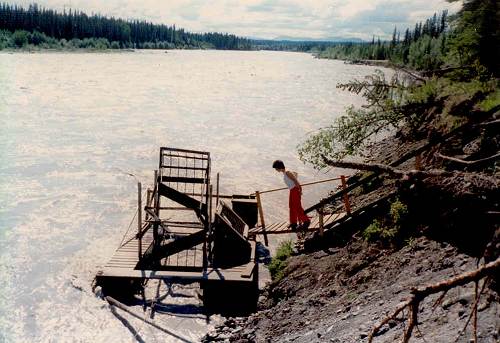 13 Copper River Fish Wheel - Mary Graves
Early on in the 1960's Raymond took advantage of the opportunity to moose hunt near Ninilchik, south of Anchorage 50 miles (photo 14).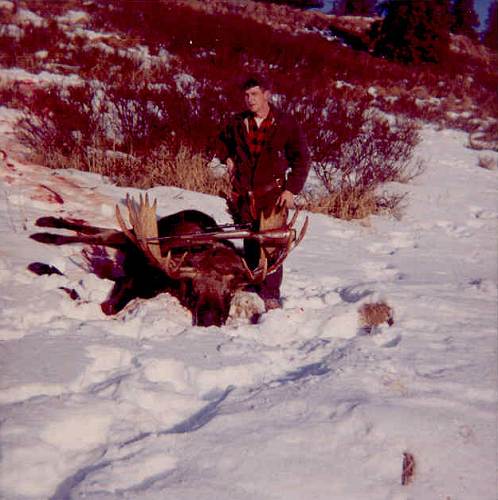 14 Raymond Graves with Moose Ninilchik - 1967
John Graves, Raymond's son, here shown having caught a starfish (photo 15), worked as a welder with the construction company.
15 John Graves with Starfish
Mike Graves took a job with a crab canning and processing company during much of his time in Alaska (photos 16 and 17).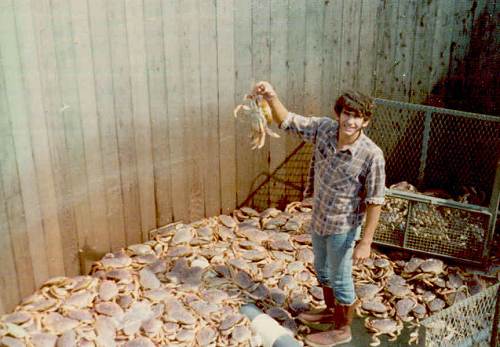 16 Mike Graves Crab Canning Factory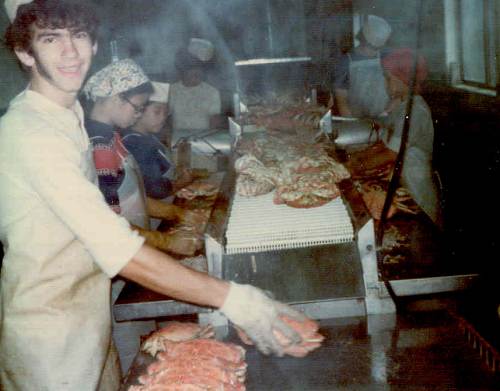 17 Mike Graves Crab Processing
On several occasions, Christy Graves, daughter of Raymond and Mary, enjoyed catching crabs (photo 18).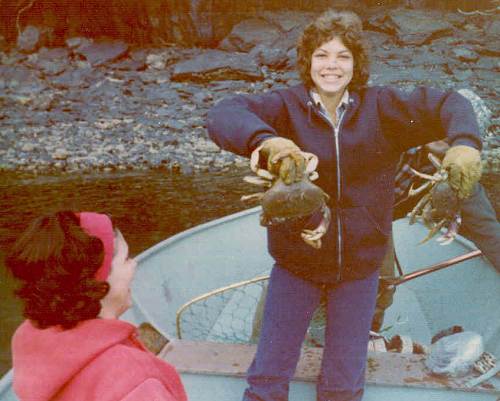 18 Christy with Crabs - 1976
One of the most interesting enterprises in which the Graves' were involved was gold mining. The gold is dug up by huge earth moving machines (photo 19), transferred to a refining plant (photo 20) and washed in a "sluice box" (photo 21).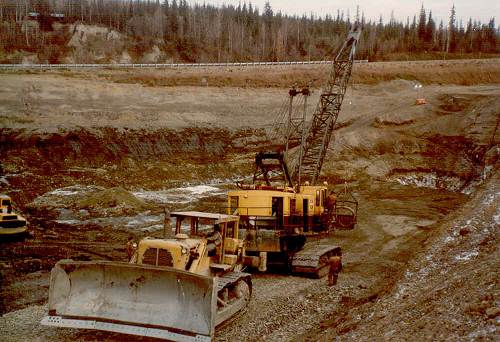 19 Gold Mining Pit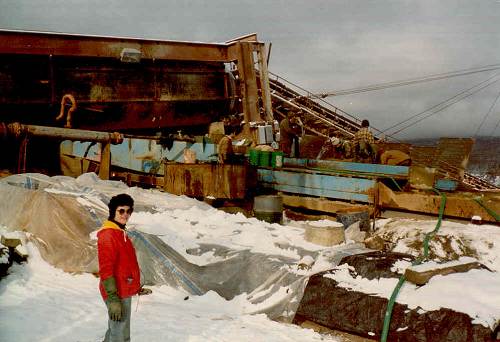 20 Transfer to Refiing Area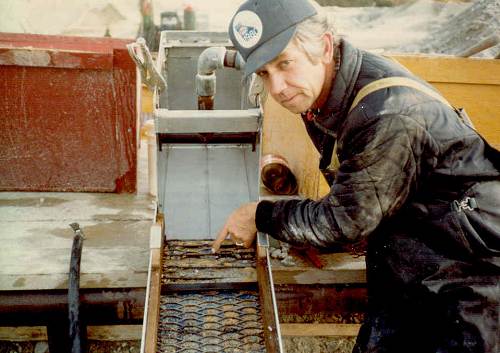 21 Sluice Box
And here in the next photo, Mary is shown with what now would be worth six hundred thousand dollars worth of gold (photo 22)! Let me be quick to say that all this gold belonged to the company and remained in Alaska not with the Graves'!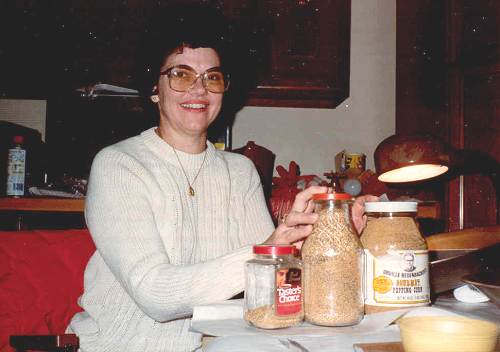 22 Gold worth $600,000 Dollars Today
Out of curiosity I researched the Alaskan Pipeline and found the website of the company which built it. You can read it for yourself at this URL location:
http://www.alyeska-pipe.com/Default.asp
From this website I summarized the following information:
The Trans Alaska Pipeline System was designed and constructed to move oil from the North Slope of Alaska to the northern most ice-free port in Valdez, Alaska. It had a length of 800 miles and the pipe diameter was 48 inches. The pipeline crossed three mountain ranges and more than 800 rivers and creeks. The cost for the project was 8 billion dollars when it was finished in 1977, and was the largest privately funded construction project at that time. Construction began on March 27, 1975 and was completed on May 31, 1977. Oil first was moved through the pipeline on June 20, 1977. Over 15 billion barrels have moved through the Trans Alaska Pipeline System. The first tanker to carry crude oil from Valdez was the ARCO Juneau, August 1, 1977. The number of tankers loaded at Valdez since construction was 19,625 through April 30, 2008. In Valdez, storage tanks total 18 with a capacity of 9.1 million barrels total. The number of permits required for this project were 515 Federal and 832 State. The number of Notices required to proceed were 465 Federal and 403 State. The total number of contractors and subcontractors were approximately 2000. At its peak 28,072 employees were working on the project. The number of lives lost were 31 directly due to construction.
---
Another important event occurring near Miller County which afforded residents of the area to expand their economic activities outside the county was the completion of Route 66 in 1938. Route 66 was one of the major transportation routes connecting St. Louis and this part of the state. I remember as a boy that truck transportation to St. Louis from Tuscumbia, usually for the purpose of hauling poultry or beef cattle, utilized gravel and blacktop roads requiring a somewhat circuitous route. However, once Route 66 became available travel was faster and easier for motorists as well as commercial truckers between here and St. Louis. The history of the construction of Route 66 is summarized at this website of the National Historic Route 66 Federation:
http://www.national66.org/66hstry.html
My father and his brothers, who had started a small cedar woodworking shop in an old horse stable in Tuscumbia back in the 1930's, took a car with the trunk filled with their cedar wood products and sold them to service station owners for resale to their customers all along Highway 66 between St. Louis and Springfield.
Another Miller County family which saw an opportunity offered by the construction of Highway 66 and used it to good advantage was that of George Morrow of Iberia back in the 1920's. Before telling George Morrow's story I think some background about the Morrow family is very interesting. You may remember that last week I wrote about the help we received from the Local Records Division of the Archival division of the Missouri Department of State in removing mold from some old school records. This Division is directed by Lynn Morrow, grandson of George Morrow, whose family has strong roots in the "Big Richwoods" region around Iberia going back five generations (photo 23).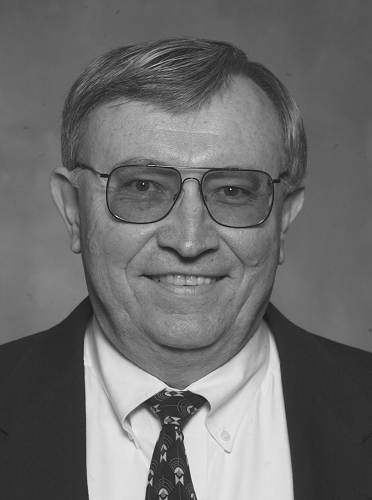 23 Lynn Morrow
I asked Lynn to give me a short summary of his Miller County heritage. Here is what he emailed me:
"William Morrow was my great-grandfather and James Morrow was one of his uncles (James immigrated from Georgia to Missouri). He was a blacksmith and probably knew about Massey Iron Works near Meremac, as that industry drew many skilled artisans to the region in the late antebellum years, and I'm guessing that James informed his relatives in Georgia about the Massey Iron Works and job opportunities; the other Morrows then immigrated to Massey's Iron Works for a while and worked cutting cord wood for the furnace, while positioning themselves later to 'join their kinsman James' in Miller County. George Morrow was my grandfather and my father was Jennings Morrow. Joe and Jewell Morrow were my uncles.
The Morrow residence around Big Richwoods Township goes back six generations. The "patriarch" was the Joe Morrow (my g-g-great grandfather) who is buried along the 19th-century wagon road by himself in the woods near the Miller/Maries county line (north of the old Alexander place – a couple of Morrow females married into the Alexander lines); there are many folks in the area descended in one way or another from that Joseph Morrow (originally from the South Carolina Piedmont) and some of them place flowers on the lone grave. He was killed over a fence line dispute in 1859 and asked to be buried at the southwest corner of his forty acres, which was a modest summit of ground overlooking his property."
Several years ago, Lynn wrote a well researched article about the Big Richwoods which we have uploaded on our own website at this location:
http://www.millercountymuseum.org/communities/brays.html
In addition to the Big Richwoods, this article also gives some of the history of the Brays Advent Christian Church located in the area. Lynn wrote this article in honor of the 100th year anniversary celebration by the church when he was at the Center For Ozark Studies located in Springfield, Mo.
But Lynn also wrote another interesting article involving members of his family which was published in the White River Valley Historical Quarterly in the Winter of 1993 entitled Morrow's Service Station On Route 66 (photo 24).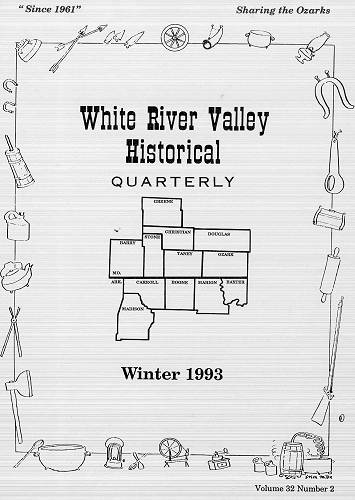 24 White River Valley Historical Quarterly Cover
The Morrow family was one of the first to take advantage of the need of motorists for service and fuel on Highway 66. Lynn's essay is the story of the Morrow's successful venture which extended through three generations:
MORROW'S SERVICE STATION ON ROUTE 66
Lynn Morrow
White River Valley Historical Quarterly
1993
In fall 1992 the Route 66 Association of Missouri met in Springfield to celebrate the 1926 founding and 66th anniversary of the Great Highway. Pavement construction continued on the road until 1938 when automobiles could travel from Chicago to Santa Monica without driving on dirt or gravel. The Mother Road became famous for its travelers, places of business, as a source of inspiration for songs, and as the Main Street of America. Most of us remember the song, "Get Your Kicks on Route 66" made popular by Nat King Cole:
"If you ever plan to motor west,
Travel my way,
That's the best,
Get your kicks on Route 66.
It winds from Chicago to L.A.
More than 2 thousand miles all the way.
Get your kicks on Route 66.
Now you go through St. Louis,
And Joplin, Missouri,
And Oklahoma City looks might pretty.
You'll see Amarillo,
Gallop, New Mexico,
Flagstaff, Arizona,
Don't forget, Winona,
San Bernadino.
Won't you get hip to this timely tip,
When you make the California trip,
Get your kicks on Route 66."
Route 66 developed into more than one route through Springfield, and Queen City corridors grew to include the commonly termed "By-pass 66." Route 66 signs were placed on Glenstone, Kearney, College, and St. Louis streets and on Chestnut Trafficway. Travelers drove past Rest Haven Motel, Glenstone Court, the Shrine Mosque, Melinda Court, Seven Gables and numerous smaller courts, motels, cabins, service stations, and truck stops. Here thousands of tourists were introduced into the promotional concept of the Ozarks Playgrounds; indeed, some Route 66 promoters were veterans of the old Ozark Trails Association.
The 1920s was a decade of great social change. At the beginning of the decade no one really knew what highway business was but plenty of entrepreneurs were willing to invent it. In 1920 general stores still sold great quantities of kerosene and gasoline, but within a decade consumers purchased most of the gasoline at a filling station. With the commencement of Route 66 construction in the Missouri Ozarks, entrepreneurs began small town truck lines hauling local products to urban markets and returning home with manufactured goods for local merchants.
The Morrows on Route 66
George B. Morrow, an Iberia, Mo., retail merchant and farmer, saw this opportunity in 1926 (photo 25).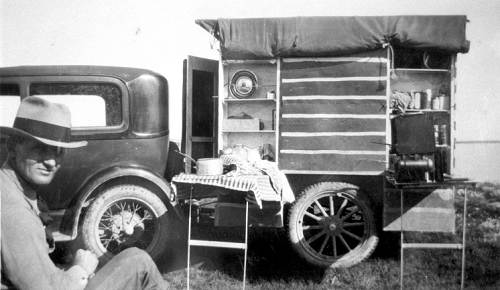 25 George Morrow's custom RV trailer behind 1927 Ford
He founded his own truck line, using one truck as a local route truck to collect livestock around southeast Miller County for weekly trips to St. Louis, and another truck to haul cream from the Iberia Farmer's Exchange to Springfield twice weekly. Iberia merchants sent purchase orders to be picked up in St. Louis at Simmons Hardware, Famous Barr and other outlets for markets in the Ozarks. Drivers Jewell Morrow and cousin Freeman Skaggs encountered alternating strips of finished Route 66 pavement and gravel roads during their many trips.
By the end of the 1920s motor courts with some amenities in food, bathing, and overnight service could be found throughout the length of Route 66 as it crossed the Ozarks. The majority of people who began highway businesses were commonly families with small budgets who built their own buildings, worked long hours serving the public, and lived on the grounds.
The Morrow Station on West Kearney's "By-Pass" was such an enterprise. Located a quarter of a mile west of Ed V. Williams public school on the south side of 66, George Morrow purchased three and one half acres of the Huffman farm for $1,500 in the summer of 1932--land along Route 66 was expensive during the depths of the Depression as it commonly was in other years. Populous and progressive Greene County led all White River counties with 429 miles of improved roads (e.g., Christian had 57, Taney, 34). George and family were recently returned to Missouri from Houston, Texas, where they had lived for two years working and hoping the climate would benefit George's bad health. The Morrows owned and rented their Tavern Creek farm in Miller County, but George and wife Ethel would never return to the farmer's life.
George Morrow and sons were used to building with their hands. Their southern Appalachian Scotch-Irish forbearers were blacksmiths, carpenters and sawmillers who always built what they needed. By 1932 the Ozark region was filled with native rock buildings and this genre of vernacular Arts and Craft commercial buildings--a part of the late Craftsman Movement in America--found particularly inviting locations along Route 66. Builders used unshaped fieldstone and the fossilized "worm rock", others matched rocks to form a cobblestone appearance, but most were flat sandstone, easily split with a chisel and laid in mortar on edge. These latter buildings commonly had wide painted joints that created a distinctive "giraffe rock" look. Agricultural extension pamphlets promoted these rock-exterior buildings for farmhouses, chicken houses, sheds, barns, dairy buildings and more.
These buildings were solid and relatively maintenance free. They were cheaply built if the family provided its own labor and materials. George Morrow and sons Jewell and Jennings (photo 26) used their 1929 Chevrolet flatbed truck to haul worm rock and gravel.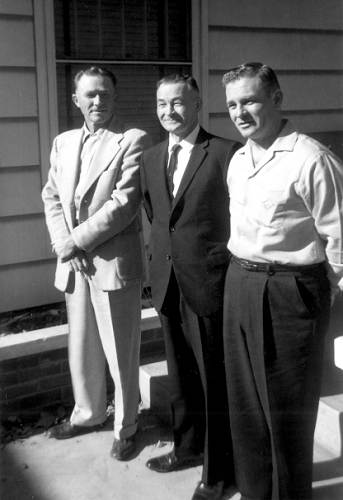 26 Jennings, Jewell and Joe Morrow
On north highway 65 they brought rock from the Womack farm. On north highway 13 they bargained with the owner of land at Sac River crossing for gravel--all you could haul for 20 cents per load.
The Morrows framed the station, actually a house store in building terminology today (photo 27).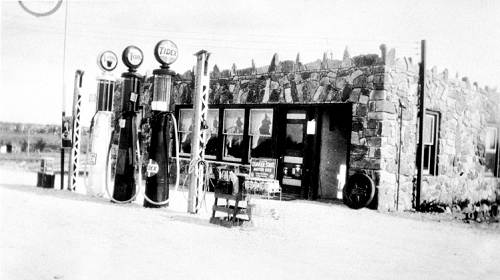 27 Morrow Station Bypass 66 Station
The building combined living quarters and space for doing business. This kind of functional building has ancient antecedents in Europe and was always found in American cities and rural country sides, and still is. Janss Lumber Yard on Commercial Street:
http://jansslumber.com/html/about_us.html
provided manufactured materials, and two masons contracted to lay up the exterior veneer of rock. Between the gas pumps and the road George built a rock flower box. A gas tank was installed underground on the west and three pumps allowed regular, ethyl, and white gas to flow. The tool room contained a large 55 gallon drum of kerosene for customers. On the acreage behind the house store the family's Guernsey milk cow grazed.
Inside the house store, the walls were plaster. Two wood stoves--located in the living room and commercial room--provided heat while a gasoline stove sat in the kitchen. Ethel Morrow fixed sandwiches, short orders and desserts served at a small table by the front window (Ethel's cooking skills later earned her a job at the Grove, Springfield's longtime famous restaurant on Glenstone). At the counter travelers sat on stools to snack and purchased candy, bread, milk, and traveling supplies. There was no cash register, unless you counted the small box on the high shelf that contained change for transactions.
In the beginning, however, there was one obstacle to a smooth running house store--there was no hookup to public water. Grover Cole who operated another station across the street had a well and allowed the Morrows to haul water by hand. By late 1933 the Morrows began digging a water line trench from their station eastward--1/4 mile--to hook up with the line that came to Ed V. Williams School. Jewell Morrow toiled many weeks, helped by a neighboring Atwell family, before the hookup could be made.
In 1934 George and Jennings built two frame cabins for the overnight automobile trade--more were planned. Each was one room and had 4" weatherboard siding. The builders planted maple trees and plans were made for additional cabins, but George's fatal illness in 1934 ended the cabin building.
Jewell Morrow took over the management of the station. This and other generational changes were on the horizon. George's widow Ethel moved to an apartment and soon bought a bungalow on Broadway where she lived for the next forty years. Jennings met his future wife Lois in the house store in 1934 and Jewell married his sweetheart Brownie in 1935. In fact, kith and kin gave Jewell and Brownie a shivaree at the house store accompanied by gunshots in the air and good-natured revelry. Several of Jewell's rural customers northwest of Springfield attended and received cigars and candy from the newlyweds.
Jewell and Brownie managed the station from August 10, 1935 to March 12, 1938. The station opened by 7:00 a.m. and closed by 9:00 p.m. During these long days Brownie served pie, coffee and hamburgers to the traveling public. Occasionally, Benny Atwell, a teenage neighbor, worked at the station while the Morrows visited or did business around Springfield. Receipts sometimes included $1.00 for cabin rent that helped pay the property taxes of $2.53 in 1936.
The cabins were occupied primarily during the warm tourist months, but one cabin had a small wood stove that provided a heated rental during cold weather. On one particularly cold day the water line froze, so the Morrows hauled water and filled tubs inside the station in order to have water. Right at this time, a flue fire began in the heated cabin. Without losing any time, the Morrows hauled water in bucket brigade fashion and put the fire out before it did any major damage. On another cold day in February, 1937, Ethel Morrow's first grandchild Wanda was born at the station.
In 1938 Jewell and Brownie moved to the Tavern Creek property near Iberia to try their hand at farming. Tenants rented the station for $35.00 per month while Jewell and Brownie farmed a couple of years. In February, 1940, they moved back to the station grounds with two small children to help the then station operator, Mr. Harvey, build up the business. Jewell and his brother-in-law Russ Scandrett spent weeks working on Ft. Crowder in Newton County while Brownie and the kids lived in one of the tourist cabins.
This last turn for the Morrows in Route 66 commercial trade had one memorable event. Jewell was repairing the flat roof on the station while the bread man delivered an order to stock the small grocery inside. While the adults conferred over the business transaction, three-year-old Wanda and near two-year-old George Morrow climbed their father's ladder to the roof of the building. After feverish minutes looking for the "lost children" anxious parents located them, learning that the kids were growing up faster than expected!
Two years later in Spring, 1942, Jewell continued his defense work accepting a job in Colorado. Brownie and family rented a house on Douglas Avenue, and the station continued to be rented until Ethel Morrow, following a heated dispute with the last tenant who had made a chicken house out of one of the tourist cabins, sold it in 1943. Jewell and Brownie later made a home in Ft. Worth, Texas.
Joe Morrow continues life on Route 66
George Morrow's youngest son Joe grew up fascinated by the big trucks traveling Route 66--then they were only single axle tractors and trailers. Joe's favorite toy was an old discarded pair of steel roller skates that he fashioned into a truck. He removed the front rollers off one skate and hooked them onto the other skate and a trailer truck was born.
After serving in the Navy, 1945-1947, Joe got a job driving a truck for Patton's creamery company who had a government contract to supply milk to Fort Leonard Wood seven days a week. The route? Route 66 from Springfield to the Fort, the same corridor traveled many times by his brothers Jewell and Jennings and father George. Joe continued a trucking career for the next 36 years.
In 1950 Joe bought his own tractor and trailer and became a "wildcatter" hauling freight all over the U.S.A. Loads included most anything but livestock--automobile parts, tires, processed foods, appliances, furniture, Ozarks hardwood flooring, and more. The more dangerous trips included loads of ammunition--small caliber, bombs and torpedoes--hauled during the Korean and Vietnam wars. Most trips included a part of Route 66 as Springfield was home base. Numerous adventures included the entire route from Chicago to Los Angeles and vice versa. Springfield was always a welcome sight for familiar faces, clean clothes, rest and good food.
In 1956 a fateful accident on Route 66 in the Southwest caused Joe to re-think his long hauls. He decided to pull back and work in the Midwest." He began work again for Powell Brothers Truck Line and most runs were between Springfield and St. Louis. Another job with Voss Truck Lines whose home office was in Oklahoma City directed freight hauling between Chicago and Oklahoma City--a Route 66 run. In 1960 Voss sold out to Western Gillette headquartered in Los Angeles and in 1977 Western Gillette sold out to Roadway Express. Joe ran the Route 66 corridor seeing it phased out for the new Interstate 44.
George Morrow's truck line traveled Route 66 from St. Louis to Springfield; the Morrow service station-house store and cabins received Route 66 trade; and Joe Morrow's generation of driving on Route 66 contributed to the route's famous reputation. This is but one small story of hundreds of families who lived and felt the impact of the nation's famous "Mother Road."
The editor thanks veterans of Route 66 who contributed to this article--Brownie Morrow, Jennings Morrow. and Joe Morrow.
Copyright - White River Valley Historical Quarterly
---
Thanks Lynn.
And with that we'll end this story with the refrain of the song which memorialized Route 66:
---
Next Saturday, September 13, is the day we have a Vintage Car Show on the museum grounds. Last year's show was a huge success having one of the largest crowds we have ever received at one of our events. Most of the cars are of 1950's vintage but some are older including several Model T's and A's. We even had an old Cord automobile brought for show last year. One car which caused quite an uproar in Tuscumbia many years ago was brought to town by Dewey Kallenbach. Dewey's brother, Joe Kallenbach, who also was born and raised in Tuscumbia and who later taught at the University of Michigan after earning his PhD in Political Science tells the story in his autobiography My Life and Times:
Dewey's Cadillac
Joe Kallenbach Ph.D. (photo 28)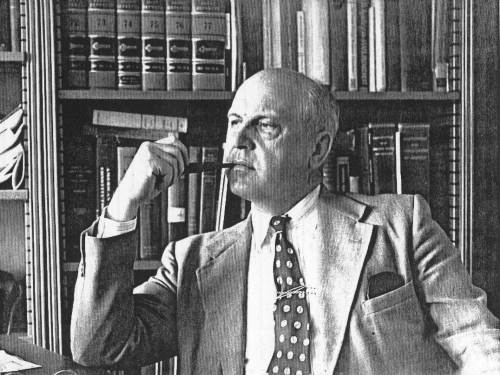 28 Joseph Kallenbach Ph.D. Univ. of Michigan
Dewey was always extremely inventive and capable as a mechanic. At the time of this story, he was working as a mechanic in my father's garage business. Having found in a dump near Eldon the abandoned basic parts of an old, 1903 model Cadillac car, he had brought it to Dad's garage, and in his spare time began restoring it to running order. The engine, wheels and running gears of the car were still intact, but there was nothing left of the body but the single seat. The engine was a one cylinder affair located under the seat. It was started by using a hand crank at the side of the seat. Dewey rigged up an old Model T Ford radiator to replace the original one. He had replaced the original solid tires on the wheels with inflatable tires, with rims from a Ford car. Dewey had also constructed a simple wooden bed in back of the seat in which tools or other articles could be carried. The "Cad D", as we called it, had two speeds forward, and a back up gear. It could be put into low gear by pressing a foot pedal, in much the same way as a Model T Ford. A long lever on the outside of the car could be used to put it into high gear. At full speed it would make about 20 or 24 miles per hour on level ground. Dewey would sometimes use it as a "trouble car", when some person out on the road would call in for help in repairing a tire or perhaps some other problem would have occurred requiring the assistance of a mechanic. Doubtless the people in distress would be astonished to see help arriving in such a contraption! To add to the unusual appearance of this strange car, it was given a most bizarre painting job on the body and the back of the seat. About the time it was completed and put into running order a professional painter had been employed to paint some signs on my father's garage. He had been in military service during World War 1, and had seen the "camouflage" jobs that had been done on tanks, trucks and other vehicles to make them more difficult for the enemy to see from a distance. "Camouflaging", as you may know consisted in putting combinations of colors…white, brown, green, black etc….in swirls and whorls over the painted surface giving it a most unusual appearance. Dewey had enlisted that painter's services in painting the bed and back seat of the "Cad", giving it the appearance of a World War 1 camouflaged vehicle.
I had learned to drive the "Cad", and rather enjoyed putt-putting around in it. That summer, when the time came to "snake" the hay, Dewey suggested that the "Cad" could be used for dragging in the hay stacks, instead of having to use a horse. We tried it out, and it worked beautifully. So that summer I had the unexpected pleasure of being the chauffeur of a Cadillac (1903 re built model) in the business of "snaking" hay stacks! As people passed along the road adjoining our field where the baling operations were being carried on, they would stop and stare at the unusual spectacle. As a kind of footnote, I might add that Dewey kept the "CadD" for a number of years after he ceased working in my father's garage. I last saw it in operation in the summer of 1937. That year a celebration of sorts was held at Tuscumbia in honor of Miller County's one hundredth year of existence. One feature of the celebration was a parade though the business section. Dewey proceeded to get out his old "Cad" and participate in the parade. Dressed in an old "duster" of the sort car drivers used to wear in the early 1900's, with a derby hat on his head, and in his 1903 car, he was one of the acclaimed features of the parade as he putt-putted along (photo 29).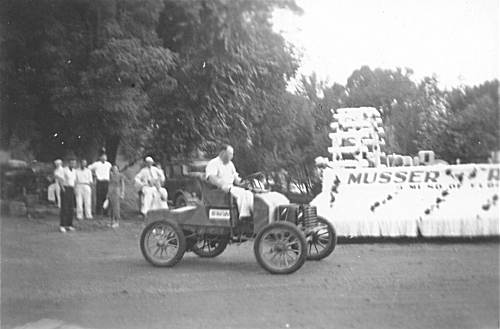 29 Dewey Kallenbach and 1903 CadD
Sometime after that he sold the "Cad" to someone interested in buying it as a curiosity and I never saw it again.
That's all for this week. I hope to see you at the car show!