Monday, August 25, 2008
Progress Notes
A few weeks ago I featured the story of Lee Mace and his Ozark Opry. Lee was born in Brumley and lived there until his father Lucian (photo 01) was elected Sheriff at which time the family moved to Tuscumbia to live in the Sheriff's quarters above the jail (photo 02).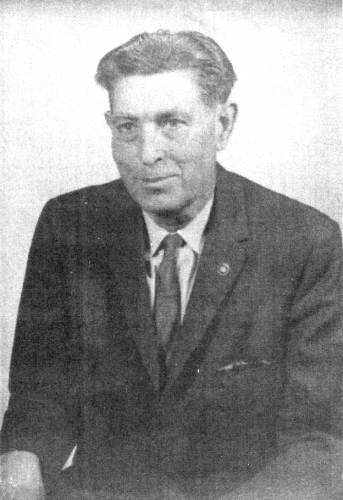 01 Lucian Mace - 1960's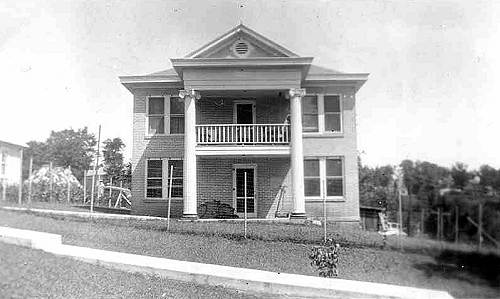 02 Miller County Jail
Lucian and Clare, Lee's father and mother (photo 03), stayed in Tuscumbia after Lucian left the Sheriff's position after which Lucian became a business man and farmer. Later he was elected to serve as our area's state representative to the Missouri House of Representatives.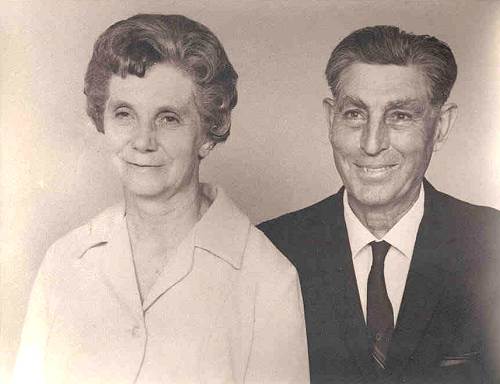 03 Clare and Lucian
The story of Lucian and Clare Mace is very interesting since they were so community minded. And even though Lee Mace, their son, who was the originator of the Ozark Opry show at the Lake of the Ozarks, probably is the most well known outside Miller County, here at home Lucian and Clare were just as well known. Having grown up in Tuscumbia and knowing all the members of the family, I thought an additional story featuring Lucian and Clare as well as Lee's siblings, Lois and Sue (photo 04 and 05) should be recorded as part of our Miller County story that we are putting together at the museum and on this web site.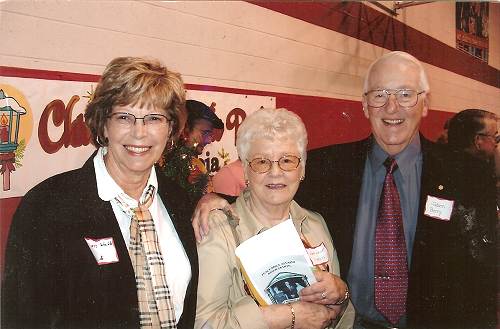 04 Lois (Mace) Webb, Mary Helen Edwards Groves and Judson Berry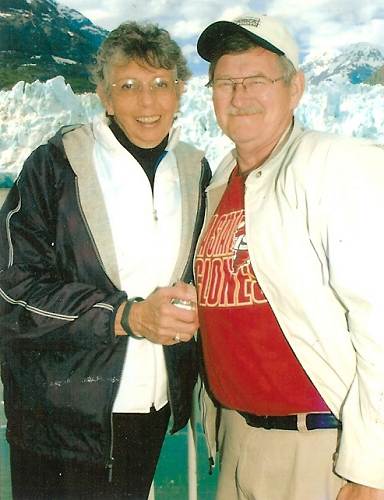 05 Sue (Mace) Anderson and Bill
I believe Lucian may have been the protagonist in more anecdotes and stories than any other Miller County man I knew or heard about growing up in Tuscumbia. Everyone had a "Lucian story," and these were not stories told in jest or derision but were motivated by a genuine affection and respect for a man who had personality and character and love of his fellow man such that everyone considered him a true friend. While it is only natural to ask Lois and Sue, his children who knew him best to write his story for us, about anyone in Tuscumbia who was around at the time could have contributed one or two of this collection of essays and narratives about one of Miller County's most noted personalities.
So I asked both Lois and Sue, children of Lucian and Clare, to compose narratives about their family for our website as well as separate autobiographies of what they have done in their lives since leaving Tuscumbia. We'll begin with Lois's and Sue's narrative memories of their parents lives and follow that with each of their own autobiographies. I'm especially sure that those who knew Lois and Sue early on will be very interested in knowing what they did after leaving Miller County.
This week's Progress Notes is lengthy but the Mace family was so well known in Miller County that a complete history recorded all in one place on our website not only is of historical interest, but will be of personal interest to many.
First, Lois will recount her memories of her family:
Thanks Joe for giving me reason to record memories about Lucian and Clare Mace (photo 06) – mom and dad to Lee, Sue and me (photo 07).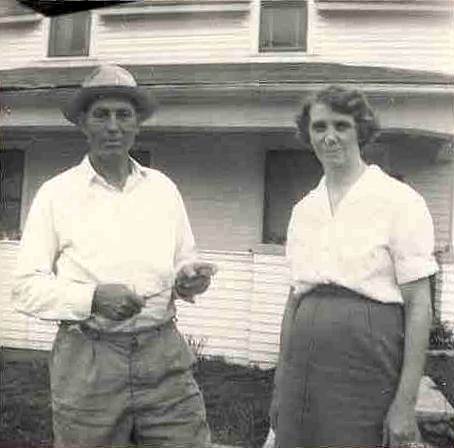 06 Lucian and Clare Mace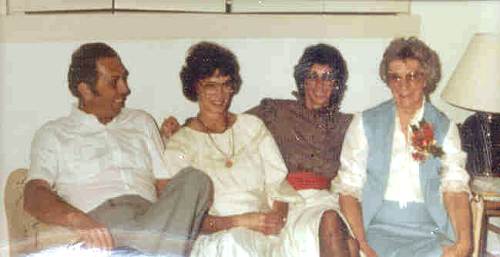 07 Lee, Lois, Sue and Clare
And thank you for the informative article recently about Lee. Since dad's birth and death dates (1902-1972) precede mom's (1906-2000), we'll commence with him in seeking to highlight their entwined story. You have full editing rights, Joe, because I may write more than you want to read.
(Note: I didn't edit out anything because I found it all very interesting. I have added some comments.)
Lucian's parents, George Thomas and Margaret Elizabeth (Papen) Mace – George and Maggie -- lived at Brumley nearly fifty years. George's people came from the Iberia area; Maggie's parents sold their farm in Camden County to Union Electric to make way for the new dam that would soon form the beautiful Lake of the Ozarks. Lucian was the eldest of ten children born to them, seven of whom lived to maturity, even old age (photo 08).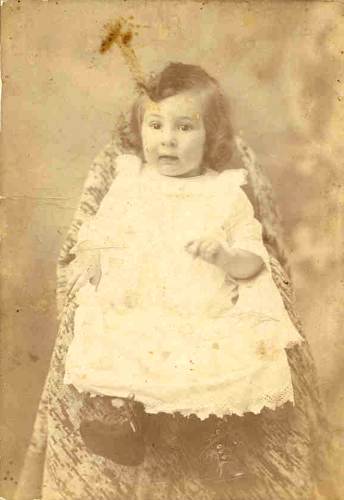 08 Lucian Mace - 1902
I think of mom and dad (photo 09) as having lived their lives similar to most people of their times.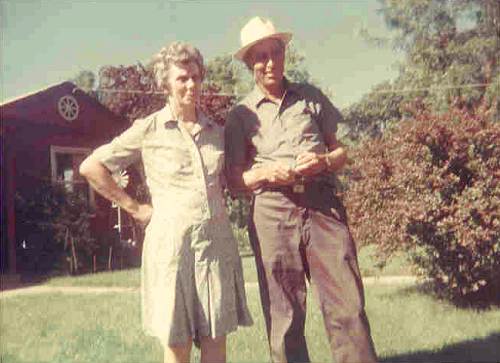 09 Mom and Dad - 1968
The incidents I share, while individual in detail, I believe are representative of values, customs, and economics that framed their century – the 20th.
For perspective, I'm reminded of a statement made by one of the St. Elizabeth Doerhoff men (Note: Surgeons Alan and Carl Doerhoff are now located in Jefferson City) a couple decades ago while surgically removing a skin lesion from mom's forehead. Mom's hairdresser refused to do her hair until she had it removed. Mom flinched and the good doctor, who'd known mom all his life, said, "Oh Clare, this doesn't amount to a thing for anyone who has lived through two World Wars and a Depression." She smiled in agreement.
Major events bring major changes in culture and custom. Transportation changed dramatically after World War I (1914-1918), the event that surely helped form habits and attitudes during mom and dad's youth. Later, in the 1930s, we lived on a little farm a mile southwest of Brumley – toward the Swinging Bridges (photo 10).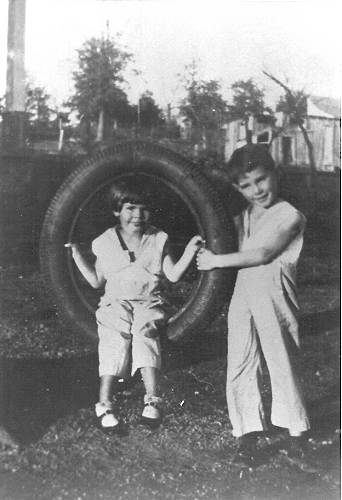 10 Lois and Lee Mace - 1930's
Lee and I ran to the yard and looked heavenward when we heard an airplane, presumably piloted by Alf Eads who built a runway and flew his plane in and out of Iberia (photo 11).
We watched till it disappeared to less than a speck. Dad reflected on his boyhood when he ran to the fence if he heard a car coming up the road.
Cars held a strong interest for dad and his experiences fueled plenty of stories. He and Tollivar Lawson maintained a Chrysler-Plymouth agency and garage in Tuscumbia during the 1950s. During that era, dad supplied several stock cars for races when that activity became popular in the region. Earlier though, Dr. Myron Jones who practiced at Brumley, liked to tell this story: Lee asked mom what people did with their cars when they wore out. And mom said, "Honey, they sell them to your daddy."
Dad lived to see a vehicle launched into space and he was pleased that his son-in-law, Jack Wyrick (1938-1983), Sue's husband, studied electronic engineering and worked with the team that provided communication technology for America's first space craft. Dad died shortly before dollar-a-gallon gasoline became a fact. And, to say the least, we believe he would not have been gracious about current prices hovering around four dollars a gallon – quite a jump from the fifteen to twenty cents per gallon during his early driving years.
By the way, and back to Alf Eads' airplane. Mr. Eads, who owned the Ford Agency in Iberia, surely became one of Lee's heroes. Young boys of the era wore bibbed overalls and soon, aviator design winter caps became the staple. Lee's cap sported fake goggles. My mind's eye can still see him zooming around the yard in that get-up, guiding an imaginary airplane and making buzzing motor sounds so consistent that mom worried his lips would become misshapen.

Tears dampen my eyes now though when I look at the real aviator cap with built-in radio equipment that someone handed me after his fatal plane crash in 1985. It remains among my keepsakes.
Mom lived to see space launchings become commonplace and air travel displace horse, bus and train transportation. She remembered traveling with her family to Tulsa in a covered wagon (photo 12).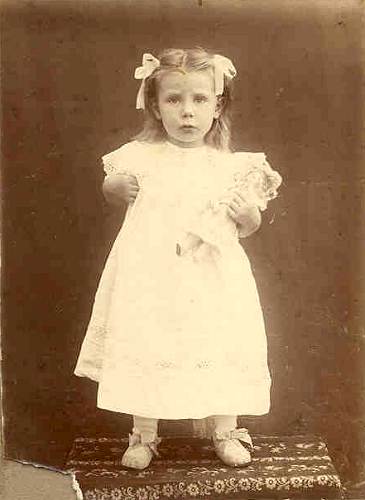 12 Clare Buster - 1906
Sue recalled that story: Mom's father, Charles Wesley Buster, endured a heart condition which limited his physical capabilities. He earned income by using his team of horses and wagon for hauling. He learned that Oklahoma oil drillers paid good money for such a rig. Besides, Oklahoma schools needed teachers in the newly settled territory and since her mother, Mary Josephine "Josie" (McComb) Buster was an experienced teacher, Oklahoma seemed a wise move (photo 13).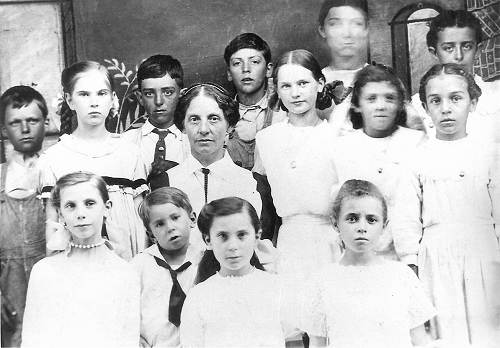 13 Josie Buster Class - Clare on Front Row Far Left
Josie's older daughter and her husband, Carrie and Fred Pemberton, settled in Oklahoma City a few years earlier (photo 14).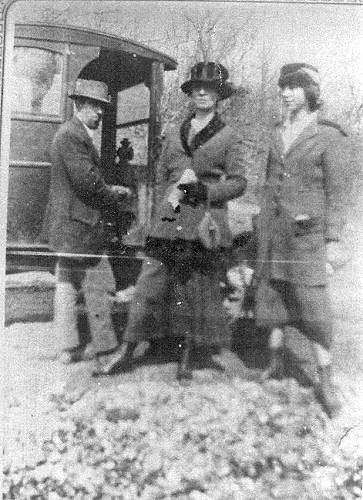 14 Fred Pemberton - Josephine and Clare
Mom shared details when Sue drove her to Oklahoma in the 1980s to attend a relative's funeral. Mom said that when they arrived in Tulsa by covered wagon they had no more than set up a tent when a powerful storm hit. Mom remembered the chaos of everyone holding on to the tent, fearful the storm would blow them away. Next day, her dad rented a brick house and settled the family. They lived around Drumright a few years before returning to Missouri via a steam powered train.
Clare and Lucian each graduated in 1923 as part of Brumley's first high school graduating class (photo 15).
Dad had completed elementary school, went to Pittsburg to work in the steel mills, and returned to Brumley when high school education became available there. After graduation he and some other Brumley boys hopped freight trains and worked in Kansas fields during wheat harvest. His stories made the journey sound exciting – for sure adventuresome.
Mom's high school experience, were it set in today's culture, would likely bring forth a bevy of state-paid counselors, charity support groups, and candlelight vigils. Not so when dealing with loss in her time. You just sucked it up and did what you had to do. At age 16, mom was in her senior year. Her father died of a heart attack on the front porch of a grocery store in Brumley. As I recall the story, someone told mom later that her dad, with tears in his eyes, had just challenged a man who threatened to beat his son for what Wes Buster deemed a trivial offence, so Mr. Buster told the man that if he wanted to whip someone, try him, and leave the boy alone. Mom referred to her dad as tender hearted, so she, Sue and I credited his genes for our at-the-ready supply of tears.
Within about six months, mom's mother, Josie Buster, died. A serious illness prompted her to seek treatment as far away as Barnes in St. Louis, and a clinic in Colorado Springs. Mom's parents died in their fifth decade of life. Mom remained at home with her grandfather, Jacob McComb, who made his home with them. That house still stands in Brumley, second house north of the school site. I believe Judy Prince lives there now.
Mom's legal guardians were L.O. "Ottie" and Alzenia Warren, parents of Glen and Freda (Mrs. Linn Gott); grandparents of Wanda Wright, Mary Graves, John Warren, and Judy Harwood. Alzenia and Josie Buster were their cousins through the Thornsberry family. I recall visiting the elder Warrens as something like grandparent figures and recognize that we maintained a close connection to that family through the years.
Arrangements were made for Clare to attend the State Teachers College at Warrensburg, now part of the University of Missouri system (photo 16).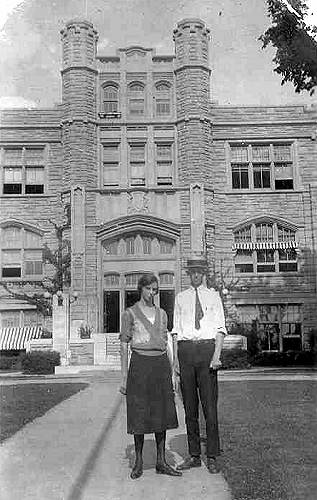 16 Clare Buster at College - 1923
Meanwhile at Brumley, Ann Ward, who lived across the street, agreed to provide meals for Grandpa McComb. Within two years, though, Grandpa needed more care, so Clare returned to Brumley. She earned her teaching certificate and commenced teaching at the elementary school in town.
David Webb, Clare's grandson, recalled the story she told to his children during a visit after she moved to Bristol Manor in Eldon. We don't know the amount of mom's salary however she said that as Grandpa McComb required more care, they simply did not have enough money to make ends meet. She discussed the dilemma with the school board, so they arranged for her to teach at a school in a more rural area which could pay an additional five dollars per month. And, she said, that made the difference in their having enough money to live on.
Mom has told us of her horse, Queenie (photo 17), which faithfully provided transportation. She has also mentioned a buggy, so I presume such to have been her transportation. Or on foot.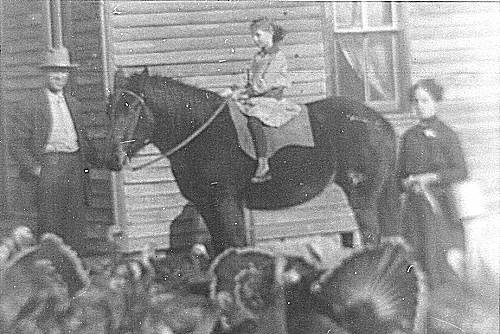 17 Clare riding Queenie
In the face of today's customs, whether transportation, nursing homes, extravagant weddings, or every kid with a private bedroom, one could call it a stretch to grasp customary practices during the era when mom and dad married. They've told me the name of the Justice of the Peace who performed the service, though I do not recall it. And I can only imagine a bridegroom of today saying "I Do" to accepting the responsibility of a bride along with her aged grandfather. And to this day, many descendants from the Wall or Martin families can tell stories about the number of people, young and old, who accompanied Lucian and Clare on their honeymoon, camping at Ha Ha Tonka. Upwards of two dozen, as I recall the telling (photos 18a and 18b).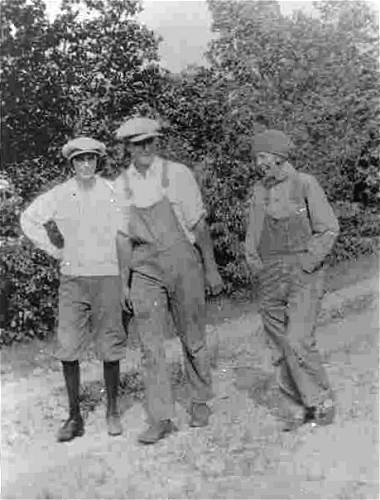 18a Lucian and Clare - 1926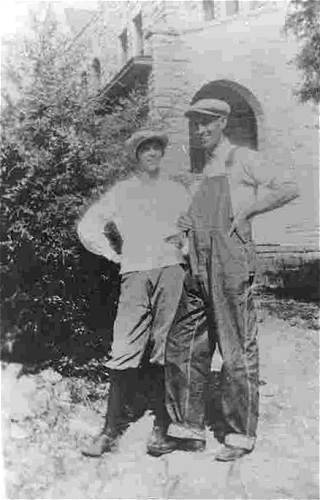 18b Lucian and Clare - 1926
Clare and Lucian married in 1926; Lee was born in 1927 (August 1926 and July 1927, if you're counting). Grandpa McComb died in 1929, two months before I was born. Mom wept as she recalled the circumstances and said she'd have never carried me to term had Grandpa not died when he did. I remain astounded when I visualize her caring for an invalid grandfather, attending to toddler Lee, while seven months into a pregnancy. Lots of clothes to wash.
A reservoir caught rain water for some use though they carried buckets of water from a spring in the valley, a steep incline from the house. This is to say nothing of gardening, canning, wood-fired cook-stove, and other conveniences absent from the day, including electrical wiring. Milk, cream and resultant butter, came from milking the cow; chickens provided eggs and some meat. Neighbors usually joined forces for a butchering day about the time winter commenced. They processed the meat by canning or curing. Cured pork hung in the smoke house.
These customs (or lifestyles as we'd say today) spoke of the times and of the community, not specific to mom and dad except for the life and death issues. The year was 1929; the stock market crashed; jobs became scarce; banks failed and a decade commenced that would one day be named The Great Depression. Most people learned to equate security with resourcefulness, wasting nothing, and in a few years, government programs like the Workers' Progressive Association (WPA). Economic times remained hard until war related industries opened in preparation for a coming war.
Best I can reconstruct mom and dad's history during the thirties included building the two bedroom concrete house which served as home until they moved to Tuscumbia in about 1940; raising corn and hay on the farm; attending a few cows; and somewhere along the line, dad taking extension courses from the teachers' college at Warrensburg. I remember his studying at the table by lamplight preparing lessons to hand in when the professor came to the courthouse once a month to accommodate Miller County residents who could not go away to college. Dad taught rural schools in Miller County for nearly two decades.
Sylvia Ramsey Long, who taught at Brumley, can still giggle about antics during those years. On one trip she rode with dad in a roadster with rumble seat and leaky composition roof – likely a forerunner to the convertible. One rainy day, nearing Tuscumbia, they offered a ride to two women. The rumble seat was out of the question. The women, according to Sylvia and dad's story, were large; the car seats small. Sylvia opened an umbrella in an effort to divert water coming through the roof. Visibility could be called poor at best. Finally, seeking solution to a dual dilemma, dad opened his car door thinking if he leaned out he could 1) see the road better, and 2) give the ladies a little more space. And I believe they mentioned a body odor issue. Regardless, a major dilemma developed when dad discovered he could neither reclose the door nor slide back into the seat -- a law of physics I suppose, something about the amount of matter that could occupy a specific space. Sylvia and her husband Ralph laughed about those incidents with mom and dad into their later years – years that saw the couples enjoy trips to Mexico and South Texas, or in domino games at home. Ralph and Sylvia Long operated a grocery store in Brumley until their retirement.
Before leaving the thirties and the hardships it bore, I should add, the stories that gained historical traction in our family centered mostly on more light-hearted incidents. For instance about water carried up the hill from the spring, I heard more gratitude for the fine spring than complaining about the load. I remember the water coming from the rocky hillside as clear, cool and refreshing. A spring house protected the water and the shallow concrete spring-box dad built for the flowing water to cool milk and other foodstuffs. A summertime social event took place when neighbors brought melons to cool then gathered to sit on the nearby rocks after sundown to enjoy the fruits of their labor.
Mom, into her elder years, remembered their good fortune of having fine milk, cream, and eggs. "Heck, you could make anything taste good with enough butter, cream and eggs," I've heard her say. The expression cash-flow, if it existed at all, related to negative. Mom and dad knew they were fortunate to have earned teaching certificates so that dad had a job. Mom taught a few years after Lee and I became school-age, though said it didn't take long to find out the exercise cost more than it paid. She remained a homemaker until the 1950s when she commenced working for what we called The Autogram. She remained with Vernon Publishing Company until she retired, likely at age 65. She enjoyed the work. It kept her in contact with the people and with county-wide activities. Readers as well as the publishers always seemed to appreciate her weekly column, Clare's Chatter. They urged her, even after retirement, to submit a column whenever she wanted, and she did so occasionally.
Mom's earlier music experience under her father's influence likely impacted our lives as much as anything since Lee went on to hone skills that caused him to become part of Missouri's entertainment history. One of my favorite stories mom told goes like this: Her dad, Wes Buster, played the fiddle. Still, he remained frustrated because he did not know how to read music. Mom remembered her dad's awe: Imagine being able to play a tune you'd never heard before. I stand in awe of his ability to play anything he'd ever heard!
As a relevant aside, Clare was the only child of Wes Buster. Josie, from a previous marriage, had three children, two of whom died in early life. Mom never knew them. Her half- sister, twenty- some years older, lived in Oklahoma City. Mom and my Aunt Carrie Pemberton and her family remained in close communication all through the years.
Wes Buster determined the greatest legacy he could leave his daughter was the gift of knowing how to read music. He arranged for a tutor to drive to Brumley in a horse drawn buggy to teach violin lessons to Clare. Mom believed the teacher came from around Iberia though she did not remember his name. And the rest, as the saying goes, is history. If I ever add postscripts to this story, I'll supply more music related details; and they are plentiful!

Sex Education: Well, not really; just wanted you to stay with the story. The year was 1937. Dad's youngest sister, Cleo, who'd married the preceding year, visited us. I remembered her 1935 high school graduation dress, shoes and hairdo. Stylish! She and her friends often heated a curling iron in the chimney of the kerosene lamp at Grandma Mace's house, held chunks of hair somewhere in the contraption and soon, seemed pleased with the curls that resulted. But during Cleo's visit I perched on the arm of the easy chair that seated her and noticed her wearing an unusual type of dress. Grandma Mace made it for her and they called it a wrap-around. The dress didn't match my image of Cleo's stylish custom. I noticed she had become larger too, especially around the middle, and reasoned that the wrap-around had become necessary. By January 1938, Cleo gave birth to Gloria Jo. I remember the bassinet as a large cardboard box filled to near brim with soft quilts placed near Cleo's bedside. New mothers remained bedfast for at least two weeks during that era of modern medicine.
I still didn't grasp full significance of the wrap-around dress until late in 1938 when the mail carrier delivered a package from Sears Roebuck – or it could have been Montgomery Ward – which contained a lavender flowered dress mom had ordered. A horizontal closing gadget allowed for expansion, similar to Cleo's. Hum. Gloria's presence gave testimony to the meaning of bulging waistlines.
And that observation consisted of my sex education. Sure enough, dad confirmed that we would be expecting a new brother or sister in the spring. Margaret Sue would be born in March 1939. Dad continued his information session by telling Lee and me that we would have to work harder for the next few months, and help mom because he would be away. He talked about our making sure we carried plenty of stove-wood into the house; that Lee must help build the fire and get up earlier in time to milk the cow before school; and somewhere along the line, he likely cautioned us to not cause mom grief. I don't remember details except that he said the doctor bill would be $100 and that his regular school teacher salary – probably $45 or so a month – would not be enough to pay the doctor.
The solution developed through frequent correspondence with Linn and Freda (Warren) Gott who operated a Western Auto Store in Vandalia, Illinois. Dad could stay with them, work a few months in the oil fields, earn enough to pay the doctor bill, and be home by Christmas. The school board members who hired dad agreed, and so it happened. Dad returned at Christmas and brought Lee a shiny red Western Flyer bicycle. Dr. Myron Jones assisted as mom delivered Sue into the world and onto a bed set up in the living room – nearer the heating stove. He'd performed the same wonder for Gloria's birth the previous year along with every other infant born in the region plus attending physical needs of the entire community. The Myron Jones family served the community well for a number of years. Sue and Gloria learned to walk, talk, and become acquainted with their new world as yet another dramatic cultural shift loomed on the horizon – World War II.
In the meantime, dad was elected sheriff in Miller County and assumed office in early 1941. The sheriff and his family lived upstairs, over the jail next to the courthouse in Tuscumbia. Sue, nearly two years old at the time, says she has little memory of the era except for a few specific incidents (photo 19).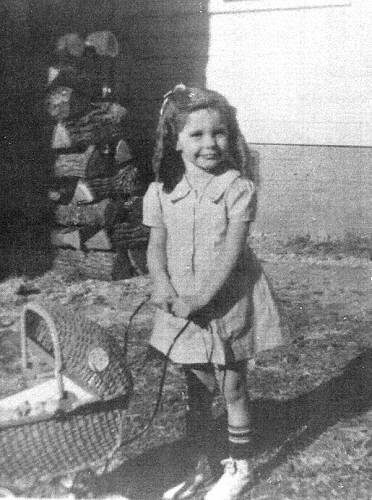 19 Sue Mace - 1940's
She loved to ride her tricycle up and down the sidewalk by the courthouse. County officials, workers, and visitors acknowledged her appropriately and she thought of each of them as her personal friend. Her favorites included Roger Stillwell and his father, Walter S. at the County Abstract Office, each an attorney at law. Sue rarely failed to meet their car near the parking lot and trailed them until they entered their offices. She announced near Christmas one year that she wanted to give a Mr. Stillwell a nice gift. Upon query, mom discovered that her idea of a nice gift was a pair of shoes. Mind you, to this day, one would have been hard pressed to have found a person more immaculately groomed than Mr. Stillwell, including shoes. We sought to conceal our amusement – after all, it's the spirit that counts. Mom convinced her of the inappropriateness and I think she settled for a giving him a candy cane.
Often on Sunday afternoon, we drove to Brumley to visit Grandma and Grandpa Mace – George and Maggie. I especially remember one Sunday – December 7, 1941. Radio news flashes broadcast something about Pearl Harbor. I wondered what Pearl Harbor meant, though knew not to interrupt because of the strained demeanor on each adult face --especially Grandma's. Three of her four sons had already been drafted into the Army in response to caution about war in Europe. Japan was scarcely mentioned except in reference to a souvenir type doll, cup, or teapot.
Charles Everett, Grandma's youngest, had recently undergone surgery at a base in Texas for emergency appendectomy and bemoaned having missed shipping out with his outfit. That outfit, stationed at Pearl Harbor on December 7 during the surprise bombing, was virtually destroyed. He later served in the Pacific theatre. Slim, as we called Vanus, hit the beaches with troops under the direction of General George S. Patton, known as Old Blood and Guts, during the Battle of the Bulge. Slim never discussed the experience and left the room if anyone else did. At the fiftieth anniversary of that battle, said to have been the turning point of the US victory in Europe, I sent money to have his name engraved on a memorial to honor those who served in that campaign. Harrison remained state side during the war though served in Europe during years while he remained in the military until his retirement.
I caught on to the seriousness of the war mostly by watching the expression change on the face of Grandma Mace. Maggie, remembered by her friends as quick witted and jovial, took on an expression of ongoing anguish. I'd not seen her face that way before. I liked to remember her holding us on her lap and tossing her head back in laughter while teaching us non-sense rhymes:
Intery-mintery-cuttery-corn;
Apple seed and apple thorn;
Wire, briar, limber lock, three geese in a flock;
One flew east and one flew west
And one flew over the cuckoos' nest.
Did you ever wonder where the name of the movie came from? I've always known, thanks to Grandma. But verses, games, silly songs, and laughter gave way to listening to war news, figuring points on ration stamps, and going to the post office to mail daily letters to the boys and sharing with townspeople contents of mail received from any of them. Everyone shared family war news.
Thanks to the valiant effort of soldiers from dozens of countries, the Allies, English remains our primary language rather than German or Japanese, beautiful though those languages may be. We owe a debt of gratitude beyond description to those soldiers. And let us never forget that more than nine million (9,000,000) Allied soldiers and about six million (6,000,000) soldiers from the Axis countries died in that war. More than 50 countries took part. I found these numbers in the World Book Encyclopedia.
Several years ago I read a book regarding a Japanese perspective about their part in World War II. The writer, whose name or title I don't recall, reported that Emperor Hirohito said his one error in judgment about attacking America lay in the fact that he underestimated the American Spirit. I'd say he got that right! And my hope for us, not only as a country but as the human race, is that we see a time when we celebrate, not those responsible for the greater destruction; rather honor those who prevented it.
Regardless, the first half of the 20th Century came to a close. The Atomic Age was born, and another cultural shift began to see the light of day – The post-war era. And no one had to ask which war?
Well, Joe, look at all this verbiage – guess I didn't take after strangers! And I've just come to the bridge that connected the first half of the 20th Century to the last.
I think of stories on the lighter side, like this one during dad's sheriff'n days. One morning he was called to a night club at Bagnell Dam in the area later called The Strip. Best I could determine, cleaner looking establishments that served alcohol were called night clubs, whereas most in the county were called taverns or beer joints – take your pick. Soldiers from Fort Leonard Wood brought newfound business. In the early hours, the wife of the proprietor called dad, the sheriff, for help. After customers had gone, for some reason, she said her husband seated himself in a chair in the middle of the dance floor, held a loaded shotgun aimed at the door; said he'd blow anyone to bits if they entered the door. Dad, when he arrived at the scene, asked the wife if the restroom had a window opening to the outside. It did. So, dad reasoned that the man would need to relieve himself sooner or later, at which time he'd lay aside the gun. Dad crawled through the window, hid until the man entered, and yes, laid down his gun. Dad then confiscated the weapon and secured the man. The family soon arranged for mental health professionals to take over.
I'll share a few more stories in the next installment. Sue asked that I seek to put words around aspects of mom and dad's philosophy. And I asked her to share poignant memories about the decades she witnessed. Dad's term as sheriff commenced his participation in politics. He would go on to serve in the Missouri State House of Representatives, and a term or so as County Judge; all this while maintaining a modest farming operation – grain, cattle, pasture. And then they traveled. We'll speak more of those pursuits later. Mom during this time worked for the Autogram during most of the 1950s and 1960s.
---
Thanks Lois. Lois's next installment follows where she discusses Lucian's experiences as state representative and community activities in which Clare involved herself:
Joe, Sue and I have proceeded to the next phase of the Lucian and Clare Mace story. Again we each thank you for providing motive for us to record this family history. And editing rights are yours.
So far we've seen them to midpoint of the 20th Century. Aspects of their youth took place during World War I. We told of their families, education, marriage, establishment of home and family, on through The Great Depression, and into the World War II years. We'll commence the Post-War Era with overview of their kids' whereabouts during that time.
Sue, born in 1939, witnessed daily events more closely in Lucian and Clare's life from the 1940s on than Lee or I. Lee graduated THS in 1945 (photo 20), served in the Navy before the end of WWII, then in the Army after being drafted during the Korean Conflict (we called it war).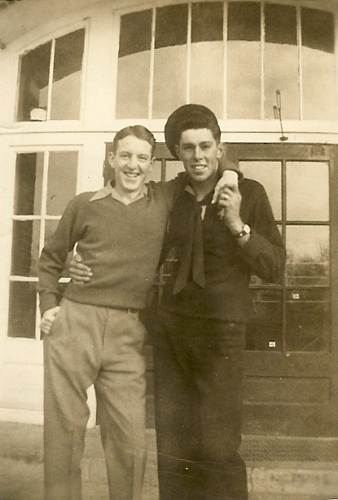 20 Lee Mace Navy Photo with Judson Berry
He was sent to France, and you covered most of the story about his finding the broken bass fiddle, its repair, and subsequent participation in an Army band – all of which laid foundation for the Ozark Opry. He married Joyce Williams, made their home and business in Camden or Miller County through the years. Lee died in 1985.
I graduated THS in 1946 at age 16; graduated on Friday, and by Monday, entered a Kansas City Business College. The next decade saw me employed as executive secretary for 20th Century-Fox Film Corporation's Kansas City branch for nearly 8 years; married to Charles Webb (now deceased), and we became parents of David Lee in 1954. He and his wife, Wendy, are parents of Macey and Matthew, each now grown. I've lived at Stilwell, Kansas more than fifty years; David and Wendy live within a mile.
Sue commenced her school years in the mid-40s and thus remained at home until she graduated THS in 1957, attended college, and married Jack T. Wyrick, son of Norman and Amy also of Tuscumbia. They made their home in Cedar Rapids, Iowa following a year or so in Salem, Illinois where their son, Michael Dean (Mike) was born. Jack, an electronics engineer, worked for Collins Radio, forerunner of Rockwell. Sue finished college and taught at Kirkwood Community College until retirement a few years ago. Jack died in 1983, interred at Mount Zion Cemetery. Mike and his wife, Felicia, have two sons, Alex and Connor, each now grown. Sue married Bill Anderson in 1993 and they continue to live in Cedar Rapids.
I like to tell the story of Mike, having learned to form sentences by the time they moved to Cedar Rapids, told his playmate they were going to live at "Peter Rabbit's."
The next phase of Lucian and Clare's major activities consisted of taking care of business, participation in politics, fishing, and traveling. Regarding the fishing and traveling, Sue remembered dad having said he could "hire Larry Flaugher to plow but he couldn't hire him to fish nor see the Grand Canyon for him."
In order to fix time and place to their world, I offer this information: The Brumley farm sold to a Phillips family when Lucian and Clare moved to Tuscumbia. Soon they bought land near Tuscumbia, though we lived in a small rented house on the Carroll Abbott farm while dad taught one year at Bear School before being elected sheriff. Dad remained grateful to each of the school board members who hired him for teaching positions, because they were most supportive about his decision to run for public office, and earlier near Brumley when he needed to be away to earn more money to cover added expenses.
During dad's term as sheriff, we lived at the jailhouse near the courthouse in Tuscumbia, for four years. The sheriff's family lived upstairs over the store, as it were. When his term expired, they bought what was called the P.P. Richardson farm, a mile east of town on Highway 17. Later mom and dad sold that farm to dad's sister and husband, Ollie and Hig Atkison. Hig and Ollie lived there nearly fifty years before moving into the town of Tuscumbia a few years before their deaths in the eighth decade of their lives. In the meantime, mom and dad bought the farm across the road where they and Sue lived until fire burned the house to the ground in the mid-1950s. I believe Greg Snodgrass lives on that land now. The fire is Sue's story to tell.
After the fire, they bought the Bob and Eska Fendorf house in Tuscumbia and lived there until dad died in 1972.
Mom remained in that home until about 1979 when she moved to Eldon, within walking distance of the grocery store, library, and beauty shop! Mom enjoyed nearly two decades in the Eldon home with no steep hills to navigate, especially nice in winter! She lived at the assisted care facility, Bristol Manor, in Eldon four or five years before her death at age 94, in 2000.
And so to politics and business: After serving his term as sheriff, dad was elected to the Missouri House of Representatives – do I need to add, on the Republican ticket?-- during the late 1940s, early 1950s. Then he served a term or so in the Miller County District Court. Do they still call them Judges? I believe he was the Presiding Judge. He served another term in the Missouri Legislature during the 1960s as I recall.
All the while, he maintained a modest farming operation – cattle, grain, and pasture. In addition, he and Tollivar Lawson owned and operated a Chrysler Plymouth Agency and garage in Tuscumbia for perhaps a decade that ended in the early to mid 1950s. And, for a year or so during that timeframe, they operated the filling station at Junction 17 and lived in the adjoining apartment. They soon learned the inconvenience of keeping absolute business hours. A memorable aspect of that phase concerned the Central Dairy Ice Cream we dipped from big containers. Many card games took place within earshot of the front door, and whoever lost had to dip the ice cream. It was a given that no profit came from the ice cream department. Sue, Joyce, and I made a pilgrimage to Central Dairy in Jefferson City a few years ago, a reminder of the fine ice cream. Sue will add more of the essence of mom and dad's story during that era.
Perhaps the most historically significant event dad witnessed during his time in public office occurred March 5, 1946. (I verified the date.) Sir Winston Churchill, Prime Minister of Great Britain, came to Jefferson City at the invitation of President Harry S. Truman. Their motorcade traveled around the capitol and through downtown en route to Westminster College in Fulton where Churchill gave a lengthy speech history would name The Iron Curtain Speech (photos 21a and 21b).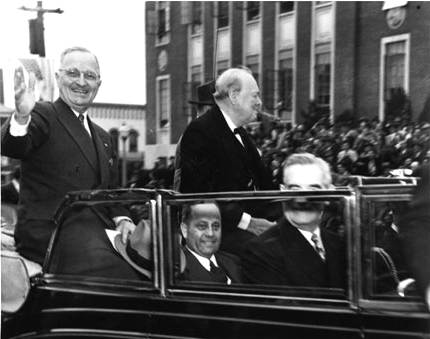 21a Truman and Churchill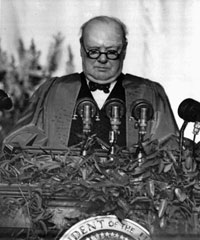 21b Sir Winston Churchill giving Iron Curtain Speech
Churchill's speech described the division between Western powers and areas controlled by the Soviet Union. The speech marked the onset of The Cold War. The Berlin Wall, erected during The Cold War, stayed in place until 1989 after President Ronald Reagan's plea: "Mr. Gorbachev, tear down that wall." Segments of the dismantled wall can be seen on display at Fulton (photo 21c).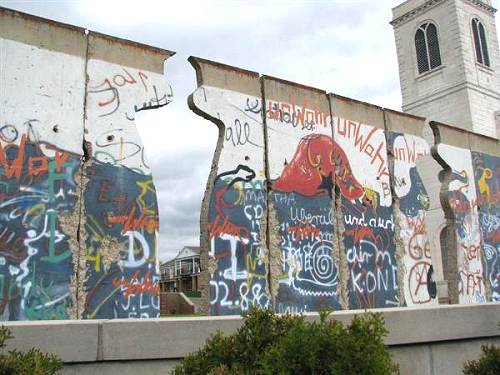 21c Berlin Wall in Fulton
Dad, along with the legislative body, made up part of the motorcade to Fulton to hear the speech. (And yes, I remember some chiding about the lengthy speech!) Families were not invited because of space limitations. Still, our parents evidently knew the event warranted keeping me out of school so mom and I accompanied dad to Jefferson City that day. I suppose Lee was in the Navy and Sue likely too young to go. I do remember that mom and I scurried from street to street in Jefferson City to keep the motorcade in sight. I snapped photos with a little camera that yielded little black and white pictures. We were proud of the images of the sleek, black convertible and clear likenesses of both dignitaries in top hats. Winston Churchill flaunted his trademark cigar. Too bad those little snapshots burned along with the house and all the family belongings.
A few years ago I visited the historic chapel in Fulton where Churchill spoke. Sir Christopher Wren, the famous 17th Century English architect designed the chapel. An encyclopedic review states that his buildings were characterized by simplicity and graceful structural relationships. A visit to the Fulton site will validate that quality (photos 21d, 21e and 21f).
| | |
| --- | --- |
| 21d Westminster Chapel | 21e Westminster Chapel |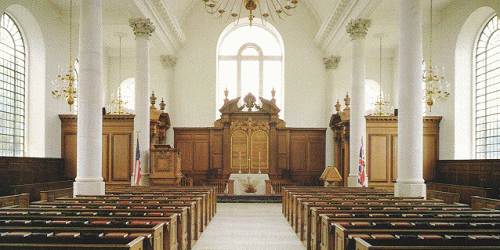 21f Westminster Chapel - Inside
He designed St. Paul's Cathedral in London as well as more than 50 churches in England. The Fulton chapel was dismantled in England, transported and reconstructed to exact dimension at Fulton. Missouri is fortunate to have hosted the historic event and to provide home for the chapel and artifacts.
Still on the political slate, about the biggest social event of the year for mom and dad, aside from the Tuscumbia Picnic, was the Lincoln Day Banquet. Mom and dad missed few. The custom commenced in the mid 1930s and before long I caught on that banquet time was near when mom bought a new dress and hat. She said it was her Easter outfit. She polished her nails too for special occasions. Best I can determine mom missed only three banquets until health challenges took priority in her late 80s. I believe it was at the 50th anniversary of the Lincoln Day event when the committee asked mom to be the guest speaker to give highlights of past banquets. Joyce Mace and I drove mom and I recall Joyce commenting on mom's remarkable ability, while well into her 80s, not only to recall the events, but to present them in an organized manner. I agreed. Mom's notes for the speech are likely among her papers – and if I run across them, I'll send them to the Museum.
And speaking of mom's mental acuity, I recall when Joyce, Sue, and I took mom to St. Mary's Hospital in Jefferson City, for a doctor ordered evaluation prior to surgery. The examiner set about determining if mom knew the day, date, year, where she lived, or what town she was in. Mom hesitated before giving correct responses on several questions. I supposed the questioners, young people similar to those who likely prepared the quiz, did not understand such hesitation, partly because their desk calendar and daily trips to work never let them forget; and partly, I suspect, because they've not lived long enough to see days, weeks, months, and years run together. Joyce quipped: "Why don't you ask her about the Electoral College."
Here's a story unrelated to business or politics that we refer to as Dad and the Picasso. Sayings in many families develop from specific events and ours was no different. One saying still used in our family arose because of dad's reaction to the Picasso print mom brought home from the bookmobile. Mom kept her bookmobile basket handy and used it faithfully when the mobile library arrived in Tuscumbia every few weeks. I believe it came from Jefferson City. Her selections, in addition to books, included musical recordings that let them enjoy music of many genres – that's when the new 33's came out, and if I have to explain, never mind. She also reserved a wall space in the living room where she rotated prints of work by old masters or otherwise famous artists.
Dad seemed appreciative for the ready availability of the tax supported culture. That is, until the day mom brought home a Picasso print supposedly depicting people watching a bullfight. At best it might be called a symbolic representation. The brightly colored globs on the canvas attracted attention and I suppose resulted from some phase of the controversial artist's career.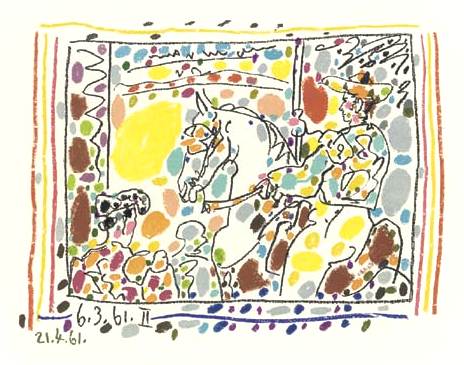 Picasso's Bullfight
I have no idea which, though dad found words to describe it as he railed against such unrecognizable shapes that could pass as art. His words were not kind. Mom ignored his ranting, though his criticisms apparently entertained drop-in visitors, of which I never knew a scant supply. Visitors laughed and dad generated descriptive words. It is well to mention that at this time, mom and dad lived in the Fendorf house in Tuscumbia, under the hill, about a quarter-mile from the courthouse, located at the top of the hill.
One day while visiting them, dad and I happened to walk through the dining room at the same time and could see through to the living room wall and the Picasso print. I said, "See, dad, if you stand back, you can make out that some of those shapes look like people watching a bullfight". He appeared to give my insight more consideration than I expected; even seemed to ponder the painting seriously. He nodded in agreement and said, "Yes, I'd probably like it even better if I looked at it from up about the courthouse."
So, through the years when various family members have been asked to go to or participate in an activity that held little interest, the response often was: "Believe I'll enjoy that like dad enjoyed the Picasso – from quite a distance."

Levity was dad's stock in trade. Sue commented once that people often saw dad as something of a cross between Andy Griffith and Will Rogers. While that is an apt description, he wasn't all fun and games. He could become quite vocal about vexing issues; yet at the same time, could often see humor in some of life's absurdities. For sure he held little inhibition about forming and/or voicing opinion.
Parenting patterns shifted toward leniency in the 1950s, and by the 1970s, psychology based organizations boasted high priced retreats for unruly kids – I'm talking upwards of $30,000 – that carried names suggesting confrontational-type-therapies. Lee and I laughed out loud and agreed that dad was fifty years ahead of his time.
Dad died in 1972 while hospitalized in Jefferson City for circulatory ailments. We appreciated the many visitors who paid respect, before and after his passing. Somewhere along the line, I heard a statement to the effect that there is the churchman, and there is the workman in the field. I always saw the men in our family as workmen in the field, and a better tribute I cannot imagine.
About travel, earlier I told of dad's affinity for transportation. Travel naturally followed. So, by the time the kids were grown, or nearly so, mom and dad set about seeing many of our country's wonders, border to border, and beyond. Shorter trips included Missouri and surrounding or nearby states. Mom and dad appreciated the history and natural wonders of the Midwest and enjoyed visits to numerous places. I never heard either of them speak of aspirations to visit overseas until:
Lucille Thornsberry Crane (Mrs. Kent) from Brumley, called mom. She and Kent had remained in touch with mom and dad through the years. They shared many interests including farming, teaching, ancestry (Lucille with dad through Thomas heritage and with mom through Thornsberry lineage); also a Baptist tradition with mom. Lucille always acknowledged that "Yes, we are kin, but not close enough to take credit or blame for what the other one does." Lucille, having researched travel brochures, proposed that she and mom take a European tour. Dad had died several years earlier and Kent wanted no part of it.
I smile yet when I remember the enjoyment mom and Lucille shared the remainder of their lives as they recounted the adventure. I got the biggest kick out of Lucille's plan-ahead-policy. Before the trip, she went to a gift shop in Jefferson City, looked for and bought gift items made in countries they planned to visit. For instances, she bought several vases Made in Italy, stored them securely at her home, and voila, presented family and friends with "gifts from Europe" upon her return. She saw no logic in toting trinkets around the continent. Why didn't I think of that!
Lucille initiated the first trip across the water for us. In 1976, the U.S. Bi-centennial Year, Lucille and mom learned that the Baptist College in Bolivar planned a Holy Land Tour. I received a letter from mom -- that's when phones were still reserved for urgent messages. After telling about the tour and enclosing a brochure, mom's letter continued: Now that I'm a septenagerian (she'd turned 70 years of age – I had to look it up), I'd like to take this trip, but know I cannot do it unless you go too. She went on to explain that Kent applied for his passport and planned to go. My first thought cautioned that I couldn't be away from the office that long. Second thought rebutted: If my mom is 70 years old and wants to go to the Holy Land, I have nothing more important to do than to go with her.
And so we spent nearly a month in the Middle East including Egypt, where we each rode a camel the short distance from parking lot to pyramid; took the sleeper train to Aswan Dam; sailed across the Nile, and saw most of the sights tourists see in Egypt. We toured scripturally referenced cities in Turkey, i.e., Ephesus, Pergamos, etc.; and on to significant sites that provide backdrop for the Judeo-Christian and Islamic religions. The trip opened our eyes to factors and circumstances in the region that, if they made it to USA Evening News programs, never covered sights, behaviors, or smells we witnessed.
We each treasured the journey and retold stories it generated – stories both shocking and humorous. We especially appreciated that our country, The Good Ole US of A, as Lucille called it, mimicking a comedian of the day, needed no armed security in airports; no pistol packing male and female officers stationed behind sand-bag barriers at tourist sites. We experienced our first body search at a border before entering Israel; heard mortar fire in the distance; and saw shattered walls and glass protruding from buildings recently bombed in Beirut, Lebanon. The year was 1976. Kent tore up his passport when he returned home; said he'd have no further use for it. We each called it a trip of a lifetime; grateful for having been; yet no desire to return. Mom, in her late years, enjoyed watching the cable Travel Channel. She'd seen so many of the featured places and relived the memory with each viewing.
One especially fun photo of mom shows her riding a horse into Petra. Google Petra to view color scenes of the city carved into reddish sandstone cliffs. Bear in mind, mom was 70 year of age at the time.
In the weeks before mom's transition at age 94 in April 2000, she lay in her bed at Bristol Manor Assisted Care Facility in Eldon, humming or singing to herself melodies and words to songs like: Angels beckon me to heaven's open door, and I don't feel at home in this world anymore; Peace in the Valley; I'll never cross Jordan alone – songs of that nature. I made note of them and most were sung at her funeral. When Bill Atteberry trumpeted How Great Thou Art at her graveside at the Gott Cemetery, I could almost visualize her soul taking wing on the notes of music. The presence of her remains, along with those of dad, Lee, mom's parents, a sibling, and a host of friends and relatives, gives testimony that indeed, this world is not their home anymore.
---
Thanks Lois. Sue, Lois's sister, was the youngest of the Mace children. She also lived early on with her family in the old jail while Lucian was sheriff. She has some memories of her own to share of the Mace family in the early post war period of the 1940's:
Lucian and Clare Mace story, the second half of the 20th Century told by Sue
My early memories are of the latter part of war time and the time that Dad was Sheriff. These early memories are purely about me, playing with Brenda Dickerson (political family) Janet Hix (banker) and Sandra Bear (grocery store). There was a wide range in age but we were the girls "on the hill." I remember visiting all the county offices and having various elected officials as buddies and as I look back now I can only hope I was not too much of a nuisance. I remember riding my tricycle on the sidewalks and being the unofficial greeter for about anyone who had business at the courthouse.
I do remember Tollivar Lawson coming to the house and I seemed to know this involved a different kind of serious business. From that meeting was the beginning of the Lawson-Mace Motor Company. They started selling Chrysler and Plymouth cars around 1946. This was the post-war era and another cultural shift. People had been through the depression, they had rationing during the war, but now times were good and there was more discretionary income and the demand for automobiles out stripped the supply. Many of the dealers sold their cars to the highest bidder, but Tollivar and Dad prided themselves on selling to the next person in the community that was on the list and selling the car at a fair price. The garage was located "under the hill" down by Sweeney's Tavern. Eventually Chrysler corp. thought their dealers should have a better show room and around the early 50's Dad bought the garage and service station at the junction of 17 and 52. He bought out Lawson at that time and built a show room that connected the garage and service station. We lived in the living quarters of that building for a year or two and even though we had electricity, phone and indoor plumbing, it was not worth the lack of privacy so we moved back to the farm property that was about a mile east of town. My Uncle Hig Atkison wired that house for electricity but we never did have a phone or indoor plumbing there.
Mom was the bookkeeper for the business, so our farm life was different than the norm. We put in a small garden, but never did a lot of canning or freezing. Mom belonged to the Happy Homemakers Women's club and they were active with the extension office, teaching them modern ways to improve their homes. In later years, Mom worked for the Autogram and this kept her very involved in the community. The local high school sports was a major feature of the paper and she always took pictures of the various sports groups and attended their sporting events even after she moved from Tuscumbia to Eldon. Mom enjoyed writing "Clare's Chatter" which was a popular weekly column in the paper.
Mom's family was very small; she had a half sister in Oklahoma that we visited quiet often (photo 22).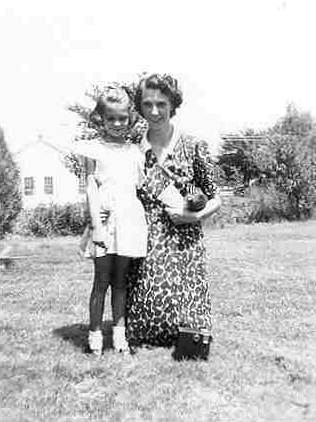 22 Mom and Sue - 1944
We had been there for an anniversary celebration and one of the relatives thought it would be a good idea if we came home to a warm house. So, he managed to get a message to the man who worked for us to go build a fire. Well, when we got home, the house had burned to the ground and very little had been saved. I was 16 at this time and material things were very important and I was devastated. I remember Dad saying "well if these things could disappear so quickly, they must not have been very important." I don't mean to imply that I haven't collected some "stuff" in my life, but I always go back to that and know that the "stuff" in life is not what is important. Dad always had a good philosophy about life and I'll touch on that more a bit later.
But…as you remember me saying, Mom was the bookkeeper for Mace Motor Co. and Case Implement Co. Well, she often worked from home and she had the books in the house. So, our accounts payable continued to have to be paid, but out accounts receivable were gone, we had no records of who owned us money. Many people did come by and pay us about what they thought they owed us, but it wasn't enough and so we lost not only our home but our business as well.
Dad always farmed, in addition to the car business or the political jobs he held. He bought farm land on the ridge and started raising cattle on a bigger scale. We had an accountant one time that said he thought it would be fun for the IRS to audit Dad. He wasn't sure if they could follow the transactions that he sold a car for part cash, a cow and a plow.
After the house burned, we bought the Fendorf house "under the hill" in Tuscumbia. Dad still managed to have plenty of used cars around, even though we no longer sold the new cars. Dad had sold a 1947 Chrysler coupe to Mary Jo Berry Tyler and then had sold her another new car about 1955, so he had the 47 as a trade in. Now Dad always had crazy trade ins so he had taken a motor scooter in on a debt about a year before this and decided I could have that (photo 23).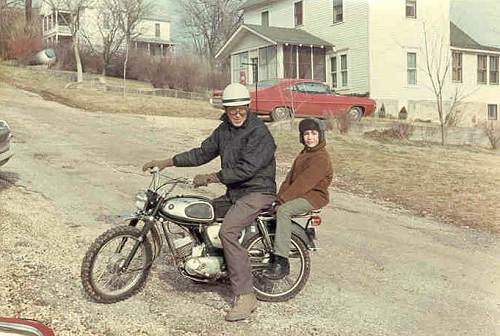 23 Mike Wyrick and Grandpa Lucian Mace - 1970
Well, a few months went by and he decided that was not very safe, so he sold it. In that process he had an old Studebaker that he said could be my car. Well, I thanked him for the car and said, "now how much boot will you take between this Studebaker and that 47 Chrysler that I really want." I can still remember the grin on his face of 'she's heard me trade cars too many times.' Long story short, my first car was the 1947 Chrysler coupe that had belonged to Mary Jo Tyler. I loved that car and put many, too fast, miles on it.
Travel was important in our family life. The first trip that I remember was to Oklahoma to see Mom's sister. This was during the war and Mom and I rode with a family that was driving to Oklahoma, there were six of us in the car. We spent a week or two in Oklahoma and that was the first time I had met any of that family. I do have vivid memories of the new relatives, the zoo, red Oklahoma dirt etc. Mom and I came home on the bus. I remember it was very crowded with soldiers. The next trip that I remember, I was able to tag along on a trip to Colorado with Mom and Dad and Glen and Wilma Warren. I have vivid memories of that trip to the Garden of the Gods, Pikes Peak, and the Rocky Mountains in general. This must have whetted Mom and Dad's appetite for travel because they traveled a lot in the south and western part of the U.S.
I remember one trip that the whole family took to Mexico. Mom, Dad, Lois, Charles and me loaded in the car and drove to San Antonio where Lee was stationed in the army. We picked up Lee and Joyce and headed into Mexico. Can you just imagine the size of this big old Chrysler that held seven comfortably? This trip was culture shock to me, and most of the rest of us too. I remember being so glad to be back across the border into United States territory.
They made many trips to Nashville, when Lee and Joyce were part of the Grand Ole Opry square dance team. They also followed them to New Orleans for a performance. Mom, Dad and I went to the Grand Canyon and that was a very impressive trip. They went to Seattle to the World's Fair in 1962 and they spent winters in Florida for the last several years of Dad's life. Dad really wanted to take a camper and travel the west but by the time he wanted this, his health really did not warrant the trip. But he always needed to be planning those trips as though he was able to do them. He had an old pink Cadillac that he had bought some kind of turtle hull that fit on top of the car and he had visions of traveling the west in that rig. That did not happen. Mom continued to enjoy travel after Dad's death and she broadened that range to include Europe on one trip and the Holy Land on another trip. She also took many trips on the OATS bus that traveled within Missouri and other bus tours through out the U.S. Mom was usually ready to go, you just had to ask.
Dad loved to go to sales and he brought in "many treasures." Mom always said we needed a shed that open ended into the river because if we could just push them out the back end, Dad would never miss them. One auctioneer saw Dad come on the sale grounds as he was trying to sell a box of junk. He looked up and saw Dad and said "sold to Lucian Mace." Guess he knew he would bid on it if he had been there in time.
Entertainment was mostly card games. Pitch was the game of choice for many years, and then Canasta became a big deal. In later years, Scrabble was one of the fun games too. We would play cards and listen to the radio, Fibber McGee and Molly and some of those old radio shows were the main entertainment.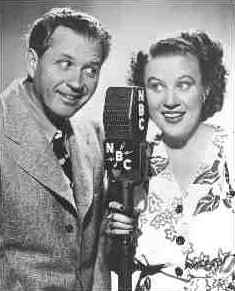 Fibber McGee and Molly
Mom liked her music and we had a 45 rpm record player. Every week when we went to Eldon, we came home with a new record. The losses of these records, along with the photographs, were the things Mom missed most from the fire. Mom often played the fiddle but not often enough to be real smooth. Dad would pat his foot and hold it in the air while she was searching for the right note. He thought it would be hard to dance to Mom's fiddle tunes. Mom and Dad enjoyed going to dances. A lot of dances were held in someone's home but they danced at Oak Wood near Eldon and in later years that I remember, we went to Versailles to a dance hall. The Tuscumbia picnic was the big dance event of the year and that dance floor is what made the Tuscumbia picnic such a successful event for many years. How could I have forgotten fishing? This was very important to both Mom and Dad. They went to the river many times a week. I remember them catching the big carp and catfish but the best memory of fish is the crappie. Mom filleted them and quick fried them. They were wonderful, can't think of a better meal. Most of the time they fished in the Osage River but in later years did a lot of fishing at Lake Ozark. They never had the fancy boat, just a fishing boat or they fished off the docks at some of the resorts (photo 24).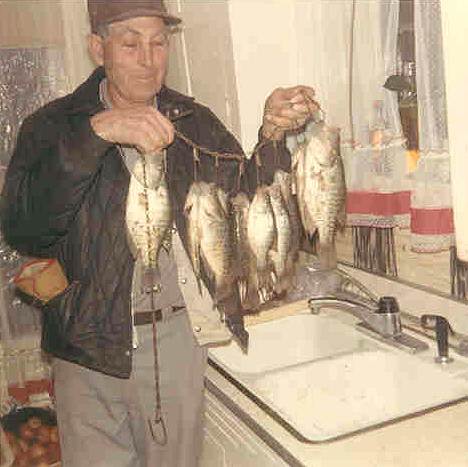 24 Lucian and His Fish - 1962
Mom and Dad took a lot of pride in the cattle farms. Dad died 28 years before Mom. She was proud to be able to raise the cattle for several years after he passed away. She had help from Lee and from Uncle Slim but for the most part, she made the decisions that were necessary to run a successful cattle ranch. She sold the farms after running the cattle for about 10 years.
Mom moved to Eldon from Tuscumbia, about 10 years after Dad's death. Mom enjoyed her home in Eldon and it allowed her to remain independent until her late 80's as her driving circle got smaller. She was able to drive to church, the bank, meals on wheels, Eager Beaver, the beauty shop and to the Ozark Opry about once a week. Mom was active in this community, enjoyed the garden club, church activities, and many activities that required food to be prepared for a potluck dinner.
One of Moms biggest luxuries was to get her hair fixed each week. One day she was doing aerobic exercise with some group and they took their resting heart rate and their aerobic heart rate. Mom's was the same, so they insisted she go to the doctor. Well Dr. Paul (Howard) ran an EKG and said she should go to the hospital in Jefferson City. That was the day to get her hair fixed and not much interfered with that appointment. The hospital called Dr. Paul to say Mom had still not shown up so they began to try to find her. Dr. Paul called the beauty shop and sure enough, Mom was getting her hair fixed. When Joyce took her into the hospital, as soon as they realized that they had been expecting her earlier, they put her on the fast track and she was in surgery within about 15 minutes. She received a pacemaker and the Dr. told her she was just about out of gas when she got to the hospital. But…her hair looked good, first things first.
As a young kid, I remember going squirrel hunting with Dad. I was the "dog." I was to go around the tree and the squirrel would keep an eye on me and move into the view of Dad with the gun. We ate fried squirrel for breakfast sometimes, along with biscuits and gravy. Often when Dad and I were in the woods I would get subtle philosophy lessons. He would always show me how the Indians would walk so that they did not make noise and he talked about the Indians respect for the earth and the worship of the sun, moon, water and other nature aspects. He was very respectful of the earth and would have been ahead of his time in trying to preserve this planet. Of course I also learned about "smart pills." This of course was rabbit poop and as I said that was what it was, he said "see you are smarter already."
Dad and Mom both liked poetry. One story that I like is that Mom wrote a poem and sent it into Mae Kennedy McCord radio show out of Springfield. Dad heard the poem and wrote the radio station for a copy of it. He didn't realize Mom had written it until several years later he found her hand written notes in writing the poem. Dad often read poems to us in the evening. I remember the "Wonderful One Horse Shay" and the "House by the Side of the Road" and "Abou Ben Adhem" as being a few favorites.
I often said Dad was the spiritual one and Mom was the one that went to church. That doesn't mean she wasn't spiritual too but they approached the subject from different directions. Mom was Southern Baptist, raised us kids in the church and went about every Sunday and lots of Wednesday nights. Dad almost never went to church but he could see the interconnections with the natural world and felt a very special connection to all people. He looked for the good in people and really enjoyed almost everyone he came into contact with. Dad always told lots of stories and Mae Reed said the stories never ended, one just blended into the next one and he was not insulted if you had to leave he just kept on telling the story and someone else always stepped up to be the audience.
Sometimes there was a moral, sometimes they were just funny, and sometimes he just shared his thoughts. He did love to talk and he had an opinion on almost everything and he was glad to share it with you. To the world, Dad was laid back, easy going and could be counted on to help anyone. At home, he was a tougher task master, it was just expected that you would do your best and he was not hesitant to point out when you could have done something better. No parent of any age has all the answers to raising a family, but we always knew they had our best interests at heart.
Two incidents in recent years touched me deeply about my family. Even though my Dad has been gone for 36 years, in the last few years two different men from Miller County said to me with deep emotion in their voices, "Do you know who I really miss, I miss your Dad." I think that is quiet a legacy.
Mom's Bible was marked at Philippians 4:8-9 and she had written in that this was her personal verse. This was my Mother's advice to me. Summarizing this verse, it says think on things that are true and honest and pure and are of good report. This seems to summarize Mom's philosophy; she never gossiped or talked bad about anyone.
Mom and Dad were very community minded and maybe this glimpse into some of their philosophy and some of their everyday life activities will give insight into their impact on the community. I want to thank you for giving me this opportunity to recall some of the memories and for letting us share these with the readers of the Miller County Historical Society.
---
Thanks Sue.
Lucian was involved in many community activities, and did not shy away from the stage, being willing even to participate in such things as a "Womanless Wedding," a very popular event in small towns such as Tuscumbia years ago (photo 25).
Along this line, I asked Lois to recount some of the anecdotes which characterize and define Lucian's personality, wit, and philosophy, those traits which endeared him so much to his fellow Miller Countians. In some of the following stories, local people around Tuscumbia and Miller County who were living then will know the names of the characters described. However, Lois has kindly not used names in certain instances out of common respect for them and their families, yet giving us a glimpse into some of the humorous events in which Lucian found himself involved at times, especially as sheriff:
To: Joe Pryor, President Miller County Museum
From: Lois Webb
Re: Stories about Lucian Mace, in and out of public office. He served as Miller County Sheriff, a Missouri State Legislator, and District #1 Judge of Miller County Court.
August 2008
Thanks again Joe, for prompting Sue and me to record incidents we recall from years when Lucian Mace (dad) served in public office. I'll commence with his interest in law enforcement. Brother Lee Mace recalled circumstances that fueled dad's interest when I asked him the question years ago.
Pretty Boy Floyd, Bonnie and Clyde, Ma Barker's Gang – these names rang with familiarity in households throughout Missouri and surrounding states during the 1930s. In Miller County, someone robbed the Brumley Bank. Blood hounds sniffed the area under guidance of State officials, yet yielded no convictions. Townspeople looked on, though few if any I speculate, considered a lock on the door. If gangsters of that era entered private homes, it usually concerned food and lodging. And, according to legend, ate or slept in barns at homes of cousins, grandparents, or neighbors of enough people to presume that the outlaws were well fed and rested.
Radio news stories often led with antics of the loosely organized gangsters of the day. Dad kept abreast of their trails. The magazine, True Detective, could usually be found around our house along with Capper's Weekly, Saturday Evening Post, and Readers' Digest when it became available.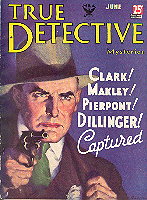 True Detective Magazine
Dad, who taught rural schools at the time, made sure a copy of the school publication, Current Events, went home with every student. I say this to say that mom and dad held lifelong interest in news of their community and of the world.
J. Edgar Hoover, the FBI, and G-Men became words associated with doing good work in response to gangster activities of the 1930s – activities that gave rise to the Public Enemies list. Dad applied and was accepted for examination to become a Missouri State Highway Patrolman. His blood pressure reading, by a few points, topped the upper range of their requirements.
The decade of the 1930s is the only chronology I can affix to events I recall from family stories. For instance, it may have been before or after dad's failing the Highway Patrol physical, that he ran an unsuccessful campaign for sheriff. A favorite family story evolved from that experience:
Dad's mother, Maggie Mace, did not want her son to become sheriff. She worried for his safety amidst gangster activities of the time. Shootouts were not uncommon and one of Ma Barker's sons reportedly had gunned down a sheriff at West Plains. Nevertheless, the election process went forth. Election Day brought virtually all the voting populace to town to vote. Businesses flourished on Election Day. The grocery store next door to George and Maggie Mace's house in Brumley was operated by Earl Plemmons. He provided one of the few places in Brumley where a customer could buy a sandwich of one choice – a slice each of baloney and cheese between two pieces of white bread and a dab of mustard. The sandwich cost a dime and a nickel would buy a bottle of soda pop out of the cooler -- orange and grape the favorites.
Earl's sister, Ida Plemmons Chalet (might have been her surname after having married a shoe executive) came from her home in St. Louis on Election Day to help Earl attend the lunch business. Ida and Maggie, friends from childhood, welcomed the opportunity to visit. Ida knew Maggie's concern about Lucian becoming sheriff. Near late afternoon before the polls closed, Ida declared she needed a clean apron and went next door to borrow one from Maggie. Ida, quietly and perhaps dubiously, known for her ability to predict the future, hurriedly told Maggie that the apron story was a ruse. She really wanted to tell Maggie not to worry about Lucian winning the election. Ida continued her prediction in effect saying "Maggie dear, do not worry. Lucian will not win. He will be narrowly defeated in some unknown way. By evening after the polls close, you will hear that he won. Do not worry; just remain quiet. He won't." Ida returned to the store.
Sure enough, early reports said Lucian won the election. Grandma Mace remained quiet and family members remarked about how well she took the news. But alas, one precinct didn't arrive at the courthouse with their tally till the next morning. Guess what! Lucian lost the election by 28 votes.
Stories of Aunt Ida's predictions held us in rapt attention from as far back as I remember.

The first half of the 1940s saw Lucian Mace as sheriff of Miller County. His stories became part of the local folklore. I still hear people say they'd heard Lucian Mace stories all their lives. Sue and I sought to recall some of the stories, though recognize we're a poor substitute for Lee, the real story teller. Sue suggested we frame his sheriff story in something of an Andy Griffith, Sheriff Taylor, Mayberry atmosphere, the TV sit-com that became popular two decades later . Though we had no Barney Fife, we did have our Otis-type guest, a few cliffhangers, numerous common sense solutions, and one or two close calls. We also developed several bonds of loyalty and friendship that lasted – silent bonds that no one understood except our family and the former prisoner involved. To this day the names or incidents remain unspoken. If I can convey the essence without revealing particulars, I'll share later.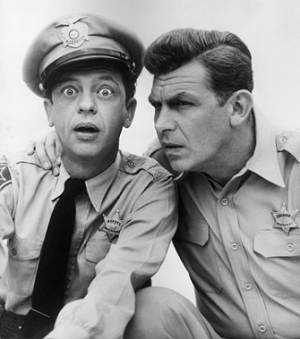 Barney Fife and Sheriff Taylor
Andy Griffith's television series dramatized story lines that could parallel some Lucian stories. For instance, our Otis-type guest, whom I'll call Charley, lived within walking distance of one of the county's more active beer joints of the time. It might come as no surprise that Charley had no driver's license, thus his walk to the nearby tavern. The proprietor, whom I'll call Sam, dreaded the sight of Charley, according to Charley, supposedly because of bad-blood neighbor issues. So, soon after the first few Saturday night beers, Samregularly phoned the sheriff declaring that his peace was being disturbed by Charley. Dad responded, brought the obedient Charley to jail, turned down his bed, and left the door unlocked if no other guests had arrived.
Next morning, Sunday, dad shouted downstairs if he heard Charley stirring, and said, "Might as well come up here and have breakfast with us; no need for me to carry it down to you." And so, Charley sat at our table for Sunday breakfast fairly often. One morning, dad admonished Charley: "Charley," he said, "don't you think it's about time you stopped disturbing Sam's peace?" I still remember Charley's droll response: "Well, it seems to me that Sam's peace is just too easily disturbed." I don't know the resolve, though the ease with which certain people's peace could be disturbed became a catch-phrase in our family.
I shared one common-sense solution earlier, about dad climbing in an outside window of a restroom at a nightclub at Bagnell Dam and hiding till the shotgun wielding proprietor laid down his gun to relieve himself, giving dad the opportunity to seize the gun and secure the man.
Another incident comes to mind wherein the solution dad found might not pass guidelines of today. I remember the fellow's car specially equipped with hand controls since an accident left him with little use of his lower body. Regardless, according to the tavern proprietor who called the sheriff, the man created a brawl which the proprietor needed help to quell. Grapevine had it that limited body function coupled with access to plentiful funds encouraged the accused to party fairly hard. The accused had developed unusually strong upper body muscles in order to negotiate his world with crutches. Still, he submitted obediently to the sheriff's instruction and dad brought him to jail with absolutely no disturbance. All went well, even to inside the high chain-link fenced yard of the jailhouse, ten feet or so from the door. No more. The accused declared that dad would never get him inside the jailhouse. And he was right. He immediately dropped to the ground, and engaged his metal crutches as weapons. The man's quick reflexes, strong muscles, and accurate aim kept dad at bay. He gouged and poked with the crutches till dad saw only futility in the exercise. So, dad reasoned that the man could go nowhere without his crutches. Dad then grabbed the end of the crutches during a swing and wrenched away control. Dad locked the fenced yard gate, took the crutches into the jail cell, and left the man to sleep in the yard all night – fortunately the weather was pleasant. Perhaps fresh air and evaporated alcohol vapors helped put the scene in perspective for the accused; anyway, by the next day he cooperated with the legal procedure and joked with dad about the incident as they saw each other through the years. They each likely called it a win-win.
I'll move to one of the close-call incidents: The Court sentenced the prisoner to six months jail time in Miller County for a misdemeanor committed there, after which he would be returned to the prison in Jefferson City. I believe his original crime constituted a felony. (I'm uncertain of details.) Nevertheless, he had violated parole, so it was back to the Big House, probably for life.
He appeared the model prisoner during the nearly six months of his jail term – always cooperative, and well mannered. His lady-friend and her toddler daughter, about the age of Sue, visited regularly. They drove to Tuscumbia from an adjoining county. Sue and the little girl looked forward to playtime, rode tricycles up and down the sidewalk, and played on the front porch of the jail while mama stood at the barred door inside and visited with boyfriend. This went on for months. Girlfriend brought gifts of food and personal items for the prisoner and always presented them for examination to mom or dad; never tried to slip anything in that we knew of. I remember a crock-type container of cherry cobbler. It looked delicious. She did not offer to share. Several prisoners resided at the jail during the time – sometimes up to half-dozen. Dad trusted one younger man to become a trustee and he did a few chores. I'm not sure if we ever determined exactly how the prisoner gained access to a few tools – enough to gradually and quietly, loosen bolts on the framework that held the barred door. But he got 'er done!
One night the prisoner waited until he heard no noise upstairs. He waited for Lee to come home and go to bed before he lifted the loosened door aside and walked away. Lee's life held the greatest potential for danger that night we believed. Lee worked nights and weekends at the filling station/bus stop at Junction 17. Because busses carried soldiers to and from Fort Leonard Wood, the station was required to stay open until the last scheduled bus passed through, usually around midnight.
Ordinarily when Lee came home, he used the front door jail entrance because the stairs from the vestibule led almost directly to his bedroom; whereas the stairs at the opposite end of the building led almost directly to mom and dad's bedroom. Lee saw no reason to let his footsteps announce the time he got home. Not unusual for a teenage boy, is it? Usually when Lee came home, he'd stop, lean against the jail door bars and shoot the breeze with prisoners who were still up, playing cards, smoking a cigarette, or passing the time of night. But this one night, Lee remembered he hesitated before deciding to forego the nightly ritual and instead, went on upstairs to bed.
When dad took breakfast downstairs the next morning, he saw a wide open space where a barred door hung the night before. The remaining three prisoners sat mute on the bench inside and soon their frightened expressions gave way to telling what happened during the night. Almost first they said they prayed that Lee would not stop and chat, because by the time he came home, the door would have fallen over with the slightest amount of weight against it. They didn't want to imagine the result, but nodded their heads in gratitude that Lee chose to go on upstairs without stopping by the jail cell.
A search of the escaped prisoner's cell revealed one of the nicest, most well written letters mom and dad ever received. (It too burned with other keepsakes when fire destroyed their house a few years later.) The prisoner used a full page of lined notebook paper on which he expressed gratitude for the kindly way he had been treated; he thanked mom for her cooking; dad for bringing the meals; he commended Lee and expressed special gratitude for the way mom and dad allowed Sue to play with the daughter of his girlfriend. He went on to explain, almost with apology, that he did not want to return to the State Prison and thus decided to take the escape action. In appropriate conclusion he wrote to the sheriff: "And now, may God bless you and your family and may we never meet again!"
Well, it took less than a week before they did meet again. The State Highway Patrol and law enforcement officers from the next county flushed him out of a wooded area near Waynesville. His escape prompted an all points bulletin for everyone to be alert to the man they described as armed and dangerous. But he remained courteous to our family.
It is well to mention that dad, characteristically, did not carry a gun. I recall seeing him only once leave the house armed with a tiny pistol concealed in his vest pocket. I watched as he practiced a proper hand position that allowed him to access the weapon quickly if necessary. I've been told it was a .32 caliber automatic pistol, popular in the 1940s. One Sunday afternoon a person phoned dad for help. A family member with history of mental instability and violence when alcohol aggravated his condition, was drunk and on a rampage. They feared he would do violence to either himself or anyone who interfered. That's the day dad carried the gun though he didn't want the subject to know. Dad topped out at six feet and was considered fairly strong; still the subject outsized dad by several inches and a dozen or so pounds in weight. He could have likely disarmed dad by sheer strength. I recall quiet tension at our house until dad returned in late evening.
Dad chose to enter the subject's house alone, though arranged for State Highway Patrolmen and other law enforcement personnel in plain clothes to stay nearby. Dad insisted on no noise, no sirens, or disturbing distractions. We're told that it took dad more than two hours to calm the man and literally, talk and walk him out of the house and onto the sidewalk where other officers eased him into custody. I understood that the man received treatment at the State Mental Hospital, and that he died before reaching middle age. We appreciated one of those bonds of loyalty and friendship with one of his family members – the one who phoned dad – throughout her lifetime.
These stories have jogged memories of incidents too plentiful to include, though I will add that a number of unsung humanitarian gestures took place. Late one night dad answered a loud knock at the back door. There stood a young lady, a neighbor, accompanied by an enthusiastic suitor in uniform. Immediately she commenced calling Lucian dad and apologized for forgetting her key and getting home so late. Dad soon caught on that she needed a ruse to get free of the suitor so she pretended to be home, and that dad was the sheriff. It worked. The boyfriend left, she went on down the hill to her actual home, and the incident gave ground to another good story to emerge from those years.
Lloyd Slone told of an extremely neglected teenage boy seemingly headed for trouble when dad asked Lloyd if he could use the boy to help on the farm, provide him food and a place to stay along with a modest wage. It seemed a better solution than the route to a detention center. Lloyd obliged and said that he and dad both believed the action provided the means for the boy to find a productive way of life.
On the lighter side, it's only fitting to add a musical note to the jailhouse experience. While mom had taught Lee, Sue and me the basics of violin (which Sue and I promptly ignored) Lee and his friend Jack Jones, honed their skills on stringed instruments under guidance of three men sentenced to jail for stealing tires, an especially serious crime during wartime and tire rationing. The three brothers asked dad if their family could bring musical instruments for them to play while serving their sentence. Of course! And soon, a fiddle, guitar, mandolin and banjo went to jail too.
Hoedowns, ballads, and tunes of all sort added an uplifting vibe to the entire building. Jack Jones, Lee's friend, often stayed at our house in order to be near school. He and Lee each had an ear for music, so welcomed the opportunity to receive mentoring from the talented prisoners. Lee offered to "pay" for his instruction by giving the men haircuts. Once. I think mom or dad came to the rescue and evened up the jagged layers of hair. They told Lee to thank them with words only.
Square dancing served as great entertainment to those so inclined. One warm autumn day circumstances came together brilliantly (according to Lee and me) so we could utilize the music coming out of the jail to benefit others. Mom and dad had gone to Jefferson City for the day. Charley Bill Abbott, a former sheriff who served as dad's deputy (and I think, a grandfather of Miller County's recent sheriff) stayed around if dad needed to be away. Charley Bill was one of the most rhythmic and capable square dance callers in the area. So, one afternoon a set of dancers decided to skip study hall and have a square dance in the vestibule at the jail, only a couple of blocks from school. We descended on the jail, encouraged the musicians and Charley Bill, and the dance commenced.
(By the way, I think this was the dance session referred to in the story about Lee that referenced Ina Mae Wallace Wyrick.
(Note: This story was told by Susie Bear Pryor in Progress Notes for July 21, 2008.)
Ina Mae was surely one of the dancers. Ina Mae's mother, Mrs. Annie Wallace, stayed with us only one week while mom and dad went to Virginia to pick up a prisoner.)
We, the truant dancers, timed our dance session to conclude in time to get back to school for the next class period. We rationalized that skipping study hall wasn't all that serious. Even so, mom and dad returned while we were in the middle of a do-si-do. I felt relief they did not scold us, though dad suggested in a manner that left no room for debate, that we return to school immediately and dance at a more appropriate time. Just the same, the event made for a fun memory-builder.
And so went the tenor of Lucian Mace's term as Miller County Sheriff, 1940-44.
And then came Lucian's time in and out of the Missouri Legislature:
Since having left Tuscumbia in 1946, my recollection of exact dates of terms is sketchy at best. I'm under the impression that dad served three terms in the Missouri State Legislature, two in the late 1940s or early 1950s, and one in the 1960s. I stand corrected if need be. He also served as a Judge in District #1 of the County Court, though I do not know the timeframe and recall no special stories.
In retrospect, my perspective (and Sue concurred) about his Legislative experience might be called bittersweet. I have no question about his intention to represent the county with integrity. I believe he met with disillusionment and much frustration when he discovered the effect of influence peddling and other plays of politics. He spoke with astonishment at the amount of liquor that was hauled into and out of the capitol.
And perhaps it's appropriate to comment about dad's guidelines and personal habits as I remember them: I saw him take a few puffs on one cigarette in my life; he did so in some kind of comic setting meant to show the silliness of the act. I may have seen him once or twice at a public event with an alcoholic beverage at his table. I cannot recall ever having seen an alcoholic beverage in our home. He said his habit at an event where alcohol was served, was to never – absolutely never – have more than two drinks in one evening. He said he had seen men whom he thought of as better men than him ruin their lives because of alcohol. He said he would take no chance that he might meet such end.
Lee said dad cautioned him before he went into service about effects of alcohol on men Lee had seen in jail and on their way to prison -- men whose lives had been changed forever by committing an act under the influence of alcohol – an act they would not have considered with a clear mind. One of dad's sayings was: "You wouldn't be crazy for a million dollars, so why go spend ten dollars to get crazy for the night." (During that era, one could get drunk for ten dollars!) Dad's guidelines came from practicality, not from sanctimony.
Aside from the Winston Churchill, Iron Curtain Speech mentioned earlier, as far as I know, the only other milestone in which he participated (if I recall Missouri's history correctly) concerns his first term in about 1945-46. I've read that the General Assembly, up to that time, accomplished the largest amount of work ever. They were required to completely revise the State Statutes to conform to the newly adopted State Constitution. I believe this was the time when States were required to bring their Constitutions into conformity with Federal Law.
Otherwise, Sue and I recalled his general frustration with the system. We each said we hoped we learned, albeit by negative example, the futility of giving energy to an unchangeable cause. For instance, we saw no evidence that his fretting helped the system; rather, if anything, he allowed his own frustration to injure himself. I'm talking about blood pressure and an eventual heart attack. His defeat in a Legislative campaign went down with difficulty, primarily because he believed half-truths or at best, distorted "facts" misrepresented him. Just the same, he generally looked back on his Legislative experience as an eye-opener, interesting, and glad he had participated. The number of Representatives from around the State who came to Eldon to attend his funeral in 1972 gave testimony that at least his character and wit were appreciated and remembered.
Newspaper reporters who covered the Legislature at the time and perhaps on a slow news day, occasionally constructed a light hearted piece out of something dad said. One I recall had to do with a union matter around the time James Petrillo, president of the Musicians' Union became famous. (Mind you this happened more than a decade before Lee entered the music business. Petrillo's claim to historic fame concerned the recording industry and payment to musicians.) The punch line of the newspaper brief quoted dad as saying: "It's gotten so you have to get approval from Petrillo before you can walk down the street and whistle Yankee Doodle."
Another humorous newspaper brief came about in dad's later years when he devoted most of his time to the farm – cattle and hay. The Globe Democrat in St. Louis picked up on an ad dad ran in the Autogram offering a reward of five dollars to anyone who remembered who he loaned his spreader to. Most people in the community knew to call on Lucian if they needed to borrow a tool, piece of equipment, a truck, tractor, or car – almost anything mechanical. Most items were returned without incident, but occasionally…. Mom explained the old clipping when we found it among papers while clearing the Eldon house. She said the equipment dad needed, but couldn't find because he loaned it out, was called a spring spreader. No matter, the big city newspaper obviously had more fun out of telling about the man in Tuscumbia who needed, but couldn't find his manure spreader.
Sue reflected on dad's concern in his later years when as his physical strength began to wane. He worried about becoming incapacitated. He resolved the issue by saying: If I end up in a wheel chair I want those wheels rollin'. As it turned out, dad walked into the hospital in Jefferson City in April, soon became comatose in which state he remained until he expired on May 2, 1972.
Sue also remembered that among the pallbearers at dad's funeral, including those in the honorary section, sat a man none of us could identify. To this day we do not know the name or relationship he had with dad. Still, mom particularly appreciated and spoke of his presence in the sense that he may well have represented the numerous persons, unknown to us, with whom dad interacted through the years.
This final story took form at the Gott Cemetery at the close of dad's graveside service. The sound of a speeding car caused us to look toward the highway to see a gold colored large sedan, a Buick I think, slam on brakes and turn in at the entrance of the cemetery. A robust man emerged and walked fast, almost ran, toward the gravesite. We finally recognized him at he came closer. It was Sonny Williams, a step-son of dad's sister, Cleo, who lived in St. Louis. Sonny often visited at mom and dad's house during his youth. He apologized for being late, saying he'd driven hard and fast to get there. He said, with near tears, "Well, when I was a kid he taught me how to fish, how to swim, and how to handle a boat. When I was grown, he even came to Camden County in the middle of the night to bail me out of jail, and I damn sure wasn't aimin'to miss his funeral."
And so went the tenor of the legacy of Lucian Mace.
---
Thanks again, Lois.
Lucian was a man of many talents and quite a few different occupations, not just in pubic office but also in the community. Many of us of my age will remember how important to us was our bus driver who took us to school every morning and home in the afternoons. For a time, Lucian and his brother, Vanus (whom we all called "Slim,") were some of our bus drivers (photo 26).
Always with a sense of humor, what was Lucian doing putting the stop sign in front of his face?
As the last part of the story of the Mace family of Miller County I am placing here for completeness Lucian and Clare's obituaries:
Obituary: Miller County Autogram-Sentinel, May 1972
Lucian Thomas Mace, 70, of Tuscumbia, a farmer and stockman and former county official, died Tuesday evening, May 2, 1972, at Memorial Hospital in Jefferson City. Funeral services will be held at 2 p.m. today (Thursday) at Phillips Chapel in Eldon.
Mr. Mace, who spent most of his life in Miller County, was born Jan 2, 1902, at Brumley, the son of George T. and Margaret (Papen) Mace. He was married on Aug. 8, 1926, to Clare Buster who survives. Mr. Mace also leaves one son, Lee Mace of Osage Beach; two daughters, Mrs. Lois Webb of Stilwell, Kan., and Mrs. Sue Wyrick of Hiawatha, Ia.; two grandchildren, David Webb and Michael Wyrick; three brothers, Vanus Mace of Tuscumbia, Harrison Mace of Rolla, and Charles E. Mace of St. Louis; and three sisters, Mrs. Ollie Atkison of Tuscumbia, and Mrs. Mae La Grande and Mrs. Cleo Williams of St. Louis.
Mr. Mace, who had been active in business and farming, also taught school in Miller County for 16 years. He served as sheriff of Miller County in 1940-44 and later served two terms as representative in the Missouri Legislature, and as judge of the County Court.
He was a member of the Brumley Christian Church, and a past member of the Tuscumbia Lions Club. He had been active in the Miller County Cancer Society. Raymond L. Bond will be officiating minister at the funeral services. Burial will be in Gott Cemetery.
Active pallbearers were Bob Klug, Jesse Hawken, Lonnie Albertson, Rick Ferro, Paul Martin, and Bill Lawson. Honorary pallbearers included Ralph Long, Nathan Hendley, Jim Robinett, Joe Davis, Carl Williams, Kern Newton, Ray Wickham, Frank Dickerson, Kenneth Hauenstein, John Vernon Williams, Bob Williams, Omer Robinett, and Hobart Wall.
---
Next is the obituary of Clare Mace:
Obituary: The Eldon Advertiser, Tuesday, April 11, 2000
Clare Mace, 94, of Bristol Manor, Eldon, died there Tuesday, April 11, 2000. She was born Jan. 23, 1906, in Brumley to Charles Wesley and Josephine McCombs Buster. She was married in Linn Creek to Lucian Thomas Mace, who died May 2, 1972.
Mrs. Mace was a lifelong resident of Miller County and she and her husband were members of the first graduating class of Brumley High School in 1923. She attended State Teachers College at Warrensburg and taught in several Miller County rural school districts, including Barton, Honey Springs, China, Warren and Lawson. She and her husband also owned the Chrysler-Plymouth dealership in Tuscumbia.
For 15 years, Mrs. Mace wrote for the Miller County Autogram-Sentinel and is remembered for her homespun, humorous tales in her column "Clare's Chatter." After her husband's death, she maintained the family farm for several years. She was a member of the Niangua Chapter, DAR, Eldon Garden Club, Tuscumbia
Baptist Church and had been active in various civic and community organizations and served in the Silver Haired Legislature.
Surviving her are two daughters, Sue Wyrick Anderson of Cedar Rapids, Iowa, and Lois Webb of Stilwell, Kan.; two grandchildren; four great-grandchildren; and her daughter-in-law, Joyce Mace of Osage Beach. Her son, Lee Mace, preceded her in death.
Funeral Services were held at 11 a.m. Friday at Phillips Funeral Home in Eldon with the Rev. Bob Buster and the Rev. Don Bilbary officiating. Burial was in Gott Cemetery near Ulman. Visitation was held from 4 to 8 p.m. Thursday at Phillips Funeral Home. Memorials may be made to the Eldon First Baptist Church, the Tuscumbia First Baptist Church or the charity of the donor's choice.
---
Next, I asked Lois and Sue to write short biographies of themselves. Both left Miller County early on to pursue lives and very successful careers elsewhere. They always had many friends in the area and for that reason I thought many readers would be interested in what activities and events transpired in their lives over these last sixty and more years.
First is the autobiography written by Lois:
Joe, you asked for a bio and information about my activities since leaving Tuscumbia. Where do I start – it's been more than 60 years! Some people comment on the many hats I've worn. I respond that I've worn only one hat -- with many flowers. These days, when pressed, I simply say Retired Clergy.
Overview: Graduated THS – 1946; Kansas City Secretarial School –1946-47; employed nearly 8 years at 20th Century Fox Film Corporation's KC Office as Executive Secretary; married more than quarter-century to Charles Webb. By the way, we met through a Tuscumbia boy, the late R. F. Harbison, brother of Rex and my classmate Hoyt (1928-2007); our son, David Lee Webb, born 1954; we bought a farm at Stilwell, Kansas in 1956. After auto accident, I ultimately found relief through skilled hands of Dr. Hazel Mabis, chiropractor who had retired to Linn Creek. Brother Lee Mace arranged that meeting. Hazel urged me to attend Chiropractic College. I graduated in 1963, maintained a home based, appointment-only practice for nearly two decades, which allowed me to remain at home during son David's school years. I've always seen parenting as the high point of any so-called career choice.
Joe, in response to people asking about my work I sometimes present a "retired" business card. It reads: Farmer, Journalist; Unity Interim Minister, Doctor of Chiropractic; part time poet, painter, and music aficionado. Mostly Retired. And that's the way it is. You can stop at that if you want.
Oh yes, except I often quote from a Lucian response when people asked him: "What are you doing these days, Lucian?" He didn't miss a beat and said: "Little as I can get by with." That remains my stock answer.
But seriously, a healthy curiosity kept me attending school intermittently most of my adult life. And besides, I never learned to play bridge. Each decade from the 1960s through the 1990s, I earned a degree of some sort. Through the years, in addition to Doctor of Chiropractic, the resume accumulated: Graduation from Unity School of Religious and Ministerial Studies, thus the ordained Unity Minister; A BA in Liberal Arts from University of Kansas; a MS in School of Journalism; and a MA in Communication Studies, both from University of Kansas. (Am I still welcome if I say "Go Jayhawks?")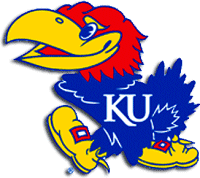 KU Jayhawks
A bonus in having earned some of these credentials came because of Unity School's World Headquarters location -- just east of Kansas City, near Lee's Summit. I served in various capacities in the Unity framework in or near Kansas City including teaching classes, counseling, editorial assistant on children's magazine, Wee Wisdom, and free lance editing on special projects. Through the years, I chose to stay close to home – always said God never called me very far from primary responsibilities of home and family. The time came when those responsibilities had been fulfilled.

Several Unity ministries in the United States and Canada asked me to fill in during ministerial vacations, leaves of absence, etc. I did. Oh, yes, other chiropractors filled in at my office during these sojourns; though I did cease practice after yet another injury grounded me for a couple of years somewhere along the line. And as most life experiences go, bumps appeared along the way --not easy.
Anyway, when Unity School of Christianity in Melbourne, Victoria, Australia invited me in 1990, I accepted, and stayed there longer than any other place – two years, and thoroughly enjoyed becoming an Almost-Aussie. Son David looked in on the Stilwell house and attended the family agricultural business, so home details did not need me. And husband H. J. Nixon died also.
Temporary ministerial assignments I've accepted include Charleston, WV; St. Joseph, MO; New York City (Queens); Billings, MT; and Santa Monica, CA. I was serving in New York City during September 11, 2001. Yes, quite dramatic; however I reasoned that if I lived any place in the world, I'd wonder what I could do to help those people – and there I was, doing probably the one thing I could do – assisting the members of that small congregation in Queens. I welcomed the pace of Billings, MT after NYC. Reluctantly concluded the near two-decade circuit-rider type role after returning from Santa Monica in 2005; few circulatory glitches guided the decision. In 2006, sold property we bought fifty years before; moved to smaller place a mile down the street (same PO Box address) and pretty much sit in an easy chair, look out the window at a sorrel horse in the two acre pasture behind the house. A neighbor rents the pasture and I call the horse my living art. I bear up quite well under such duty!
Well, lethargy eases occasionally and I do some volunteer work including Johnson County Sheriff's Department as part of their Citizens' Academy. No, I don't have a badge! Also get in my share of concerts, lectures, and stuff like that. I do not boast great physical stamina. I call it a bonus that son David and daughter-in-love Wendy, live within a mile. Their two children, Macey and Matthew, are grown and on their own. We all keep in touch, though not to the point of hovering.
Oh Joe – you see why I ordinarily side-step questions about my work. Or why I say my one hat carries many flowers. I never know what part to leave out because all aspects have been meaningful to me. I've appreciated a good run, all commenced in Miller County. And I remain ever grateful for the heritage, both genetically and culturally. Lois
---
Thanks Lois. And now to the autobiography written by Sue:
I was born in Brumley but spent virtually all my young life in Tuscumbia. I attended 12 years of school at Tuscumbia in the grade school and high school system. I have fond memories of those times that included the basketball years in high school, good life long friends, and many favorite teachers that helped shape my life.
After high school I attended one year at Missouri University (thanks to Reid Goforth, science teacher), and one year at Lincoln University.
During my first year in college I started dating Jack Wyrick. He finished his stent in the Navy and worked for various companies. We were married and we soon realized that Jack needed to finish his schooling. We had one son, Michael D. Wyrick, who was born in Salem, IL. We both worked many jobs to be able to pay off debt and to send Jack to Linn Tech School. He majored in electronics and upon graduation in 1964, we moved to Cedar Rapids, Iowa. He worked for Collins Radio, later bought by Rockwell International. Jack saw many changes in technology during the time he worked at Collins. He worked on the communication systems for the space missions both Gemini and Apollo. One of his highlights was to go to Cape Kennedy to see the actual modules and to see their equipment in the actual capsule. The computer era was coming into being in 1980's and when Jack died, we had four computers in the house that he had built. Jack always said his hobby and his work were the same thing and he said it must be a sin to like to be home with his family so much. So, Jack and I had a good life. We knew to enjoy each day, we really did not put off things we wanted to do and when Jack died of a heart attack in 1983, I knew he had enjoyed a good life. He was greatly missed by Mike and me, we still reflect on his contribution to our lives.
I have lived in Cedar Rapids, Iowa for 44 years. It is hard to imagine that I have been gone from the Tuscumbia area for that long. Jack always insisted that I finish my college so when Mike started school, so did I. I graduated from Mt. Mercy College in Cedar Rapids in 1970. I worked in the Cedar Rapids school system about 3 years before I joined the staff at Kirkwood Community College. I taught in the business department at Kirkwood College for 27 years. I completed a MBA (Masters in Business Administration) in 1985 through Nova University.
I saw many changes in technology during my working years too. When I started teaching at Kirkwood Community College, we had electric typewriters. Soon the improvement went to electronic typewriters. Then we had blind memory typewriters. This led to dedicated word processors that had 20 mg of memory. Then we moved on to very basic PCs. Finally we moved on to the sophisticated computers that we have today. This technology was new to everyone so I made it my niche to teach the advanced computer skills. This meant I always had a better computer and software at home than we had at school. I taught the end user skills (not programming) so I always had to teach myself the next generation of software and then get the new versions installed at school. There was really no choice in teaching myself, the computer and software were so new that there was not any place to go to learn it. Many people in the computer world during that time had to teach themselves.
I advised a 2 year degree program called Information Management Systems during the last several years of my career. This was the advanced program offered in the Office Education area of the Business Department and students earned an Associate of Applied Science degree. The business department was the largest department on campus, we had about 4,000 students. Kirkwood Community College was the third largest college in Iowa with 15,000 students the last year I was there and had 18,000 students this year. The average age of my students was about 25. A large portion of my students were currently working as administrative assistants and they needed a degree to advance on their salary scale. At the completion of this program, many students were able to move from the administrative side to the Information Technology side of the business and were able to earn more money. Kirkwood allowed us a lot of autonomy in the design, textbook selection and implementation of the classes in our program. My career at Kirkwood was challenging and very rewarding to see the growth of the students and their advancement in their own careers.
I enjoyed my 27 years teaching at Kirkwood Community College but early incentive retirement plan along with a health problem prompted me to retire in 2001. I have enjoyed retirement.
I married Bill Anderson in 1993. Both Bill and I have traveled in all 50 states and all the provinces of Canada. Bill's job at the time was a sales Engineer and his territory was North America. So he traveled with work and I often tagged along in the summer for play. Bill says travel feels like work to him, so I travel often with other friends. I traveled a lot both before and after retirement. I have been in all 50 states in the U.S., many trips to Europe, Japan, China, Australia, Canada and New Zealand. My travel time has been very educational and I have really enjoyed the various cultural experiences.
Bill Anderson graduated from Iowa State with an engineering degree. He is currently working for a small company in Marion, Iowa. He is able to be involved in all aspects of the design and manufacture of commercial mixers. He does not have any immediate plans to retire, which means he enjoys his work too.
My son Mike is married to Felicia and they have two sons, Alex and Connor. Mike was proud that his sons went through the same school system as he did. Alex graduated from University of Iowa last year; this was the alma mater of both Mike and Felicia. Alex is currently in Spain, teaching English. I think this is his way to see the world. Alex says this is my fault; I took both boys on European trips when they were teenagers. Alex and I went to Italy, Connor and I did a European highlights tour. Connor lives in Iowa City and is currently working and taking classes at Kirkwood Community College. Mike and Felicia both have advertising agencies. Mike's clients are local and he handles the marketing needs for about a dozen companies. This includes TV, and print. Felicia's company works in print and they have clients across the U.S. I am so glad that they have lived in Cedar Rapids and it has allowed me to be a part of their lives.
As many of you know, I am currently struggling with breast cancer that has metastasized to the bone. I am just finishing 12 weeks of chemo and I am very anxious to get my energy levels back. The lessons learned with Jack Wyrick's early death are part of my philosophy. "Live everyday to the fullest and be thankful for all the blessing life has given me. "
---
Thanks Sue.
This completes our journey into the history of one of Miller County's most interesting families. I am so grateful to Sue and Lois for taking the time to write these memoirs of their family. I think the lives of Sue and Lois themselves, who were very successful in their own careers in different parts of the country, are a compliment not only to them and their determination to succeed but also a tribute to the kind of stock from which they came, and the environment in which they were raised.
---
Our annual car show for this year is scheduled for Saturday, September 13, 11:00 a.m. until 3:00 p.m. on the museum grounds in Tuscumbia. For those of you who attended last year you will remember the large number of cars which were on display of all ages; the fifty's vintage was the favorite of the collectors who participated. Jack Lupardus has kindly once again taken over the project of organizing this event. Here is a photo of Jack and his beautiful Cadillac hardtop (photo 27).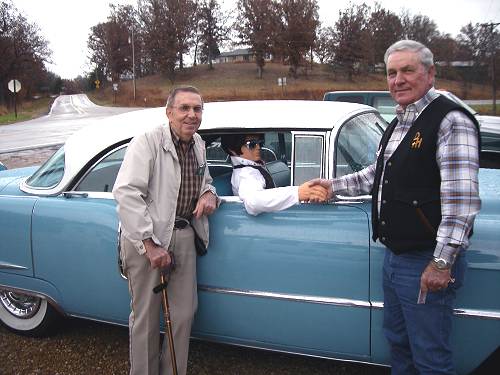 27 Jack and Richard Lupardus with "Guest"
We will be serving barbecue pork tenderloin sandwiches, slaw and baked beans as well as various drinks. Homemade desserts of all types will be served as well. The meal will go for five dollars but attendance at the show is free. All income received will go to our museum building fund and maintenance account. Parking is ample as the courthouse parking lot next door is free to us on weekends. So come out and join us for this event. Vintage car owners are a very relaxed and friendly group of people who love to talk about their cars so I think you will enjoy it!
---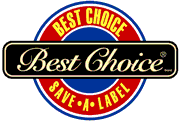 The Best Choice food company offers organizations as ours a way to earn some money by buying their product in local grocery stores after which, by turning in the labels from Best Choice products, we can earn a refund. We need to collect one thousand labels to earn sixty dollars, so if you would like to help us with our ongoing expenses as well as our building program for the museum this is one way. Just send us in the mail your Best Choice labels and we will collect them and turn them in for the refund.
---
I wanted to remind all our members that every January first you need to renew your membership with us.
The Miller County Historical Society is run entirely by volunteers. We have a few fund raising projects throughout the year but rely primarily on membership fees and donations to maintain our building, preserve our collections and pay our utility bills. We invite you to become a member and encourage your support in promoting and preserving our common heritage.
Annual memberships are renewable in January of each calendar year. In the past, many people have paid their dues for the upcoming year at the Christmas party, however bad weather last December forced us to cancel the Christmas function and as a result, many people didn't get the opportunity to enroll at that time. You can show your support for our organization and museum by printing or copying the membership form (photo 28), filling out the application, and then sending it, along with your payment, to the address shown on the form.
That's all for this week.
Footnote:
I want to thank David Statler, the expert who formats the President's Page for our website, for his extra work this week finding and uploading some of the photos which really enhanced the narrative. These included the photos having to do with the Churchill visit, the Iron Curtain speech, the photos of Westminster Chapel, the TV personalities, and the logos. But most especially impressive was his finding the image of the "Picasso Painting" which caused Lucian so much distress!