Monday, August 18, 2008
Progress Notes
Last week Helen Phillips of Eldon donated to our museum an old desk, called a "secretary" made by her father, Fred Fendorf (photo 01), before he was married to Helen's mother, Rosa (photo 02).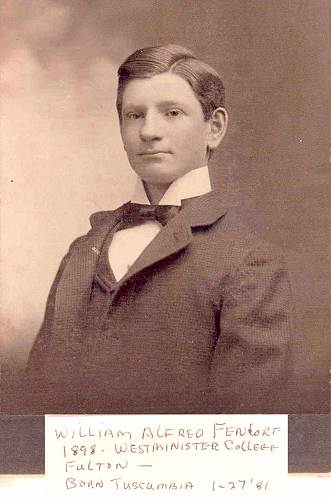 01 Fred Fendorf, father of Helen Fendorf Phillips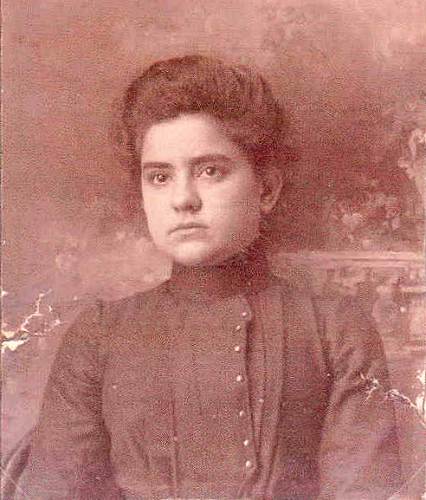 02 Rosa James Fendorf
At that time Fred lived at home with his family in a house located in what is called the "Crackerneck" area of Tuscumbia. Fred's father was named Frank Fendorf, who owned a general store in Tuscumbia. Here is a family photo taken before Fred was born (photo 03) and next is a photo of the home in Tuscumbia where the family lived (photo 04).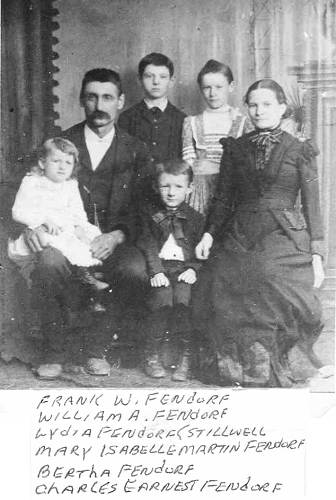 03 Fendorf Family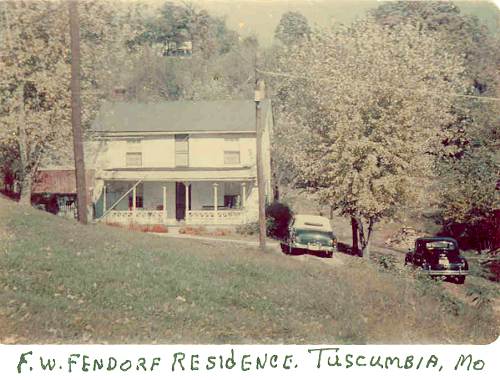 04 Fendorf Residence in Tuscumbia
While it was an attractive home built some years before the turn of the century, the family was large and space was somewhat less than ample for all the family members. So Fred designed the desk to have many compartments and drawers with a moveable writing board just for his own personal use. Helen thinks the desk was made sometime in the late 1890's. Here are two photos of the desk where it has been placed in a bedroom display at our museum (photos 05 and 06).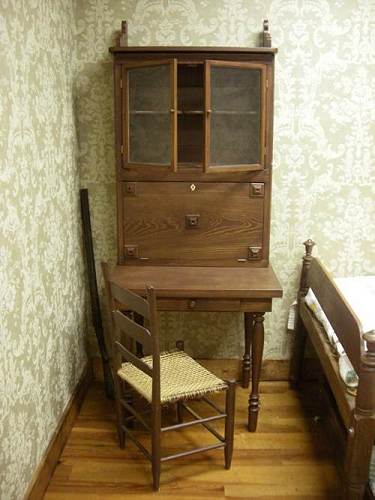 05 Fendorf Desk Closed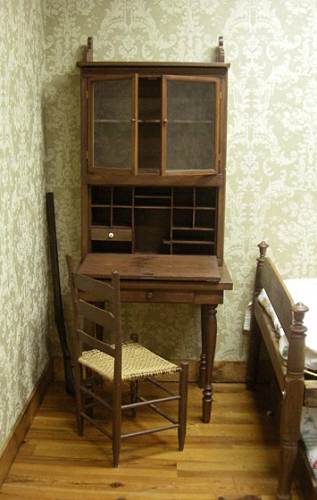 06 Fendorf Desk Open
We are proud and grateful to accept the gift of this desk in large measure because of its heritage as belonging to one of the original Miller County families.
Recently, Judy and I met with Helen as well as her son William at their home on Oak Street. Part of the home long ago in the 1930's was converted to become the Phillips Funeral Home. The house originally was built by R.S. Harvey in 1894, whose brother in law, J.S. Franklin, built an identical one just behind it. In this photo of the original Harvey home (photo 07), you can see just behind it on the right a portion of the Franklin home.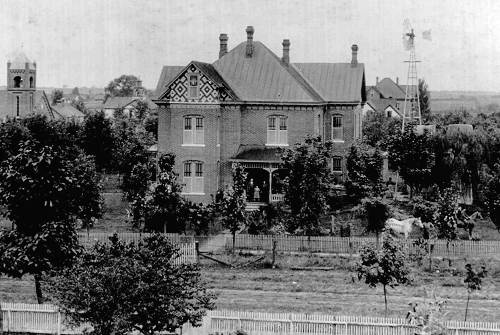 07 R. S. Harvey Home
On the left you can see the steeple of the Christian church and just to its right the first Eldon school. Presently, William and Helen are distributing many of the family's heirlooms to various members of the immediate family, as well as packing other items for storage. So Helen felt the need to apologize to us for having to walk around some of the furniture and boxes being made ready for transfer. However, Judy and I were delighted to be taken on this tour of the historic house and to be shown many of the heirlooms the family possesses, especially since soon they no longer will be located at one location.
Many of the larger homes at the time the Harvey home was constructed commonly built a separate structure for the kitchen. This photo shows the entrance to the Harvey kitchen which later was converted by the Phillips family to a mortuary (photo 08).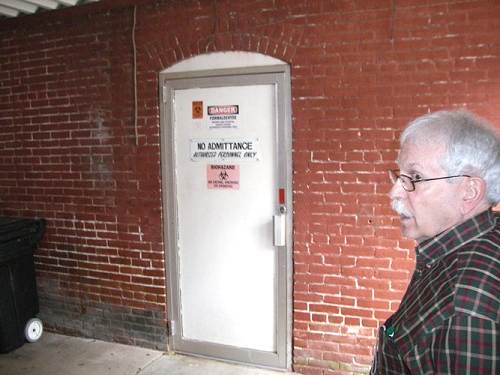 08 William Showing the Original Outside Kitchen
All the original windows featured arches on the exterior as noted in this photo (photo 09).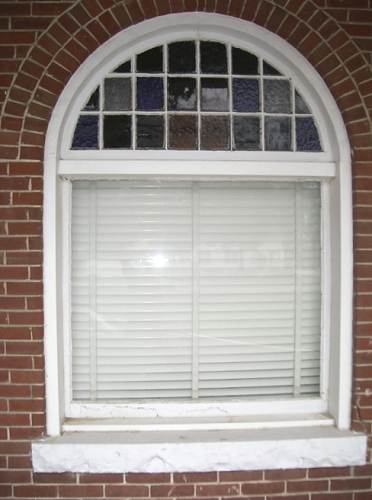 09 Typical Outside Window
Inside, hand made shutters with mechanical adjustments were present on all the major windows (photo 10).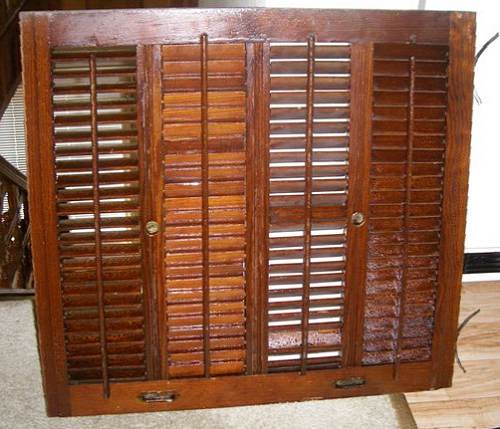 10 Original Wooden Shutter
William Phillips was very proud of the Japanese Ginkgo tree he had planted sixty years ago (photo 11). The leaf from this tree is very unusual having no center spine (photo 12).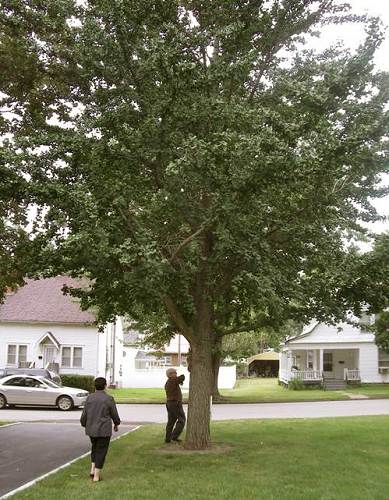 11 Ginkgo tree from Japan - 60 Years Old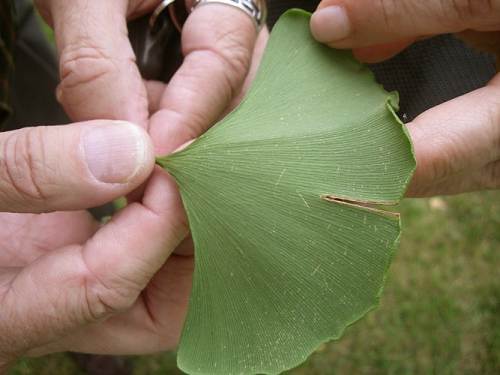 12 Ginkgo Tree Leaf
Inside we admired the ornate handmade banisters and hand rails which featured corner posts with hand carved designs (photos 13 and 14).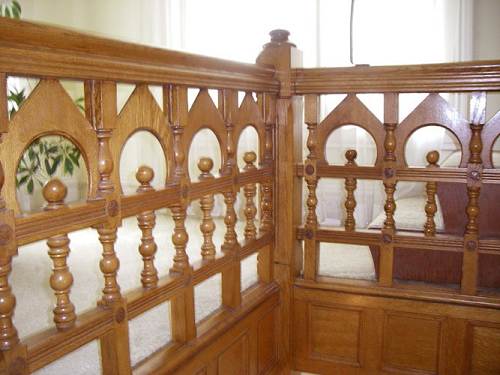 13 Staircase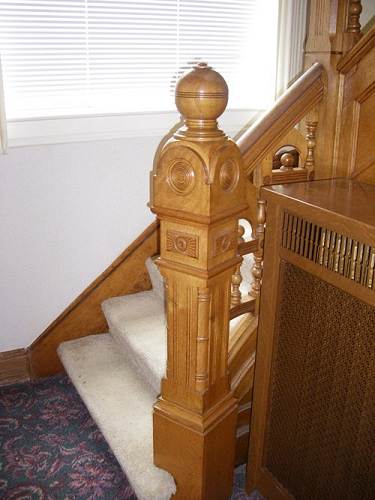 14 Staircase
William showed us an original coal burning fireplace located in the drawing room (photo 15).
15 Original Coal Burning Fireplace
On one wall near the sitting room were the original certificates for mortician's license awarded to William A. Phillips and his son Louis (photos 16 and 17).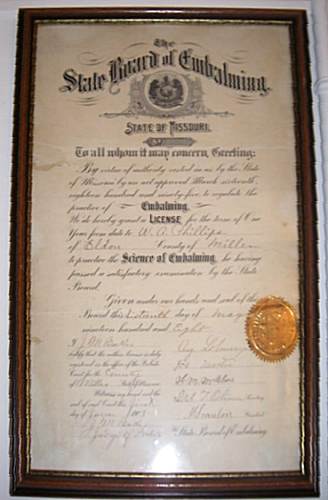 16 Wm. Phillips Certificate - 1908
17 Louis' First License - 1932
Helen herself earned a mortuary technician's license, the first given to a woman in Missouri. She had to leave home to earn this certificate studying for nine months at the Eckels College of Embalming and Sanitary Science in Philadelphia (photo 18).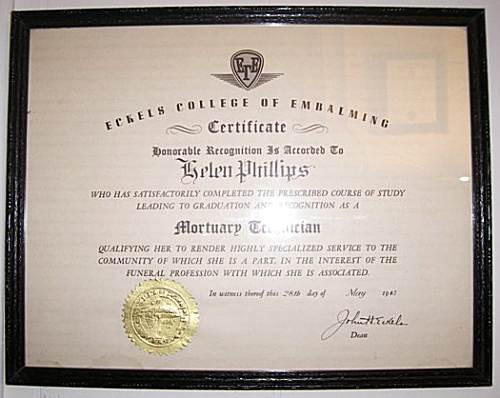 18 First Mortuary Technician License given a Female
On another wall in the home, which is in the area remodeled for the foyer of the funeral parlor, hang portraits of Louis and his father, William Phillips. Unfortunately, the flash of the camera is reflected (photos 19 and 20).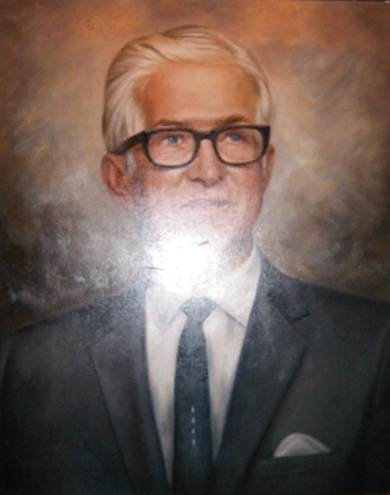 19 Louis Phillips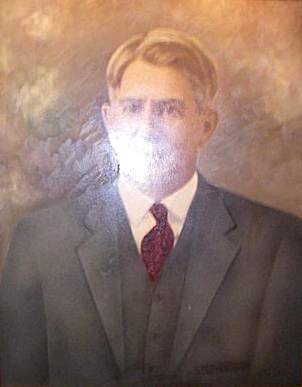 20 William A. Phillips
Other items belonging to Helen's father, Fred, included an old chest of drawers (photo 21) and a china cabinet (photo 22).
21 Chest of Drawers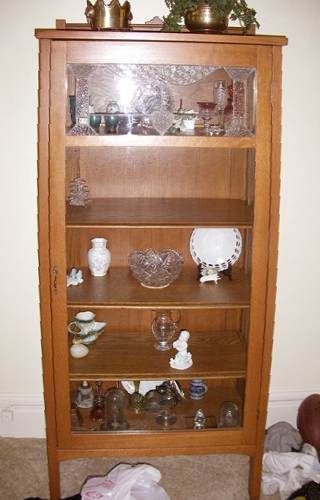 22 China Cabinet of Fred Fendorf
A couple of interesting items purchased by William A. Phillips, the father of Louis Phillips, included an old chair made in 1898 by the Royal furniture company which had an adjustable back controlled by a button on the arm rest (photo 23).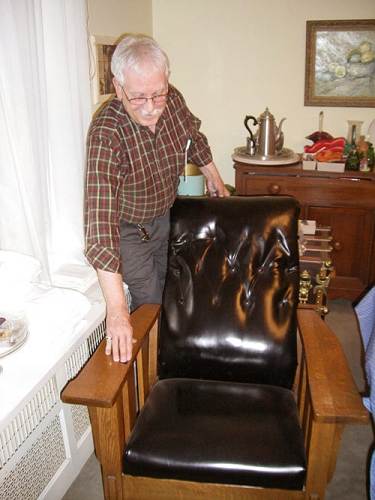 23 Royal Chair Reclining
The other was a couch in which at each end the arms could be laid horizontal. This couch was known as a "fainting couch" (photos 24 and 25). As you can see from the second photo, the arms can be placed in a horizontal position to allow for the person who has fainted to be placed in a supine position.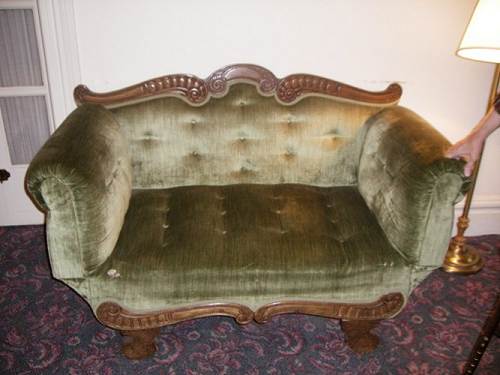 24 Fainting Chair
25 Fainting Chair with Arms Down
Helen showed us a beautiful wall table she received as a wedding gift (photo 26).
26 Wedding Gift Table
One item that interested me in particular was a framed piece of stitch work made in 1929 and given to Helen as a gift (photo 27). The stitching was done by a cousin of Helen's, Mary Stillwell, who was a daughter of Walter S. and Lydia (Fendorf) Stillwell of Tuscumbia. Lydia was a sister to Helen's father, Fred Fendorf.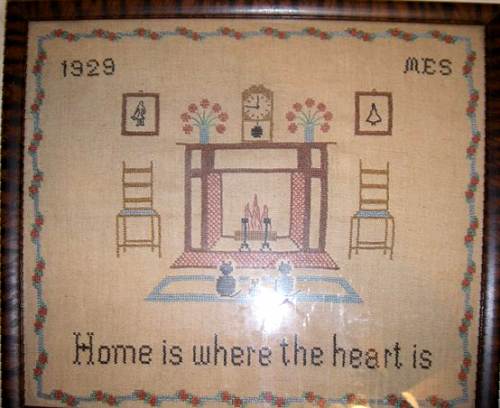 27 Needle Work made by Mary Stillwell
My interest in the stitching was that my mother's sister, Marie Bear Stillwell, had married Walter's and Lydia's son, Robert Stillwell, who was a brother to Mary Stillwell, the one who made the stitching. So my cousins from that marriage also were cousins of Helen's. I suspected mine (and Helen's) cousins, who live in Illinois, would be interested in receiving a photograph of the artwork made by their Aunt Mary, especially since she recently passed away a year ago at one hundred two years of age.
Last month, Helen celebrated her 100th birthday (photo 28).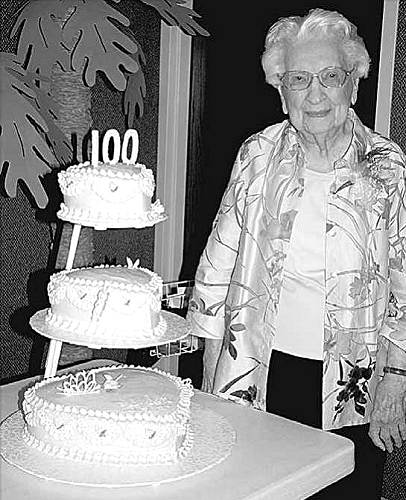 28 Helen Phillips - 100 Years Old - July 2008
The event was quite noteworthy since so many people in the area know her because of her outreach into the community during her years of actively being involved in her family's funeral home business. Helen was one who made it a point to give comfort and support especially during times of bereavement for those families who lost loved ones.
Shortly before her birthday, Tammy Witherspoon interviewed Helen for the Eldon Advertiser. For those who didn't see the article I have copied it here:
'I've decided it's kind of hard work to be 100'
STORY BY TAMMY WITHERSPOON
Eldon Advertiser July 16, 2008
Eldon resident Helen Phillips will celebrate her 100th birthday, Friday, July 18. "I've decided it's hard work to be 100," says Phillips with a wry smile. "I was planning to sit quietly and rock, but the children and grandchildren have other ideas. "It didn't occur to me that I would be 100 someday. I didn't think about it."
Helen Fendorf Phillips was originally from Tuscumbia. Her grandfather owned a store and her father was the Tuscumbia Bank manager. She was raised an only child (photo 29 of Helen as a baby).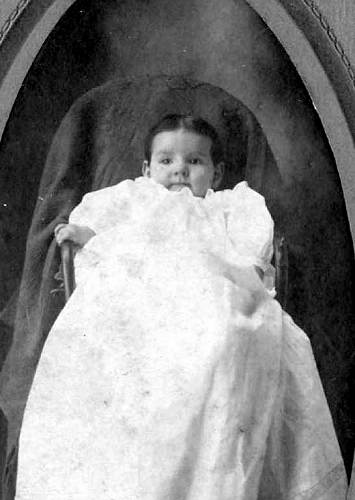 29 Baby Helen
Her parents lost a baby boy. When her father died in 1917 of complications from pneumonia, her mother, Rosa Lee James Fendorf became a widow with few skills to support herself and her nine year old daughter.
"Those were good times in Tuscumbia," Phillips remembers. "We would go skate on the river. When I was too young to skate my uncles would put me in a chair and pull me along." (photo 30 : Third from left: Ella Fendorf Swanson, sister to Fred Fendorf; Sixth from left: Rose James Fendorf, mother to Helen).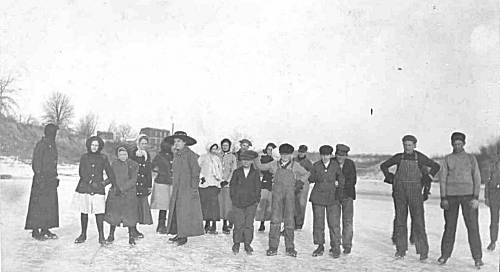 30 Ice Skating on the Osage River
Rosa had to sell the house in Tuscumbia and move to Eldon. Phillips started the last month of the third grade in Eldon.
"I've lived most of my life in Eldon," she says. She and Louis Phillips decided to marry, but she wanted to wait until Louis had his schooling to go into the funeral business. "I wanted him to get everything done," she says. When Louis' mother died, he and his father seemed to be so lost; she decided it was time to get married. In 1933, the couple was married (photo 31 : Helen as young woman and photo 32 of Louis).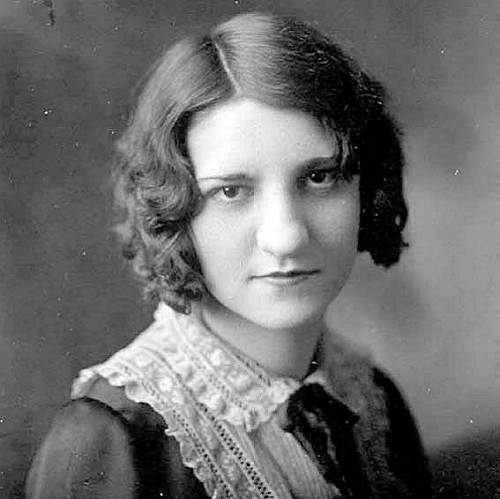 31 Helen as a Young Woman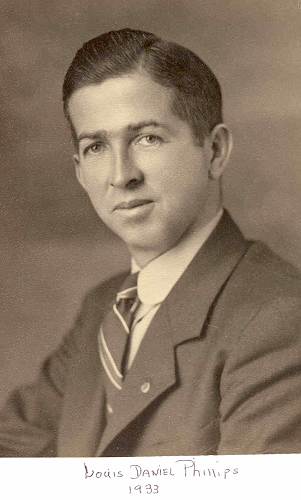 32 Louis Phillips - 1933
"We would have just had our 75th wedding anniversary," she says quietly. The couple had two sons: Don and William. Don was the mischievous one. William was the bookworm. Phillips also has two grandchildren and three great-grandchildren.
Phillips worked with her husband at Phillips Funeral Home doing just about every job there was, including driving ambulances. "We used station wagons," she says. "If funeral home directors had to drive ambulances now, there would be a lot less funeral directors.
"Louis grew up in the funeral home, as did Don," she says. "But William told us when he was a little boy, he wanted nothing to do with it." Louis and she did quite a bit of traveling. After Louis died, she also got to do a lot of traveling with William. "William taught in Saudi Arabia and Japan and I would meet him in different places. I've been to England, Germany, the Netherlands, Scandinavia and places in between. We didn't use tour guides. William was a wonderful tour guide.
Asked what the last hundred years have been like, Phillips smiles. "I've seen so much. The last hundred years have seen so much development. We've been to the moon and the bottom of the ocean. I don't know where else we can go," she laughs. "But I'm sure they will find someplace."
Asked what she liked about living in Eldon, Phillips says "The general atmosphere. I can't think of another place in the world I'd like to live. It was a wonderful place to raise children." Asked if she feels like she has lived 100 years, Phillips starts to say "Not at all... well, some days I feel every bit of 100. I thought when you got old, you got to sit around, feel good and look out the window," she grins. "It doesn't quite work like that.
"There is no secret to living to be 100. The Lord just let me keep breathing and a lot of hard work for 70 years. I worked right up until I broke my hip." Phillips moved to Lee House after breaking her hip in August 2005.
Phillips says if she had the chance to it all over again, she would. "I'd probably even make the same mistakes."
Phillips pulls out some of her photo albums. "I'm trying to rival the historical society," she smiles. The photo albums contain pictures from both sides of the family. Phillips as a little girl is always shown with a bow in her hair (photo 33 : Helen with bow).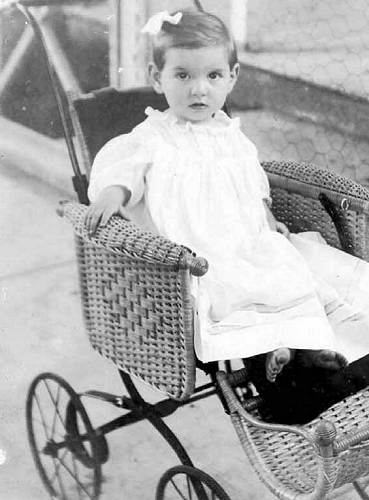 33 Helen with Bow
"I hated those bows," she says laughing, "But Mama insisted I wear them. She has also been working on a granddaughter book. "This was a lot more work than I thought it was going to be and some of the questions are way out there.
Listen to this. What things are most important to you? "Family, church, and friends," she says matter of factly.
Asked for a final thought, Phillips doesn't hesitate "I've had a good life. It's had its ups and downs but everyone has their ups and downs. "Everyone has been very supportive. I have a lot of friends, they are much younger than me but they still seem to think about me."
Is there anything special you would like for your birthday? Phillips shrugs. "Just good health."
The Eldon First Christian Church family will celebrate Phillips 100th birthday Sunday, July 20, with a potluck luncheon and cake.
---
You can read more about Helen Phillips in the August 26, 2007 edition of Progress Notes.
And you can also read about Louis Phillips, Helen's husband, in the September 2, 2007 edition (scroll half way down the page to read the section about Louis):
---
Mildred Messersmith Gray (photo 34), who now is more than ninety years old, was born in Iberia but lived most of her early life in Tuscumbia.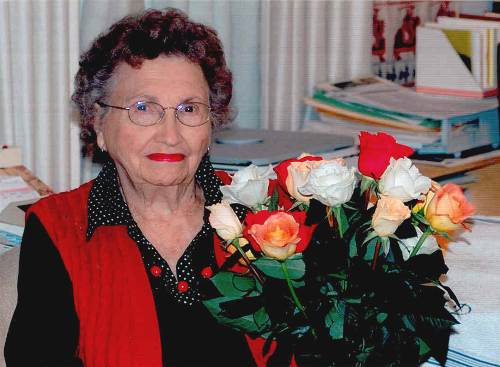 34 Mildred Messersmith Gray - Age 90 - 2007
Her father, Charles Messersmith, was a successful business man as well as a well liked county officer serving as assessor for several terms. He also for several years ran a restaurant across the road from the school in Tuscumbia, known as the "Hillcrest Café."
You can read about Charles Messersmith at this location on our webpage:
http://www.millercountymuseum.org/people/bio_m.html)
You will need to scroll down to near the end of the page to read the narrative about Charles.
Mildred now lives in Georgia but is still very interested in Miller County history. She has supplied numerous articles and genealogical research papers over the years to our museum library. She supplied, for example, most of the material about the Hawken family which was placed on this website last week. She is a cousin of Carl Hawken, the owner of the Hawken Rifle replica which was highlighted last week.
The next story, brought to my attention by Mildred, is somewhat of a mystery regarding three tombstones (photos 35, 36 and 37 of stones) at a small grave site located on the Harry Clark farm near Capps off of Highway 52.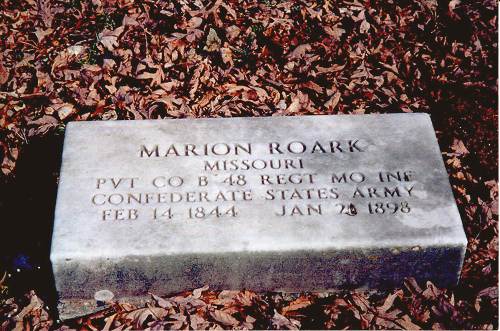 35 Marion Roark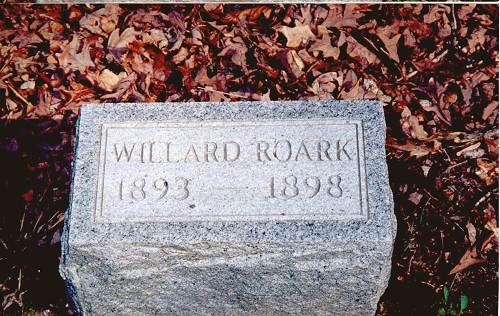 36 Willard Roark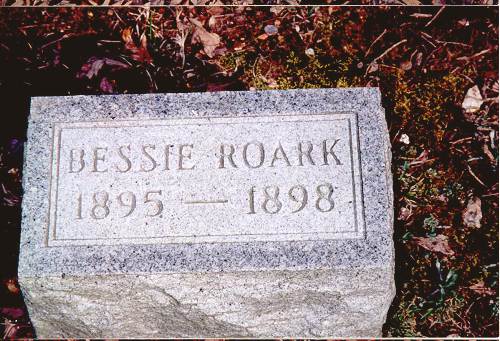 37 Bessie Roark
I was interested in the story because one of the persons buried in the gravesite, Marion Roark, was found dead, frozen to death, by a great uncle of mine, Charles Eli Abbett, who at the time lived nearby. This occurred in January of 1898. First, I'll let Mildred introduce the story then follow up with some of the investigation performed at Mildred's request by Carl Hawken about the grave site.
June 19, 2008
Dear Joe,
I am not sure exactly whether you want sad stories, crime stories, or what but you know that whatever I send is up to you to use or not.
Did I mention a tiny cemetery across the river and down by Panther Creek? I don't really know where it is, but buried there is Marion Roark and two little children. All died the same year but the day the children died is not shown. I have never been able to find out who erected those tombstones but if it was Ormond Tomson, he is dead. I wrote Elizabeth, his sister, but received no response.
My grandpa Hiram Messersmith had a sister named Fidella. She married three times and her third husband was Marion Roark.
He was not in the Confederate Army so whoever put CSA on his tombstone was wrong. When Fidella's mother Sina died, Fidella got a little money and so she and Marion took out for the West. They were in Idaho and they separated there and he married a girl out there. I never found a divorce record. Marion and his second wife came back to Miller County and had several children. I never found out who the second wife was. Now the mystery:
If you will read these two letters that Carl Hawken wrote to me about what he found out about the graves you can make up your own mind. However, I suspect that what Carl discovered may be what happened. I never knew that Clark man (Harry Clark), but I saw him a few years ago at the Christian Church although I didn't talk to him much. He had said that Marion wished to be called "Morman Dick;" one can only guess why. One of Marion's daughters was Minnie Roark who married Lee Tomson. My mother and the Small girls' mother were very fond of her and praised her a lot. It may have been her son who put up the tombstone many years after the fact.
Carl, by the way, was a first cousin of my mother's. Fidella died in Idaho years after Marion died. Their two sons worked in mines out there. One son married a Mormon girl and I found their records. When Fidella died the daughter in law gave the information and she said that her mother in law's maiden name was Mercy Smith. Now our Messersmith name has been spelled a lot of ways but that version I never saw before.
Tally Ho,
Mildred
Now, here is the first of two letters sent Mildred by Carl Hawken:
October 30, 1989
Dear Mildred,
I never did know of any Roarks being buried in the little Cemetery down on 17 highway where Uncle Sam Hawken used to live but I talked to Arthur Clark about it… you know he married an Edwards girl, Mildred Edwards, who was a first cousin of mine. Arthur is pretty much an authority on the Roark people. I believe he told me that his mother was a Roark or close kin to them. He remembered Marion Roark as soon as I read your letter to him. He said he had a nickname, Dick Roark, and that there were five of them boys and they all served in the Union Army. I had heard of Dick Roark but I never knew him. I had heard my mother speak about him. My grandmother Edwards had a sister that married a Hugh Roark. Arthur seemed to remember that Marion Roark's wife's name was Fidella. Arthur said that they did go out west to Utah but when Marion came back, he had another woman with him but Arthur didn't know what happened. He does know where Marion's grave is, and it is close to his old home place where he was raised just off highway 52 between here where I live and Capps, if you know where Capps is. He says that he is sure that there are two little graves there too. He said that Marion has a military headstone and he thought there were two little stones there also. Arthur, I think, is in his middle 80's but he still has a sharp mind about a lot of things that happened around Miller County.
I'll keep looking into it and write you some more later, Mildred.
Carl
After writing this letter, Carl took his time but did talk to a lot of people around Tuscumbia and Eldon about Marion Roark. To save confusion, it is noted that Arthur and Harry Clark were brothers and their farms joined, located near Capps. Finally, Carl wrote a second letter to Mildred as copied here:
March 2, 1993
Dear Mildred,
About the Roark graves on Harry Clark's farm, I talked to Harry about them thinking that who ever put the stones there had maybe got permission from him, but he said they didn't and he said that he thought the stones were put there sometime in the 1960's. He's not sure but said he thought that maybe someone would be back so he left a note in a jar there telling them that if they would like to have a fence around them, if they would furnish the posts and wire, he would put it up. But he said he never heard any more about it. He said it is probably better the way it is anyway because his cows keep it cleaned up around them. He said the stones were flat and couldn't be knocked over. I haven't been to the stones yet, but I'm going when the weather fairs up this spring. Now, I talked to Arthur some more about Marion. Arthur used to do a lot of carpenter work around Eldon. He said he used to eat lunch in a little restaurant there in town that was close to the old pants factory. There was a lady that worked in this little café as a waitress and her name was Thomson and mentioned the fact that she was connected with a Thomson that tuned pianos. Now Arthur never knew Lee Thomson but I did and seems like you should remember him too. Now you may already know this but I'll write it anyway. I decided I'd talk to Walter Smith about it but Walter is pretty sickly now and is living with his brother, Paul and I couldn't get hold of Kelly Small, so I called Lawrence Admire.
Them boys all growed up among all the Thomsons; old Lawrence is plenty sharp yet and by the way , he said, "you tell ole Mildred I said hello," so I'm telling you..ha! Lawrence told me that he used to go to school to Lee Thomson. He was a teacher, a piano tuner, taught music, done carpenter work and in his later years was postmaster at Tuscumbia. That would have been back in the forties'. Margaret was living in Tuscumbia in 1943 when the big flood came and washed the old post office away. She said Lee was postmaster then and they built a new one up on the corner on the bluff and Lee was in it until Oliver Brockman got the job. Lee was borned 1878 and died 1964 at age 86. His wife, Minnie Roark, was born 1889 and died 1920 at age 31. They had four children, three sons and a daughter. I knew the three boys but I didn't know the girl. Lawrence told me about her. The oldest boy's name was Ormand, who was a carpenter. Virgil was an engineer on the Rock Island railroad and was killed in a train wreck just out of K.C. headed for Eldon. The third boy, Garland, who they called Jack, was also a carpenter and is in a nursing home near Columbia, Mo. You should remember those names; Lee's wife, Minnie, was a daughter of Marion Roark and she and Lee are buried at Tuscumbia along side of her brother Perry Freeman Roark, who was killed in World War 1.
Lawrence told me about where to find their graves so I had no trouble finding them. Perry's stone is a military stone and had turned so black with age that I had to get a piece of chalk to get all that was written on it.
It says:
Perry Freeman Roark
Missouri
PVT-7-1NF
3 Div.
December 1st-1918.
Looks like he was killed at the end of the war. So Marion and Fidella must have had 4 children, Willis, Perry, Deska and Minnie. Now Martha Roark had 3 children by 3 different men. I only knew the lst one. Their names were Effie, Claud, and Ralph.
Norman Varner told me that quite a while ago. I haven't saw Norman lately.
(Note: Norman Varner's grandson, Christian Cantwell, is participating this week in the Shot-put competition at the Olympics in China. Christian is a 1999 Eldon graduate and holds the shot-put championship there as well as earning the Class 3 Missouri State Championship in 1999. Norman passed away several years ago.)
I've decided that it was Ormand Thomson's wife that was the waitress that talked to Arthur about the piano tuner. Because they lived in Eldon, I know that Ormond is dead and I expect she is also, but according to Lawrence they had 3 daughters and the oldest one who is in her fifties now lives in Eldon and works in the nursing home in Eldon. I'm not acquainted with her but I know who she is but the next time I see her I'll ask her about the stones down at Harry Clark's. I feel almost sure that it was her folks that put the stones there, but I'll find out and let you know. Arthur told me that the Roark men were Union Soldiers and he thought also that the C.S.A. on Marion's stone was wrong. Arthur also told me that Marion Roark froze to death. He said there was a big snow on the ground and awful cold and that Marion had been to a grist mill way back over in that country. I believe he said the people's name that run the mill was Ramsey and Marion was driving a sled with a team of horses hitched to it and while he was there he fell in with a bunch of men he knew and they all got drunk and somewhere there close to where Harry lives now, he went to sleep and the horses walked a straddle of a big rock and the sled hung on it so the horses had to stop and he was found the next day by Charlie Eli Abbett and a boy by the name of Emerson Robinson who were rabbit hunting in that area. So according to Arthur, that's the way Marion died. Mildred, that's all I know now to tell you. If I find out more I'll let you know.
So I'll quit for now and maybe I've helped you a little, I know you have worked hard on this so you may already know all I've wrote to you. Hope you can read this.
Sincerely Yours,
Carl H.
---
One other reference to Marion Roark we have is in the biography that Peggy Hake wrote about the Giffin family of Osage Township at this URL on our website:
http://www.millercountymuseum.org/bios/bio_g.html
You will need to scroll half way down the page to get to the narrative about the Giffins'. However, I will copy here what Peggy wrote.
"In the 1870 census is a confusing mystery; Harriet Giffin, age 62, her son John F. Giffin age 30, 2 children named Harriet C. Giffin age 4 and Malinda R. Giffin age 6 months are all living in the home of Marion Roark and his wife, Fidella (Messersmith) in Osage Township. At this time I have no clue why they were living with this family. I do not suspect there is any kinship between the two families, but one never knows!"
The period of time the Giffin's were in the Roark home would have been before Marion and his wife, Fidella left for Utah.
For further information about the Roark burial sites on the Harry Clark farm I decided to call Mrs. Harry Clark (Flossie) who still lives on the old homeplace. Harry passed away several years ago. She referred me to her son, Tim, as he was the historian of the family, so I called Tim. Tim remembered the story of Marion Roark a little differently than what Carl Hawken related. Tim said that he was always told by his father, Harry, that Marion and two Roark children were traveling together in a horse drawn wagon and that Marion had a heart attack. As it was a very cold January evening, the children were too young to know what to do so they stayed on the wagon, but because it was so cold they froze to death. Tim also said that in those days, when no cemeteries were close, it was common for people to bury their dead on their own property. Tim says that from abstract records he has read, the possibility exists that the Roark family owned the ground where Marion and the two children were buried and that probably the burials were located not far from where the deaths occurred.
Tim said that he has known about the grave site for many years and that the stones now present were placed when he was young, probably about forty years ago. He has had only one contact with a family member which was very brief several years ago at the grave site. He doesn't remember the name of the person. Fencing was discussed regarding protecting the burials but it was mutually agreed that since only cattle grazed the area that their presence actually would keep the grass from getting too high whereas fencing would necessitate some one coming regularly to mow the area. So it was decided not to fence the grave site.
So, that's about it as far as we can find out about the old Marion Roark Cemetery grave site on the Harry Clark farm near Capps. If anyone has further information I would be very happy to add it to this narrative. I understand that this quest may be of interest mostly to those severely affected by historophilia but that's the risk you take when you start getting into it all!
---
We were very happy last week to meet at the museum Darryl Clarence "Juny" Driver Jr. of Jefferson City (photo 38).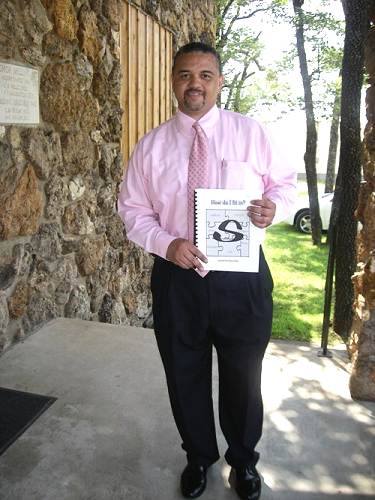 38 Clarence "Juny" Driver Jr.
Clarence is the great grandson of William Driver, the famous Miller County fiddler who won many fiddling championships locally during the 1920's and 30's and 40's, and the great great grandson of Easter Williams, who long ago had lived in the small cabin now located on our museum grounds. Clarence's family is the one to which Sue Steen Cates referred in her narrative last week which told the history of the small cabin. If you didn't read it I suggest you look it up in the 11 August 2008 edition. In the photo, Clarence is holding the book Sue wrote which contained the history of Clarence's family in Miller County.
Clarence is an attorney with the firm of Hanrahan Trapp of Jefferson City and was in Tuscumbia doing some research in preparation for an upcoming hearing at the courthouse involving one of his clients. On his way home he decided to stop by the museum since he was aware of his family's roots in Miller County. Because he was very good friends in school at Jefferson City with my wife Judy's nephew, Brent Gardner, she recognized Clarence and immediately referred to him by his nickname "Juny" which clued him that we were familiar with him and his family's roots here. Clarence was very pleased to know that we plan to feature his great grandfather, William Driver, in our musical display, due to his fame as one of the county's best fiddle players. As I indicated last week, you can read about the Driver family as well as other black families of Miller County's history on our website as recorded by Peggy Hake. Go to the following URL and scroll down the page until you get to the section about the Driver family:
http://www.millercountymuseum.org/bios/bio_black.html
That's all for this week.