Monday, June 23, 2008
Progress Notes
I found an old Eldon Advertiser edition in some clippings donated to the museum which was devoted to featuring the various businesses in Eldon at the time (1909) as well as other aspects of the town which was intended to attract persons to move to Eldon to begin a business. Eldon certainly had grown during the first decade of the 20th century. Three years after the railroads came to town the population grew from about 300 to 1500 people. The salaries paid to the railroad employees were very good for the times and the extra money circulating stimulated the economy causing the creation of new businesses. The article describes in some detail the various stores and businesses in Eldon at the time and also included quite a few photographs. The quality of the photos is not good because the newspaper was very old and was deteriorating. However, I have scanned them anyway because in some instances no other photos are available. One thing of interest to me was the flowery descriptive adjectives used in the narrative sometimes saying practically the same thing even about competing businesses. Of course, the editor would not have wanted to discourage any of the owners from purchasing advertising space in the paper later. Perhaps Ed Shepherd was the author since he would have been the owner of the paper then (photo 01).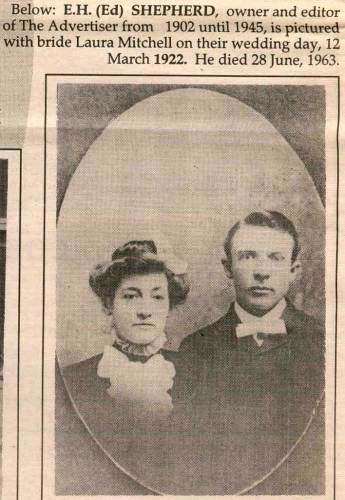 01 Ed Shepherd and wife Laura Mitchell
Eldon Advertiser
June 10, 1909
Eldon and Its Good Advantages
Some Progressive Business Interests And The Men Who Keep The City Going
Population Increasing And Has A Promising Future
Rock Island To Invest-New factories To Start-Thirty New Residences Built The Past Year---Others Under Construction
Eldon Miller County, Missouri, is one of the most substantial towns of 2500 population in the state. The town is located 158 miles west of St. Louis and 138 miles east of Kansas City on the main line of the Rock Island railroad and on the Bagnell branch of the Missouri Pacific railroad. Eldon is 33 miles south of Jefferson City.
Strangely enough Eldon is an old new town. The old Eldon settled for twenty years, but it is hard to discover its remains in the face of the extraordinary growth and development that has taken place of late years. The old Eldon is blotted out beneath the blanket of a splendid growing progressive new city (photo 02).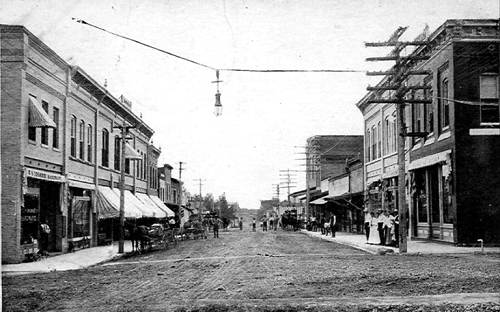 02 Eldon - Early 1900's
It is the purpose of this issue of the Advertiser to tell briefly the story of Eldon of today and its excellent citizenship; of its fine spirit and the things that it is doing. We trust that this effort will meet with the endorsement of the public, and that the product of our limited facilities will result in at least a modicum of good to the town.
Eldon has reached a stage where it is on the winning side of the checker board. The experimental stage has passed. Its growth since the advent of the great Rock Island trunk line from St. Louis to Kansas City has been little short of marvelous (photo 03).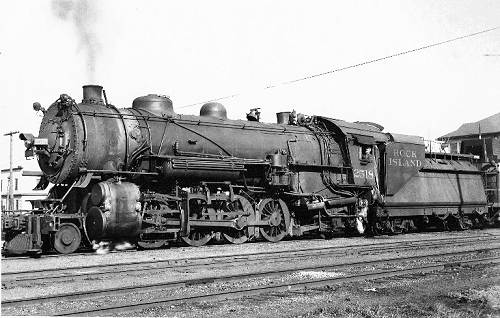 03 Rock Island Engine
Traveling men say that no town of this size in the state has so many fine residences, nearly all of them new. We have brick business blocks that would do credit to our neighbor Jefferson City. We are almost willing to say that we have the purest and best water in the state. At any rate no Missouri town has better and that ought to satisfy anybody. We have a waterworks system covering a part of the city, and soon to be extended. We believe no city of 2500 people in the country has better electric lights and local and long distance telephone system. There is every reason to believe that the Missouri Pacific railway (photo 04) will be extended from Springfield Mo. Soon and connect with the Bagnell branch, thus giving us another trunk line southwest.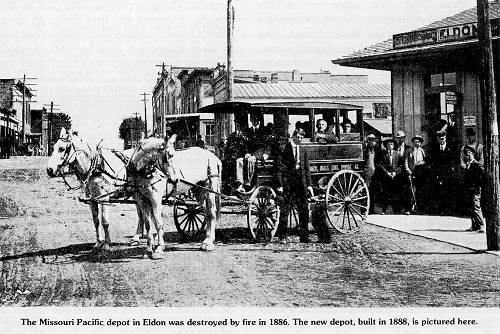 04 Missouri Pacific Depot - 1888
This section of which Eldon is the center long was classed as a background proposition, not through lack of resources but purely through lack of railway service. With no intent to exaggerate conditions we believe we are safe in saying we have inducements to offer here that are possessed by few localities in the state. Land is very cheap, comparatively speaking, but new conditions are bringing up the prices by leaps and bounds. It is a country waiting for the stockman, the poultry man, the dairy man, and the farmer who cannot afford to buy good land at exorbitant prices.
Eldon is the only division point between St. Louis and Kansas City on the Rock Island system. The vast sum of $600,000 has been appointed by this road for use on its line between the two cities, and it is expected that a large portion of this sum will be spent on the company's property in Eldon (photo 05).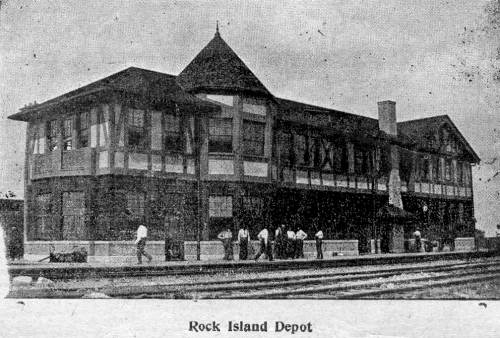 05 Rock Island Depot
The officials of this road have shown a fine spirit of cooperation with the town, in an organized effort by the latter to secure factories. Some decidedly interesting correspondence is now going on and most encouraging results are anticipated. The Rock Island will build a 70 acre lake at Eldon and improve and enlarge their shops here.
A handle factor and a steam laundry are two lines that add to the business world of Eldon and other good things are in the horizon. Already manufacturing has started here, as will be seen by referring to the pages of this issue.
An elegant $20,000 school building (photo 06) is something that all Eldon is proud of and the course of construction is thorough and ably handled.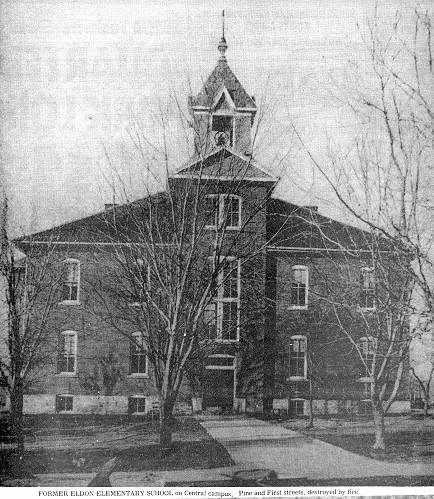 06 Old Elementary School
Religious denominations have houses of worship, with earnest and progressive congregations as follows: Christian (photo 07), Congregational (photo 08), Methodist (photo 09) and Baptist (photo 10).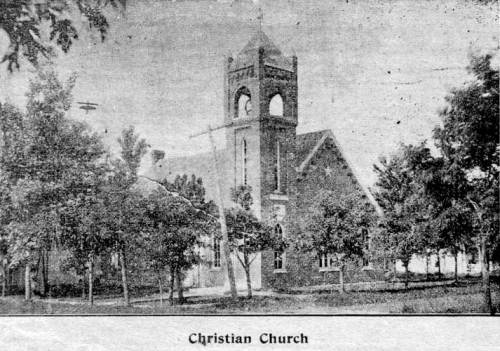 07 Christian Church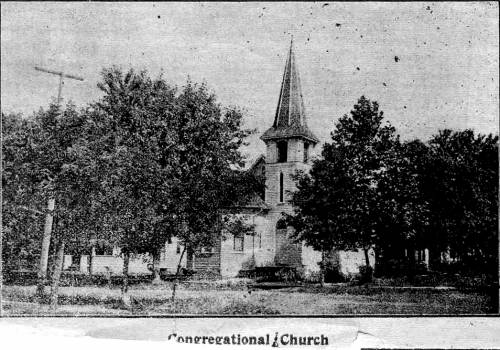 08 Congregational Church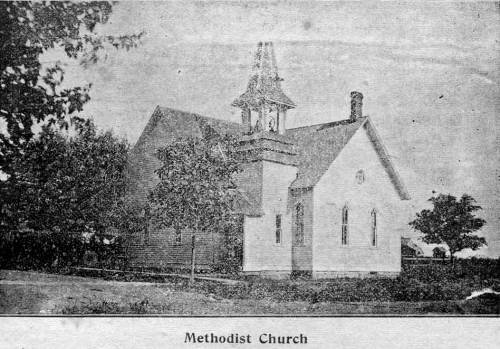 09 Methodist Church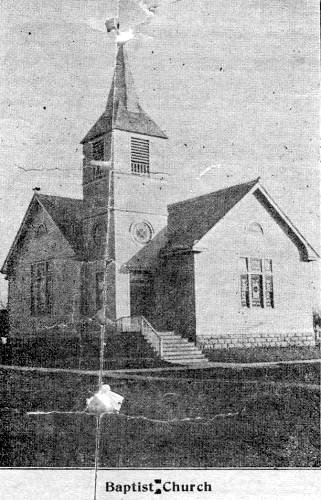 10 Baptist Church
Another convenient feature is an excellent telephone exchange with local, long distance and farmer connections (photo 11).
Eldon could not be anything but a beautiful place. It has perfect drainage, is high and has an altitude of 927 feet above sea level. Some miles of cement sidewalks and graveled streets contribute to the common comfort and add to the municipal improvements. The fraternal life of the city is represented by strong and growing memberships in a number of well-known orders and societies as follows: Royal Arch Chapter, Masonic Lodge A.F. & A.M., Eastern Star, I.O.O.F., Rebekah. O.R.C., B. of R. T.. B. of L.E., B. of L. and E., B. of R. C. M.. Ladies Auxiliary of Railway Trainmen, Knights of Pythias, Modern Woodmen, Royal Neighbors, B. of A. Y., Euterpean Club and Omega Sorority.
This is a wooded country and timber is both cheap and accessible. Coal is also cheap and water abundant. These essentials, combined with our excellent transportation facilities, make this a peculiarly favorable point for manufacturers to locate. We want them and want them bad. We want men interested in manufacturing propositions to know what we have and what we will do. We can interest you, Mr. Manufacturer, if you want to be interested. We are in the right humor now. We know we have the goods. If you want to get a good thing you can't lose by doing a little investigating. We don't intend for Eldon to stop growing for even a day. Some branches of the manufacturing are doing extra well here recently. For instance we have a carding mill, big ice storage facilities, fine bottling works, machine shops, and an overall factory. What we want now is a number of other lines of manufacturing.
Along with the municipal features we have the most efficient hook and ladder company for fire protection.
The highest priority of every patriotic citizen, however, is centered in other things such as an amateur base ball team (photo 12) and splendid band (photo 13 and photo 13a). It has the reputation of not being outclassed by any team in the state outside the big league. Our business men take pride in supporting these kinds of community activities.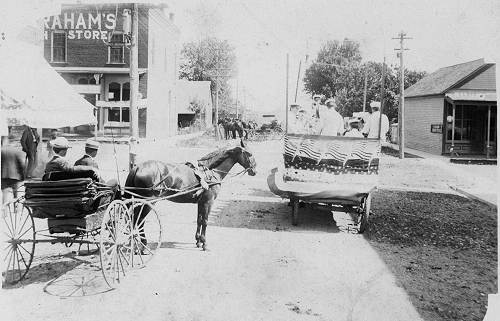 13a Eldon Band Wagon
By a most fortunate circumstance we have an army of musical talent that many large cities would pay the good hard cash to get-if they could. These young men have built up an organization that is of such superior merit as to startle the stranger who is accustomed to the best band concerts. Clad in elegant uniforms, owning a magnificent set of instruments costing $800, and faithfully devoted to practice they have reached a point of excellence that could never have been attained outside of a combination of natural talent, and leadership and devotion to the finest of arts. Eldon is always glad to see its band leave on trips where the outside world will hear its work, because Eldon knows full well that this same band could put any town on the map by its own effort.
Along with these amusements we would not forget Henry's Electric Theatre. Mr. Henry's experience, extending over a period of twenty years with some of the largest shows in the country, enables him to produce features that have made his business both popular and successful.
Banking interests, that backbone of all business circles, is well and ably represented in Eldon. Some of the finest stores and stocks of goods to be found in any small city in the State are here too. We want now, a lot of thrifty farmers and a lot of men with manufacturing interests to come here---and we'll get them. That is the Eldon spirit.
The Eldon School
In nothing has Eldon accomplished greater things than in her schools, briefly referred to elsewhere in this edition.
In the old, slipshod days when this city was but a trading center in a tie territory, the schools followed the easy orbit prescribed by matters in general-and took things philosophically. With the coming of the new Eldon came new school conditions. And the new conditions were of the best and most progressive. In the splendid new school building, costing $20,000 is a staff of 11 competent teachers that would do credit to any town in the State, including the principal, Professor T.E. Vaugh, who has done more than any one man to establish standards worthy of a city of 10,000 people.
Note: I am not sure to which school the above paragraph is referring. The photographs in the article do not contain clear indications as to which school was built when. Here are three photographs of Eldon Schools in the order which I think they may have existed on a time line (photo 14, photo 14a and photo 14b).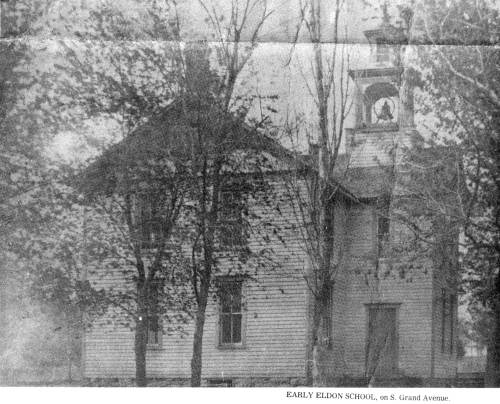 14 Early Eldon School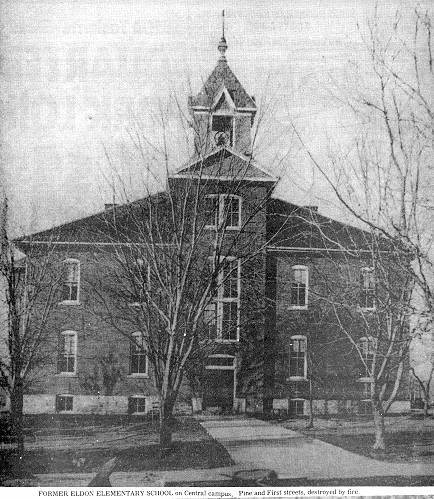 14a Former Elementary School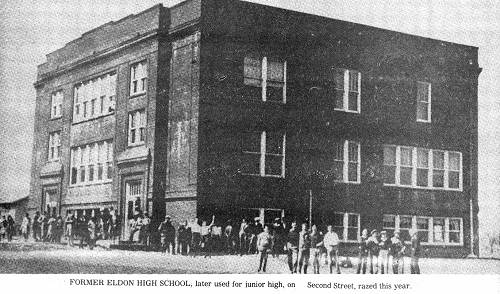 14b Former Eldon High School - Later Junior High
Since this school building was built it has become necessary to add a large addition to care for its growing demands. A spirit of co-operation prevails in Eldon when its splendid school is mentioned. People have their opinions on which they widely differ, like all folk, but they are a unit when the school calls for their help. A hot water heating system and good sanitation are features of the building.
The officers and members of the board are as follows. L. Ohmart, president; H.D. Vowiel, vice president; R.S. Harvey, E. P. Collins, J.C. Musser, A. P. Beazley, M.H. Moss is a clerk of the board. Professor T. E. Vaughn is the able principal whose executive ability has attracted so much favorable attention since assuming charge here. The inspector from the State University who viewed the work here has spoken in the highest terms of the achievements of the school.
If a school is the best advertisement a town can have then Eldon is indeed ably represented and it is a class of advertising that appeals to the highest and noblest attributes of any community.
E.M. Graham
Twenty six years ago Mr. E.M. Graham, together with the railroad helped blaze a trail into the locality of what was destined to be the future site of the splendid little city of Eldon. Mr. Graham built the first store here more than a quarter of a century ago, and he has seen the little backwoods store grow into one of the leading business houses of the city and keep pace with all of the other vigorous and growing industries of the community (photo 15).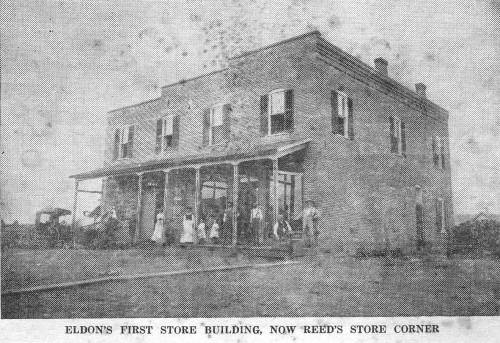 15 First Store Graham
Mr. Graham carries a large, full and complete line of dry goods, groceries, furniture, shoes, carpets, rugs and wall paper in a very large assortment of goods and patterns. In the shoe department such well known brands as the Priesmeyer and Giesecke makes are carried.
This store is preparing to make a specialty of ladies' dress goods, Iron clad hosiery and furnishings, ladies tailored suits and waists, and is being equipped to most fully cover the field in that line. Jackson corsets are kept here exclusively and as the pioneer store of Eldon the Graham establishment stands as one of the most substantial and progressive business houses of the community and one that by square dealing and modern methods, has earned an excellent patronage among the patrons who have found it to be always at the top.
Mr. Graham has not only built up a large business but during his long residence here has also been identified with many of the important chapters in the town's upward growth.
Eldon Bottling Works
One of the strong, growing and thriving lines of business of this city and one covering a wide and prosperous territory in its operations is the Eldon Bottling Works (photo 16), of which Mr. W. R. George is proprietor and manager.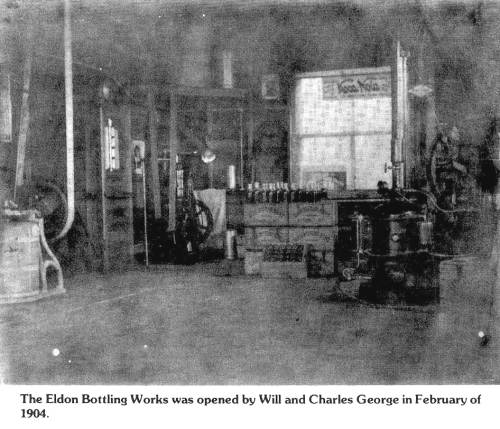 16 Eldon Bottling Works
Mr. George established this business five years ago and by vigorous attention and sound management has pushed it up into one of the leading lines of business of the city and community. In this factory is manufactured soda pop, ice cream and all kinds of carbonated drinks. A general jobbing business is done over a large section and a specialty is made of filling rush orders and making prompt shipments on short notice. The ice cream manufactured here has earned a wide reputation for its excellent qualities and the first class condition in which it reaches customers. A feature of the factory is the sanitary conditions that prevail on every hand. All of the packers or receptacles in which ice cream is shipped are porcelain lined thus insuring absolute cleanliness and purity. A specialty is also made of furnishing ice cream suppers, socials and other functions with cream, either in Eldon or in any other town in the large territory in which shipments are made.
Mr. George's factory charges tanks for soda fountains and furnishes flavored syrups for these fountains. He also keeps extracts.
This establishment has the latest and most modern machinery and its service toward patrons is such as to make it one of the most reliable as well as one of the successful lines of business of the city.
Charles Kraus
A business house in Eldon which in completeness and size of stock carried make it a veritable depot of supplies, is that of Mr. Charles Kraus, the leading dealer in hardware, stoves, refrigerators, base ball goods, water coolers, ice cream freezers and a multitude of other lines that makes of the store practically a department house and a headquarters of high grade goods, farm and home supplies (photo 17).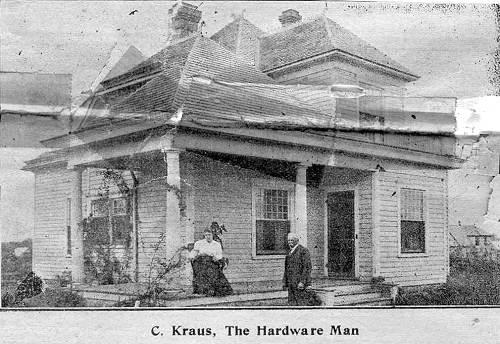 17 C. Kraus Hardware
Just at the present time Mr. Kraus is pushing the excellent Quick Mal New Process gasoline stoves, and the very remarkable Insurance gasoline stove, which represents absolute safety, the goal at which inventors have aimed so long in making stoves of this kind. With the Insurance stove danger is banished and accidents are impossible.
The housewife who has feared the possibility of trouble with gasoline stoves in the past may buy an Insurance stove and know that she and her house are both protected from any possibility of danger or explosion.
Mr. Kraus has been in business for 35 years and has been in business here for the past five years. He has built up a large and growing trade among people who know he keeps the best and who have found that good goods, good treatment and square prices all go together.
Eldon Hardware & Lumber Company
One of the largest as well as one of the busiest firms in Eldon and, in fact, one of the largest of its kind in this section of the state, is the Eldon Hardware & Lumber Company (photo 18).
This establishment carries a very large, full and complete line of building material of all classes and kinds, including lumber, lime, cement, sand, glass, sash, doors, lath, brick, amatite roofing, and other incidentals of the business. The roofing above referred to is becoming most popular and is coming into general use as fast as its superior qualities are looked into by purchasers.
In the hardware department is kept an immense stock of standard farming implements and vehicles.
John Deere's famous line of farming implements is carried; also McCormick binders, mowers, and rakes. The excellent Bain wagon is a feature of this stock; also the knobby John Deere carriages. Charter Oak stoves and ranges; B.P.S. paint and Chinamel Glass and Mission finish are kept in the stock. A big line of graniteware, harness, silverware, cutlery, lawn mowers, swings, hammocks, a full line of Keen Kutter tools and the splendid New Perfection oil stove, all combine to make this one of the finest and most complete stores in the state.
Patrons of the Eldon Hardware and Lumber Company have come to depend on the house and farm supplies and building materials along with the high quality of the goods and the uniform courtesy to every customer, large or small. And fairness to all has made for a first class of trade that also brings new customers who want a business like deal with every purchase they make.
Dr. J.N. Taylor
Dr. J. A. Taylor of Eldon is a pioneer dentist and one of the well known men of his profession in this section of the country (photo 19).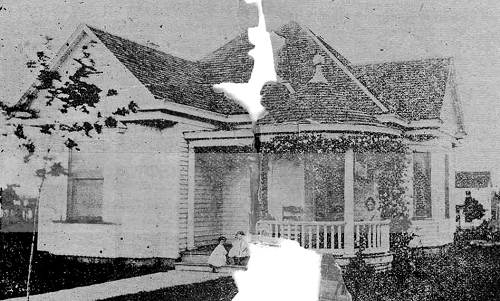 19 Dr. J. N. Taylor Home
Dr. Taylor has followed his profession for a period of thirteen years and is best know for his bridge work where he tips the teeth having been mentioned at length in some of the leading dental journals of the country. Dr. Taylor gave a clinic demonstrating the efficiency of his method before the Western Alumni Association in Kansas City, at Nold's Dental Exhibit in St. Louis, lasting a week and also before the State Dental Association in St. Louis.
Dr. Taylor's tipping method has earned for him a degree of distinction of a gratifying nature. He enjoys a large practice in Eldon where he is known as a man fully in command of the best ethics of the profession.
Eldon Ice & Fuel company
One of the largest and most industrial establishments in this section of the state and that made a most remarkable business growth since it was established five years ago, is the Eldon Ice & Fuel company.
This large establishment bears the peculiar distinction of being owned by five veteran locomotive engineers. As these men pulled their trains through the splendid country opened up by the new Rock Island railroad they saw the possibilities held forth in a business way at this place and after careful deliberation put their heads and their money together and built the above establishment. One of their number, Mr. L. Ohmart, was chosen to supervise the interests of the new venture. He resigned his position, stepped from his cab and assumed charge as secretary, treasurer and general manage or of the new company. Be it said that these men figured well when they saw possibilities in the field for the business has proved a splendid success and shows no signs of slowing up in the slightest. Mr. Ohmart gives his entire time to the active management of the company's interest. The president of the corporation is E.P.Collins; vice president, O.Roush and secretary treasurer, L. Ohmart. The other members of the company are Messrs W.S. Shields and James Whalen.
Fifteen tons of ice daily is the capacity of the plant, which is equipped with a 90 horse power boiler and the finest and most modern machinery in every department. The cold storage is of the best and is being extended and enlarged.
In the fuel department hard, soft, Arkansas, semi anthracite and furnace coal is carried. A feature of this establishment is the feed mill, where ground feed, chops, cob meal and stone burr ground corn meal, the best of all, is turned out.
A produce department has been established and is assuming large proportion. Eggs, poultry, butter and wool are handled. The very best and most modern facilities are now being completed for the cold storage of butter, eggs and poultry which are handled on a large scale, thus affording an excellent and reliable market for the farmers of the community. The ice plant is a regular, listed re icing station on the Rock Island for the refrigerator trains. The ice, coal, feed and poultry departments of the plant are not only proving a substantial success to the owners under good business management but first class facilities are afforded the public which an establishment of less size would be unable to offer. The Eldon Ice & Fuel Company gives its patrons prompt service, square dealings and is one of its largest purchasers also in this entire section. By giving the public the best of service and treatment and by pushing its own interest with vigor, it has become one of the largest and most successful lines of business in this section of the state.
J. R. Proctor & Company
One of the largest and best appointed lumber yards in this section and one possessing a wide patronage among people who have always found the yard equipped to fill all their needs, is that of J.R. Proctor & Company (photo 20), and who succeeded Dickason-Goodman Lumber Co. and took over the latter's large interests.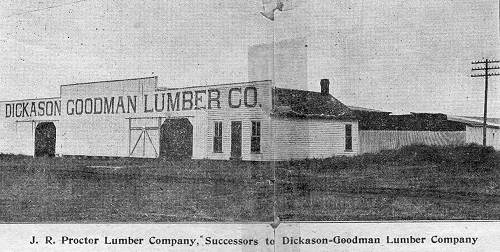 20 J. R. Proctor Lumber Company
In this yard is carried a very complete line of lumber, lath, doors, bricks, Hematite roofing, plaster, a full line of paints, and all other necessaries of a large business of this kind. This yard was established here years ago and started out by installing a stock of such large proportions as to fully cover its filed. Patrons have long since learned that the Proctor yard is in business to serve them and give them such good service and good treatment s to hold their trade. Persons trading at this yard have also found that it is not necessary to go or send to any larger town for anything in the line of building material. The Proctor yard keeps the same thing and saves the customer money on every purchase. This sound logic in a business way has does much to push the yard's patronage into larger fields and to place it up among the leading business establishments of the county.
Stiffler, Arnold & Co.
The largest wholesale poultry, butter and egg house in Eldon or Miller County and one of the largest in this section of the state, is that of Stiffler, Arnold & Company of this city. Hides and wool are also handled by this house and a large territory is covered. This business has been established for six years and it is numbered among the largest and most rapidly growing in the community. Mr. Stiffler has lined in this locality many customers and has a wide access in the county. Mr. Arnold, the other partner came here form England. This firm buys extensively and ships in car load lots. From $10,000 to $15, 000 a month is paid out which shows that a volume of business of large proportions is handled.
Stilffler & Arnold, in addition to their produce interests have the largest business in town in feed chops, corn and bran. They also carry all kinds of poultry food and a full line of grass seed. A line of stock food is also a feature of the stock carried.
This firm transacts the largest coal business in the city. Hard and soft coal of good grade is kept and delivered promptly to customers.
Stiffler, Arnold & Company have developed an excellent market here for farmers. They pay the bet figure the market will possibly justify and the scope of their operations is of such magnitude s to always offer raisers a good cash figure at all times when any article in their line is salable at all. By straight, courteous business like dealing with the public at all times and by giving every customer or seller, large or small, the same consideration, the firm of Stiffler, Arnold & Company has pushed its way into the front rank of successful business houses of the city.
Citizens Bank
One of the strong and growing banking institutions of this section and one owned and controlled by a most substantial and representative class of business men, is the Citizens Bank, of this city (photo 21).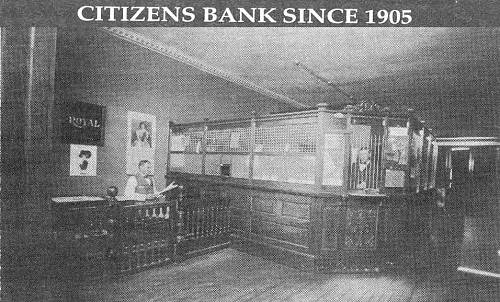 21 Citizens Bank - William and Ross Harrison
This institution is comparatively a new bank, having been established in 1905, but with the splendid growth and development in its field since that time, coupled with the strong and influential men identified with its management, the Citizens Bank has entered upon a most promising career and its present growth is such as to be a matter of gratification to its stockholders and pleasure to its friends.
The officers of this bank are men who have large commanded a large share of public confidence in the business dealers. They are: W.M. Harrison, President; E.E. Hart, Vice-President and D.R. Harrison, Cashier. The president, Mr. W.M. Harrison (photo 22), has long been a prominent citizen of the community and is the present member of the legislature from Miller County. Mr. E.E. Hart, the vice president, is post master of Eldon and one of the town's active business men. Mr. Harrison, the cahier, is one of the younger of the active business men of the city.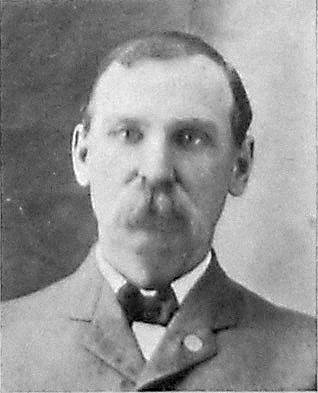 22 Harrison, W. M.
The best safe and time locks obtainable and ample burglar insurance fully protect the interests of all concerned. The future of the Citizens Bank is a bright one and it will be found taking its place at all times among other strong, progressive institutions that are laboring for a bigger and a better Eldon.
Bank of Eldon
In this large industrial edition of the ADVERTISER the Bank of Eldon offers to its friends, both old and new, its thanks for their patronage and loyalty during its fifteen years of successful and growing business life (photo 23).
This strong institution offers to its patrons all accommodations and liberality possible with sound banking. It is the aim of the bank to throw every possible safeguard around the depositor and stockholder and this is a policy of long standing with the institution. At the same time the bank wishes to emphasize the fact that all favors will be gladly granted to patrons within the limits prescribed by safe and common sense rules of finance.
The men who control the Bank of Eldon are interested not alone in the bank but also in all that concerns the general good of their town, and they are willing to contribute to all moves tending toward its substantial advancement.
E.E. Allen
The only exclusive Jewelry store in Eldon and one carrying an elegant and standard line of goods is that of Mr. E.El Allen. In this store is found a line of watches, clocks, rings, diamonds, silverware, cut glass, toilet goods and other essentials in a class of goods of this kind.
Mr. Allen has been in business for 10 years and is an expert in his line. His repair department is complete and his store has its field and caters to patrons who know that purchases made at this store are bona fide and stable.
Mr. Allen keeps a class of goods that long ago made a reputation for merit for the store and gave its goods a standing for reliability among patrons who wanted square treatment and always got it here.
The Eldon Bakery
A firm whose manufacturing operations cover a considerable field and which is the only business house of its kind to turn out these products in Eldon is the Eldon Bakery, of whom Mr. Boguard & Brown is the proprietor. In addition to delectable cakes and pies he also prepares candy of the best quality containing fruit coloring, powdered sugar, caramel paste, chocolates, bon bons, roasted peanuts and similar lines.
This business has been established here for a period of five ears and has grown into one of the strong and prosperous establishments of its city. A line of post cards is included in the stock carried. Boguard & Brown have one of the cleanest and neatest places of business in the city and the trading public has found their goods and their methods to be first class and satisfactory. By keeping squarely at the front at all time in both stock and deliveries the Eldon Bakery has taken its place in the front rank of progressive firms with a good and profitable future in sight.
Becker Brothers
One of the largest, most complete and handsomest stores in this section of the country and one known to a large and progressive trade territory is that of Becker Brothers, dealers in general merchandise (photo 24).
It is likely that few business houses can be found carrying such a complete line of standard goods as this store. Becker Brothers have made quality and completeness a motto in their sore and they have kept a stock of such large proportions as to insure to customers splendid selections and prices lower than many of their competitors. Good goods of all classes at square prices has made of this store a splendid business success and established it in the public mind as a safe, satisfactory and desirable place to trade.
A very large line of dry goods, groceries, shoes, hats, carpets, mattings, rugs, clothing and ladies' and men's furnishings covers the field fully and combines all of the late styles. Such well known and standard shoes as the Frieman Shelby make are found in that department. The store is 48 X 100 feet, the building being of brick with a handsome new steel ceiling and immense plate glass display windows in front.
This business house has not only made a success but its success has been earned purely on its merits and by selling square goods at square prices and treating the people right when they came to trade.
Helfrich & Haswell
The only exclusive harness shop in Eldon and one well known for the excellent class of work embodied in its product is that of Helfrich & Haswell, of this city.
This firm has been engaged in business here for a period of about two years although Mr. Helfrich has lived here for the past 18 years and during that time have built up a substantial and growing business. A full line of both light and heavy harness is carried and it is all manufactured in the shop. It is the genuine handmade article and users have found that quality, durability and neatness are always combined in every article turned out.
This firm also handles Calumet Pure "Bone and Potash fertilizer, without doubt the best known and most popular fertilizer made. This is the only fertilizer made by a firm outside of a trust.
An important side line handled by this firm is fire insurance in the time tried and reliable Harford North American and North British Fire Insurance companies, all of which are numbered among the strongest and best known in the entire country.
The firm of Helfrich & Haswell is numbered among the most progressive and energetic in Eldon and one whose operations are based on square and sound business lines.
Maple Hill Farm
One of the desirable suburban farms of this community and one being fitted up for a thorough bred stock farm is the property of Mr. A. F. Oviatt, proprietor of Maple Hill farm a half mile east of Eldon.
At Maple Hill Mr. Oviatt is raising the famous Rhode Island Reds in his poultry department and in its hog line is handling the old reliable Poland China breed. A feature of the Maple Hill farm is the new dairy farm from which regular deliveries of milk are now being made. Mr. Oviatt will shortly begin the erection of a fine sanitary dairy barn especially planned for his department. Mr. Oviatt will shortly begin the erection of a fine sanitary dairy barn especially planned for this department.
Mr. Oviatt established Maple Hill farm three months ago and is making extensive improvements all over the place which consists of 60 acres. He was for three years manager of the famous Goodrich stock farm near town and is an expert stock man. While supervising the Goodrich interest Mr. Oviatt managed some of the finest blooded stock sales held in he entire country. When at last he decided to go into business for himself he selected and named Maple Hill where he is now engaged in starting a stock farm which will be a model as soon as the big task is completed. Mr. Oviatt will handle the finest stock and will have all modern and necessary facilities installed for the proper and economical handling of business.
Franklin & Company
One of the large handsome and finely appointed clothing stores of this section and one carrying a line of knobby and stylish goods of the best known makes, is that of Franklin & Company, dealers in clothing, shoes, hats and men's and boys' furnishing (photo 25).
In four years this elegant store has been headquarters for patrons who demanded the best goods at a reasonable figure. In the clothing department the Hart, Schaffner & Marx, the "Guaranteed All Wool" brand, famous for its unsurpassed and durable qualities is a feature of the stock. Shoes made by W.L. Douglas, Ralston Health Shoes and Cluett Peabody Shirts are to be seen in this store. The O.C. Hanson gloves and Wilson Brothers line of furnishings are included in a stock that makes a point of having the best possible values for the customers' money.
The store of Franklin & company has been built up by keeping what the people needed and by selling it at the right figure when the people called for it. This is one of the finest stores in the town and one of the strong, growing and leading houses of business in this section. It is and has always been a store of both completeness and quality throughout.
"Fordyce Of Course"
The above clever and original sentence is emblazoned on the front of one of the handsomest stores in Eldon or vicinity and it most aptly and correctly calls attention to the owner's direct and positive policy of making his store one of both merit and style.
Mr. Fordyce carries an elegant line of stylish clothing, shoes and men's furnishings. Since entering business here in 1904 he has impressed upon the trading public the fact that his store was the home of good taste in men's wear and of quality in goods purchased. The famous Walkover shoe for men and the equally famous Queen Quality shoe for women together with David Adler's Collegian clothes for men and Eiderheimer's clothes for youths and boys are all kept by Mr. Fordyce and are samples of other excellent makes in other lines. Worht hats in all of the season's latest blacks are also a feature of the store.
The Fordyce store is headquarters for good dressers and its combination of quality and fair prices has given the store a reputation for excellence best described in the brief but forceful sentence "Fordyce, of Course."
Harvey Mercantile Company
This progressive firm can be measured as well by its great volume of business as by the building covering a lot in length by fifty feet in width. As the leading general store in the county they buy in car load lots and keep in stock a strictly up to date grade of goods that count for quality as well as quantity attracting trade from a large territory surrounding Eldon and from other towns in the county. The members of the firm R.S. Harvey, J. S. Franklin, Ralph S. Harvey and James Neville have attained success and gathered experience by a thorough knowledge of the conditions and needs of the country from the time that mercantile business was a mere country produce exchange up to the present competitive live methods.
Furniture, Rugs and Carpets, Dry Goods, Shoes and Groceries are among the principal departments through which a cash carrier system operates to facilitate prompt service to customers. Some of their specialties are the famous American Lady and American Gentlemen Shoes and Oxfords, Ladies Tailored Suits, White Goods and Furnishings and a complete line of laces and trimmings.
Van Hooser Stock Farms Successors to Goodrich Stock
A part of these farms, the most widely advertised perhaps of any in the world, as the Goodrich Sale farm, comprising 168 acres, was recently purchased by Mr. H. R. Van Hooser at a cost of $10000. It has become noted through out the United States for the great success of famous sales of Poland China hogs. World's records were made August 6, 1907, when one of them sold for $5,125 and a litter of six pigs brought $3000.
Mr. Van Hooser has had much to do in the making of the history of this farm and comes as its owner and manager with a thorough understanding of high class breeding stock and fancy pedigree combinations. For years he has been engaged in grading up with the very best animals while adding to his farms, which now aggregate in all, 387 acres. He has many times enhanced the value of his stock until at the present time he has aggregated in the farming department bringing in as much as $5000 per month. Emphasizing expert knowledge of breeding principles he has improved his stock of Aberdeen Angus cattle, Shopshire sheep and fancier stock. He also has included a variety of Rhode Island Reds, White Orpingtons, Barrred Plymouth Rock and Black Leghorns. In every division the object will be in point of merit, individuality, careful selection and breeding.
Mr. Van Hooser will have at all times a distinctive class of high grade breeding stock for sale. Having purchased all the hogs and other stock formerly owned by the Goodrich Stock Farms and combined these choice selections with his own he offers an aggregation unequaled in the country. He as on hand more than one hundred and fifty fine pigs he is preparing for a big auction sale about the 9th of October.
New Residences
There have been many of the best modern residences built in Eldon during the past year and owing to the fact that no pictures have yet been taken of them it was impossible in this issue to give a fair representation of the residence portion of the city.
However, this can only be considered a business write up over which an issue showing up the personal character of Eldon would cast a shadow for we have within our borders besides business men and financiers scores of intelligent officials and railroad men of whom any city would be proud to boast (photos 26-36).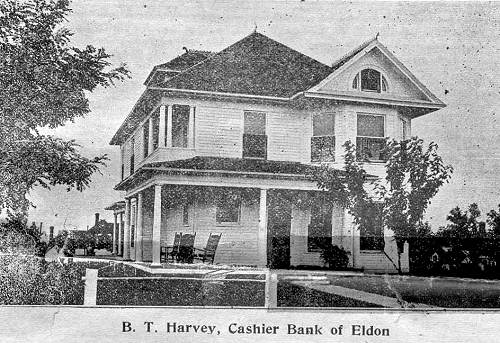 27 B. T. Harvey Home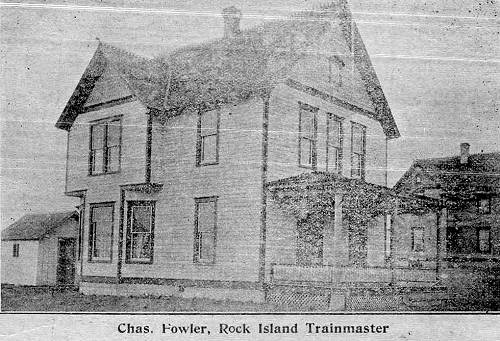 28 Charles Fowler - Rock Island Trainmaster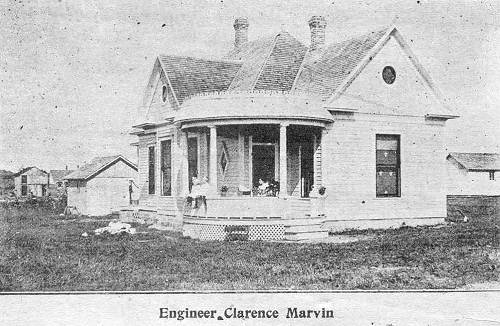 29 Clarence Marvin - Engineer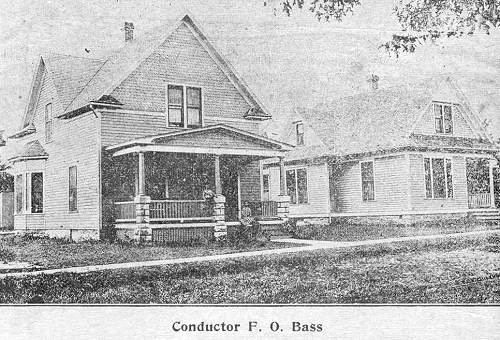 30 F. O. Bass - Conductor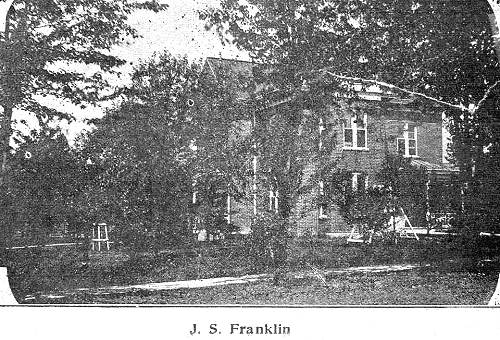 31 J. S. Franklin Home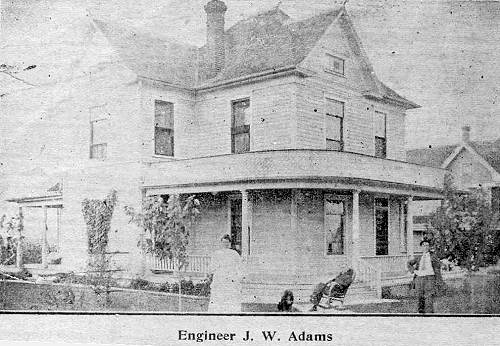 32 J. W. Adams Home - Engineer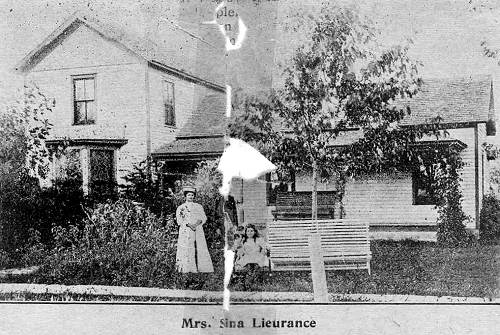 33 Mrs. Sina Lieurance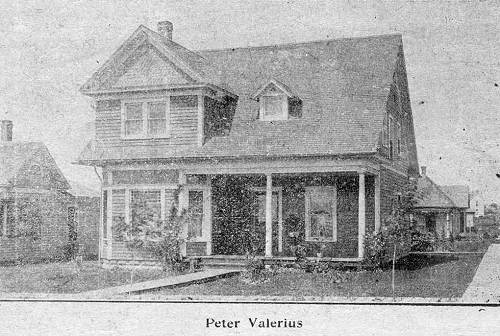 34 Peter Valerius Home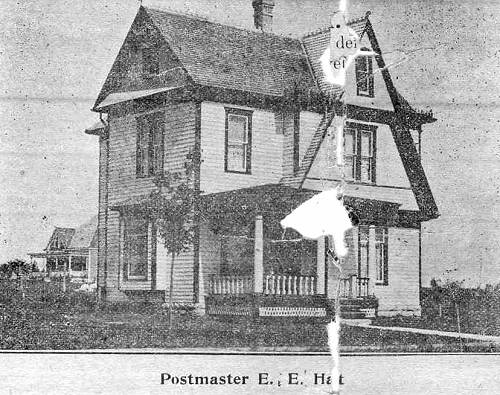 35 E. E. Hat - Postmaster
36 W. S. Goodrich Home
Aurora Springs Park
This beautiful natural park less than a mile and a half south of Eldon (photo 37), has all the advantages of a healthful summer resort---- medical waters, the invigorating atmosphere of the hills and cliffs, refreshing shade and a clear grotesque stream winding among the rocks along the overhanging cliff (photo 38).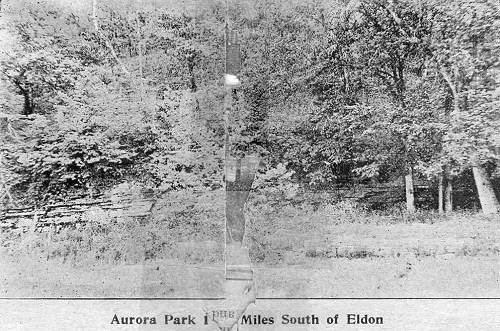 37 Aurora Park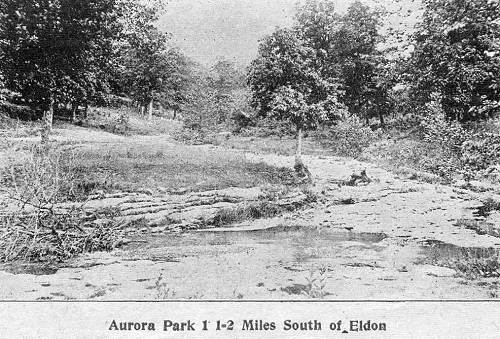 38 Aurora Park - 1 Mile South of Eldon
Once men of capital become interested in this place so near the railroads and so favorably situated for a Chautauqua camping ground there is no question but that its former fame would return double fold. Years ago had the railroad facilities been as they are today this park would have been the most attractive resort in Missouri.
Two great subterraneous caves are within a short drive of this park. The Stark's cave, one of the largest in the United States, and the Klinger cave, wherein there is a beautiful lake large enough for a motor launch to travel perhaps a half mile or more under a massive hill.
An electric railroad from Eldon to this park would shorten the distance considerably and make it an outing place for evenings and amusements.
Some time in the future visitors to this park may enjoy fishing and boating on a splendid lake made possible by a dam across the stream or bathe in a handsome sanitarium with medical waters that were once analyzed second best in the United States. This is only a small view of the great possibilities awaiting development here. All that is needed is to awaken interest, an investment is certain of success under proper management. Where can here be found natural springs, flowing wells, delightful scenery and a healthful climate all combined within easy access to a main line railroad and just half way between two of Missouri's largest metropolitan cities? Where a safer investment than in the development of thee natural resources not hidden in obscure depths, but exhibited in plain view?
Anther advantage is the extent of the surrounding country that could be utilized as a game reserve without interfering with expensive lands or damaging valuable property. A tract of several hundred acres could be purchased and incorporated for less than $5000.
Eldon Advertiser
This month the Eldon Advertiser will celebrate its sixteenth birthday. Since it was first launched it has been an Eldon paper devoted entirely to the up building of Eldon and Miller County. The enterprising citizens have shown their appreciation of the effort by always contributing a liberal patronage and the circulation has steadily increased until now a thousand readers scan the pages of their home paper for the weekly local happenings and as a means of knowing the thrift of our advertising business firms.
This special edition this week has been expensive and less profitable to the publisher than a Christmas advertising edition, but as the subscribers are the life of the paper making possible other departments to exist we believe in giving them a square deal and in doing this the circulation extended will benefit Eldon as well as bringing profit to ourselves. Some of our most loyal patrons have never visited Eldon for years and we believe this effort will afford them an opportunity to gain some idea of the growth of a city in which they are interested.
It never distracts from the intrinsic value of our life to give. If we have nothing to offer but our labor, let it be the best work that we can do. To look for reward and appreciation alone is to strive unworthily because we can never measure altogether by our gain, but by what we leave to the world to better humanity and improve conditions.
---
Spring time is when the bees often fly off in swarms to seek a new location for a bee hive. Dub Brown (photo 39), who was raised in the Ginger Ridge area north of Tuscumbia wrote about his experience as a young boy when his mother attempted to cause a swarm to settle near their property: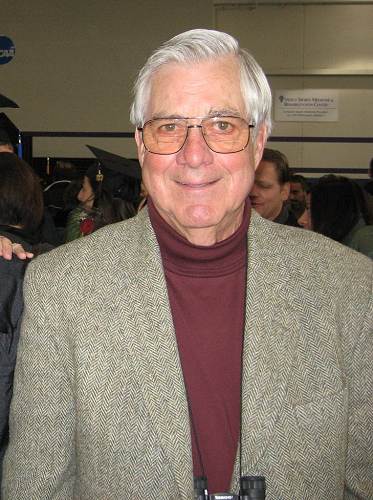 39 Elmer Brown
HONEYBEES
One of my early childhood memories has to do with honeybees.
I suppose I was somewhere around four or five. My mother shouting, "The bees are swarming, the bees are swarming", alerted me (photo 40).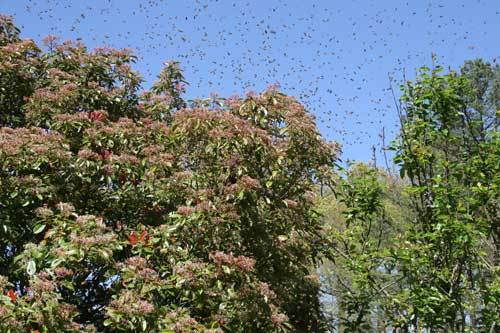 40 Swarm
Then, she and everyone else around would make a mad dash to grab pots, pans, tubs and whatever else could be used to make a loud noise. Being the age I was, I'm sure I didn't need a second invitation to make as much racket as possible. I didn't have a clue as to why I was doing it but to be supported in my efforts rather than being told not to do it was pretty heady stuff and all the encouragement I needed. We would then proceed to bang on whatever instrument we had grabbed while running madly, trying to head off the swarm and cause it to settle on a handy tree or shrub (photo 41, photo 42 and photo 43).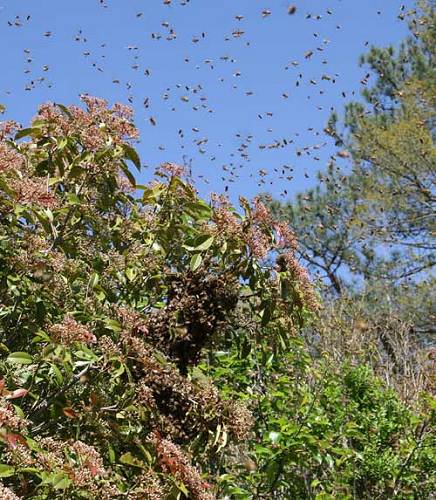 41 Swarm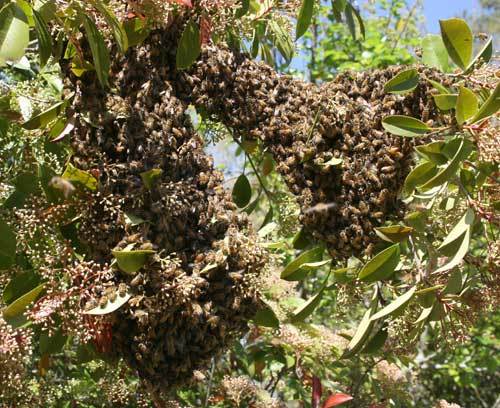 42 Swarm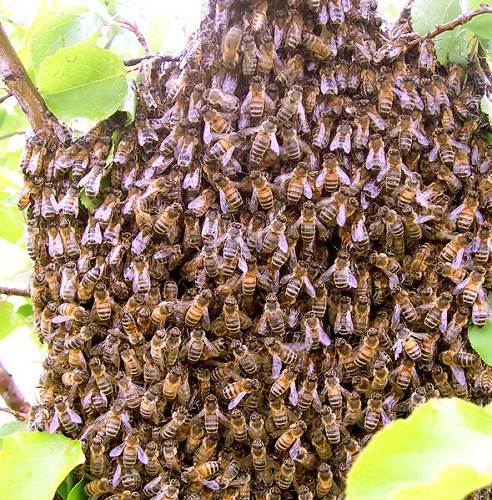 43 Swarm
As I look back, I still see it as being pretty weird behavior for my usually composed mother. The question is, why? Well, I think the theory was that the noise would cause the bees that were swarming to think a thunderstorm was coming and that they should settle in some sheltered place until it passed. We didn't have boom boxes to blast out heavy metal rock music in those days but if we had I'm sure we could have had the bees covering their ears and heading for cover instantly
Swarming is a natural phenomenon for honeybees, which usually occurs in the spring of the year. Just as it is with humans, there is only room for one "Queen Bee" in the hive or home. When a second queen is hatched something has to give so she takes however many worker bees (undeveloped females) as will follow her and sets out to find a new home. Of course, thousands of drones (the male bees) tag along, each one hoping to get lucky and mate with the new queen. As the result of the one mating the queen will produce thousands of eggs which are tended by the workers through hatching and larval stage until they mature into full grown bees. Assuming there is a queen in the brood, the whole swarming process will begin again.
I vaguely remember that we were successful at least once or twice though I never participated in the capturing process. Even at that age, I had been stung enough times to know I should maintain a safe distance from the swarm.
However, the plan was to have a new hive ready and then gather the swarm and put them inside. This was easier said than done. Unless you were immune to bee stings, you needed to be garbed in bee proof clothing and gloves as well as having a gauze veil completely covering your head. It helped a lot to have a bellows smoker stuffed with smoldering rags going to daze the bees and cause them to settle down, rather than go into the attack mode. You then delved gently into the cluster of bees trying to find the queen who was easily recognized since she is considerably larger than any of the other bees. She and as many of the other bees as you could capture were also picked up and placed in the hive. To be ideally prepared, the hive would contain frames with starter wax so the bees could begin building up the cells into which they could deposit honey as it was produced.
Though I still remember the excitement of trying to capture a swarm of bees, I never entertained thoughts of bee keeping as a 4-H or FFA project. I had been stung too many times.
---
Thanks Dub.
I found this little ditty about bee swarms:
A swarm of bees in May is worth a load of hay;
A swarm of bees in June is worth a silver spoon;
A swarm of bees in July isn't worth a fly.
More information can be found at this website:
http://outdoorplace.org/beekeeping/history2.htm
---
Gary Colvin from Iberia brought some unusual oval and round stones in to the museum which he found when digging holes for placing poles for a new barn he was building. The stones are colored a sandy brown and are light in weight. Some of them are embedded in harder lime stone. Gary wondered if they were man made or some sort of natural phenomenon. I certainly didn't know so I showed photos of them to Dwight Weaver, one of the members of our museum committee (photo 44, photo 45 and (photo 46). Dwight has extensive geological experience which he acquired through his years of cave and other geological formation explorations so I knew he could come up with the answer; and he did as copied below: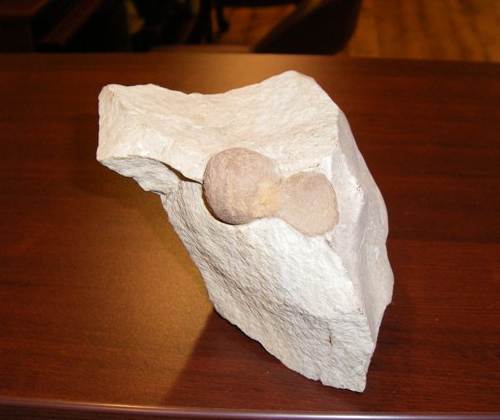 44 Clay In Limestone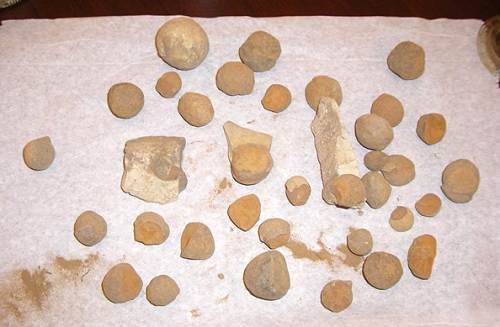 45 Small Clay Nodules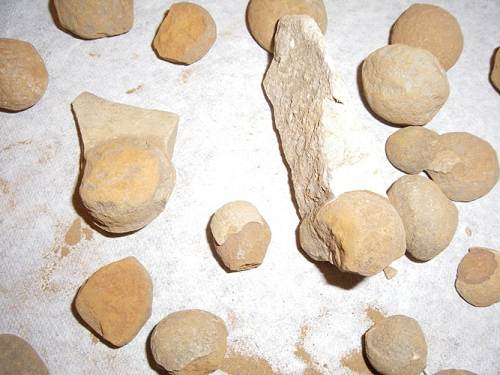 46 Clay Nodules - Some Embedded in Limestone
"Joe, the brown items appear to be partially consolidated clay inclusions, or clumps of plastic clay that filled voids in the sediments that formed the limestone and are therefore millions of years old, just like the limestone. Those found associated with but not inside of limestone chunks, probably fell out of limestone that has weathered away. Clay can be very resistant to erosion and dissolution, especially if it contains a lot of silica. The Iberia area is noted for pseudo fossils and a variety of strange concretions that often resemble petrified animal parts.
Dwight"
So, thanks Dwight. You came through for us again!
---
We have changed the quilt display on the south wall of the upper level of the new east addition (photo 47).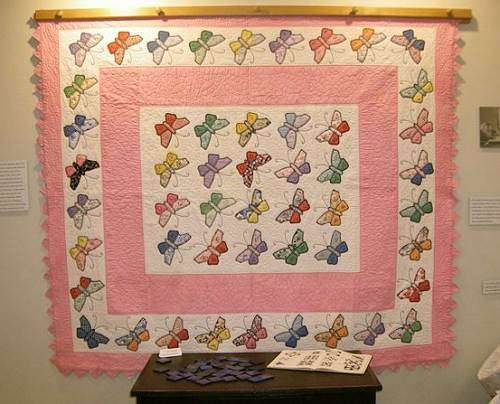 47 Lena Bear Wedding Quilt
This quilt was given to Lena (Brown) Bear by her new mother in law, Sadie Bear, on the day of Lena's wedding in 1931 to Arthur Bear. The quilt was made by "Aunt" Martha Beard. Aunt Martha had given several of her hand made quilts to Sadie and Sadie, in turn, gave each of her children one of the quilts as a wedding gift. We aren't sure just exactly to whom Martha was married or really very much else about her. She was an older lady who worked around Tuscumbia at various homes mostly doing laundry. But she was very well known back then for her skills as a quilt maker.
---
The following photo (photo 48) was taken on the Don Steen farm south of Eldon this last week and is titled "In the nick of time," referring to Don and other farmers' anxiety about getting into their fields to cut and bail the hay. Rain was predicted for the next day so Don and his son Derrick were working as hard and fast as they could to get as much done as possible.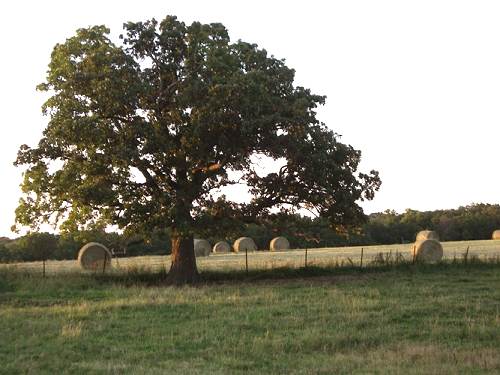 48 In the Nick of Time
---
We were very delighted to have as a guest this last week Joan Garritz who is the daughter of Francesca Wright, the Miller County native who moved to New Mexico and later became nationally known as a famous painter. Joan is here this week for the Wright family reunion. She was quite happy to see that we have featured her mother and two of her paintings as the first display of the museum located in the entry alcove. In this photo of Joan she is standing in front of her mother's paintings just inside the entry to the museum (photo 49).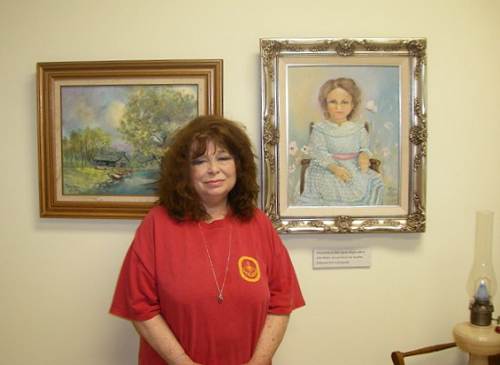 49 Joan Garritz
---
In our bookstore we have just placed several new CD's recorded by Tuscumbia resident, Monty Laffoon. Monty is an accomplished steel guitar artist and plays professionally around the area. For this new CD recorded by Monty titled "Old Church Gospel Steel", he has arranged ten hymns and gospel selections, all of which display his exceptional musical gift and talent. The cover of the CD is a photo of Monty standing in front of the Tuscumbia Presbyterian Church which was built in 1889 (photo 50).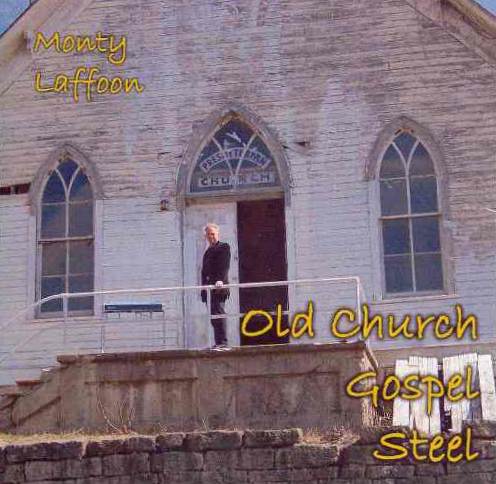 50 Monty Laffoon
The church no longer is active and, sadly, the structure gradually is deteriorating with time. But Monty's hymns offer us nostalgic memories of the music once heard within the old church years ago. As a memento of the church we have displayed one of the church's original cedar wood pews in our own church display at the museum. When you come to visit the museum you will hear Monty's music being played quietly in the replica church display. If you wish, you can purchase one of Monty's CD's from our museum book store.
---
The ice cream social at the museum last Saturday was a tremendous success. More visitors attended and receipts were greater than any such event we have held. The weather was sunny with mild temperatures and the omnipresent wet weather we have been experiencing gave us a respite for the day. Visitors time and again told us how impressed they were with the new and larger museum and its completely different displays and themes. The success was a team effort with many volunteers contributing in multiple areas over the last two weeks. Home made ice cream accompanied by multiple home cooked desserts was served. Entertainment was provided by Joe Jeffries and Amber Bluegrass Band featuring Amber Byrd on violin, Judy Smith on Dulcimer, Gary Williams on guitar, Ralph Beach on mandolin, and Joe Jeffries on bass (photo 51).
51 Joe Jeffries Group - Clifford Hill on Left
Howard Tice provided entertainment during intermission singing his repertoire of popular hits of the past (photo 52).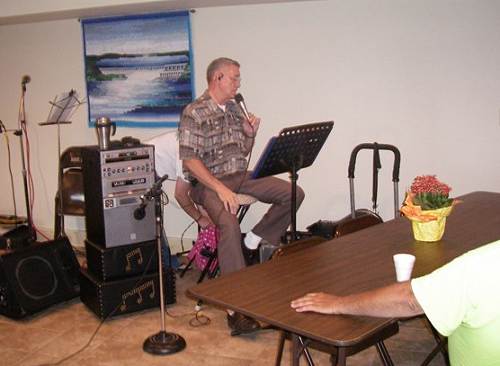 52 Howard Tice
The most amazing and heartwarming part of the performance was when Clifford Hill joined the group and began playing his violin. You see, for those of you living away, Clifford, who is widely known as an accomplished fiddler and who was one of Joe's regular fiddle players, suffered a horrendous injury to his left hand earlier this year requiring amputation of the third digit. Hardly anyone expected Clifford to be able to play the fiddle again, but then, they didn't know Clifford well enough. As you can see in the photo of the group, Clifford, who is standing on the viewer's left, is playing again and playing well.
Topping off the day was the fabulous spontaneous jig dancing of Judy Beach and Ambrose Hake on the dance floor (photo 53).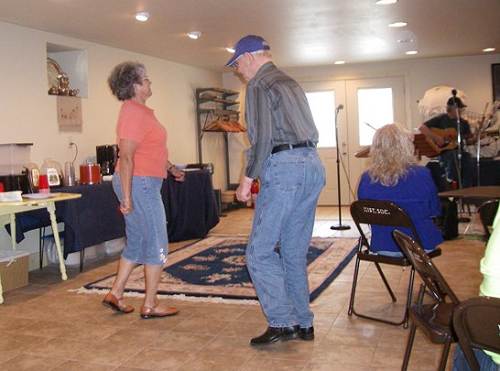 53 Judy Beach and Ambrose Hake
What a way to spend a day at the museum!
That's all for this week.