Monday, June 2, 2008
Progress Notes
Last weekend was Memorial Day so I attended several events with my family having to do with various of the local cemeteries where relatives were buried. Collectively, we have many relatives buried in many local cemeteries so we didn't get to all of them. One of them is Gott Cemetery where my wife Judy's maternal grandparents, Willard (son of John Boyd) and Maggie Boyd as well as my wife Judy's maternal great great great grandparents (Holsey and Nancy Wickam) are buried as well. The spelling of Holsey and Wickam on the tombstone are different than what is recorded in other records but I'm using the tombstone spelling here (photo 01).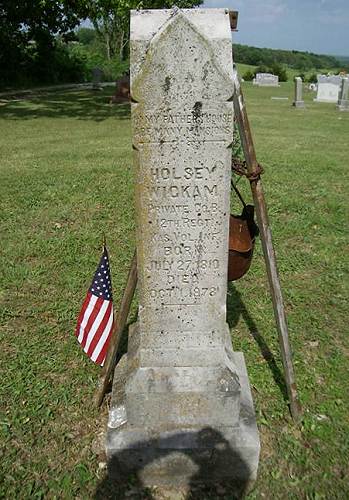 01 Holsey Wickam Tombstone
This tombstone has an old iron cooking pot hanging on a tripod by it because Holsey (photo 02) used it in his assignment as a cook during the Civil War (photo 03).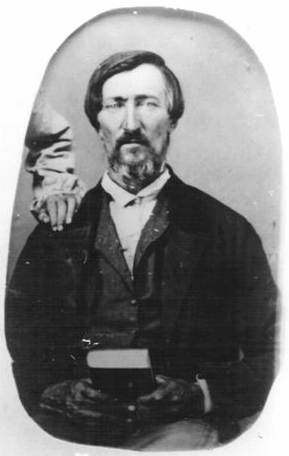 02 Holsey Wickham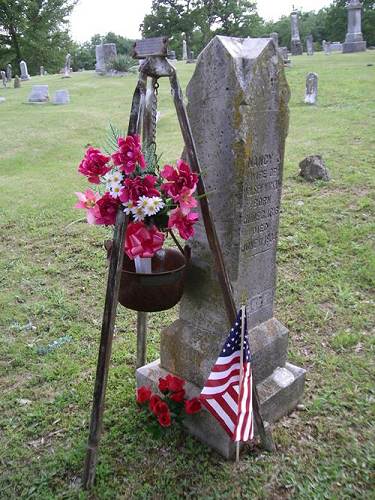 03 Holsey Wickam Cookpot
You can read more about the Wickam/Wickham family as researched by Peggy Hake at the following website where you will need to scroll half way down the page to get to the Wickhams:
http://www.millercountymuseum.org/bios/bio_w.html
And you can read more about the Boyd family as written by Peggy Hake at this site on our web page:
http://www.millercountymuseum.org/bios/bio_b.html
Again, you will need to scroll nearly all the way down the page to get to the Boyd family narrative
From my family on the maternal side is buried my great great grandfather named William Carroll Winfrey (photo 04).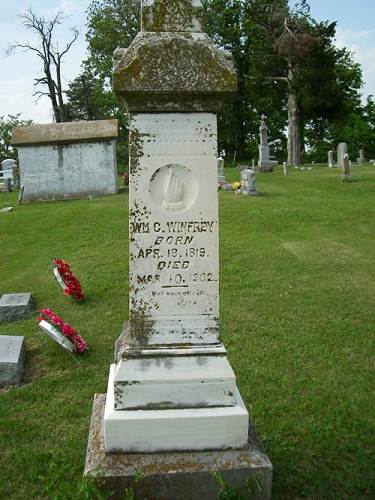 04 William Winfrey
He died in 1902 many years before I was born so I never saw him; and furthermore, I have never been able to find a photo of him either. The Winfrey family was one of the earliest to settle in Miller County and many people in this county have some Winfreys in their family history if you look far enough back. As yet we don't have a detailed entry about the Winfrey family on our web site so I thought it would be interesting to place some of the Winfrey family history on my site this week. According to DeVere Whitaker:
There were two families of Winfreys here for the 1840 census. James with a family of four and Thomas with a family of six. James is the oldest and quite possibly the father of Thomas.
There are a lot of stories about Brumley, Mo., and who key figures were in its beginning. This writer believes that the Winfrey Family was one of those families. I would love to go back for just one day, and see the relationship between the Robinetts, Phillips, Ash, Wrights, Winfrey and the other families, that no matter how small, were so important. (Another pair of hands to help build that cabin, barn, gather crops and care for the sick and their families.)
For further information about the family tree of the Winfreys in Miller County go to Devere's short summary at this website:
http://archiver.rootsweb.ancestry.com/th/read/MOMILLER/2000-08/0965336185
The Winfrey history I am presenting this week was researched and completed in 1988 by E. M. (Mick) Winfrey, who at the time lived in Hanover, Illinois. Mick presents in a more narrative style the story of the Winfreys who settled in Miller County. I thought the introduction written by Mick, which discusses the migration of the Winfreys from Virginia to Kentucky and then to Missouri, was a fairly typical path taken by many of Miller County's early settlers. In the first part of his narrative Mick describes the travails, dangers and hardships faced by those early pilgrims who came west to seek a better life and then he continues his narrative describing the lineage of the Miller County Winfreys down to my ancestor, William Carroll Winfrey. I did not include the complete family history of all the Miller County Winfreys who were descendents of the original Winfrey to come here, James Winfrey, because to do so would make for a very long narrative, since in those days each offspring would generate multiple descendents due to the tendency for families to have so many children.
Winfrey Family of Miller County
Mick Winfrey
Starting with the westward expansion in the late 1700's, it was a common practice for entire communities to migrate together. Fifty wagons in a wagon train were not uncommon. After settling in one area for a number of years, many of the younger members of the community and some of the older ones would move on to greener pastures.
It's hard to imagine the hard life they had, living completely off the land and always there was the danger of Indians and Outlaws. Because of this way of life, the same families kept intermingling through marriage and it was a common, excepted practice for cousins to marry.
Their rifle and their Bible were their most valuable possessions. Their rifle brought food to eat and protected them from danger; while their Bible gave them the inner strength to face life's many problems. In the Bible was recorded the Birth and Deaths of all family members and everything written was considered the absolute truth even in a court of law. After supper and by the light of the fire, it was a common practice for the head of the family to read aloud to the entire family, from God's Great Book.
Just as today, it was considered an honor to give one's child the same first name as an older member of the family. More so than now, the same first names were passed down from generation to generation, new names appearing usually only through marriage. Since it required nothing legal to change the spelling of one's last name, many families did it to disassociate themselves from someone else, with the same name. There are many variations in the spelling of our name, but the two most common are Winfrey and Winfree.
Early Winfrey's of Virginia
On May 14, 1607 the London Company founded James Town, Virginia, the first permanent English settlement in America. Right from the start, things did not go well.
Within four months, over half the colony died due to Indian attacks, Malaria and insufficient provisions. During the next few years, many shiploads of new settlers arrived, but the death toll remained high. The winter of 1609 reduced the population of around 500 to only 60. The London Company had to come up with a new idea to get people to migrate to Virginia. They offered 50 acres of land to any individual, who paid his own passage and an additional 50 acres if he paid the passage of another. There were many that wanted to go, but could not afford to.
Enterprising people paid their passage in return for them signing an indentured servant's contract. This was nothing more than someone agreeing to be someone else's slave for a given number of years. Things were extremely cruel in England at this time, with one being thrown into prison for the slightest of crimes. Opportunity was practically nonexistent. The thought of complete freedom in a new land of opportunity caused many to sign, even though they knew the risks were great.
The first well documented Winfreys in America were Jacob, John and Charles, all living in New Kent, Virginia in the late 1600's and it is probable, that all Miller County Winfreys are descendents of them.
I have traced our family back to James Winfrey, born in Buckingham County, Virginia in 1783 and although it cannot be proven, it appears as though his parents were John and Mary Turpin Winfrey and his grandparents were Israel and Elizabeth Slaughter Winfrey. A large group of Winfreys have spent many years researching the John and Mary Turpin Winfrey family and they have placed our James as their youngest son.
Little is known about Israel and Elizabeth Winfrey. We know her maiden name was Slaughter and that both of them were living in Virginia before 1740. It is assumed, but not proven, that Israel is a descendent of Jacob, John or Charles Winfrey, who were all living in New Kent County, Virginia in the late 1600's. We know he married Elizabeth and they had at least five sons: Ruben, Hillie, William, Phillip and John. Their son John is our direct ancestor.
John and Mary Winfrey
John Winfrey was born around 1740 in Virginia. Around 1760 he married Mary Turpin in Goochland County. Incidentally, Thomas Jefferson was born in Goochland County in 1743. Who knows, perhaps they knew each other? Mary's father was a well to do plantation owner, owning many slaves and many acres of land. John and Mary had thirteen children, their youngest son James, being our direct ancestor. Sometime during the Revolutionary War, John was drafted and he served in the Virginia Continental Line. In 1780, his oldest son Phillip, who was but 16 years old, served two tours of duty as a substitute for his Father. Phillip was at the "Siege of York," the last major battle of the war in which General Cornwall of England, surrendered to General George Washington.
In 1769 Daniel Boone blazed the trail into Kentucky and by the late 1700's, many settlers, including John and Mary and a number of their children settled there. It is believed that both John and Phillip received a "Land Grant" for serving in the Revolutionary War. There were four John Winfreys that served during the Revolutionary War, all cousins, no doubt. Their records are so mixed up, it's hard to determine which one is ours. There is a Pension File for but one John Winfrey and he is definitely not ours. In this file, there are three "Final" pay vouchers, each made out for a different amount. Since it says "Final," one would assume they are for three different John Winfreys. Probably one is ours.
It is not known, when or where John and Mary died, but it is assumed they died in Green County, Kentucky around 1820.
James and Winnie Winfrey
James Winfrey was born around 1783, in Buckingham county, Virginia. He was the seventh and youngest son of John and Mary Winfrey. He had twelve brothers and sisters. In the late 1700's his family migrated to Green County, Kentucky, where he spent his early childhood. Sometime around 1800 he met and married Winnie Wimberley, whose father was a well to do plantation owner just as his mother's father was.
They had eight children. Sometime around 1825, the whole family moved to Henry County, Tennessee. It was there, that James and Winnie's daughter Dicey, had an illegitimate child. She named it James and he was raised by James and Winnie. Later he was offered the name Pemberton by his step father, but he chose to remain a Winfrey.
It is unclear, just where James and Winnie were between 1833 and 1839. However, we do know that by 1840, James and Winnie and their family had all settled in Miller County, Missouri. It was also around this time, that Winnie died. It is not known where she is buried. In 1844, James went to visit his daughter Dicey, who was living with her family in Menard County, Illinois. Menard is not far from New Salem, where Abraham Lincoln spent his early adult years. It was here he married Chole Pemberton, Dicey's husband's sister. Shortly thereafter, they went back to Miller County, where they would live out their remaining years together. James was born before the signing of the Constitution and lived through sixteen presidents, from George Washington to Abraham Lincoln. He died during the Civil War in 1864. His burial place is unknown.
James and Winnie Winfrey had eight children: Sarah, Lewis, Dicey, Thomas Susan, James Madison, Elizabeth, and William Carroll.
---
William Carroll Winfrey, the eighth child of James and Winnie Winfrey, was born on April 18, 1819 in Kentucky. He married Christina Golden on September 22, 1842 in Miller County, Missouri. He died on March 10, 1902 in Miller County. William and Christina had ten children, all born in Miller County. Christina died on January 5, 1900. Both William and Christina are buried in Gott Cemetery. Their ten children were: Amanda, Hannah, William M., George W., Lewis O., Samantha, Elmira, Ozias, James C., and Zilphia.
William was a Lieutenant for the North in the Civil War. According to the book "War of the Rebellion," Series 1, Vol. 34, William fought in the Battle of Pea Ridge. The account mentioning William was written on April 10, 1864 by Major John W. Rabb, of the Second Missouri Light Artillery, when Major Rabb was in command at the Headquarters Post in New Madrid Mo. In this account Major Rabb writes that Lieutenant Winfrey was commander of Company K. Second Missouri Artillery consisting of seventy five men. The unit commanded by Major Rabb was attacked by southern sympathizers often because that region of Missouri mostly was made up of people favorable to the rebel cause.
William's wife, Christina, was a daughter of Andrew Golden and a sister to Emly Golden, who was famous for his successful exploits fighting against southern sympathizers and bushwhackers in Miller County. You can read more about the Golden family as recorded by Peggy Hake at this website:
http://www.millercountymuseum.org/bios/bio_g.html
When you get to the website scroll halfway down to find the section about the Golden family.
One of William and Christina's children, Mary Samantha, married my great grandfather, David Christian Bear and it is through Mary Samantha that I am related to William Carroll Winfrey.
But the fact is, at one time Miller County had many Winfrey families living here, all descendents of James and Winnie Winfrey, and quite a few Miller County residents today who have roots here, probably can find a Winfrey in their family background.
---
Last week Harley Johnson (photo 05), who lives between Iberia and Dixon, visited our museum and noticed our sign requesting someone to donate a small wood stove to complete our set up of a replica of one of the county's one room schools of the past. Harley told us he had an old stove which hadn't been used for years which was stored away in his shed.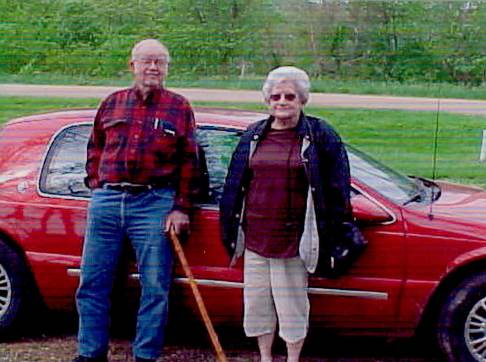 05 Harley Johnson and Nadine Johnson (Unrelated)
We could have it he said if we "wanted to pull it out from all the other things stored around it."). Harley is a Miller County native having gone to the Wilson and Bear one room schools before attending high school at Tuscumbia.
At the time Harley visited last week, our hosts were board member Donna (Shockley) Carrender and her husband Gary Carrender. During Harley's conversation with Donna about the stove, he told her that his grandfather Benjamin Franklin Johnson was left behind from a wagon train going west when he was a baby because he was so ill. The wagon train had parked for awhile in the valley where the Miller County Nursing Home is located on Cat Tail Creek. The family left their son with John Shockley who had a farm south of there and John and his wife raised the infant to adulthood. John was Donna's great grandfather. So it was somewhat a coincidence that Harley would happen to come the day Donna was hosting visitors and that they would discover this interesting family connection.
Therefore, as a follow-up to Harley's generous offer of the stove I went to his house this week to take a photo and get measurements to see if the stove would fit the space we have in the replica school (photo 06).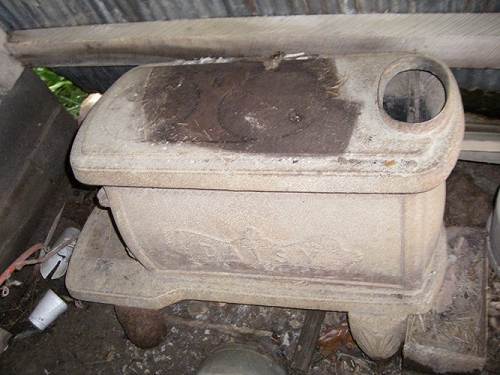 06 Old Box Stove - Harley Johnson
But before going to the shed Harley and I got to talking and I found out he has had a very interesting life. To begin with, he showed me an old letter he has which was written in 1874 by Benjamin L. Capps. Benjamin was a nephew of Harley's great grandfather on his mother's side, Jacob Capps who was a brother to Benjamin's father, Silas Capps. The letter written by Ben was one of romantic intent and had been sent to Mary Hicks, who was the mother of Ross Wickham. After Mary died, her son Ross found the letter in the bottom of an old trunk and decided to give it to his friend Harley, since the writer of the letter, Ben Capps, was a relative of Harley's.
The letter is most interesting concerning the style of penmanship which is very flowery and fancy and certainly belies the profession of Ben, the suitor, who was a farmer. Some of the words are difficult to read due to the age of the letter but one can still appreciate the skill of penmanship exhibited. Unfortunately, however, Mary did not decide in favor of Ben to be her husband since she later married Ross's father, Joseph Manning Wickam. But she must have been impressed, if not by the attentions of her suitor, at least by the fanciful style of writing he possessed since she stored the letter in her trunk for many years. The next five scanned photos of the letter including the envelope are included here (photo 07, photo 08, photo 09, photo 10, photo 11).
07 Envelope of Letter

08 Page 1

09 Page 2

10 Page 3
You can read more about the important Capps family and the area on the banks of the Osage River which has been given their name on our own web site at these locations:
http://www.millercountymuseum.org/communities/cappslanding.html
http://www.millercountymuseum.org/bios/bio_c.html
Further conversation with Harley was interesting regarding some of the work experiences he had before retiring. Early on he was a carpenter. One of the houses he helped build when he was working for Joe Prader of Iberia was the Lee Mace home of Osage Beach, including the swimming pool shaped like a bass fiddle.
Later, Harley was employed at Fort Leonard Wood as a "model builder" due to his recognized carpentry skills. In this capacity he worked with the curator of the museum at Fort Leonard Wood to create and construct display tables and cases, something for which we at our own museum have a need as well. Because of his wood working skills, the Army chose him to create and make wooden plaques commemorating and recognizing the service and sacrifice of those who died in the Viet Nam War. The plaques Harley created were made especially for President Lyndon Johnson who presented them to the families of the fallen soldiers in special ceremonies at the White House.
Harley spent close to thirty years working at the Fort Wood museum and still has many ties there. His son, Bill, presently is a civil engineer there and Bill's wife, Rebecca, is Deputy Commanding General of the U.S. Army Maneuver Support Center, a position to which she was recently promoted in a special ceremony (photo 12 and photo 13).
12 Induction 1

13 Induction 2

Click on the images above for larger view
You can read more about the museum at Fort Leonard Wood at this website:
http://www.lakesunleader.com/articles/2008/05/26/day_trippin/04.txt
Harley told me one interesting thing I hadn't known before. When he was working as a carpenter with Joe Prader, Jimmy Skiles, one of the fiddlers who had worked with Lee Mace on his music show, also was working with the Prader group while they were building Lee's house. Jimmy told Harley that he had spent some time in Los Angeles during the late thirties and was a member of the carpenter team which helped build the famous staircase featured in the movie "Gone With the Wind" (photo 14).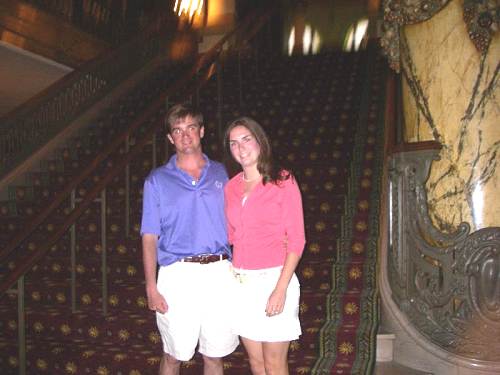 14 Gone With The Wind Staircase
I had known Jimmy for a long time since he was such a well known Miller County fiddle player and had featured him last year on this website:
http://www.millercountymuseum.org/070713.html
(Scroll half way down the page after pulling up the website to read the section on Jimmy.)
So I called Jimmy the other night just before writing this piece and, although Jimmy was not available, talked with Nellie, his wife, and she gave me some more information. The movie "Gone With The Wind" was one of the most costly ever produced in Hollywood at the time, and the staircase of the mansion was one of the larger expenses due to the intricate design and workmanship. After that the producers used scaled down models whenever they could to avoid actual size sets and the increased cost they incurred. This practice of using scaled down models where possible began to be used in Hollywood thereafter and was a result of the "Gone with the Wind" experience with that staircase!
Harley also is an auto mechanic and has completely restored a 1930 Model A Ford which he bought many years ago from Wes Sidebottom of Barnett, the original owner (photo 15).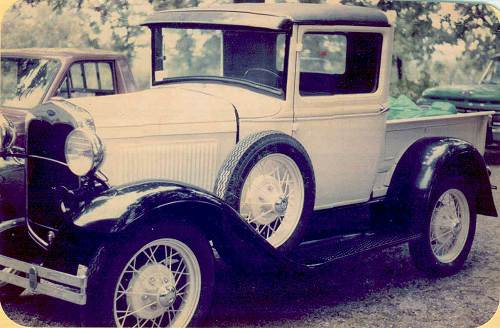 15 1930 Model A bought from Wes Sidebottom of Barnett Fifty Years Ago
Before I finished the day with Harley we took a car trip over to the Humphrey's Creek area near St. Elizabeth to see his old homeplace where he was raised. A beautiful spring nearby (locally known as "Big Spring") which is a major contributor to the Humphrey's Creek, was really running full after all the rain we have had (photo 16). On the way we passed by the Capps area which I mentioned above was named after some of Harley's ancestors.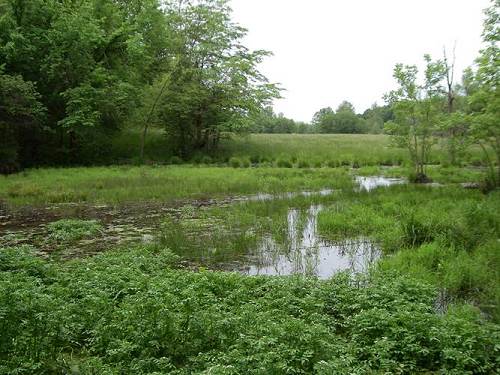 16 Big Spring - Humphrey's Creek
Also on the way just west of the new Dog Creek Bridge Harley pointed out to me a little hollow (photo 17) on the south side of Highway 52 where Bear School Road joins Highway 52.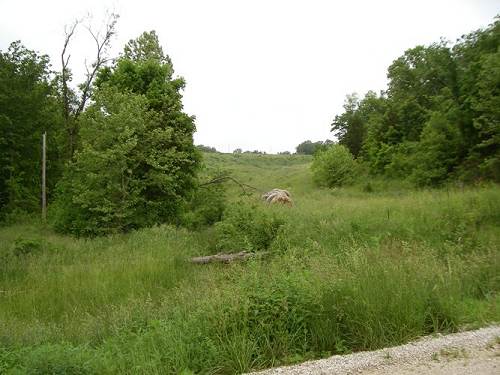 17 Cadel Valley
Harley said that after his family moved to a farm nearby when he was about twelve years old he heard the story of Cadel, an old Osage Indian who built a three sided log cabin and lived in the little hollow. Harley said that the white people in the area had good feelings toward Cadel so they helped him build the cabin by cutting and shaping the logs; however, he was the one who put it together. This was a long time ago. I asked Peggy Hake what she knew about it and she found the reference in Clyde Lee Jenkins' History of Miller County V. I p. 12. I quote what Clyde said about Cadel here:
"A number of Osage Warriors fought with General Jackson at New Orleans on New Year's Day, 1815, and in the famous battle on January 8. Joe Munsey was such an Indian. When his people moved to the Southwest he remained in Miller County. So did an aged Indian by the name of Cadel. He lived in a three cornered log house near Dog Creek, and died there. His home was located near Dog creek where now crossed by Highway 52, and Cadel Hollow bears his name."
So it is very interesting to me how working with the museum leads to the opportunity to meet people who happen to come to visit us and share their life stories and their own personal knowledge of Miller County history.
---
We were saddened last week to learn of the death of Marcella (Schell) Wright who passed away May 25. Her obituary is at the following website:
http://www.freemanmortuary.com/08obits/showobit.aspx?OID=37
Marcella was the wife of Bamber Wright, who was a Hauenstein family descendent who spent his career in the management of Anchor Milling Company. Marcella was well known to Miller and Cole County residents having many friends and family members in the area. She and Bamber lived near my home in Tuscumbia when I was growing up and our family knew them well. They were active supporters of the Miller County Museum from its inception. Our condolences are extended to the family and especially to Bamber who was one of the most devoted husbands to his wife I have ever known.
Another person of note who passed away last week was Roy Bear. His obituary is at this web site:
http://www.rekusfuneralhomes.com/index.cfm
Roy was one of the last descendents of the Miller County Bear family with the Bear surname to have been born and raised here. He inherited the original Bear farm south of the Osage River near Dog Creek which has been in the family since the late 1850's when his great grandfather, George Bear, migrated here from Ohio. Our sympathies go out to his wife Doris (Myers) and their family. Roy was a distant cousin to me as George Bear was my great great grandfather. You can read about the Miller County Bear family on our own web site at:
http://www.millercountymuseum.org/people/bio_b.html
---
The raffle tickets for this year's quilt raffles are selling well. We have two quilts we are raffling this year. The large one (photo 18) was hand crafted by Elva Steen and is a full size cross patch pattern.
18 Raffle Quilt - Full Size
Tickets for it are three tickets for five dollars and six tickets for ten dollars. Elva made last year's quilt for us also and it was enthusiastically received by the public selling many raffle tickets. This year's quilt by Elva also is exceptionally well done and raffle tickets once again are selling well for it.
A smaller quilt (photo 19) which was hand quilted by Sue Dillon is also being offered thanks to the generosity of Sue who also set up for us the magnificent display of miniature quilts in our eastern display room.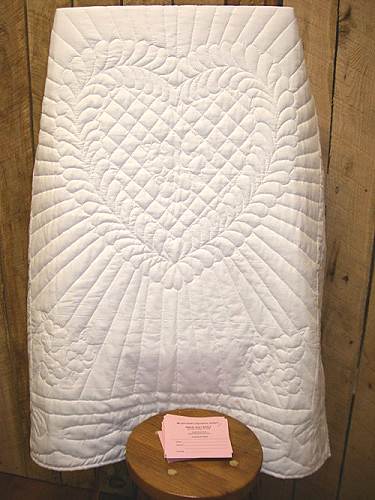 19 Raffle Quilt - Small Size
The smaller quilt raffle tickets are priced at three tickets for five dollars. If you can't make it to the museum you still can purchase tickets by mail which we will enter for you. Be sure and give your name and address and telephone number as indicated by these photos of sample raffle tickets (photo 20 and photo 21) and we will fill them out for you and put them in the raffle box.
20 Large Quilt Ticket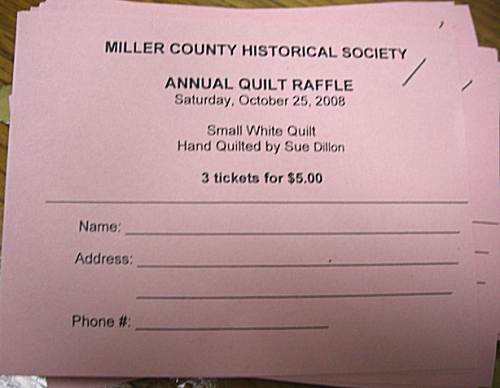 21 Small Quilt Ticket
That's all for this week. Come and visit us soon! Our hours are 10: 00 a.m. to 4:00 p.m. Monday, Wednesday, Friday and Saturday.