Monday, May 5, 2008
Progress Notes
Last week I reported the delivery to the museum of the historic barber chair which for many years had been used in the old barber shop located in Tuscumbia under the hill next to a rocky bluff which faced the Osage River. The chair was donated by Tennyson and Sue Jarrett of San Diego California. As noted last week Tennyson and Sue moved to California in 1968 and took the chair and other antique barber shop paraphernalia with them. Don Helton, nephew of Sue (Helton) Jarrett, was kind enough to bring it to us all the way from California, and once here, he and other members of the Helton family (especially Don's brother, Ron) helped unload the heavy chair and place it in the museum. In addition to the chair, Tennyson also donated to us the old barber pole, ceiling fan, and other antique barber instruments. For those who didn't read the history of the barber shop in Tuscumbia I will repeat it here:
The first barber in Tuscumbia recognized as having that as a profession was I.N Reed who, according to Louie Clarke Lawson, barbered in the 1880's. No one seems to know much about him. Tom Thompson barbered there also, but it is unclear in what order he fits in the list of barbers. Edgar Hicks was the first barber any of my mother's generation really remembers which would have been in the 1920's and 1930's. At that time a license from the state wasn't necessary to cut hair. Edgar barbered in the old barber shop in Tuscumbia along the river bluff until Glen Wyrick and his son, Bob, bought it in 1936. They had the shop when the flood of 1943 occurred. The water was so high and swift that the entire post office building, which was next to the barber shop, floated away down to the bridge where it hung up. The barber shop floated down to the corner three story stone building (Woodmen's Fellowship Hall) which at that time was owned by Jim Sweaney. It hung up there and with great effort, was pulled by several boats back to a location slightly more west along the bluff than before, next to the Spearman building which later became the next post office. In approximately 1944 Wes Condra bought the barber shop and ran it until 1966 when he suddenly died of a heart attack. Russell, Wes's son, sold it then to Tennyson Jarrett who barbered for about two years before moving to California. Tennyson took the chair and some other paraphernalia with him when he moved to California, but after arriving there decided not to barber and therefore, stored the chair in his home. The last barber in town was Dan Huff but I don't think he used the old barber shop building; I have been told he established himself on top of the hill in town.
The old barber shop recently was remodeled by Beverly Pendleton, who now lives in the historic building. Beverly is a cosmologist and works in her own salon next door to her home in the renovated barber shop. The entire old main street of Tuscumbia has been renewed with beautiful landscaping by Beverly as well as the addition of several new buildings. In addition to the remodeled barber shop and construction of the new salon, Beverly also has built a new cabin and garage nearby. In addition, the old post office has also been remodeled by Beverly. The old Woodmen's Hall building burned twice in the last several years but Beverly has cleaned up the debris and created a stage platform on the old foundation. All the structures face the river and offer a beautiful view to the hills on the other side (photo 00).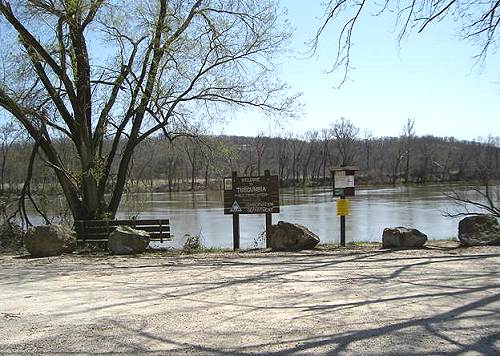 00 Looking Up River
Here are some consecutive photos of the buildings Beverly has remodeled all of which face the river: Old Post Office (photo 01), Note the old cave hole beside the Post Office building (photo 02), Old barber shop (photo 03), new salon (photo 04), new cabin (photo 05), new garage (photo 06), and the foundation of the old Woodmen's Hall building destroyed by fire years ago (photo 07).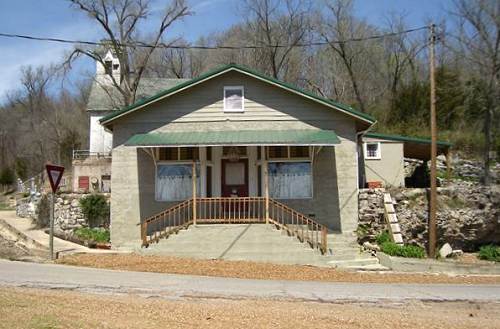 01 Old Post Office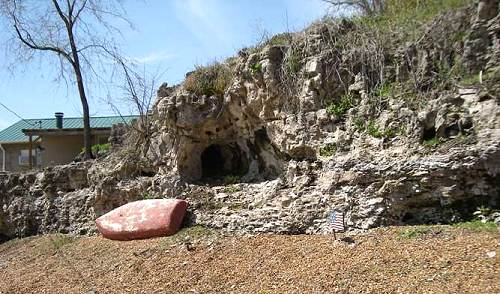 02 Bluff Cave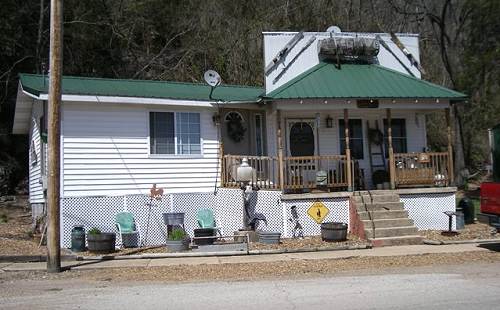 03 Original Barber Shop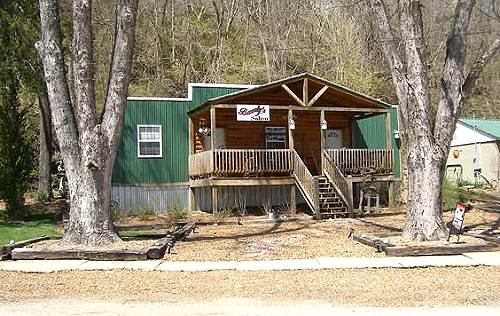 04 Beverly's Salon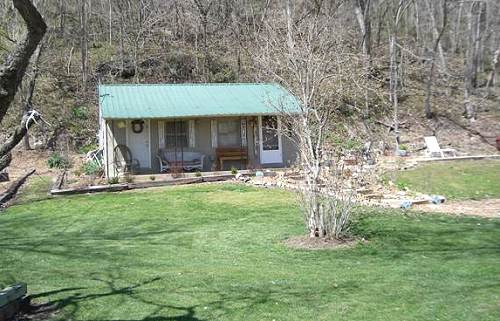 05 New Cabin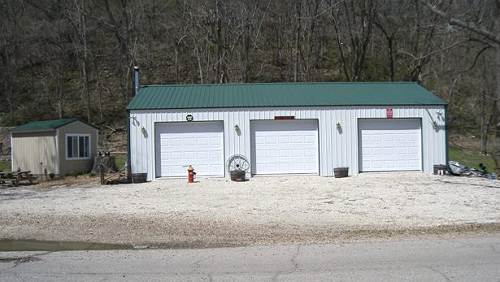 06 New Garage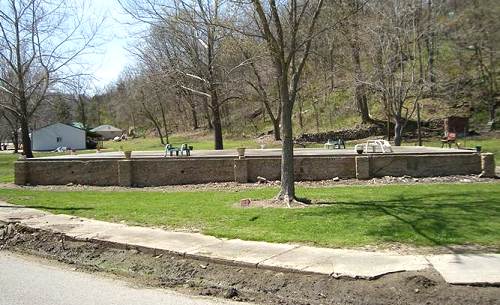 07 Old Woodmen's Hall Foundation
You can review a very interesting presentation of Beverly's property on the following website: www.lakeareavirtualtours.com/tours/Beverly'sCabins
The street on which the barber shop is located runs parallel to the river. In the past most of the larger buildings that were built along the street were on the bluff side. However, the large Hauenstein general store and the Sam and Jim Johnson Saloon were built on the river side of the street as well as a variety of smaller buildings. As expected, all these structures' first floors were inundated with water with every Osage River flood of any consequence. Three of the buildings were built up some to protect them from flooding. These were the Hauenstein storage shed, the barber shop, and the Woodmen's Fellowship Hall building. Fires were another threat which often destroyed buildings in those days. In fact, old photos of the river street in Tuscumbia seem to have a change of buildings located there about every fifty years. For example, a photo of the river street in the immediate post Civil War era reveals some buildings no longer present in a photo of the same location in the 1920's. Because of this it is difficult for someone who isn't old enough to get an idea of just which buildings were present in the 1920's as compared to the 1980's. However, one constant in most of the photos is the presence of Hauenstein's General Store (photo 08).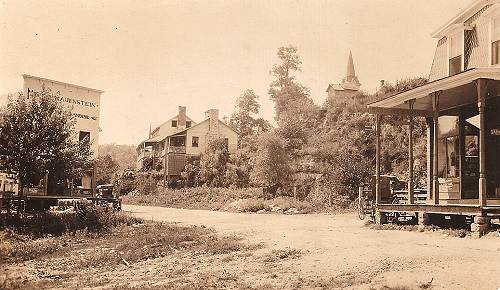 08 Hauenstein Store on Left
It was built in 1886 and survived all the floods and had no fire; therefore, it was constantly present until it was torn down about twenty years ago. This next photo (photo 09) given me by Mike Wieneman taken in the 1880's of the Tuscumbia Main Street reveals two buildings which burned and no longer are present.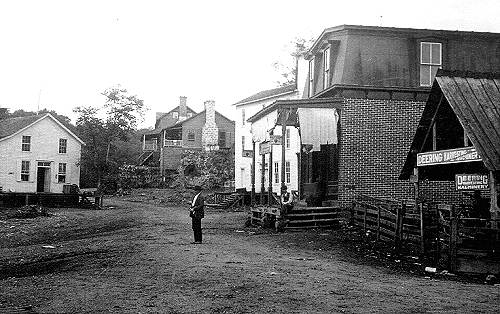 09 Fendorf Store
Those buildings were the large white building known as the Ira Johnson Saloon located just beyond the Fendorf/Robinson building (in the foreground on the right); and the other building a little further back was known as the Vaughan Hotel which was located where the Spearman building/post office was built later. And because the Fendorf/Robinson building burned in the late 20's it no longer is present in photos taken after that time.
I drew a sketch (photo 10) of this area of town which names the buildings which were present on the street facing the river in the 1930's.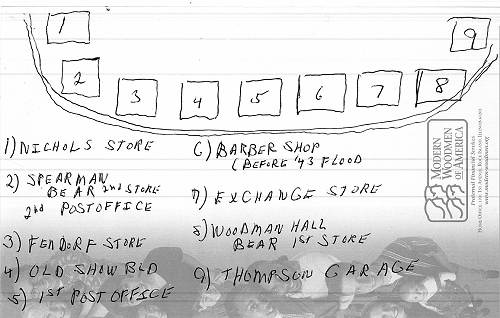 10 River Street Map - Tuscumbia
Each building is numbered. On the left, no. 1 in the sketch, was the old George Nichols general store during a flood (photo 11). It no longer is present since it burned many years ago but the foundation is still there with nice landscaping having been placed there by Beverly.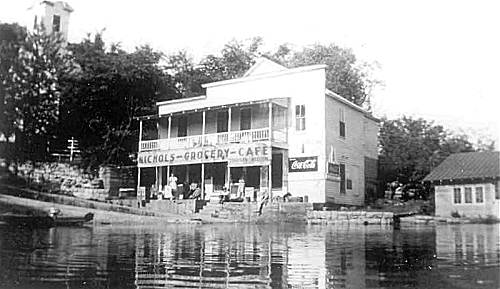 11 George Nichols Store during a flood
Next, no.2 in the sketch, is the old Spearman building (photo 12, taken in more recent years) which first was a restaurant and later used as the town post office after the original one floated away.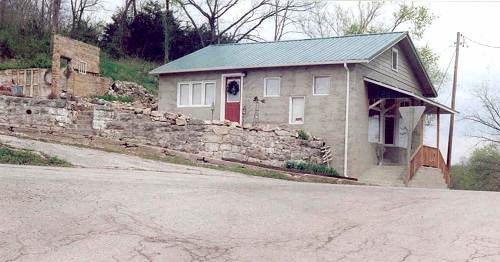 12 Old Post Office
The third building, no. 3 in the sketch, no longer is present but at one time it was a large general store built by Tom Robinson later owned by Frank Fendorf (photo 13).
The fourth building, no.4 in the sketch, was an old show building which no longer is present and for which no photograph exists. It was rarely used but occasionally when a traveling show would come to town. Fifth, no. 5 in the sketch, was where the first post office was located, the one which floated away. Similarly, the sixth building on this map, no. 6 in the sketch, (photo 14) was where the barber shop was first located before it was replaced where it is today after it was rescued from the flood waters in 1943.
The seventh building, no. 7 in the sketch, which no longer is present, was the Farmer's Exchange (photo 15).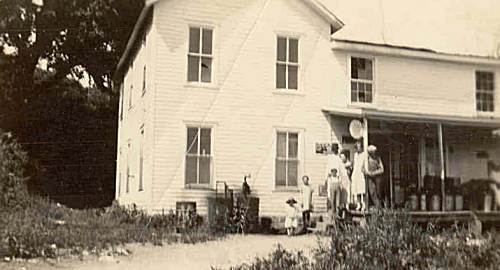 15 Farmers Exchange Building
The eighth, no. 8 in the sketch, was the old Woodmen's Hall structure which during the twenties and thirties was a general store run by my mother's family, the Madison Bear store (photo 16 which was taken in the late forties).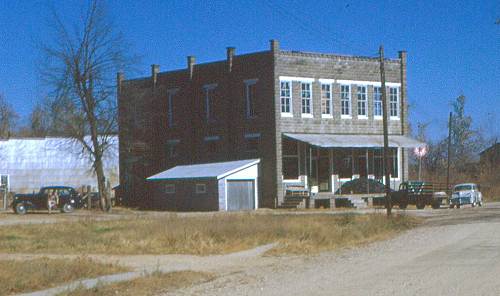 16 Madison Bear's General Store Woodmen's Building
The ninth structure, no. 9 in the sketch, was the old Thompson's garage, run by Frank Thompson. It no longer is present. I don't have a photo of this building.
It might be helpful to refer to the sketch when these buildings are mentioned later in the narrative.
My mother was born south of the river near where Dog Creek empties into the Osage River but most of her early life was spent growing up in Tuscumbia in the area called "Goosebottom" (for what reason it had that name apparently has been forgotten by now because no one I have asked could remember). Since her parents ran a general store in the old Woodmen's Fellowship Hall building she had the opportunity to spend a lot of time riding her tricycle back and forth on the river street sidewalk. I asked her to write down some of her memories of what life was like on the river street in those days. Refer to the sketch to localize building location as she mentions each one:
MEMORIES OF DOWNTOWN TUSCUMBIA 1920'S TO 1940'S
SUSIE BEAR PRYOR
James Spearman was the Post Master in the first Post Office when I first remember it but that was the old one, the first one which washed away down the river during the flood of '43. The Barber Shop washed away in the same flood as they were side by side before the flood took them. But the Barber Shop landed on a fill next to the Woodmen's Hall building where my folks had a general store and some of the men rescued it and placed it back a little further up the street. The Postal Service decided to use the old Spearman building on the corner for their Post Office after the other one floated away.
That sidewalk that used to be there (and partially still is) which I rode my tricycle on takes off from the Frank Thompson Garage on the East side and you can follow it all the way up through town to the west and around the corner up to the bank and Presbyterian Church where it leads clear up to the steps that take you all the way up on top of the hill to the Courthouse. On the way back I could start on my tricycle at the Presbyterian Church and head back down the hill passing the George Nichols store where the sidewalk began to level off as it went by the Spearman building (the building first was a restaurant but later was the new post office which replaced the one that flooded away). I would get a nice long ride down the street passing by a great big two-story general store which at that time was owned by Frank Fendorf, but was originally built way before my time.
Next to the Fendorf building was a building called the Show Building. But it was never used and seemed to lie neglected. Nobody ever talked about it and many still don't remember it. I haven't asked anybody hardly that even remembers we had a Show Building. But I have ridden by it too many times on my tricycle, back and forth, to lose that battle. It was always kind of mysterious to me for nobody ever even talked about it. I guess it was because in my time there never were any shows in it and people hardly paid any attention to it and it's still that way. That's kinda sad to me because it had been there so long and was not a run-down building but nice and sturdy and I don't know why people don't seem to remember it. I would put it up by any of the other buildings that everybody knows and talks about. After the show building I would pass by the first post office, the one that was flooded away; then the first location of the old barber shop; then the Farmer's Exchange; then the Woodmen's Hall building where my folks had a store; and then on around the corner to Thompson's Garage.
This street was my domain for I spent most of my play time there about. You see, my Mom and Dad would go to work in their store at the Woodmen's Hall Building, sometimes called Bear's Rock Store. We kids came down there with them where they could keep an eye on us. So that sidewalk was important to me for it was so long. I could also roller skate on it and my friends liked to come and play with me up and down it (and I don't remember any of them ever asking anything about my poor neglected Show Building! Now that it is on my mind again I will just travel on but just remembering and wondering if there had ever been any kind of activity in it!).
All of us kids had to spend our time down at the store all day long and the town was always pretty calm and quiet so we just roamed around wherever we wanted to go until closing time at night. I guess that's why I went around visiting so many people in their homes for one couldn't just stay in that store all day long. Along about nine o'clock at night when we closed the store, it must have been quite a sight to see all of us kids and Mom and Dad along with our big old Police Dog we called 'Boy' trudging home one by one walking up the long sidewalk crossing Shut - In - Branch over into Goose Bottom to our home. Throughout all that time I believe I was in every home in Tuscumbia. Lots of kids came to the store to play with me so it was never boring. We always found lots of things to do. Rex Wyrick and his folks (Clyde and Gertrude) lived next door managing the Exchange so Rex and I were together every day and we got in to lots of fights until he grew older and I learned not to tackle him anymore for he got to where he could outdo me. Our store was large and it had a long room where the folks kept a lot of things in there where there was no room in the main part of the store and lots of us kids would play hide and seek in that room and that is the place where Rex fell feet first in a large can of lard. He had to then go home to be cleaned up and his Mom wasn't home so his Dad, not knowing how to take care of the situation took him in back of the Exchange where there was a spring full of cold water and attempted to wash off the cold lard and didn't meet with much success so Rex had to wait until his Mom came home to finish the job. Another time when several of us kids were playing hide and seek in this storage room another friend, Nathalie Hicks, had the misfortune of falling into a large can of molasses which created another problem, for she had to walk home molasses and all a little bit farther than Rex did to get all cleaned up. Nowadays I look back and can't imagine going to a General Store to do some shopping and find the parents and all their kids and other kids that came to play with them running all around in there. But nobody seemed to mind and most of the customers brought along their own kids who joined in with all the fun.
I remember when a family named the Schwabbes' began to run the big Fendorf Store. It burned down one night not long after they moved in. It happened when everybody was asleep but the town's people all heard noises and knew something big was happening so everyone got up to go see what all was going on.
You didn't have to go very far out your door to see a huge fiery flickering light which showed all over our little town. Going further down one could see it was a huge fire in what was the biggest store in town...it had to be the Schabbe Store! It was a stately store, painted a deep dark red. I remember standing very close to it and I think everybody that was there stayed around and watched it go down to the ground. I was too young to remember now what time of night it was then. But I'm really sorry to say, and my thinking is that my friend, the Show Building, went down with it for they were side by side. Since that Schwabbe Store was such a big building how could another structure so close to it withstand such an onslaught? That idea would at least give it some character. The Schwabbe Family had moved into Tuscumbia without knowing a soul and nobody knew them. But some of their kids were in school with me. Since they were new here nobody ever got to know them. This fire happened before the flood which took away the post office and the barber shop.
That's all been oh so long ago but I hazard to say that I'll betcha that sidewalk is still there. I'm going to check on that.
With the burning of the Fendorf/Schwabbe store and along with it the Show Building plus the floating away of the old Post Office in the flood of '43 (as well as all the older buildings from the past such as Ira Johnson's Saloon and the Vaughan Hotel), if it hadn't been for the Barber Shop and the Woodmen building still there it sure looked like an abandoned street. But James & Camilla Spearman had stepped up a few years before the flood to help a bit for they had built a very nice new store on the corner as you turn to go up the little grade and go past George Nichols Store. They didn't stay in it very long and I can't remember what kind of store it was; I think it was a restaurant. However, I do remember that a very kind old Gentleman thought he was being very nice to me and took me up to James and Camilla's Store and bought each of us a half pint of ice cream each. That doesn't sound like much today when you can get ice cream almost on every corner but until then Jim Johnson's Saloon (on the other side of the street right on the river bank) was the only place in town that sold ice cream (Now a days it's kept in everybody home). When I was inside our store I remember seeing people come out from Jim Johnson's Saloon carrying their ice cream cones and my mouth would just drool. But my mom wouldn't let me go in there because he sold beer and liquor. But back then sometimes I would appeal to my Grandpa who lived with us, and get him to take me up to the Saloon to buy me one. My Mom sure wouldn't have given me permission to go by myself.
When my mom got too sick from Parkinson's disease to walk all the way to our store at the Woodmen's building, my folks started renting Jim Spearman's building to run a small restaurant. It was sometime after that that the '43 flood came and washed away the old Post Office. Sometime just before the flood my folks had left the Spearman building so the Post Office was moved there after the old one washed away and that is where it remained until the 1960's when it was moved once again up on top of the hill by the bank. And sometime after that it was moved again to another smaller building where it is now a little on further down highway 52.
I remember the Sweaney brothers, John and Jim. They bought some of the fishing cabins that Homer Lee Wright had built down by the river where the park is now. Then they built a large Tavern where Jim Johnson had once had a saloon close to Hauensteins' on that side of the street next to the river. Of course I never did get to frequent the place very often unless my Grandpa took me up for an ice cream cone. But they seemed to have lots of customers. They had dancing and there were those who enjoyed doing that. Then they bought my neighbor's house for John Sweaney to live in. But John didn't like running the tavern so he sold that to Jim and tried to make his living renting the fishing cabins.
And that's when the Osage River did a lot of us in. In 1943 there came one of our many floods when the river would get out of its banks and cover the whole bottom land and whatever else was in its way. Our house was in the Goosebottom area which was low and easily flooded so the water usually got in our lowest floor with a good sized rising. My Mom cleaned up after many floods and we always went back to live there again. This flood of 1943 kinda ruffled up John Sweaney's feathers. First he got upset because the flood covered the streets and that stopped all traffic coming to his cabins and he lost a lot of business. Then his house which was over in Goosebottom and in the deepest part was hard hit and the water got deep. But he would have had time when he saw it was coming in to have moved a lot of his belongings, but he didn't. Since my Mom and Dad would start moving up and out everything in the bottom of the house we would finally get every thing up out of the way. I don't remember this for sure for we had so many floods but the last one we had rose up into our upstairs. Then my folks couldn't salvage very much. The piano was tied up to the ceiling and it fell down into the water. It was a goner. The flood floated our refrigerator away but the men hooked it onto a boat and towed it over to where it was out of the water and when they hooked it up it never stopped running. But John just threw up his hands and went off and left his house and all the insides. By this time he had had enough and he wanted as far away from Tuscumbia as he could get. Oh yes, a couple of his cabins that he owned close to the river floated away. When the river receded things sure looked a mess; everything covered with mud. Since Harold and I lived in a couple of rooms upstairs in my Mom's house we went over to John's to look the situation over and offered him ten dollars for his Maytag washing machine that you could tell was practically new for he never had any family. We moved it over onto my Mom's back porch and probably washed many, many loads. That was the last we ever saw of John Sweaney.
But before the flood Jim had decided he didn't want to run a tavern building so huge so he moved out of the building that John had left him which was next to Hauensteins' and moved down to the old Woodmen's building where afterward he had a tavern for many years.
When Jim moved out of the tavern by Hauensteins' my brother Arthur bought it and started a café and general store. But one day he accidently dropped some burning ashes on some papers and the store burned up. It was gone forevermore and nothing was built to replace it. While it was burning Arthur went up to Lucian Mace' s to ask if he could "borrow a ladder for a bit" so he could get to the upstairs window to salvage some of the dry goods, but when he got back it was all burned up.
So Arthur had to start all over again. He went down to the old Exchange Building by the Woodmen's Hall where Jim Sweaney had moved to start his tavern. No sooner hardly had Arthur got moved and restocked everything that he had been forced to buy new again is when the '43 flood came I talked about above. It got into the second floor of the Exchange Building. Arthur borrowed a boat and started trying to carry things out a second floor door onto the outside steps but as he stacked a good number of things the flood waters swept the steps and all his goods off down the river. He was lucky not to have drowned. For awhile after that Arthur had a store on the hill across from the school but then he moved to Eldon. He started a grocery store in Eldon on Maple Street across from Ralph Reed's department store which he called the "Sanitary Market." Arthur had the store from 1945 until 1965. He felt a good bit better there because there wasn't any river and Eldon had a good fire department.
---
Thanks Mom.
You may notice that the sketch I made of the river street buildings used stationery provided by the Modern Woodmen of America, the same organization which built the stone building to which I have referred as the Woodmen's Hall. This company exists today. Originally it was an insurance business which encouraged small communities to organize societies which performed public service projects for the community. Many times the buildings in which these groups met were called the Woodmen's Hall building or something similar.
The Modern Woodmen of America was started in 1883 by Joseph Cullen Root (photo 17), America's most prolific founder of benefit societies.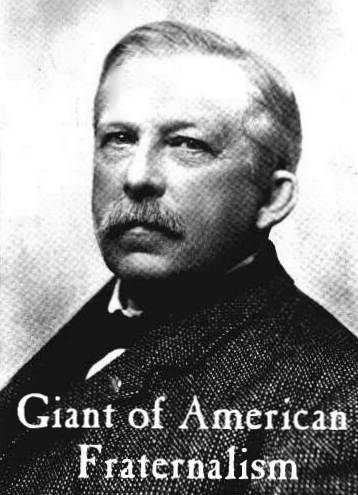 17 Joseph Cullen Root
One hundred years ago, many small towns as Tuscumbia had a Modern Woodmen of America group. You can read more if you wish about the Modern Woodmen of America and Joseph Root at these websites:
http://www.modern-woodmen.org/Public/AboutUs/History/Timeline.htm
http://srjarchives.tripod.com/1998-09/UZZEL.HTM
By the 1950's the only three buildings left on the river street were the Spearman building which housed the post office, the barber shop, and the Woodmen's Fellowship building. The Woodmen's building had several occupants over its life span. My grandparents, Madison and Sadie Bear, began a general store in it in the mid 1920's. It was a three story building with the third story used for the meetings of the Woodmen Fellows membership. The lower two floors were used for the general store. I don't know exactly when the building was built. Since the Woodmen Fellows organization didn't get organized until the mid to late 1880's, it was probably during that time frame it was built. I haven't been able to learn who used the building other than the Woodmen's group before my grandparents. Wes Horton told me that once he was talking to Oscar Abbott who told him that he helped build the building. Oscar remembered that the stones for constructing the building were made out on the street in front from a limestone powder obtained from local rocks. Oscar said he was paid fifty cents a day! Oscar was a fairly old man when I was a boy growing up in Tuscumbia so that would indicate to me that the building probably was constructed near the turn of the century one side or the other. My mother says it was vacant much of the time. After my grandparents left it in the late 1930's to move their store to the Spearman building, Jim Sweaney moved his tavern there. Tandy and Eula Jenkins of Eugene had a tavern there after Jim left sometime in the mid fifties. After the Jenkins' Rudy and Leona Stienke of Kansas City bought it in the early 60's and named it "The Lost Dutchman." Hilda Hager Stark of near Eugene bought the building from the Stienke's and named the tavern "Big Mama's." The last owner was "Ms. Kitty" (Joyce Wilhite). She suffered a fire that destroyed the building in the late 1970's, but undaunted she rebuilt a smaller building (photo 18) but it burned also.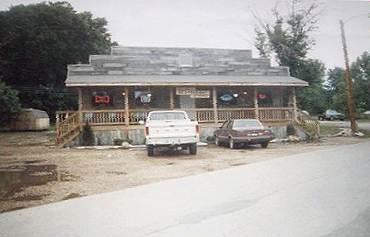 18 Rebuilt Cafe at Woodmen's Hall Site
After that, Ms. Kitty moved her café and tavern to St. Elizabeth where she has an outstanding eating establishment today. In fact, I took the photo of the café she rebuilt on the Woodmen building site from a framed photo she had hanging on the wall at her café in St. Elizabeth. She told me that she was told once that it was bad luck to rebuild a burnt building but she didn't pay any attention to that but she guesses maybe she should have!
So, like most of the rest of the Tuscumbia River Street stores and establishments, the big three story Woodmen's Fellowship Building was no more. Before Beverly Pendleton began her revitalization of the area the only buildings left were the old Spearman/post office building and the barber shop.
---
One of the things which most interests me are the old photos which people let me scan of their families and other historic subjects and structures. Especially valuable are those photos which identify the people or buildings in them. I was given this poem the other day by Sharon Holder which addresses this subject (photo 19).
---
Alton Davis (photo 20) came by the other day to help us plan his Indian Artifact Display. Alton has kept a display in the museum for us for quite a number of years. He also has done some sculptures and other art work which we have on display. Especially interesting is his arrowhead collection to which he often adds new finds from his frequent explorations of Miller County creek beds and valley bottoms, especially after a rain.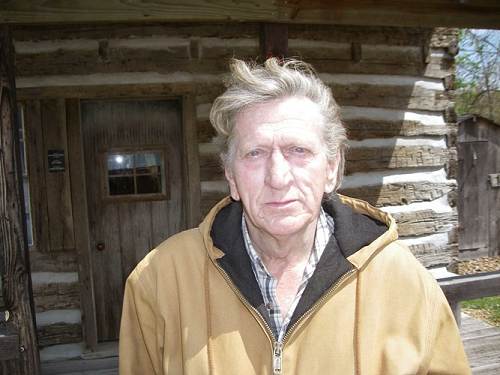 20 Alton Davis
---
We have now progressed to the placement of lighting fixtures in the renovation project of the old museum. Here you see Jim Clark busy on a ladder (photo 21) and Kenneth Wyrick walking to get another fixture to place (photo 22).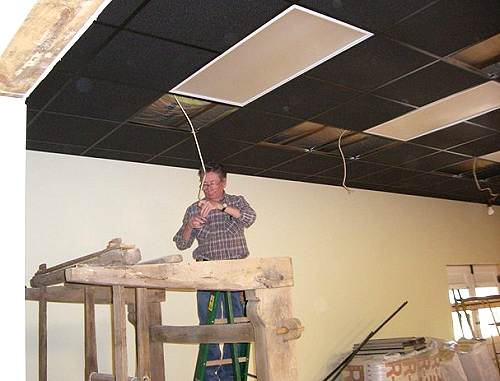 21 Jim Clark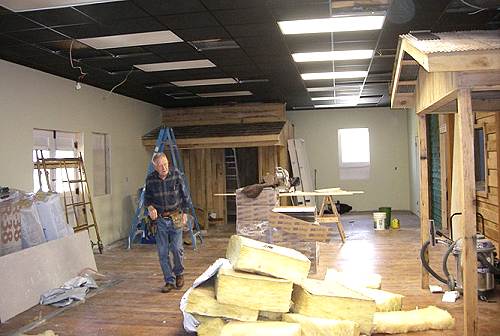 22 Kenneth Wyrick
We will have an open house on Saturday, May 17 at the museum. Not all the exhibits will be up yet but you can walk through the new addition and the renovated old museum to get an idea of what we will be creating for visitors to see when they come to visit us. We are cleaning and scrubbing as fast and hard as we can to get ready (photo 23 and photo 24).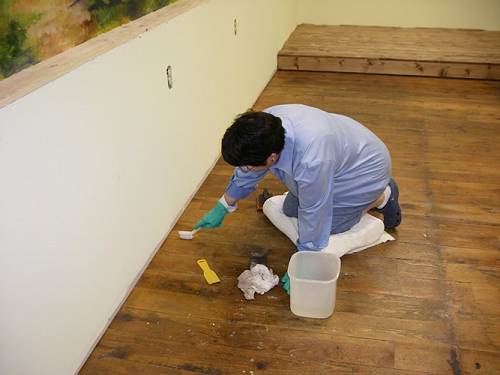 23 Judy scrubbing the floor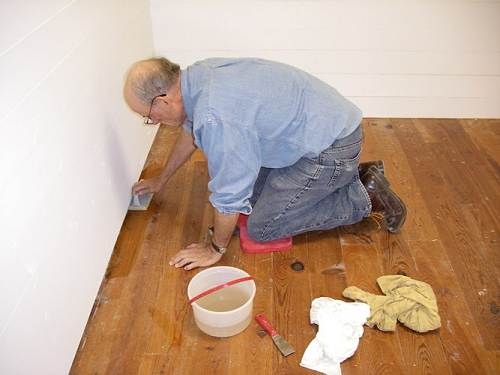 24 Joe scrubbing too
---
Mary Kathleen Gainey is an artist and teacher from Eldon. She will retire from the high school the end of May. She has painted murals in various buildings in the Eldon schools as well as in businesses in southern Missouri. Mary says it was artist Michael McClure from Willow Springs who taught her to paint murals with the 3 primary colors and white. She never uses black. Colors are blended on the wall instead of on a palette. This technique saves paint; however, because of the fast drying nature of acrylic paints, Mary has to work very quickly, which results in an impressionistic painting.
We were honored that Mary has given her time and talent to create two murals for our museum. The mural for the one room school house which we are replicating was made up on the spot as Mary remembered what she knew about those old schools as well as information we shared from our one room school project. Here is Mary in front of the mural of the one room school just after she finished it (photo 25).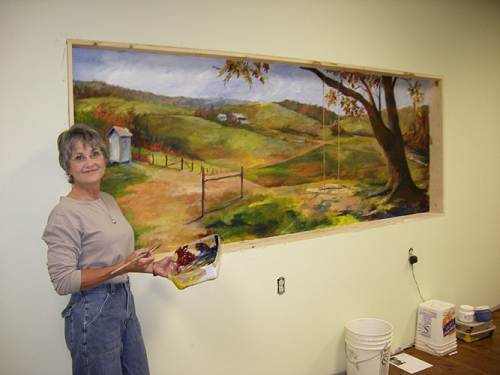 25 Mary in front of School Mural
The second mural is one of the background scene looking through the pass way of a "dog trot house," of the kind often seen in rural Miller County years ago (photo 26).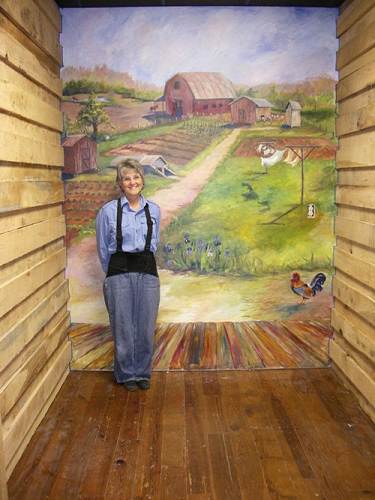 25 Mary in front of Dog Trot House Mural
Mary was raised in the woods along the Moreau River. When she retires she intends to live in the woods along the Niangua River. As soon as someone buys her house in Eldon, that plan will get underway. She intends to keep teaching at Columbia College, make pottery, murals, and publish her short stories and poetry. She also intends to spend more time with grandchildren and go fishing every time the notion hits her!
That's all for this week.