Monday, April 28, 2008
Progress Notes
Last week the subject of the week was the Century Farm program sponsored by the Missouri State Extension Office in which I highlighted an article from the Autogram written in 1976 by Rob Hill. This week I will discuss one of the most famous farms in central Miller County which was owned by the Wells family from 1841 until it was sold in 1962, making it a "one hundred twenty year farm." The Wells family history is very interesting and one member of that family in particular, Joshua Russell Wells (photo 01), became one of the most successful and pivotal figures in early Miller County history.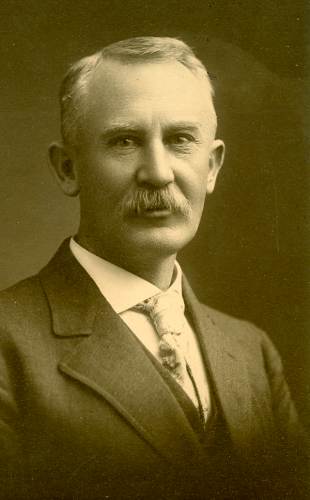 01 J. R. Wells
Not only was he the first president of the Anchor Milling Company of Tuscumbia, but he also was known for the steamboat named after him by the Anchor Milling Company, the "J.R. Wells" (photo 02).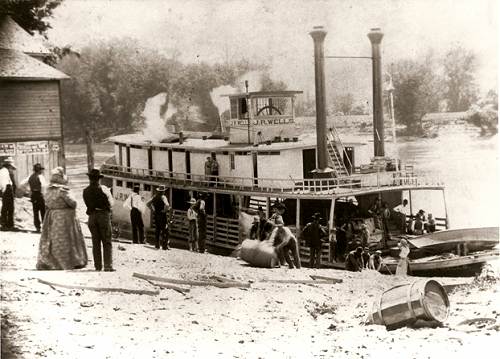 02 J.R. Wells unloading at Tuscumbia
We have already uploaded on our website significant information about J.R. Wells the man, as well as J.R Wells the steamboat, and I would suggest you might want to read it now to get an overview of his life before continuing with this narrative where I have explored in some detail the story of the Wells family. The first article on our website is a short summary of the story of the large Wells home:
Wells House - Miller County Museum & Historical Society
The second article is a summary of the life of J.R. Wells. You will find it on our website at this location (you will need to scroll a short way down the page to get to Joshua R. Wells):
W - Biographies of Miller County Persons
I was raised in Tuscumbia and had heard about J.R. Wells all my life. I knew fairly well one of his daughters, Sue Wells Stillwell, whose home was next to the Tuscumbia High School (removed several years ago when the expansion of the high school occurred). My mother was friends with some of the Wells grandchildren and had played with them in the large home on the river farm. But I never had familiarized myself with many of the details of the Wells family, especially J.R. Wells, of whom we could not find in our museum a single old photo to let those of us who were too young to have seen him to know what he looked like. So, I called Roy Sone, one of the last living grandchildren of J.R. Wells, who lives in Jefferson City, and asked him if I could come over and scan some pictures and get further history about the family. Last week on a sunny warm day I made the trip from Tuscumbia to Roy's house.
Roy and Joyce, his wife (photo 03), live in a very picturesque home overlooking the Moreau River south of Jefferson City (photo 04).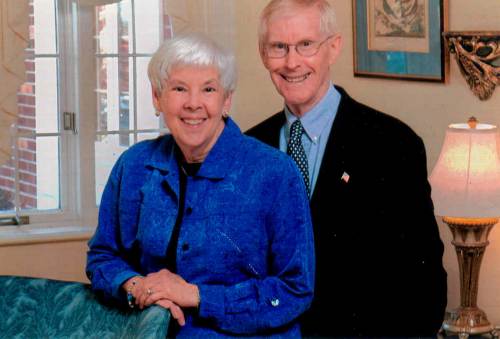 03 Joyce and Roy Sone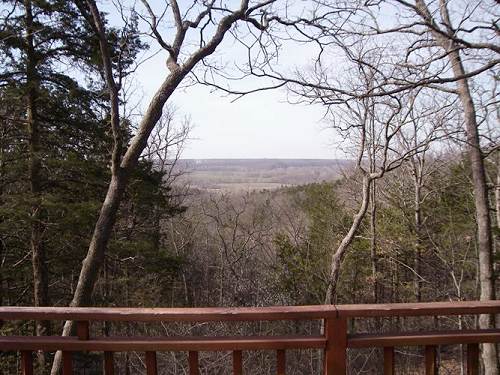 04 View South from Roy' s Home
He met me at the door and helped me carry some of my scanning equipment into the dining room where on the dining room table he had gathered for me all the Wells family history and genealogical books as well as numerous photo albums. I spent about five hours talking with Roy and scanning photos and documents. Joyce was such a nice hostess; she made fresh muffins and coffee for me when I arrived and later prepared a delightful lunch for Roy and me!
Before delving into the Wells' side of his family, we discussed some of the interesting history of Roy's paternal family, the "Sones." One of Roy's distant relatives of the past, Samuel Sone (photo 05), had been sheriff of Cole County at one time.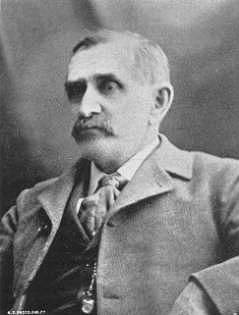 05 Samuel H. Sone
Samuel also had a connection to Tuscumbia in that he was married to Lena Hauenstein, daughter of William Hauenstein, the first of the Hauenstein family to come to Tuscumbia. Lena had died early on in the marriage, and her son, Will, who later became a dentist, spent much of his early life visiting his Hauenstein grandparents in Tuscumbia. Samuel Sone had an interesting history with other connections to Miller County in addition to his wife. The Cole County Historical Society includes this short biography of Samuel:
Samuel H. Sone was born on a farm near Jefferson City February 16, 1848. He lived there until the age of twenty-one when he secured the contract for carrying mail from Jefferson City to Tuscumbia, the county seat of Miller County. He ran a stage for ten years.
He was united in marriage on August 10, 1876, to Miss Lena Hauenstein of Tuscumbia, after which he engaged in farming. When his wife died a year later, he engaged in the livery business in Tuscumbia for three years when he got into the real estate business in Aurora Springs. He then moved to Kansas City where he stayed awhile then came back to the Cole County home of his early life. Here he was deputy sheriff four years under T.B. Mahan, four years under F. J. Fromme. In 1894 he was elected to the office of sheriff and re-elected in 1896. At the expiration of the second term he moved to his farm west of the city.
He had a son (Will) by his first marriage. Mr. Sone married a second time to Mrs. Elizabeth Jenkins (nee Stone) a grand-daughter of the Rev. John West, minister of the Old School Baptist Church. As a result of this union he had four daughters. The family lived at 1400 West Main Street.
Roy Sone's father, Guy, was an interesting person himself having been a respected Jefferson City golf player who played often with some of the well known pros of the day (photo 06).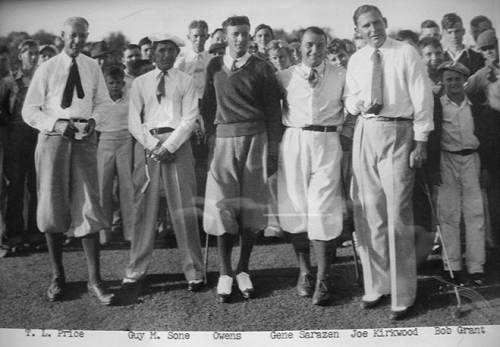 06 T. L. Price, Guy Sone, Owens, Gene Sarazen, Joe Kirkwood and Bob Grant
Roy kept some of the interesting artifacts from the Wells family home in Tuscumbia. One of these is an old mantle clock brought by the family from Virginia (photo 07). Another is a passenger ticket (photo 08) for an old steamer, The Planter, owned by his great grand father Charles.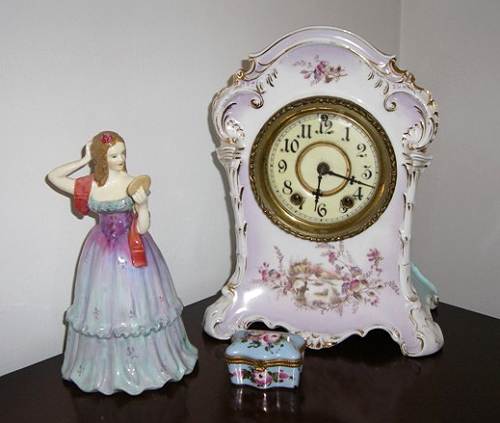 07 Clock brought from West Virginia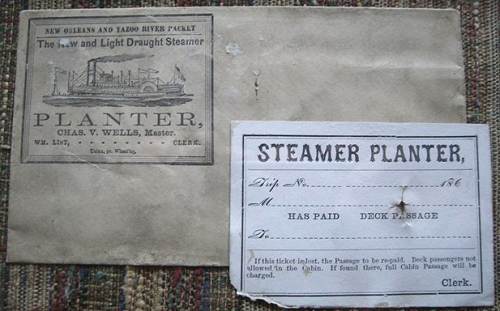 08 Ticket for Steamer Planter
Roy also has the original plans for the Ruth (photo 09), a steamboat his grandfather J.R. Wells had constructed and named for his daughter named Ruth, whose name had been drawn from a hat from among the names of her sisters also placed in the hat. An old ceiling lamp brought from the Wells house hangs from the ceiling of Roy's dining room (photo 10). One particularly interesting item is an antique spy glass (photo 11) owned by Charles Wells, Roy's great grandfather, who ran steamboats on the Ohio River.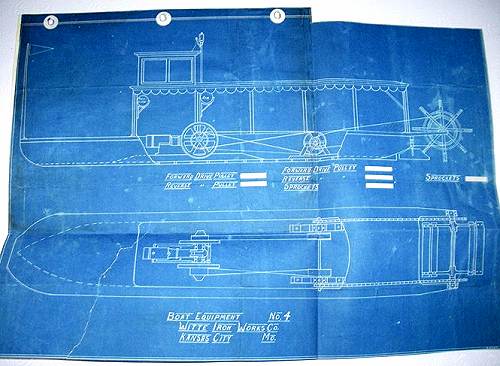 09 Plans for Ruth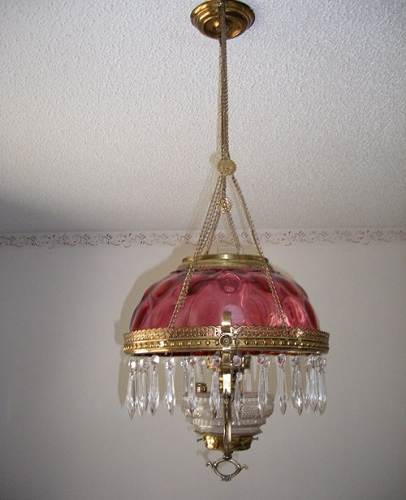 10 Hanging Lamp from Wells House

11 Spy Glass used by Charles Wells
Roy also has some paintings done by two famous Miller County artists, John Wright and his daughter, Francis Wright. The Wells home was reproduced in an interesting painting by John Wright finished sometime in the very early 1900's or perhaps before (photo 12). In this painting, John hid the names of the seven Wells children but with careful searching one can find them. The painting by Francis (she later used the professional name of Francesca) was of the famous Wells steamboat, the J.R. Wells (photo 13).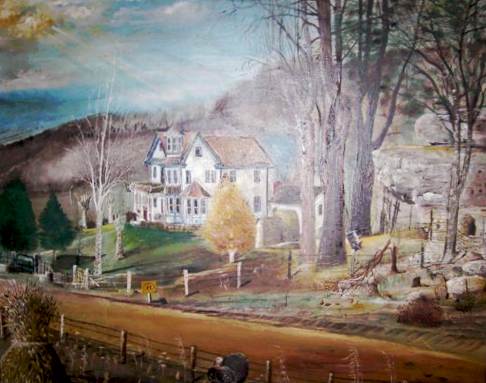 12 Wells House Painting by John Wright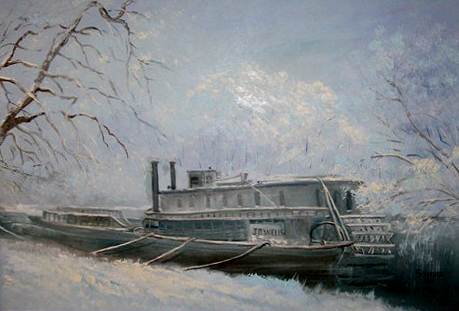 13 J.R. Wells Steamer Painting by Francesca Wright
Roy's mother, Ruth, was the historian of the family who researched and wrote the Wells family history tracing the lineage back to the late 1600's in Maryland. It is from her book, which Roy loaned me, that I have copied the stories of Charles V. and Joshua Russell Wells. The only photo I could find of Charles V. Wells had been copied into a short biography of him which I include here before beginning the longer biography of Charles written by Ruth (photo 14).
And now the story of Charles V. Wells as researched by his granddaughter, Ruth Wells:
Charles V. Wells
By Ruth Wells Sone
Charles V. Wells was born October 22, 1819, in Dayton, Ohio, the son of Peregrine and Charlotte (Miller) Wells. Charles's Mother, Charlotte, died in Ohio when he was about three years old.
Peregrine, after the death of his wife, returned to Tyler County, Va. (Now Tyler County, W. Va.) with his three children, Elizabeth, Charles and Charlotte. Peregrine then married Mary Braley in Virginia, January 6, 1823. In the fall of 1824 he built his home on his "Long Reach" property, willed to him in 1815 by his father, also named Charles. This land located only a few miles south of Sistersville, W. Va., was known as "Long Reach" because it is said to be the longest and straightest stretch of river in the Ohio Valley.
The house was built on a knoll overlooking the valley and river, and in 1937 was the home of Miss Molly Wells, a grand daughter of Peregrine and Mary (Braley) Wells. Charles Wells early in life had an opportunity to know the river and create an interest in navigation, as well as the value of river bottom land.
On March 30, 1842 Elizabeth and Charlotte Wells gave their brother, Charles Wells, Power of Attorney to handle or dispose of property inherited by them from the Estate of James Miller, their mother, Charlotte (Miller) Wells, having died intestate. Charlotte (Miller) Wells was a daughter of James Miller and Rebecca (Wells) Miller.
The purchase of land was the usual custom of investing money at that time. So, it would seem that it was with this inheritance Charles bought land in Miller County, Missouri. On April 28, 1842 Charles Wells purchased land in Miller County, Missouri, as shown from a Warranty Deed from Andrew McCastland and Mary McCastland, his wife, to Charles V. Wells of Tyler County, Virginia.
Charles had come to Missouri with Nicholas Wells, an uncle, of Tyler County, Virginia, who also purchased land along the Osage River in Miller County, Missouri. According to a Tax Receipt among his papers, Charles paid taxes in 1843 in the amount of $3.12 on the 185.06 acres purchased in April, 1842.
The next tract of land acquired in Miller County, Mo. by Charles, was on October 13, 1855, when he entered 320 acres, adjoining the land purchased in April, 1842. This tract was patented April 2, 1857.
On April 25, l861, he purchased at Sheriff's Sale in Partition 144.92 acres in Miller County, Mo. This land also joined the other plots.
Tax receipts for 1876 show taxes paid on 644 acres in Miller County, Missouri.
Charles married November 4, 1851, in Sistersville, Virginia, (now West Virginia), Susan Thistle Russell.
In 1860 Charles brought his wife, Susan, and their seven year old son, Joshua Russell Wells, to Miller County, Missouri for a visit, so that they could see the farm and observe the beautiful virgin country in which it was located.
---
The next several pages of Ruth Wells Sone's history of the Wells family details the history of Charles V. Wells' business activities in Virginia during the years 1846 until 1867 when he returned to his Missouri Miller County farm to live. I will summarize what Ruth wrote as follows:
In the pre Civil War years, Charles Wells was very successful running steamers up and down the Ohio and Mississippi rivers carrying freight of all kinds including cotton. At various times he owned up to five or six steam boats. But when the Civil War began President Lincoln ordered a blockade on the Mississippi to isolate New Orleans. Undeterred, Wells and other steamboat owners were able most of the time to run the blockades due to the inferior quality of the Union Army's gun boats which could not intercept them with regularity. However, as time went along, the North's gun boats improved in quality as did the skill of their captains and the Southern steamers began to be captured and destroyed.
At the close of the Civil War Charles Wells and Company owned a large number of bales of cotton costing $61,717.90 which was stored in a warehouse. But Wells could not sell the cotton since he had not taken the "Amnesty Oath" and was still considered a "Rebel." Even though he spent almost a year engaging attorneys and other consultants to take possession of the cotton, all efforts failed. Thus, in 1866 he found himself without his steamboats which had been captured or destroyed, and without any of his stored merchandise being returned to him. Depressed and despondent he decided to leave his family with his father in law, Joshua Russell, and return to his Miller County farm to try to regain his financial losses.
Now I'll go back to the narrative by Ruth Wells Sone which tells the story of the activities of Charles Wells in Miller County Missouri:
CHARLES V. Wells in Missouri
Charles V. Wells did not return to his home in Sistersville, West Virginia after losing his boats and cotton in the south, instead he went to his 644 acre farm in Miller County, Missouri. He brought with him books, papers, a tool chest, tools, drapes, which had been used on the steamer Planter, a spyglass and several other articles he had salvaged from his boating days, to make his home in a large log cabin (photo 15) in a wooded section of the farm.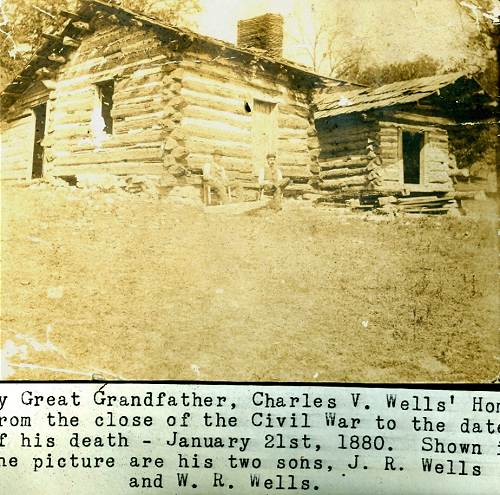 15 Charles Wells Log Home
He had spent his boyhood on a farm in the Ohio Valley in Virginia. The knowledge obtained there and his determination was all he had to commence a new life as a farmer in Missouri.
His wife Susan and their four children continued to make their home with her father and mother in Sistersville, West Virginia.
Note: here is a family photo of Charles V. Wells before he left Virginia: (photo 16).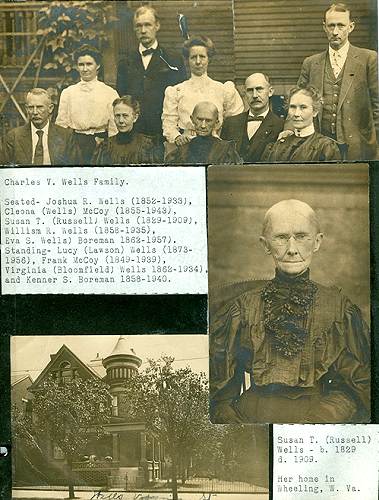 16 Charles V. Wells Family
The following quotation from a letter written by Joshua Russell reflect his affection for his son-in-law:
Sistersville, W. VA
September 17, 1867
Dear Charles,
We would all be glad if you could come home. I suppose Susan has or will soon be writing to you and give you all the news. Hoping you will yet have better fortune than you have had heretofore.
I remain as ever,
Affectionately yours,
Joshua Russell
The first task Charles had after settling on the farm was to clear more land and sell the timber. On December 28, 1874, he sold timber to M. S. Carter of Osage City, Missouri. The contract stated: "... the said M.S. Carter agrees to pay Four Dollars per 1000 feet for all the Saw Timber in the above Boundary to be measured on the bank of the river bank of the River at C. V. Wells Landing and pay as soon as delivered in raft at Osage City, to be run as soon as possible as the water will admit."
Wells was forced to file a suit to collect for the timber. Judgment was awarded in his favor in the sum of $309.84, on December 13, 1876.
Charles had freighted many bushels of potatoes while in the steamboat business. Therefore, it was only natural that when he was looking for a cash business and one that he knew how to market, he would raise potatoes. Then too, he had a boat landing for a convenient loading place. He was known in the neighborhood as "Potato Charley." A survey made by H. S. Burlingame, Deputy Surveyor of Miller County, Missouri, of the potato field showed 5.18 acres. The date is not given on report of the survey.
When making his three mile trips to Tuscumbia he often walked, taking a steer hitched to a cart to haul his wares to and from the village.
He raised wheat, corn, hay, etc. on the farm. In April, 1879 he rented forty-two acres of ground for corn by contract: fourteen acres to David Hawken, sixteen acres to James Simpson and twelve acres to Benjamin F. Lawson. The new friends in Missouri knew little about Charles V. Wells, excepting that he had been a steamboat man. He was a member of the Odd Fellows Lodge of Tuscumbia. Wells made provision for a bountiful supply of food for the winter as shown by the supply on hand at the time of his death in 1880. The circumstances as to the cause of his death are not clearly known.
William Hauenstein of Tuscumbia, Missouri, a very good friend of C. V. Wells wrote the following letter to Mrs. C. V. Wells at the time of the death of her husband:
Tuscumbia, Mo.
Jan. 22nd, 1880
Mrs. Wells
Dear Madam:
I here with inform you of the death of your husband, Chas. V. Wells. His spirit took its flight last night 20 minutes before 11 o'clock at his Farm.
With easy mind he past away in a pleasant sleep to awaken no more.
His sickness was Pneumonia, the burying will take place here tomorrow afternoon. As a friend I have done all in my power through his sickness and his Farm and stock shall have my attention until in the hands of an Administrator. I will write to you in a few days in what way the personal property will be disposed of.
Yours Respectfully,
William Hauenstein
Mr. Louis Hawken and Mr. Al June were with Wells at the time of his death. He was buried in the Tuscumbia Cemetery, at Tuscumbia, Missouri.
Mr. Hauenstein was appointed administrator of the estate.
Charles V. Wells died intestate, and the sale of his personal property was held on February 6th, 1880, at the farm. It is interesting to note the amounts of food listed as sold at the sale of February 6th:
Bacon, 2 boxes onions, 3 boxes of beans, 2 barrels of salt, keg of molasses, lard, 1 barrel meal, ½ barrel of kraut, 1 box pop corn, and l24 bushels of potatoes, also barrel of soft soap.
A list of his live stock shows: Chickens, ducks, hogs, yoke of oxen, yoke of steers, a pair of yearling steers, cows, heifers, bull calves, and sheep. No horses listed.
Some of the items sold at the sale are as follows:
Harrow, iron maul, 4 live oak mauls, crow bar, plows, ox bows, ox yoke, scythes and corn knives, grind stone, shovels, spade, hoes, rakes, trough axe, mattock, pick, hay fork, manure fork, saws, single tree, tool chest, brace and bits, files, chisels, planes, hammers, augers, square, wrenches, log chains, etc.
---
The next part of Ruth's history tells the story of how J.R. Wells, Charles' son, came to live on and work the farm of his father in Tuscumbia. But first, I want to add some additional history about Charles obtained from descendents of one of his tenants, Lewis Jones, who leased land from Charles early on soon after Charles arrived in Miller County. The information was obtained from a history written by Hazel Pearl (Jones) Uthoff, a descendent of Lewis Jones. I am indebted to Hazel's son, Vincent Uthoff for giving permission to record what his mother wrote. The interesting aspect to me of this short story is that Lewis Jones had, like Charles Wells, been a rich man in Virginia, lost everything due to the Civil War and a prewar "panic," and then traveled to Missouri and Miller County to try to recover financially:
Lewis B. Jones
Hazel (Pearl) Jones Uthoff
Lewis B. Jones (B 1802, D 1874) was one of 10 children born to Thomas H. (B 1782 D 1849) and Mary Haines (B 1785 D 1872) Jones. Lewis was born in a wilderness area of Virginia near the present day city of Middlebourne, West Virginia. At the start of the Civil War, when Virginia withdrew from the Union; the western counties of Virginia withdrew from Virginia and were admitted in 1863 to the Union under the name West Virginia. In the late 1820's Thomas bought a tract of land on the Ohio River near Sistersville. Thomas became a merchant-farmer and sold produce and cured meats to the riverboats that carried passengers and cargo along the Ohio River.
On August 1824, Lewis B. Jones, son of Thomas, married his first wife, Rebecca Haines. In 1838, Rebecca died. Lewis later married a second time. His second wife was Elizabeth Custer. She bore him 5 children.
When Lewis's father died in 1849, Lewis bought out the other heirs and started a lumber business on Mckim Creek in what is now Pleasants County, West Virginia. At one time his holdings included 17,000 acres of land, a sawmill, a store, and a boat building company. During the "Panic of 1857," Lewis lost most of his holdings. What he was able to save, he divided among the children of his first marriage.
Lewis then moved West seeking to recoup his fortune. The children of his second marriage came with him to Miller County, Missouri. Charles Wells, who operated boats on the Ohio, and with whom Lewis's family had been associated in western Virginia, owned 900 acres of land on the Osage River near Tuscumbia, Missouri. Charles wanted it cleared and fenced. Lewis agreed to a 3-year lease to a parcel of land, which he would clear and fence in return for the lumber he would remove from the land. The brother of Elizabeth Hill had a similar lease on the Wells property, and this was how she and Lewis met.
Lewis and Elizabeth remained on the Charles Wells Farm for about 10 years. During these years, 4 children were born to them: William Lewis Jackson, Eliza, Ulysses Grant, and Virginia. About 1869 Lewis moved his family from the Charles Wells farm to a 311-acre farm on the Osage River near Capp's Landing. Only about 100 acres were farmable, the rest was rough and woodsy. Lewis had purchased the farm with $1,800 saved from the sale of lumber. Lewis farmed and sold cured meat, like his father before him, to commercial riverboats.
When Lewis lived in Pleasants County, Virginia (since 1863, part of West Virginia), he had co-signed notes of others to help them obtain loans. About 1873, he was asked to make good on one of these notes. In February of 1874, Lewis drove some hogs into Tuscumbia to raise the money to pay the note. He returned home about midnight with pneumonia and died before morning. Elizabeth Hill was left a widow for a second time. She had 4 children still at home, Nancy 18, Billy 14, Grant 9, and Virginia 7. Eliza had died about 4 years before and the other children were married and on their own.
About 1877, some 3 years after Lewis's death, Elizabeth lost the farm on the Osage River. "Cheated out of it," Grant said. And 7 years of wandering began -- looking for someplace to start over again. Billy took a job driving a Mr. Diamond and a Mr. King, who owned a Punch and Judy show, to Texas, and the family lost track of him for several years. The family moved first to Cherokee County, Kansas, to Northwest Arkansas near Grant's half-brother Mark, then to Joplin, and St. Joseph, Missouri. Finally Elizabeth moved back to Miller County. During the time of wandering Elizabeth supported herself as a midwife. Grant took whatever came to hand, splitting cordwood, helping drive cattle to market, or helping a farmer bring in his crops. Grant said,"I was never too little for the big jobs or too big for the little jobs. I often took jobs that others were too proud to do. We were poor, but I never went hungry or cold. There is no shame in being poor. The only thing wrong with being poor is the disadvantages it brings you."
---
Another descendent of Lewis Jones is Sharon Balow. In 1971 she visited the Wells farm and interviewed Colonel William Wells, grandson of Charles and son of J.R. Wells, who was temporarily visiting the farm to deal with some estate issues after it had been sold:
Colonel William Wells' Memories
Sharon Balow
In visiting the Charles Wells Farm in June of 1971 my husband talked with Colonel William Wells, Air Force Retired, and a grandson of Charles Wells. The farm had been sold at that time and the new owners had already moved in but Colonel Wells was there to move out any remaining personal property not included in the sale. He pointed out the foundation of the original house on the property, the spring house that was used for fresh water in the original house, the original location of the present farm house with the fountain curb still in place and one of the original log cabins that had served in the early years as a home. He recalled for us some of his experiences as a boy while living with his father, Joshua Russell Wells, who had inherited the land from his father, Charles Wells. Colonel Wells told how as a boy of 7 or 8 his father would permit him to take trips with the steamboats. As the steamboat passed the Wells Farm his father would hand him up to the deck and he would ride the boat to its destination and return to the farm when the boat make a return trip in a week or so. Colonel Wells related that his grandfather, Charles Wells, had come to Miller County, Missouri after the Civil War in 1866. He had lost his stocks in the steamboats during the Civil War and his Missouri farm was the best prospect for regaining his fortune.
---
You can read more about the Jones and Hill families written by Sharon at her website:
http://archiver.rootsweb.ancestry.com/th/read/IADECATU/2005-02/1109201162
Now to return to the Wells' history by Ruth Wells Sone in which she tells the story of her father, J.R. Wells:
Joshua Russell Wells
Ruth Wells Sone -- 1955
Joshua Russell Wells, the son of Charles V. Wells and Susan T. (Russell) Wells, was born on December 31, 1852, in a large brick house, built by his Grandfather, Joshua Russell, on Catherine Street, Sistersville, Virginia, now West Virginia. This home was a very large colonial style house, being seventy feet across the front, with a fire place in each room for heating. The slave quarters were situated at the back of the lot. It is quite evident that the Family of Charles V. Wells had all the conveniences the times afforded.
At the age of seven years Joshua Russell Wells made a trip to Missouri with his parents. It was a common occurrence for members of his family to make trips on the rivers with Charles V. Wells as he pursued his business along the Ohio, Mississippi and other rivers.
The following extract is from a letter written by Mr. John Handford McCoy of Sistersville, West Virginia, on March 19th, 1937, to Mrs. Guy (Ruth Wells) Sone:
"We always called your father 'Jock'. I presume he was named after his Grandfather Joshua Russell, but we always called him 'Jock'. "He was one of my favorite boy companions and although we all called his mother "Aunt Sue" as far as I know we were not related. Your father and I went to school together, played the games we played at school in those days and we also played side by side in the Sistersville Cornet Brass Band, the first band that was organized in this town.
The good Lord never made, to my mind, a finer, cleaner and more honorable chap than Jock Wells. He was liked by everyone, old, young, middle aged, rich or poor, and was a favorite with the girls, but he never seemed to care for the girls. If he ever had a real or "Puppy Love Affair" I have forgotten it."
Hanford McCoy was a descendant of Sarah Wells, one of the "Twenty Two." His wife was a Wells, who descended from Eli Wells, another of the "Twenty-Two. In a conversation in his office in Sistersville, W. Va., in 1935, he stated to me:
"It would set you crazy to figure out the Wells, McCoys, Russells and Thistles as they married and intermarried."
With which statement I most certainly agree. The troublesome times of the Civil War Period altered the home life of the family, and following the war, with their father's boating business lost and his means of livelihood destroyed, it was necessary for Joshua Russell Wells as he became old enough, to plan some means of preparing for the future. He was an apprentice for four years to a saddler. He was engaged in business, 1875-1876, in Wheeling, W. Va., at 1512 Main Street, under the firm name of Altmeyer & Wells, Commission Merchants and Dealers in Country Produce. He became interested in steam boats and worked with Capt. Charles B. Russell. In 1878 during the yellow fever epidemic in Memphis, Tennessee the boat on which he was working was quarantined there, and during which epidemic there were 4,204 White persons and 946 Negroes who died.
'Jock' (his commonly used nickname) Wells was bothered with rheumatism while on the river and for that reason, returned to his saddlery trade. In 1880 he was engaged at his trade in St. Louis, Missouri, endeavoring to save enough money to move on to Texas and establish a business there. However, his father Charles V. Wells died on January 21, 1880, on his farm in Miller County, Missouri.
William Russell Wells, the youngest son of Charles V. Wells, left Wheeling, West Va. on February 2, 1880, with a letter of introduction from his mother, and upon arrival in St. Louis, contacted his Brother Joshua and the two proceeded to Miller County, Missouri, arriving there on February 6, 1880.
The sale of the personal property of Charles V. Wells had been advertised for February 6th, and said sale was in progress when the two sons arrived. Joshua Russell Wells remained on his father's farm, and William Wells returned to Wheeling early in 1880. After altering his business connection in Wheeling, he again returned to Miller County, making the entire trip by boat, and bringing his riding horse and a tool chest. He landed at the Wells landing on the farm in Miller County, Missouri.
Charles V. Wells having died intestate, the farm was inherited by his widow and the four children. The two boys, Joshua and William, decided to do business as the Wells Bros. Their first aim was to buy the interest from their mother and two sisters, which was accomplished in a few years.
Benjamin F. Lawson (our maternal grandfather) had rented corn ground the year before from Charles V. Wells, and in 1880 he also rented corn ground from the Wells Brothers.
In early 1880 Benjamin with his wife Ellen Tarbutton Lawson and two daughters, Lucy and Emma, moved to a log house on the Wells Farm.
On December 1, 1880 the Wells Bros. leased ground to be cleared to Samuel H. Bell and S. P. Jones for three years. On December 1, 1881 leases for ground to be cleared were given to Benjamin F. Lawson, Albert June, and Jonathan and Simpson Willis. On December 1, 1889 a lease was made to Emanuel Willis to clear the ground known as the "Saline Bottoms." The terms of the four year lease were:
"The parties are to clear and cultivate one third of the ground or more the first year, one half or more the second year, and all to be cleared, fenced and in cultivation at the end of the third year, to give up the ground at the end of the fourth year with a fence, eight rails high, stake and ridered and good rails."
During the winter of 1880-1881 the logs were cut and "Snaked in with oxen" for a big barn, and which barn is still in use at this time (1955).
(Note: Roy Sone told me the barn burned about twenty years ago)
Up until the barn was built in 1881, only a covered shed was used for shelter for the stock. The timber, as it was cleared from the land, was sold for lumber or made into railroad ties. The ties were made into rafts and floated down the Osage River to Osage City, Cole County, Missouri. In 1885 the Wells Bros. were renting ground for a grain rent. Some of the renters were Jim Bell, Charles Cox, and Lewis Hawken.
In the "History of Cole, Moniteau, Morgan, Benton, Miller, Maries and Osage Counties of Missouri, IV by the Goodspeed Publishing Company, 1889, pages 622, 823, appears the following:
"The Wells Brothers have during the last seven years cleared up 150 acres of this land, and now have 250 acres under cultivation. They own 640 acres in the tract. They are now just completing a handsome two story residence (photo 17), and are doing most of the work themselves."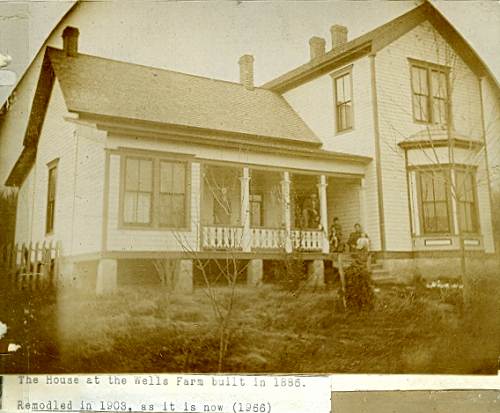 17 Wells Home - 1886
Susan T. Wells and Evelina (Thistle) Russell of Sistersville, W. Va., mother and grandmother of the Wells brothers, spent the summer of 1890 with them in their new home on the farm.
Thereafter William Russell Wells returned to Wheeling, W. Va., where he opened a leather goods store.
Lucy Ellen Lawson (photo 18), the daughter of Benjamin F. Lawson and Ellen (Tarbutton) Lawson, born June 26. 1873, in Miller County, Missouri, was married to Joshua Russell Wells, February 25, 1891, in the home of the bride.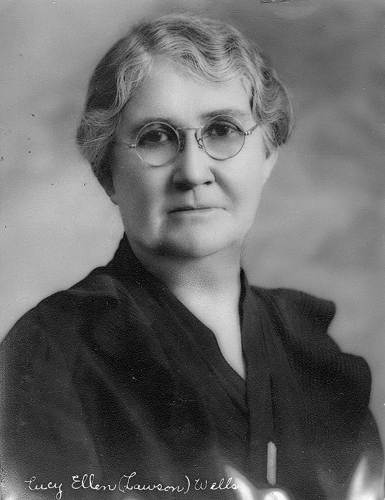 18 Lucy Wells
This is the announcement of the wedding in the local papers:
WELLS-LAWSON
Mr. "Jock" Wells and Miss Lucy Lawson were married at 10 o'clock yesterday, the 25th, at the residence of the brides Parents. L. E. Melton officiated. Mr. Wells is wealthy and Miss Lucy is handsome.
The Eye Opener extends the hand of congratulations (The Vindicator: Tuscumbia, February 26, 1891).
FAMILY OF JOSHUA RUSSELL WELLS AND LUCY ELLEN (LAWSON) WELLS
1. Joshua Russell Wells was born December 31st, 1852, Sistersville. Virginia, died November 25, 1933, Miller County, Missouri, (buried Riverview Cemetery, Jefferson City, Mo.), married on February 25, 1891, to Miss Lucy Ellen Lawson, born June 26. 1873, Miller County, Missouri
a. William Russell Wells, b. July 13, 1892, Miller County, Mo., married on June 4, 1925, Los Angeles, California, to Ruth Short, born November 11, 1893, Jefferson City, Missouri.
b. Susan Ellen Wells, b. December 15,1893, Miller County, Mo., married first on June 6, 1920, at Jefferson City, Mo., to Calvin Speedy, b. June 6.1900.
b. Susan Ellen Wells Speedy married second on December 27, 1936, Jefferson City, Mo. to Walter S. Stillwell, b. June 27, 1879, Harrison, Ark., d. January 18, 1953, Tuscumbia, Mo.
c. Ralph V. Wells, b. February 22, 1895, Miller Co., Mo., married on November 11, 1920, St. Louis, Mo., to Mildred Stadler, b. November 27, 1893, Jefferson City, Mo.
d. Lucy Wells, b. January 14, 1898, Miller Co. Mo., married on August 15, 1935, Miller Co., Mo., to Richard Dalton Fowler, b. March 20, 1893, Jefferson City, Mo.
e. Ruth Wells, b. November 7, 1899, Miller Co., Mo., married September 11, 1932, Jefferson City, Mo., to Guy M. Sone, b. January 6, 1893, Jefferson City, Mo.
f. Joshua Russell Wells Jr., b. October 21, 1901, Mi1ler Co. Mo., married on May 22, 1927, Albany, Mo. to Loraine Twedell b. June 6, 1904, Albany, Mo.
g. Edith Wells, b. March 7, 1903, Miller Co., Mo., married December 27, 1934, Jefferson City, Mo., to Alfred Felix Senevey, b. November 2, 1901, Bonnets Mill, Mo.
The Wells Bros. added more land to their farm from time to time:
May 9, 1894 - 40 acres.
April 10, 1897 - 3.50 acres.
August 8, 1901 - 40 acres.
On June 29th, 1928, William Russell Wells deeded his share of the farm to Joshua Russell Wells, - the deed reciting 733-1/2 acres- J. R. Wells relinquishing certain interests in joint holdings to W. R. Wells in West Virginia.
The Wells Brothers were interested in community affairs in Miller County, Mo. When the Anchor Milling Co. was organized they purchased stock and Joshua R. Wells became the first president. The Anchor Milling Company in 1898 bui1t a steam boat, which was named the "J. R. WELLS" (photo 19).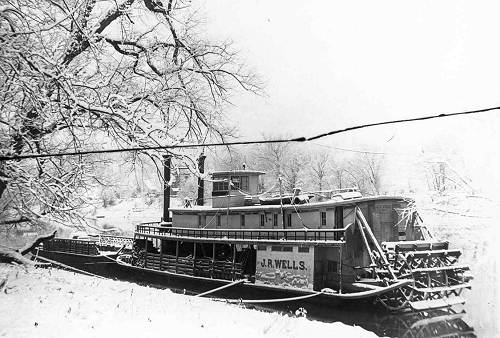 19 J.R. Wells
It was launched on January 14, 1898, the day his daughter Lucy was born. The Treasury Department, Bureau of Customs, St. Louis, Missouri, describes the Steam Boat J. R. Wells, as follows:
"The list of merchant vessels for the year 1898 lists a steam paddle wheel (rear wheeler) called the J. R. Wells, Official Number 77,288, built in Tuscumbia, Missouri, in 1898, with St. Louis, Mo., as home port. She was 110.6 feet long, 20.6 feet wide and 4 feet deep. She measured 206 gross tons and 130 net tons. Other records indicate that The Anchor Milling Company of Tuscumbia, was the owner and in March, 1909, one P. F. Hauenstein was Master. In August, 1909, She was sold to A. G. Thompson and R. O. Shobe of Chamois, Mo., and Captain Thompson is shown as Master."
In 1902 the house on the farm was remodeled into a three story frame building with two large rooms on the third floor (photo 20). Water was piped from a b1uff spring, far back on a hill into a reservoir, then from the reservoir to the house, at a cost of $220.00. A furnace was installed the following summer and which was used until the house was moved in 1949.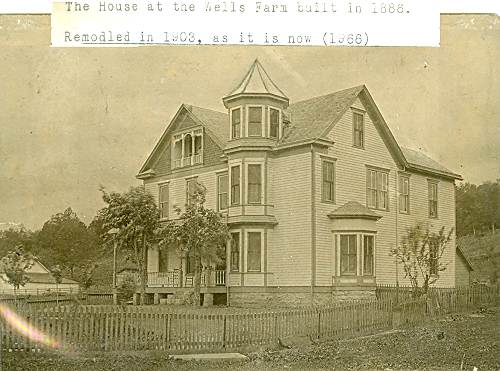 20 Wells Home Remodelled - 1903
J. R. Wells had not lost his interest in boats and in 1908 he built a new boat. To select a name for the boat, he requested his daughters to draw straws and Ruth being the lucky girl, the boat was named 'The Ruth' for her (photo 21).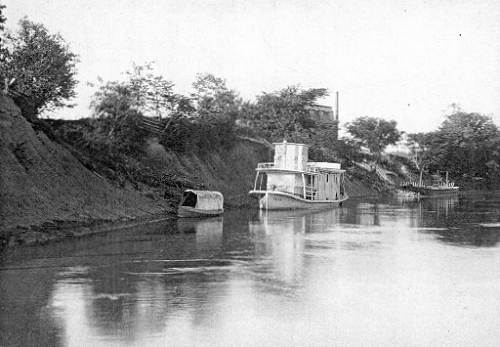 21 Ruth at Mill
The Treasury Department, Bureau of Customs, St. Mo. gives the following information on 'The Ruth':
"In the 1908 record there is listed 'a gasoline turbine steam yacht RUTH, Official Number 205,657, with register dimensions of 52.5 by 12.2 by 3.0. Her indicated Horsepower was 25 and she was built in 1908 at Tuscumbia. Her home port was St. Louis, Mo, and her first document was Permanent Enrollment No. 3, which was issued at St. Louis, Mo., on September 12, 1908 to J. R. Wells as owner. A record around 1914 indicates that this vessel was then owned by the Anchor Milling Company.
(Here is a photo showing the expenses for building the Ruth, photo 22).
The Ruth was sold about 1921 to the Speedy Box Manufacturing Company and was lost in 1924, probably sunk. All boats that traveled the Osage River would whistle when they passed the J. R. Wells Home
J. R. Wells and his family lived about two miles from the Wright District School (photo 23), which made it difficult for the children to attend regularly.
In the fall of 1909 Mr. and Mrs. Wells employed a Governess for the children and one of the rooms on the third floor of their home was furnished as a school room after which for the next two years their children attended school at home.
In the summer of 1911 Mr. Wells built a home (photo 23a) in Jefferson City, and moved there in August of that year, in order that his children might have the advantage of the city schools. He bought a significant amount of land on West Main Street, six lots in all, five of them extending down to the Missouri River. Eventually, three other homes were built next to the original one by his children who lived there as adults.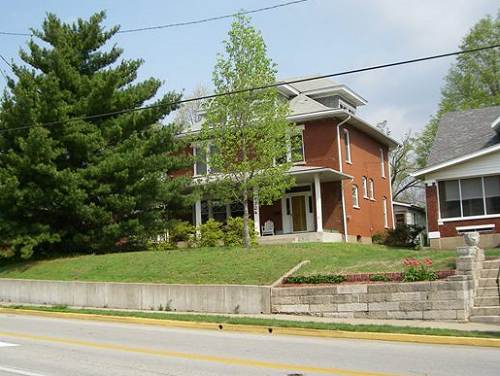 23a 1324 W. Main - J. R. Wells Home in Jefferson City
In making the move to Jefferson City "The Ruth", with a barge, was tied up at the "Wells landing", and all the articles to be moved were loaded on the boat there and freighted by boat to Jefferson City. Very little furniture was moved, as the farm house was left completely furnished.
At the close of the school year in the spring the family would return to the farm for the summer, and then back to Jefferson City for the school year.
In the summer of 1933, the members of the family who were single, returned to the farm and remained there during the last illness of their father, Joshua Russell Wells. He died at the farm on November 25, 1933, and is buried in Riverview Cemetery in Jefferson City, Mo. His will is filed of record in the Office of the Probate Court of Miller County, Missouri.
The residence at the farm was moved during the fall of 1949 from its original location to higher ground because of the increasing number of floods on the Osage River after the construction of a power dam at Bagnell, Missouri, by the Union Electric Company.
---
Roy Sone and his wife Joyce spent the first few years of their marriage living in the J.R. Wells family home in Tuscumbia. It was sold with the farm in the early 1960's but the home has been a landmark for many years and even today offers an impressive appearance located at the base of a hill some distance from Highway 17 in a small valley. Here is a photo of the home taken after its remodeling sometime after 1903 (photo 24).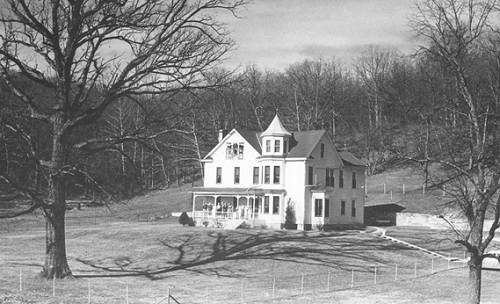 24 Wells Farm Home
Before touring the home with Mrs. Sone (Joyce) via an article published in the Autogram in 1961, I want to give some details about the history of the house summarized by Ruth Wells Sone, Roy's mother. This summary is taken from our own website to which I alluded at the beginning of this narrative (Wells House) but is copied here for convenience:
Wells Farm Home
Ruth Wells Sone
On the Osage River, near the town of Tuscumbia, sits the Wells House, possibly the first residence in Miller County equipped with running water and indoor bath facilities. The house was built in 1889 by J.R. Wells, whose father, Charles, had homesteaded the farm not long after arriving in Missouri from Wheeling West Virginia.
Charles lived in a small log cabin he found on the farm until his death. At that time his sons, J.R. and William, came from West Virginia to settle their father's affairs. William remained only a short time, but J.R. married here and decided to stay on at his father's farm.
J.R. and his wife lived in the cabin until 1889, when they decided to build a house nearby on a flowing spring. The new house consisted of five rooms, with each bedroom measuring 15 feet square. Some of the Wells' seven children were born in this house and attended a one-room schoolhouse nearby.
In 1902, J.R. began a major renovation and expansion on the family's residence. When completed, the house had three stories and ten rooms, including a bathroom and pantry. Although considered one of the finest homes around at the time, J.R. was not finished.
For years he had noticed that the spring never ceased to flow, even during droughts, so he decided to use it as the source of running water in the house. A reservoir was built and water was piped from the spring to the reservoir and then to the house, all by gravity. This system was used until the house was moved in later years. The spring also provided a fountain in the front yard, where the Wells' children could probably be found playing on hot days.
The third floor of the big house served as a school for these children, probably the only private school for miles. Teachers were brought in from Virginia and North Carolina to instruct the classes, but in 1917, the family moved to Jefferson City so their children could attend high school. They kept their river home, though, and returned during the summer and on holidays.
In the early days, the trip to and from Jefferson City took about all day and was usually made by horse and buggy, with sometimes an accompanying wagon to carry provisions. At one time the trip was made by boat, the "Ruth", owned by J.R. Wells. When this boat was built, its name was selected by drawing one of the names of his daughters for the honor.
The Osage River, whose fluctuation was disturbed by the creation of the Lake of the Ozarks, overran its banks in 1942, and the first floor of the Wells House went under. In 1949 the big frame house was moved back about a half mile from its location near Highway 17. It now sets at the foot of a hill and is surrounded by an enormous lawn. In 1953 a sidewalk and patio were added by then owner, Roy Sone, grandson of J.R. Wells.
In the 1960s, after 1 ¼ centuries of family ownership, the house was sold to Mr. and Mrs. Paul Griffith of Mexico, Missouri.
---
Thanks Ruth.
Now I will present the tour of the Wells Home as given by Mrs. Roy (Joyce) Sone published in an article in the Autogram in 1962:
Roy and Joyce Sone at the Wells Home in Tuscumbia
Two centuries meet in a stately country home near Tuscumbia. Progress challenges tradition but the romantic air of the 1800's emerges the victor. The picturesque Wells Farm stands on a knoll 3 miles northeast of Tuscumbia, a proud survivor of a past of steamboats and kerosene lamps.
Inside the three story frame structure is a paradox of living. The lady of the house brushes dust from 70 year old marble topped tables while her laundry spins away in an automatic washer. In the evening, her husband settles down into an antique sofa to watch the latest science fiction thriller on TV.
The young couple in this majestic farm home is Mr. and Mrs. Roy Sone. Mr. Sone's grandfather, Joshua R. Wells, built the large white frame home in 1889 and it has been a local landmark ever since.
Met At M.U.
The Sones met at the University of Missouri. He received his degree in Agriculture with a minor in business economics and after graduation moved into the old home built by his grandfather, and began farming. He married Mrs. Sone in February of 1959 and brought his bride to the farm.
The 22 year old Mrs. Sone admits that she was pretty much of a "city girl" and living on a farm was in itself a new experience. But living in a three story 12 room home was a change indeed. "I didn't know quite what to expect," she said. "But now I love living in the country and I'd choose it over the city anytime."
Mrs. Sone has learned the history connected with the home and is able to give "guided tours" when her friends visit. Almost all of the furniture in the farm home today is the original furniture.
"All that has been changed is furniture in two of the bedrooms," Mrs. Sone said, "and some of the Wells children have added pieces here and there."
Mr. Wells and his wife, Lucy Lawson Wells, raised their seven children in the large farmhouse and the rooms still are filled with reminders of their youth. In 1911, the family moved to Jefferson City so the children could receive a public school education. They left all the furniture so they might return to live at anytime, although they never came back to live permanently. Except for a brief time in 1920 when one of the sons brought his new bride to live on the homeplace, the Sones are the first to occupy the farm permanently since 1911. However, the Wells family and J.R. returned to the farm for extended periods each summer so the children could vacation in the country away from the city.
Modern Conveniences Added
"Roy and I have added a few things," Mrs. Sone said. "We have a TV, hi-fi, washer and we had a telephone installed." But the rest of the pieces are picturesque survivors of a by gone age.
Each room tells of a tale of its own. The parlor speaks of the seven Wells children. Baby pictures of each hang on one wall. The children have become separated through the years. Two, Ralph V. Wells and Mrs. Walter (Sue Wells) Stillwell, live in Tuscumbia. Mrs. Al (Edith Wells) Senevy, Mrs. Richard (Lucy Wells) Fowler and Mrs. Guy (Ruth Wells) Sone, mother of Roy Sone, live in Jefferson City. J.R. Wells Jr. lives in St. Joseph, Mo. and William R. Wells lives in Phoenix, Arizona. The family still comes home to the farm every Christmas. Each has his own room. They began returning for the holidays after Mr. Wells' death in 1933 and the tradition has continued since.
"This year there were around 25 here," said Mrs. Sone. In the Parlor antique china lamps sit on marble topped tables. A big brick fireplace stands at one end of the large room. An oil painting of the farm hangs above the settee.
Antique Dishes In Dining Room
Built into one corner of the dining room is a large china closet with glass doors, containing some of Lucy Wells' most cherished dishes (photo 25).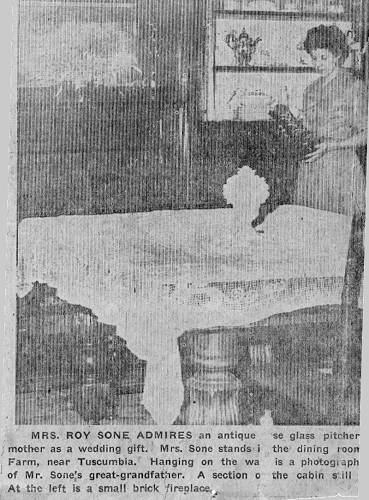 25 Wells Dining Room
Mrs. Sone carefully brought out an antique cut glass cake plate and fruit compote and dainty hand painted china salt and pepper sets. One of the most unusual pieces is a colorful hand painted milk glass hen given to Mrs. Wells as a wedding present. Next to the china closet is a small fireplace with an old fashioned pendulum clock perched on the mantel. Wallpaper of green print landscape and gold draperies add charm to the room. A chest of drawers made by Mr. Wells sits in one corner and next to it is a high chair that the Wells children used. On one wall hangs an old painting of the J.R. Wells, a steamboat owned by the Anchor Milling Company and named for Mr. Wells who was president of the company.
On another wall in the dining room hangs a photograph of the log cabin where Mr. Sone's great grandfather, Charles V. Wells, lived when in 1866 he came from West Virginia to live in Missouri after suffering severe financial loss back east due to the Civil War. He, however, had begun purchasing property in Miller County as early as 1842. The elder Mr. Wells owned steamboats that ran on the Ohio and Mississippi Rivers. After the Civil War he moved to Missouri and picked the spot where he built a log cabin to live because the view from there of the Osage River reminded him of his home in West Virginia. A part of the log cabin still stands behind the Wells home as a symbol of the family's pioneer spirit. Large oak sliding doors separate the dining room and kitchen. Although the kitchen is completely modern, light fixtures and furniture have been chosen to carry out the traditional tone of the home.
House Has Six Bedrooms
A hallway leads from the kitchen to the master bedroom where six of the seven Wells children were born. The furniture is stained oak and is the original bedroom suite bought in 1889. An antique high back bed stands in one corner of the room. Mrs. Sone uses a wooden wash stand with a gracefully arching towel rack for a dresser. A large stained oak bureau stands opposite the bed. Beside the doorway sits a wicker bottom rocking chair used to rock the Wells babies to sleep. This is only one of the six large bedrooms in the stately home.
From the bedroom, a hall leads to the foyer at the front of the house. To the right of the entrance sits a marble topped table. Mrs. Sone has added a personal touch to the foyer with a beautiful sterling meat cover she bought in London during a trip she made abroad in 1958. She had the cover cut in half and hung it upside down against the wall to make a lovely planter.
A long carpeted stairway leads to the second floor. Mrs. Sone said the Wells children loved to slide down the sturdy oak banister. "At Christmas," she added, "everyone hangs his stocking on the banister and they make a very festive sight."
Chandelier Hangs At Top
At the top of the first landing hangs a beautiful cranberry glass chandelier with long pointed prisms. Mrs. Sone said this is one of the pieces she likes best in the house. To the right of the stairway is another of her favorites, a small bathroom (photo 26).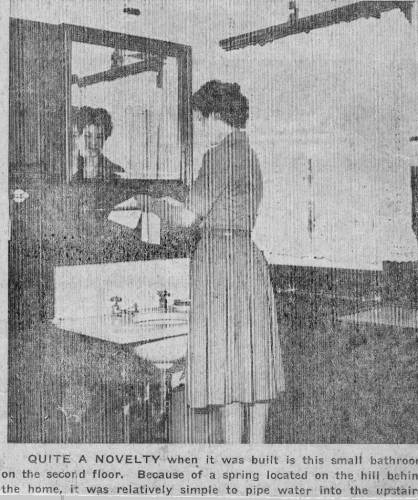 26 Wells Home Bathroom
Because there was a spring on the hill behind the house, it was relatively simple to pipe water into the second floor. So the Wells family had water inside their home before the hotels in Jefferson City did. There was no standard size in bathroom fixtures then so Mr. Wells built the marble topped lavatory only slightly more that 2 ft. from the floor, a convenient size for his petite wife and children. Oak paneling covers the lower half of the walls. An old fashioned wash stand has been converted into a lined chest. Eyelet curtains give charm to the room.
The remaining five bedrooms are all on the second floor. Each room has furniture similar to that of the master bedroom. The tall regal beds add dignity to each room.
One of the largest bedrooms is used by Mr. Sone as a study. The double bed stand against one wall and a large stained oak closet is built into one corner. The sturdy desk used by Mr. Sone was built by his grandfather. On a shelf, high out of the reach of inquisitive little hands, stands one of Mrs. Wells' favorite vases bought at the World's Fair in St Louis in 1904. On one wall hangs a large gold framed photograph of the oldest Wells child, William, as a baby. Crisscross curtains give a light note to the room.
A striking feature of one of the other bedrooms is a false front oak fireplace. In this same room stands a small, attractive oak chest which opens into a child's bed. "We often have weekend guests," Mrs. Sone said, "and if they have children, they stay in this room." She estimated that 12 guests were the most they entertained at one time, besides Christmas when the family members can number up to 25.
Talking Machine As Good As A Radio
She said another one of the most interesting pieces in the house is a Victor Talking Machine, one of the old time crank up marvels that sports a huge brass horn. Just to prove it still works she wound it and played a lively foxtrot by Abe Lyman's California Orchestra called "Talk About My Sweetie."
Perhaps the outstanding feature of the house is found on the third floor. At the top of a narrowing staircase is a one room schoolhouse (photo 27) where the Wells Children learned their three R's. The room was built because it was quite a distance to the local district school (Wright School) and because Mr. Wells, a loyal Southern gentleman, preferred that his children be taught by a Southern school marm.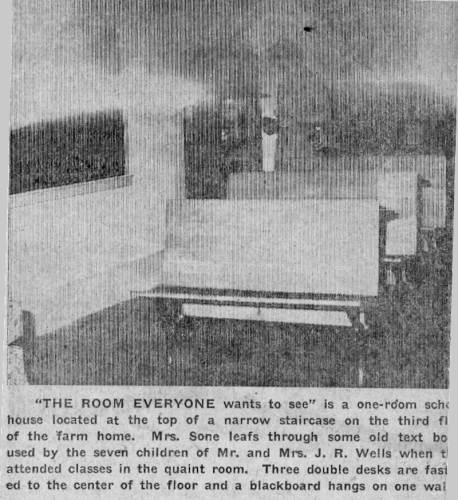 27 Wells Farm School
Three of the original double desks remain in the room and a black board is attached to one wall. Visitors to the tiny room can almost picture the Wells children bent over their books on blustery winter days or running to the windows to look out at the first snowfall of the season as it drifted past them to the yard below.
A glassed in chest at the rear of the room holds some of their toys…a small steam engine, china tea sets, a miniature flat iron, a stereoscope and old steamboat tickets. Mrs. Sone said visitors always want to see the schoolroom and children love to play in it. At the side of an adjoining room is a small round tower that must have excited the children's imaginations with thought of knights in shining armor rescuing distressed damsels.
Mrs. Sone admitted that it keeps her busy caring for the house. "Keeping the yard is a big job, too," she added. In 1949 the big frame house was moved back about a half mile from its location near Highway 17 after the Osage River flooded in 1943 and reached the second floor of the building. It now sits at the foot of a hill and is surrounded by an enormous lawn. In 1953 a sidewalk and patio were added where the Sones often relax after a busy day.
All in all it is a surprising sight to see such a young housewife bustling around in such old fashioned surroundings. Mrs. Sone looks out of place but the success she has had in running her home smoothly and still finding time to teach kindergarten at Tuscumbia proved she has mastered her job.
The Sones live a 20th century life in a 19th century house. They have discovered the recipe for mixing old and new and making a happy home.
---
Thanks Roy and Joyce for that tour taken of the Wells home in 1961.
The following photos are of some farm tools that Roy kept for himself when he left the farm in 1961: a hand planer (photo 28), a carpenter's line marker (photo 29), an old iron (photo 30), an old survey dial and tripod (photo 31), a wood bin (photo 32), and an old branding iron (photo 33).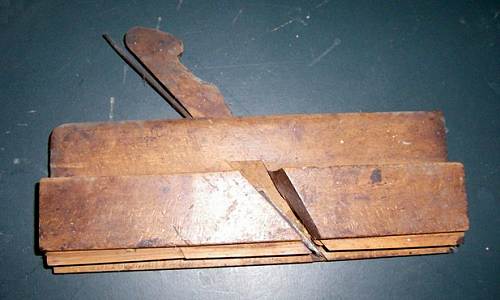 28 Hand Planer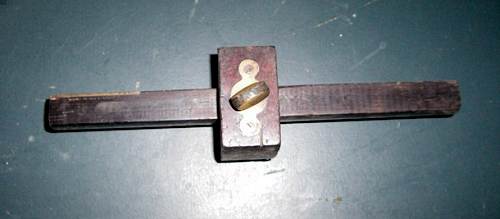 29 Line Marker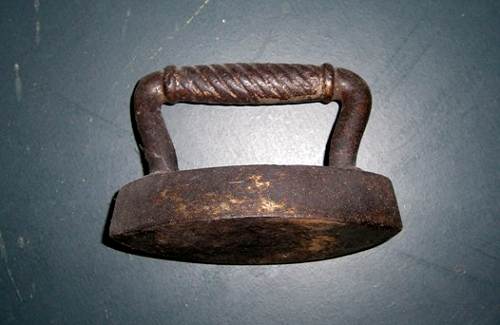 30 Old Flat Iron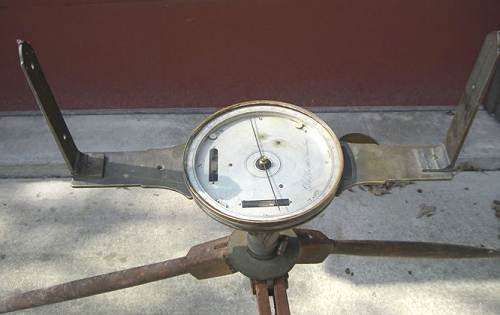 31 Old Survey Instrument and Dial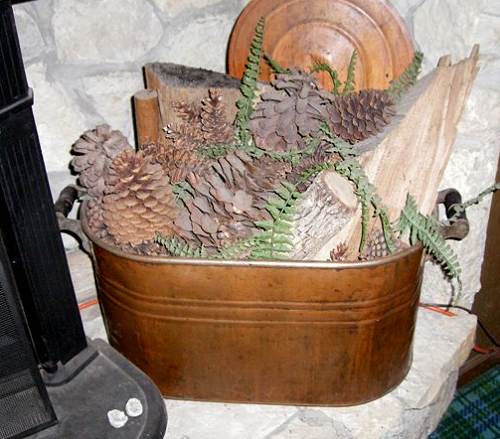 32 Old Boiler used for Laundry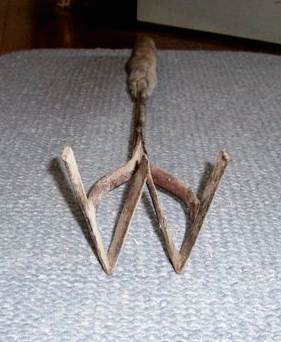 33 Wells Branding Iron
Since the Wells family sold the home in the early 1960's it has had several owners. The Paul Griffiths' who bought the home from the Wells' had it for some twenty years. The present owners according to the Miller County Assessor's office are Mr. and Mrs. Ronald Bower. The home today is shown in this recently taken photo (photo 34).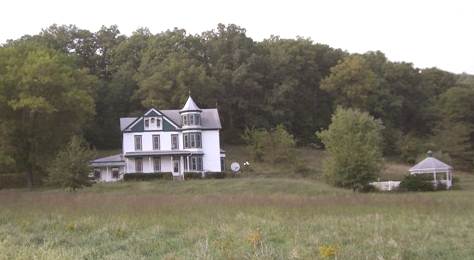 34 J. R. Wells Home
Although the Wells' family history and story of the large Wells home are interesting enough, the story which most is associated with J.R. Wells is the steamboat which bore his name, the "J.R. Wells" (photo 35).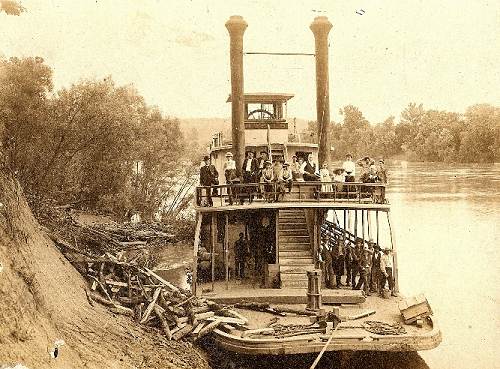 35 J. R. Wells with Passengers Loading Wood
In 1898, the Anchor Milling Company, desiring to expand its business, incorporated naming J.R. Wells as the first president. The company soon afterward began the construction of a boat at Tuscumbia to be 110 feet long and with a 20-foot beam. This boat became known as the "J.R. Wells", named after J.R. who as president was one of the principal stockholders of the Anchor Milling Co. This boat did an extensive business on the Osage, with Captain John W. Adcock as pilot, and later with Capt. Phillip F. Hauenstein as pilot. Local crews were employed on this boat, and during the boating season it was almost continuously engaged in hauling out wheat, barites, lumber, livestock, kaolin and other products as well as bringing up merchandise from Osage City and Hoecker. This steamboat is one of the most famous which ever steamed up the Osage and probably has had more photographs taken of it than any other. Here is a technical description of it with some interesting history and links taken from the website of "Steamboat Dave":
Name: J. R. WELLS
Type: Sternwheel, wooden hull towboat/packet. Size: 110.6' X 20' X 4.'
Power: 10's- 4ft. 1 boiler.
Launched: 1897, Tuscumbia, Mo. for Anchor Milling Co.
Destroyed: 1920, Jan. 30, Pelican Bend near St. Charles, Mo., sank.
Area: Osage and Missouri Rivers. Linn Creek, Mo. to St. Louis
Owners: 1897-1909, Osage and Missouri Packet Company
1920, Jan. 30, when sank, owned by Stanton and Jones
Captain: 1897-1909, John W. Adcock, first master and pilot until sold.
At one time, Capt. P.F. Hauenstein.
Even a song was written about the J.R. Wells steamboat by Ellis Bray (photo 36).
And here is one more photo of the famous steamer, the J.R. Wells (photo 37). This photo is interesting in that the crew is named in the caption. The Bear brothers mentioned were cousins of my mother. C.B. Wright who is on the second deck occasionally captained the J.R. Wells. The green colored handwritten writing refers to the incident of another steamer, the Phil Chappel, being dry docked at the same location because the crew failed to "sound" the depth before making the landing and as the river lowered the boat was stranded for quite some time. I obtained this photo from Bamber Wright, nephew of C.B. Wright, who knew about the incident. I think the photo has had the color added later.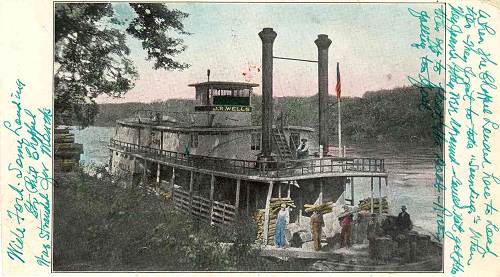 37 J.R. Wells - C. B. Wright Above - Below: Ben and William Bear, Charley Greenup, Will Nichols and Aaron Wright
Click image for larger view
---
Work on the renovation of the original museum building continues. We are now putting in the drop down ceiling. Here is a photo of the "stilt man," Perry Lee (photo 38) who has put in these types of ceilings for thirty years. Also the guys who have been the major carpenters on the entire project, Buster Busch and David DeGraffenreid (photo 39), were, as usual, working; at this time they are dry walling and painting.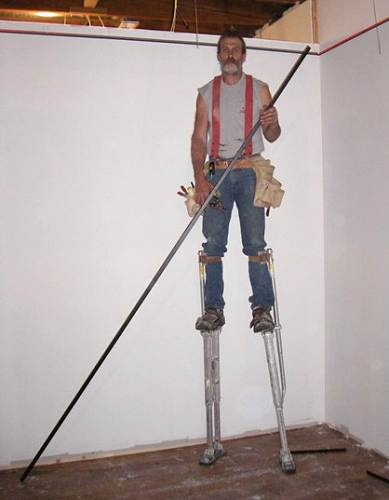 38 Perry Lee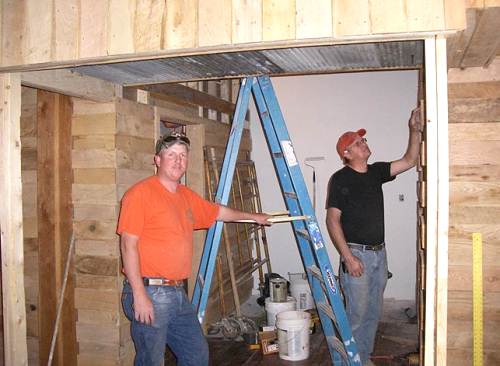 39 Buster Busch and David DeGraffenreid
---
Last Saturday I represented the Miller County Historical Society and Museum at the Columbia College Appreciation Day. I took the following photo which shows our display in the background and some of the guests (photo 40) who were enjoying a free lunch provided by Columbia College for the event, which highlights community activities and services.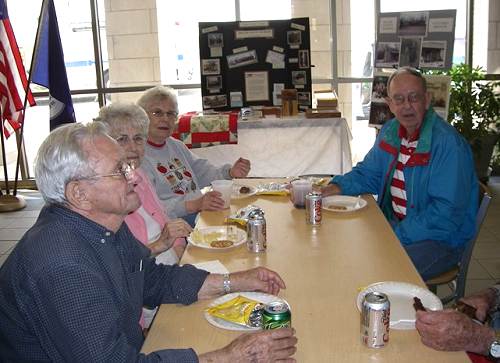 40 Mr. and Mrs. Vernon Brightwell, Doris Porter and Arthur Porter
---
Finally I am thrilled to announce that the old barber chair from the original barber shop in Tuscumbia has returned home! Tennyson and Sue Jarrett, who now live in California, graciously have donated the chair to the museum as well as other memorabilia from the old Tuscumbia barber shop (barber pole, razor strap, snippers, and other paraphernalia). The barber chair, a Paidar, was made in Chicago; the barber pole is made of cherry wood. The fan is very old having been one of the first ceiling mounted fans run by an electric motor. The chair was brought to the museum from California by Don Helton, nephew of Mrs. Jarrett (Sue Helton Jarrett) (photo 41). Members of the local Helton family, especially Ron, Don's brother, helped unload the heavy chair and carry it into the museum. It was placed in the area where we presently are constructing a replica of the old Tuscumbia barbershop (photo 42).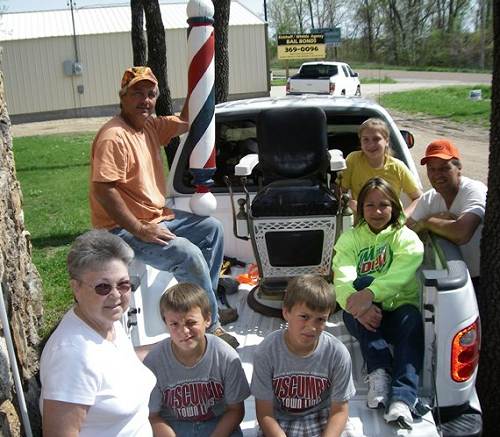 41 Front: Arlene Helton, Benton and Tyler Patterson - Back: Don Helton, Benita Patterson, Tristen Patterson and Ron Helton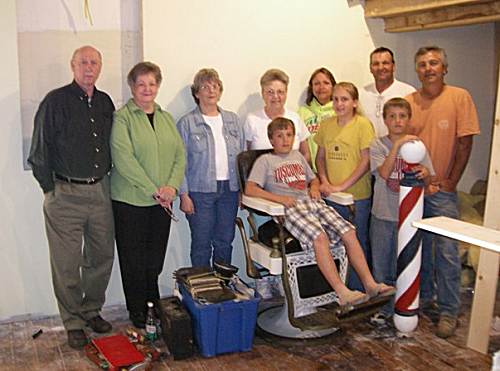 42 Back: Brice and Betty Kallenbach ,Karen Smith, Arlene Helton, Benita Patterson, Ron and Don Helton - Front: Tyler Tristen and Benton Helton
The first barber in Tuscumbia who was recognized as having that as a profession was I.N Reed who, according to Louie Clarke Lawson, barbered in the 1880's. No one seems to know much about him. Edgar Hicks was the first barber any of my mother's generation really remembers which would have been in the 1920's and 1930's. At that time a license from the state wasn't necessary to cut hair. Edgar barbered in the old barber shop in Tuscumbia along the river bluff until Glen Wyrick and his son, Bob, bought it in 1936. They had the shop when the flood of 1943 occurred. The water was so high and swift that the entire post office building, which was next to the barber shop, floated away down to the bridge where it hung up. The barber shop floated down to the corner three story stone building which at that time was owned by Jim Sweeney. It hung up there and with great effort, was pulled by several boats back to a location slightly more west along the bluff than before, next to the Spearman building which later became the next post office. In approximately 1944 Wes Condra bought the barber shop and ran it until 1966 when he suddenly died of a heart attack. Russell, Wes's son, sold it then to Tennyson Jarrett who barbered for about two years before moving to California. Tennyson took the chair and some other paraphernalia with him when he moved to California, but after arriving there decided not to barber and therefore, stored the chair in his home.
The old barber shop building still exists in Tuscumbia located under the hill along the riverside drive having been remodeled and enjoyed as a residence by Beverly Pendleton. Next week I will show some photos of how Beverly, who is a cosmetologist and has a salon next door to her home, has significantly beautified that area of Tuscumbia.
---
That's all for this week.