Monday, April 21, 2008
Progress Notes
In 1976 the Extension Department of the State of Missouri located in Columbia began a program, called the "Century Farms," to recognize those farms which had remained in the same family for one hundred years or more. While the last name might have changed through marriage, the farm had to belong to a direct line descendent of the original purchaser. The Miller County Autogram in 1976 published an article by Rob Hill about the first nine entrants into this program. I wanted this week to reprint this article for our website and follow it with a special feature on one of the Century farms, that of the Schulte family of Eldon.
The article by Rob written some thirty years ago includes some farms currently no longer owned by the original Century Farm families; nevertheless, these are some of the earliest settled farms in Miller County which, at the time of Rob's article, had remained for one hundred or more years in the same family even if eventually later they may have been sold out of the family.
At the end of the description of each farm, I have placed a map showing the present location of the farm. At the bottom of each of these maps are one or more numbers. These numbers, when entered into the "Parcel Search" space of the GIS web site of the Miller County Assessor's office
http://www.millercomogis.com/miller
will bring up a page which indicates the present owners of the century farms listed above. I am greatly indebted to Joe Cochran of the Miller County Assessor's office for his research of the old public records to give us this information. Joe is the computer expert in the Assessor's office and was the one who set up this property organization and recording system (called GIS) which is known in the strictest sense, as defined by Wikipedia, "as any information system capable of integrating, storing, editing, analyzing, sharing, and displaying geographically referenced information." Joe reports he was assisted by Deb Wiles on three particularly difficult farms to research due to change of owners over time.
Century Farms
Rob Hill
Nine Miller County farms have been designated centennial farms, which is property that has been owned by one family for over 100 years. The centennial farm designation is conferred by the University of Missouri Extension Service and an Agricultural Bicentennial Committee. Most farms in Miller County are located in the St. Elizabeth area, with several of the properties scattered between Tuscumbia and the Brumley area.
1. The oldest property in continuous family ownership in the county is owned by Edwin and Florence Keilbach (photo 01).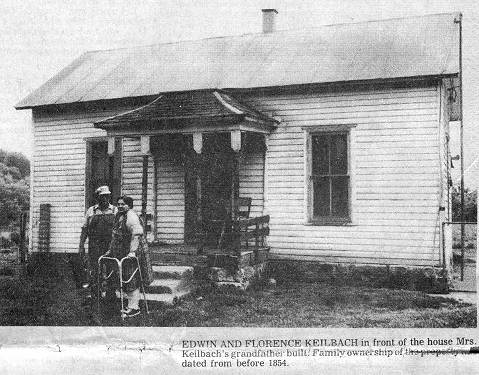 01 Edwin and Florence Keilbach Home
The Keilbach farm has been in the family since 1854. Mrs. Keilbach said that occupation of the property goes back further than this, to when her ancestors homesteaded the property. County records do not include the homesteaded ownership. The property originally covered 40 acres and now includes 110 acres. William Bilyeu, great grandfather of Mrs. Keilbach took possession of the original property on December 23, 1854. He owned the land until April 26, 1887, when his son, Peter Bilyeu, bought the property. Peter built the house where Mrs. Keilbach was born, which is still standing on the property. Another building on the farm, a log cabin smokehouse (photo 02), dates from Mrs. Keilbach's great grandfather.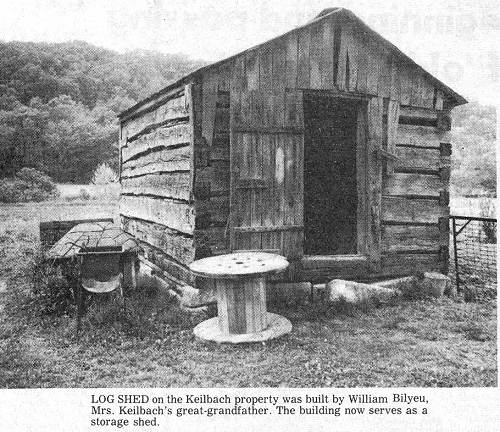 02 Log Shed on Keilbach Property
On March 26, 1917, Mrs. Keilbach's mother, Mrs. Clara Wickam, took possession of the property. She owned the land for 47 years, until July 22, 1964, when Florence (Wickam) Keilbach and her husband, Edwin, bought the property. Near the site of the present Keilbach residence stands the house built by her grandfather and the smokehouse built by her great grandfather. Down the road approximately 200 yards is a spring the Bilyeu's used for water before wells could be dug (photo 03 map).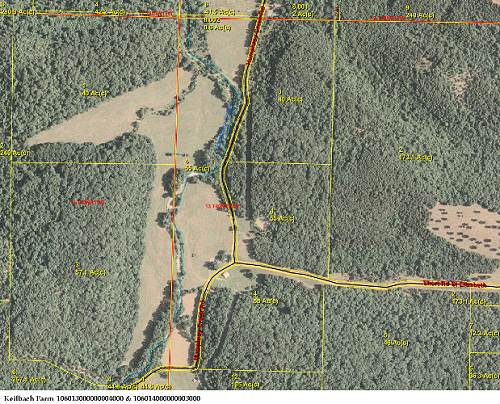 03 Keilbach Farm
GIS Parcel IDs: 106013000000004000 & 106014000000003000
2. The second oldest farm in continuous family ownership is the property owned by Robert and Lillie Livingston (photo 04). The property is in Richwoods Township, approximately four miles north of Iberia.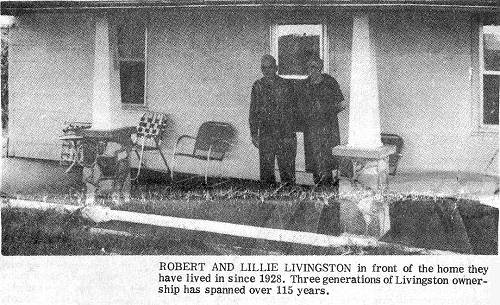 04 Robert and Lillie Livingston
Three generations of Livingston ownership has spanned over 115 years. The property was bought on June 1, 1859 by John JR. Burks, the grandfather of Mr. Livingston. Burks had possession of the farm until September 10, 1892, when he turned it over to R.M. Livingston, father of the present owner. On March 15, 1928, the present owners took possession. The farm was originally 79˝ acres but now is 101˝ acres (photo 05 map).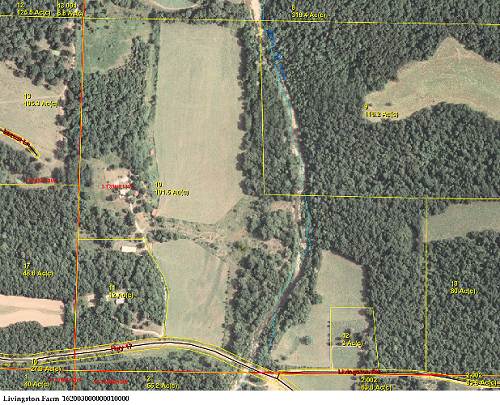 05 Livingston Farm
GIS Parcel ID: 162003000000010000
3. On July 14, 1860, Valentine Kallenbach purchased 200 acres of land in Equality Township. The property was passed down for three generations---eventually to Robert Kallenbach. Mr. Kallenbach died last year and the property is now controlled by Kallenbach's wife, Mrs. Bonnie Fay Kallenbach (photo 06).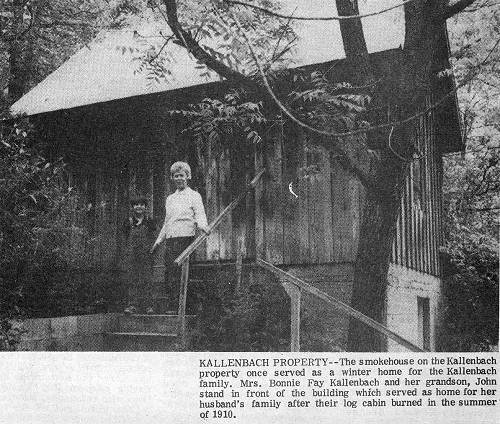 06 Kallenbach Property
In the 116 years of ownership by the Kallenbach family the farm has grown to 360 acres. From 1860 to May 3, 1867, the property was owned by Valentine Kallenbach. In 1867, Valentine's son, William bought the property and owned it according to county records, until May 18, 1961, when a partnership of F.V., Parnell and Robert Kallenbach took control of the property. Parnell sold out to his brothers F.V. and Robert shortly after he bought the farm and his two brothers owned the property until October 2, 1967, when Robert Kallenbach took sole possession. Near the house, which was built in approximately 1912, stands a smokehouse which served as living quarters for the family when the original log house burned. Mrs. Kallenbach said her husband and his parents spent the winter of 1911 living in the smokehouse (photo 07 map).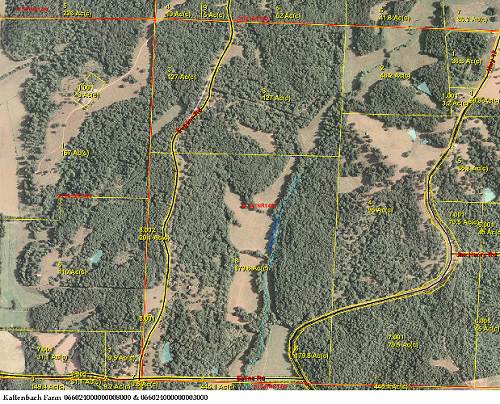 07 Kallenbach Farm
GIS Parcel IDs: 066024000000008000 & 066024000000003000
4. Walter and Ova Brown are owners of a farm located in Glaze Township which has been in Mr. Brown's family since 1866 (photo 08). The original purchase of 80 acres has grown to 183 acres over the 110 years of Brown ownership.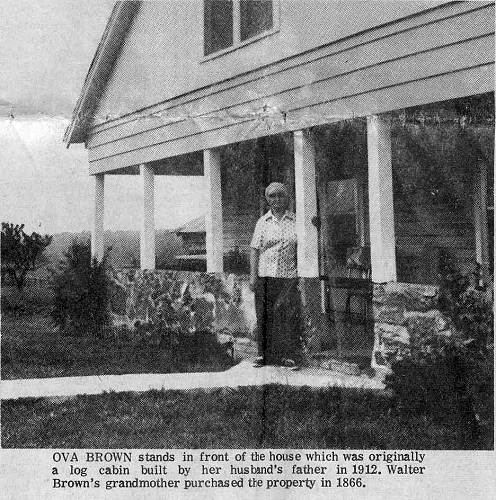 08 Ova Brown
Mr. Brown's grandmother, Catharine, was the first family owner. She had the land until 1886, when her son, Hezekiah, took possession of the land. Hezekiah is the present owner's father. Walter bought the farm from his father in 1947. The Brown residence was originally a log house, but has been rebuilt. Mrs. Brown said that the house was rebuilt when her husband was a boy, probably in 1912 (photo 09 map).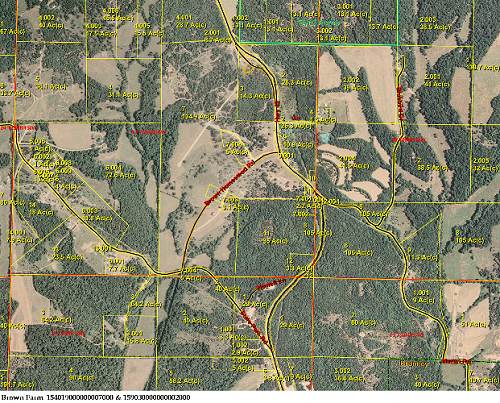 09 Brown Farm
GIS Parcel IDs: 154019000000007000 & 159030000000002000
5. The Alfred Doerhoff property (photo 10), located in Jim Henry Township, north of St. Elizabeth, has been under family ownership since 1870. The farm was bought March 3 of that year by Henry and Benjamin Doerhoff, great grandfather and great uncle of the present owner, Alfred Doerhoff.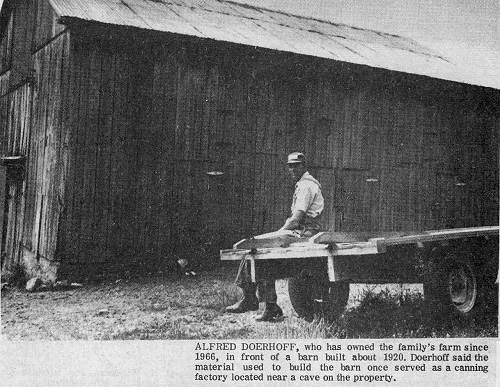 10 Alfred Doerhoff Farm
The Doerhoff brothers owned the 110 acre farm until August 11, 1896, when Bernard, the present owner's grandfather bought the property. Bernard sold the property to his son Herman, on June 17, 1926, who owned the farm until his son, Alfred, took possession of the property on July 26, 1966. Over the years of Doerhoff ownership, the property has expanded from its original 110 acres to 235 acres. The only building on the property which has historical interest is a barn built about 1920 out of material which was a canning factory. The factory was a community effort run by several neighbors. It was located at a cave on the Doerhoff property (photo 11 map).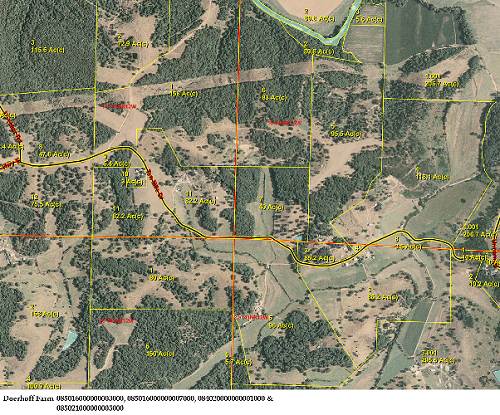 11 Doerhoff Farm
GIS Parcel IDs:
085016000000003000, 085016000000007000,
084020000000001000, 085021000000005000
6. The Fran and Regina Massman farm in Jim Henry Township four miles east of St. Elizabeth has been in the Massman family for 102 years---since July 8, 1874 (photo 12).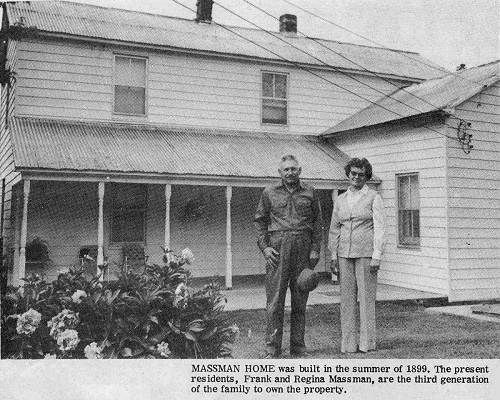 12 Massman Home
It was on that date that John Massman, great grandfather of the present owner of the property, bought 160 acres from Christopher and Barbara reed for $1,100.00. John Massman owned the property until his son, Frank and wife took control of the farm. They turned over ownership of the property to their son, John, and his wife, Anna, in August 1919. Twenty six years later, in August, 1947, Anna turned over the property to Frank and Regina Massman, the present owners (photo 13 map).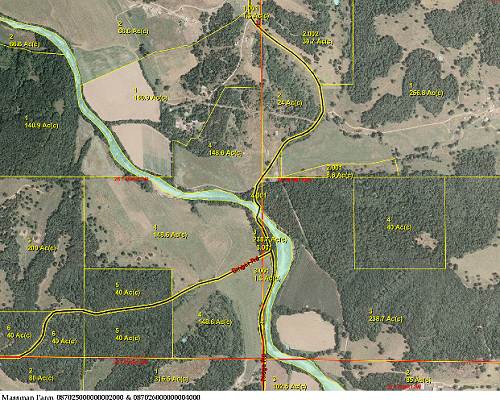 13 Massman Farm
GIS Parcel IDs: 087025000000002000 & 087026000000004000
7. A log barn on the farm of Floyd and Edith Johnson (photo 14) denotes the history behind the ownership of the property. The farm, located in Osage Township, has been in the family of Mrs. Johnson since 1874.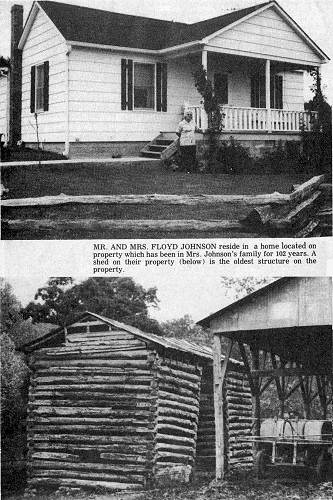 14 Mr. and Mrs. Floyd Johnson
Her grandfather, Nelson Wickham, bought the original 120 acres of land on May 29, 1874. The property passed to his son, John H. Wickham, and later to his daughter, Mrs. Johnson (photo 15 map).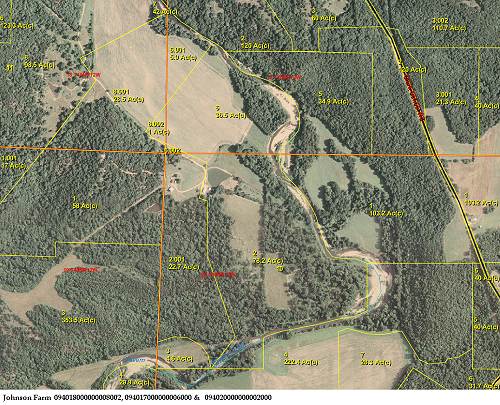 15 Johnson Farm
GIS Parcel IDs:
094018000000008002, 094017000000006000 & 094020000000002000
8. Lawrence and Ursuline Oligschlaeger's family has owned their farm since August 21, 1875, when his great grandfather purchased 705 acres of land approximately three miles east of St. Elizabeth (photo 16).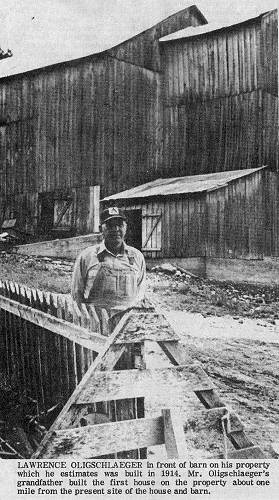 16 Lawrence Oligschlager Farm
The property passed from William to his sons, Fritz and Frank, on February 9, 1947, from Mary K. Oligschlaeger, widow of Fritz (photo 17 map).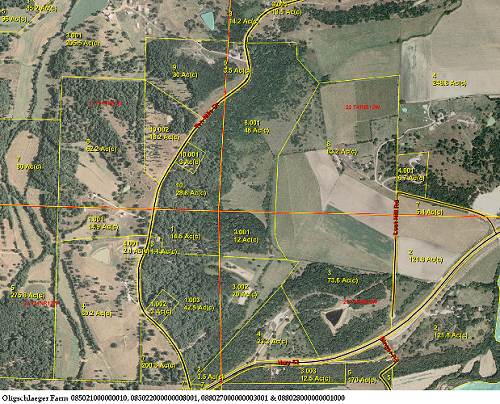 17 Oligschlaeger Farm
GIS Parcel IDs:
085021000000010, 085022000000008001
088027000000003001, 088028000000001000
9. The Fred and Zita Huhman farm in Osage Township, located between St. Elizabeth and Tuscumbia, has been in the Huhman family for 100 years (photo 18). The property was purchased on January 26, 1876, by the present owner's grandfather, John Huhman.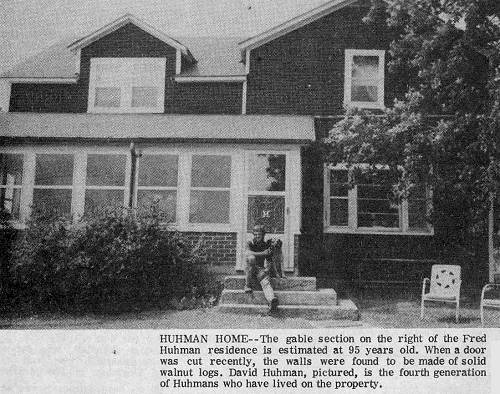 18 Huhman Home
He owned the land until November 14, 1901, when John Henry Huhman, his son, took possession of the property. John Henry owned the farm until June 1, 1940, when his son, Fred, took ownership. In the 100 years of family control, the farm has grown from 107 acres to 420 acres. Mrs. Zita Huhman said that part of the present house on the property dates from 1871. The walls of this part of the house are over one foot thick (photo 19 map).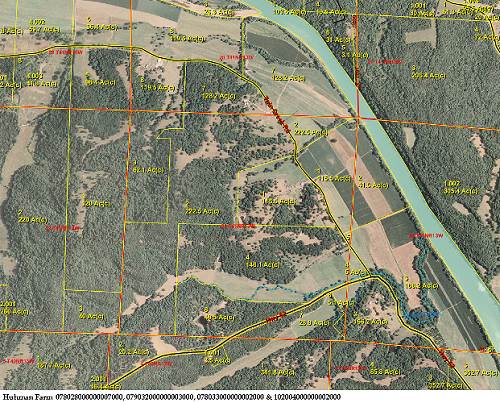 19 Huhman Farm
GIS Parcel IDs:
078028000000007000, 079032000000003000
078033000000002000, 102004000000002000
---
Thanks Rob.
The Wickham/Johnson farm named above (number 7), has some connection with both my wife and myself. My mother's aunt, Dora (Bear) Wickham, married Ilde Wickham and lived and raised her family on the old home place during the early part of the last century. Mom remembers visiting her cousins often at the farm when she was a child. Ilde was the grandson of Halsey Wickham, the original Wickham from Connecticut via Pennsylvania who migrated west to Miller County in the mid 1800's. The Wickham of record to have bought the present farm was Halsey's son, Nelson, who purchased it in 1874. The Wickham family can trace its roots in the United States back to Thomas Wickham, who was quite an influential man in the state of Connecticut and who had many well known and famous descendents. You will find it, I think, of some interest to read about the Wickhams' at this website once it gets back up on the web (it presently is undergoing revision; I was able to pull it up a couple of days ago so check it later in a few days to see if it is back up).
Fortunately, I had copied it to document the complete family history of Thomas Wickham (see attachment). If you scroll it down just a short distance you will find the name Halsey Wickham and his Miller County descendents. Or you can use the "find" box listed under "edit" in the tool box at the top of the web page and type in the name Halsey. One click and there you are at the Miller County Wickham section.
My wife, Judy, has an even closer connection to the Wickham farm than I since Nelson Wickham was her great great grandfather. Nelson's first wife was Sarah Ellen Boyd. One of their daughters was Edith Dell Wickham who married John Boyd who was Judy's great grandfather on her mother's side. The confusing thing is that John Boyd and Edith Dell Wickham Boyd were second cousins once removed. Judy's great great grandparents are buried in the Wickham cemetery which is located on a small hill on the Wickham farm overlooking the Big Tavern Creek. The next photo (photo 20) is of the Wickham Cemetery, the second photo (photo 21) is of Judy's mother, Elva Boyd Steen, standing next to the gravestone of her great grandmother, Sarah Ellen Boyd Wickham, and the third photo is of the tombstone of Nelson Wickham (photo 22).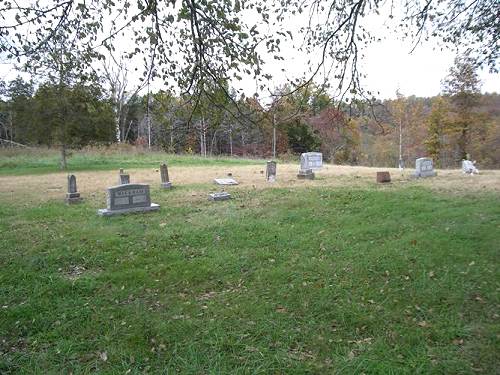 20 Wickham Cemetery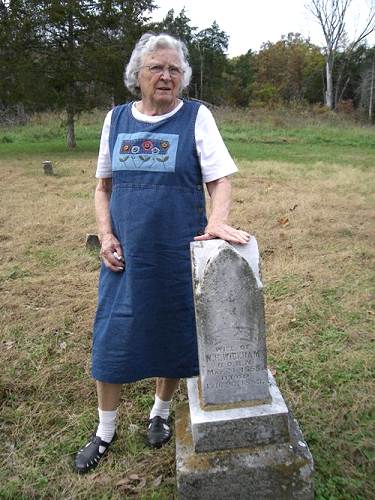 21 Elva Boyd Steen standing next to tombstone of Her Great Great Grandmother
22 Nelson Wickham Tombstone
Over the last thirty some years since the first nine Century Farms were recorded at the Extension Office, quite a few more have been added. A list of these is available at the Extension Office in Tuscumbia.
One of the Century Farms recorded for the year 2005 is that of the Schulte family. Helen Schulte (photo 23), granddaughter of Daniel Heafey who bought the farm in 1903, wrote a history of the circumstances which brought her grandfather to this area to purchase the farm.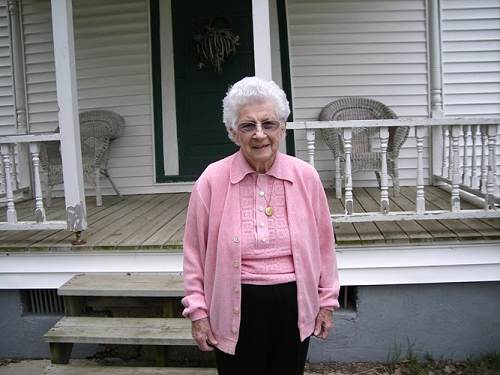 23 Helen Heafy Schulte
Helen is a long time member of the Miller County Historical Society and is very active currently as manager of our museum gift shop. Recently, the MCHS board selected her for the position of ad hoc member at large because we value her input on a regular basis at our board meetings. She was my sixth grade teacher at Tuscumbia and is a personal friend of many years of my mother as well.
Before the Heafeys' owned it, the farm had been purchased in 1868 by James Skinner (photo 24) who subsequently sold it to Daniel Heafey, Helen's grandfather, in 1903.

24 James Skinner
I featured the James Skinner farm in the Progress Notes of January 21, 2008, in an article about Louie Lawson, granddaughter of James Skinner. This farm is the one which has the infamous "Skinner Tomb" located on the edge of highway 52 between Tuscumbia and Eldon (photo 25).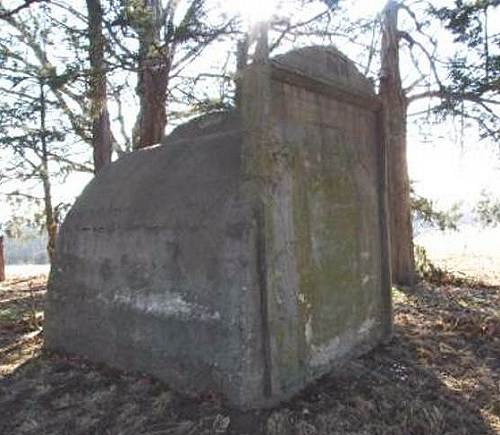 25 Skinner Tomb
You can read more about it on our own website at:
Old Skinner Tomb - Miller County Museum & Historical Society
The present house on the property originally was built by James Skinner sometime in the 1880's (photo 26).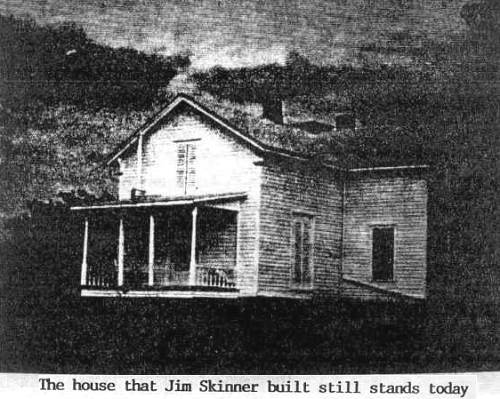 26 House that Jim Skinner Built
Since then, several additions and improvements over time have been completed such that the house looks much newer than it is (photo 27).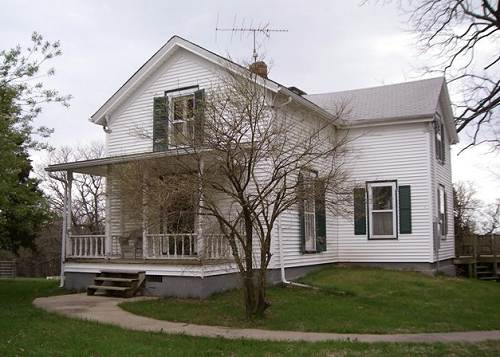 27 Skinner Heafy Schulte House
Helen has some interesting things to say about the farm and her own family after her grandfather, Daniel Heafey, bought it from Jim Skinner:
My Grandfather-Daniel Heafey
By Helen Heafey Schulte
Daniel Heafey was born in Limmerick County Ireland on May 1, 1846. His father died when he was a baby and his mother also died when he was seven years old. He was reared by an uncle. Daniel first heard of all the opportunities there were in America and became interested in coming to this country from a stone mason, who was building a large stone barn for his uncle. He helped the mason who advised him to seek his fortune in the United States. Daniel's ambition was to own land of his own. In Ireland, the land was mostly rented from wealthy landowners. Daniel told his uncle of his hopes to come to America and his uncle advised his sixteen year nephew to wait a year until he was older.
So in the spring of 1966, Daniel, 17 years of age, came to New York City with passage money provided by his uncle. His first job offer was to enlist in the Union Army at $400 and a government bonus. This sounded like a fortune to young Daniel but he declined because if he joined the army and was killed in battle, his dream would be over.
Daniel's first job was working in a livery stable or street car barn where they kept horses in New York City. It was there that he learned that the railroads were hiring a lot of the Irish to help construct the railroads westward. He worked at pick and shovel labor at $3.00 per day (which were good wages in those days). Daniel helped build the railroads through Pennsylvania, Ohio, Illinois, into Chicago and on into Iowa. He saved $500 in 2 years time and invested in government bonds, the last issue of the Civil War at 7% interest.
It was while he was working on railroad construction, boarding with local farmers along the right of way, that he met his first wife, Nancy Carney. Their daughter, also named Nancy was born December 24, 1871. In Iowa, Daniel decided to buy a piece of America, so he traded his government bonds for 80 acres of land in Warren County Iowa for $5.oo per acre.
After the death of his wife, Daniel and his daughter, Nancy, lived on the farm. He later married Mary Ellen Cragan, a cousin to his first wife and to this union four children were born: John, Joe, Alice and Mary. Mary Ellen, his wife died March 1, 1890 of congestion of the stomach at the age of 31 years. Daniel's oldest daughter, Nancy, took care of her half-brothers and sisters until they were older. Then in 1897 she entered a religious order, The Sisters of Humility and took the name of Sister Mary of the Cross. She remained in Iowa the rest of her life.
In time, Daniel Heafey, not only had built a home and two barns but had added another 40 acres to his farm. As Iowa land prices climbed, he decided to sell his land at $65 per acre. Daniel was well read and had heard of Miller County land and the building of the Rock Island Railroad through it. He thought land prices would increase in value so he bought the 578 acre Jim Skinner farm in 1903 and moved with his two sons and two daughters to Miller County, 5 miles southeast of Eldon.
John and Joe, ages 17 and 18, accompanied the two immigrant railroad cars to West Aurora. They often related how they went through St. Louis and were delayed in the railroad yards. They feared for their lives as railroad bums were numerous and some tried to be friendly, asking if the boys had money or food. One insisted that they milk their milk cow (they were bringing their livestock with them on the train) and give him some, which they gladly did. One railroad car held cows, horses and farm machinery; the other one had household furnishings, hay, water and their clothing and their food, which had become stale and moldy. Daniel and his two daughters, Alice and Mary had traveled on a passenger train and arrived at West Aurora a week or two ahead of John and Joe who arrived in March 1903.
It seemed Daniel tried to farm as he had in Iowa. He and his sons fenced in the entire 578 acres with woven wire fencing. Many of the natives thought Daniel too knowledgeable to be a regular farmer. They wondered why he brought two teams of big horses, while most people here used mules, for they were lighter and could get through the mud better.
Oak trees were abundant as well as cedar and walnut. There was much work to be done in the timber but neither Daniel or his sons were familiar with timber work so that was left up to hired help who knew what they were doing.
When the Heafey's bought the farm, it had a big apple orchard growing on it and they kept up the tradition by planting new apple and peach trees when the older ones were no longer productive. Jim Skinner had moved to Eldon when he sold the farm, but seemed to long for the place as he visited often and became good friends with the Heafey's. Jim spent much time on the farm when he built the Skinner Vault in 1907 for his final resting place. Jim was quite an entertaining character as he often related some of his experiences. One time he couldn't figure out why his hogs were dying; come to find out there weren't any acorns that year.
Daniel Heafey died October 5, 1916 at age 70 of uremic poisoning. His body was shipped by rail to Churchville, Iowa and was buried beside his wife, Mary Ellen cragan Heafey. His survivors included John Heafey, Joe Heafey, Alice Heafey Harris, Mary Heafey Kelsay and Sister Mary of the Cross. So, 52 years after coming to America, I believe if he could tell me he would say he accomplished his dream and much more in this land of opportunity.
Perhaps Daniel would be pleased to know the farm is still in the Heafey family and is farmed by his great grandson, Gerald Schultz.
---
Thanks Helen.
Another interesting old article I found in the Autogram about local farms had to do with the custom of naming the farms:
TWENTY FOUR FARMS IN COUNTY NAMED
Tendency to Give Farm Name is Growing in Other Sections
Miller County Autogram
February 16, 1922
The tendency on the part of farmers in many sections of the country to name their farms is rapidly growing and we would like to see it practiced more around here. It adds in advertising the farm and gives it distinction. Farmers wishing to name their farms should file the name with the county clerk, the county receiving one dollar for recording same. There are about twenty four names now on the file and we herewith give the list and the names of the original owners at the time of the filing. Some of the farms have changed hands but many of them retain the old names. The list follows:
Linwood. H.C. Jackson, Ulman
Pleasant Farm, F. A. Goodrich, Tuscumbia
Osage Valley Farm, F. A. Goodrich, Tuscumbia
Oakwood Farm, H.L. Moles, Bagnell
Walnut Hill, W. C. Howell, Ulman
Oak Grove Stock and Fruit Farm, P.J. Iven, Eugene
Equality Stock Farm, TJ.G. And M. J. Henley, Eugene
Tavern Valley Stock Farm, John Volmert, St. Elizabeth
Saline Dale, A.N. Schwaller, Eugene
The Maples, W.S. Goodrich, Eldon
Walnut Shade, C.P. Meyers, Ulman
Farm No. One, Henry Bear, Ulman
White Haven, J.W. Adcock, Eldon
Blue Ribbon Stock Farm, W. H. Mitchell, Tuscumbia
Sun Rise Farm, L.S. Brown, Tuscumbia
Flatwoods Fruit Farm, J.N. Brockman, Eldon
Clover Dale, S.G. Crum, Olean
Green Valley Farm, J.U. Stone, Ulman
Brush Creek Valley Stock and Grain Farm, W.H. Crum, Etterville
Iberia Stock Farm, G. C. Skaggs, Iberia
Evergreen Farm, P. T Wyrick, Iberia
Spring Garden Hereford Stock Farm, J.J. Bond, Olean
Willow Brook Farm, L.W. Baker, Ulman
Almost every farmer makes a specialty of some product. He has a special variety of seed, wheat, seed corn, spuds or other vegetables. Possibly, he gives attention to breeding fancy cattle, sheep, hogs, or raises chickens for the fancy market. Or, as seen by the above list, he may be devoting his time to horticulture.
In view of this, what could be more appropriate than a neat, attractive letterhead setting forth that specialty, and also carrying the name of the farm? And why not at envelope with the name and return address printed in the corner to insure its safe return to the writer if it is improperly addressed or if for any reason it goes astray? Nothing is more sensible, and since the farming business is just as much a business as anything else, why not conduct it in a business like way?
---
The Miller County Autogram Sentinel this last week (April 18, 2008) printed an announcement about the Century Farm program which I felt was very relevant to the preceding discussion and might be of interest to incorporate into this narrative:
MILLER COUNTY AUTOGRAM-SENTINEL
APRIL 18, 2008
If your farm has been in your family since December 31, 1908, you can apply to have it recognized as a Missouri Century Farm. To qualify, farms must meet the following guidelines. The same family must have owned the farm for 100 consecutive years. The line of ownership from the original settler or buyer may be through children, grandchildren, siblings, and nephews or nieces, including through marriage or adoption. The farm must be at least 40 acres of the original land acquisition and make a financial contribution to the overall farm income. "It is important to honor and respect our history," said Michael Ouart, vice provost for University of Missouri extension. "These farms represent both Missouri's cultural heritage and the good stewardship that our farmers strive for."
This year, the Missouri Farm Bureau joined the MU Extension and the MU College of Agriculture, Food and Natural Resources as a program sponsor.
"Missouri Farm Bureau is proud to partner in the recognition of these unique and historical family farms," said Charles Kruse, president of Missouri Farm Bureau. "They represent the continued importance of production agriculture to our state and nation." Applicants certified as owners of a 2008 Missouri Century Farm will be recognized by their local MU Extension office in the county where the farm is located. Applicants are presented with a sign and a certificate.
Since Missouri began the program in 1976, more than 7000 century farms have been recognized.
For applications received by May 1, a fee covers the cost of certificates, farm signs and booklets for approved applicants. If the application is received between May 1 and May 15, the cost is $45. Applications must be postmarked by May 15, 2008, to be considered.
For application forms and information, call Extension Publication toll- free at 1 800 292 0969, contact your local Extension office, or visit the program Web site at:
http://extension.missouri.edu/centuryfarm
---
Last week, on Sunday, April 13, we had the quarterly meeting of the Miller County Historical Society. Copied below is society secretary Peggy Hake's summary of the events of that day:
The Miller County Historical Society had their first quarterly meeting of 2008 on Sunday afternoon, April 13, at the museum building in Tuscumbia.
Approximately 35 members and guests were in attendance. Prayer was given by Carl McDonald and a meal of Kentucky Fried Chicken with other carry in dishes, to complete the meal, was served at one p.m.
There was one guest in attendance, Sue Dillon of Jefferson City.
Following the meal, a business meeting was called to order by president Joe Pryor. A treasurer's report was given by Betty Kallenbach. Nancy Thompson, museum director, gave an updated report on the progress being made at the museum and the new addition.
Election of new officers and board members was conducted during the business meeting. A slate of officers was presented to the general membership to be considered and then elected. Those who will serve from April 2008 to April 2009 include: President: Joe Pryor, Sunrise Beach; Vice President: Carl McDonald, Jefferson City; Secretary: Peggy Hake, St. Elizabeth; Treasurer: Betty Kallenbach, Eldon. Two board members were also elected including Karen Smith of Eugene who will serve a 3 year term and Helen Schulte, Eldon, was elected as an ad hoc and member at large to serve an indefinite term. On a motion by Lewis Wall of Iberia and seconded by Doris Wiggins of California, MO, the membership voted to accept all nominations presented to serve during the upcoming year.
Other board members include: Jerome Brondel, Eldon; Judy Prince, Lake Ozark; Donna Carrender, Lake Ozark; Wanda Wright, Tuscumbia; Joe Cochran, Iberia; and Jim Clark, Tuscumbia.
The meeting was properly adjourned and then several people toured the work being conducted on the first floor of the museum where a new research room facility is almost completed.
There will be an 'Open House' event scheduled for Saturday, May 10, at the museum and it is hoped that much of the ongoing construction will be near completion by that date.
---
Thanks Peggy.
Here are some photos taken at the meeting (photo 28, photo 29, photo 30). Lena Bear of Eldon was the oldest member present (photo 31); Lena now is 96 years old living at the Lee House. She has been a member of the MCHS almost since the beginning and never misses a members' meeting. She is my aunt having married my mother's brother, Arthur Bear. They owned and operated a grocery store (called the Sanitary Market) on Maple street from 1945 until 1965.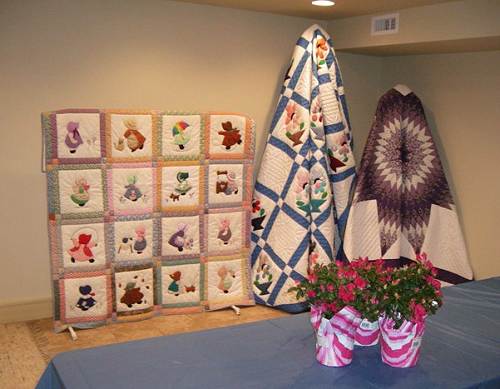 28 Quilt Display Member's Meeting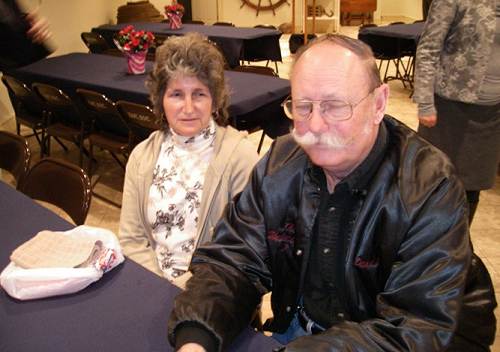 29 Mr. and Mrs. David Spaulding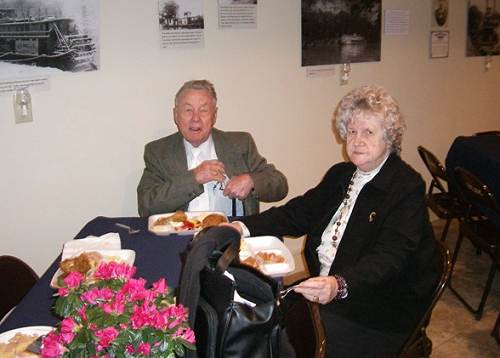 30 Mr. and Mrs. Lewis Wall
31 Susie Pryor, Sandra Shelton, Donna Carrender and Lena Bear
---
We are very excited to have installed our new Hughes Network satellite receiving dish which gives us high speed internet service (photo 32). The internet is a tool of great value for those doing genealogical research, which, of course, is one of our programs we most emphasize at the museum.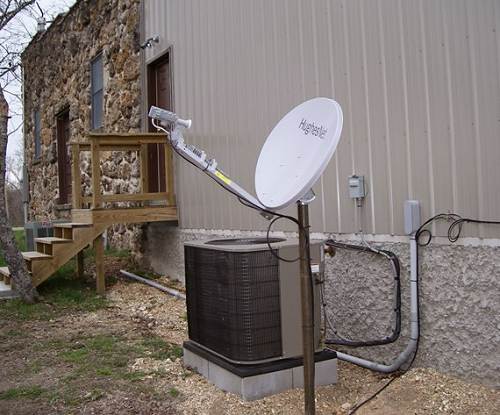 32 Satellite Rreceiver
The second floor of the new addition to the museum has been dedicated to storing and maintaining records as well as serving as a place for those interested to come and do their own genealogical research. Having high speed internet facilitates significantly this type of research. We are fortunate to have the services of Jeffrey Thompson (photo 33), son of our director Nancy Thompson, to help us with the technical requirements of setting up and running our genealogical programs on our computers.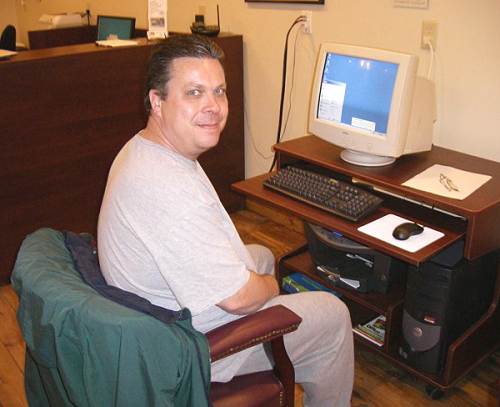 33 Jeffrey Thompson
---
We are looking for someone who is a quilter or quilt collector to consider donating a quilt to the annual Miller County Historical Society quilt raffle. We already have a small quilt donated by Sue Dillon. The quilt raffle has always been one of our best venues for raising funds for the museum operation since quilts are a popular item which people enjoy buying and displaying in their homes.
---
Last week I helped Larry Flaugher, president of the Tuscumbia Alumni, as well as many others in an alumni basketball team event for the purpose of raising funds to purchase new uniforms for middle school classes. This was a very successful endeavor and Larry is certainly to be congratulated and thanked for his great leadership in planning and executing this event. Over six thousand dollars were raised due to the great community support and Larry's as well as the many volunteers' efforts.
One of the players and alumni participating was Dale Horton, son of Frank and Ellen Horton, who for several years has sported a large black beard. Dale was kind enough to, after all these years, let us see his face again by donating a hair and beard cut to the fund raising effort. The deal was that as long as people continued to come forward and drop money into a collection box, Becky Sue Snodgrass Howser, would continue cutting hair. Well, the people attending the event apparently were very eager to see Dale once again and the giving was so great that Becky ended up with no more hair to cut! Here are the before and after photos (photo 34 and photo 35).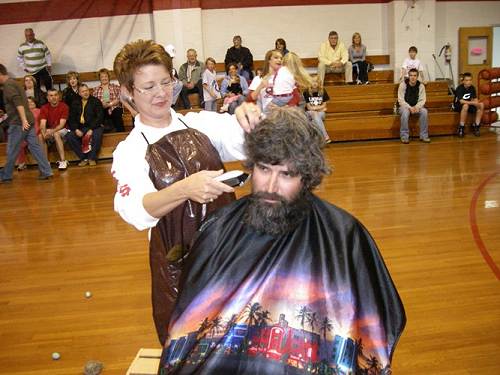 34 Dale Horton - Before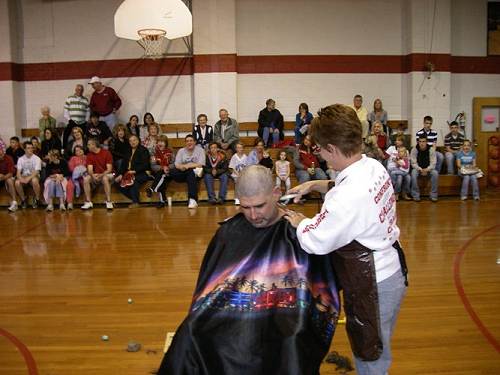 35 Dale Horton - After
That's all for this week.