Monday, March 24, 2008
Progress Notes
The other day I accompanied a moving truck to the home of Janet Hix Buthold of near Russellville to return to her a historic piano she had loaned to the museum some twenty years ago but with the understanding it would be returned when her son was old enough to take it. The piano, made by Guild, Church and Company (photo 01) belonged to her grandfather, Phillip Hauenstein (photo 02), who was the son of William Hauenstein Sr., who was the original Hauenstein to arrive in this county many years ago.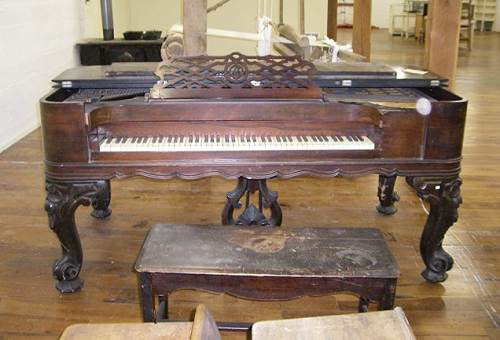 01 Piano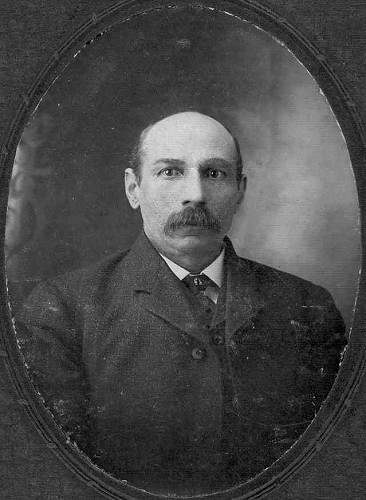 02 Phil Hauenstein
From the Hauenstein family originated Hauenstein General Store, Anchor Milling Company, and several Osage River steamboats. Phil Hauenstein was most associated with the management of Anchor Milling Company. He had several children, one of whom, Ida, married Byron Hix (photo 03 of Byron and Ida), who later became manager of the Bank of Tuscumbia.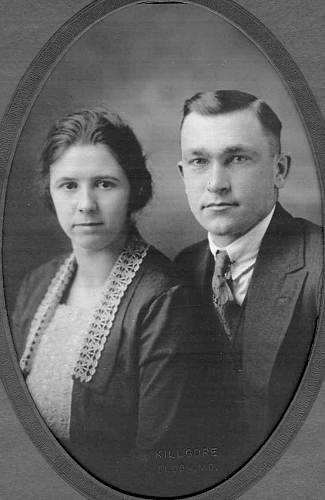 03 Ida and Byron Hix
Janet was the daughter of Ida and Byron and was raised in Tuscumbia. The piano was probably made in the 1870's and is identical to one on display now at the Cole County Museum. As noted in the photo above of the piano, in which you can also see evidence of our ongoing renovation project, the piano is large and heavy. In fact, it was so difficult to move that whenever the Osage River flooded into the first floor of the Phil Hauenstein home (photo 04 of home) ropes were attached to the four corners of the piano and from pulleys hooked to the ceiling the piano was lifted up above the water level and left there until the Osage River receded.
04 Phil Hauenstein Home
When Byron and Ida married in the mid 1920's, the piano was moved to their new home on High Street (photo 05) which was very near the courthouse. Ida was an accomplished pianist and was the pianist for the Tuscumbia Presbyterian Church. I remember seeing the piano in her home many times growing up as a young boy in Tuscumbia. After Ida and Byron had passed away, Janet offered on temporary loan the historic piano to the museum where it has remained for quite a few years. So it was with nostalgia that I saw it leave but I was happy that it was going to stay in the possession of descendents of the Hauenstein family.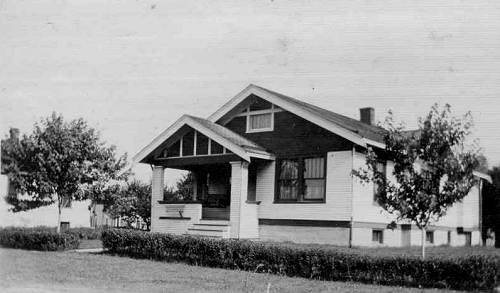 05 Byron and Ida's Home on High Street
I hadn't visited Janet in her present home before but appreciated the opportunity to scan all the old historic photos and paraphernalia she has collected over the years having to do with Tuscumbia and Miller County. Especially interesting to me were the many different old photos she had of her grandfather, Phil Hauenstein, who as mentioned above, was instrumental in establishing and managing Anchor Milling Company. One interesting item she has kept all these years is a fur stole and hand muff which belonged to her mother, Ida. And it was just as interesting to see the old photo of Ida wearing the fur stole and muffler which gave me the idea of photographing Janet wearing it too (photo 06 and photo 07 of Ida and Janet wearing fur piece)! This is a very old fur piece going back to the early 1920's. I judge from the tail that this was a raccoon.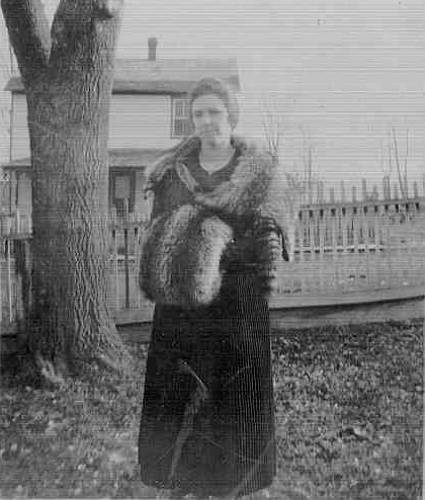 06 Ida Wearing Fur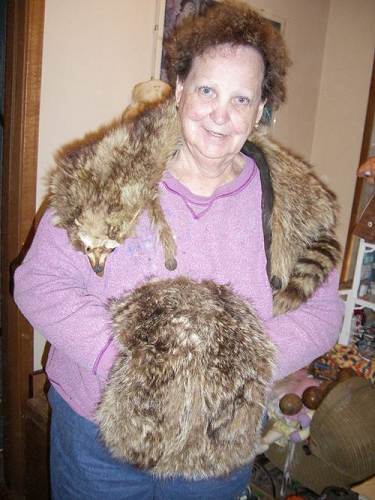 07 Janet Wearing Fur
Janet has much of the china and silverware (photo 08) which belonged to her parents and grandparents as well as furniture pieces (photo 09).
08 China Collection of Idas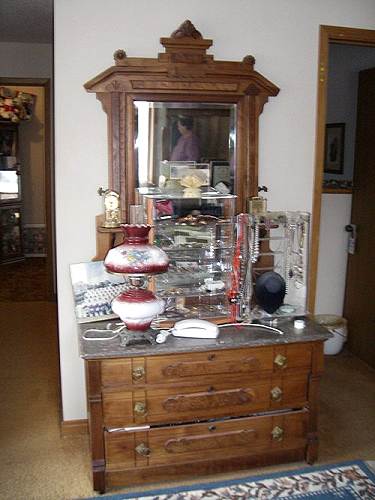 09 Ida Hauenstein Hix's Bedroom Furniture
She also has two pieces of bedroom furniture which originally were purchased by J.R. Wells for his impressive house which he built over a hundred years ago on his large farm along the Osage near Tuscumbia (photo 10). Another valued possession is the old Bible kept on the lectern of the Tuscumbia Presbyterian Church since it was started in 1889 (photo 11).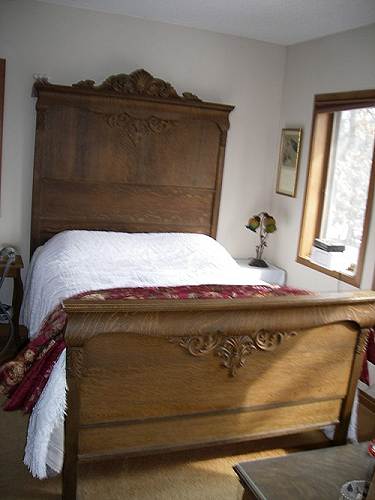 10 J.R. Wells House Bedroom Furniture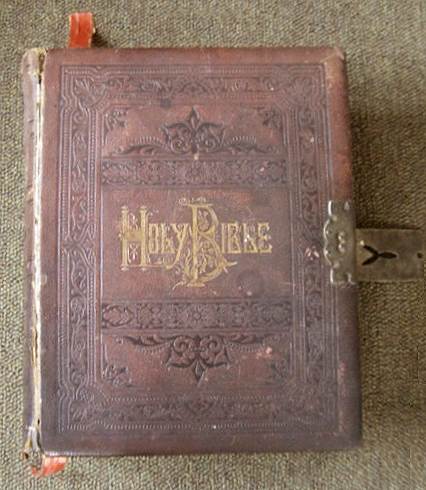 11 Presbyterian Church Bible
One interesting surprise for me was that over her adult lifetime Janet has been a collector of hobby items having a huge number of them displayed in large windowed cabinets throughout her home (photo 12 and photo 13 of beanies and owl collection).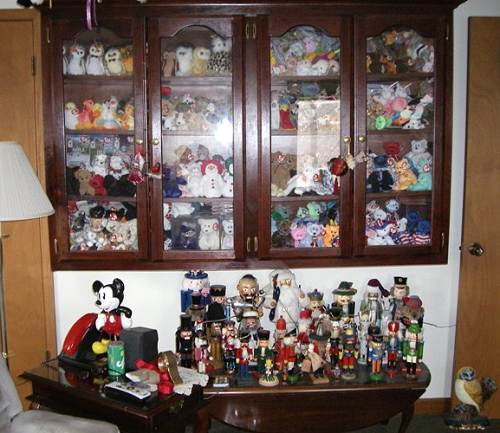 12 Beanie Baby and Figurine Collection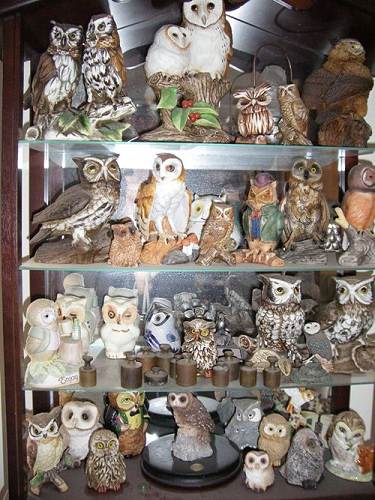 13 Owl Collection
Janet's father, Byron Hix, also was a collector of sorts as noted by his collection of canes (photo 14) and license plates going back to 1925 (photo 15 of plates). Notice that every plate has the same number, "829." The Autogram newspaper even featured his license plate collection in one of its issues which I hope you can read since the quality of the old newsprint wasn't very good (photo 16).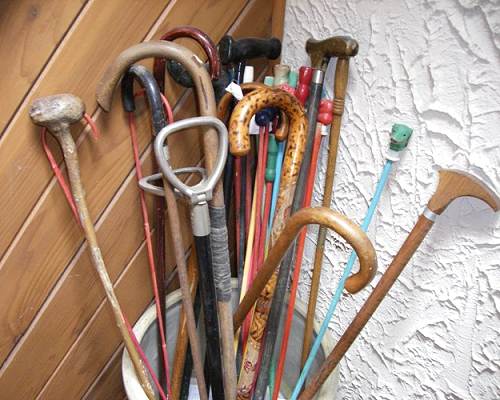 14 Cane Collection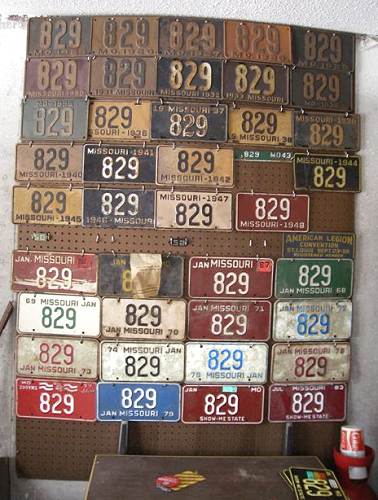 15 License Collection 829
Janet has another hobby which is painting colorful pictures. She has quite a few of these, enough that she would like to begin selling some of them to free up some space in her studio. Here are a couple of them (photo 17 and photo 18).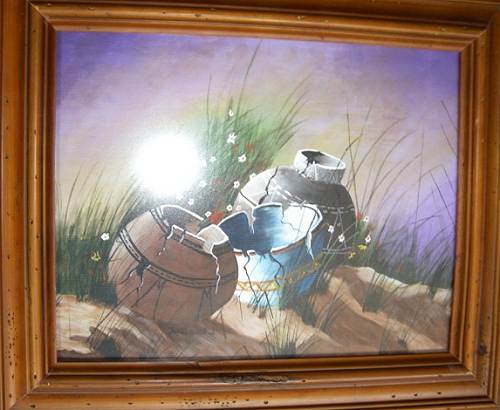 17 Indian Pottery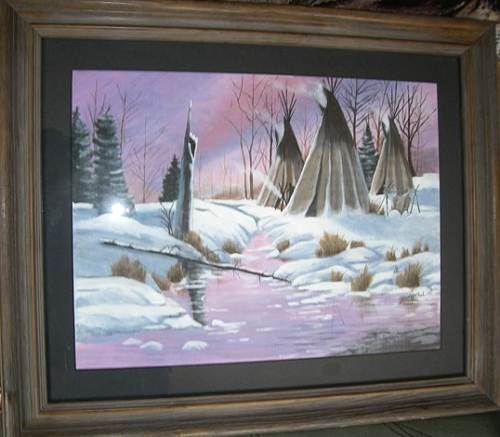 18 Indian Camp in Winter
In addition to paintings Janet has drawn a large number of sketches of Tuscumbia and Miller County scenes and structures which at various times she has donated to our museum for resale which contributes to our operating budget. Here is one of them (photo 19).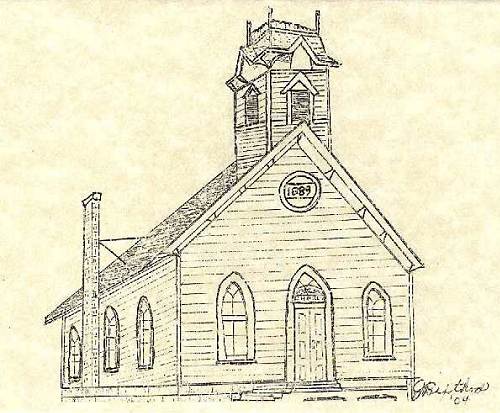 19 Old Presbyterian Church
Marvin Buthold, Janet's husband, also is a collector. While he was employed for thirty years by Coca Cola of Jefferson City he had the opportunity to collect items Coke gave to store owners and vendors as well as the general public. Most of these items are old and qualify as antiques. In fact, he has one of the largest collections of Coca Cola memorabilia in the country. Marvin has acquired so many Coca Cola items that he has had to convert bedrooms and closets into storage areas (photo 20). This one photo doesn't do justice to any attempt to display the many areas of the home which has old Coke Company souvenir paraphernalia collected.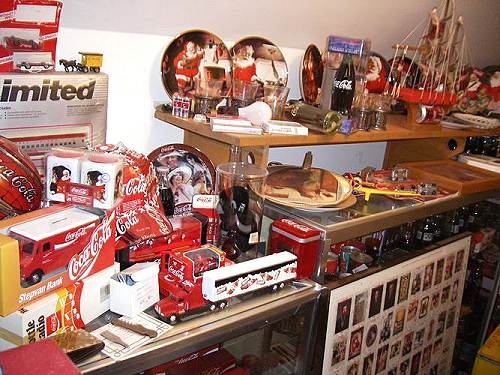 20 Coke Collection
Marvin also has a huge collection of steins as well (photo 21).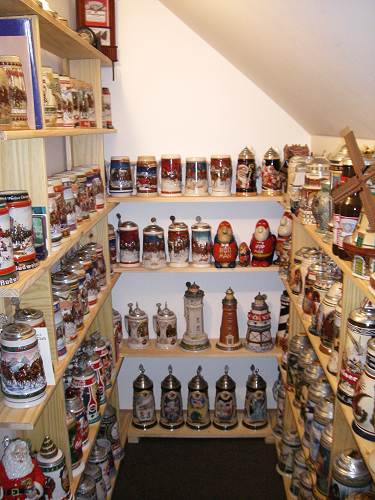 21 Stein Collection
Janet's father, Byron Hix, was from south of the river. Janet said he courted Ida coming by horseback across the suspension bridge. After marriage, they lived for awhile with Ida's father, Phil Hauenstein, in his large house in Goosebottom (photo 22), then moved to a new house which is still standing on top of the big hill where the courthouse is located.
22 Phil Hauenstein House in Goosebottom
This house is where Janet was raised (see photo 05 above). Byron spent most of his career in Tuscumbia working for the Bank of Tuscumbia which was started by Captain Robert M. Marshall, who was discussed here a couple of weeks ago. His work there, which he began in 1916, was interrupted when Byron was sent overseas in WWI along with many other Miller Countians. He was involved in quite a bit of military action.
In 1968 at the fiftieth anniversary of the signing of the armistice of that war the Miller County Autogram interviewed Byron about his experiences during the war:
Miller County Autogram
1968
Fifty years ago next Monday, the armistice was signed. At 11 a.m. on November 11, 1918 bugles sounded the "cease fire." This signaled the conclusion of World War 1, the "war to end all wars," the "war to make the world safe for democracy." Miller County sent 625 to serve in World War 1. Today, a half century after that conflict, many residents of the county well remember those war years. Among them are members of Miller County Barracks 1442, Veterans of World War 1, which had a 1968 membership of 106, and is already launching its 1969 membership drive. Thirty-four belong to its Ladies' Auxiliary. These groups meet regularly at 1:30 p.m. on the third Sunday of each month at the courthouse annex in Tuscumbia.
Among the members of the veterans' group is Byron H. Hix of Tuscumbia, quartermaster of the barracks, who recalls overseas action in World War 1. He served in the Army from September 6, 1917 to March 28, 1919, being a member of Company 1, 356th Infantry, 89th Division. Company 1 was made up of 250 men, most of whom were from Missouri and New Mexico.
Hix was on overseas duty in England and France from June, 1918, to March, 1919. At the time, though, he didn't know the armistice had been signed. On November 11, 1918 he was a patient in Base Hospital 58 at Rimacourt, France, one of 116 in his company wounded on October 6 while in front line service in France. He was gassed, and influenza developed. "Right at that moment, I didn't know or care what was going on," he said. I don't think I knew anything about the armistice for a week or two.
His company had gone into front line service near Thiacourt in late September.
On the night of October 4, 1918, Company 1 moved into position near Jaulny. On the next tight the enemy began shelling the position severely, continuing at intervals throughout the night. The shells included shrapnel, high explosive and gas shells, the gas predominating. Hix recalled the men had kept their gas masks on all day and all night, but took them off too soon with many of them being affected by the gas. As a result of the enemy action, the company strength was reduced to some 20 men including the cooks, supply and mess sergeants, and company clerk. When firing ceased at 11 a.m. on the morning of November 11, the day the armistice was signed, the company was dug in along the Autreville-Stenay road from where the few surviving members of the company, including Byron, were taken to the Base Hospital in Rimacourt.
This weekend the 89th Division will have its 49th annual reunion in Kansas City. The event will be held Friday and Saturday at the Mayfair Hotel and Hix plans to attend. The reunion annually is held around Armistice Day…now Veteran's Day…and draws some 250. About nine or ten are expected from Company 1 with which Hix served.
Thanks Autogram for the 1968 visit with Byron about WWI. Here is a photo of Byron's battle hat and post war honorary organization hats (photo 22a):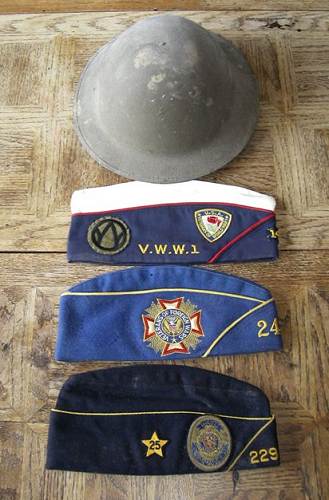 22a Battle Hat and Honorary WWI Organization Hats
Byron rejoined the Bank of Tuscumbia after the war ended having first started working there in 1916. After fifty two years of employment at the bank, he retired in 1968. He remarked at his retirement ceremony that when he first began work, posting was all done by hand, not electronically. Bank resources had grown in those fifty some odd years from $150, 000 to $3,000,000 at the time of his retirement.
I had known Byron well as a young boy growing up in Tuscumbia. He attended the same church as I did and was one of my Sunday School teachers. I remember him as always wearing a coat and tie, rather quiet and soft spoken. He also had a very gravelly voice which often he tried to clear. This was the result of his gas injury which injured his lungs permanently as well as his vocal cords. But old timers remember Byron for something else: you may remember in last week's Progress Notes that Byron's prowess as being one of Miller County's best baseball pitchers was mentioned. He loved baseball and It was such a large part of his early life that Janet, his daughter, has kept and preserved the baseball uniform he wore during those days (photo 23).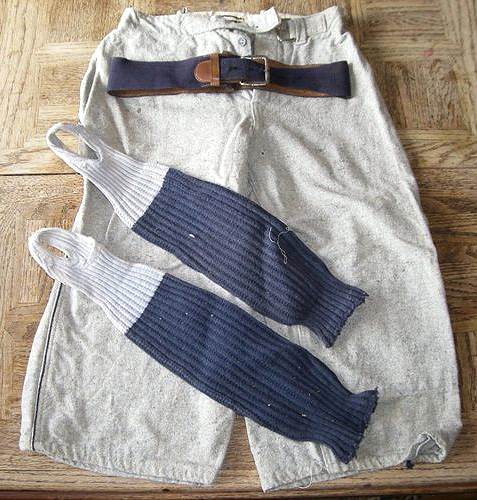 23 Byron Hix Baseball Breeks, Belt and Socks
When I saw the raccoon fur that Janet's mother, Ida, used to wear it reminded me of the days when a lot of trapping went on and when hides could be sold for a small sum back in the days when money was scarce during the depression. And following that theme, I would like to copy here another original essay by Elmer (Dub) Brown (photo 24) regarding his hunting and trapping days as a young boy and especially his relationship with a local neighbor, Roy Gosney, who taught him how to hunt, trap and how to generally get along in the woods: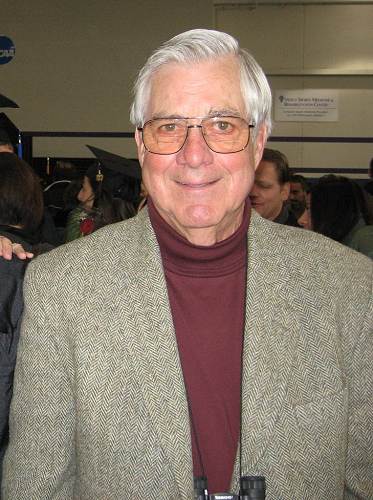 24 Elmer Brown
ROY GOSNEY
One individual who probably had as much influence on my formative years as any was Roy Gosney.
Roy lived on a farm owned by Fred Whitlock, our mail carrier, and took care of the cattle, fences, etc. He was in his mid fifties and though he had six children, he and his wife were divorced so he was pretty lonely most of the time. The three boys, Bob, Charles and Wayne spent quite a lot of time with him in the summers. Charles and I were about the same age with Bob being two years older and Wayne being about two years younger.
He had been in the army during WWI, serving as an artillery teamster in France for about a year. Roy didn't talk about his experiences very much, but once in a while after my persistent probing, he would open up a bit. I never tired of hearing him talk about galloping forward with the gun or ammunition carrier in tow, dropping the load and then racing the horses away before the firing started.
Roy was not an educated man, but he loved to hunt and fish, and he loved kids. I don't know if that was the big attraction or the fact that I was the only male in our household or a combination of both. At any rate, I spent as much time as possible with Roy beginning at about age ten. He lived about a mile from us, and I made numerous trips back and forth, walking, riding my bike, or driving the Model A Ford as I got older. I wasn't able to do the latter until I got to be about fourteen. I still didn't have my license but the chances of getting stopped were practically zero since the highway patrol never got off onto the gravel roads.
Roy worked for us as a hired hand from time to time building or repairing fences, haying and doing various other chores too hard for mother and me to do. He had injured his right hand in some way and the wound had gotten blood poisoning. This had resulted in the last two fingers being permanently curled in against the palm. I suppose it handicapped him to some extent, but if so, I never noticed. He could still work circles around me.
Naturally I worked with him if I wasn't in school or otherwise occupied. I learned a lot about farming and life in general from my exposure to him.
We spent many days and nights prowling the woods. In the summer and fall our favorite past time was squirrel hunting. Roy always had two or three "tree" dogs ranging from hounds to terriers. My dog, Scrapper, had also gotten to be pretty good at finding the gray and fox squirrels common in the area. After the inevitable fight between the dogs sorting out who was the leader, we would set off through the woods, with them ranging ahead looking for game. Their excited barking would signal that they had one treed, and we would proceed to where they were. Then the trick was to spot the squirrel. The grays tend to take off running through the treetops if they can while the reds are more likely to stay put. They are both very adept at concealing themselves either in a bunch of leaves or by keeping the tree trunk or limb between them and the danger. In situations where they did the latter, one of us would stand quietly on one side of the tree while the other moved around to the opposite side and created a racket of some sort. This would usually cause the critter to show itself and allow a shot. If you were by yourself, of course, you had to be a bit more resourceful and throw a stick or something into a bush or tree on the other side. Hopefully this would cause the squirrel to think there was a danger there and move around the tree trunk.
Late fall and winter our interests turned to opossums and raccoons, which we hunted at night. Warm nights after a cold spell are the best since the game is more likely to be moving about and it is easier for the dogs to pick up their scent. Again, the approach was pretty much the same as for squirrels, a leisurely walk through the woods while we waited to hear the dogs pick up a track and hopefully bark "treed" in a short while. There is something about listening to a good hound hot on the trail of game, which still causes my pulse to quicken. Then, there is the feeling of triumph when you hear them bark "treed". I can't really describe the difference in the barks, but to this day I can easily distinguish when a hound is trailing as compared to "treed".
If it were a possum, the trailing part usually wouldn't last long since they don't tend to range very far and are pretty slow moving.
A coon, on the other hand, could be a different story. They tend to cover a lot of territory and, once they know they are being chased, can move pretty fast. Coons also tend to live around water where the hills are steeper, the "hollers" deeper, and the brush and timber thicker. I've taken many a header from stepping in a hole or tripping over a vine and wondered if I was ever going to land.
We never had it happen to one of our dogs, but there were always stories about a coon taking to the water, luring the dog out over its depth and, in the process of fighting it, climbing on its head to drown it. Don't suppose the coon could employ this tactic very well if you had two or three good big hounds.
Once we arrived at the tree, we still had to spot the game. Since both possums and coons are pretty good size, and since there were no leaves, this usually wasn't too difficult. A good, bright flashlight was essential to see for a head shot with the .22. Since we were interested in selling the pelt, we didn't want a body shot, which would reduce the value.
Roy also taught me how to trap, and I earned a fair amount of spending money in my last years of grade school that way. Possums and rabbits were my most common catch, but I did get an occasional grey fox, skunk or weasel. My first skunk did a number on me, and I certainly wasn't very welcome at school that day since I didn't take time to change before I left. I quickly learned to take the .22 and dispatch the critter from a safe distance so as to prevent that from happening again.
The market for everything except the rabbits was, of course, in their pelts with a grey fox bringing about $3.00 down to about $.75 for the possum. The rabbits we gutted and hung in the smokehouse, where it was cold, until we had accumulated several. We then wrapped them in layers of newspaper, packaged them in a burlap feed sack and sent through the mail to St. Louis to be sold for meat. As I recall, we got about $.25 a piece for them. I often wondered what condition they were in when they were finally consumed.
Somewhere along the way, Roy acquired an old car, and though he couldn't drive, his eldest son Bob could and lived with his dad a good share of the time. When Bob was there and the car was running, which it frequently wasn't, we had transportation to go swimming at the Rock Hole, fishing at the river, or hunting someplace Roy had heard about. He never needed much urging to put aside whatever farm work needed to be done in favor of a jaunt with anywhere from one to four boys and as many dogs as we could load aboard.
Roy was also a bee-keeper and was always on the lookout for bee trees when we were in the woods. In early spring he would sometimes carry a little jar of sugar water with him. He would either pour some in a lid or over a piece of rag and then come back in the next day or so to see if any bees had found it. Where they were working it, he would watch to see which direction they flew and then follow at a dead run, hoping to find the hollow tree where they had their nest. The man couldn't see to read without glasses, but he could track the flight of a bee for what seemed to me to be an incredible distance. I could never do it.
Once he had found the tree, he would cut it down and attempt to capture the bees. It was probably just as illegal to do then as it is today, but it was common practice and no one thought much about it. Roy frequently asked me to help him on these ventures, and I did a few times, but only after securing his promise that he would use lots of smoke to stun the bees and provide me with a head net and gloves. I had been stung a number of times, always it seemed around my eyes, and tended to swell pretty badly. He couldn't quite understand this since a bee sting to him was no more annoying than a mosquito bite to most people. He humored me, though, because he always needed someone to help carry things and pull one end of the cross-cut saw.
I got into high school and became immersed in other activities so gradually drifted away from Roy. My intentions were always to spend time with him, but something always seemed to get in the way.
In one of those years, we had a severe storm during the night. I suppose it was actually a small tornado, but no one knew for sure. It flattened Roy's small house with him in it and in bed. There was no electricity yet and no way to get a lamp or lantern going. Somehow he managed to dig himself out and make his way to a small cave about half a mile away on the Harrison place where he spent the remainder of the night. Why he didn't go to one of the neighbors who lived nearby I don't know. Probably too embarrassed to do so since he was clad only in his underwear. This incident had a traumatic effect on him, and after that, wherever he lived, he would become panicky unless he could get to a cave or cellar whenever a storm came up.
I last saw him when I was in my freshman year in college. By this time he was living in a small house at the edge of Eldon. I took my old dog, Scrapper, who had been on just about all of our escapades, and went to see him. We sat and reminisced about many of our adventures and his happiness at seeing us was heartwarming. Scrapper was sprawled nearby, and every once in a while, he would raise his head and look at us as if to say, "Hey, I was there, remember?"
I was somewhat ashamed of myself for having neglected a friend who had given me so much.
Both Roy and Scrapper died not long after that.
---
Thanks Dub!
That's all for this week!