Monday, March 17, 2008
Progress Notes
This time of year basketball season is coming to its climactic close as winning teams make their quest to reach the state finals. I was rooting this last week for the Tuscumbia High School girls' team which unfortunately lost their final game in the sectionals to a very good Mack's Creek team. This photo was in last week's Autogram after the team's win over Leeton in the first game of the sectionals at Sedalia (photo 01).
Soon we will be getting ready for the baseball season as the professional teams return to Florida for spring training. Mike Wieneman over the last couple of weeks sent me some very interesting photos of some of the great baseball teams which Eldon produced in the early part of the last century. So I thought I would spend some time this week discussing Miller County baseball.
Back in the early part of the 1900's, baseball was really the king of team sports in Miller County. The professional teams were being organized and getting much attention in the newspapers as well. The sport required little in the way of a place to play; you just had to have a level field. And the equipment required was minimal as well: a ball, bat and glove were all you needed.
Eldon was fortunate in one way regarding the presence of good baseball players due to the fact that when the Rock Island railroad finished its line to and through the community, it brought in a lot of families who settled there producing many young men who were available to make up teams. To emphasize this point consider that before the Rock Island, Eldon's population was around three hundred. Two years after the Rock Island came to town, the population jumped to close to three thousand, making Eldon the most populated town of the county as it remains today.
Tina Raynor, who wrote one of the best histories I have read about Eldon, included the following about baseball in her book, Eldon, A Look Back:
Eldon had a bang-up baseball team in 1905. To tell the truth, Bob Harvey got railroad jobs for a bunch of semi-professional players and got them to play ball for Eldon. Some of the players were local boys. The following is the line-up and record for the season as reported in the Eldon Advertiser, on August 21, 1905 (Vol. X, No. 11):
The following is the regular line-up of the Eldon team. In the last seven games they have made 100 runs to their opponents 19.
Will Brockman - Captain
Lloyd Tising - Pitcher
Joe Starling - Catcher
Ralph Harvey - First Base
Lewis Meyer - Second Base
Ross Harrison - Third Base
Lloyd Brown - Short Stop
Frank Ralston - Right Field
Fred Lawbaugh - Center Field
Parker Schiffer - Left Field
Tim Lawbaugh - Sub
Austin Harris - Sub
RECORD FOR The SEASON
April 2nd Mount Pleasant - 14 Eldon. 24
April 16th Eugene - 4 Eldon - 35
April 30th Olean - 11 Eldon -12
May 14th Olean - 6 Eldon - 12
May 28th Versailles - 9 Eldon - 12
June 4th Owensville - 3 Eldon - 15
June 11th Elston - 13 Eldon 11
June 18th Owensville - 2 Eldon - 28
July 4th California - 3 Eldon - 11
July 16th Jefferson City - 4 Eldon - 18
July 28th Barnett - 9 Eldon - 12
July 30th Belle - 0 Eldon - 10
July 31st Sedalia -? Eldon - 16
Aug. 14th K.C.Decoys- 3 Eldon - 5
Eldon lost only one game that season. That was quite a year for baseball! Eldon has always been a sports-loving town and city ball was the name of the game in 1905. People would turn out in large numbers to see Lloyd Tising throw that ball. He was going to play for the Saint Louis Browns but decided to stay put and throw for the Eldon team.
More games were played after that article in the newspaper came out. On August 20th we beat Linn, 16 to 4. And we won the last game of the season against Lee's Summit, 5 to 3 on September 3rd.
Here are some of the photos that Tina included in her article (photo 02, photo 03, photo 04):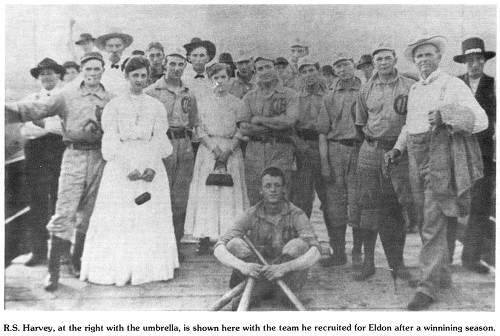 02 R.S. Harvey's Team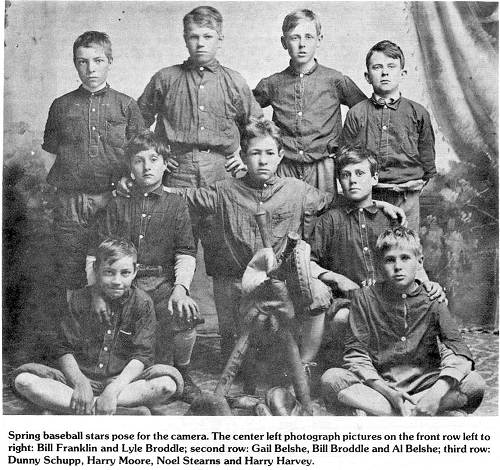 03 Spring Baseball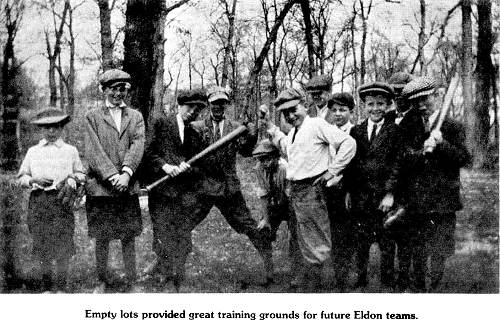 04 Eldon Boys Playing Baseball
---
Thanks Tina.
Mike Wieneman sent a photo of the championship team that Tina featured in her article above in which the players are distributed around a baseball diamond (photo 05). Here are the names of the players as Mike identifies them around the diamond: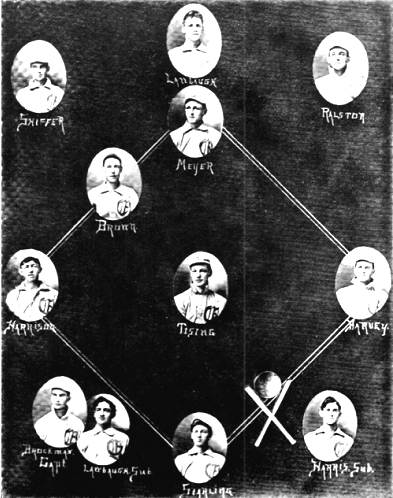 05 Best Eldon Team
Shown to left of diamond below are Bill Brockman, captain, and Tim Lawbaugh, with Austin Harris to right of the pictured ball and bats. Starting with the catcher's position and going around diamond to right are Joe Starling, Ralph Harvey, Louie Meyer, Lloyd Brown, and Ross Harrison with Lloyd Tising on the pitcher's mound. In outfield are pictured Parker Shiffer, Fred Lawbaugh, and Clarence Ralston. The picture was taken around 1910-12 or it might have been earlier.
Mike sent some other photos of Eldon baseball from long ago. We don't have all the names but put them here in case one of the readers of this site could help us with the names of the players in those photos we don't have identified (photo 06, photo 07, photo 08).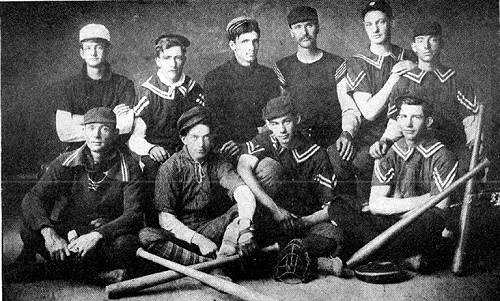 06 1912 Baseball Team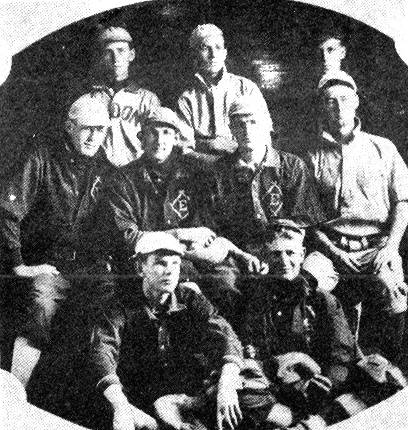 07 Baseball Team - Unknown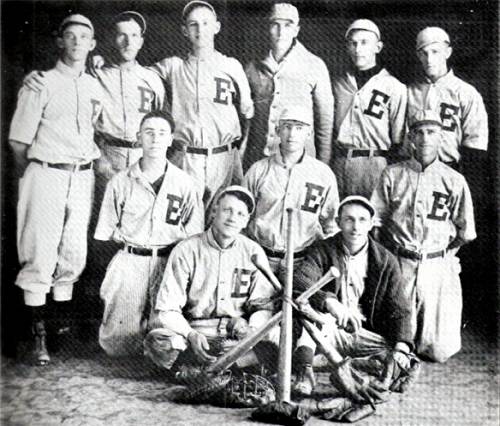 08 Baseball Team - Unknown
---
Thanks Mike for sending these old baseball photos.
Another source I found concerning Eldon baseball during the early part of the last century was Bob Richardson's book, Up The Caboose. This book is one of the most entertaining I have read in a long time. Unfortunately, it is out of print. Amazon.com does have a couple of used books listed if you want to buy a copy. Bob included three chapters about Eldon baseball. All of them were short and amenable to being copied here. Here is the first of three narratives by Bob:
Cow Pasture Wars
Bob Richardson
In the sunshine days of 1933, a greatly modified version of the Civil War was waged by Eldon boys in their early teens, all summer long. I speak of the kid baseball war between the North Side Rinkydinks and the South Side Sluggers. First Street was our Mason-Dixon line. Boys living north named their team the Rinkydinks. Boys from the south part of town called our team the South Side Sluggers.
We played most of our games in the town team ballpark at Eighth and Maple. Our only spectators were the milk cows that lazed in the shade of a persimmon grove in deepest centerfield. Our games and our teams were not organized or supervised or criticized by our elders. No emotionally infantile fathers stood on the sidelines yelping bad advice and dire threats to their sons. You could call our battles disorganized baseball, or cow pasture anarchy, run by the kids with the loudest voices.
An exception to the no-adults rule was Hilo Jones, the Rock Island bridge gang foreman, who on an occasional afternoon off, sat in the grandstand and umpired. He was pretty good at it, too. He called balls and strikes and close plays at the bases. When asked why he liked to umpire from the grandstand, Hilo replied, "Because umpiring is a spectator sport. Go to any ball game and there are hundreds more guys umpiring in the stands than are playing the game."
Our games were fiercely and sweatly contested, with frequent disruptions over close plays and dubious interpretation of baseball rules. Both sides wanted to win, but the degree of desire and methods of winning differed considerably.
The South Side Sluggers ran mostly to rugged individualists, characters who chewed tobacco, wore dusty overalls and flour mill caps with broken bills. The following Sluggers showed up most of the time: Casey Carrender, Dutch Wilson, Bob Houser, Roy Schuler, Ray Nichols, Gene Jesse, Jitney Allee, Ramon Clemens, Horton Jones, Junie Turnquist, Clark Payne, Theron Wood and me.
The North Siders had the skills and easy aplomb of born winners. They chewed bubble gum, dressed in clean jeans and shirts, and wore regular baseball caps. The Rinkydinks were represented by G. A. Bennington, Herb Simpson, Norm Gosney, Kenny Hall, Max Bowden, Roy John Schick, Harold Vernon, Bart Simpson, Joe Schick and Clete Helms.
These boys were not only Eldon's best collection of kid baseball players, they also excelled at other sports. Herb Simpson, Bennington, Gosney, Joe Schick and Helms became high school basketball whiz kids. Harold Vernon set high school track records in the 100 and 220-yard dashes, and long jump that may still be standing. Bennington, the North Side catcher, was also a track star. He went on to become a top-notch baseball professional, starring for top minor league teams, such as the Louisville Colonels and Jersey City Giants. He was slated for the big leagues (Red Sox) when he retired from baseball to pursue a business career. He eventually became executive vice president of a large insurance company.
The South Siders were good to excellent ballplayers but were incurably individualistic, each an island of temperament, unfazed by the competitive demands of winning. That made for interesting, sometimes hilarious, baseball; but didn't chalk up many victories over the win-oriented Rinkydinks.
For instance, Dutch Wilson, the South Side's pitcher, was a big, strong kid who would have made a great third baseman. He had sure hands, a powerful arm and could hit a ton. Alas, Dutch thirsted for fame as a pitcher, which was possible, had he used his fast ball all the time. But Dutch was enamored of a "thumbdown" curveball which came lazing up to the plate with HIT ME! written all over it. North Side batters waited for the curve to complete its leisurely arc, then. . . kersmack!
The Souths had two gifted ball hawks in the outfield: Horton Jones in center and Junie Turnquist in left. Horton was medium tall with long skinny legs; Junie was short and built like a fire hydrant.
They were further distinctive by the black derby hats they wore, on and off the field. They were talented outfielders but undeniably lords of their own turf. Any fly ball hit to left center found Junie and Horton racing to the point of descent. Then the dull thud of bodies banging, as the ball fell beyond the prostrate harriers, and another Rinkydink batter circled the bases. Not once, following these collisions, did Horton or Junie swallow their chewing tobacco.
Dutch Wilson's battery mate was Casey Carrender, the only left handed catcher in Miller County. Casey's throw to second base was a marvel to watch. Casey aimed the ball halfway between first and second bases. Just as it seemed the ball would sail into right field, it began its 15-foot curve and landed precisely at second base.
One day, when the Norths were pummeling us pretty good, Casey stalked slowly to the pitcher's mound. Instead of holding a strategy conference, Casey and Dutch broke into a hayfoot-strawfoot shuffle, as Casey sang "Nobody's Sweetheart." Soon they were joined by the entire South Side infield. Although there wasn't a cloud in the sky, Hilo Jones stood up and declared loudly, "Game called on account of rain." And it was over and out for that day. Nowadays, when I watch kids play baseball on their manicured ballfields, when I see some little 75-pound lad cringe in disgrace under scathing criticism from the Moms and Pops on the sidelines, I feel a profound irritation. It is then I summon up our summer of disorganized baseball. And the picture comes to mind of Junie and Horton racing gleefully through the sunshine, each yelling, "I got it! I got it!" Then the Laurel and Hardy meeting of bodies, airborne briefly, arms and legs akimbo, derby hats flying helter skelter. And the boys colliding on the pasture grass, giggling helplessly while the shortstop retrieves the ball.
That's the way it was with the Eldon baseball wars of the 1930's.
Here are the photos Bob included with this chapter (photo 09, photo 10):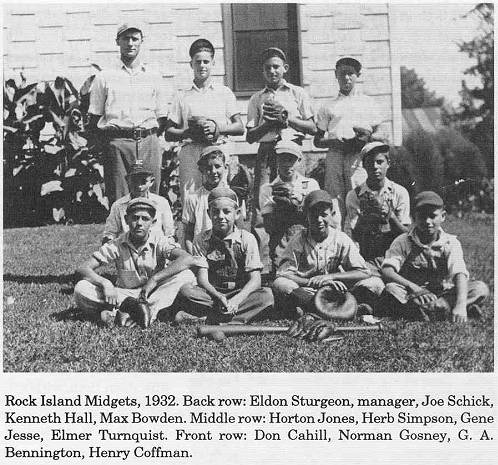 09 Rock Island Midgets - 1932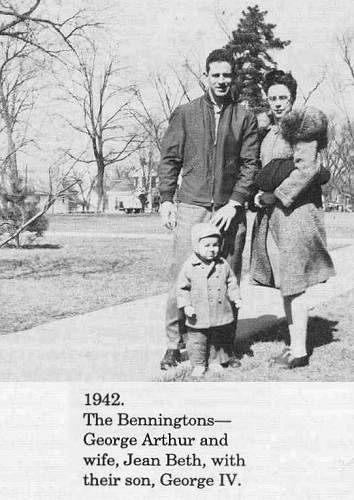 10 The Benningtons
Bob's second narrative is as follows:
The Heroic Gab of Horatio Q. Hilton
Bob Richardson
IN TIMES PAST, Eldon had a dozen or so premier tall tale tellers. Fibbers. Wind merchants. Gabbers. The town's most notable weaver of fanciful fibs, when I was a boy, was Horatio Q. Hilton. ("Q" for Quincy; or so Horatio said.) Horatio drifted into town in the mid 1920s, driving a black sedan, modified for storage of his electrician's tools, and various pieces of cookware, and a pallet on which to sleep.
Horatio was late in his middle years and a talker of the first magnitude, a thin, tobacco-chewing man of surpassing ugliness. Some kid (I think it was Don Kirby) dubbed him "Physic Face." But mercifully the name never stuck. He did not come quietly into town; he landed with his mouth running wide open. He had a gift of gab that transcended ordinary windiness. There was no subject that daunted him: political, social, economic, romantic, geographic, sports or what-have-you. He had an opinion about everything and there was no human endeavor at which he was not expert.
For such a homely man, he seemed to have had remarkable success in capturing the hearts and souls and bodies of fair ladies. Or so he said. One of his yarns was remindful of the Old Trapper in Saroyan's The Time of Your Life. One afternoon in Roe Simmons' barber shop, Horatio took to bragging about his prowess with the ladies. And about his scintillating baseball career, which centered on his claim of having pitched three and two-thirds innings for the old Chicago White Stockings.
(Earlier some town iconoclast inquired of the Sporting News if Horatio was in the record books as having pitched for the Chicagos. The answer was a very definite "No!)
Roe stopped shaving Grover Tourville, got a dog eared copy of the Sporting News from a towel cabinet, and began reading aloud the paper's denial that Horatio Hilton ever played in organized baseball.
Anywhere!
When confronted with this evidence from the bible of baseball records, Horatio neatly veered off on another tack. "They haven't got me on record because I played under the name of Frosty Snow," he alibied. "Got the name of Frosty when I walked 15 miles through a blinding Chicago snowstorm to keep a date with an heiress, who fell in love with me, watching my performance in East Lynne. Had the male lead, and Maud Adams played Lady Vane opposite me. That's how I got the Frosty moniker."
To which Bob Enloe later remarked, "With all of his snow jobs, I'm not surprised he was called Frosty!
Horatio was a paradox. Although he was a blowhard, and fibbed when the truth would have served better, Horatio was an expert on many things. Probably because he was an omnivorous reader gifted with a very retentive memory. He could quote entire scenes from Shakespeare's plays, taking all the parts, flinging his arms, striding about as if he were Edmund Kean himself. He could quote from memory complete poems of Keats, Poe, Gray, et al . . . and baseball statistics all the way back to the 1880s.
When he thrust himself on the Eldon baseball scene, it was as an umpire. And a very good one. His eyesight was still keen and, of course, he knew the baseball rules book inside out. He was amazingly agile for his awkward, crablike gait and age.
Then he took over the upkeep of the ball park, located at Eighth and South Maple. As caretaker, Horatio made the infield into one of the finest in Missouri, including Sportsman's Park in St. Louis, and Muehlebach Field in Kansas City. Why, eventually, he became manager of the Eldon Merchants ball Club!
His greatest achievement as a manager was transforming George Barker from a wild swinging, chronic strikeout victim into, probably, the best baseball batter ever to wear the Eldon uniform. (My apologies to George Bennington, Fat Blackburn, Glenn Allee, Orville Nowack, Rip Monroe and Fred Lawbaugh.)
Horatio did it by drilling Barker on the batting method taught Rogers Hornsby by Branch Rickey. Many an afternoon, Horatio worked with George till dark, doing the pitching himself, as George clouted baseballs to the far reaches of the park, shagged by me, Bob Baucom, Skeeter Miller, Horton Jones and anybody else Horatio could get.
George wore out Central Missouri League pitching, batting .453 for the season, and in November, the Brooklyn Dodgers signed him to a contract. He was assigned to Allentown, Pa., and at spring training in an exhibition game, George drove two of Satchell Paige's fast balls to the top of the centerfield fence, and became the talk of the training camp. But soon a letter from his fiancée hinted that George had to choose between her and the Brooklyn Dodgers. He was already homesick; so, despite pleas from his manager, he boarded a bus and returned to Eldon.
Horatio was bitterly disappointed. Forever dashed were Horatio's dreams of basking in the reflected glory of George Theron Barker's baseball heroics in the major leagues. God had given George marvelous athletic skills, but Horatio had harnessed the power, the hand -eye coordination, the courage to hang in close to the plate, when fireballing pitchers whistled the heat close to the chin. . . and had molded George into a fearsome knocker of baseballs. Horatio had a way with kids, and several of us worked like little Trojans currying the ball park, under Horatio's supervision. We raked and weeded the infield, mowed the infield and outfield grass, laid the foul lines, smoothed the pitchers' mound, and policed the entire playing area for cow plops. We often worked late. And when dusk fell, we'd gather in the grandstand and listen to Horatio's marvelous yarns.
One such evening, as we sat watching a string of milkers following the bell cow's mournful clang through the evening's gloom, Horatio began reciting Gray's Elegy:
"The curfew tolls the knell of parting day, The lowing herd wind slowly o'er the lea."
It was a moving performance, even if he did recite around a huge dollop of tobacco juice. Something about the quality of his voice raised the hairs on the back of my neck; and I wondered if he was as lonely as he sounded.
But then he suddenly stopped the recitation, spat a half-pint of liquid tobacco, leaned back and said, "Did I ever tell you about the time I shipped on a Dutch freighter to Hong Kong. . ……. And away we went on a Horatio Hilton conducted tour of the Orient.
And here are the photos Bob included with the story about Horatio (photo 11, photo 12, photo 13):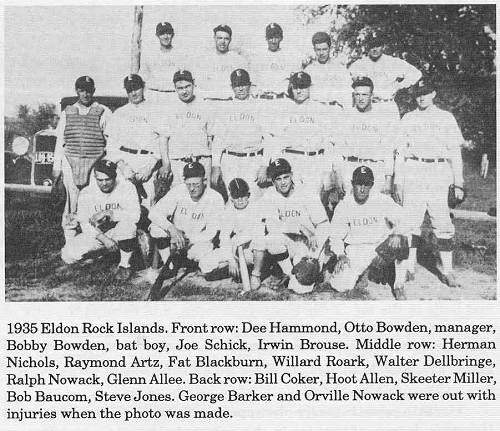 11 Rock Island Team - 1935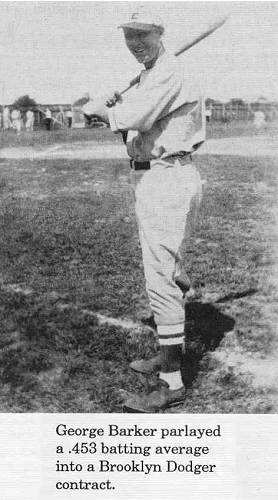 12 George Barker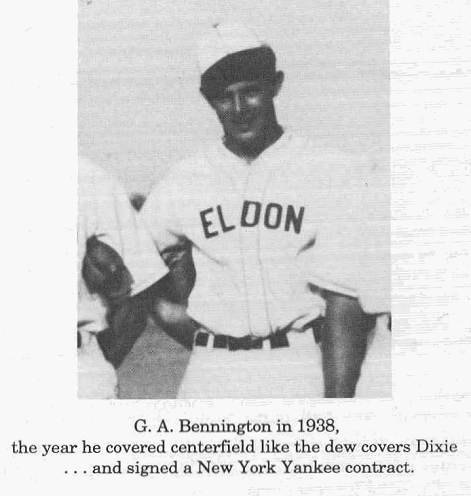 13 George Bennington
The last narrative I have from Bob's book is next:
Hoot's Season In The Sun
Bob Richardson
The major league pennant races remind that Eldon was once a redhot baseball town. It began with the coming of the Rock Island railroad, which brought in young men who also happened to be skilled ballplayers. Such as Park Shiffer, John Roach, Dee Tappmeyer and Dolph Kelsay.
In the 1920s, the railroad sponsored the town team, which was called the Rock Islands. Between 1920 and 1930, the Rock Island employed these skilled players: Bucky Combs, Fat Blackburn, Roy Blackburn, Steele (Rip) Monroe, Gus Barnhouse, Dog Foster, Harry McCasland, Lloyd Jesse, Grover Tourville, Kenneth Ulman, Homer Son and Art Woten.
Which of these was the most outstanding? Hard to say. But it can be argued that Rip Monroe was the best catcher ever to play for Eldon. Slow-walking, slow-talking Rip was a ball of fire on the playing field, a smart handler of pitchers, with a rifle arm. He was also a fearsome knocker of baseballs. A left hand batter, his specialty was screaming line drives down the right field line.
When work started on the Bagnell Dam in 1929, dam workers furnished a fresh supply of crack ballplayers, notably Mitch Mitchum, third base; Pat Kelly, second base; Charlie McCommons, catcher, and Pat Patrick who could play anywhere. McCommons and Orville Nowack were the only two Eldon players who could seriously challenge Rip Monroe's supremacy as a catcher.
Eldon also used two out-of-town pitchers in 1930, Jack Holzhauser, Eugene; and Quincy Garrison, Versailles. Jack looked, walked and pitched like the immortal Dazzy Vance. He was, to my young notion, the best pitcher ever to perform in these parts. And when his brother, Wes, was catching him, he was almost unbeatable. Jack had speed to burn and a fearsome curve ball that seemed to crackle as it darted over the plate.
Quincy is remembered as a very effective sinkerball pitcher, a hard worker who could be depended upon to turn in a superior performance Sunday after Sunday. (He also had a pretty daughter who worked for awhile at Bill Lehr's cafe down on Highway 54 by the Shell station.)
That year Jack Artz landed the job as head ballboy for the town team. He appointed Glenn Atwell and me as his assistants. Jack sat on the grandstand roof to spot foul balls hit out of the ballpark, and direct Glenn and me to find them. Glenn sat on the fence on the third base side; I perched on the first base side: Glenn and I got twenty-five cents each, no free soda pop, a hard seat and a sunburn. Jack, as head ballboy, got fifty cents, a free bottle of soda pop, and a large umbrella to shade him from the broiling sun. Such were the perquisites of the ruling classes.
Possibly the best Eldon team (at least in my time) was the 1934 entry into the Central Missouri League pennant race. The first string lineup: Milburn (Hoot) Allen, catcher; Willard Roark, pitcher; George (Moose) Barker, fIrst base; Glenn Allee, second base; Steve Jones, shortstop; Ralph Nowack, third base; Truman (Skeeter) Miller, left field; Orville Nowack, center field and pitcher; Dee Hammond, outfield and pitcher; Irvin Brouse, right field. Utility players: Walter Dellbringe, Bob Baucom, Bill McKinley.
George Barker was the super star of the 1934 Eldon Merchants. He sparkled in the field, digging low throws out of the dirt, flagging down high throws and soaking up grounders like a sponge. His batting average was near .500, including several tape measure home runs. His all-around performance prompted the Brooklyn Dodgers to sign him to a contract.
Willard Roark, the Merchants' ace pitcher, was considerably past his prime. His fast ball had lost its zip. But he had pinpoint control and a baffling array of curves and off speed pitches. Willard, who didn't take himself too seriously, used to jokingly say, "My fast ball is as swift as ever. It just takes longer for it to get to home plate." Days his aged arm was out of whack, he'd be replaced by Orville Nowack or Dee Hammond.
Orville Nowack was possibly the best all-around player ever to wear the Eldon uniform. He could play any position. He was an ace pitcher and a great catcher. He had a powerful arm, was fleet of foot and a consistent .300 hitter. He was also a character. When he got bored in a lopsided ball game, he was apt to do strange things. Once he argued with the plate umpire until the official threw him out of the game. Orville went to the shower room under the stands and, peeking through a crack, "announced" the game after the fashion of France Laux, play-by-play announcer of Cardinal and Browns games for KMOX-St. Louis.
Orville became so critical of the ump's calling of balls and strikes, the arbiter ousted Ozzie from the shower room and evicted him from the ballpark.
Special mention is reserved for Hoot Allen, the catcher. Several Eldon players were named to the Central Missouri League all stars. Hoot was not one of them. But if they had been handing out awards for heart, grit and determination, Hoot would've been first in line.
Mechanically Hoot was a good catcher. He was a perceptive handler of pitchers. He always called a smart game. He compensated for a so-so arm with a quick release of the ball. But he was a poor hitter, and he couldn't run. As Steve Jones put it "Hoot can't hit the size of his hat, and he runs slower than pond water; but he leads the league in fight"
Nobody ever threw himself into the game of baseball with more zeal than Hoot. To compensate for his weak batting, he improvised in clutch situations. His method was so simple. Instead of swinging his bat at the ball, he threw his body. That year, Hoot probably got hit by more pitches than all the Eldon players combined.
On close plays at the plate, opposing base runners found it about as easy to push a bear off a honey pot as it was trying to reach home plate defended by Hoot. Eldon players had a saying that year, "We'll win the pennant if Hoot's body holds out."
Hoot's battered body did hold out. The Eldon Merchants did win the pennant….with no small thanks to the unconquerable spirit of Milburn (Hoot) Allen.
And here is the single photo Bob included with this chapter (photo 14).
14 Orville Nowack
Thanks Bob.
Other parts of Miller County outside of Eldon also were enthusiastic about baseball as well. Byron Hix, who later became a banker in Tuscumbia for many years, and who was married to Ida Hauenstein (photo 15), was considered by many to be the best pitcher around Tuscumbia in the early 1900's. Similarly, in later years Byron Humphrey of Iberia was well known as a very accomplished player who went on to play for the Boston Red Sox.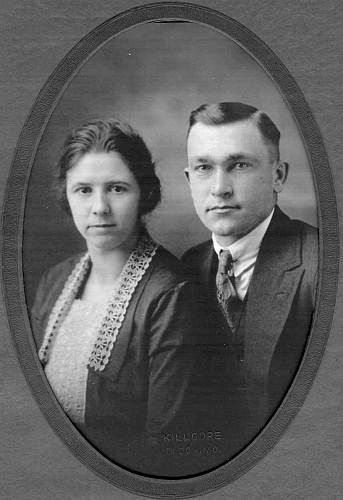 15 Ida and Byron Hix
Joe Kallenbach (photo 16), who was born and raised in Tuscumbia and who later became a professor at the University of Michigan in the Political Science Department, wrote the following essay about his memories of baseball in Tuscumbia in his autobiography My Life and Times: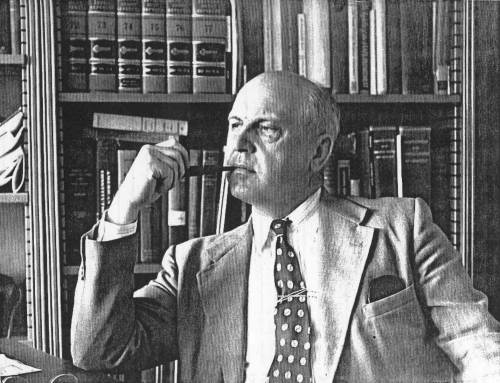 16 Joseph Kallenbach, PhD
As I was growing up, another sport that I looked forward to in summers was baseball. Long before I grew big enough to play regulation baseball, I became an ardent fan of the two St. Louis major league teams, the Cardinals in the National League and the Browns in the American League. As I have previously noted, I followed their fortunes closely by reading the sports pages of the St. Louis Globe-Democrat to which we subscribed. I came to know about all the players on each of those teams. My admiration for the super-stars of those teams, Rogers Hornsby of the Cardinals and George Sisler of the Browns, was unbounded. They were two of the few Big League players to ever bat for over a .400 average during one or more seasons. Neither of the St. Louis teams ever won a pennant while I was growing up; but the Browns came within one game of winning their league pennant in 1921. In 1926, after I had ceased to be a regular resident of Tuscumbia, the Cardinals won their first National League pennant. They went on to win the World Series that fall against the New York Yankees, with all their super-stars, Babe Ruth, Lou Gehrig, Tony Lazzeri, etc. I was teaching high school at Oak Grove, Mo. that fall. I followed on the radio each game of the series, which went to seven games with the Cardinals winning the final crucial game. As I have stated, I have continued to follow the fortunes of the Cardinals as my favorite professional team to the present day.
As a school boy my first and foremost ambition was to grow up to become a professional Big League baseball player: I could not imagine a more pleasant way to earn a good living. To draw what was then considered a good salary (nothing like the scandalously large salaries present-day players receive) while engaging in playing a game that I thoroughly enjoyed seemed to me to be about as near to heaven as one could ever hope to attain. With my rather straight-laced view of playing for pay on Sundays, however, I had some qualms of conscience about it. There were one or two players on the St. Louis teams that evidently felt the same way. They had clauses written into their contracts that excused them from playing on Sundays. I salved my conscience by thinking if I ever got to be a Big League player I could have a similar clause in my contract; so that, to my mind, was not an insuperable problem. One of those non-Sunday players was the player-manager of the Cardinal team. On Sundays, he would simply turn over the managing job to some one else and not show up at the park. It was not until about the time I began to go to college and had discovered I did not have the special talents required of top level performers in the game that I finally gave up my dream of becoming a professional baseball player.
When I was too young to play baseball as a competitive sport, my father used to take me to watch our town team play on Sunday afternoons against teams from neighboring towns. My older brother Len (Leonard Kallenbach) became a member of our town team when he was some 16 or 17 years of age. That added to our interest in watching the town team play. The games were played on a diamond laid out in a pasture just a short distance up the Shut-in Branch valley at the edge of town. That land and some additional land where the present town park is located were later donated to the town by its former owner. The local schools use it now for their baseball sports program, which is a well-organized inter-school affair: The baseball field then was just a simple thing. There were no seats for the spectators. They sat or stood along the third-base side of the diamond, where there was a rising hillside. A charge of ten cents a head would be collected from the spectators. That would produce enough money to supply the teams with bats and balls.
Note: The land Joe mentions above donated for the ball park was given by Captain Bob Marshall, who was discussed a couple of weeks ago on this site. Here is a photo of the field as it exists today (photo 17).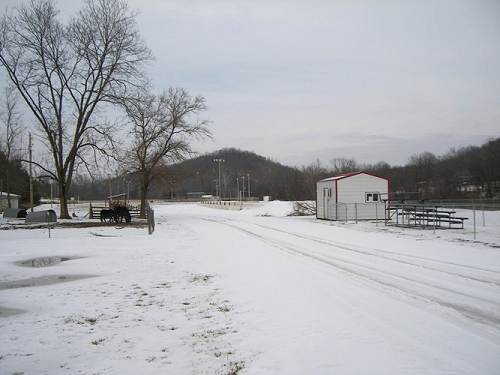 17 Marshall Field
As we went through the business section of the town on our way to the game, my father often would "buy me some peanuts and "cracker-jacks," just as the old "Take Me Out to the Ballgame" song goes. I would have a good time. I knew everyone, of course, who played on our team, and would root for them to win. They were only moderately successful against the opposing teams. At first, our teams were a pretty motley group, not all of them having uniforms that matched. Eventually they were able to get enough money together to equip themselves with matching uniforms of gray with gray trimmings. I believe I still have the old uniform Len used to play in, which I later inherited from him after he went into military service during World War 1.
I was introduced to baseball as a member of our town team at a relatively young age. During the summer of 1920, when I was only 16 years old, I became one of the regular players on our town team. Having played some form of baseball at school, though not on a competitive basis, and having frequently engaged in pitching, catching and throwing a regular baseball in an informal way during the previous summers, I was skilled enough in the rudiments of the game to participate. The first game I ever played in against another town team was that summer: We got together a team to compete against a similar town team at the small village of Ulman, located some seven or eight miles south Tuscumbia. There had been a temporary suspension of town team play during the summer of 1918, 1919 because so many of the young men had been called away for military service. By 1920 they returned and we could assemble a fairly good team. A close friend of my brother Len, Byron Hix (a cousin of Asa Mayfield, later my brother-in-law), had returned from military service. He was a great athlete, and had developed into a pretty good pitcher: He found he could throw what is called a "slider," a sharp-breaking pitch that drops slightly as it crosses the plate. I had learned to throw a more sweeping type of curve myself though I did not have the speed on my pitches that Byron had. He and I were pitchers for our team that day. We were up against a farm boy who could throw with what seemed to us, phenomenal speed; but he did not throw curves. He did not need to. We found it far too tough to score against our opponents, and we lost the game by a score of 13 to 1, as I recall.
Thereafter I played baseball on our town team whenever the occasion presented itself: We won a fair number of our games the next few summers. After I had graduated from high school, I did not end all my summers at home; but whenever I was there, I would participate. I usually played the second base position or pitched. During my second full year in college I went out for football. During the course of a scrimmage, while trying to block an opponent, I bumped my right shoulder very severely on the ground. After that, I discovered, I had lost whatever speed and accuracy I had in throwing, and could no longer pitch. I confined my playing thereafter to being an infielder.
I was never more than a fairly good sand-lot baseball player. During the summer of 1933 I was home a good part of the summer period. Some of neighboring towns, along with Tuscumbia, conceived the idea of organizing a "league" to compete with one another on a more or less regularly scheduled basis. I participated as a member of our town team in its games in the league. We had moderate success in the league. Near the end of the season, one of the business league teams in Jefferson City arranged to play a team made up of selected members of our league teams. I was chosen one of the players from our sand-lot team league to play on its "all-star" team against the Jefferson City club. I do not remember much about the game, which was played at a good ball park in Jefferson except that we lost the game.
During the course of my career as a sand-lot baseball player; a few of the players I played against managed to get into professional baseball, at least at the minor league level. One of the players on a neighboring town team (Byron Humphrey of Iberia) whom I played against was signed to a professional contract. He played for the San Diego team in what was then the Pacific Coast League for a number of years. Later he became a pitcher on the Boston Red Sox American League team for a short time.
Several of the players I competed with while in college were good enough to have played minor league baseball. The most distinguished baseball player against whom I competed once while attending college at Warrensburg was a person named Vernon Kennedy. He turned out to be a very good major league pitcher: He pitched for the Chicago White Sox, the Detroit Tigers, the St. Louis Browns, and one or two other major league teams during the course of his career; and was selected as a member of the American League's All-Star squad a couple of times. He was an all-around athlete, and competed as a member of the U.S. Olympic team in the decathlon competition in 1928.
Thanks Joe.
Joe mentioned in the narrative above a pitcher from the Ulman area who could pitch so fast he didn't need a curve ball and whose team beat Tuscumbia 13 to 1. But Joe failed to give his name. I did some research and a number of people told me that in those days the fastest pitcher anywhere around was Jim Patterson of Ulman. I believe that Jim has to be the one to whom Joe was referring. According to Buster McGowin, former school administrator at School of the Osage and well known sports enthusiast who has lived in the Ulman area since 1957, Jim Patterson, according to all the old-timers to whom Buster talked, could throw a ball so hard that Ulman had to send out for a catcher who could handle his fast ball. Buster said that Jim was offered a try out by the professionals but he had no way of making the trip to the city as he had no car. That wasn't unusual in those days. My wife's grandfather, Willard Boyd, who also lived on a farm near Ulman, never drove or owned a car in his lifetime either. Willard also was on the Ulman team. Jim Patterson was the father of a classmate of mine at Tuscumbia, Carolyn Patterson, who married my cousin Max Pryor. I called her and asked her to send me a photo of her father (photo 18).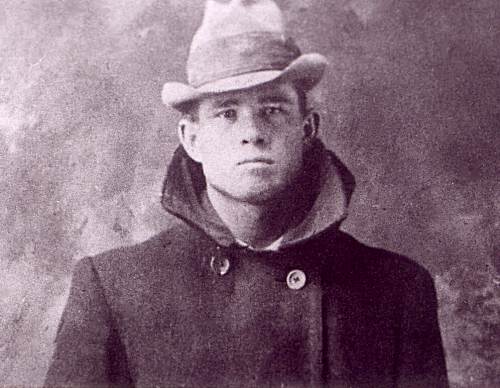 18 Jim Patterson - Master of the Fast Ball
Carolyn offered this short biographical summary of her father, Jim Patterson:
James Willard Patterson was born at the home in Ulman, Mo. that his parents had homesteaded on November 20, 1890 and died February 7, 1983 at the age of 93 years old.
Ruth Elizabeth Graves Patterson was born Nov. 27, 1898 and died June 13, 1981 at the age of 83 years old.
They were married across the river from Bagnell, Mo, where the Mack Brown lake was located on D road, on July 20, 1920. We had a large family of eleven children, in order, Babe Ruth (which explains dad's love for baseball), Elsie May, James Alfred, Bobbie Dean, Warren Quentin, William Wendell, Donald David, Maurice Lane, Marvin Lynn, Harold Allen and then me Carolyn Ann.
Everyone always teased him that he had enough boys for a ball team and two bat girls.
---
Thanks Carloyn for the photo and biography of your father.
For more about Iberia, Peggy Hake, who is secretary of the Miller County Historical Society and noted Miller County historian, offers the following personal memories:
Joe, it will be interesting to read your account of baseball players from Miller County. I had not had time before to tell you about my Smith family who were baseball players for several generations! My grandfather, Frank Smith, of Iberia, loved the game so dearly and played when a young man at the old Iberia Academy. When he was very young, he was given a contract to play with the old St. Louis Browns. I don't know for sure what years this was but I can remember him talking about it so often as I grew up. He told me once about the year he walked all the way from Iberia to Paragould, Arkansas to play with the old Browns in their spring training. He had to leave at the end of summer to return to Miller County to work in the fields cutting corn.....he injured himself very severely with a corn knife and was never able to return to his little league playing days. He had 3 sons who began playing baseball when very young and played with many of the local town teams in the area. My dad, Oliver, was a great pitcher; his older brother, Conard/Cap, played 3rd base and the youngest, Glen was an outstanding shortstop and outfielder. I have seen him hit a ball completely out of sight ! ! ! Glen was offered a contract to play with a farm team of the St. Louis Cardinals in the 1940s but never followed through with it and that was such a shame. I always thought he was capable of becoming a wonderful big league player. He married a girl from Crocker and she did not care for the game and talked him into giving up his dream of becoming a big leaguer.....He died at the age of 46 years and I think she realizes today that she made a big mistake by discouraging him to play ball.
I have a picture of the 1949 National Guard Baseball team (photo 19) with my grandfather and his 3 sons in the picture. Granddad (called Old Cap) was the coach of the team and the three sons (Conard/young Cap, Oliver, and Glen are featured in the picture as players. My brother, Bill Smith, gave a copy of this photo to the National Guard Armory museum in Jefferson City on behalf of himself and me. As far as I can determine, I believe all the players are now deceased.
Thanks Peggy.
---
We are thrilled that the old barber chair from the original barber shop in Tuscumbia is returning home! Tennyson and Sue Jarrett graciously are donating the chair as well as other memorabilia from the old barber shop (barber pole, razor strap, snippers, and other paraphernalia). Recently, they emailed me that it was on its way and would arrive sometime in early mid April, being brought here all the way from California by their son, Dale, and his cousin Donald Helton (son of Bennett and Arlene Helton). Copied below is the email Tennyson and Sue sent me as well as the accompanying photos:
Dear Joe,
The previous barbers in Tuscumbia prior to Tennyson's ownership of the barber shop were Wes Condra, Glen Wyrick and to our knowledge, Edgar Hicks (I remember my Dad, Ad Helton, talking about Edgar cutting his hair.)
The barber chair, a Paidar (photo 20), was made in Chicago, the barber pole is made of cherry wood & both have been in our garage since we returned from Tuscumbia in August of 1968 (after our two years there from May 1966) to March 8, 2008 (where Tennyson kept his own hair, our son Dale and other family members with a neat haircut).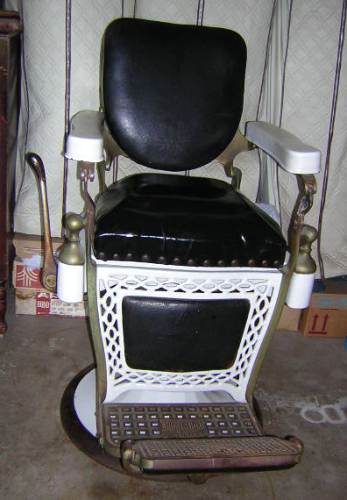 20 Old Tuscumbia Barber Chair
Those in the picture in front of the garage door are (photo 21): Dale Jarrett, Don Helton (Bennett & Arlene's son), Sue & Tennyson Jarrett, Adam Helton (Don's son).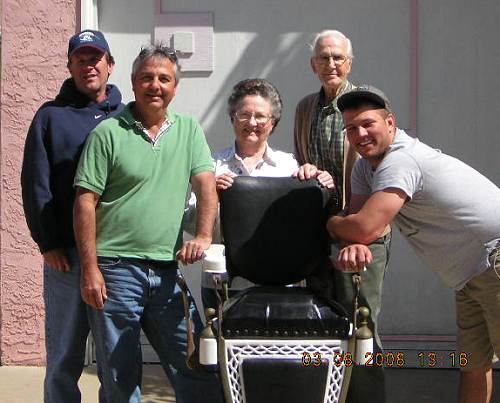 21 Dale Jarrett, Don Heldon, Sue and Tennyson Jarrett and Adam Helton
---
Thanks so much for everything Tennyson and Sue!
Many of us interested in Miller County History are excited if we can find in our ancestry someone who was an early arrival here. That certainly is no problem for Erik Miller of Eldon. You see, he is a 11th generation Miller descended from the founder of our county, William Miller. It was in William Miller's log cabin on the banks of the Osage River a short distance from Tuscumbia that the first Miller County court session was held in 1837. He helped in getting the county officially accepted by the state legislature. You can read all about Erik's great (times eleven) grandfather on our own website as recorded by Peggy Hake:
http://www.millercountymuseum.org/bios/bio_m.html
Scroll half way down the page to reach the section about the Miller family. I knew Erik from our Sunday School class at the Ninth Street Christian Church in Eldon but didn't realize until last Sunday he was a direct descendent of William Miller. I asked him if he could get me a photo to post here and since the only thing he had with him was his business card for where he works at Central Bank of Lake Ozark I thought, well that's a good photo and since I didn't want to wait to share this interesting news with readers I said "let's go with that then (photo 22)."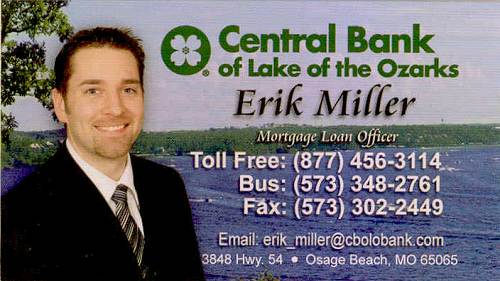 22 Erik Miller
And so, now you can see one of the descendents of William Miller, our county founder. Of course, many Millers of the county are descendents in some way of William Miller, a fact which has been documented by Erik's grandmother, who has researched the Miller family of our county quite thoroughly.
---
We had a good number of volunteers helping us at the museum last week (photo 23). Billie Sue Mahan (photo 24) is our newest volunteer to join us.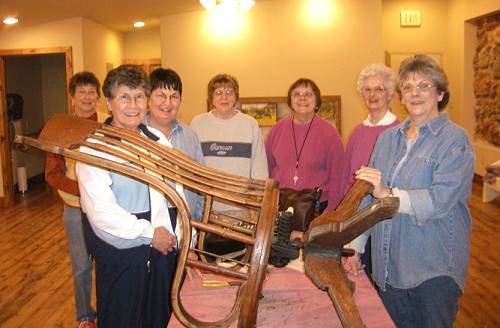 23 Doris Wiggins, Sharon Holder, Judy Pryor, Billie Sue Mahan, Nancy Thompson, Wanda Wright and Karen Smith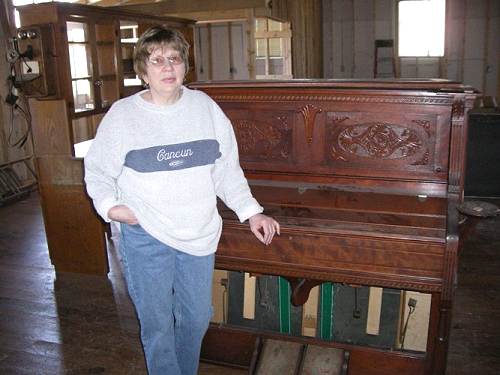 24 Billie Sue Mahan
As you can see in the background of the photo of her we are in the middle of the renovation project of the original museum. Mondays are the day we invite those who would like to help with various projects to come on down to Tuscumbia to the museum. For more information call the museum at 573 369 3500. Although the museum is not open this time of year for the visiting public someone almost always is present on Mondays to answer the phone.
---
In closing this week's page, I will copy here the minutes of our last board meeting at the museum on March 6 as recorded by Peggy Hake:
The Miller County Historical Society hosted a catered dinner for twelve participants of 'Leadership Miller County' on Thursday, March 6 at the museum building in Tuscumbia. The group spent the day in Tuscumbia attending seminars and classes pertaining to county government and history.
The menu included ham 'n cheese sub-sandwiches, apple salad, potato chips, fresh vegetable and dips, and carrot cake. Eleven members of the Society also joined the group for lunch including Jim and Nancy Clark of Tuscumbia; Joe and Judy Pryor, Sunrise Beach; Betty Kallenbach and Helen Schulte, Eldon; Peggy Hake, St. Elizabeth; Carl McDonald, Jefferson City; Joe Cochran, Iberia; Donna Carrender, Lake Ozark; and Nancy Thompson, Jefferson City.
A business meeting was held following the luncheon. A nominating committee was selected to present a slate of new officers and board members to the general membership at the April quarterly meeting. Those chosen to be elected were Joe Pryor, president; Carl McDonald, vice president; Peggy Hake, secretary; Betty Kallenbach, treasurer and board members: Jim Clark, Judy Prince, Karen Smith, and Helen Schulte as a member-at-large to serve for a 3-year term. Nominations will also be accepted from the floor.
It was decided a review needed to be taken of the current By-Laws and Constitution and members of the executive board (Pryor, McDonald, Hake, and Kallenbach) were asked to take part in the review with ideas and suggestions that may need to be adopted for the future.
Open House will be held on Saturday, May 10th from 1 - 3 p.m. and each board member was asked to acquire volunteers/docents to man the museum for the summer. Other events scheduled for the summer include the annual ice cream social on Saturday, June 21; board meetings to be held the 3rd Tuesday of each month; and a car show which is tentatively scheduled for the first week of September. More information will be forthcoming in the future.
---
And that's all for this week.