Monday, December 17, 2007
Progress Notes
Concrete Homes in Miller County
After the turn of the last century the old log homes, sheds, and barns began to suffer from age losing their roofs and chinking between the logs as well as rotting away of the logs. In their place were built a number of concrete structures in the county. For example, a significant number of the log schools were replaced by concrete structures. Also, a number of homes were built in the early 1900's out of concrete. The subject of concrete homes in Miller County has been discussed before on this web page. We have added a couple of narratives with photographs written by Nancy Thompson regarding concrete homes to our "homestead" section of our website:
http://www.millercountymuseum.org/homesteads/wall.html
http://www.millercountymuseum.org/homesteads/graham.html
The subject has been of interest to some of our readers and an interesting email correspondence occurred about concrete homes a few weeks ago among Nancy Thompson, Don Pemberton, Sherril Steen, Verna Pemberton, and Peggy Hake.
For example, after the discussion began here are some of Peggy's comments:
"Until this discussion began I did not realize there were so many homes in Miller County that were constructed of concrete/cement......It just did not register in my brain that these homes were unique and unusual! I think the old Iberia jail (photo 01) is built of concrete/cement and has stood in the same spot since the early 1900s...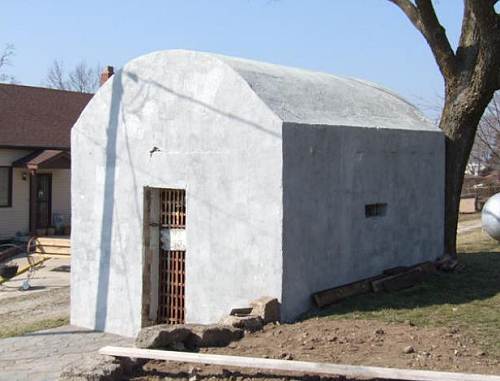 01 Iberia Jail
...another house I recall is still standing at the corner of St. Louis St. and Hwy. 42. We called it the "Grandma Lea House". In the late 1930s, my parents moved from a farm in the Pleasant Hill Community southwest of Iberia and moved to the second floor in the Grandma Lea home. My brother, Bill, and I were both very young and I can just barely remember living there. It was owned by a little old lady named Rebecca Lea (whom we called Grandma Lea) and she had 2 granddaughters living with her (Ollie and Lucy Pickering). They never married and remained with her until she died. My mother always said that Grandma Lea, Lucy, and Ollie really 'spoiled" Bill and myself and were our permanent babysitters!
I think the old Barnabas Reed home near Ulman was what sparked by interest in these old homes. It was quite a site sitting on a lone prairie with the windows all gone, doors half-hanging on their hinges, and the two chimneys in a very poor state, but it caught my eye and my curiosity when I first became interested in old homes in the county.
Best regards,
Peggy Hake"
Sherril contributed several comments as well as a narrative by his cousin, James Popplewell. Sherill introduces the narrative:
"I have a stack of papers given to me by James A. Popplewell, Grandson of James Issac Popplewell. In the "Children of Christopher Columbus and Elitha Winfrey Popplewell" section he describes the construction of the concrete home in 1908:"
"In 1908, Jim Ike began constructing a new house that would on completion be called the "Concrete House.". He employed 2 men to mix the concrete, using sand and gravel from nearby creeks. Jim Ike personally carried and poured all the concrete into the 12-inch cribbing forms, which were raised each day. To carry the concrete, he used a wooden "hod", a V shaped trough about 2 feet long with 10-12 inch sides and back; the front end was open with rounded edges. Exterior walls were 9-inches thick; interior walls were 6-inches thick. Sometimes he was able to pour a full round of concrete in one day. Joists and rafters were cut from native lumber, ceilings and floors are 1 by 4 inch tongue and groove pine. The interior walls are plaster finished on the concrete. The house was finished in early 1909 and the family moved into their new home in March or April. Reagan remembered having a little wagon that he used to haul several loads from the old house to the new. One load that he particularly remembered was the coffee pot and the coffee mill".
It was a 2 story House. The upstairs was divided into 2 very large bedrooms, one for the girls and 1 for the boys. Downstairs was a very small kitchen, Grandma's very large wood burning cook stove took up ¾ of the room and could she cook on it. Just using sticks of wood for managing cooking temperatures she could turn out feasts fit for a king. During harvest times, she was at her best feeding hungry harvest crews platters of fresh killed fried chicken, mashed potatoes and gravy with a vegetable and large home made biscuits she was a master. In my case that was 60 to 70 years ago and to today I have never ate anything that compares to her chicken, biscuits and cream gravy. Whoops, I got sidetracked by the Kitchen. A very large dining room was off the kitchen with a very large fireplace. Grandpa would get up before any of the others and build a huge blazing fire. The fireplace was just off the foot of the stairs to the second floor and when the fire was going good the upstairs sleepers would gather in front of the roaring flames to get warm and dress. As a young boy I really liked that. The dining room was also used as a family room. It had a table big enough to feed the harvest crews at one setting. The front of the house was 2 large rooms: a parlor for entertaining and a large master bedroom. This bedroom had the only other source of heat in the house, a pot bellied stove. Jim would fire that up at night for heat and the metal chimney would go up through the floor through the floor of the upstairs bedrooms depositing a little heat for the rooms upstairs to the outside for venting. It was a big house and more than suitable for the times."
Sherril also submitted a technical narrative about the history of cement in the United States. As he reminds us, concrete is the mixture of cement, sand and gravel; cement alone wasn't enough to build a concrete structure without the stabilizing strengthening effect of the gravel and sand:
US Cement Production
Hydraulic Cement
Cement that will harden under water.

Romans produced from slaked lime and volcanic ash from Mt. Vesuvius.
Technology was lost after fall of the Roman Empire.

Natural cement and Portland cement are hydraulic cement-will harden under water
Natural Cement
Produced by burning a naturally occurring mixture of limestone and clay

Properties varied with the source materials

Good quality required special kilns and carefully selected materials

Excellent natural deposits discovered in 1818 used in Erie Canal

Madison County, NY
Rosendale district, NY
Louisville district, Indiana and Kentucky
Lehigh Valley in PA

10 million barrels produced annually in North America by 1900
Portland Cement
Developed and patented in 1824 in Leeds England

Carefully controlled proportions of limestone and clay
Ingredients pulverized and mixed
Burn the mixture into clinker
Grind clinker into finished cement

1868 first recorded shipment of Portland Cement to US

Used for ballast with very low freight rates
3 million barrels shipped in 1885

Developed in Pennslyvania and Indiana in 1870's

42 thousand barrels produced in 1880
Rotary kiln developed in 1885

Slightly tilted horizontal kiln, rotated so that material moved gradually from one end to the other

335 thousand barrels produced in 1890
Today 98% of all cement is Portland Cement
Quality rigidly controlled by the Portland Cement Association
Cement Transportation in US
Wagons and water prior to Civil War
Steamboats and Railroads after Civil War
US consumed 105 million metric tons of cement in 2005
Don sent a photo and narrative regarding the Lewis Preston Pemberton Home:
Lewis Preston Pemberton House (photo 02)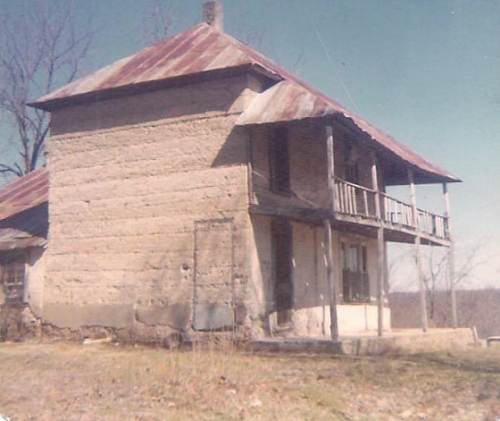 02 Louis Preston Pemberton House
Don Pemberton
This concrete house was built by Lewis Preston Pemberton in 1905-06-07. Uncle Press as we called him owned about 160 acres around the house which he sold to my Dad in 1912. It continues to be a part of the home place. Dad had the house occupied by a hired man most of the time when I was growing up. Among these men was Alvie Shelton. Others that I remember were Oliver Plemmons, Ed Williams, Noble Wall, and Ora Wall. It was a good two story concrete house having two rooms plus a big hallway downstairs and two big rooms upstairs. Nearby were a big garden and peach orchard, chicken house and the granary that is now just below the barn where you live. We jacked the granary up and put it on an extended wagon, used a team of horses and a team of mules to move it to where it now is. Sometime during or shortly after WW2 the old house burned.
Another concrete home built more than one hundred years ago near Iberia was that of John Williams (photo 03). He was the great great grandfather of my wife Judy as well as that of Sherril (Waldo) Steen. Their grandparents, Frank and Ellie (Wall/Williams) Steen lived there for many years until it burned about forty years ago.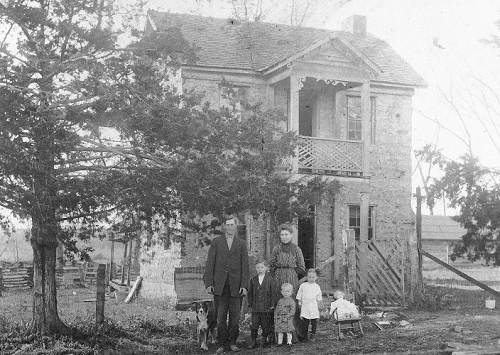 03 Frank, Ellie, Waldo, Virgie & John in front of house Grandpa Williams built
A map has been made available which shows the location of many of the concrete homes which were located in the Brumley/Iberia area, some of which were discussed in this narrative (photo 04).
Homes weren't the only buildings built of concrete in those early days of the last century. As noted earlier by Peggy Hake the Jail in Iberia was of concrete. You can read her complete narrative about the jail on our website at:
http://www.millercountymuseum.org/articles/millercojail.html
The bank of Brumley looks as if it were made of concrete blocks but according to Nancy Thompson the appearance is achieved by scoring the concrete. Here is a recent email from Nancy:
Re: the Brumley Bank: "We have a postcard in H.D.'s hand saying he "built it and plastered it myself and made a sement floor. It took 300 sacks to build it.", so I would say no, it isn't concrete block but probably scoring in the plaster. His house had the same scored effect (photo attached) and I know for a fact it was poured."
You can read more about the Bank of Brumley on our website at:
http://www.millercountymuseum.org/commerce/banking.html
Finally, Wally (Sherril) Steen sent me a recent summary of all the conversations about concrete houses in Miller County by the people I listed above. Some is a repeat but I didn't edit it out in order to preserve continuity of what Sherril was saying. Just click on the email link to read the summary (Email 4a). The subject of the concrete homes and buildings has arisen, in part, because as time goes along the old houses are suffering the ravages of old age and are disappearing. Soon, they will be gone so some of us thought it important to record their story. Many thanks to all who contributed to the discussion and especially to Sherril for all the research on the technology of cement production. As a last word on the subject, Sherril thinks that the cement would have to have been made on site as it was too expensive otherwise to be utilized in the amounts required for buildings the size of homes:
Joe
I'm changing my thinking about the source of cement. Cash for all that cement would have been almost impossible for all those folks to come up with in those days. The concrete made from the home made cement would have been very poor quality. That was certainly the case. H.D Wall could have been the leader of the crew that built all those homes. Nancy (Thompson) heard from her mother that they made their own cement and the process is described on the
http://www.millercountymuseum.org/homesteads/graham.html
The cement was first created by building a three-sided frame of hardwood logs around a pile of limestone. The logs were ignited and the heat generated converted the stone to cement.
That process tracks with the following: http://dnr.state.il.us/orep/nrrc/cultural/limeKilns/kilns.htm
The heap kiln is simply a stack of alternating layers of wood fuel and limestone blocks stacked on the ground or within a pit. It is an expedient, although not efficient, means of lime production that was often used in conjunction with land clearing operations. The quality of the burn in log heaps was impossible to control, and the resulting products were of variable quality, mostly suitable for fertilizer. In urban centers, such as Alton, this type of lime production was replaced by use of stone- or brick-built kilns as early as 1818.
So now, if you've been able to stay with us this far you surely can consider yourselves one of the few who can hold your own the next time the subject of concrete built houses built a century ago comes up for discussion.
---
Last week I quoted a long passage about Hauenstein's General Store of Tuscumbia written by Doris (Wright) Clemens (photo 05).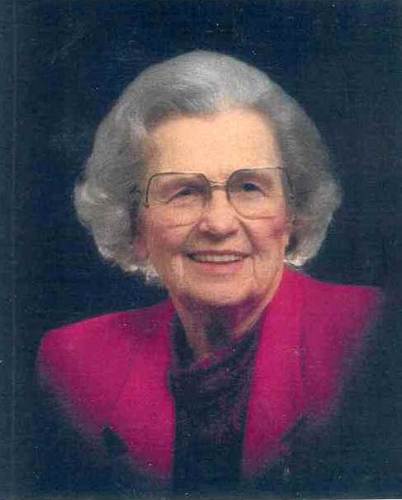 05 Doris Wright Clemens
She is a writer who is very good at creating word pictures so before leaving her book (which has never been published; we have a copy given us by the family) I wanted to record on this website her description of her experiences teaching in a one room school, the Bear School, located on Bear School Road a short distance from highway 52 near its junction with highway 17 three miles south of Tuscumbia. A history of the school already is present on our website at http://www.millercountymuseum.org/schools/orsp.html
When you pull up the website click on school number 97 and you will get a separate window with a nice picture of the school and a short historical narrative.
Bear School
Doris (Wright) Clemens
Nestled among the thickly wooded Osage River hills, Bear School (photo 06) sat on a hillside facing the west. A small concrete structure only about twenty feet by twelve feet, it stood with a cold and uninviting silence and loneliness when school was not in session. Three full windows on each side furnished the lighting. But it was a dreary dark interior, especially on cloudy days, nothing light and cheery to encourage study and happy faces. The windows on the north side were almost up against the hillside and did little to lighten the room.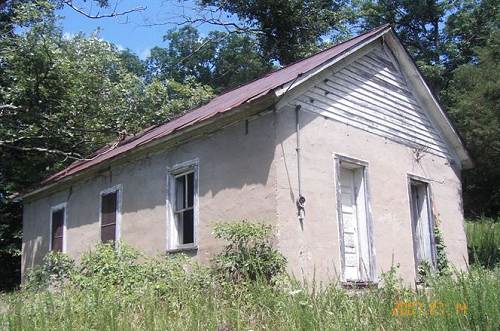 06 Bear School
The school probably got its name from the many Bear families in the district. Or possibly the land was donated by a family of the same name. As a young man, possibly in the 1800s, my Grandfather Wright taught in the same building. The story was told that often he would nap under the shade tree while the children played during the recess hour. That being one of his favorite pastimes, it could have been true. Inside (photo 07), a slate blackboard ran all along the east wall.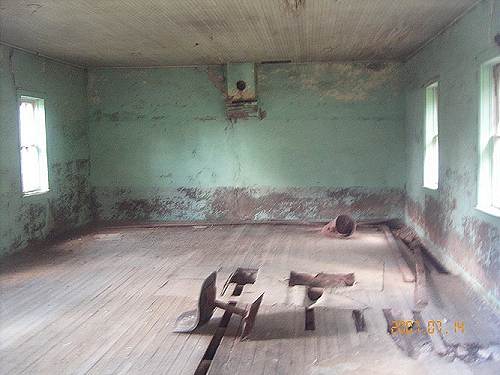 07 Inside Bear School - Current Photo (2007)
In the corner at the north end stood a huge bookcase with wooden doors. Its wooden doors closed upon the entire supply of books needed in teaching. In the opposite corner a large square table accommodated the globe and other articles for instruction.'In front of the blackboard was the teacher's desk and around the front of it were arranged three long backless recitation benches. The desk faced the students and the two doors. The physical interior allowed the teacher to maintain full view of the students for control. While recitations were being held it was easier to keep order. There were three rows of desks running the long way from the doors to the teacher's desk. A row of single desks stood on each the north and south walls. A row of double desks ran between. They accommodated two students and often invited trouble.
It was the middle of August 1930. I was barely eighteen years old. The feeling of Fall was in the air. Children were getting restless for school to start. Fall rains would soon begin, maybe even on the first day of school. The third Monday arrived, a bright sunshiny day. With my daily attendance register, trusty college dictionary, and my Grandfather Bassman's hotel hand bell all in tow, I started my daily five mile journey.
To get to and from school, I walked. Sometimes my father took me in the car to the river bridge. There was a fare to cross it, so we didn't cross in the car but I walked across. The bridge was the longest suspension bridge in the state (photo 08). It had its own rhythm as it hung suspended over the Osage River. A cat walking across this bridge could cause it to shake up and down until one could hardly stand up on it. Arriving at the far end of the bridge, I descended a very steep bluff on steps worn out of the rock and walked across a grassy area, flat river bottom, to the foot of a high hill. Sheltered here was the tent the Varners lived in.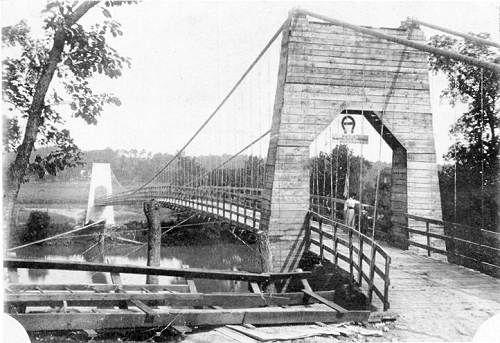 08 Suspension Bridge at Tuscumbia 1905-1934
They dwelt here the year round, even in the bitter cold weather. I felt so sorry for their two little girls who attended Bear School. Bertha was a pretty little girl and very smart. But her older sister Erma was quite retarded and was a grade behind Bertha in school.
At the foot of the hill where the meandering path began its way up was a thick growth of field grass. On early fall mornings, sunlight on the dew sparkling on the grass lit up a display of webs woven by woods spiders during the night. It was a beautiful display, an ethereal beauty unknown except in nature.
Up the hill was a steep climb. Close to the top was a tall bush with a grape vine entwined in its branches. I had noticed this huge bunch of grapes hanging in the very top of the bush. I watched them ripen from day to day. One day in late fall they were dark purple and looked just right for picking. I reached up. A black snake reared its ugly head. It was coiled up in a bird's nest just under the bunch of grapes I wanted for lunch. I fled leaving the grapes and the snake behind.
The hill leveled out across the ridge road to the path down the hill on the other side. The path opened up on the school ground as I descended out of the woods. Often as I left school at late evening and entered the woods on the way home, it was late dusk and quite creepy. One late afternoon just after entering the woods I heard a shrill screeching cry. Looking up I saw two bright golden eyes focused on me. In the fork of a tree a large cat crouched. I started running, not looking back. When I related my tale in town, someone told me it was probably a bobcat. They were known to be in the area. I never walked through the woods again. Instead I took the long way round by the road.
At eight o'clock on the dot the first day I went to the front door and rang the bell. All the children came running. They lined up at the two doors, the ones who had chosen desks on the north side at that door. The ones on the other side lined up at the south door. At my sign they all marched in and took their seats. I recorded all their names and ages in the daily register. They lined up at the two doors, the ones who had chosen desks on the north side at that door. The ones on the other side lined up at the south door. At my sign they all marched in and took their seats. I recorded all their names and ages in the daily register. School had begun for 1930.
My ability to control was brought into question the first day. I especially abhorred the personal designs carved on the desks and vowed I would never allow it. Control was important if they were to learn and I had about forty students. I needed to keep control in the school room as well as on the play ground. I had all eight grades and taught all subjects. I was teacher, superintendent, principal, the whole bit.
Klaugher Schlesinger was an overgrown raw boned typical farm boy. He was 17 years old and head and shoulders taller than I. I had been forewarned about him. He might take over, even run me off. Being in the eighth grade he sat in the back row. He called my hand on the very first day. Glancing up I noticed pupils in silent snickers with their hands to hide their smiles; watching him. I couldn't tell what he was doing on his desk so I asked him to hold up what he had in his hand.
Insolently he held up a large oblong magnet. He had been walking nails across his desk, pulled by the magnet. I told him to bring it up front. He sat and glared at me. I said, "Klaugher,I'll tell you one more time. I want the magnet and if I have to come after it you may be sorry.
This was accompanied by the meanest look I could conjure up. It worked. He slowly sauntered up and laid it on my desk. I told him I would like to talk with him at recess. At that time I very calmly appealed to Klaugher's self respect. I told him I needed his help and asked him to be my playground monitor. I could see it appealed to him. I told him how older and bigger boys could set the behavior pattern for younger, smaller ones. The Idea caught his attention. He seemed to be proud I had placed trust in him. He saw himself as needed and useful. A poor student, he had become a very important person. No more trouble. He was trusted and respected. School had begun for 1930.
Klaugher later joined the military. He gave his life for his country in World War II.
Lee Schlesinger, another big 17 year old pupil, was another problem. Lee craved attention. His mother died when he was an infant. His father had raised him. I gave him special attention, praised him for the least excuse and called upon him to help in small tasks. He would help me in any way. One day as was the custom of other pupils, Lee brought me a sandwich for my lunch. It was a slab of meat on a big yellow biscuit. He told me he'd tell me what it was after I ate it. I had to eat it. To refuse would have been to reject Lee and his pride. It was goat. Not too bad. Lee often came to school with his lunch in his hip pocket, a can of pork and beans and a spoon. At noon he opened his can with his pocket knife and spooned the beans hungrily. Lee had very little fat on his Icabod Crane gangling frame. He ambled along his way; tall and thin he slung his body from side to side to keep up with his long legs.
Control could also be taught well on the playground. And Klaugher was a big help. We had a well constructed basketball court and enough older boys to make a good game. And, of course, the teacher must always play. I had played in high school, so I enjoyed the competition with the smaller children. Mable Stone, a fifteen year old, was very good. There were games of Anthony over, tag, Red Rover, skip rope, and hide and seek. We had one problem. Some of the boys used curse words. I asked them not to on the playground. But one little second grader didn't know how to talk without using them. They rolled off his tongue and spouted out of his mouth like water over a waterfall. One day it was too much. When we went in from recess, I called him up front, turned him across my lap, took off my slipper and paddled him. James Parkhurst became my first victim of corporal punishment. He was very tiny, a cute little boy, but he uttered words bigger than he was. I didn't sleep well that night, but James worked to control his language. That's all I could ask. The first big event of the school year was the pie supper or the notion supper. I ran the following notice in my father's county newspaper, The Miller County Autogram. The notion supper was one of several events held at the school which helped enlarge the farm family's view of the world. It was a major social gathering in the community.
Notion Supper and Program
Miss Doris Wright, teacher of Bear school, wishes to announce that there will be a notion supper at the school house Saturday night, October 11th. The pupils will have a short program consisting of recitations. Proceeds will be used for the benefit of the school. The ladies and girls are kindly asked to bring boxes and men and boys are urged to come and buy the boxes. Come and spend a pleasant evening with friends and neighbors and help in a worthy cause.
The ladies brought their well laden boxes adorned appealingly with bright ribbon and flowers and filled with sandwiches, fruit and pie or cake. The most generous might include a candy bar. They were auctioned off to the highest bidder. The man who bought your box ate with you.
After teaching two years at Bear, I taught two years at Wright, substituted at Tuscumbia, and then returned to Bear.
My second term at Bear, I drove the car and paid the 25 cents bridge fare. When Annette and I arrived they all came running. They were curious to meet Annette. After many happy greetings they followed us into the school room. They were an enthusiastic group, arrayed in their new first day clothing and shoes. They each picked out the desk that best suited them and placed their supplies on the desk. The school room was all ready for us, fresh and cleaned. Even the floor was freshly oiled, windows washed.
Annette was 5 years old and joined two 5 year old boys in the beginners class my second term. They were Donald Stone and Harold Wickham. I did not believe in starting children at 5 years, but my school directors wished me to, so I consented. It solved my baby sitting problem. It turned out to be a very rewarding experience. The harder I tried to hold these little tykes back, the faster they learned. I think they were an inspiration to the other pupils, especially the poor readers. The state Course of Study required we teach reading by the phonics system, the sound of consonants, and by rote and repetition through the use of flash cards. It made a fun game of learning to read. I had two older students who learned to read partly by listening to the five year olds recite.
One beautiful fall day when the azure blue sky was filled with large balls of cottony white clouds I announced we were going on a field trip. We each took our lunch and departed down the dusty country road toward the creek. We observed trees and identified them by their bark and leaves. We observed the many birds and identified them by color and song. We found some bird nests, gathered wild flowers and watched for insects, snakes, all wild life. Reaching the creek about noon we selected the shade of a large tree for our picnic lunch. In the afternoon, on the way back to our school, we waded in the creek, skipped rocks and watched the schools of small fish, sun perch, tadpoles and crawfish. Along the roadside we gathered grapes and bittersweet. We identified nut trees and their fruit. We arrived at school after a long day of nature study, bid each one goodbye and took our several ways home.
I had received several complaints from parents that children were late getting home in the evening. I investigated and found the cause. I decided to walk the road home most pupils traveled. It was one I could use as far as the fork with the highway to town. As we arrived at the foot of the big hill, the conversation turned to stopping for grapes. I let them climb the tree and get their grapes from the huge vine, but only for fifteen minutes. That ended that problem. I went home with a big bunch of bittersweet grapes.
Beautiful fall days waned into the sudden darkening in the afternoon, the shorter days of winter were arriving. The very first real cool days signaled the beginning of the butchering ritual in the community. Some way the word got around I that I liked liver. Many farmers just threw it away as worthless but that year I think I received the liver of every hog butchered in the school district. One thoughtful farm wife did send me a strip of tenderloin and a mess of sausage.
Winter closed in. The first snow fall. It was fun to walk through the white blanket to and from school. But the school room became harder and harder to keep warm. The recitation benches were pulled up around the stove in the early morning chill. It kept Lee, the boy janitor, busy stoking the stove. One morning, after a few minutes with us all gathered around the stove, there arose a stench so putrid and sickening we immediately knew what it was. Skunk! Lee and his cousins Henry, Orville, and Ernie Crum had been coon hunting the night before and run afoul of a skunk. All I could do was send them home to change clothing or we would have all become sick.
One day we made a double ring in the snow on the basketball court and played fox and geese until the sun melted our ring. Snow started to fall one cold, dark midafternoon. It was not flakes but heavy hunks and globs filled the air. It didn't take long before the ground was covered. It got deeper and deeper. I dismissed school early, headed for the car to try to get chains on. I laid out my sheepskin coat leather side down and lay alongside in the snow by the back tire. I had no idea how to put on chains. I laid them out flat in front of the tire but failed to run the car upon them. As I was getting the jack out of the trunk I heard an Indian war whoop. My dear brother Gerald broke out of the woods. He was like manna from Heaven. A husky I8-year-old, he soon had the car up and tugged and pulled until one chain was on. In about another hour the other chain was on and we started out. The snow was so heavy and wet the windshield wipers would not work, so Gerald stood on the running board to keep it clean while I drove. We got as far as the big bridge hill. More trouble….Wiley Berry was trying to get up the hill. He didn't have on chains and was sliding all over that hill. From side to side he slipped getting fearfully close to the bluff. We held our breath expecting to see him go over the precipice. We didn't attempt to go down the hill but drove out of the road as far as possible to give him room to get around if he ever got to the top. He finally made it and we started down. Gerald told me to break with the engine so I left it in low gear and started down the hill. Creeping along, I stayed as far as I could from the cliff side. After many nervous minutes we arrived at the foot of the hill to go across the bridge. We were two happy children to lay eyes on our mother when we got home.
The Christmas tree and program preparation broke the monotony of being confined to the school room. At recess and noon we ciphered and spelled. We had geography and arithmetic contests. Not much fun, but some diversion that helped fill the long winter days.
On the Friday afternoon before Christmas, parents, mostly mothers and small brothers and sisters, arrived after lunch. We presented our Christmas pageant about the birth of the baby Jesus, gave recitations and sang Christmas carols. Then I passed out apples and oranges and sacks of candy to the pupils and their guests. It was the second most important event of the school year for the community. Children had drawn names for their mothers and they enjoyed a gift exchange.
Gradually days turned longer and there was more sunshine. Birds began to sing, spring flowers appeared, winter was over. Soon we began to think about the last day of school.
We decided to entertain ourselves. We would go on a picnic. We gathered at school, I passed out grade cards, and we left for the big spring on the Wright farm on Saline Creek. We had a great time roasting hot dogs and marshmallows and engaging in games of skill. The children really had fun but soon it was over and we had to say goodbye for another year. Summer hiatus from studies was beginning.
Note: Growing up in rural America, I was always aware of the wonders of nature. The excitement of seeing animals and flowers in the wild often gave me goose pimples. On one such occasion I was going home at the end of the day from Wright school. I drove down a narrow country road closed in on both sides by brush. Out of the brush on my right side sprang a beautiful red fox. Its beautiful carrot red coat glistened in the last dying rays of sunshine as it sailed up and over the hood of the car and disappeared into the woods on the other side, its long tail flowing behind. It was a beautiful sight!
Another experience about the same time of day after the weather turned cooler left me breathless. I was driving up Highway 17 along the Osage River. A cloud of wild ducks darkened the sky, their quacking was deafening. They were going to land on the water. I parked on the roadside, walked across a corn field of stubble and crawled on my stomach to peep over the river bank. I had heard old timers talk about the river being "black with ducks." It certainly was. They were jammed together on the water from shore to shore swirling round and round and floating along, resting on their long journey south. It took my breath. I did not disturb them.
Thanks Doris
My great great grandfather (George Bear) and some of his sons probably started the Bear school as it was next to several of the Bear family members' farms since this was the area originally homesteaded by their patriarch father, George Bear, who came to Miller County with his family in 1857. Clyde Lee Jenkins' History of Miller County records that a "school was built in 1885 on land donated by George Bear costing about 280 dollars and was of frame construction." A second building was built on September 12, 1910 according to an inscription scratched in the concrete wall (photo 09).
09 Inscription on Wall Bear School
However, Jenkins' history begins his list of teachers at Bear School in 1874, so it is unclear whether the first school was built earlier than 1885, perhaps at another location. This last summer I took some photos of what was left of the school. The old pump still works (photo 10) and an old outdoor toilet is still present although I am sure it is not as old as the school (photo 11).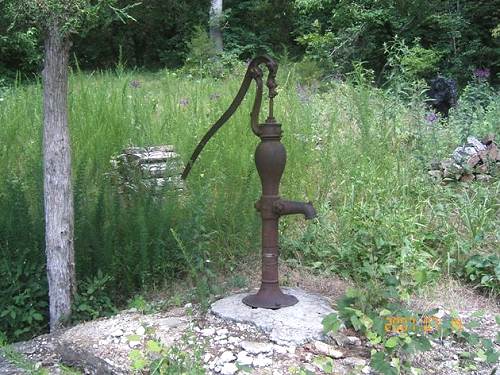 10 Pump at Bear Shool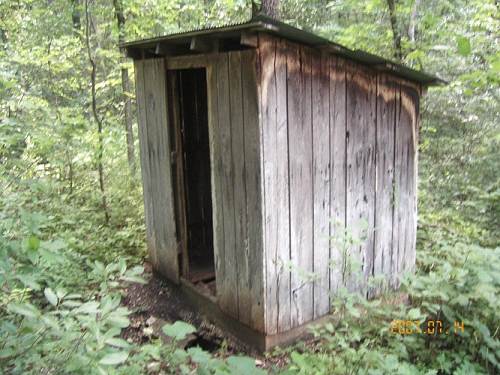 11 Outside Toilet at Bear School
As discussed in the first section of the Progress Notes for this week, this school building is an example of a concrete facility replacing what most likely was a log or frame building to begin with. My grandfather, Madison Bear, attended there many years ago in the 1890's as did many of the Bear family children. My uncle Arthur Bear told me that when he was young the woman teacher rode horseback to school and would pick him up on the way. In more modern times, Carroll (Dink) Musick told me that he attended Bear School shortly before consolidation of all the country schools occurred in the early 1950's. And he remembers his teacher, Eula Fischer, picking him up in her pick up truck to go to the Bear School.
---
Last week we experienced some harsh winter weather with the freezing rain that weighted tree branches which fell on power lines causing widespread electrical outages throughout the area. Ice storms occur here seemingly because we're too far south for a lot of snow but too far north to get away from freezing rain. I remember one ice storm more than fifty years ago which decimated trees and power lines as bad as any storm we've had. This photo (photo 12) was taken of the area between my house and the one pictured which presently is owned by Pauline Jenkins, wife of our renowned historian, Clyde Lee Jenkins, who passed away some thirty years ago.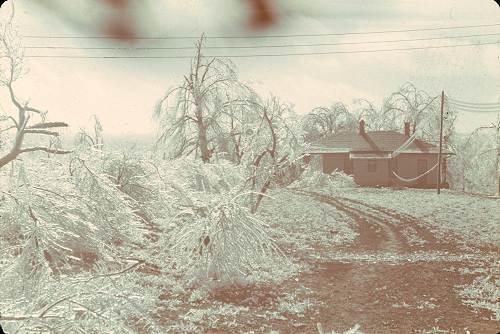 12 Ice Storm Late Forties or Early Fifties
Well, that's all for this week. Travel and visiting this time of year cuts into all of our schedules so I won't have as much to write about in the next few weeks as usual. But I have been surprised at how many things of interest do arise "out of the blue" which catch my attention, so who knows?