Monday, December 3, 2007
Progress Notes
A week or so ago I featured the work Ron Helton was doing rehabilitating the old jail and courthouse in Tuscumbia. I provided photos of the old jail (photo 01) constructed in the early part of the last century. However, the first jail authorized by the County Court according to records we have as recorded by Clyde Lee Jenkins in his book, "History of Miller County" V I p. 80, was built in 1840. It was located north of the courthouse and across the street from where the present Christian Church is now (photo 02). Hardin M. Williams was appointed by the county court to superintend the erection of a jail for the county. It was to be a log building nineteen by nineteen feet. The place provided for the dangerous criminals was known as "The dungeon" which was partly below the level of the ground. "The dungeon" received its light through three grated windows, each ten inches square. The entry to it was by means of trap doors. The second story of the wall above the level of the ground was the debtors' room.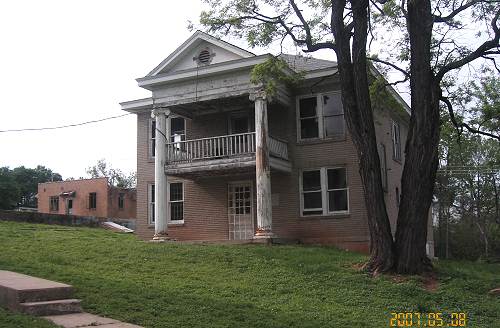 01 Old Jail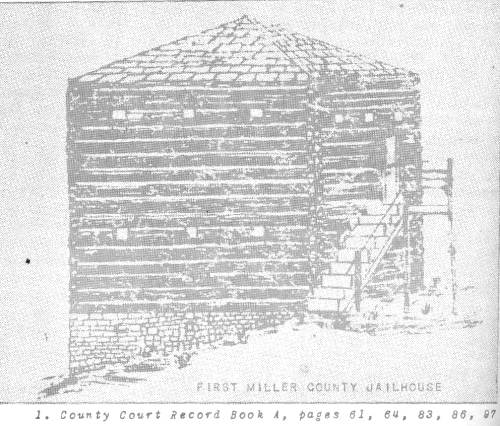 02 First Miller County Jailhouse
In 1865, according to Peggy Hake, a second jail was built in the courtyard. The exact location is unknown. Possibly, it may have been located in the southwest corner of the courtyard where Ron Helton, who was mentioned above, has found evidence of the remains of a concrete and stone foundation. In 1879, one cell of it was leased to the town of Tuscumbia for a calaboose. We have found this photo in our old files which I believe is the second jail to which Peggy refers and also to which the "Goodspeed History of Miller County" (1889) records as having been constructed (photo 3)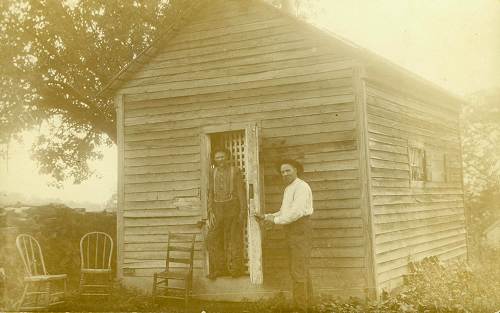 03 Second Miller County Jail
John Harvey, Prisoner; Sam Jackson, Jailer
The third jail was finished in 1929 at a cost of 10,000 dollars (photo 4). It was a two story building and was constructed of concrete and stone, and had a length of 48 feet and a width of 30 feet. The first floor was wholly taken up by the prisoner's' quarters, there being quarters for both men and women prisoners. The second floor served as the residence of the Sheriff and was modern for the times in every respect. This jail was considered one of the most modern in the state and was equipped with steam heat, running water, and electric lights. This is the jail that Ron Helton is rehabilitating now.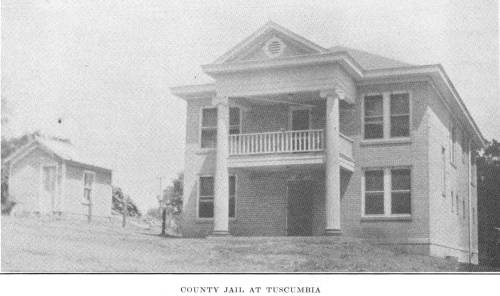 04 Third Miller County Jail
The fourth jail is the one finished a few years ago located next to the new courthouse on highway 52 north of Tuscumbia. Our museum is close by just north of the courthouse.
I asked Peggy Hake if she would give us a summary of what she believed to be the story on the Miller County Jails. Here is what she emailed me:
"Joe, It appears there have been 4 county jails since the county was organized in 1837. The first one was built about 1839 and was located across the road from where the Christian Church is sitting today..............the second one was built about 1865 on Courthouse Square (the exact location is probably a mystery right now, but I don't think it was located where the 3rd jail is built on the Square). The two-story building, that is still standing today, was began in 1928 and finished in 1929. The new jail was built just a short time ago and is next to the museum.
Ron Helton may be right about the location of the 2nd jail that was built in 1865. I have been up and down that sidewalk so many times to the east of the courthouse but never paid any attention to a stone wall or foundation located there! I used to park my car on the east side of the courthouse and walked up the old sidewalk about every day that I spent as a judge/commissioner and never once noticed anything other than a broken sidewalk ! ! !"
But the first jail in Tuscumbia (photo 5) actually may have been the hut like structure located along the river bank below the hill in Tuscumbia which the photo indicates was built in 1840. It probably was a "calaboose" built by the village solely for the temporary lockup of drunks and disorderly individuals, especially since that area of town had three different drinking establishments which were very busy on Saturday nights.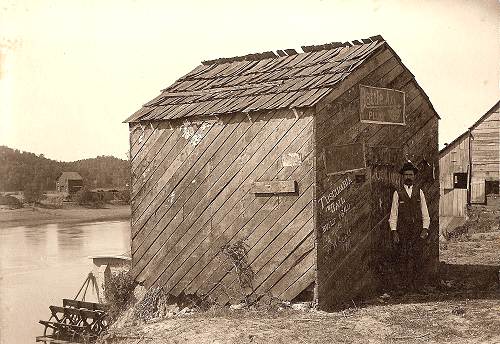 05 Tuscumbia Jail Built in 1840
I asked Peggy Hake if she had seen this photo before and if she had any comments. This is her response:
"Joe,
I have looked at this old photo and have tried to figure out what it is! I have a theory, but it may be far-fetched. Perhaps this is the original old jail (first built on top the hill across the road from today's Christian Church) and for some reason it was moved down near the river. Was it to be preserved as a historical site? There is a name on the side that says "___W. Scott, 1911". In the census of 1900 there is a man living in Equality Township near Tuscumbia named James W. Scott who was 35 years old and a widower with a son, Walter E., age 13. It is so exasperating to have something like this on hand and not have a clue what it was or what its history is!
Peggy"
On the other hand, maybe the caption on the photo indicating it was a jail was a joke and instead this small building could have been a privy. I say this because it is known that a privy was present many years ago at this approximate location. It was said to be near the old blacksmith shop where the main street river road makes the turn into the Crackerneck area going north. This privy was mentioned in Arthur and David's conversation printed here a week or two ago when they were discussing the McGowan Brothers' Shootout. On the other hand the building in the photo is larger than the usual two hole privy commonly used at the time. So, I invite readers to let us know if they have any information about this small structure which sat along the river bank in Tuscumbia many years ago.
---
As a result of our newsletter and website, a number of out-of-town as well as local friends have "discovered" the Miller County Museum for the first time. Some have made special trips to the museum this fall to visit the museum or obtain information for research. In a way this is absolutely wonderful! On the other hand, ironically, we are completely reorganizing the museum in coordination with the incorporation of the use of our new facility preparing for a "grand opening" next year. Thus, at this time all of our displays have been disassembled and moved to storage. Therefore, we temporarily are unable properly to accommodate these visitors, some of whom have traveled a long distance even from out of state. We hate to disappoint these visitors so I wanted to let everyone know that the museum temporarily is under redesign and revision. We hope everyone will come back in the spring when we are ready to show off our new look. We think it's going to be very special. That doesn't mean, however, that we are not scheduling and holding our regular museum meetings because we have made a special effort to make ready for these events our dining and meeting facility of the lower level of the new building addition. It is beautifully decorated for Christmas as I write this week's Progress Notes. So everybody is welcome, for example, to come to our Christmas Potluck Dinner at 1: 00 P.M. Sunday December 9.
One consequence of our efforts to redesign the museum with new themes and displays which has required the take down and disassembly of all our exhibits is that we routinely are coming across long ago forgotten or lost "treasures." Early on, almost thirty years ago when the museum first opened, we received ledgers, records, diaries, and old photos which sometimes, for one reason or another, were filed away and forgotten, or were placed deep within the confines of one of the more detailed exhibit displays. Although all items donated to or acquired by the museum were recorded in an "accession file," it is very long and detailed and isn't something one normally sits down to read unless one is looking up a special item. Some of the treasures we have found were placed in the middle of an old book or ledger from a business, and were not necessarily related to the business but were personal in nature. One of these "finds" we have discovered are a couple of personal journals of C.B. Wright, past president of the Anchor Milling Company (photo 6), written near the end of his life in 1953. The journals (photo 7) are different than C.B. Wright's diary, which was written over a long time span beginning in 1912 continuing until 1929. Homer Clay Wright, C.B.'s son (photo 8), thirty years ago or so, began submitting portions of his father's diary to the Miller County Autogram. These excerpts of history of the river boats, commerce, and people of the area were very popular among the Autogram's readers. However, until now, no one knew about the personal journals C.B. kept during the last two years of his life. These are not diaries but a series of narratives in which C.B. records his memories according to subjects and themes. For example, he covers the subject of "The Coming of Good Roads," "Neighborhood Picnics," "Bridges," "Doctors and Lawyers," and several prominent family names and their progeny.
| | |
| --- | --- |
| 06 C. B. Wright | 07 C. B. Wright Day Book |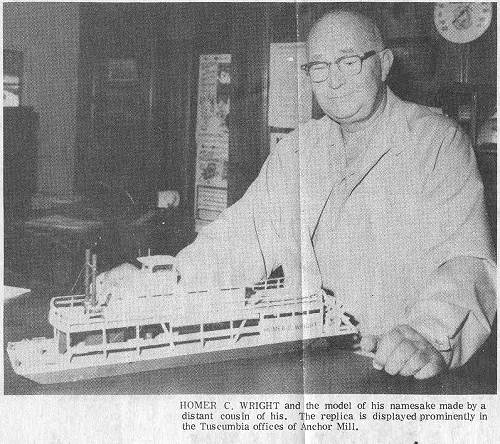 08 Homer Clay Wright
We already have placed on our website some entries from these recently discovered journals of C.B. Wright. One is a very detailed and interesting discussion of the old carding mill owned and operated by James Lawrence Wright, C.B.'s grandfather: http://www.millercountymuseum.org/wrightdiaries.html
Another interesting essay by C.B. on our website concerns the history of his mother's family, the Boyces' (you will have to scroll down the page on this site due to the alphabetical organization of the names): http://www.millercountymuseum.org/people/bio_b.html
For the next few weeks I will transcribe some of these entries to this page since they offer some interesting historical insights about the Tuscumbia of the early last century. But first I am inserting here a short biography of C.B. Wright that his son Homer Clay Wright wrote to accompany the introduction of his father's diary to the public by the Vernon Publishing Company about thirty years ago:
"My dad, Clarence Boyce Wright, was born three miles north of Tuscumbia on the Little Saline creek, the first child of Green Lee and Emma Boyce Wright (photo 8a of Green Lee Wright family; C.B. sitting on right, Green Lee sitting in middle).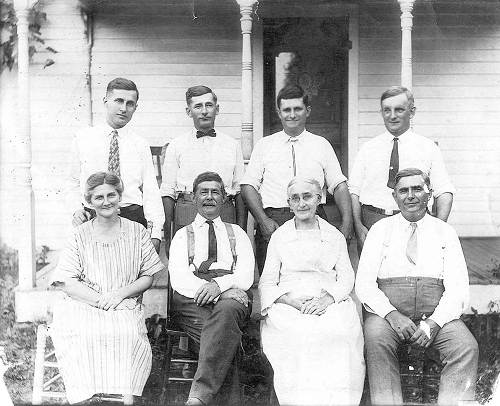 08a Family of Green Lee Wright; C.B. sitting on right, Green Lee sitting in middle
He was a self educated man; his formal education consisted only of grade school and terms at Teachers Institute at Spring Garden and Columbia, Mo. His first job was teaching school in the Blue Springs area near Bagnell for $25 per month. In August of 1891 he began working for Anchor Milling Company in the flour mill and as clerk on the Steamer J. R. Wells (photo 9).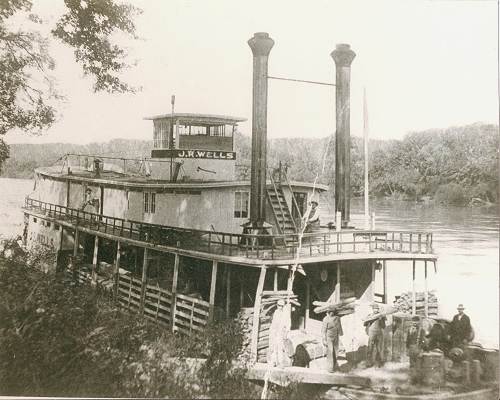 09 Steamer J. R. Wells Loading Firewood
In 1905 he married May Hauenstein, daughter of Philip and Sarah Riggins Hauenstein. One son, Homer Clay, was born to this union in 1911. The Anchor Milling Company sold the Steamer Wells in 1909 and bought the gasoline powered Ruth (photo 10) from Mr. Wells. The Ruth was originally built as a pleasure craft for the Wells family and was named for one of Mr. Well's daughters. C.B. Wright was the pilot as well as the clerk on the Ruth, which was kept very busy for the next 10 years, including the World War I era.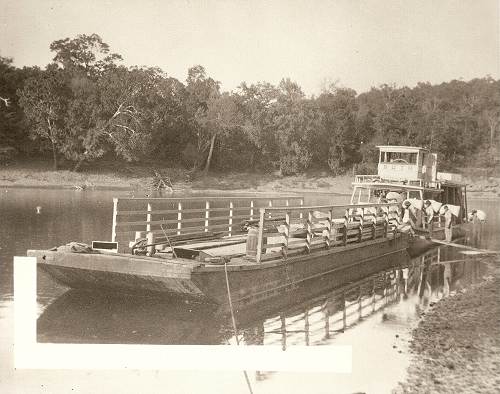 10 The Ruth
The Ruth was replaced by the Steamer Homer C. Wright (photo 11) in 1919 and named by Phil Hauenstein for his grandson, Home Clay Wright. C.B. Wright was also pilot on the Homer Clay Wright until the boat was sold to Union Electric in 1923, thus having spent 25 years on the river.

11 Homer C. Wright Steamboat
My dad was a civic minded and progressive person; he was a member of the Christian Church and taught the young people Sunday School class for many years. He served on the school board and town board, played in the Tuscumbia Band, and was one of the promoters for the winter Lyceum courses and summer Chautauqua in the 1920's. He worked for the Liberty Bond drives in World War I speaking for the drive at country schools in the area. He was one of the promoters that originated the Annual Tuscumbia Picnic and later the Men's Club that met in the 30's and 40's, He and D.F. Thomson were the contractors who built the brick school building in Tuscumbia and the first Miller County Nursing Home. He had the first car in Tuscumbia, a 1914 T model Ford. On his 70th birthday, Nov 14, 1947 he became bedfast for almost six years until his death in 1953. During these years, he wrote extensively about his life on the Osage, events that happened in Tuscumbia and the county, and the history of early Miller County families. He hoped to have this material published in book form but this was not to be, so we think he would be pleased that the Advertiser and Miller County Autogram-Sentinel are running excerpts from his diaries."
C.B. wrote the two journals mentioned above during his last three years of life. He rarely left his attractive brick home (photo 12) on High Street in Tuscumbia during those last years of his life.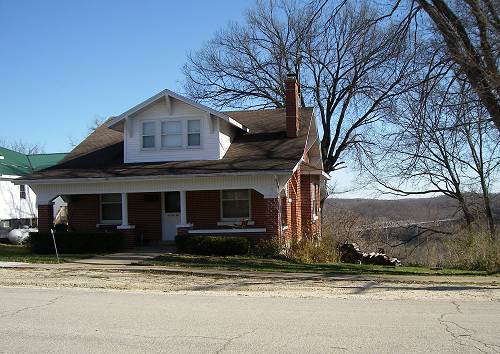 12 C. B. Wright Home
As you might be able to see from the photograph, the rear of his house faced south east giving a wonderful view of the Osage River valley and the highway 52 bridge which crossed the river headed south. Possibly, the river and valley he could see below his house as he sat looking out the window of his parlor inspired him as a former steam boat captain to want to record the many memories of his life:
Roads and Travel (from a personal journal of C.B. Wright)
C.B. WRIGHT
Before the advent of the motor car, this county had no improved roads of any consequence, and for the most part, country people had only the farm wagon as a means of transportation. Now and then a farmer would own a spring wagon, hack or buggy. Jack (J.R.) Wells had a carriage with a covered fringe around the top. Dad had bought a hack several years before the motor car. While Richard and Homer Lee Wright were still at home (brothers of C.B.) they cut up a sizeable load of walnut logs for which they got about $125.00. A storm on the creek had blown down a few good walnut trees and that was one of the reasons for them wanting to harvest the logs. It took the boys a good long time to get the load out of the woods and haul it on a large wagon to Eugene. With part or all of this money they bought a buggy and aside from what the Wells folks had it was the only one in the school district. John Kallenbach, who was one of our best wagon makers, had built a heavy hack or spring wagon for his own use which was rather exceptional for the area and quite admired. Some other community may have had more or less of what I described above but our district was probably about on the average.
And there was not much prospect shown by the county to help us have a good roads system other than some of the main routes which were barely maintained. Because of the lack of funds to enable the county to build roads for the farmer, most any landowner, if he decided to make a road or a road change, could go to the county court with a petition which usually was granted without requiring supervision. All the farmer had to do was clear the timber out for the proposed road…and lo! It was a road. The most flagrant case of this sort was pulled off by some of the Artz family. They cut out a road, or I mean the right of way, for about one half mile of timber of right good size. The cut out road ran south from near the Musser Tavern mostly on the downgrade, then making a corner, running one half mile east to make a connection with the old road. At that time the Tuscumbia mail was coming to us via West Aurora. But this road change made the neighbors more or less angry or sore because it caused the mail route to miss their properties.
When the farmer wanted to go visiting or picnicking he loaded the wife and kids in the farm wagon…the bed being first filled with hay, straw or other wise. If the weather was cold, hot bricks were put in too. The kids would have quilts to cover and that was the way they went."
When going to picnics such as the one in Aurora Springs there would be good big crowd there already in the morning because to get home before night fall everyone wanted to leave early.
---
The issue of roads was very important to the citizens of Miller County in the early part of its history. So it is understandable that C.B. Wright would want to record some of his own memories regarding how people dealt with modes of travel in the early part of his life. You can read more about the subject on our website where is discussed some of the first efforts to build new roads where before none existed or were very primitive: http://www.millercountymuseum.org/highways.html
Another article about some of the old trails in the south part of the county is at another location at this location on our website: http://www.millercountymuseum.org/oldtrails.html
The best source for the history of roads in Miller County is volume 1 of Clyde Lee Jenkins book, "The History of Miller County" p. 90-118. Even with all the early effort to secure a road system for the county, Clyde Lee ends by writing the following:
"On these pioneer trails through the wilderness, farm produce in the county found an outlet, by slow and tedious haulage across the hills and hollows, to the Osage River. In fact, until the coming of the railroad in the early 1880's, the inhabitants of Miller County could not have profited in surplus grain and livestock had it not been for a navigable river flowing through the county."
---
One of my interests is exploring the stories of the physicians of Miller County of fifty years or more in the past. I have already presented the histories of the two Shelton physicians of Eldon, Edward and his son Olney (see the archives at the bottom of this page, 8/1/2007) as well as the story of Dr. Marshall Humphrey (archives 5/25/2007) who practiced in Tuscumbia. This week I would like to review the story of Douglas Hord Kouns M.D. (photo 13) who practiced in Tuscumbia for a total of about fifty years (one source reports a time span of forty seven years and another reports his practice covered a total of fifty two years). His practice must have been one of the longest in Tuscumbia as well as Miller County.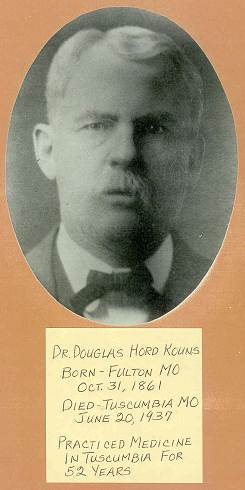 13 Dr. Douglas Hord Kouns
Not a lot is known about Dr. Kouns currently. His children married and moved away, or at least their descendents did, because I have found that as time goes on, fewer and fewer people remember him and it is difficult to obtain much biographical detail about his life, especially before he came to our county. His obituary records the following information:
Iberia Sentinel (headline) June 24, 1937 Dr. D. H. Kouns of Tuscumbia Succumbs to Illness (June 20) Dr. Kouns Had Practiced Medicine in Tuscumbia for 47 Years; Was the county's Oldest Practicing Physician
Dr. D. H. Kouns of Tuscumbia died at his home early Sunday evening after a short illness. He became ill Thursday afternoon, June 17, and died Sunday, June 20, at 10:45 p.m. Dr. Kouns was the oldest practicing physician in Miller County being near 77 years of age at the time of his death and having practiced in Tuscumbia for the past 47 years. Dr. Kouns was born in Fulton, Missouri, on Oct. 31, 1860. He grew to manhood there and graduated from Westminister College in about 1883 after which he attended and graduated from the Kentucky School of Medicine at Louisville, Kentucky. He be- gan his practice of medicine at Linn Creek where he met and married Lena Bell Churchill in 1887. In 1890 he moved to Tuscumbia and practiced his profession up until the day of his last illness. He was probably the most widely known physician in the county at the time of his death. Dr. Kouns leaves surviving him his widow, six children and seven grandchildren. The names and addresses of the surviving children are as follows: Mrs. Fred Hauenstein of Exeter, California, Mrs. L. L. Simp- son of Chicago, Ill.; Churchill Kouns of Walnut Creek, California; Mrs. Charles I. Wright of Centralia, Mo.; Mrs. James D. Blackburn of Drumright, Oklahoma, and Clarence Kouns of Tuscumbia. Funeral services were conducted at the Presbyterian church by the pastor, C. Smutz of Crocker, Tuesday June 22, 1937, at 2:30 p.m. The eight surviving members of the Miller County Medical Association were pall bearers. They are as follows: Dr. W. L. Allee, Dr. G. D. Walker, Dr. E. C. Shelton, Dr. E. O. Shelton, Dr. James Allee, all of Eldon and Drs. G. W. Duncan and F. C. Suggett of Iberia. Interment was in the Tuscumbia Cemetery.
It was through Bamber Wright that we obtained a photo of Dr. Kouns. Bamber's grandfather was William H. Hauenstein Jr. whose first son, Fred Hauenstein, married Dr. Kouns' daughter, Mary. The couple left this area many years ago to settle in California. The wife of their son, Fred Hauenstein Jr., is still living in California and is the one Bamber contacted to get us a copy of a photograph of Dr. Kouns. As noted above, although Dr. Kouns practiced in Tuscumbia for forty seven years, little biographical information is available and it was especially difficult to find a photograph of him in our files.
Over the time of his practice Dr. Kouns lived in three different houses. The first was a framed house still standing located to the north of the George Hauenstein home at the entrance to the baseball park in the Goosebottom area of town. The second home was located on the north side of Goosebottom street immediately to the right after crossing the Shut In Branch crossing. That house no longer is standing. The third home was in the Crackerneck area of east Tuscumbia. It was a large three story house but no longer is standing.
Several people who lived in Tuscumbia when Dr. Kouns practiced have at one time or another left some written record of their memories of him. For example, a few weeks ago on this webpage Arthur and David Bear gave us some anecdotal information about Dr. Kouns:
David: Well, the country was full of characters through the years, and we'll come back to that at another sitting. Let's come back to the doctors for just a moment. I don't know what kind of training they had in those days, but certainly not anything like we have today. I don't know how many courses the med schools had for doctors in training, but from the kind of medicine I saw practiced, it probably wasn't many. They knew how to sew up wounds like a person would get at a Saturday night dance when the knives were wielded. Doc Kouns sewed up many of these, but not always in a sterile fashion. These doctors did have a good knowledge of symptoms, and could often tell you what disease you had, but there were no very effective medicines available for treatment. They were usually conscientious persons with an interest in people, but were limited by the state of the art of their profession. These doctors made house calls in town, and were always on call to go out to farm houses to minister. Babies were born at home usually with a doctor present. These early doctors made their rounds riding either on horseback or in a buggy. Doc Kouns bought a model T. Ford, probably in the early twenties. Catfish Williams drove it for him. Doc was a big man and probably was afraid to drive one of those horseless carriages. Often these doctors would stay up all night with a patient. Doctors of his time pulled teeth, performed minor surgery, and set broken bones. Much of their pay was in eggs, poultry, hams, etc. Much of it was on credit and often the doctor never got paid. Doc Kouns urged some of his farm customers not to eat ham for health reasons but, instead pay their doctor bill with it. I remember one year I had a terrible pneumonia. I was so sick I cannot to this day remember all the details. But one thing I do remember is that Dr. Kouns came into my bedroom everyday to check on me before he went to his office at the bank and he also would check on me on his return home.
Bamber Wright remembers that Dr. Kouns daily would walk to his office located on the second floor of the bank building with his hands in the back pockets, usually smoking a "Little Chancellor" cigar. Bamber says that Dr. Kouns always greeted him by saying "Hi kid!" According to Bamber although he had a car, Dr. Kouns didn't drive, but engaged Charles (Catfish) Williams to drive him for night and emergency calls.
My mother, Susie (Bear) Pryor, remembers Dr. Kouns very well because his first house mentioned above was located behind the house in which she lived in the Goosebottom area. He was the doctor who had delivered her in the family's old house on the Bear farm located on Dog Creek south of the Osage River. I asked her to write for me her memories of Dr. Kouns and she sent by email the following:
Recently my Son asked me to write down what I remembered about Dr. Kouns who was our local Doctor. He & Mrs. Kouns lived right in the back of me & my folks in the part of Tuscumbia called Goose Bottom & I visited them often. Through the eyes of a five year old he was huge & when he walked he sort of shuffled along. In fact he sort of looked like an old Country Doctor. One day I was over there & he gave me some cookies & we visited & I decided it was about time for me to go home. Dr. Kouns asked me why I didn't just stay over there & be his little girl. I thought for a moment & then asked him why didn't he just keep me when he had me? I guess at that young age I just thought that he delivered all the young babies & gave them to their Mothers. I might not have remembered that story if every body hadn't laughed.
I was too young to stay at home alone so since my Mother had to work every day in our family store she took me with her so I spent a lot of time down there. When I got bored I visited in the homes of all the towns' people plus riding my tricycle & skating all the way up & down the sidewalks that ran from one end of town up to the other. I always wondered why I couldn't go into the building marked Johnson's Saloon. As yet I couldn't read the signs but I knew I never saw women in there. But I did see Dr. Kouns go in there & that made me wonder more than ever. Also there were a couple of sisters around l2 or l3 that I would see come out of there each carrying a double-decker ice cream cone. They came in town on Saturdays & I knew there was a little bit of ill-repute associated with that store. Here they would walk down the street to our store carrying these ice cream cones & my mouth would just water. Nobody else in town at that time sold ice cream or hamburgers except Johnson's Saloon. I didn't know what was the attraction for Dr. Kouns. When I got a little older I could read signs & I figured out why I wasn't allowed to go in there. However, I know now that a lot of people went in there to get ice cream cones because that was something new and no one else in town sold them.
Later Dr. Kouns & Mrs. Kouns moved out of Goose Bottom to get out of the flooding area. The lower part of Tuscumbia was built following the banks of the Osage River & sometimes it would get out of its banks & flood the whole bottom area all of the streets & homes & businesses were flooded as it passed its way through town. Well, Goose Bottom was flooded first of all & then it would keep spreading higher & higher & would crest leaving the higher places exempt. They thought they would be safe from the floods if they bought a house located down in Cracker Neck for it was built a little higher up on the hill. Their house was at the end of the street & they were neighbors to the Fendorf house & across the street the home of Carrie Wright, T.C. Wright & Lawrence Wright's Mother who was a Milliner (hat maker). There were other homes on both sides of the street. I was well acquainted with all those folks down in that neighborhood & since I had visited the Kouns when they lived behind me over in Goose Bottom I continued to visit them down there too.
Tuscumbia had the first high school built among the areas which had elementary schools but no higher education for those that wanted to go to high school. So there were quite a few of them that rented rooms in town & attended high school. I vaguely remember visiting a couple girls that had rented a room upstairs in Mrs. Kouns house. I may not have it exactly right but it seemed to me that I was in the room of Connie Buster & Nell Scott. But it makes more sense to say that Connie's room mate was her sister, Rosena. I just remember visiting two girls in their room. I thought that was big stuff going to high school. And I remember Mrs. Kouns having a bed in her living room. I thought perhaps to clear a room upstairs to rent. Mrs. Kouns was a very domestic lady & their furnishings were very much like every one else's in town.
I can't seem to remember having Dr. Kouns taking care of me for any medical problem but I'm sure he did for that spanned several years of my life.
Doris (Wright) Clemens has given us her memories of Dr. Kouns in her autobiography, "Life…A Trail of Memories," a copy of which we have in our museum library:
"Doc Kouns, a resident of Goosebottom, was an icon of the community. A symbol of loving care for his ailing fellow men, he was a huge man with a booming voice. His large feet thump, thumped as he walked. Every small town had its country doctor. One of the most amusing stories about Doc Kouns happened during an Osage River flood: The Kouns family home in Goosebottom was one of the first to be flooded when the river overflowed. Furniture on the lower floor was moved upstairs. A John boat was tied up to a porch post at the front door. Doc dragged out his old gum boots. In early stages of the flood he waded to and from town. When it got deeper he used the boat, but someone else always rowed. One day on the way to town Doc became unbalanced standing in the boat and fell into the back water. His boots rapidly filled with water and he was being sucked under. He could have drowned but for the quick work of his companions. Doc Kouns made house calls. He traveled the community in a Model T Ford, a two passenger run about. His chauffer was Charley (Catfish) Williams. Doc rode with his right foot on the running board. This was in case his driver had a wreck so he could easily eject himself. When he arrived he didn't knock at your door. He just opened it, stomped in and boomed "Anybody home?" But Doc Kouns always seemed able to help us even if it was just with calomel or castor oil. We loved and respected our town doctor"
The other day as I was driving down the Tuscumbia Eugene road I saw a couple of sycamore trees extending their branches across the road (photo 14). If "X" marks the spot, I thought to myself, I ought get out of the car and walk a little closer to get a look. My photo might be captioned "dueling sycamores." Maybe you can think of something else. At any rate, you can see that I don't have that much to do anymore.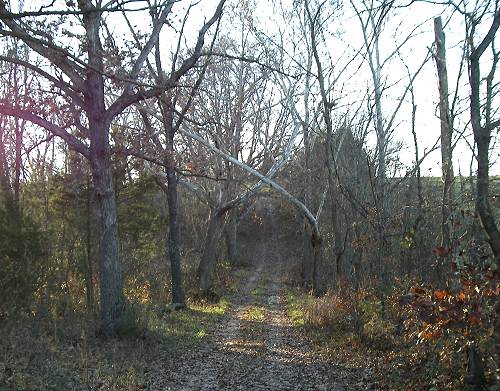 14 Dueling Sycamores
Well, I did go to a car show in Kansas City this last weekend with my brother in law, Paul Holder and a friend of Paul's, Aaron Chapman (photo 15). They had a 1969 GTO (photo 16) they were selling at the show (successfully accomplished) and I went around the Kemper arena taking some pictures of some of the cars (photo 17). A number of interesting people were encountered at the show (photos 18,19,20).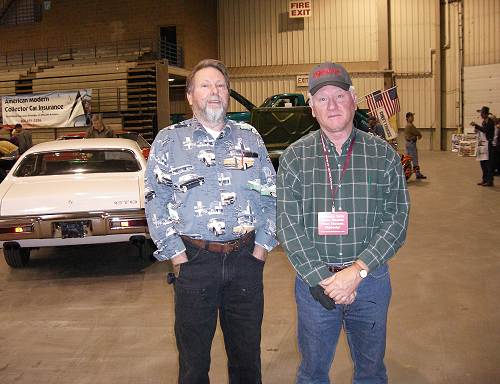 15 Paul Holder and Aaron Chapman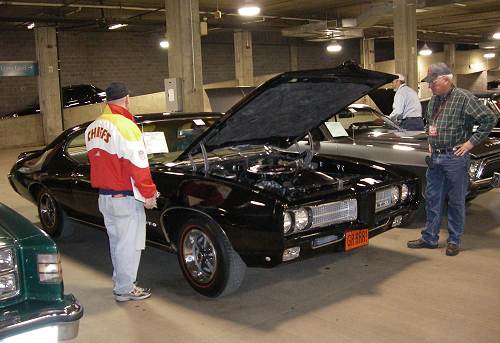 16 1969 GTO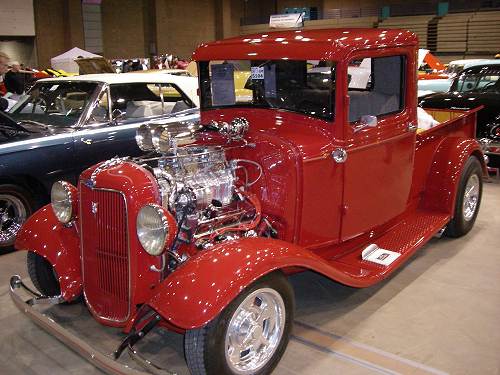 17 Model A Pickup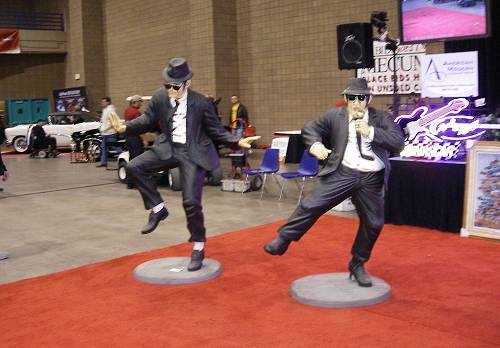 18 Blues Brothers
19 Car Enthusiasts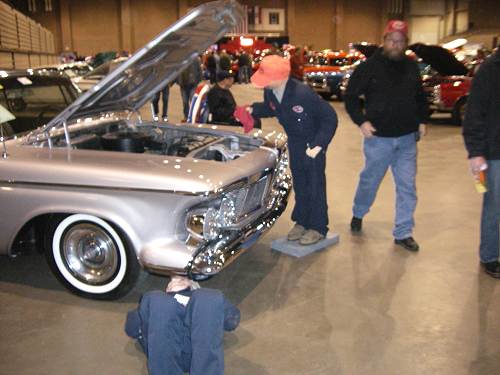 20 Loco Mechanics
Our next meeting at the museum is the Christmas Potluck Dinner on Sunday, December 9 beginning at 1:00 P.M. Entertainment is planned as well. The dinner will be served in our new dining and meeting facility on the lower level. We hope you can come to be with us. Everyone is invited. Christmas decorations are already in place. It is really nice to have a new facility as modern as this one to hold our meetings. We are really grateful to the community for the outpouring of support which financed the new addition's construction. We do solicit continued financial support for the purchase of modern office equipment such as a computer, special storage shelves for valuable old documents and office file cabinets to improve our research library. The library is very important to many people including out of town visitors who come to Tuscumbia solely for the purpose of researching their family histories in our many files and documents. You can help us with these purchases by a tax deductible donation sent to this address:
Miller County Building Fund
P.O. Box 57
Tuscumbia, Mo. 65082
That's all for this week.