Monday, November 26, 2007
Progress Notes
By the time you read this edition of Progress Notes, the result of the MU/KU football game will be written into history. Sitting here now before the game this weekend, I have no idea who will win. But the match up is getting a lot of press attention including this article on the front page of the Wall Street Journal: (http://online.wsj.com/article/SB119552143273498638.html?mod=hps_us_mostpop_viewed)
Apparently, one of the major things exciting the press prior to the game isn't just the match up on the field but also the intense rivalry between KU and MU fans which reaches back to Civil War days. The name is mentioned of John Brown (photo 01), the abolitionist, who before his famous raid on Harpers Ferry, led murderous raids against farms and families in pro-slavery Missouri. On the other side is mentioned the name of William Quantrill (photo 02), who led a Rebel guerrilla unit that in 1863 burned and pillaged Lawrence, home of the University of Kansas, in the process slaughtering about 150 people, including children. Quantrill led raids into Missouri as well; although many have questioned whether his major mission was plundering and robbery rather than fighting for the Confederates. He was said to have been a friend of Jesse and Frank James, who themselves had ties in Miller County (for a detailed narrative of the kin folk of Jesse and Frank James in Miller County go to this page on our own website and scroll down to the part about Jesse and Frank James:
| | | |
| --- | --- | --- |
| 01 John Brown | | 02 William Clarke Quantrill |
(http://www.millercountymuseum.org/bios/bio_ij.html)
At any rate, did you know that William Quantrill passed through Tuscumbia, Missouri near the end of the Civil War conflict in an attempt to escape capture by the Union soldiers who were chasing him? The story is told in this book: The Devil Knows How To Ride: The True Story of William Clarke Quantrill And His Confederate Raiders.
By Edward E. Leslie
Here is a short synopsis of the book as given by the publisher:
"Brilliantly weaving together eyewitness accounts, letters, memoirs, newspaper articles, and military reports into a riveting narrative, this definitive biography reveals the personality of William Clarke Quantrill (1837-1865) and the events that transformed a quiet Ohio schoolteacher from a staunchly Unionist family into a virulent pro-slavery Confederate soldier and the most feared and despised guerrilla chieftain of the Civil War. This groundbreaking work includes the most accurate account ever written of the 1863 Lawrence, Kansas massacre (the greatest atrocity of the Civil War), when Quantrill and 450 raiders torched the Unionist town and executed roughly 200 unarmed, unresisting men and teenage boys. It also details the postwar, outlaw careers of those who rode with him -- Frank and Jesse James, and Cole Younger. No other history so fully penetrates the myth of a cardboard-cutout psychopath to expose Quantrill in all his brutality and human complexity."
And here is the part in the book taken from an interview given years ago by an old bushwhacker named John McCorkle which details the Quantrill trip to Miller County and Tuscumbia:
"One day in mid December they donned Yankee uniforms and rode east into Saline County. Winter had arrived early and hard, so the cold and the ice clogged rivers and streams slowed them down as they meandered on a south easterly course. They committed small, discreet robberies when opportunities presented themselves, though none so dramatic of audacious as to arouse Federal military authorities.
Arriving at Tuscumbia, some thirty miles southwest of Jefferson City, they found that Federal militia was comfortably ensconced in a large hotel. Quantrill flourished a commission he had earlier taken from a Colorado officer and introduced himself as Captain William Clarke of the 4th Missouri Cavalry. He asked to see the post commander and was directed to a house on a hill. He and "Babe" Hudspeth made the climb. Quantrill pumped the captain for information concerning the size and location of Union forces in the area, then produced a pistol. The chagrined Federal officer was taken to the hotel and forced to order his men to surrender. After the garrison was disarmed, the guerrillas ate a leisurely breakfast and fed their horses. They picked through a newly arrived shipment of blankets and clothing, loaded the ferry with all the captured arms and ammunition, and required some militiamen to repeatedly operate the rope pulley, ferrying them and their horses across the Osage. Before Quantrill made the last trip himself, he paroled all the prisoners except one, who was taken along as a guide. The excess arms and ammunition were thrown overboard in the middle of the river, and, on the far side, holes were cut in the bottom of the boat, sinking it. The guide was later allowed to escape.
"We never fired a shot nor hurt a man," John McCorkle remembered. This raid was unremarkable except that it was bloodless, and it was the last Quantrill ever made in Missouri."
Although the preceding quote from the book cited above is interesting and gives supporting evidence to the presence of Quantrill in Tuscumbia on his retreat to the southeast, we must turn again to the book "History of Miller County" by Clyde Lee Jenkins to get a more personal and first hand recount of this episode. On page 450 of the first volume of Clyde's book is given the story with more detail:
TUSCUMBIA RAIDED
Clyde Lee Jenkins
By order of Colonel Zevely, Commanding Second District E.M.M., and 2nd Lieutenant N.B. Wood, all over 50 years of age of the enlisted men of the Provisional Company at Tuscumbia were relieved from active service on December 3, 1864. This was effected about December 13, the delay being in consequence of the absence of Captain Sayles Brown and about twenty men, away on a scout maneuver. Captain Sayles Brown, 1st Lieutenant William Carroll Brumley, and 50 of the best, most reliable and trustworthy enlisted men were retained in service, becoming Company C in the 1st Battalion Provisional E.M.M., Major Thomas O'Halloran, commanding, Linn Creek. On December 8, 1864, before the return of Captain Sayles Brown, 1st Lieutenant William Carroll Brumley, commanding at Tuscumbia, was surprised in an unexpected way. A company of more than 50 men, dressed in full Federal uniforms, even including shoulder straps, rode into Tuscumbia early in the morning.
Dan Cummings, owner of a dram shop, said, "When the men rode up to the dram shop and dismounted, their presence in the village was announced by the braying of a big white ass."
"I stepped outside the door," Cummngs said, "and saw Regs's. They were tying up their horses, and when I inquired of one of the soldiers who their officer was, he replied Captain W.C. Clarke, 1st Colorado Cavalry."
According to Daniel Cummings, Captain Clarke looked very proper, "sitting upon a big, white ass, stiff like a ramrod." Captain Clarke, dismounting, saluted Brumley, then exchanging pleasantries, the officers entered the dram shop, taking benches at the same table. While occupied in eating and drinking Brumley noticed Regular Cavalrymen commenced leaving the place one at a time, usually calling one or more of the local militiamen outside with them. Eventually Brumley inquired of Daniel Cummings, proprietor, "Why have the boys departed? Why have they left us so lonesome?" About here, Cummings said, "Captain Clarke appeared rather nervous, but he was calmed by our exchanging pleasantries, amidst much laughter"
"Clarke and Brumley commenced an imaginary swapping of horses", Daniel Cummings continued, "while continuously calling for more swap medicine. Clarke inquired of Brumley how many horses would he swap for his jack? Brumley informed him that the Rebels had taken his jacks, jennys, and mules, with others in the county, early in the war. But Clarke allowed they had a right to them."
Here, Cummings said, Brumley jumped up, angrily inquiring, "Just what is your meaning by that? Sir!"
Captain Clarke laughed heartily, and said, "I'm a son-of-a- bitch on asses, and born to raise hell!" Brumley replied, "Well, I'm a son-of-a-bitch on stilts, and can scoot through hell without getting burnt!" Upon this remark, Cummings said, "Captain Clarke hit Brumley a right smart lick, making him stagger, but he didn't go down."
Cummings continued, "the next thing I knew Brumley was looking into the muzzle of the biggest revolver I'd ever seen in my lifetime." The officer said to Brumley, "Sir, Captain W. C. Clarke, Confederate States of America, addressing you! You are my prisoner!"
From then on Captain Clarke treated Lieutenant Brumley with the utmost scorn. An unbroken horse was standing near the dram shop and Brumley was led to it. Several men, while restraining the animal, sat Brumley upon the animal's bare back, and when astride, tied his feet under the horse's belly, as if he were a common criminal. Clarke compelled him to ride three times to the ferry landing and return, the horse bucking severely, with the citizens and militiamen forbidden to show him any marks of respect or compassion under penalty of death. The militia having been rounded up, twenty four men of the company at Tuscumbia, and two men of the company at Pleasant Mount, were told to fall in at the ferry landing. Here, their weapons were taken from them, broken up, and thrown into the river. Their coats and horse blankets were appropriated, with the storehouses in the village, especially Captain Hackney's, and five houses, generally plundered.
Loading the loot upon horses of the militia, and ferrying the whole works to the south bank of the Osage River, Captain Clarke bid Lieutenant Brumley a fond farewell. Immediately paroling Brumley and captive members of the militia, Captain W.C. Clarke, Confederate States of America, departed, crossing the river upon the ferry boat, pausing long enough on the opposite side for his men to sink the ferry and skiffs before heading South."
It isn't known if the source for Clyde's version of this story knew that later historians would believe that the man posing as Captain W.C. Clarke and dressed as a Union Soldier who tricked the Soldiers at Tuscumbia was Quantrill, but according to historian Edward Leslie quoted above as well as other Quantrill history aficionados, no doubt exists that it was. And that aside, the similarities in detail of the two accounts leads one to believe that they are one and the same story.
William Clarke Quantrill was shot during a battle with Federal troops on May 10, 1865 in Spencer County, Kentucky and died of his wounds June 6, 1865. He was twenty-seven.
A summary of Quantrill's raid on Tuscumbia is well discussed by James D. Stephens of Stover, Mo., formerly of West Aurora, who sent us a copy of his research in 1996. Some of the above material was taken from his submission.
And here is a photo of William Quantrill's grave in Higginsville, Mo. at the Old Confederate Veteran's Home Cemetery (photo 03). However, apparently Quantrill's remains are buried in several places. The following website gives more details but I won't describe them here because they are rather gory. But you can look at it if you wish: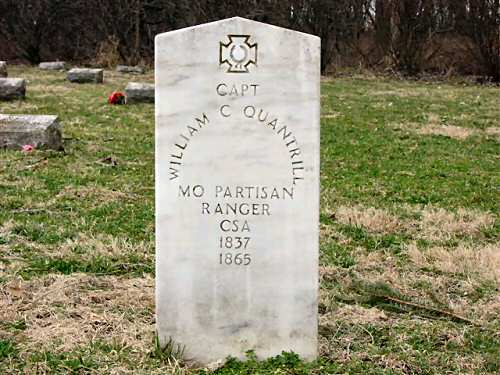 03 William Quantrill Grave Higginsville Mo.
(http://www.roadsideamerica.com/attract/OHDOVquantrill.html)
One of the most colorful and well known attorneys of the past who practiced law in Miller County was Jackson C. Stanton. Mr. Stanton was a well known figure not only around Tuscumbia where he lived and officed across the street from the Courthouse (photo 4 at Courthouse) but also throughout Miller County as well. His pipe, suspenders and white shirt which served to highlight his great shock of black hair along with his rather imposing physical attributes of size and height gave him a presence which couldn't be ignored whether in the courtroom or social gatherings. His personality was that of the happy extrovert who could hold discourse on any subject with speech graced by words and style of the nineteenth century in which he was born. He was fond of outdoor sports, hunting and fishing avocations acquired as a youngster in rural Miller County. He loved to play checkers with his brother, George Stanton; at George's farm on the Camden Miller County line (photos 05 and 06) Jackson was born in 1884 in Camden County, the son of William Stanton (and uncle of Lon Stanton, about whom I wrote a few weeks ago in regard to the cedar wood craft businesses of Miller County). Jackson's father, William Stanton, had rather extensive land holdings in both Miller and Camden Counties. His early life was that typical of the early rural settlers of Miller County living on a farm near Brumley with few amenities not even able to attend school until adolescent years. However, he had the desire to continue his education further than most of his peers finishing his education at the Iberia Academy and Springfield Normal Schools. The Normal School awarded him a teaching certificate in 1901 at the age of 17 which allowed him to teach in some of the local rural schools in Miller County before he decided to attend law school at the Kansas City School of Law from which he was graduated in 1907. He was admitted to the Missouri Bar in 1908. Jackson spent almost twenty successful years in Kansas City doing very well in his practice as well as investments. By his early forties he was considered to be independently wealthy. In this next photo (photo 07), it is believed by the year on the calendar that the office depicted was in Kansas City but that Jackson was using it with his then current address in Tuscumbia. However, for reasons not altogether certain, he decided to return to Miller County to practice law here, signing the legal register in 1926. Whether the stock market crash and the depression caused financial reverses or whether the move was for personal reasons we can only speculate now. At any rate he was readily welcomed home and, even though a Democrat in a staunchly Republican County, he won election to several positions in county wide races. His county offices at various times included Miller County Engineer and Surveyor, prosecuting attorney, probate judge and ex officio magistrate. He was familiarly known as Judge Stanton after having served as probate judge and magistrate in the 1960's and again in 1970. He was appointed probate and magistrate judge in 1960 serving two years and was elected in 1962 to a four year term that began in 1963. As noted above he was appointed to a three and a half month term on the bench in 1970. He ran unsuccessfully for State Senate but received a large number of votes from Miller County. These reproductions of flyers printed for that campaign are typical of his folksy style (photos 8 and 9). He also served for many years on the Miller County Selective Service board. For that he received a certificate of recognition (photo 10) at a special ceremony (photo 10) in 1971. In 1946 he built a new law office across the street from the Courthouse. Judge Stanton eagerly was sought for advice and counsel regarding legal matters. Few who observed him in the courtroom whether on the bench or as legal counsel could forget his sense of humor and occasional unorthodox style lending itself to entertaining theater. His reputation was such that law students often came to Tuscumbia to work in his office as apprentices to learn style and method as well as understanding and applying the techniques of the accomplished attorney. He was involved in some way in many of the "big cases" of the era such as that of the murder trial of Tex Varner back in the 1950's. He received the prestigious award of "Senior Counsellor" from the Missouri Bar Association in 1958 (photo 12)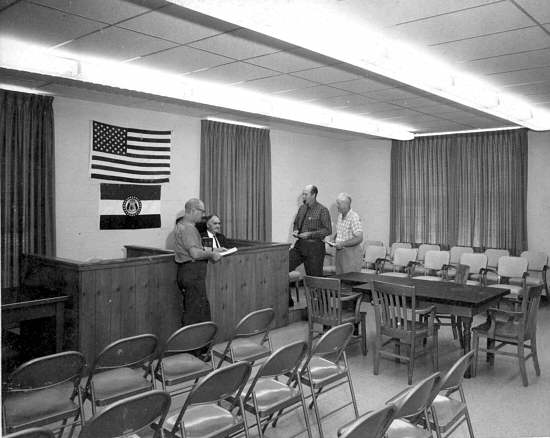 04 Jackson c. Stanton and Clyde Lee Jenkins
| | | |
| --- | --- | --- |
| 05 George W. and Jackson C. Stanton early 1900s | | 06 Jackson C. Stanton and George W. Stanton 1960's |
| | | |
| --- | --- | --- |
| 07 Jackson C. Stanton office | | 08 Campaign Flyer |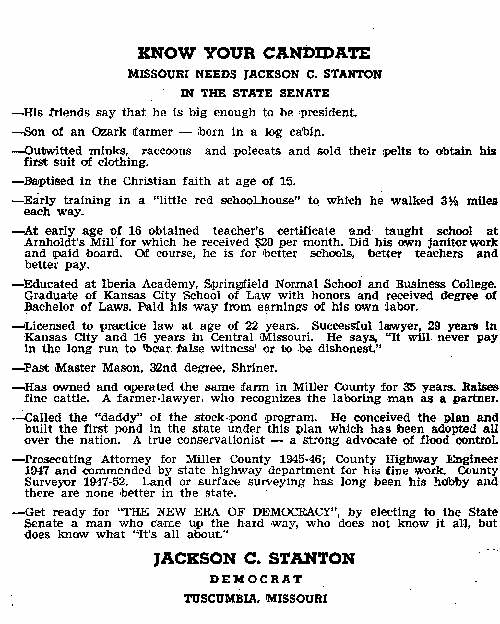 09 Campaign Flyer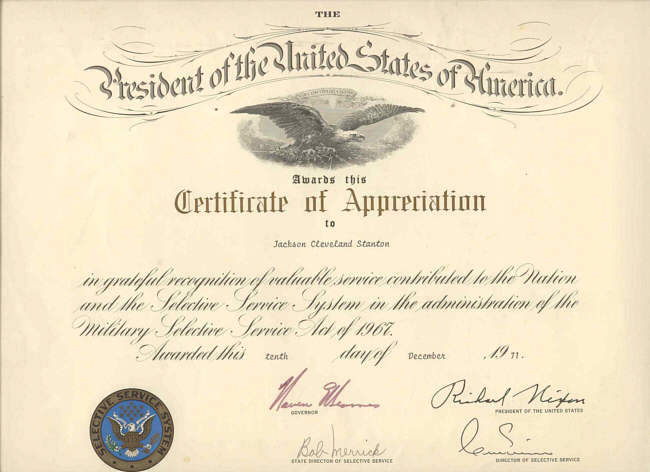 10 Cerrtificate of Distincton Jackson C. Stanton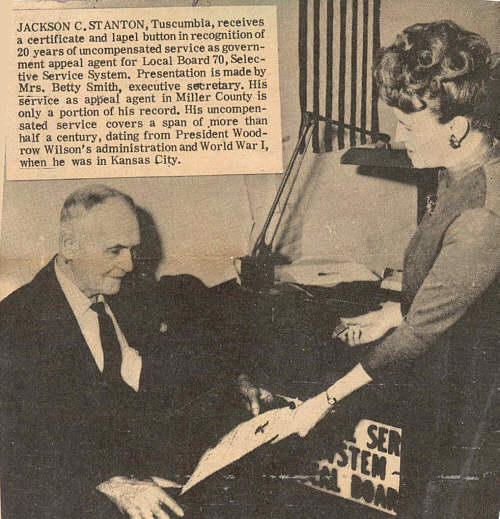 11 Jackson c. Stanton receiving Selective Service award from Betty Messersmith Smith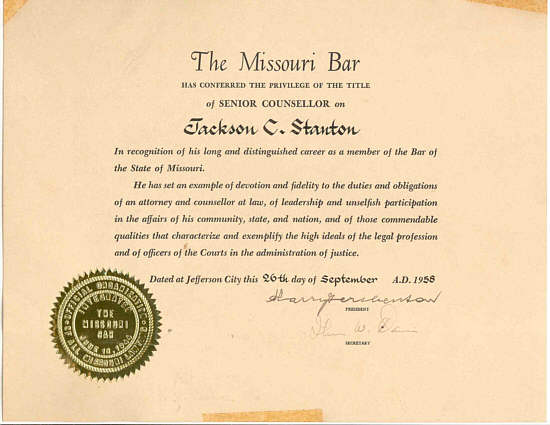 12 Senior Counsel Mo. Bar Jackson c. Stanton
As noted above, one can only speculate as to why Mr. Stanton returned to Miller County. But one very interesting episode in his life in Kansas City may have had some bearing. A couple of years after his first wife sadly passed away, after some twenty years of marriage, Mr. Stanton remarried to the sister of his wife's best friend, who was considerably younger than Mr. Stanton. The result of this second marriage had some rather unintended consequences, the facts of which I don't believe ever reached Miller County. At least, until recently, I had never known or been told about this time in Mr. Stanton's life, which occurred shortly before he returned to this area. I have done some research about this episode and will present it here; first as excerpts from articles in the St Louis Post Dispatch and Kansas City Star; and second, as a letter of response written by Mr. Stanton. The original articles are shown in the photos as they appeared in the papers but I transcribed them into a word processing program for easier reading:
A PIPE AND A RADIO BROKE UP THEIR HOME! ( photos 13 and 14 of cover page of article)
By a Special Correspondent of the Post-Dispatch Sunday Magazine:
STAY AT HOME? I'LL SAY! (photo 15 of article in paper)
Kansas City Star
13 Jackson C. Stanton Post Dispatch

14 Jackson C. Stanton Post Dispatch

15 Jackson C. Stanton KC Star



Click on above images for a larger image.
"Here's at least one man in Kansas City who is enjoying large quantities of solid comfort these days. This man, Jackson C. Stanton, a lawyer, comes home at night, takes off his shoes and his coat, puts on his house slippers, picks up the newspaper or a book, lights his pipe and there is nothing but a long peaceful evening ahead of him.
It was for just this that Stanton was divorced a short time ago. For these same peaceful evenings, for that pipe, for that habit of sitting with a newspaper or listening to the radio after dinner was over. His wife couldn't endure it. She told the Judge so and was given a divorce on the ground of incompatibility.
In part Mrs. Stanton's divorce petition cites that her husband "failed, neglected and refused to take her to places of amusement, but instead sat at home, smoked his pipe and listened to the radio; that the difference in the ages of plaintiff and defendant is such that they do not and cannot see things from a common point of view."
No alimony was asked and Stanton admitted all the charges his wife brought. He did not contest the suit and prior to the court action gave his wife a considerable sum of money in settlement of all claims.
Mrs. Stanton, who is 23 years old and attractive in appearance, frankly told Judge Willard Hall that she likes to go places and see people and do things. Further, she feels that no woman does justice to herself who sits at home after the manner of the popular songs of 20 years ago, darning her husband's socks and sewing buttons on his shirts. It was maddening, she said, to have a husband like that. Jazz orchestras and theaters meant nothing in his life. Judge Hall was sympathetic. He not only gave her the divorce but obligingly restored her maiden name of Esther B. Forrester. And, said Miss Forrester when the decree was granted, she'd put up with it a lot longer than most women would.
But that was only her opinion. It soon developed that there were large numbers of women right here in Kansas City who disagreed with her.
The night that the newspapers announced the divorce, Stanton came home looking forward to the peace and quiet he had held out for. The telephone rang. An eager feminine voice was on the wire. There followed a conversation Stanton reports as going something like this:
Eager Feminine Voice: Is this Mr. Stanton?
Stanton: Yes.
Eager Feminine Voice: Didn't I see in the paper where you were divorced today because your wife wanted you to run around with her at night?
Stanton: Perhaps you did. But who is this?
EFV: Oh, my name doesn't matter---you don't know me. But was the story in the newspaper correct?
Stanton: Yes, I'm afraid it was. But what is it you want?
EFV: Let me ask you something, Mr. Stanton. Would you consider marrying again?
Stanton: I don't understand you.
EFV: Well, I'm a widow 35 years old; not bad looking, my friends say, and my late husband left a little property. Now, would you consider….
A great light dawned upon Stanton and he hung up the receiver as the eager feminine voice trailed off in the intimation of a proposal. That evening Stanton had to listen more or less to seven other feminine voices all with somewhat similar messages. And the next morning before he left the house, three other women had called. Stanton was amazed at this expression of what was apparently such high regard for such a "home loving man as himself."
But surprise soon gave way to embarrassment and annoyance as the calls persisted throughout the day. There were at least a half dozen, and letters, too.
"Tobacco," said one, ecstatically, "I just love tobacco, the smell of it. I don't care how old or smelly your pipe may be---but to see you sitting there beside me with your radio going…"
Stanton began to be disturbed by it all. "Honestly," he explained, "some of them seemed so sincere, quite above-board, you know----name and address where I could call at my own convenience. And you'd be surprised at some of the addresses. Right out in the most fashionable parts of Kansas City. But I wouldn't violate any confidences, of course. And I don't want this matter to become ridiculous. I quite believe in a home, the pipe and the radio, with a wife for company. I hope to find such a wife again. I really am sincere and had no idea what an obstreperous proposition it is to find such a wife these days. There was the disparity of our ages to consider, of course. My wife was 23 and I am 44."
When Stanton laughingly disclosed to reporters that he had received his thirty third proposal the former Mrs. Stanton had something to say. For one thing, she explained that she is going to enter a convent in Minnesota. She is through with men.
"Give me a place where I won't have to see his picture in the newspapers over a statement of the number of women who have telephoned him," she said to an interviewer, at the home of her sister here. "So women like that kind of husband, do they! Well, they can have him. He complained because I liked to go places and see things, did he?" Miss Forrester continued. "Well, I'll say I did. I never went out of the house after sunset without him. Was I the home loving wife? I had to be! Did he tell about those good steaks and wonderful pies I cooked for him? Maybe he wasn't hungry when he began rushing into print. And what did he tell you about his pipe? That he was a second Charley Hell'n -Maria Dawes and never posed without one? Ugh! I can see that pipe now---crusted, short stemmed, smelly. If it had only been a nice one it wouldn't have been quite so bad. And that little red box of tobacco---he carried it in his vest pocket and never would let me touch it. Never again!"
In the security of his office in the Lee Building, with telephone communication cut off, Stanton smoked the irritating pipe and philosophized. "Youth and middle age simply will not mate. That little girl and I tried honestly, faithfully, to get along. The world will never know the whole story of how we tried to keep from pulling apart. My first wife died two and a half years ago and I had a good home out there on Hyde Park Avenue, with $4000 or $5000 worth of furnishings in it. Then I married my wife's best friend's baby sister. I offered to go out nights, although her divorce petition sounded otherwise. I like to dance. And I'd take my wife hunting and fishing with me. But if there's anything my life and work need it's a home loving woman. I could go home with troubles and business worries on my mind that I had wrestled with all day, and with one word from a real wife---such as my first wife was---or even just a look and a smile---troubles disappeared."
Stanton denied emphatically that financial differences entered into the crash of the marriage. He owns considerable property.
"You know," he said, "when a fellow will stay at home and feed the pets two or three weeks at a time and not because his wife is sick or anything like that, he isn't so bad."
At which the former Mrs. Stanton's comment was:
"Poor fellow, poor fellow---but think of the pets!"
Mr. Stanton believes women these days don't take the responsibility of keeping up a home seriously. If they only knew what long arduous hours husbands spend to keep a roof over the family, buy furniture, bric-a-brac! Why, some wives think a telephone doesn't have to be paid for, but just sprouts from the wall. If they would be homebodies as in the old days. Or as his first wife was. Ah, that was it.
"If it's anything my life needs," he said, "it's a woman to take the place of her. I could go home with troubles on my mind that I had wrestled with all day, and with one word from her they disappeared-or even one look. It's hard to find a woman like that. "But that little girl (his recent wife) I loved her, too, and always will. I loved her mother as if she'd been my own, and she loved me like one of her own sons. And the little girl's sister-we got along fine."
Money wasn't the trouble, he said. "one of the things I dream of when I smoke my pipe these days," he explained, "is a thousand acres I own near where the big dam is going to be built near Bagnell, Mo."
City property? Mr. Stanton counted on his fingers---one, two, three, four and on to ten---with a satisfied smile. Ten pieces of property in Kansas City, including business property on Troost Avenue and the home, which used to be a "show place" here several years ago. So he described. Also land in Miller, Morgan, Camden and Gentry counties, Missouri.
So far, the proposals modestly have avoided mention of property. But one young lady who telephoned Friday night was about to leave her name and address, and Mr. Stanton, reaching for a piece of paper, found his checkbook nearest his hand. "I'll write it down on the back of my checkbook," he said. "That's a good place to keep it," came the tart answer.
Jackson C. Stanton response to K.C. and St. Louis newspapers:
Newspaper accounts of the recent divorce obtained by my second wife have been published in nearly every sizeable newspaper in the United States. The petition alleged among other things that I preferred to stay at home, read, smoke a pipe and listen to the radio. This caught the attention of many who read the articles and has resulted in more than one thousand direct and indirect proposals of marriage to me by women, mostly widows and divorcees who live in nearly every state in the union. It is surprising to know that there are so many. I am sympathetic if not actually sorry for every one of them. You would be too if you were situated as I am. I am too busy to be lonely or lonesome; I have no thought nor desire to get married again. Hence I have not responded to any of the numerous letters that I have received. Neither have I disclosed the name of any of the writers although numerous men have sought a selection among the lot for themselves.
In order that a fair and comprehensive understanding of this matter may be grasped by the reader it will be necessary for me to state a few personal facts and circumstances which I will do in as restricted a manner a manner as possible. This being a personal matter it is a delicate subject and should be dealt with modestly. However, if a personal and remarkable social condition is revealed with a good lesson, great good to humanity might result from it. Naturally, you want to know what sort of man it is who has had a thousand proposals and survived to tell the story. Just a mere man. Age 44; weight 202 pounds; 6 feet in shoes. Dark, brown eyes and athletic. A clever boxer, have done 100 yards in 11", like to fish, hunt and be out in the open. Born to humble parents in a log cabin on the North foot hills of the Ozark Mountains in Missouri. Eleven years old before I went to school or knew the alphabet. I was teaching a country district school on My 16th birthday. Attended academy and normal schools, Law College from which I was graduated with the degree of LLB at age 23. I had been licensed to practice law by the Supreme Court of Missouri at the end of my second year in law college. My first adventure in matrimony was in August before entering Law College in September. There is no room, I find, for argument that a man should defer marriage until after he is through college. A good wife will prove as helpful to him during his course of study as she will in the practice of his profession and she naturally grows up in the spirit. One of my happiest recollections is the incident on the morning that the newspaper carried a list of the names and addresses of those who had successfully passed the bar examination. The girl wife slipped from our bed and room as I slept and upon seeing my name listed amongst those who "passed" she came tearing after me striking me with the newspaper crying "you passed!" you passed". I did not even examine the paper as she had frazzled it and her joy was assuring enough for me, so I rolled over and went to sleep again.
We were successful and happy together for more than twenty two years when death claimed her. No finer sweeter or gentler example of womanhood ever adorned the life of a man or graced his home. Had I her sweetness of nature or her faculty to make and hold friendships I might have been governor of the state. Not a serious moment was felt by either of us during those twenty two years. Fellows, let me tell you that you will never know what you have lost until your faithful wife has been taken from you.. No one who has not lived through the ordeal can understand. Think about it.
We were schoolmates and sweethearts for a time and then together until her death. I sometimes think that a woman is more stoic than a man and that sometimes they hear sorrow and the loss of a note better than a man. She lived a beautiful and happy life in addition to the consciousness of it sweetly inscribed which I prize very tenderly.
I have inherited very little but have been successful to the extent that I enjoy a fair law practice and own land in four counties of Missouri. I also have land and investments in the states of Oregon, New Mexico and Colorado and ten pieces of property in Kansas City. If my holdings were reduced to cash at a reasonable market value, my fortune could be considered made. Making money and acquiring property has given me great satisfaction and employment. I am as yet a young man but unfortunately alone. I have no children and all my blood kin are self sustaining and independent. You might think that I am in an admirable condition but am I? What would you do if you were me?
The second wife who divorced me and unintentionally brought all this unfavorable publicity is a most unusual girl. For her I can say that she is truthful, economical, and industrious and was absolutely loyal to me while she was my wife. Our real differences are not and never will be known. The fact that there are no better friends that we bespeaks the respect that we have for each other. I shall continue to look after and attend to my business and let the future bring what it may. There is, I hope, much happiness and opportunity for service ahead of me."
This episode demonstrated that Jackson's reputation as a successful attorney and business person was well known at the time in Kansas City as proven by the number of marriage proposals he received after his divorce and the attention the news media gave it. Also, his letter of response to the media not only demonstrated his love for his first wife but also a gentlemanly characteristic in how he kindly referred to his second wife who had just left him.
That Judge Jackson cared deeply for his first wife is evidenced by his pride in displaying a beautiful cut glass vase given at their wedding ceremony many years ago. He always displayed the vase proudly on a shelf in his law office (photo 16).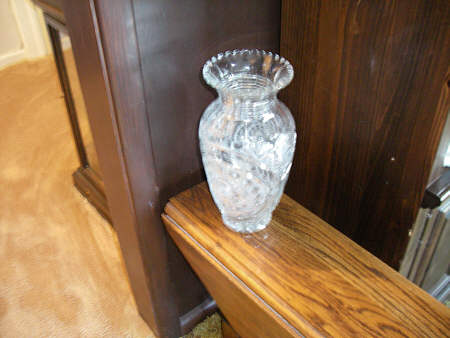 16 vase given to Jack Stanton as wedding present
I am indebted to the Lon Stanton family for much of the information about Lon's uncle, Jackson C. Stanton. The family graciously has donated to our museum a large framed portrait of Judge Jackson (photo 17) as well as some of his papers.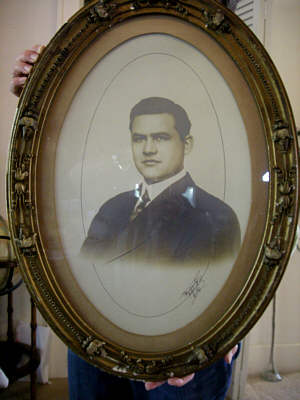 17 Jackson C. Stanton
Last week the Steen family volunteered to help us move some heavy objects from the first floor of the old museum to the lower floor as well as rearrange some heavy display cases (photo 18). In return, the Steen family was given use of the dining facility in the new museum for Thanks Giving meal (photo 19). We do plan to offer our dining and meeting facility to the public for family reunions and meetings for a small charge. Call the museum at 369 3500 for more details. Our work is intensifying as we are moving and transferring sometimes heavy objects from one room to another. Also, we have an increased of office paper work to do. So we continue to solicit the help of volunteers; just call the above number and we will get in touch with you as to how you can help.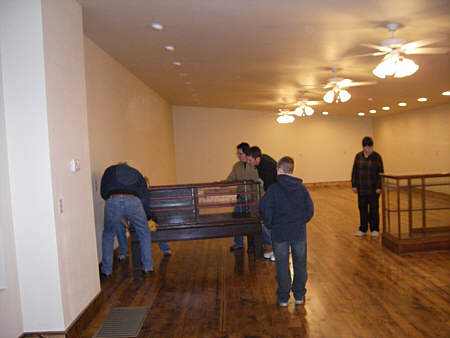 18 Moving Display Cases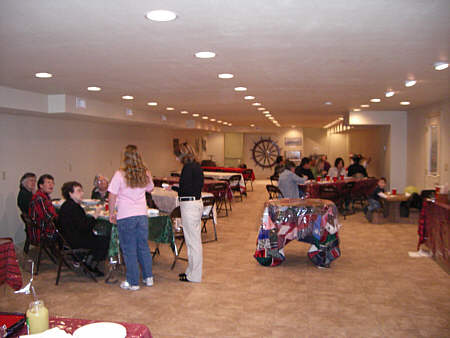 19 Thanksgiving Dinner
Our campaign for the building fund continues in order to acquire funds to provide us with sufficient resources to purchase new office equipment and furniture for the new area. Donations can be made to:
Miller County Building Fund
P.O. Box 57
Tuscumbia, Mo. 65082
The "What is it" for this week was supplied by Elmer Brown, who was born and raised in the Ginger Ridge area between Tuscumbia and Eldon. His mother, Mrs. R.C. Brown, used to write the weekly Ginger Ridge column for the Autogram. In one of those she mentioned that area residents attended a "pound supper" on one occasion and a "notion supper" on another occasion. Do you know what kinds of events were these?
Well, Dub (as Elmer is called now) told me the following:
"What is a "pound supper?" As I recall, a "pound supper" was very similar to what we call pot luck. The quirk being that everyone brought a pound of something to contribute to the meal. "What is a "notion supper?" This was where girls brought a wrapped box, usually a box lunch or possibly a cake, which was auctioned to the highest male bidder. The provider of the box would then be expected to share the content with the buyer. The content would be whatever she had a "notion" to bring. It was very similar to a pie supper.
The identity of the girl or woman was supposed to be a secret but if there was a particular man she wanted to have buy it, she would find some way to let him know which was hers. There were often rivalries among the men who were competing for the attention of a particular girl. This would induce a bidding war. It was also not unusual for several men, who weren't particularly interested in the girl, to bid against her favorite and cause him to pay more than he wanted to, just to give him a hard time. It was usually all in good fun but occasionally it would lead to tempers flaring.
Thanks Dub.
Well, that's all for this week.