Monday, November 12, 2007
Progress Notes
I spent this last week traveling up and down the Tuscumbia Eugene Road as well as the Gageville Road to gather more information about the old Gageville lead mine. No better company could I have had than former Miller County Historical Society Treasurer and board member than Helen Gibson (photo 1), who lives in the area on a farm settled by her father, Mason Henley, one hundred years ago. In fact, next year the farm will be declared an official Missouri Century Farm.
Interestingly, the Gageville lead mines, which were located on another farm a little further north from where Helen now lives, were originally registered and owned by Thomas Simpson, the brother of Helen's great grandmother, Mary Jane (Simpson) Henley. The farm is now owned by Norman and Cindy Hart to whom I am very grateful for the opportunity to visit the lead mine area. In fact, Cindy personally drove us through the woods and brush to get to the lead mine pits (photo 2). The mines have not been active for many years, but Cindy did have a sample of what was the kind of original material produced by the mines from which the lead ore was extracted (photo 3). Helen wrote for us the story of the Gageville lead mines: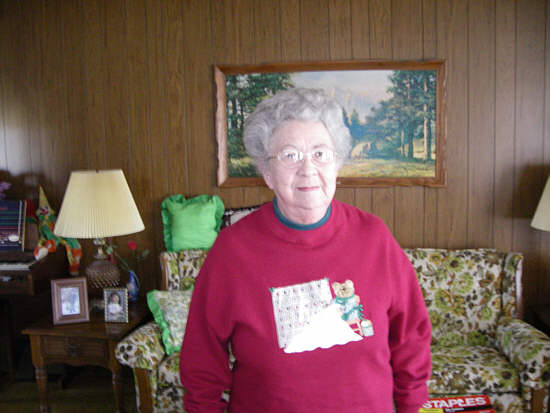 01 Helen Gibson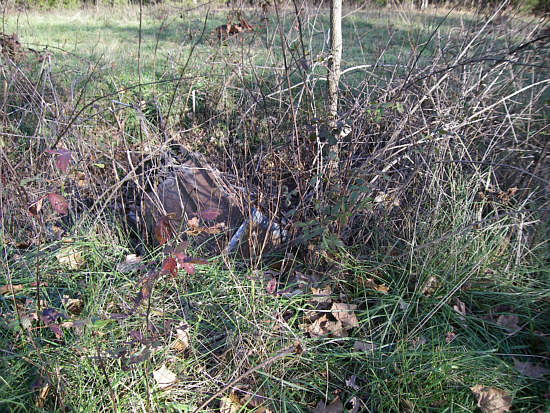 02 old partially filled lead pit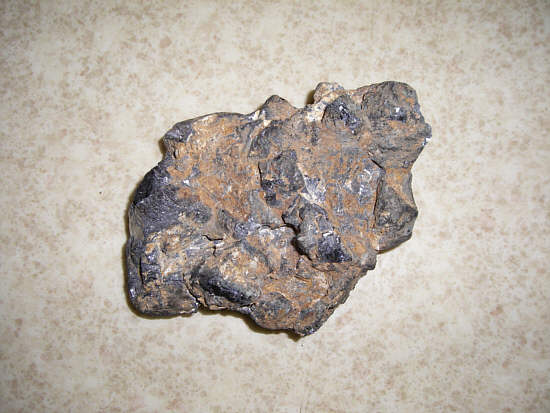 03 Lead Ore
"History of Gageville Lead Mines
Helen Gibson
One of Miller County's early pioneers, Robert Enoch Simpson, was born December 23, 1807 in Kentucky. On September 11, 1828, he married Keziah Greenup. In 1834, Robert and Keziah moved to Missouri, where they settled just across the Cole County line in Saline township. This is now the site of Spring Garden, Missouri. They were the parents of nine children.
In 1850, their oldest son, John, at the age of 20, left Missouri with a party of fellow Missourians. They rode horseback to Fresno, California, where John became an early California pioneer. John's brother, Thomas W., joined him in California in 1857. Thomas owned 258 acres of land in Miller County. One of these tracts of land, north of the Saline Creek, had a lot of lead mines. Later Thomas sold the land with the mines to his brother John. Jasper N. Henley, John's brother-in-law, had the power of attorney to act as his agent regarding the land. Huge deposits of lead were found on this land in 1869.
Jasper Henley leased the land to Alfred Franklin, James Simpson (brother to Thomas), and William Carter for nine months. Carter soon sold his interest in the lease to Franklin and Simpson and they assigned their interest in the lease to H.A. Cugwin. Cugwin sold his interest to John Clark. Each had removed a lot of ore from the mines. A short time later, Madison Belshe offered John Simpson $1,400 for the land and he accepted. There was a mix-up as some one else was wanting the land, so Mr. Belshe saddled his fastest horse, and with silver in his saddle bags, rode to the State of California to pay Mr. Simpson for the land. He returned home with the deed in his pocket. In the meantime, John H. Clark was busy operating the mine. On October 1, 1869, Mr. Belshe, Joseph Fox and C.D. French appeared on the premises, ordering the miners to leave or face the law for trespassing. The miners left and Belshe, French and Fox took possession of the mine.
The Gageville mines were operated more extensively than any other mine in the county. The Miller County Vidette of July 13, 1876 gives the following location of Gageville as six miles northeast of Tuscumbia. Later, a Mr. Gage and Mr. Quimby of St. Louis purchased the mines, built a number of houses for the miners, including a hotel and general store, and erected a smelting furnace. This settlement was named Gageville after the name of Mr. Gage, the St. Louis investor. Large quantities of lead ore were smelted at the smelting furnace built by Mr. Gage and Quimby. In 1903, these two investors formed the Gageville Mining Company of which Mr. Ramsey of Jefferson City was president and Joseph Deibl was manager. The total production of lead ore from 1870 to 1879 has been estimated at 2000 tons. From 1880 to 1893, only about 100 tons of ore was produced. The decline was thought to be due to a fall in the price of lead and the railroad tie industry. Now no trace of the town of Gageville exists and the mine pits are filled up with debris and brush, for the most part lost and forgotten.
Sources: Gerald Schultz: History of Miller County; 1933. John Worth Simpson: A Family Of the American Frontier."
Thanks for the story Helen.
As was mentioned in the story, Jasper Henley was the Simpson brothers' agent to handle their land while they were in California. Jasper was married to their sister, Mary Jane. However, unfortunately she passed away at an early age and Jasper remarried to Julia Norfleet (photo 4 of Jasper and Julia in carriage). Jasper, who was Helen's great grandfather, lived near Spring Garden (photo 5 of house).
04 Jasper and Julia (Norfleet) Henley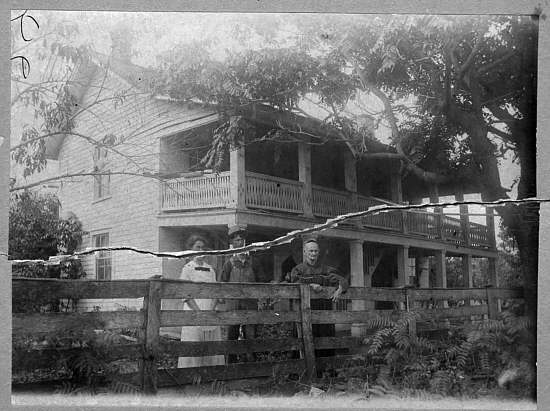 05 Jasper Henley Home, Myrtle Pierce Henley, James Henley, Julia Norfleet Henley
The following is a history of Jasper Henley as recorded in Goodspeed's History of Miller County in 1889:
"Henley family history
JASPER NEWTON HENLEY --- the eleventh child in a family of seventeen children of John Legate Henley Sr. was a native of Cole County Missouri. He was reared to a farm life in Cole Co. and attended the early subscription schools. In 1858 he was married to Mary Jane Simpson, a native of Miller County, Missouri. They were the parents of six children, four sons (one died at an early age) and two daughters. Jane died in 1873 at the age of 33, leaving 5 children between the ages of 2 to 13, motherless. In 1874 he married his second wife, Julia Ann Norfleet Henley, the widow of his brother, Noland D. Henley. Jasper and Julia were the parents of one child who died at the age of 9 months. They were members of the Baptist Church. After his first marriage, he resided in Cole County for one year and then moved to Miller County, where he purchased and improved a farm of 320 acres, He dealt extensively in stock and raised an excellent grade of cattle,horses and mules. He was interested in school matters and was one of the Directors of the Miller County Institute. He voted the Democratic ticket, but was not an office seeker. He was 76 years old when he died in 1913."
Helen's grandfather, Thomas, son of Jasper, is pictured in this family photo (photo 6, Thomas Henley family). Thomas's son Mason, father of Helen, is the subject of the following biography taken from a Henley family history which has long been in the possession of the Henley family: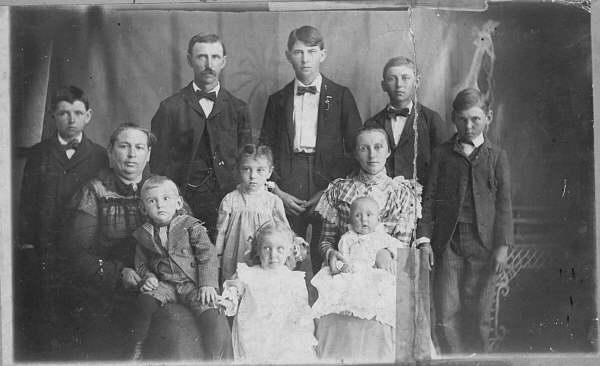 06 Arnold,Josephine , James, Thomas, Gertrude, Hattie, Luke, Aurie, Dorsey Binkley, Mason, Lester Henley
"MASON OTTO "DOC" HENLEY
Mason (photo 7) was born in 1885 in Miller County, Missouri, the third child of Thomas W. and Malinda Josephine "Jo" (Norfleet) Henley. As a child, he was sickly needing the Doctor from time to time, thus earning the nick name "Doc". Shortly after the turn of the century, he helped with the construction of the Rock Island Railroad tunnel that was built at the east edge of Eugene, Missouri. For a short time he worked in the Oklahoma territory. At that time it was called the Oklahoma nation before becoming a State in 1907. As a young fellow, his recreational interests were fox hunting and baseball.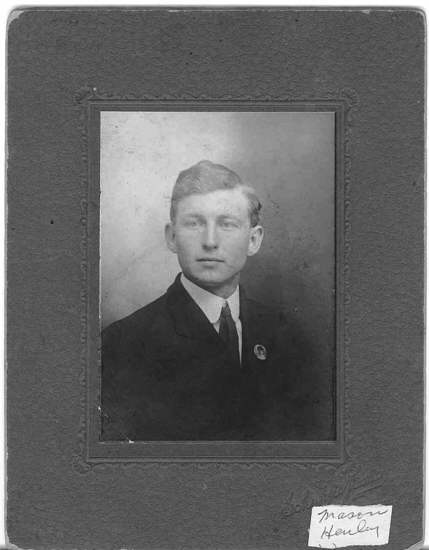 07 Mason Henley father of Helen
Doc was light complexioned, had blue eyes, dark brown thick curly hair and had an easygoing disposition. He liked people and being with people and no one was a stranger to him. He had a delightful sense of humor. He married Mellie Franklin in 1906. Their home was along the Saline Creek on his Father's place. They had one child, Emma. Mellie died in 1907, shortly after the birth of their daughter. His family helped him raise the little girl. Later, Doc and his brother, Arnold, purchased a 176 acre farm in Miller County on November 8, 1908, from their older brother, Luke. Doc later bought Arnold's share of the farm from him. Three acres of ground were given to the county for a road, resulting in an 173 acre farm. Since there was no house on the farm, he purchased a house at Spring Garden, Missouri, dismantling it into sections and hauled it on wagons to the farm near Eugene rebuilding it there. This photo is of a drawing of that house made by an artist who had rented it for awhile many years after Mason had lived there (photo 8).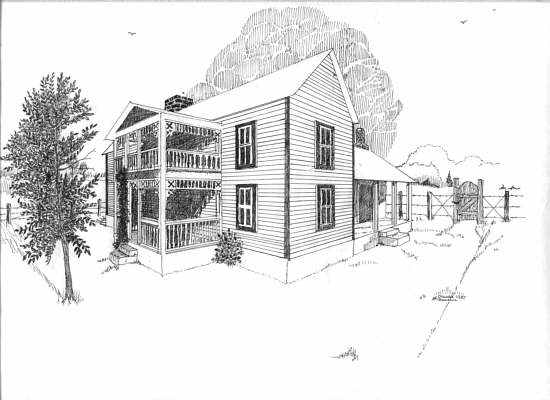 08 Mason Henley home
In 1909 Mason (Doc) married Bertha Bontrager. They were the parents of two sons, Carl and Ray. Bertha died in 1916 at the age of 27. Again, Doc found himself in grief with very small children to raise. Carl was nearly 5 years old, so Doc was able to keep Carl at home with him. But, Ray was only 18 months old and so Bertha's parents helped him care for the younger boy until he married Sophia Kubli (photo 9).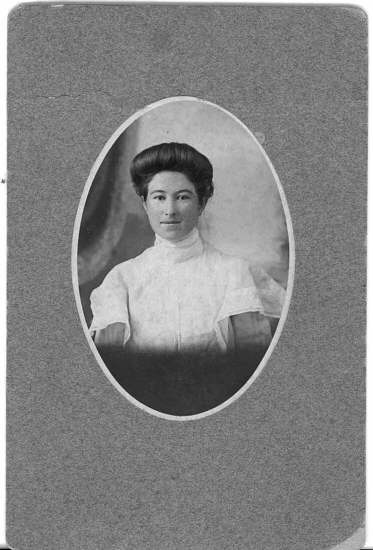 09 Sophia Kubli Henley Helen's mother
Doc and Sophia were married in 1919 and had four Children: three daughters (the eldest one died in infancy), Helen, and Alma; and one son, James "Jim". The Great Depression was a most difficult time for him and his family, as it was for most folks in that area and in the nation. They watched the children grow up. Carl died in 1935 of diptheria. Ray married and eventually moved to Illinois. Helen and Jim were both in the service of their country during World War II and Alma went to Kansas City to work. For a time Mason served as a member of the Gageville School Board and as an officer for the telephone company. Nearly all his life was devoted to farming and raising livestock. He predicted the weather by observing the clouds, animals and nature. His accuracy was amazing. More times than not he did better than weathermen with modern technology. He believed in people working, but he said a fellow should know when he's tired and stop and rest a while. It was whenever a fellow pushed himself past that point that he'd hurt himself. He practiced this philosophy. He so loved children, especially the grandchildren and great grandchildren, oftentimes giving them nicknames aptly chosen. When he was too old to farm any longer, he liked to raise a garden and enjoyed the out-of-doors. He lived most of his life in Miller County, moving to Johnson County, Missouri in 1966, where his son, Jim, had a farm north of Holden along the Blackwater Creek. Doc and Sophia resided there about 6 years, later selling their farm in Miller County to their daughter Helen and her husband, James Gibson. Doc and his wife of more than 50 years returned to Miller County about 1972. Sophia died in 1975 at the age of 92. , Doc raised a big garden every year with the exception of the summer before he died. He loved to see things grow. Doc was 96 years old when he died in 1982. He had the distinction of having lived longer than his parents and any of his brothers or sisters."
Before we went to the lead mines Helen and I stopped off at the Gageville one room school (photo 10) where she attended as well as taught (photo 11 of Helen and students). We also drove up a steep hill to take a look at the old Glenwood Baptist church where Helen used to attend as a child but which now is no longer active (photo 12).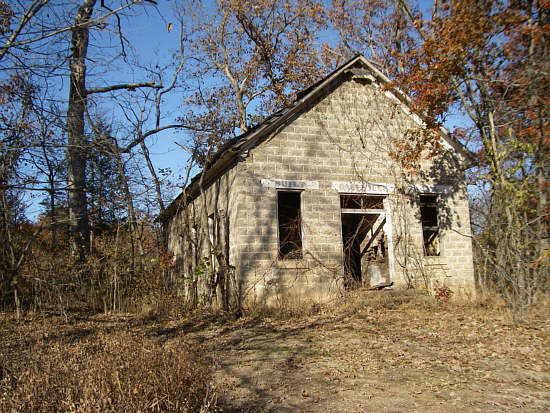 10 Gageville School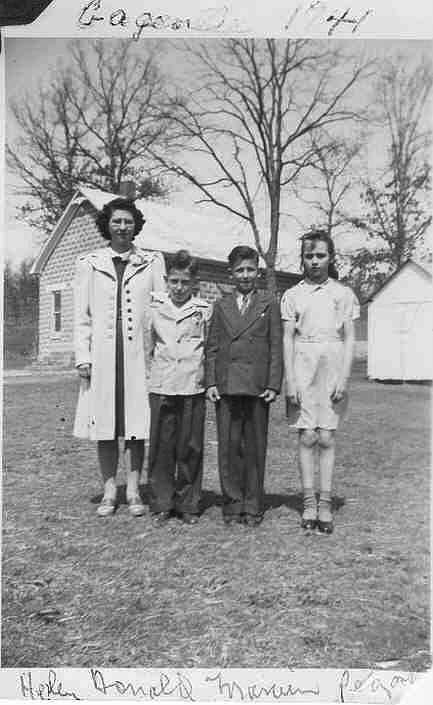 11 Helen Gibson, Marvin and Donald graham, Peggy Buster 1944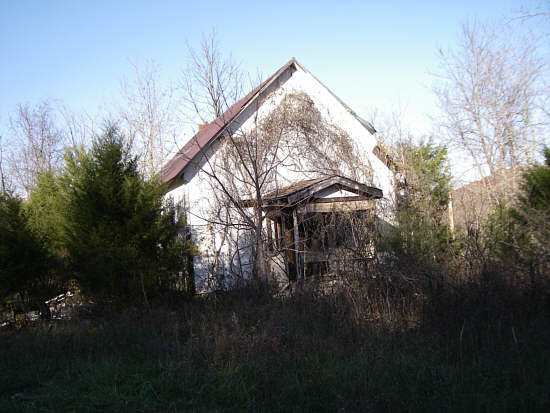 12 Glenwood Baptist Church
Another interesting stop was the Gageville Cemetery (photo 13) near where are located the lead mines. Here are buried some of the earliest settlers of Miller county including the Simpson family (photo 14 of Simpson stone). The oldest gravestone, however, that I found on a quick search was that of David Curty (photo 15). You can scan a listing of all the burials in the Gageville cemetery at this website: www.rootsweb.com/~momiller/gageville_cemetery.html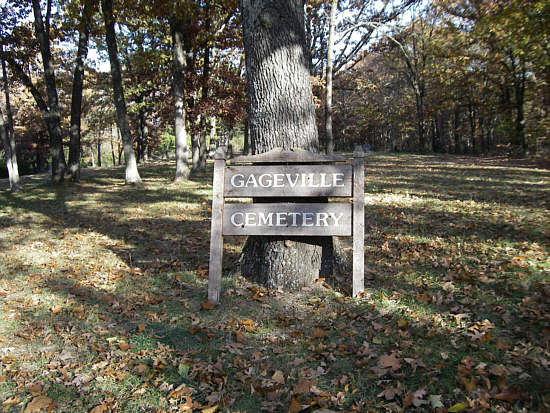 13 gageville Cemetery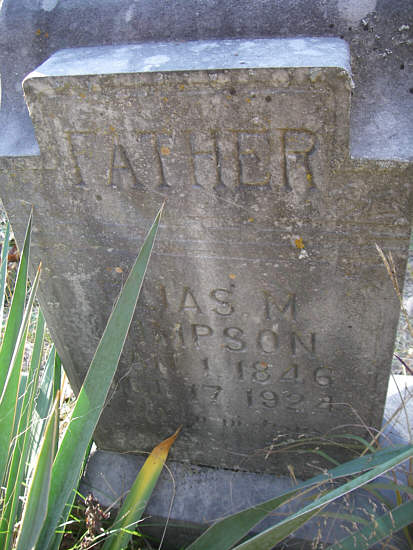 14 Simpson stone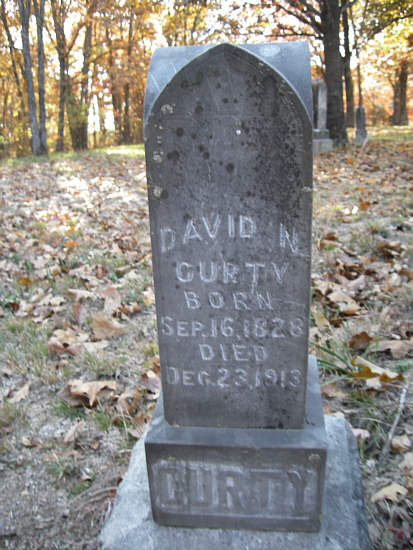 15 Curty stone
Helen has had an interesting and full life. For example, she served in the Marine Corps in WW 11 as an instructor (photo 16) teaching pilots how to use the weaponry on their aircraft. Last year she was named Patriot of the Month by the Missouri State Society of the Daughters of the American Revolution for November of 2006. In this news announcement of the award you can read a short biography of Helen (photos 17 and 18).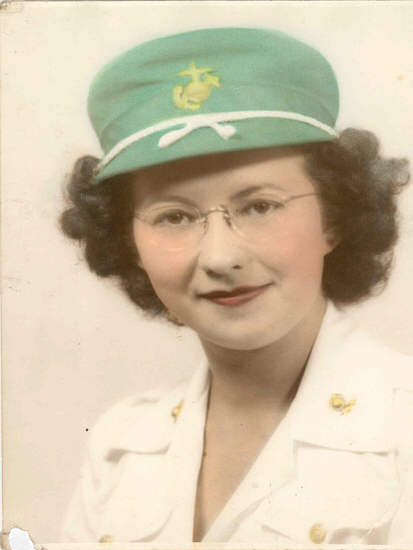 16 Portrait of Helen in Marine Corps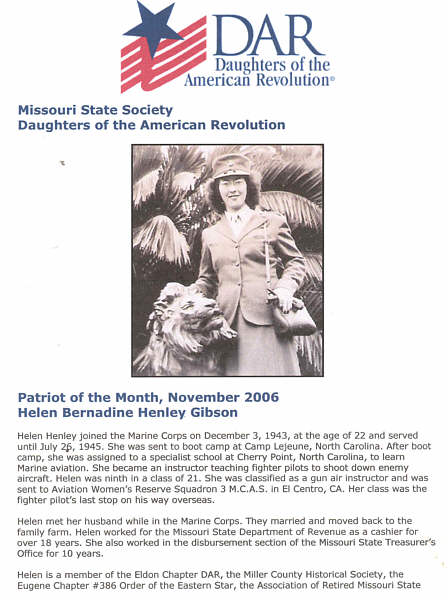 17 Patriot of Month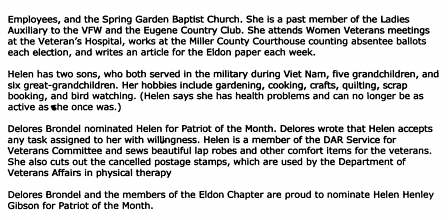 18 Patriot of Month
All in all, my visit with Helen Gibson the other day was very interesting and informative and it seems very appropriate that she be the one to tell the story of Gageville since it was her family ancestors who owned the land where the Gageville mines and town were established.
This week the series about the cedar craft industry of this area continues. The following narrative about the John Deere Company was written by Mrs. Martha Deere for a Union Electric sponsored book about the Lake of the Ozarks area published in 1981 as part of the celebration of the fiftieth anniversary of Bagnell Dam. Unfortunately, she passed away earlier this year but I thought it most appropriate that she be the one to describe her family's company for this series:
John B. Deere Cedarcraft
Martha D. Deere
Martha D. and John B. Deere (photo 19) started their company in 1945 in the basement of their home and where it grew to be one of the largest manufacturing and wholesale businesses in Lake Ozark. The Deeres' moved to Lake Ozark in 1944 during World War II. Mrs. Deere wished to be near her parents, Bashe and Bing Renander while Mr. Deere was in serivce. However, he was re-classified and did not have to leave. At the time the Renanders were making wooden toys out of walnut. Since Mr. Deere worked as a salesman for the Pet Milk Company, he took samples of the toys along on his territory and took orders. He gradually added cedar items made by local individuals. Mrs. Deere packed, shipped, and kept books. Eventually, Mr. Deere resigned his job and they put all their efforts into building the company.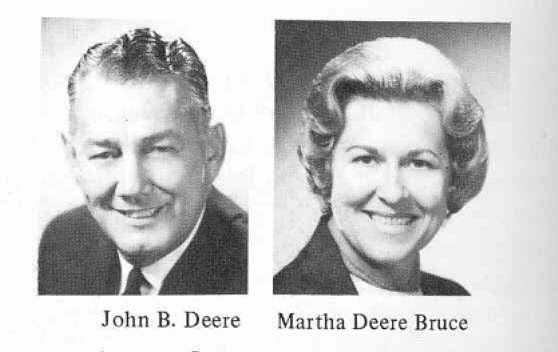 19 John B. Deere and Martha Deere Bruce
As the business grew they moved several times to larger quarters. The Deeres bought out her parents, the Renanders, in 1950 and moved into that location, which is 2 miles from Bagnell Dam. The building was enlarged several times and another two story building was added. The cedar line grew, too. By 1977 the company manufactured over 60 items in their plant and bought cedar items from other local plants. It had 26 year round employees and in the peak shipping season, added approximately 30 more people. The company had 17 salesmen and shipped to all 50 states, Bermuda, Puerto Rico, and Canada. Company representatives exhibited at major gift shows throughout the United States.
Mr. and Mrs. Deere had three children, Byron E., Susan B., and Christine D., who all worked in the company while they were growing up. Byron worked as a salesman for the company a number of years. He married Janet Young, while he was in the Air Force in England, and they had one daughter, Sara M. Byron, who herself at one time had a small cedar manufacturing plant in Lake Ozark.
Susan worked in the company as a receptionist and book keeper. Her husband, J. D. Stamper, worked as a salesman for the company. Unfortunately, he was later killed in a car accident.
Christine never worked for the company after she finished school. She married Lynn Hanks from Lake Ozark, and they owned an insurance business in California, Mo. They had two children, Jon C., and Kelly L.
Mr. Deere passed away January 27, 1965. Mrs. Deere continued to operate the company until September 1977, at which time she sold it to Phillip R. Monson. The company for a time was located in Osage Beach after Mr. Monson bought it but presently is no longer in business.
Someday when you look around your home and find a little cedar box, don't be surprised if you find J. B. Deere Cedarcraft stamped on the bottom."
One of the most remembered shootouts in Tuscumbia occurred about eighty years ago and was witnessed by a number of people including Arthur and David Bear (photo 20) and their sister, Susie Bear (photo 21). Arthur and David were standing on the porch of the general store (photo 22 of store taken in 1945 about twenty years after the shooting) owned by their father Madison Bear and watched the entire shootout occur. This next photo taken about the same time frame as when the shooting occurred (photo 23) shows the approximate location on the porch in front of the store where Arthur and David were standing when the shooting started. Susie was pulled inside the store by her mother, Sadie, but apparently Arthur and David were sheltered by a woodpile on the porch such that their mother Sadie didn't realize until later that they were not inside. Madison, their father, was working at his store in Bagnell and wasn't present. At the time Arthur was about fifteen years old and David eight years old. The McGowan brothers lived in a house two doors up the street from the store (photo 24, house on right), and the blacksmith shop (photo 25) where Os was shot was directly across the street from the porch of the store. Although the McGowan brothers were somewhat rowdy at times, few in the community agreed with how the situation was handled by law enforcement authorities and the incident was remembered by many as an unnecessary tragedy.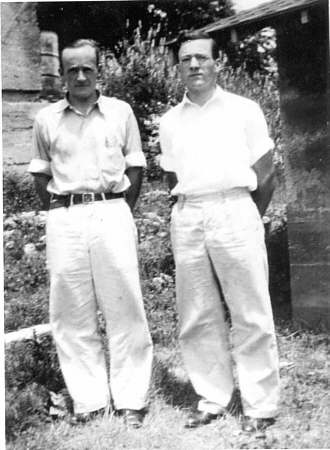 20 Arthur and David Bear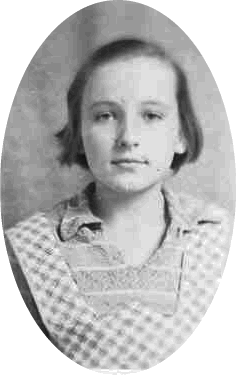 21 Susie Bear at aproximate age of shootout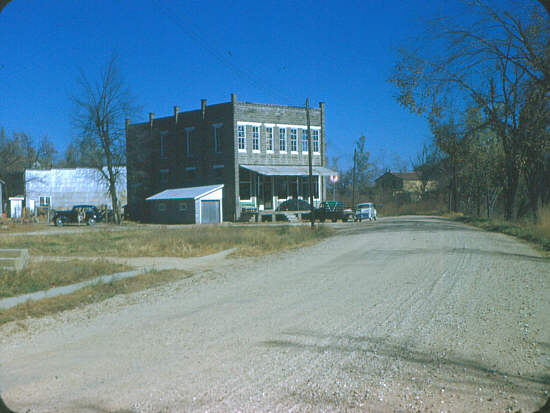 22 Madison Bear's General Store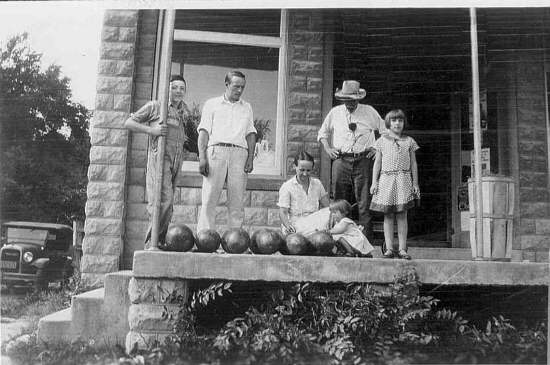 23 Bear store in tuscumbia-David, Arthur, Sadie, David C. Bear, Susie and Bonnie Bear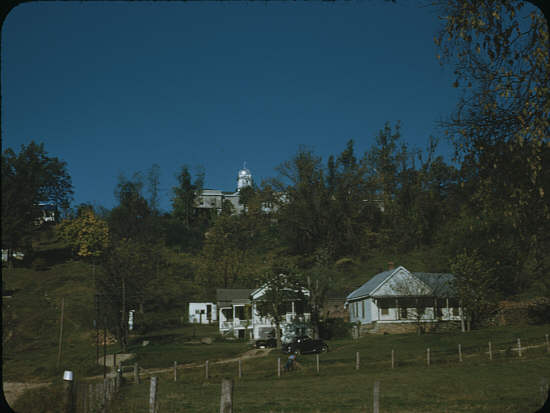 24 Lizzie Johnson and Doug McGowan homes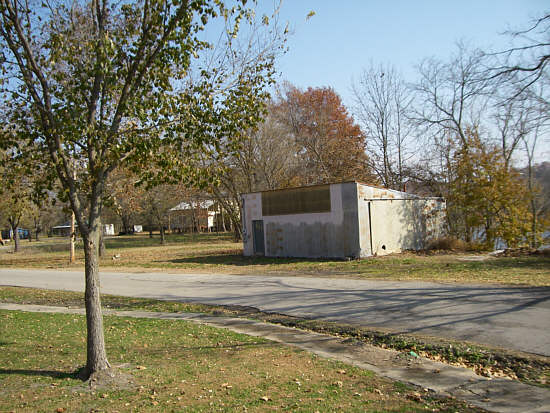 25 Old Blacksmith Shop site
---
Arthur and David
David: We mentioned Os and Doug McGowan earlier. Os was married and had about three children. Doug was single, but had been married at one time in his life. Os spent considerable time fishing and selling the fish to townspeople. They always seemed to have a little money, not much; they were still poor. It was thought by some that maybe a little bootlegging went on. Doug always had plenty of liquor (called moonshine in those days) to whet his appetite. One time Os and Doug got in a fight at the home of Os where Doug also lived. Their house was close to our store. One of the daughters in the household got scared and wanted the fight stopped, so she ran up the hill to the Sheriff's office, and asked him to come stop it. Os and Doug didn't care much for the new sheriff, and neither did many people in Tuscumbia. He was the lone Democrat elected to county office in the Roosevelt landslide but the general dislike had nothing to do with politics; he just had a way about him that put some people off. Well, Os and Doug sure didn't like him, so when the Sheriff got out of his car down in Cracker Neck, they started taking shots at him. That was the last that anybody saw of the sheriff for that day. He called the city lawmen in Eldon who had deputy commissions. I don't know what kind of story he told them, but he was probably quite distraught. They came down, but while they were enroute, Os went uptown to buy more ammunition for his shotgun. He came to our store first, didn't he, Arthur?
Arthur: Yes, he came to ours first. It was the closest to him.
David: What was his conversation with you?
Arthur: Well, he wanted some heavy load shells. I had some heavy load, but not the brand he wanted. I had Peters High Velocity with number four shot. That was a good shell, but Os wanted another brand, so he went up to Hauenstein's and got what he wanted.
David: All right, after he got his shells from Hauensteins, he walked back down the street. He walked by our store, and went to an outside privy on the river bank by the blacksmith shop. He stopped there, and if he hadn't stopped for some kind of relief, he could have made it back home before the officers from Eldon arrived. Anyhow, he left the privy and walked alongside the blacksmith shop, and just as he got to the wide doors of the shop, the officers from Eldon arrived. I don't know what kind of story the sheriff had given them, but I'm sure they expected the worst. There were three officers in the car. They stopped alongside Os and said something to him, and, as he turned, the shotgun turned with him. Whether he was attempting to shoot at the officers, I don't know. I saw the whole thing from across the street a few yards away, but the car was between me and the incident, so I was blocked out of a full view. The guns blasted and Os was killed immediately without having fired a shot. I was observing from the front porch of our store which was across the street from the blacksmith shop. The bib of Os's overalls was peppered with little holes where the shots went in. Just as Os was shot, more shots were being fired by Doug from the house where Os and his family lived. One of the officers from Eldon must have been a good shot. These officers got behind the Thomson garage and peeked around to return the fire. When Doug had his body half way out of the doorway of the house to fire, he was hit in the heart area. He staggered into a bedroom and died immediately. Shortly after, the wife of Os, Sylvia, came out and told the officers to stop shooting, that Doug was dead. Thus, ended the gunfight. Both were killed. This was a traumatic experience for a young boy. Now that you are back from your relief mission, Arthur, can you tell us the names of the law officers who were in the gunfight?
Arthur: There was Asa Gunn and Bill Lear, and I don't know the other one.
David: Monroe Rowden, local constable, was there, but he wasn't involved in the shooting. Arthur, I was talking when you had to leave. Is there anything you wish to add?
Arthur: The McGowan brothers, especially Doug, were a little on the rowdy side. At the Saturday night dances that were held frequently in homes around the community, Doug sometimes would get drunk and become a bit belligerent. I remember one time that Doug was brought in all cut up, and Doc Kouns had to get his needle and thread out again and do his stitching. Some young buck from across the river wielded the knife that cut Doug. I knew this young buck and found him very supportive of me on two occasions when I, was accosted by bullies. I always said, "Bully for you, Gene (Wickham)."
Speaking of eccentrics, we had them in our town, and they exist in every community. In a small town, everybody knows them, but in larger communities, they tend to get lost in the crowd.
David: That brings us to the end of this tape, so Arthur and I will have to do a little thinking about what to relate in additional sessions.
---
Last week, Herbert Tappehorn of St. Elizabeth brought over an old can lubricator (photo 26) which was used in the past before grease guns which worked with hydraulic principles were available. Herbert said he got it off an old threshing machine. The next two photos are of Herbert's handwritten story describing cup greasers and how he first learned about them (photos 27 and 28). Herbert now lives in St. Elizabeth but the family farm is about two miles from Old St. Elizabeth near the river where the first church was built. Since Herbert was nice enough to bring the cup greaser over I thought I would present it on our website. Thanks Herbert.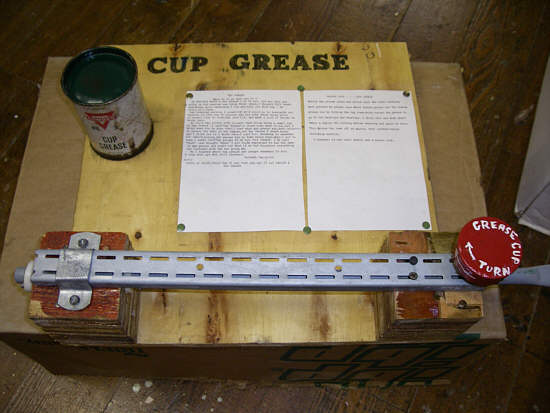 26 Cup Grease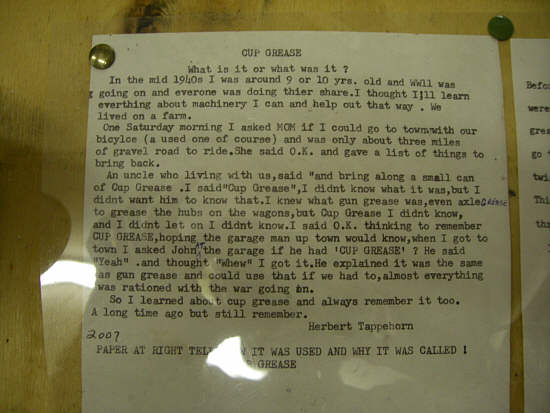 27 Cup Grease Narrative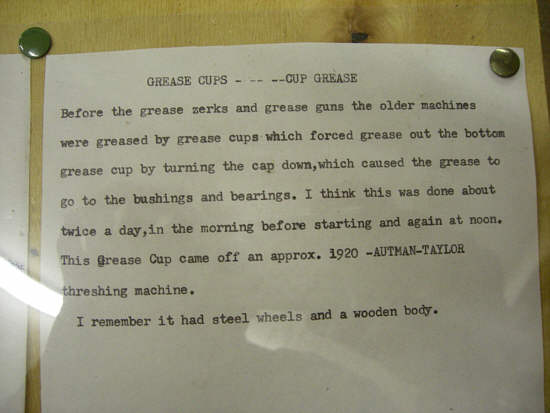 28 Cup Grease Narrative
At the museum we are painting windows and doors and finishing out the wood floor of the second level of the new addition. Also, we continue to plan and implement the layout of displays and exhibits getting ready for our spring opening. Volunteers are always welcome to come and assist for moving furniture or helping organize the research area. Call 573 369 3500 and leave a message for museum director Nancy Thompson if you would like to come and help us with preparations for the new museum. Also, donations for the building fund are always welcome because now that we have a new museum addition we still need to furnish it and acquire additional office equipment.
Donations can be sent to :
Miller County Building Fund
P.O. Box 57
Tuscumbia, Mo. 65082
That's all for this week.