Monday, November 05, 2007
Progress Notes
Last week I made a trip to St. Elizabeth to meet with Cyrilla Tellman Doerhoff (photo 1) to scan some old photos she had of the Tellman family which was one of the early settlers of Miller County. I had through the years been over in the St. Elizabeth area for one reason or another. My mother's Aunt Barcy Abbett Curry was married to Irvin Curry who ran the Exchange at St. Elizabeth quite a few years ago now. I and my family visited them at their farm on Humphrey's Creek near Capps once in a while. Also, my mother's Aunt Dora Bear Wickham, married to Ilde Wickham, lived with Ilde on the Wickham farm on the Big Tavern Creek near St. Elizabeth. Cyrilla had known all these people, especially since she and Leonard Doerhoff, her husband, ran the St. Elizabeth post office for many years. Coincidentally, my wife Judy's mother, Elva Boyd Steen, had a relative who was married to Nelson Wickham (Sarah Ellen Boyd) and who was buried in the Wickham cemetery for which reason we were over there once in a while to visit the cemetery. Another reason I have known Cyrilla through the years was related to the fact that her son Alan Doerhoff M.D. and I shared a dormitory room when both of us were in medical school at M.U. years ago. Back in the forties and fifties Leonard Doerhoff, Cyrilla's husband, and his brother Ray (photo 1a) and other relatives had an orchestra (photo 2) which performed every year at the Tuscumbia Homecoming Picnic. I really enjoyed listening to their music which was of the "swing" style so popular in those days. In a recent letter to me Cyrilla had mentioned how exciting it was when she was a child to visit Tuscumbia (Cyrilla's farm was located near the mouth of the Saline Creek a few miles east of Tuscumbia) with her father and go to the general store owned by my grandparents, Madison and Sadie Bear. During those years, St. Elizabeth and Iberia high school students attended high school in Tuscumbia, so Cyrilla's future husband, Leonard Doerhoff, was quite well known by my mother and father as well as other Tuscumbia students. Cyrilla had attended Eugene High School; she first met Leonard Doerhoff, however, at a Mary's Home picnic, which was annually held at Mary's Home, just a few miles north of the Tellman farm.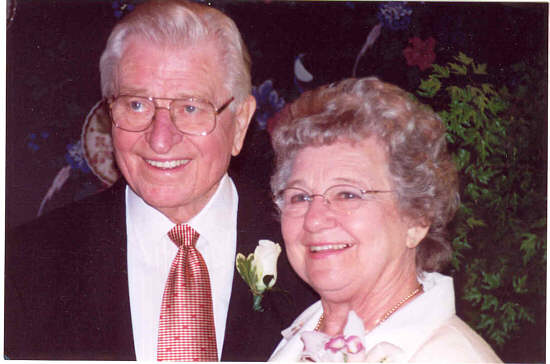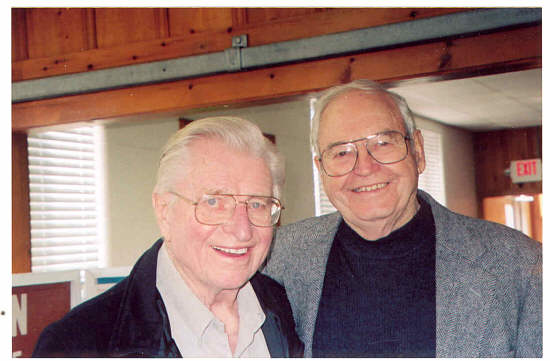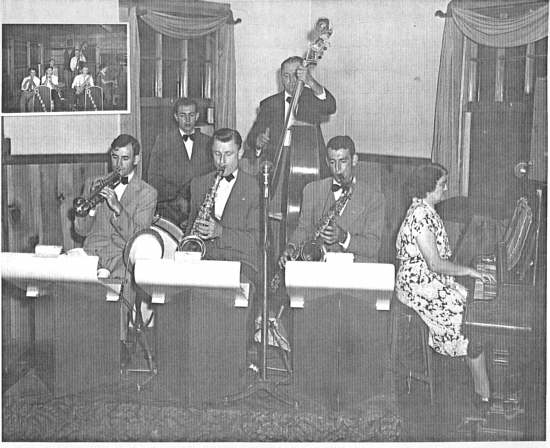 (Editor's note: Leonard Doerhoff was one of the most respected men Miller County ever produced. He was completely devoted to his family and his community. Sadly, he passed away June 16, 2006. His obituary records all the great accomplishments he completed during his lifetime. You can read his obituary at this link:
http://www.rootsweb.com/~moccga/Obits/666.html )
So, Cyrilla and I had enough things in common to keep us busy talking the entire afternoon the day I visited. First, we went on a tour of St. Elizabeth since it had been some time since I had driven up and down the streets of the town. I was quite impressed by the Wilde family home development southwest of town where some very nice new homes are being constructed in a very beautiful wooded setting. Then we took County Road E north to see the very large and well equipped baseball field for which Leonard Doerhoff, Cyrilla's husband, and some other community leaders obtained the funding for construction. The baseball field (photo 3) has the capacity and facilities to host state and regional tournaments. Nearby, is the Ozark Hat Company (photo 4) which employs forty or fifty people of the area and is another enterprise brought to town by Leonard and his group thirty or more years ago. Continuing on E highway we ascended a hill and approached the old St. Elizabeth cemetery (photo 5) where the very famous early citizen of St. Elizabeth, Owen Riggs, is buried (photo 6). The following is copied from Owen Rigg's obituary from our website at:
http://www.millercountymuseum.org/bios/bio_qr.html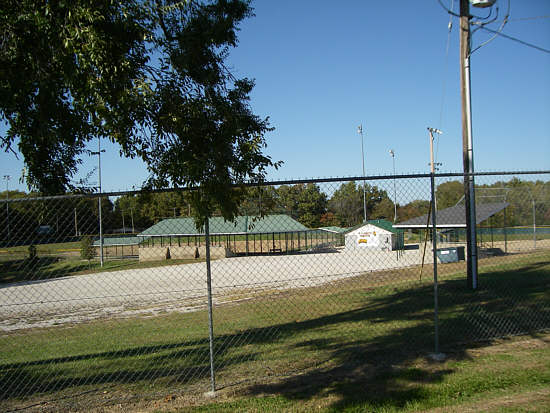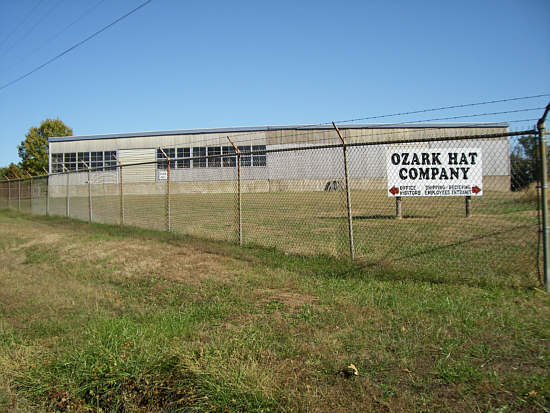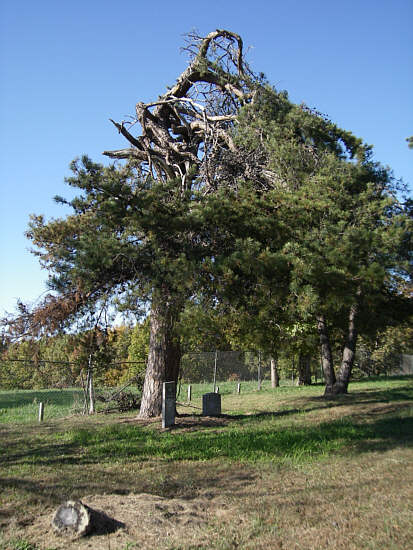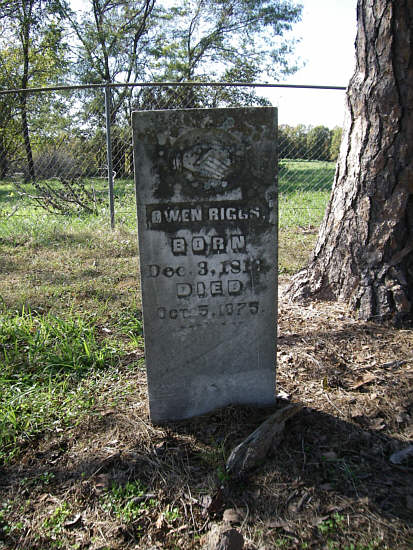 "Owen Riggs established the original town of Old St. Elizabeth on the Osage River in 1869, located on the east bank. He helped to establish the first Catholic Church in Miller County when it was built at Old St. Elizabeth about 1870. Owen Riggs once owned 6000 acres in Miller County in its early days. It took 9 years to settle his estate after his death. With his death came the slow demise of Old St. Elizabeth on the Osage."
Rosa Missouri Riggs, daughter of Owen Riggs, married Cyrilla's uncle, Herman Tellman, who was the son of her grandfather, Johannes Herman Tellman. Although Cyrilla was born and raised on the North side of the Osage River, she has historical Miller County family and friend relations from both sides of the river. In fact, when she was a child living on the Tellman farm, her very good friend, Doris (Edwards) Wyrick (whose father John Edwards owned a large farm on the south side of the river), often would swim the river to come and visit Cyrilla.
Continuing on E we turned off to the left onto Hoecker Rd. and passed by the well maintained Missouri State Conservation access (photo 7) to the Osage River which is near the confluence of the Big Tavern Creek and the Osage (photo 8). This is a beautifully scenic area overlooked by high picturesque bluffs (photos 9 and 10). It is in these bluffs one finds the huge mouth of "Bat Cave", which is pictured poorly in this photo (photo 11) because of the overhanging tree branches. However, one can see the cave mouth very well looming above the steamboat J.R. Wells in this photo taken many years ago from a location across the river (photo 12). This cave is not open for exploration as the Conservation Commission wants to maintain a protected status of the cave for the purpose of not disturbing the bat population which breeds there (photo 13).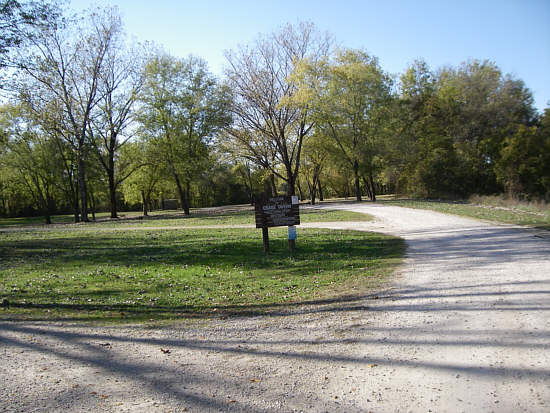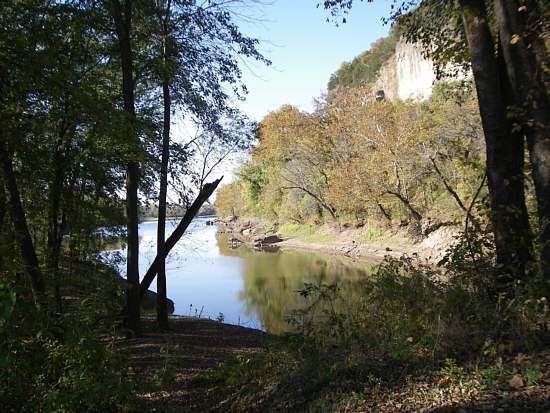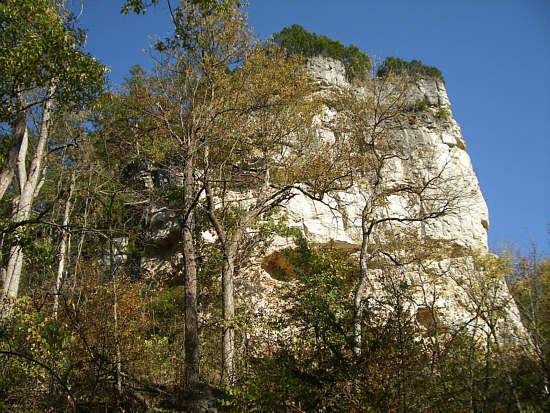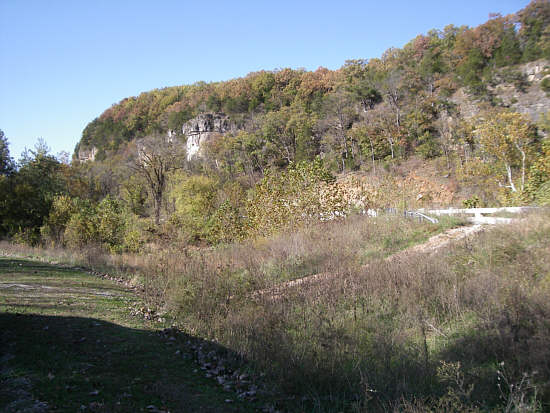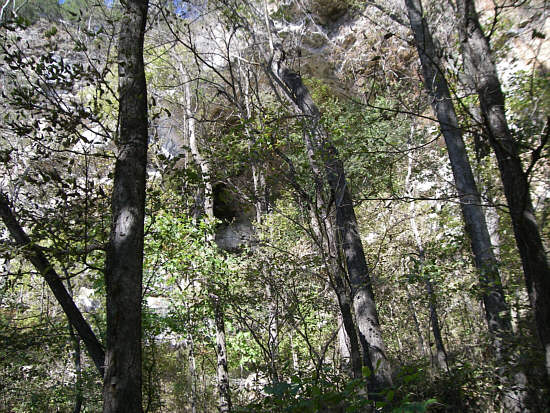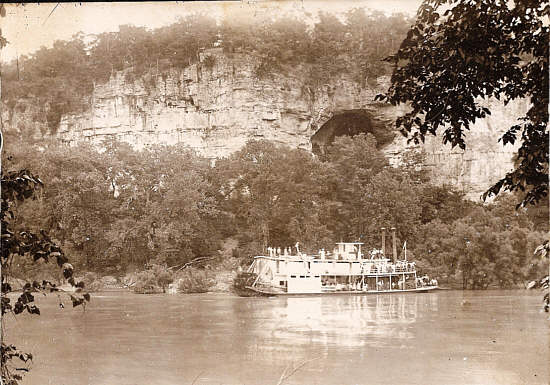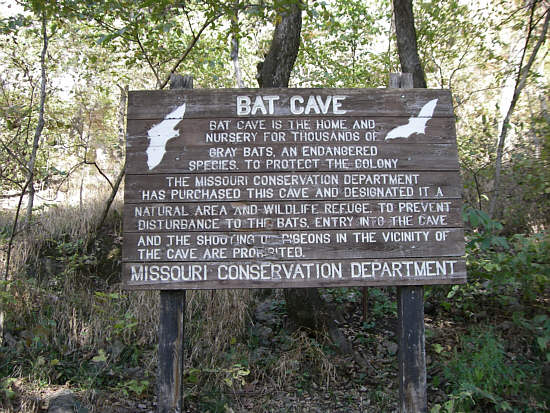 Passing under the cave entrance we traveled further along the river edge with the bluffs high above until we began to turn away from the river and came to the area where the town of Hoecker once was located. However, all evidence of the town is now gone, replaced by modern farm buildings and a home. The railroad once came through Hoecker where also a steamboat landing was located nearby on the river as well. The railroad bridge across the Osage was also close by. Here is a photo of the bridge under construction many years ago (photo 14). You can read more about Hoecker as written by Kelly Warman-Stallings on our own website:
(http://www.millercountymuseum.org/communities/hoecker.html).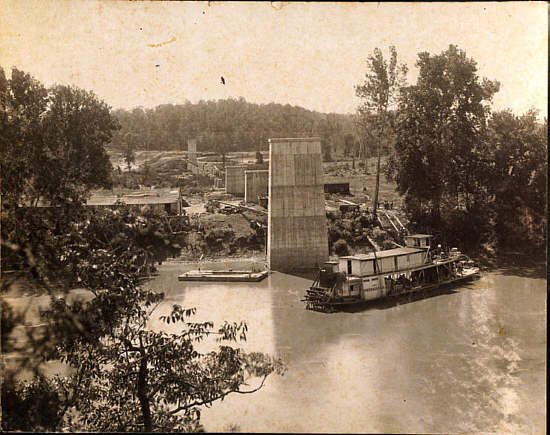 Leaving Hoecker we traveled through some beautiful country to reach the Old St. Thomas road where we turned south and returned to St. Elizabeth. I would recommend this little trip to everyone during these fall days when the colors on the trees begin to change.
Upon entering St. Elizabeth from the north we turned into the residential area which is located near the new track and field facility. I referred to this area last week when I reproduced from the Autogram the photo and narrative celebrating the dedication of the gift of this land to St. Elizabeth for the new Track and Field area by the Dr. Victor Schell family. As the article stated, Dr. Schell had died recently and his family made the decision to donate in his memory a portion of the land from the original Schell property on which also was located the home of Al Schell (Victor's father) where Victor grew up (photo 15). I had known Dr. Schell for a short time forty or so years ago when both of us were at the University of Missouri Medical School.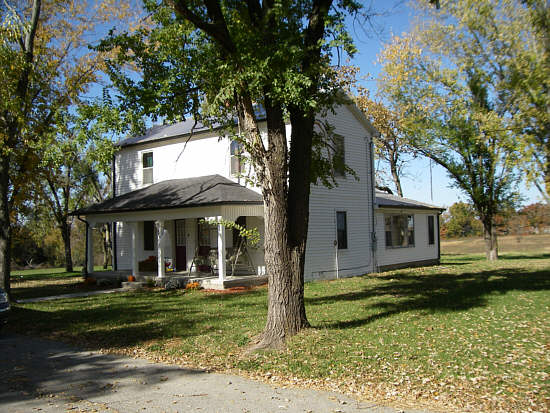 Going on into the center of town Cyrilla showed me the large Community Center (photo 16) which had been constructed several years ago with funds raised by the Community Services group headed by her husband Leonard Doerhoff. Across the street is the St. Elizabeth School where new recent additions have been made, and also nearby, in the center of town, is the large and impressive St. Lawrence Catholic Church built in 1906 (photo 17). This church is one of the most beautifully constructed edifices in our county, perhaps even in most of the state. It was relocated here from the original location near the Osage River because of fear of an epidemic which was occurring then having caused many children to die. It was thought that moving the church to another area, especially higher ground, might prevent the spread of the unknown contagious agent which was passing from one person to another, especially, it was thought, in crowded environments. The church at its new location was placed on a foundation of large stones, each four by six feet in dimension, and each family was charged responsible for delivering one stone, whether they hired it done or did it themselves. On site, four hundred thousand red bricks were made locally for the building. Inside, the work of master carpenters, wood carvers, sculptors, and artists contributed to the creation of one of the most beautiful sanctuaries one will find anywhere in a church building (photos 18 and 19). About thirty years ago, a trend developed which desired the de-emphasis of works of art such as ornate sculptures, figures and paintings considering their presence distracting. Thus, many of the works of art in St. Lawrence Church were removed and replaced by a "modernistic" look (photo 20). However, later with a change in philosophy about works of art in the church a search was made to relocate them. Miraculously, most of the objects, statures, paintings, and sculptures were found and replaced which returned the sanctuary to its original appearance. You can read about the Catholic Churches of Miller County on our own website at:
(http://www.millercountymuseum.org/catholic.html).
There you will read more about the history of the church in St. Elizabeth but also about the church in Mary's Home where Cyrilla's grandfather, Herman, was one of the first members and one of its major supporters.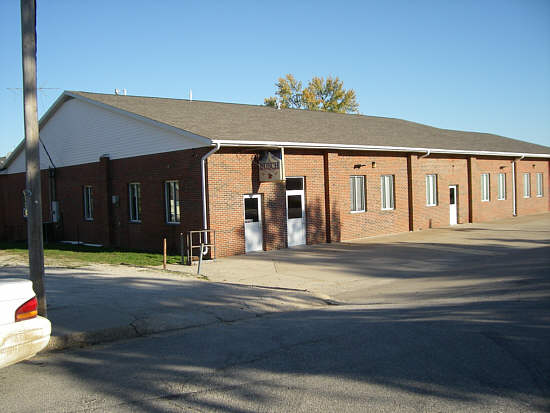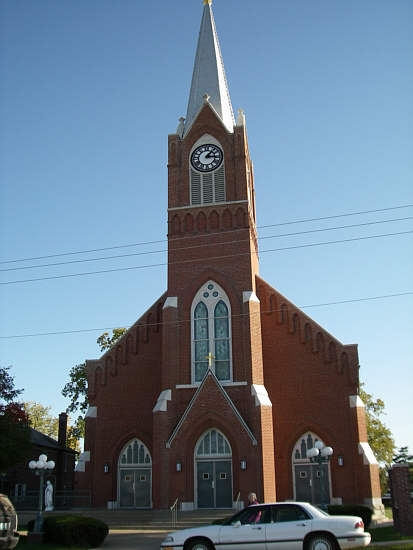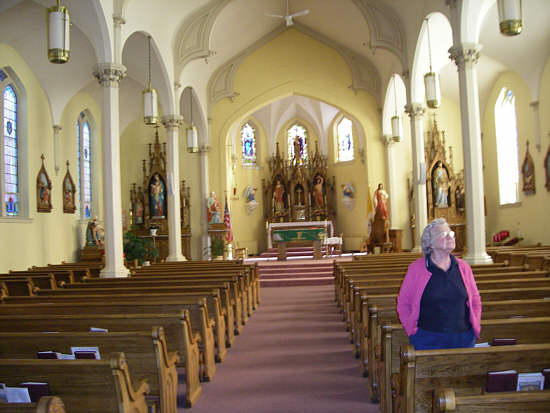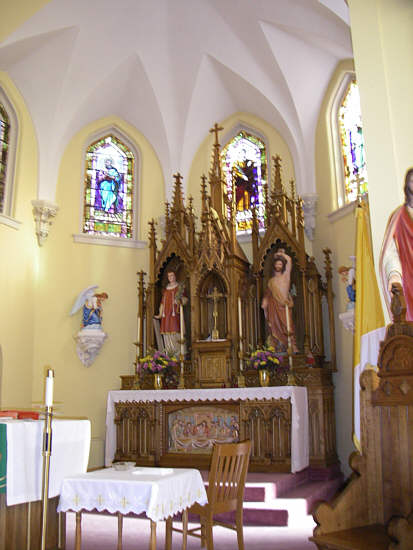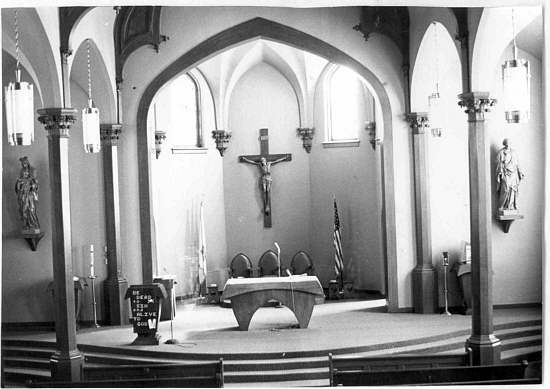 After leaving the church we returned to Cyrilla's home (photo 21). She told me that this home was one of the oldest in St. Elizabeth, and, in fact, at one time was the Bode hotel (photo 22). She and Leonard lived there most of their married life.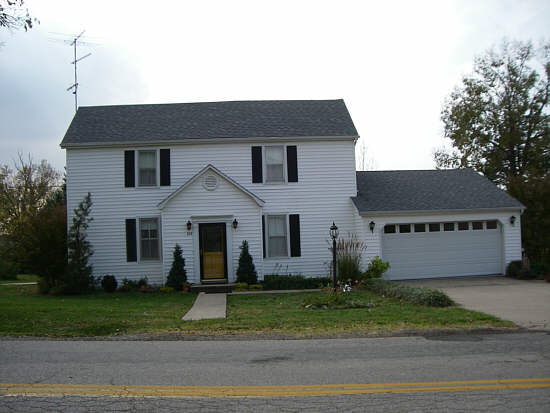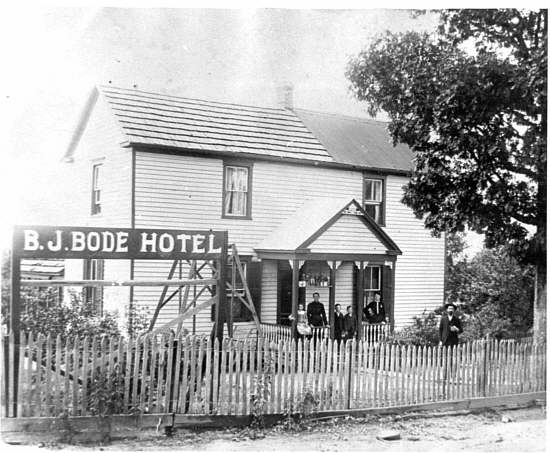 Since the main reason for my trip was to acquire some old photos and the history of Cyrilla's family, the Tellmans', we spent the rest of visit scanning photos with Cyrilla offering many anecdotes from her earliest memories growing up on the historic Tellman farm located between Tuscumbia and Mary's Home. The Tellman farm was the site of one of the most important historical events in Miller County because it was here that the county was first organized. This historical fact was recorded as long ago as 1889 in Goodspeed's History of Miller County: "Location of County Seat.-The temporary seat ordered in the organizing act was William Miller's old log house on the present Herman Tillman(sp) place, near the mouth of Saline Creek. " Goodspeed's History of Miller County p. 538.
The Tellman early family history is interesting and, in fact, has already been uploaded to our website by Peggy Hake
(http://www.millercountymuseum.org/bios/bio_t.html). You will need to scroll down the page to get to the Tellmans' since the bios are listed in alphabetical order. However, I will copy to this page the full text so that I can intersperse some of the old photos Cyrilla gave me.
HERMANN S. TELLMAN
Herman S. Tellman (photo 23) was born in Hanover, Germany on 31 May 1833. He was a son of Johannes Herman Tellman (1792-1881) and Susanna Tellman (1801-1876) both natives of Aschendorf, Germany and from the same Tellman ancestral family. Herman Sr. was a blacksmith and locksmith by trade. He also served in the German War under General Wellington and was at Waterloo where he fought against Napoleon Bonaparte. In the spring of 1837, Herman, Susanna, and their 6 children came to America on the Russian vessel, BRILLHUFF/BRAILOW and landed in New York harbor after sailing the Atlantic for 93 days. Three more children were born after they settled in Central Missouri. Back in their native Aschendorf, Johannes and Susanna left many of their ancestors peacefully at rest in the cemetery at St. Amandus Church.
The Tellmans ventured on westward, part way by canal, and stopped in St. Louis for a short stay. Herman went on to Jefferson City and entered a tract of land five miles south of the city near present-day Wardsville on Moreau creek. When he bought the land there was a small log cabin on the property which became his family's first home in America. In 1837, Jefferson City was a small place with only one brick house and two stores. Herman helped build the first state capitol and also helped in the construction of the city's first Catholic Church.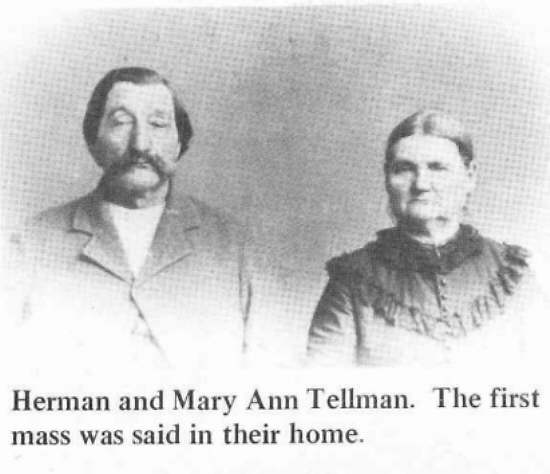 ? The children of Herman and Susanna Tellman were:
? Anna Elizabeth Tellman b. 1824 m. Xavier Schwaller
? Maria M. Tellman b. 1826 m. (l) Andreas Sachs (2) Bernard Richter
? John E. Tellman b. 1828 m. Mary Ann Meyer
? Elizabeth Tellman b. 1830 m. Charles Stockman
? Herman S. Tellman b. 1833 m. Mary Ann Schwaller (sister to Xavier)
? Gesina Tellman b. 1836
? August Antone Tellman b. 1838 (killed in the Civil War)
? Jane Tellman b. 1841 m. Paul Ihler
? Euphemia/Fannie Tellman b. 1844 m. Phillip Helbrant
Johannes Herman and Susanna Tellman lived the remainder of their lives on their Cole County farm and were both buried at St. Stanilaus Cemetery in Wardsville. Susanna died in 1876 and Johannes Herman lived until 1881. Herman S. Tellman, son of Johannes Herman and Susanna, was about 4 years old when his family came to America. He was reared on the family farm and received his education in the common schools of the county. As a man he had several occupations including barkeeper, guard at the state prison, constable for 2 terms and a farmer. During the Civil War he served in the Missouri Home Guards and the State Militia where he held the rank of 2nd Lt. and was in Price's raid. His brother, August Antone Tellman, also a member of the Home Guards, was killed during the war. Herman married Mary Ann Schwaller 29 January 1856. She was born in Ohio 16 Aug 1836 and was of French descent. Mary was a daughter of George and Mary Ann (Risser) Schwaller, natives of Alsace, France.
? Herman and Mary Ann were parents of 13 children including:
? GEORGE S. TELLMAN
? SUSAN TELLMAN
? FRANCIS H. TELLMAN
? FRANCIS X. TELLMAN (all deceased by 1889)
? HERMAN TELLMAN b. 1864 m. Rosa Missouri Riggs
? HENRY H. TELLMAN 1868-1953 m. Lena Angenandt
? ANTHONY J. TELLMAN 1866-1888 m. Catherine Buechter
? MARY ANN TELLMAN 1870-1894 m. Henry Sanning
? JOHN B. TELLMAN 1872-1934 m. Mary Massman
? CHARLES P. TELLMAN (photo 24) 1874-1952 m. Josephine Evers
? DR. JOSEPH S. TELLMAN 1876-1943 m. Minnie Dickneite
? GEORGE P. TELLMAN b. 1879 m. Mathilda Cremer
(photo 25 of Herman S. Tellman family)
NOTE: As was common in German ancestral families, several of the children were given the same name: 2 Georges, 2 Hermans, and 2 Francis' in the Tellman family.
In March 1860, Herman and Mary Ann (Schwaller) Tellman moved to Miller County and bought a good Osage River farm in Equality Township, downriver from Tuscumbia, They purchased the farm from Wesley Hackney. (NOTE: Wesley Hackney was a very early Miller County settler. You can read about him on our website at (http://www.millercountymuseum.org/bios/bio_h.html).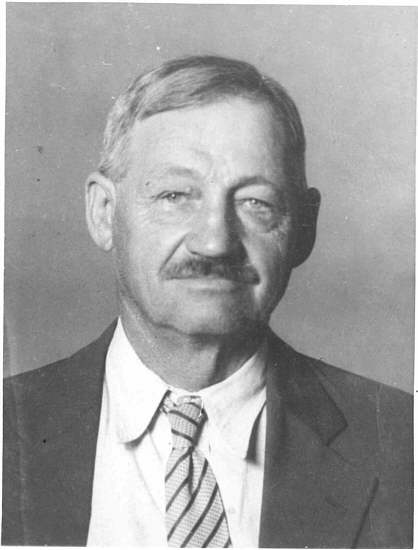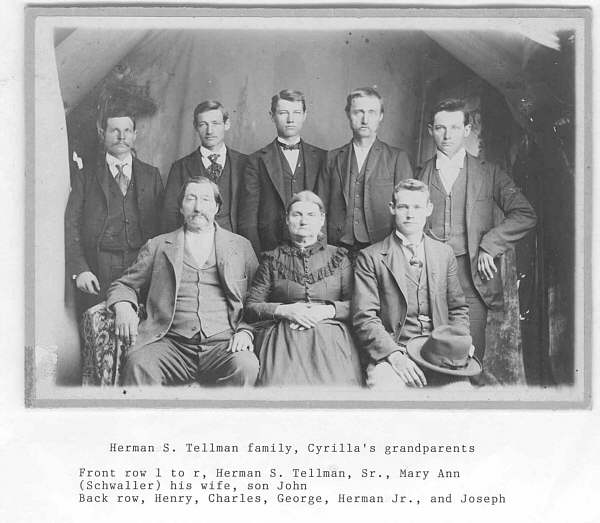 The Tellmans accumulated over 500 acres of land and became prominent stock dealers. In 1900, the Tellmans' nearest neighbors included John and Minnie Kallenbach, Joshua and Lucy Wells, Levi and Annie Hawken, Oliver Rush, and James Richardson. The Herman Tellman home was steeped in history. It was the original log cabin built by William Miller in the early 1830s. When Miller County was established as a Missouri county in February 1837, the first session of the county court was held within the walls of the Miller log cabin, later to become known as "the Tellman place". Herman added rooms to the original one-room cabin until it became a spacious farm home. (NOTE: To completely understand the historical significance of the original one room cabin built by William Miller one should read about this very important man who was one of the most important individuals who helped obtain official state approval of the establishment of our county and its name. You can read all about William Miller on our website at:
http://www.millercountymuseum.org/bios/bio_m.html Because all the family names are in alphabetical order, you will have to scroll down the page to get to it where it is titled: "The Miller Family of Miller County Missouri".) Mary Ann Schwaller-Tellman died at her home 3 Feb 1904 at the age of 68 and was buried at Mary's Home Cemetery. Herman lived until 26 Oct 1911. At the age of 71 years, he was killed in a tragic accident when hit by a Rock Island train. He was laid to rest in Mary's Home beside his wife with whom he had spent almost 50 years of married life.
NOTE: "The Tellman Family History", written in 1986 by Jean Tellman Ketterman, documents the family's history back to Bernard Tellmann and his wife, Anna Potts, of Herbrum, Prussia in the late 1600s. Both are buried in the churchyard of St. Amandus Church in Aschendorf, Germany.
The above narrative was a family history of the Johannes Herman Tellman family. Several years ago in the Autogram Louie Lawson wrote a family history focusing on Charlie Tellman, father of Cyrilla and one of the grandsons of Johannes Herman Tellman, which I will copy here:
Louie Lawson History of Tellmans' in Miller County
"Herman S. Tellman was born May 31, 1833 in Westphalen Germany, near Hanover. He came to this country at the age of 4 with his parents, an older brother and sister, and a younger brother. The only thing he could remember of the trip was falling into the Ohio River and a boat hand diving in after him and recovering him.
They came all the way by boat until they reached Jefferson City, where the father bought a farm and settled on the Moreau Creek in Liberty Township. There he grew to manhood. Two younger sisters were born there. His father was a locksmith by trade, and made the locks for the Missouri capitol which was destroyed by fire in 1913. Herman married Mary Ann Schwaller. He owned and operated a farm near Wardsville where he helped to establish and build a Catholic church. This church still stands as first built.
Herman served under General Price in the Union Army, and was in the Home Guards until the end of the war. His brother, Anton, was killed in the Civil War by one of his own men while on guard duty. Herman sold his farm in Cole county and moved to Miller County, where he bought what is now the Tellman farm from Wesley Hackney. This is believed to be the same farm owned by William Miller, where the first Miller County Court was held. Here he spent the remainder of his life. His wife, Mary Ann, died in 1904, but he continued to live there with his son, Charles P., or, as he was always known, Charlie.
When Herman moved to the farm, the house was a one room log house with a half story loft and a lean to kitchen. He added another large room and bedroom, and a porch along the front. Those two front rooms and the porch are part of the house today (photo 26).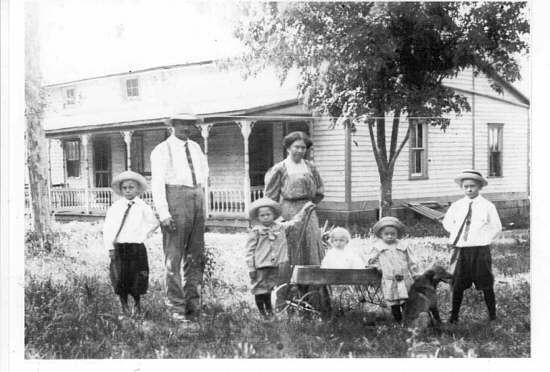 Mrs. Lucy Jenkins of Eugene, Herman's oldest granddaughter who furnished me this information, says her grandmother told her many times that when they moved there the boys had to climb a ladder to get to their beds.
Later Herman bought a tract of land east and down to the mouth of Jim Henry Creek. They always called it the Henderson place. No one seems to know whether that was the name of the man who owned it or not. This gave him over 600 acres lying along the Osage River from the J.R. Wells place to what is known as the Austin Hollow. He also bought the land where the Mary's Home church, school and cemetery are located from Robert Morgan, and donated it for the Mary's Home Catholic Church.
Three of Herman's children died in Cole County. Those coming with him to Miller County were George Anton, the father of Lucy Jenkins, and Herman, Jr., Frank and Henry. Those born on the Tellman place were Mrs. Henry (Mary) Sanning, John B., Charles P., Joseph G., and George. George Anton, the oldest son, died at the age of 27 before the youngest son, George was born.
(NOTE: as you may have noticed, first names are repeated often in some of these old family histories, maybe because so many of the children died early in life).
Charles P., or Charlie, as he was known, bought the home place farm from his father. He was married to Josephine Evers. Johnnie, Charlie's brother, bought the lower half where he built a new home and lived there until his death. His two daughters still own the farm. George and Joe were both dentists. Dr. Joe lived at Belle and Dr. George at Russellville.
After Charlie bought the home place, he built two more rooms below and three above and a large basement. It is said that while excavating for the basement, that in removing the large rock at the old kitchen door, they dug up a skeleton. Charlie inquired around among the old settlers, but no one seemed to know anything about it. They decided it could have been buried there during the war.
(NOTE: Well, now we know something about that skeleton that Louie didn't know. If you want to read about it go to this page on our website:
(http://www.millercountymuseum.org/newspapers/twentylashes.html).
After several years, Charlie not only had enlarged the original home (still including the historic log cabin) but also had constructed numerous out buildings as well (photo 27).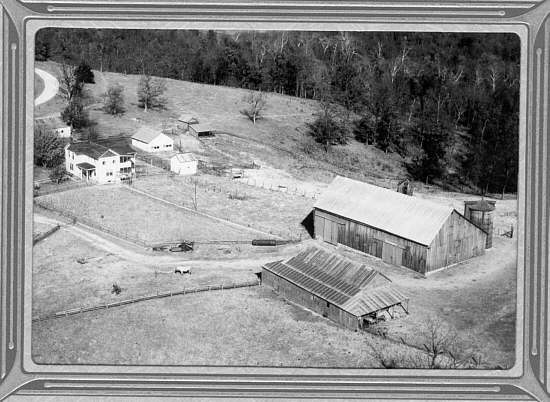 Grandpa Herman was accidentally killed by a fast Rock Island train near the depot at Eugene while waiting for the eastbound train to take him to visit his son Joe at Belle for a visit. Frank and Anton died at an early age. Mary Sanning died in 1899. Herman Jr. lived on a farm south of Mary's Home where he died in 1918. Henry owned and operated a general store until his death in 1956. Charlie was fatally injured by a tractor running over him and died in 1953. They are all gone now. Frank II, the son of Charlie, bought the other heirs out and is making his home on the old farm, the third generation to do so.
Who knows how many more generations will dwell there? "
Thanks Louie.
Cyrilla remembered that Charlie, her father, butchered beef and delivered it to homes around the area including in Tuscumbia. She has many fond memories of going to Tuscumbia with her father thinking that it would be like going to St. Louis or Kansas City today! She especially remembers Madison Bear's general store in Tuscumbia and considered the Bears as especially good friends of her family. Charlie Tellman was well liked and respected by everyone and his farming methods were known to be advanced for the times. The farm and the Tellman family also were very well known throughout the county and surrounding area. So it was understandable that in the early 1980's, when the Conservation Department of the State of Missouri purchased the Tellman farm as part of its general acquisition of several thousand acres of the Saline Creek valley, an effort was made by many interested parties to preserve the home as a historic site since it was where Miller County was first organized in 1837. Much effort had been made by the Tellman family through the years to maintain the integrity of the original log cabin where the first Miller County Court session was held in 1837. The home always had been known to be a historic site, perhaps the most important historic site of the entire county. Cyrilla wrote a personal history of her knowledge of the home where she was raised for the Miller County Historical Society several years ago and you can read about it on our website at this link:
(http://www.millercountymuseum.org/homesteads/tellman.html).
As part of the effort to work with the state to save the historical house a letter was sent to the Department of Conservation in 1983 by attorney Dale Doerhoff, grandson of Charlie Tellman, in which he presented a plan for the purpose of preserving the home. The letter is interesting in that it gives a very good history of the original log cabin and the events that took place there in relation to the early beginnings of Miller County:
COOK, VETTER, DOERHOFF AND PLETZ
ATTORNEYS AT LAW
THE HOPE BUILDING
231 MADISON
JEFFERSON CITY, MISSOURI
July 25, 1983
Director Larry R. Gale
Department of Conservation
Box 180
Jefferson City, MO 65102
Re: Miller-Tellman House
Dear Mr. Gale:
I am writing in behalf of a group of citizens interested in preserving the Miller-Tellman House located on property recently acquired by the Department of Conservation at the confluence of the Saline Creek and Osage River. This house has major historical significance. At the core of the house is a log structure erected by the Miller family. Miller County was created by the Organizing Act approved by the Governor on February 6, 1837. This Act designated the Miller House as the official county seat until a permanent location for the courts could be established. The Miller County Court first convened on May I, 1837, at the Miller House, and it held its May term at that location. During that term, the townships were formed, the first election was ordered and other actions were taken to provide for governance of the county. The first two terms of the Circuit Court were also held at the Miller House, the first session being on June 22, 2837. On that date the Attorney General of Missouri was present along with the Circuit Judge, County Clerk and Sheriff, and a grand jury was summoned. The first trials in Miller County were conducted at the Miller House. The permanent seat of county government was established at Tuscumbia, and later terms of the County Court and Circuit Court were held there. Tuscumbia is still the county seat, and the Miller House was the only place official county business was ever transacted outside of Tuscumbia. In 1869, Herman S. Tellman purchased the house and farm, and the property remained in the Tellman family for almost a century.
While owned by the Tellman family, the Miller House, which was made of logs, was enclosed and the house was expanded to a two-story frame structure. The house has not changed in appearance for over fifty years. It is one of the finer examples of an Osage River manor-house. While in the Tellman family, the house was the hub of a large, plantation-type farm. It served as an important center of commerce and religious and cultural activities for the northeast quarter of Miller County.
Many people are interested in seeing that the Miller-Tellman House is preserved. The Tellman family and other interested persons have formed the Miller-Tellman House Preservation Association. Leonard J. Tellman of Jefferson City is the president of the association. Mr. Tellman is the oldest surviving person who was born and raised in the house. The Miller County Historical Society supports the preservation efforts. A copy of a letter of support from the president of that society is attached. Also attached is an article published by the Miller County Historical Society on June 17, 1983, which summarizes some significant events and includes a picture of the farmstead.
The house is presently in a good state of repair. Mr. Tellman and other family members recently viewed the house, and they outlined the work that needs to be done to restore the house to a very good condition. The front porch needs rebuilding, a few weather boards need to be replaced, one window that does not match the original windows must be replaced and, although the roof is not now leaking, new roofing should be installed as the present shingles are beyond their useful life. The exterior also needs painting, and the guttering needs replacing. The total cost of materials for repair is estimated to be $7,000. The labor would be donated. All restoration work would be done in accordance with the Secretary of Interior's Standards for Rehabilitation. The Association has been working with Ms. Jill Johnson at the Department of Natural Resources and has informed Mr. James Loveless of your Department of the interest in preserving the house.
I understand that there is a preservation project on the Weldon Springs land called the Wolf-Ruebeling House. This project involves a more extensive (and expensive) restoration than would be involved with the Miller-Tellman House. I understand that those involved in the Wolf-Ruebeling House project propose to lease the house from the DNR who will lease the house from the Conservation Commission. I also understand that the Commission will reimburse the developers for the cost of the materials used in the restoration if and when the lease is terminated by the Commission. Although our Association would be willing to enter into a similar agreement, my clients feel that it would be a better arrangement if they were to purchase the Miller-Tellman House from the Commission and have the Commission retain the right to repurchase the house upon repayment of the sale price to the Association and reimbursement for the cost of repair materials. Under this arrangement the Commission would have no liability exposure for the condition and use of the house and surrounding premises.
The Association proposes that it be given the right to retain the house for at least 15 years, as that is the minimum holding period to qualify for the historical preservation investment tax credit and depreciation. The Association would lease the house to a full-time resident who would help protect the house. The house would be available for tours and historical meetings on an appointment basis. The present gravel roadway from Highway 17 to the house would be maintained as a private roadway with no access to the general public. Along with the house the Association proposes to own or control the large barn (the only remaining outbuilding) because it furnishes the water for the house cistern, and 2 to 3 acres of ground to include the yard and garden (which are both fenced) and the lot between the barn and the bluff. Preservation of the house and its use on the limited basis proposed should not conflict with the conservation uses of the area. If the Commission desires to have any additional controls or to impose other terms for the use of the house, my clients would be willing to consider any reasonable proposal. I am sending copies of this letter to Jill Johnson and Jim Loveless so that they will continue to be informed of our efforts. I am also sending a copy of this letter to Mr. Cyril Hendricks as General Counsel for the Commission. I would be willing to work with Cy on any legal issues that may be involved with this proposal.
Thank you for your consideration.
Yours truly,
Dale C. Doerhoff
However, during the time that arrangements were being made with the State Department of Conservation to maintain the original home, which at that time was unoccupied, a fire occurred which destroyed it preventing the family and the state from working out a plan to preserve it.
Because the home is now gone I wanted to collect all the information I had about it and put it all in one place on this website to better inform those readers who might be interested in the historical origin of our county and where it all began.
---
This week our discussion of the cedar woodworking industry of Miller County focuses on the Raynor family owned Osage Products Company. The company was started in Linn Creek by Bill Raynor Sr. (photo 28). A very good interview of Bill Raynor III (photo 29), Mr. Raynor Sr.'s grandson, was made by writer Oris Jones for Business Focus magazine on October 30, 1989 in which a detailed discussion of the origin and growth of the Raynor Company was given by Mr. Raynor. Many changes in the entire cedar wood industry have occurred since the time of this interview which took place in 1989. However, the interview by Mr. Jones is so interesting and complete I thought it best would represent the story of the Raynor family's business. Their company did more than just make souvenirs and novelties but specialized in cedar wall linings and cedar wood byproducts and at one time was one of Eldon's largest employers.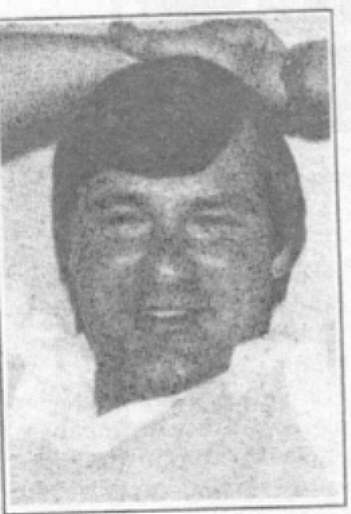 Interview by Oris Jones:
"The Lake Area has long been the center of a large and prolific cedar craft industry. While the industry is less obvious and involves fewer people than tourism, it is an industry unique to our area, and perhaps has greater national and international recognition than does the Lake of the Ozarks itself. Although this article focuses on Osage Products of Eldon, founded by Bill Raynor Sr., we should perhaps establish perspective on the subject by briefly exploring the local cedar craft industry's background and the fascinating material which made it possible. The Ozarks is the heart of the red cedar region. To the rest of the world red cedar is as exotic and desirable as the black ebony or purple heart woods of Africa. The remarkable wood is streaked with ivory and bright purplish reds; it has an intriguing, tantalizing fragrance-not sweet or stifling-but fresh and startling. The tree is the heartiest of all Ozark timber; it will grow and prosper on a dome or bluff of solid rock where other trees cannot gain a foothold or find nourishment. And the tenacious red cedar may remain on such an unlikely spot for hundreds of years, embellishing the Ozark hills with tufts of green throughout the seasons.
The pioneers who made the Lake of the Ozarks area the world's largest producer of red cedar products were in many ways as tough and persevering as the beautiful wood they commercialized. The men were Clement Kraml of Iberia; John Deere and Lon Stanton of Lake Ozark; John Blair Sr. of Camdenton; Fred, Harold and Ansel Pryor of Tuscumbia; and Bill Raynor Sr. of Eldon.
All these men launched their businesses in the late thirties and mid forties-just after Bagnell Dam was built-and the businesses they created thrive today. Kraml started his company in a chicken house. The Pryor brothers started in a horse barn; Lon Stanton in a farm shed; John Deere and John Blair Sr. set up shop in their basements; and Bill Raynor Sr. converted a garage in Linn Creek into a shop.
At first this new industry supplied the souvenir shops which sprang up around the new Lake of the Ozarks. The dainty Jewelry boxes and other cedar souvenir items produced in these humble shops were much in demand; many tourists had never seen this colorful fragrant wood before. Soon these prolific craftsmen saturated the Lake Area and branched out to other areas where customers were waiting and competition among themselves was not so intense. At this point these men and the family members who worked beside them were becoming industrialists and were outgrowing the area that gave birth to their industry. Now these colorful, fragrant red cedar products can be bought in stores through out the Unites States, Canada, South America and Europe.
Although the Bill Raynor Sr. company, Osage Products, manufactured souvenirs for a short time, Raynor soon switched his operation to focus on other qualities of the remarkable red cedar. As stated earlier people love the fragrance of red cedar, but insects cannot stand it. At the same time it makes a home smell nice; it drives away the bugs, and even erases the earthy smells pets produce. Raynor focused on these features of red cedar and commenced manufacturing red cedar closet linings and pet bedding. The company was formed in 1944 in Linn Creek as a manufacturer of tongue and groove oak flooring, but soon went into the production of cedar closet linings. The closet linings could be produced on the same equipment as the oak flooring, and cedar was a more lucrative material than oak. Raynor moved his company to Eldon after the Linn Creek plant burned in 1953.
Osage Products is a family business. When Bill Raynor Sr. died on the job of heart failure in 1974, his son Bill Jr. took over as company president. In this interview I spoke with Bill III, one of five of Bill Jr. and Joyce Raynor's offspring involved in the business. Bill III was graduated from Eldon High School in 1974, and from Marquette University in Milwaukee, Wisconsin with a degree in business administration. Eleven years ago he joined Osage Products as a salesman.
Business Focus: What do they call you around here to distinguish you from the other Bill Raynors?
Raynor: I'm called by several names: "Little Bill," "Young Bill," "Bill Three," "Trey." I tell you though; it's hard to establish a relationship with a guy over the phone when the receptionist tells him he needs to talk to "Little Bill," It doesn't set the right mood for doing business. That's why I named my son "Adam."
Business Focus: Smart. And you're general manager?
Raynor: Technically, I suppose. But it's a family business and everyone does everything. I might be in New York on business one week and driving a truck the next. We don't really go by specific job titles: we all pitch in and get the Job done.
Business Focus: Since your business is nationwide. you must have a lot of salesmen on the road.
Raynor: We do ship throughout the United States and Canada but Dad and I are the only salesmen. Recently my brother Michael started doing some national sales, but all the sales are done from here via telephone.
Business Focus: How do you establish company and product credibility over the telephone? Wouldn't a major handler of your product require a meeting?
Raynor: Oh yeah. I spend about three weeks a year in California. About one-third of our business is in California. mainly L.A, and the Bay Area. But we've had a lot of our customers since the '40's, and we sell to some of the finest companies in the United States: Georgia-Pacific, Boise-Cascade, and Weyerhauser. And also to fine retailers: Grossman's on the East Coast, Home Depot in the Southeast, Home Club. .. all home-center type retail stores. Then we sell to some of the finest distributors in the country, many of them personal friends of our family for many years. So many of our customers go back 40 years! It's amazing.
Business Focus: How much of your business is in Canada?
Raynor: About 20 percent. Cedar doesn't grow there. Cedar doesn't grow much farther north than we are right now in any amount or quality that could be harvested and processed.
Business Focus: Where do you fit in nationally in the manufacture of cedar closet linings?
Raynor: Second. The largest is George C. Brown, Inc. of North Carolina.
Business Focus: What would you say was the first major milestone that changed the direction of the company?
Raynor: Well, the switch from producing oak flooring to cedar closet linings, of course. But the pet bedding was a very major milestone. The cedar shavings that we now package and sell were at first just a by product of the closet lining process, a waste. As Granddad used to say, "I gave away a million dollars of the stuff before I knew it was worth anything'" That product changed the company lot. We often say around here that if we didn't have any byproducts to sell we'd be out of business.
Business Focus: Now that your byproduct is such a marketable item, how do you regulate production of it?
Raynor: The shavings aren't just a byproduct now. Most of it is manufactured out of low-grade logs, scraps from the sawmills, and a byproduct of closet lining production. Shavings are as much a manufactured product now as a by product. Then from the manufacture of shavings we get another byproduct which is turkey litter. We screen the dust out of the shavings and sell it to turkey ranchers and they put it on the floor of the turkey barns to absorb the droppings.
Business Focus: How do you market the pet bedding?
Raynor: It goes mainly to pet stores and stores that handle pet supplies. Wal-Mart is the largest handler of Pet's Pal. They buy it under our brand name.
Business Focus: Pet's Pal? That's your brand name?
Raynor: Yeah. We're Wal-Mart's major vendor of shavings, their largest supplier and they do a tremendous volume. They handled about 250 truckloads of Pet's Pal last year. Another major company which handles our shavings is Hartz Mountain Corporation. They package it under their own brand name but we're their sole supplier.
Business Focus: What kind of pets is it for? Cats?
Raynor: Oh no. it's not used for cat bedding at all. It clings to cat's fur and they mess up the house with it. It's bedding for caged animals: gerbils, hamsters, rabbits, rats and also dogs. You sew it into a pillow and it makes wonderful bedding for dogs. Or for outside dogs you just put it in the doghouse loose.
Business Focus: You haven't mentioned your production of cedar novelties.
Raynor: It wasn't major. We made novelties for a while in the late 50's, then got out. But it was just a small part of our, business. It was labor intensive, and we were more capital and equipment oriented
Business Focus: How much of your business is in closet linings?
>Raynor: At least 50 percent. Our closet lining business equals Pet's Pal and OP Hardwood stores combined.
Business Focus: OP Hardwood?
Raynor: Yes. Osage Products Hardwood stores. Another milestone, and that's what we're most proud of right now. We've got three stores: the Eldon store that we've had for three years, then one in Springfield, Mo, and this summer we opened one in Columbia, Mo. We sell hardwood, mainly oak, walnut and ash to cabinet shops and hobbyists, and also handle exotic woods from all over the world. The stores are places where the hobbyist can walk in and hand pick the boards he wants to make a table out of.
Business Focus: Then the do-it-yourselfer is a major customer of yours in hardwood and closet linings.
Raynor: The do-it-yourselfer is our main customer, representing about 95 percent of our business in closet linings. He can walk into a home center and buy closet linings to take home and install himself. All he needs is a hammer, nails, and a saw. Then our new product is drawer linings, a concept I invented while in college. We used to grind defective closet lining boards into shavings, but now much of that material goes into drawer linings. We're going after the mass merchandisers: K-Mart, Wal-Mart, Woolworths-with the product.
Business Focus: Did Bill Jr. make major changes when he took over the company?
Raynor: Not really. He actually took over the day-to-day control in the early 70's, but he made no major changes because he'd had influence all along, as much input as Granddad had. All the family members have input in the business. We fight and fuss among ourselves and feel that we come out with better decisions than by just taking directions from one person. I've got to stress that this is a family business. I came into the company right out of college. My next brother, Michael, who's a year younger, worked for a while in North Carolina at some of the big pine mills, then came back to Osage Products to run our sawmill operations. He's now involved in our national sales program. As well as serving as purchasing manager for our OP stores. The next brother, Pat, two years younger than me, runs the OP store in Springfield. Next in line is Tina Keller, who runs the OP store in Eldon and oversees the advertising and administration of all three stores. Next is Mary. She and her husband, Steve Darlin, run the store in Columbia. There are seven Raynor children. Five are active in the business and two are in college.
Business Focus: How many employees do you have?
Raynor: About 85. There's 65 or so here at the Eldon plant, and the OP stores have about five employees each, and there's about five at the sawmill.
Business Focus: Where's your sawmill?
Raynor: Flippin Arkansas, which is famous as the home of Ranger bass boats. The cedar logs are processed at our mill and shipped to the Eldon plant as planks.
Business Focus: Do you anticipate a shortage of cedar?
Raynor: Not shortage of material, no. There's more cedar now than there was at the turn of the century old-timers say. But there is a problem in getting the logs to the mill. There's just fewer people who want to work that hard to cut it and bring it to the mill. No shortage of logs: there's a shortage of loggers.
Business Focus: What are you going to do about that?
Raynor: Pay them enough to make it worth their time.
Business Focus: Are you experiencing a labor shortage here?
Raynor: No, not in Eldon. But we don't have a lot of quality applicants coming in. We have a very low turnover rate because we pay some of the highest wages in the area. We have a good production bonus system; we get good people and we keep them by paying them well and offering good benefits. But I'm aware of the area labor problem, and believe that the problem is going to get worse. There are more jobs being created than there are people to fill them. It's going to get to the point where we'll be worried not only about quality applicants; we'll be worried about applicants of any sort.
Business Focus: Have you ever had a shut-down over lack of material?
Raynor: In the mid-70's we often had to shut down for that reason. That's why we own our own sawmill in Arkansas, and have invested in another in southern Missouri. We need to control the supply end to protect ourselves and make it more profitable for the loggers. It's coming to that.
Thank you Mr. Jones.
---
We continue to be very grateful for the volunteers who come to the museum to help us on various projects. Recently, we had the pleasure of welcoming Linda Heller and Peggy Phalen who joined regular volunteers Doris Wiggins and Karen Smith for some sorting of old probate files (photos 30 and 31)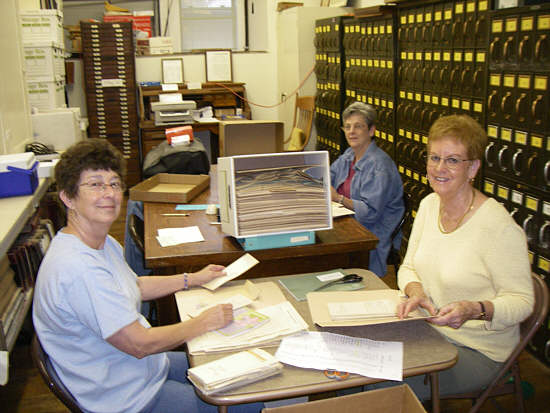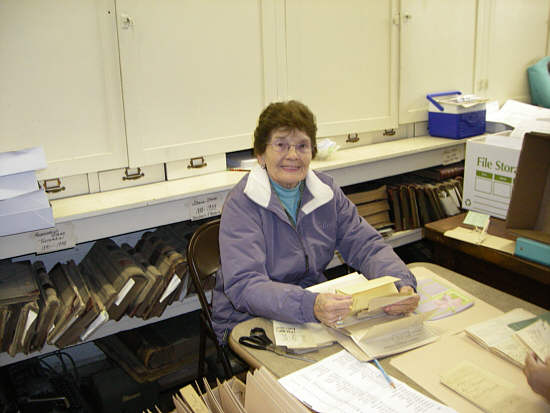 Here is the "What's that thing?" for this week. It looks like a giant bug or something but it had a daily use for people many years ago (photo 32).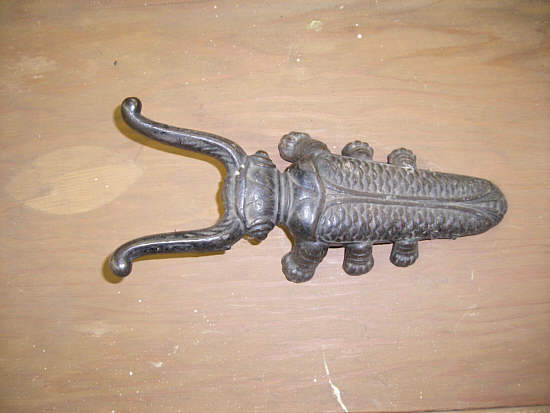 It is a boot remover, a handy device for days in the past when about all men wore boots, many times without laces. The boot remover was a lot easier way to remove boots than sitting on a chair and trying to pull them off cross legged.
We are working very hard everyday to get the new museum redesigned and arranged in preparation for next spring's grand opening. We plan to have a "Grand Opening" of the new museum next spring. We are also reviewing every item that is stored in the museum. Sometimes we come across some of the most interesting items. Not to mean that they aren't recorded in our accession files, but occasionally smaller things escape attention. Once in a while we find something that may have come from one of our own families. In my case, it was an old outside thermometer sold by my grandfather, Madison Bear, at his general store in Tuscumbia back in the 1920's (photo 33). Over time it has lost the glass tube indicator with the mercury. I have a feeling that something that insignificant probably had been given to the Anchor Milling Company hardware store building (where the present museum is located) by my grandfather as an advertising effort. Somehow, I doubt that whoever was the museum director years ago would have wanted it as a display item for the museum.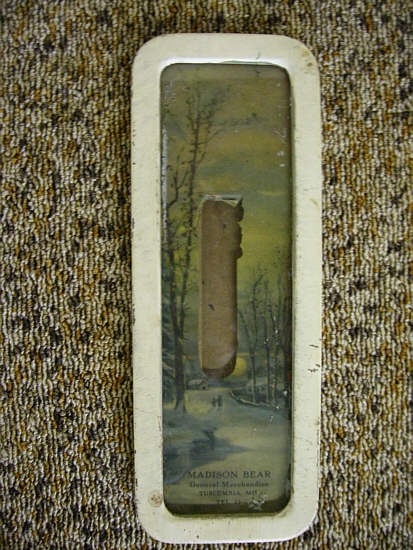 Before signing off here are some photos I took of the scenery on highway 52 on my way home from St. Elizabeth going west: (photos 34,35,36). The fall colors weren't as brilliant this year as usual but a drive on highway 52 between Tuscumbia and St. Elizabeth is hard to beat for scenery no matter what the season.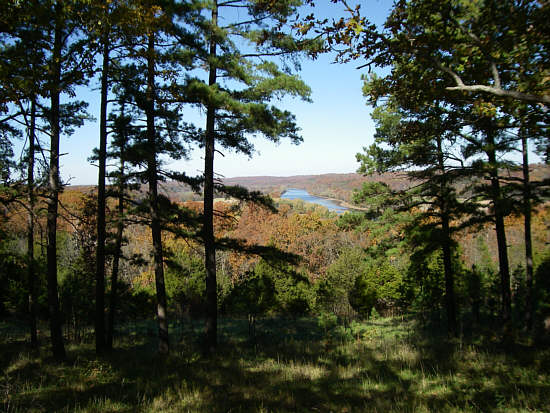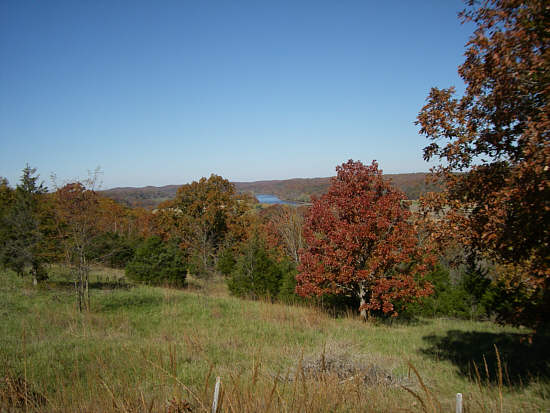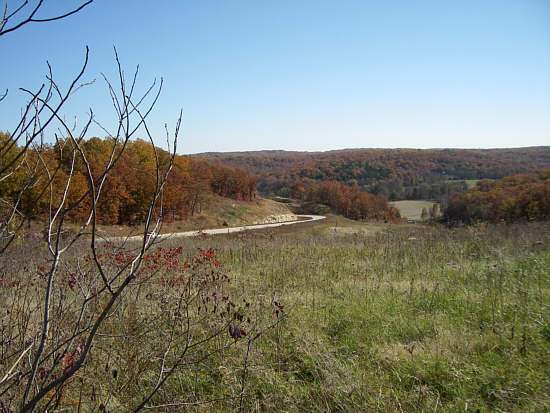 Our address for donations is:
Miller County Building Fund
P.O. Box 57
Tuscumbia, Mo. 65082
That's all for this week.