Monday, October 29, 2007
Progress Notes
The Chili Luncheon last Saturday, October 27 at the museum (photo 1and 2) in which Alan Wright (photo 3), successful St. Louis businessman originally from this area, presented a book signing (photo 4) of his just published historical book, Murder on Rouse Hill, (photo 5) was one of the most successful events we have hosted since I have been on the board. Some have told me it was the most successful in memory both in terms of attendance as well as financially. Of course, we are extremely grateful to Alan who gave such a wonderful presentation both in his discussion as well as the very interesting power point reproductions of places and people in the book. But most of all, we are indebted to Alan because not only did he donate to the museum the proceeds of all the book sales made during the book signing, but in addition, and as a complete surprise to all, donated five thousand dollars to the building fund (photo 6). Because of the matching program provided us by an anonymous donor, Alan's gift means that his five thousand dollars is automatically doubled so that we will receive a total of ten thousand dollars due to his generosity. Alan is a native of the Miller County area with many friends (photo 7) and family roots of the Wright and Allee families; and that, he said, is one of the reasons he wanted to give something back to the community which helped him become successful in his life. Alan's presentation was so effective that we sold more than fifty copies of his book, Murder On Rouse Hill which kept him very busy the rest of the afternoon signing his books. I have read the book and can report that it is an exciting and captivating story which will entertain and be of interest to anyone but especially those of us who live in the area and are familiar with the places and names mentioned. The book can be purchased at any bookstore but if you are reading this webpage you will most likely know how to buy it online from a web source such as (www.amazon.com) where it is available for purchase now.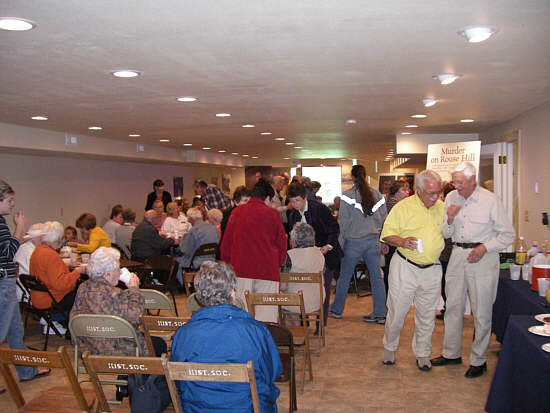 01 Chili Dinner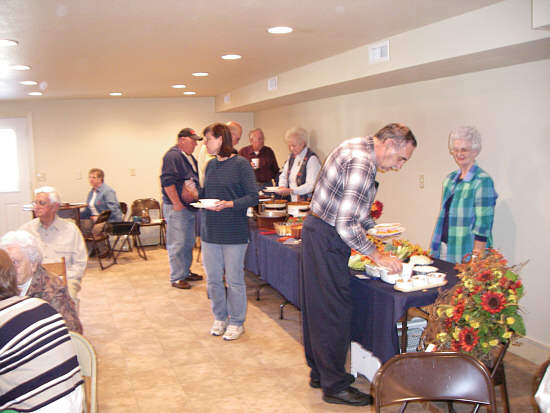 02 serving line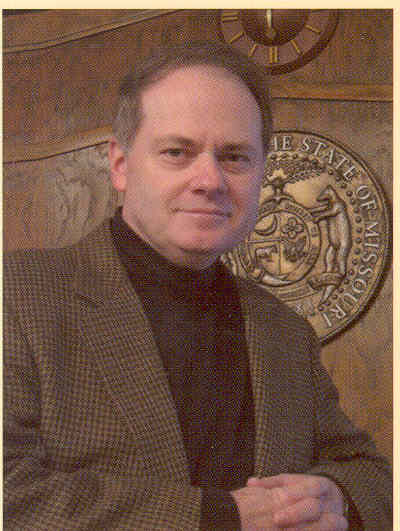 03 Alan Wright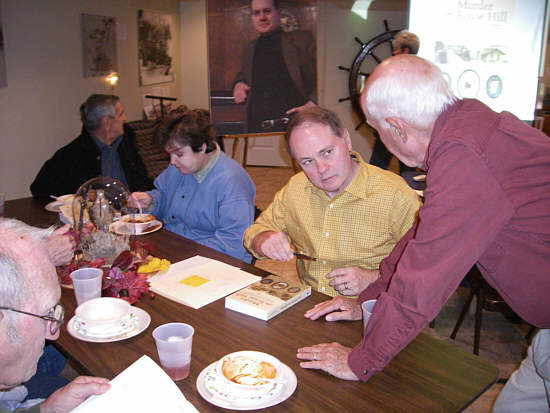 04 Alan signing books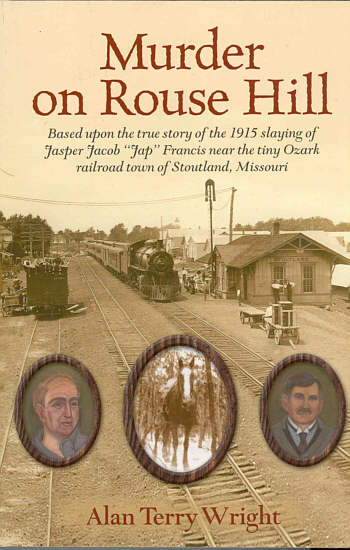 05 Book Cover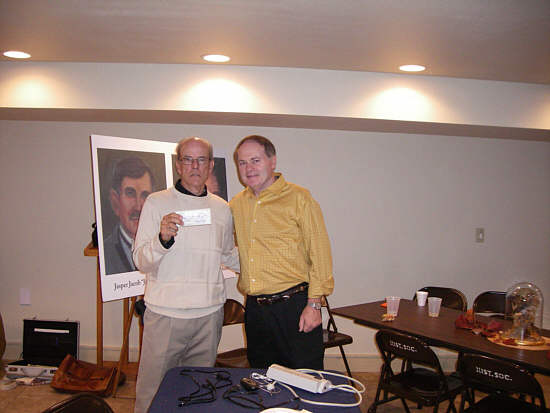 06 Joe Pryor receiving five thousand dollar check from Alan Wright
07 Alan talking with old friend Milton Leslie
The other day we received a huge very old (1906) record book of invoices which had belonged to the Schell Brothers Trading Company of St. Elizabeth (photo 8). At one time the Schell family had a number of stores in the mid Missouri area including St. Thomas, Argyle, Eugene, Mary's Home and St. Elizabeth. I knew that Marcella (Schell) Wright's father, Emil Schell, had owned the store in Eugene where she was raised, and also one in Mary's Home. Ilde, uncle of Emil, ran the store in St. Elizabeth with his brother in law, John Scheiterman. Marcella (photo 9) said that the patriarch of the Schell family was Simon N. Schell (photo 10), her great grandfather, who started the first general merchandise store in St. Thomas, and who owned a large home in St. Thomas (photo 11). He had three sons: Samuel (grandfather of Marcella), Ilde, and George (photo 12) who helped in the business as well as with the family farm.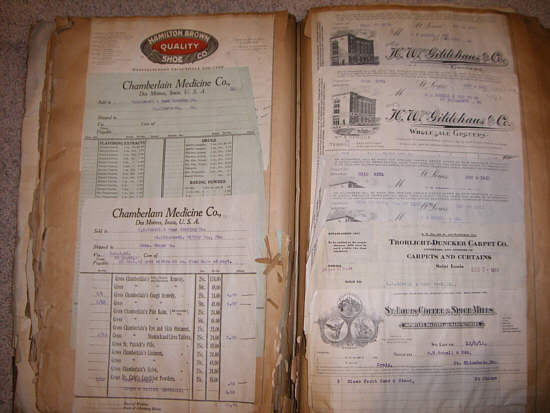 08 Old Invoice Record Book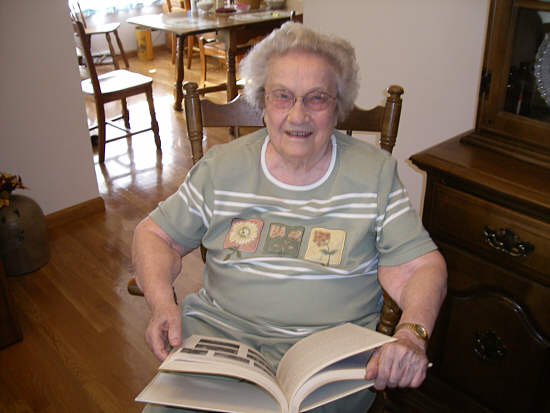 09 Marcella Wright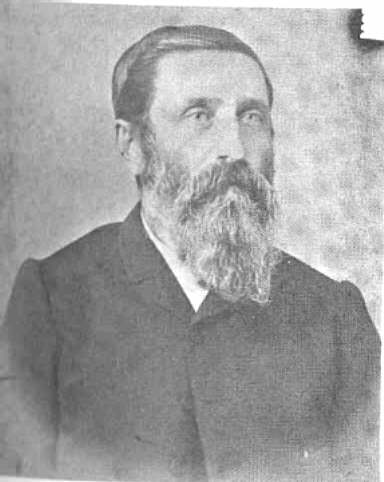 10 Simon N. Schell (great grand father of Marcella)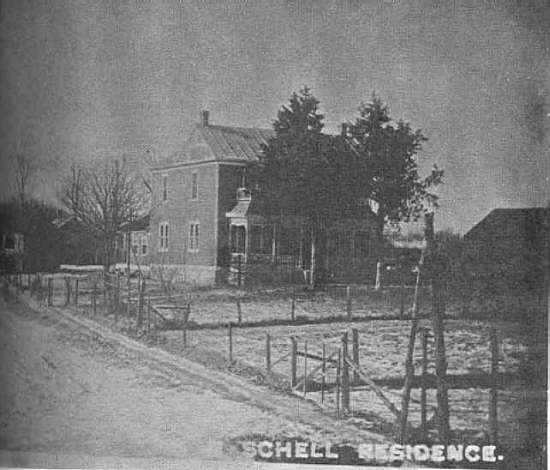 11 Schell Residence in St. Thomas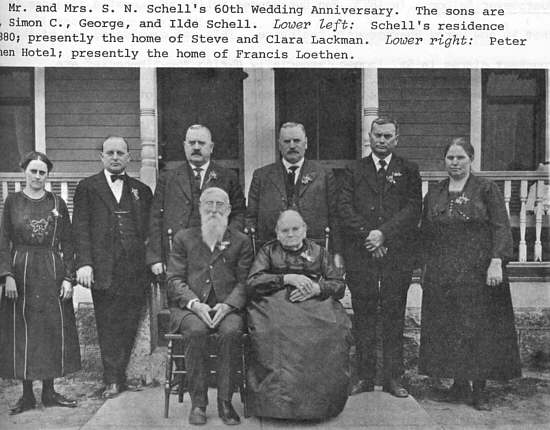 12 Schell Family
The following story of the Schell store in St. Thomas was taken from a history book of St. Thomas which Marcella allowed me to copy:
"In 1906, Simon N. Schell, who started Schell's Store in 1867 in St. Thomas, formed a corporation with his sons, Simon C. Schell, George W. Schell, Ilde Schell, and Pete Schell. In later years, John Schwelterman and John Luehlenkamp were also members of the S. N. Schell & Sons Trading Company, Inc. The business in its years of operation was a dealer in store goods, livestock, land investment, railroad ties, mules and horses, automobiles, farm implements, saddlery, hardware, feed, and music supplies. After being very successful for quite a number of years, the business was not, however, able to withstand substantial losses in the railroad tie business and the music store. In the throes of the depression, it was forced to declare financial bankruptcy with the creditors agreeing to settle for thirty percent of their investment. The business was officially dissolved in 1936.
After the dissolution of the S. N. Schell & Sons Trading Company, Inc. in 1936, Bernard Schell, son of Simon C. Schell, bought the business in St. Thomas. From that time on Bernard Schell ran the general merchandising business known as Schell Trading Company until it closed in 1989."
Samuel Schell, son of the patriarch Simon Schell, was the father of Emil and grandfather of Marcella. The store in St. Elizabeth run by Ilde, Samuel's brother and Emil's uncle, from where we received the record book, has been described with accompanying photos by Dale Doerhoff in his book, A Trip To Charley Town (2nd Edition; 2006; St. Elizabeth Heritage Trust; P.O. Box 1; St. Elizabeth, Missouri 65075 p. 257).
Dale writes:
"S.N. Schell & Sons trading Co. was the largest store in St. Elizabeth both in terms of size of the building and the amount and variety of goods sold. The company was established in St. Thomas in 1885 (editor's note: the dates of the Schell stores becomes confusing due to the changes in owners and corporate structure) and opened a store in St. Elizabeth in 1899. The first Schell Store (photo 13) in St. Elizabeth was in the old Wetlock store building (photo 14) on the northeast corner of Main and Walnut. The company soon outgrew its first building and in 1908 built a new building across the intersection from it original store (photo 15). The top floor had a stage and hall for plays and dances."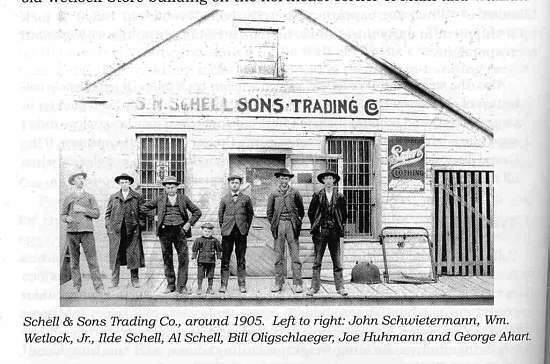 13 First Schell Store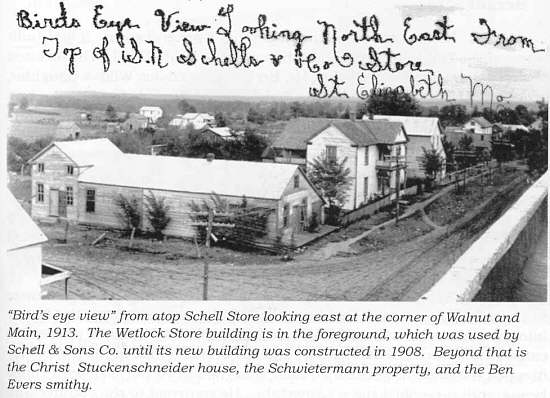 14 Wetlock Store Building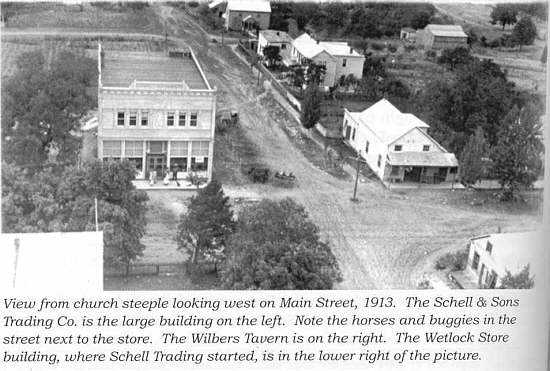 15 Second Schell Store
Thanks Dale.
At about the same time the new Schell store was built, the new St. Lawrence Church was under construction just across the street (photo 16) in which 400,000 bricks were used, all made on church property. Here are photos of the church when finished, outside and inside (photos 17 and 18).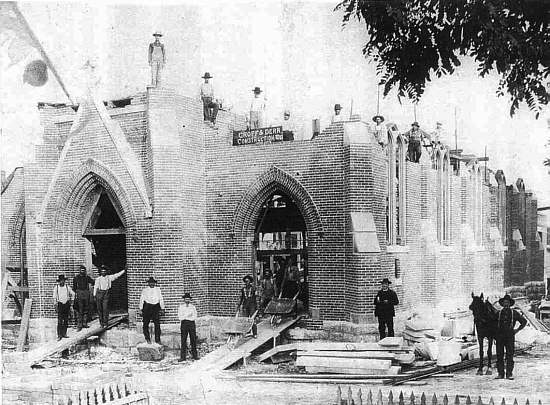 16 St. Lawrence Church under construction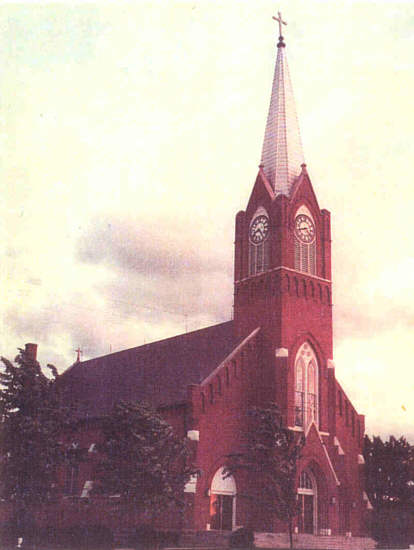 17 St. Lawrence Church when completed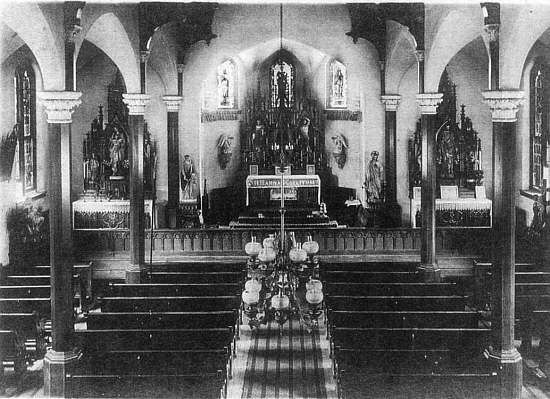 18 St. Lawrence Church inside
Peggy Hake, who lived for a while in the St. Elizabeth area, has her own personal observations regarding the old Schell Store which I am reproducing from Peggy's narrative on our own website:
"Ilde Schell and his brother-in-law, John Schweitermann, operated the Schell Trading Company store in St. Elizabeth for many years after the turn of the 20th century. Evidently the St. Elizabeth branch of the Schell Enterprises (Schell Trading Company) came into existence sometime around 1900. Ilde Schell and John Schweiterman entered into a partnership in the new store called S. N. Schell & Sons Trading Company, built on the corner of Main and Walnut streets in St. Elizabeth. John Schweitermann conducted much of the carpentry work on the new building. The structure was huge, second in size only to the brick church which was located across the street to the east.
For some years there was a large room above the store which was an entertainment center called Schell Hall. It was used for dances, stage plays, and other social events. I understand the building also had an elevator which ran from the basement to the upper floors which was very uncommon in that day and age. Ahead of their time, Schell & Schweitermann installed a Delco generator in their store and had electricity long before the town had its first electrical lighting system. They even ran lines from the store's electrical unit to their homes nearby.
The old S. N. Schell & Sons Trading Company has a wonderful history. For many years its doors were left open and when I moved to the St. Elizabeth area in 1981, it had a grocery store on the first floor. In a few years the store closed down and sat empty for awhile. Later it was re-opened as an antique store (still using the name Schell Trading Co.) and had two different owners but finally it closed down once again. Today, in early 1999, it is sitting vacant........S. N. Schell & Sons Trading Company has too much history to just sit there being ignored!!!
Thanks Peggy for the information. However, Since Peggy wrote her article the old Schell store in St. Elizabeth has come to life again and is open under the management of Judy and Robert Kesel featuring displays of crafts and quilts and other interesting items. Here is a current photo of the store (photo 19). Presently, Judy (photo 20) specializes in quilt design and creation; her works are prominently displayed in the store which also rents space for booths for many other artists whose crafts can be purchased (photo 21). The store has three levels; at one time in the past musical productions were performed on the third level which has a stage. As mentioned by Peggy Hake above, an old elevator once carried customers to the upper levels. However, it is not being used currently. The outside of the store features an old style decorative metal plating which long ago was attached to the outside walls by the Mesker Siding Company (photo 22). Another unique feature typical of the Schell stores and others of that era is the ornate decorative corners of the ceilings (photo 23).
19 Schell Trading Company St. Elizabeth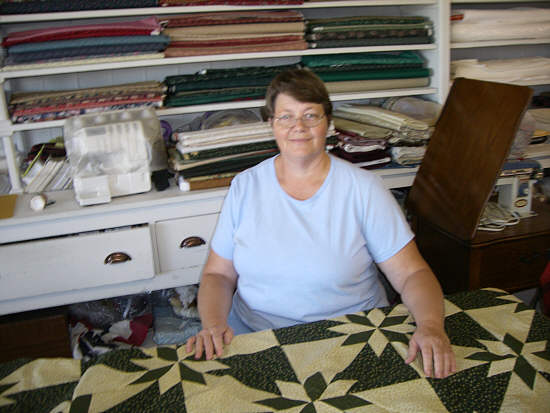 20 Judy Rush Kesel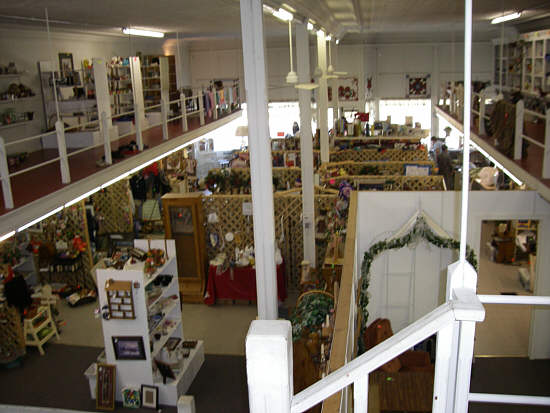 21 upstairs Schell Trading Company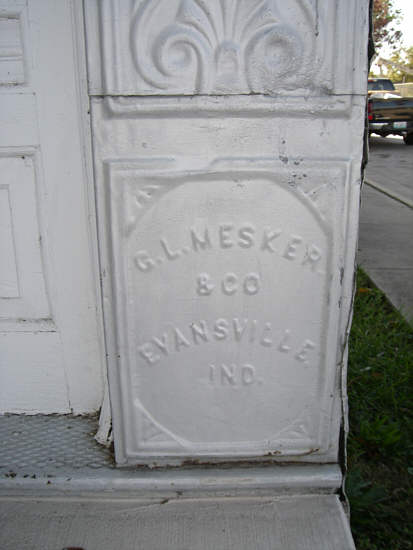 22 Mesker sidiing company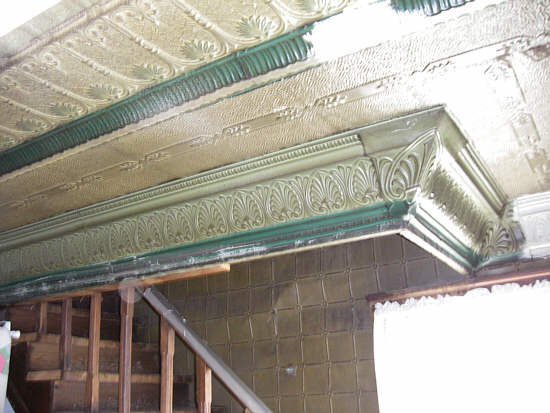 23 ornate decortive features
On a personal note I told Judy that I remembered her brother-in-law, Mike Kesler, who was a star basketball player for St. Elizabeth in the early 1960's. Judy's maiden name is Rush and some of her Rush cousins attended school with me at Tuscumbia years ago.
According to Marcella (Schell) Wright, Al Schell, the son of Ilde, also helped in the St. Elizabeth store; however, Al's son, Victor Schell, decided to move to California. Unfortunately, a few years ago Victor unexpectedly passed away. In his will he left a portion of land of the family farm to the St. Elizabeth School for a new track field. The dedication ceremony was held only recently and was featured in an Autogram article (photo 24).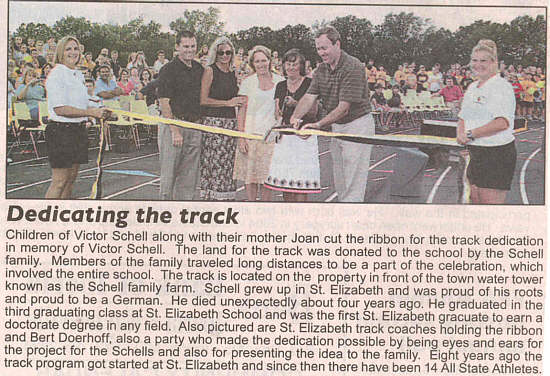 24 Schell track dedication St. Elizabeth
Samuel's son, Emil, who was the father of Marcella, bought the Eugene store early in the last century from a man named Ritchie (Marcella didn't remember his first name). Some years later in the early 1930's, Emil became the owner of the store in Mary's Home, having purchased it from Henry Sanning who had built it. The store in Eugene, although still standing (photo 25), no longer is in business. However, the one in Mary's Home is very active and busy under the management of Sandra Millard (photo 26) of Hickory Point. Sandra has maintained the historical décor of the original building and store. On my visit to her store the other day, she gave me some history about the Mary's Home store. According to Sandra, as earlier noted above, the store in Mary's Home was built by Henry Sanning in 1906. Sanning was a well known builder at the time. The Mary's Home store was originally managed for Henry by his brother, Pete Sanning, whose name is prominently displayed at the top of the building. However, Pete soon thereafter began to travel to Eugene to work in Emil Schell's store while Pete's wife, Annie, ran the store in Mary's Home. When Annie died in 1933, Henry Sanning, who still was the owner of the Mary's Home store, sold it to Emil Schell whose wife, Tillie, subsequently managed the store in Mary's home. The Schells' sold the store in 1951 after which several owners ran it until 1998 when Ted and Sandra Millard, the present owners, bought it.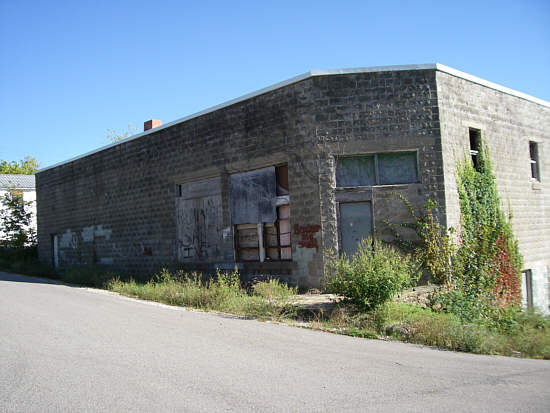 25 Schell's General Store of Eugene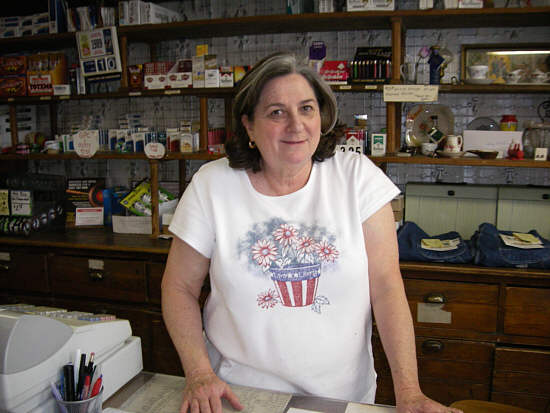 26 Sandra Millard
In the photo I took the other day of the front of the Mary's Home Schell store (photo 27) are pictured two local residents, Timothy Kempker (left) and Jim Haidusck (right) sitting on the front porch enjoying a pleasant fall afternoon. My mind went back many years ago as I remembered the older men sitting on the porch at Hauenstein's store in Tuscumbia. After entering the store I was amazed at how much it resembled the old time country stores which were pretty much the kind we had in Tuscumbia and the rest of rural Miller County when I was a boy. Sandra has many original artifacts and antiques of the original store including the old money box (photo 28). This financial transaction aid was used before cash registers were available. One drawer was for storing account records, another contained a slate to figure and total the bills with a piece of chalk, and a third drawer to keep the cash in. Her store features hand made quilts (photo 28a), many antiques such as this miniature farm wagon (photo 28b), and an ornately designed roof which can be seen in this photo looking up the stairs (photo 28c). Looking down the stairs (photo 28d) gives an extra dimension to the size as well as the number of interesting items on display and for sale in this very old country store. Sandra serves sandwiches and other food items for dining in or for carry out. One of the three round tables for dining has a sign which says "Smoker's Table", a clue that Sandra is keeping up with present day customs. Just across the street from the store is the beautiful "Our Lady of the Snows" Catholic Church and Parish (photo 29), dedicated in 1883 by Bishop Hogan. Certainly, the Schell old time general store in Mary's Home is one of the most interesting and realistic representation one could find of what people saw and bought years ago in their own local stores in the Ozarks. And in addition, the drive to Mary's Home on County Road H which turns off highway 17 a few miles south of Eugene offers one the opportunity to enjoy the scenic natural beauty of the well kept farms and pastures along the route of this hilly paved road.
27 Schell's General Store of Mary's Home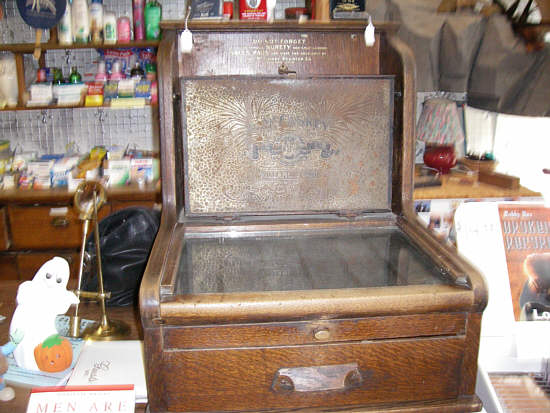 28 Old Money Box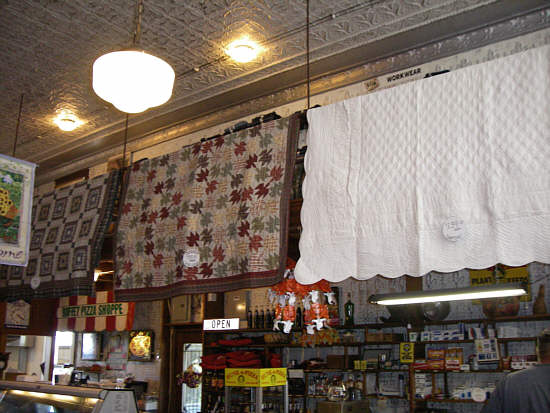 28a handmade quilts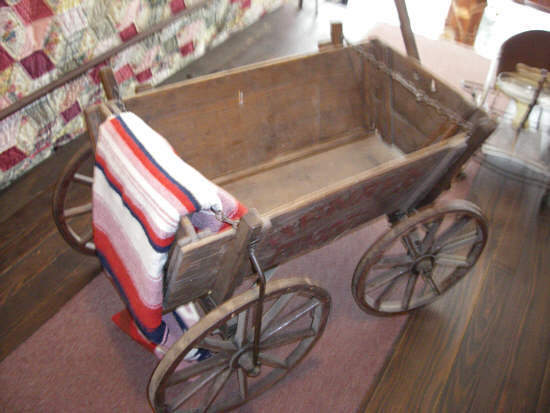 28b handy wagon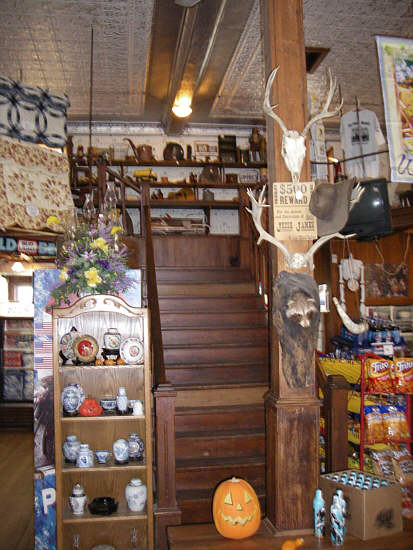 28c stair case to second level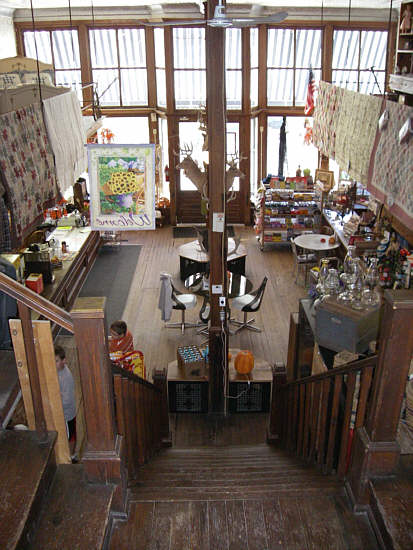 28d looking downstairs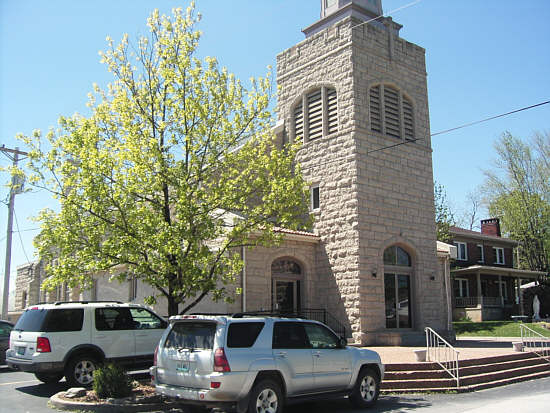 29 Our Lady of the Snows
The Schell store in St. Thomas no longer is in business, but it is still standing as this recent photo demonstrates (photo 30).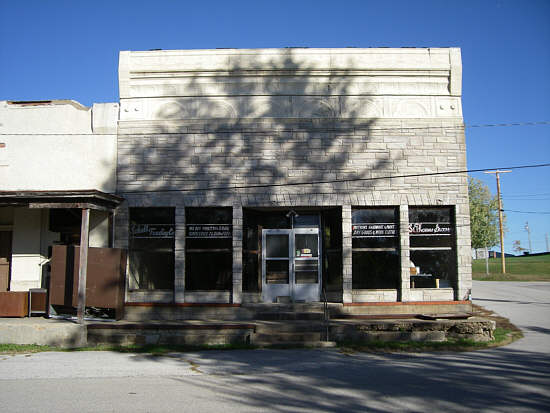 30 Schell Trading Company St. Thomas
Continuing the running series about the cedar wood craft industry in Miller County which was particularly unique to this area of the Ozarks, this week's Progress Notes will feature the Brockman's Wood Products Company of Tuscumbia originated by Oliver Brockman. Oliver came to Tuscumbia with his father, John N. Brockman, who in 1905 had been elected to the position of County Judge, a position he held until 1909. John and his wife purchased the old Home Hotel (photo 31) in 1913 which up to then had been owned by the Ludwig Bacon family. Oliver's mother ran the hotel until her death in 1952. John N. Brockman rented apartment rooms in the old hotel thereafter until he died in 1959. The building was razed soon after that. You can read more about this famous Tuscumbia hotel on our own website at: http://www.millercountymuseum.org/commerce/hotels.html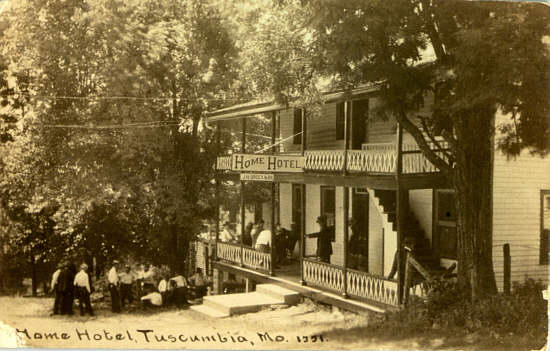 31 Home Hotel
The Brockmans' had come from the Old Bagnell area but the extended family owned land in several locations including the large spring known as Brockman Spring alongside the Osage river just a few miles west of Tuscumbia. Oliver had taught school and attended church in Old Bagnell (photo 32) before coming with his father to Tuscumbia. He married Ila Calkin from Passover Mo. who also taught in a one room school near Old Bagnell. Oliver and his family were very influential in Tuscumbia where Oliver was known as a respected leader of the Tuscumbia Baptist church. The following is a history of the Brockman's Wood Products Company as remembered by Oliver's son, J.C. Brockman: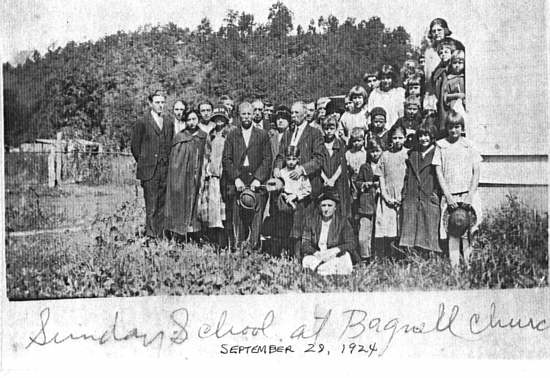 32 Oliver Brockman left Sunday School at Bagnell Church
Brockman's Wood Products
Jay Brockman (photo 33)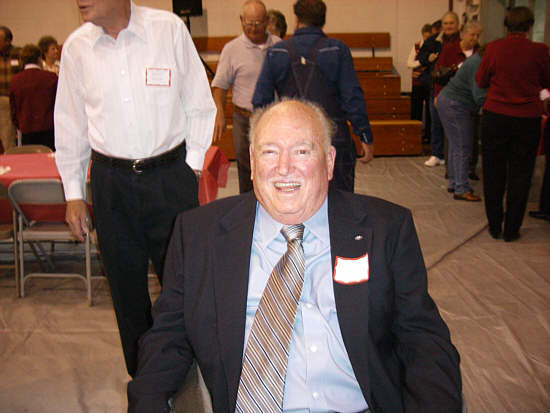 33 J. C. Brockman
A complete history of Brockman's Wood Products is somewhat like an evolution. The founder of Brockman's Wood Products, C.O. (Oliver) Brockman, had a great love of working with wood from childhood to his death. While taking shop in Tuscumbia High School, he made an all wood bookcase which was used in the Brockman Hotel and then later in his home. In his first home, he turned an upstairs bedroom into a wood workshop. Due to the economics of the 1930's, he made a line shaft which required only one electric motor. This shaft stretched very near the whole length of the bedroom. All of his tools were run from this one line shaft by only keeping the belt of the required machine engaged with the remainder of the machines sitting idle. It should be noted that during this period of time, the Tuscumbia Men's Club was formed with one of the primary intentions being to promote wood working. A large planer was purchased by the club for the use of the members and was kept in the old blacksmith shop of Ed Kallenbach for several years.
Very few if, any, of the items made by Oliver Brockman during these years was ever for sale. Most of the items were wood lamp bases, wooden bowls primarily made of walnut, Chinese checker boards, card tables, foot stools, ball bats, tie racks, and many similar items which primarily turned out to be Christmas gifts.
As Oliver's love of wood work grew, so did the size of his wood work shop and as a result it took over the basement of his home. It was at this time that he was contacted by others in commercial wood working and asked to produce cedar gifts for subsequent re-sale. This continued for several years with the business slowly expanding until Oliver was contacted by J.B. Deere Cedar Craft & Co. of Lake Ozark, Missouri, who had a national sales force. Until that time nearly all of the sales had been produced by Oliver's son, Jay. He had helped in the shop for years but as soon as he turned sixteen and had his driver's license, he traveled on the road in sales except for the time he worked in the shop. It was at this time when Oliver was contacted by J.B. Deere that Brockman's Wood Products was born. Oliver decided to move out of his basement and build buildings up on Highway 52 large enough to produce a full line of cedar gifts and souvenirs and supply J.B. Deere Cedar Craft full time. It was during these subsequent years that Brockman's bought the old warehouse of Hauenstein's Store after the flood of 1943 and built lumber sheds of the salvaged materials. Brockman's had two serious fires during those years but rebuilt each time and continued in business.
Jay returned from the U.S. Navy and college in 1957 and owned Brockman's Wood Products until about 1978 when he closed it due to very disturbing economic news and forecasts.
Thanks Jay.
More information about Brockman's Wood Products was obtained from Kenneth Wyrick (photo 34) of Tuscumbia, who worked more than 30 years at Brockman's Wood Products beginning in 1948 until the business closed in 1978. Kenneth was the manager of the wood working component of the business in its later years. He remembers that not just everyone possessed the woodworking skills to work in this type of business especially early on before electronics and engineering improved the machinery available. An innate possession of hand and eye coordination was a preeminent requirement for making these wood craft products, especially on the turning lathe and for the band saw for cutting out curved pieces. In those days Kenneth remembers Ralph Brumley as being especially skilled for the lathe and Edgar Lee for the band saw. One time he saw Edgar cut out in one minute fourteen four inch circular pieces of cedar wood without a single one having a flaw. The usual band saw operator could cut out no more than five or six in the same amount of time.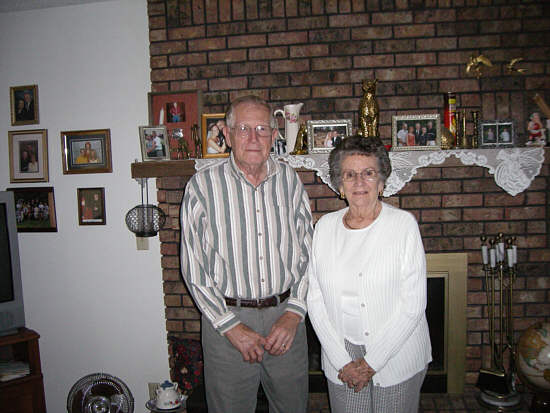 34 Kenneth and Sue Wyrick
As a follow-up to last week's history of the Stanton Manufacturing Company, my ninety year old Uncle David Bear, who now lives in Illinois but was born and raised in Tuscumbia (he is the David of the David and Arthur series), told me that for one summer, he sold cedar novelties and souvenirs for Lon Stanton. Bob Maylee, who was married to David's cousin, had a sales route selling various and sundry things but wanted to take off to run a campaign for county office (which he won). Part of the products peddled were cedar souvenirs made by Lon at his first shop at Lake Ozark. So, although David only had the route for a short while, he became fairly well acquainted with Lon. I would never have known that if it were not for this web site.
---
This week, Arthur and David (photo 35) continue their discussion about times past remembering the people who carried nicknames in the Tuscumbia community: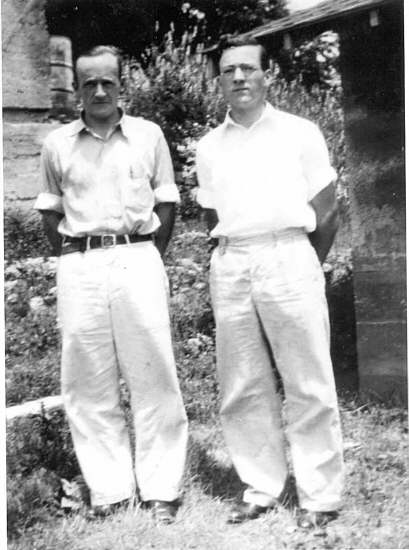 35 Arthur and David Bear
David: Small town life where everybody knew everyone else was different from today. We were often amused (but not always) by the eccentric behavior of some of our townspeople. These were often people who didn't have much to do. Arthur, who do you have in mind that you would like to comment on?
Arthur: Well, of course there was Friday Williams and his brother Catfish, Jack Hawken, and a young man we called Corpse (Virgil Burns). Corpse had a younger brother who later was called Killer. You might call their parents eccentric, too. Walter Stillwell's brother Oren, known as Shorty, was an interesting person.
(President's note: Oren (Shorty) Stillwell had been injured and gassed in WW I (photo 36) causing him to be partially disabled. For that reason, his brother Walter helped him establish a clothing repair and laundry shop to provide income (photo 37). He was a well known figure around Tuscumbia at the time)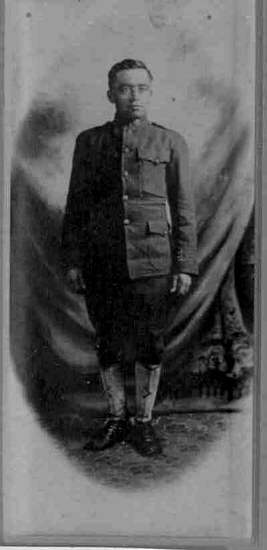 36 Oren Stillwell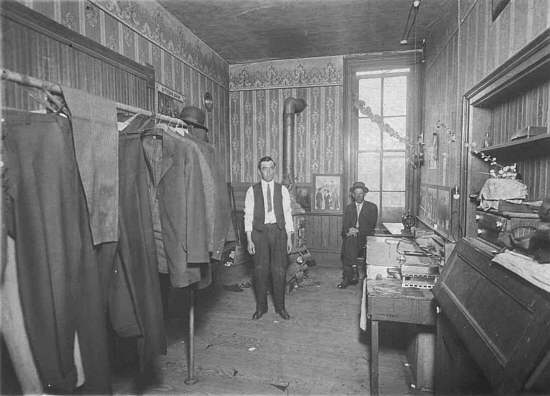 37 Stillwell's Washing and Cleaning Oren Stillwell
Shorty would come in the cafe every afternoon and ask, "Is the coffee cold?" If you answered "Yes", he'd say, "Give me a cup." If you said "No", he'd say, "Pour me a cup and 1'll be back later." He didn't like it either hot or lukewarm.
There were also the McGowan brothers, Oss and Doug, who were killed by the law (President's note: The story of Os and Dough McGowan was a sad tragedy that has been remembered by many. It will be discussed next time by Arthur and David in detail). It was common in our town for most people to acquire a nickname. Some of them didn't seem to make much sense, a nickname bestowed , a form of recognition.
David: I remember something about Corpse that is humorous. He was always out to con someone into doing something for him. He didn't have a car, so he had to hitch rides to get to where he wanted to go. One time he hitched a one way ride over to the Bagnell Dam area and he was needing a ride back to Tuscumbia. He was loitering around a filling station, hoping to find a lift, when a lady came along and enquired of the station owner if he knew where she could buy a German Shepherd puppy. Well, the owner didn't know of anyone, but Corpse did. He said, I have just what you want. I have two puppies, but they are down at Tuscumbia where I live. If you will drive me down there I'll sell you one." So, this lady drove him to Tuscumbia.
He told her to drop him off at Hauenstein's store and wait for him while he went home and got the puppies. She waited and waited and waited but Corpse didn't return. He had his ride, that's all he wanted. His story of having German Shepherd puppies was a fabrication. She was left in the lurch.
I mentioned earlier that many people in Tuscumbia had nicknames. These persons came from all walks of life. In addition to Corpse, there was our banker, Byron Hix, who was called "Snake;" Edgar Hicks, our barber, was called "Greasy;" Dewey Kallenbach was known as "Dude"; and Leonard Kallenbach was called "Futch." Then there was "Toad" Vaughan, "Rabbit Dan" Thomson, and that sterling character, Arthur Bear, was called "Cub. Having a nickname indicated charisma. Would you believe that I never got one. How rejected can a person get!
Two other local characters were Clarence Kouns and Ab Williams. I remember one time when they got into a big argument. I don't know what started it, but I came along in time to hear it. Clarence ran the post office, and Ab was an odd-jobs man about town. Both men were quite excited and started cussing one another out. Clarence started calling Ab a "sheep stealing S .O.B." Ab would reply over and over, "You're no better," then he would call Clarence some kind of an S.O.B., but I don't remember what. That went for a long time until Doc Kouns, Clarence's father, arrived and broke it up. No blows were struck. I think one was a coward and the other was glad of it. These were two interesting characters. Arthur, do you want to relate any specific occurrences?
Arthur: Well, I was thinking and Doc Kouns came to mind. I don't know that he was eccentric, but he was different.
David: An interesting person.
Arthur: Yeah interesting. He was as strong a Democrat as there ever was and he was living in a county that was heavily republican. I remember when the Rev. A. C. Hunt was in town holding a revival at the Presbyterian Church. He and Doc met in the post office one day and started talking politics. It was the year that Al Smith ran for president against Herbert Hoover. Al was an avowed "Wet" and a Catholic. Rev. Hunt said to Doc, "I bet you will vote for Al Smith." Doc said, "I sure will if he gets the nomination. "'I thought that was odd at that time in Miller County because Al Smith was grossly maligned because of his ideas. Not many at that time would vote for a Democrat, because the Democratic Party was still associated with the Rebel cause. There were still some Civil War veterans around, and they and their descendants still had very strong feelings. Doc probably came from a family of southern sympathizers. To my knowledge, the Democrats never won an office in Miller County until the Roosevelt landslide of 1932. Anyhow, Doc Kouns was an interesting person. He was a huge man. He stood about 6' 3" and weighed at least 250 pounds or more. You could hear him clomping up the street, especially on the incline leading to his office that was upstairs in the Tuscumbia Bank building. He was the only doctor in town. He was conscientious, but had a limited knowledge of medicine, as did all the country doctors of that time. When I had typhoid fever, the Koun's family lived next door to us, and every time he would walk home, he stopped to see me. He wanted to do something, but what could he do without the as yet undiscovered, antibiotics.
David: Arthur has already told about his experience with Doc Kouns sewing up his wound and the subsequent treatment. Even doctors today can only work with the knowledge and technology that is available to them. Should we have expected more from these old-time doctors? I think not.
Thanks Arthur and David.
---
Our next event at the museum will be the Quarterly Membership Christmas luncheon on Sunday, December 9 at 1:00 P.M. In the meantime we will be completing the upper level's floor staining followed by the task of placing new displays in this area of the museum. Also, we will be redesigning the original museum's two floors for the placement of new and expanded displays in preparation for our re-opening next spring.
Our building fund campaign is still ongoing to cover the costs of new displays, furniture and equipment for our new research area of the upper floor. Therefore, contributions to the building fund are always very welcome. If you would care to donate to this cause, any amount is appreciated because whatever it is, an anonymous donor will match it essentially doubling your donation. Donations can be mailed to:
Miller County Building Fund
P.O. Box 57
Tuscumbia, Mo. 65082
That's all for this week.