Monday, October 22, 2007
Progress Notes
Once again this week I will include an article about one of the cedar wood souvenir and manufacturing businesses which at one time employed hundreds of local people for the purpose of producing these native Ozark crafts in quantity to sell to tourists who came to the Lake as well as to ship them to other markets around the United States. One of the first in the area to have an interest and innate artistic skill in the making of these items was Lon Stanton (photo 1). My wife Judy and her sisters were friends with Lon and Pauline (Vaughan) Stanton's children, George, Betty, and Jane, as all attended school together at School of the Osage. Judy had spent several "overnights" at the Stanton home when she was a teenager. So our interview with Pauline and Betty the other day was a pleasant time of reminiscence.
01 Pauline and Lon Stanton
Betty shared one memory of a time years ago when she and two of Judy's sisters, Sharron and Shirley, walked the mile or more along the bluff line overlooking the lake all the way to the Glen and Alice Wood home (where the Blue Heron is located today). They were tired and a bit muddy but Mrs. Wood let them in anyway so they could call Pauline to come and get them. The Woods were members of the Arrowhead Garden Club. On one occasion a group photo of members of the club was taken at their home, and area locals will recognize in the photo many old friends of the past (photo 2).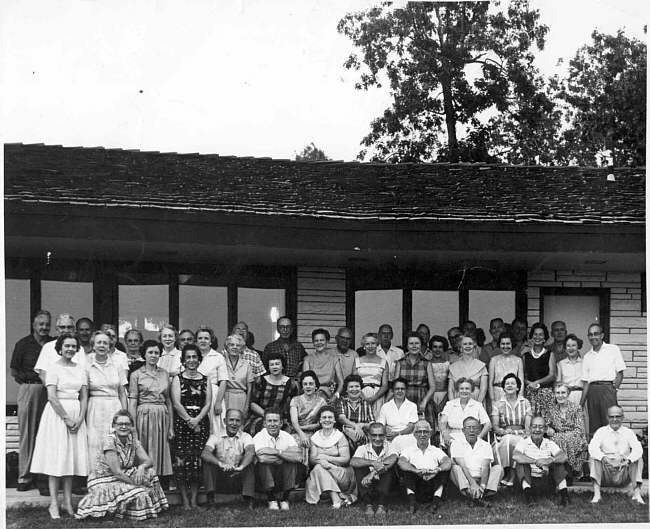 02 Arrowhead Garden Club
Sharon, Judy's older sister, had also been friends with some of Pauline's younger siblings and had spent "overnights" several times in the Vaughan home where Pauline was raised in the Harmony area. Pauline (photo 3) has a lot of interesting stories to tell and I plan to feature her in a future edition of Progress Notes.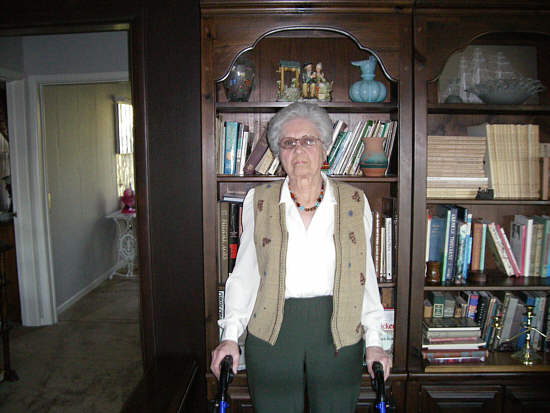 03 Pauline Vaughan Stanton
The Stanton home (photo 4) was originally owned and built by Clark Vanosdol, the first Ford dealer in Eldon. It is a beautiful stone house (Pauline thinks the stone masonry was by Charlie McDowell, whose work I featured in an earlier edition of Progress Notes) which has a beautiful wide span view of the Lake of the Ozarks situated as it is on six lots. The landscaping is of particular note as it so tastefully blends stone and garden together in a very well maintained natural setting. Inside the home is remarkable for the high ceiling of the living room and beautiful views of the lake from the drawing room. In the drawing room is a wooden church pew (photo 5) which had been donated to the Mt. Carmel church (now relocated to the Old Bagnell Baptist church) by Albert and Minnie Vaughan in memory of their son, Clinton, who died in WW I. Another interesting item is an ornate exquisite vase (photo 6) which had been given as a wedding present to the wife of Lon's uncle, Jackson C. Stanton, well known Miller County attorney of the first half of the last century.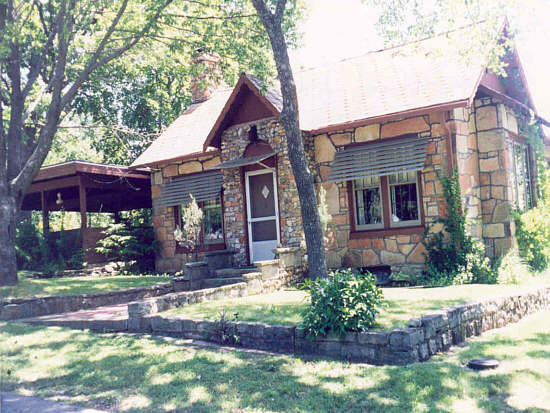 04 Stanton home in Lake Ozark built by Clark Vanosdol 1931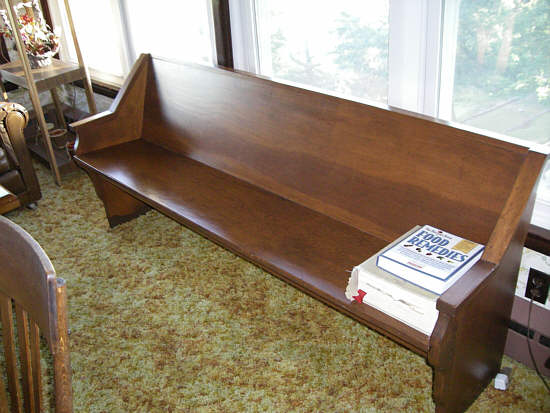 05 Mount Carmel Church pew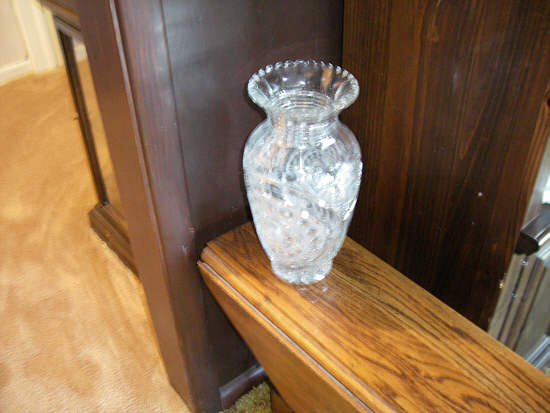 06 vase given to Jack Stanton as wedding present
Lon was well known as being very handy with woodworking as well as about anything mechanical. It was said of him that there was nothing he couldn't make to get a job done. He had the mind's eye to see how to make a "jig" that would turn out a piece of cedar wood with curves and indentions that mimicked how the same thing would have been "whittled" with a pocket knife. Lon was also very good at sports requiring skills that could only be possessed by those who had superior eyesight and coordination. One sport in which he excelled was archery (photo 7) in which he won many championships. Holmes Steen, Judy's father, once worked for Lon's uncle, Harry Ballenger, when Lon was living with Harry. Holmes said that Lon was the most acrobatic man he ever knew; one example being that "Lon could ride a bicycle full speed down the road standing on one foot on the bicycle seat".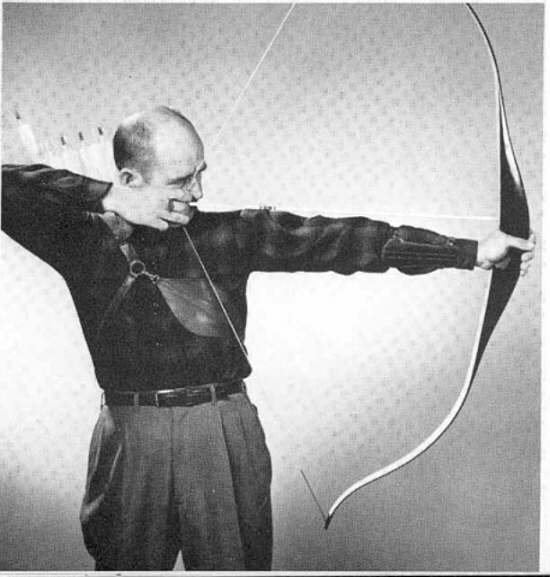 07 Lon Stanton
The Stanton family patriarch was William Harrison Stanton who came to Miller/Camden counties from Kentucky many years ago. The Miller County plot map for 1905 assigns two tracts of land to William Stanton in the very southwest corner of Glaize Township (photo 8). He also owned land in Camden County. Pauline reports that the family home was partly in Miller and partly in Camden Counties (photo 9). Lon's father, George Washington Stanton, who was married to Roma Ballenger (photo 10), had three brothers: James (photo 11), Franklin, and Jackson C. Stanton (photo 12), one of Miller County's most colorful attorneys. Lon, who was born in 1909, went to school in Richland where he was active in sports, especially basketball (photo 13). On the family farm Lon developed an early interest in woodworking even having his own turning lathe in an old shed where he made novelty items out of cedar and ash. A very good biography of Lon's story by author Ann Tabler was published several years ago in 1992 in the April edition of the local periodical, Lifestyle/50. That story is reproduced here: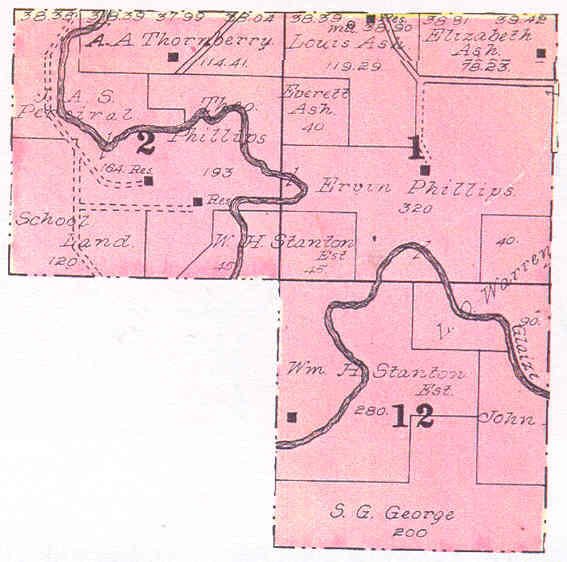 08 Twn38N Rng15W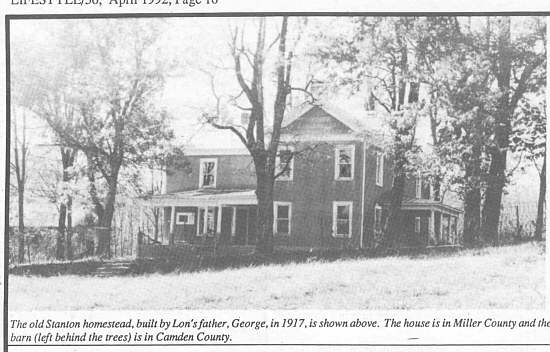 09 Stanton homestead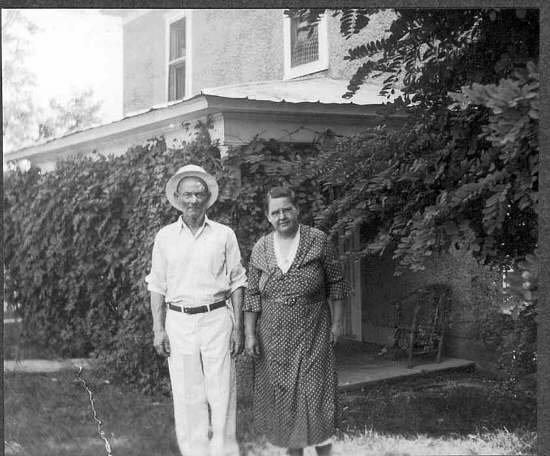 10 George W. and Roma Stanton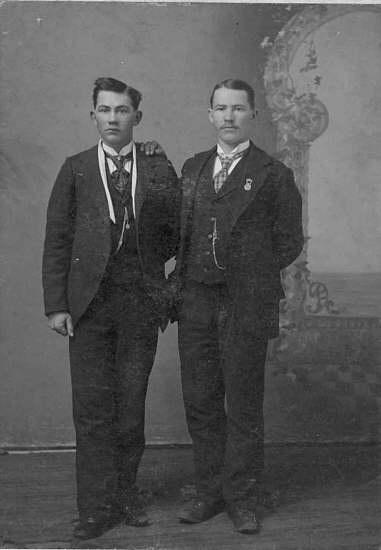 11 James and George W. Stanton 1898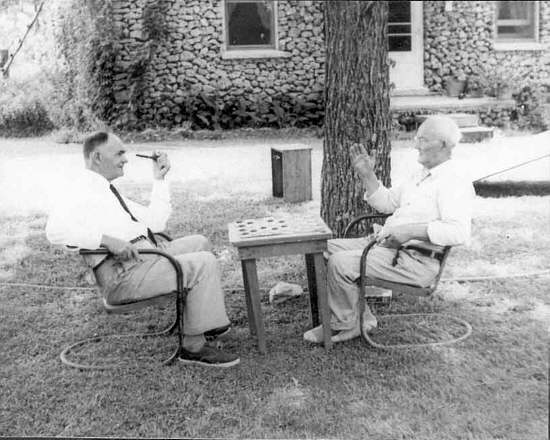 12 Jackson C. Stanton and George W. Stanton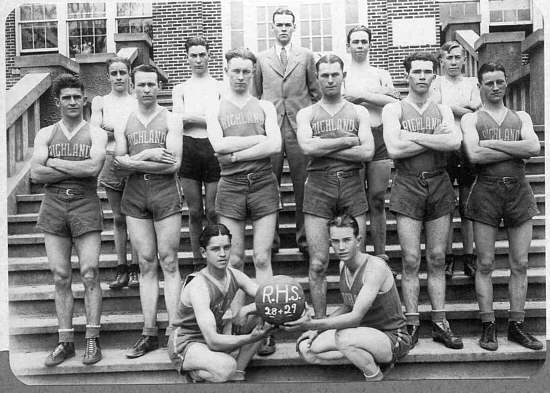 13 Richland High School Basketball team Lon on far left
"Tracing one's family roots is a challenge for many Americans in this mobile society of the 20th century. But for the Stanton family of Lake Ozark, the process has been as simple as hopping from Miller County to Camden County and back again. They came, they settled, and they remained. It was in 1866 that William Harrison Stanton moved as a single man from Kentucky to the sparsely populated hills of Camden County/Miller County Mo. In 1873, he married Lucinda Anne Shipman of Montreal, Mo. whose family consisted of Miller County pioneers. Soon, Stanton began to purchase farm land and added to the acreage over the years, eventually reaching more than 2,OOO acres that straddle the lines of Miller and Camden counties. Much of It still is owned and worked by the family, divided among William's children, grandchildren, and great-grandchildren.
This is a story about one of William's descendants: grandson Lon Stanton who was born and reared on this farm homestead, but who wasn't a farmer at heart. True, he loved the woods and the quiet countryside. He even whittled his own arrows for hunting and became an expert archer. Although he was hunting food for the table in his youth, his adeptness earned him the National Field Archery Championship years later in 1958 and 1961. He won the first National Indoor Tournament in Las Vegas in 1962, and five Missouri State Championships during the period of 1955 to 1961 (photo 14) But Lon had a natural affinity for machinery and the feel of the lathe. As a young man, he studied chemical engineering at the Rolla School of Mines (now the University of Missouri-Rolla), and the construction of Bagnell Dam gave him the opportunity to work as a machinist at the site.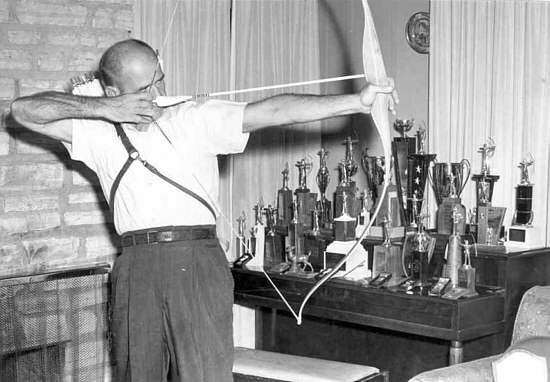 14 Lon Stanton Archer
After the dam was completed, sightseers began filtering into the area to view the wondrous lake that had been formed. Some visitors simply took in the beauty of the area - perhaps with a boat ride. Others were serious sportsmen. But what ever their purpose in visiting the Lake of the Ozarks, it soon became apparent that this area would become a vacation destination. Lon taught in Miller and Camden schools for a few years, but woodworking was his primary interest. So, in 1935, he moved to Lake Ozark and settled in a cabin (owned by his Uncle Harry Ballenger) and began to make small souvenirs out of cedar. He started with such items as salt and pepper shakers, a decorative windmill, and a little wishing well (photo 15) which could hold a small plant. He would gather up his collection and set up a stand on the parking lot by the dam where visitors could easily select their souvenirs. There weren't any stores on the strip. In fact, Lake Ozark didn't exist as a city. But there was the resort hotel, the White House, and owner Lawrence Fry ordered souvenirs to display and sell in the lobby. Soon, it was necessary to expand his quarters, and Stanton moved to the Shell service station at Dogpatch where he pumped gas for customers, but also set up a woodworking shop in the back.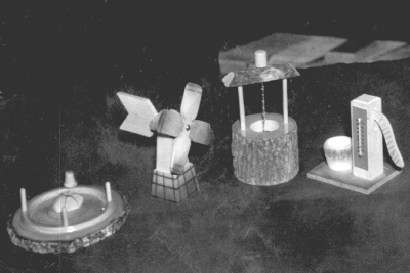 15 Stanton Products
In 1938, Lon purchased land where the Pizza Hut is now located on Business 54, and constructed a factory (photo 16) to provide for increasing manufacturing capability. Business was good. And he met Pauline Vaughan (photo 17) who was working as a waitress at the White House and attending school in the Lake area. She, too, had a local family history that reached back to 1901 when her father, Wesley Vaughan, was brought as a baby in a covered wagon from Arkansas. The Vaughans settled in the Mt. Carmel area of Miller County where they made railroad ties and helped in the construction of Bagnell Dam.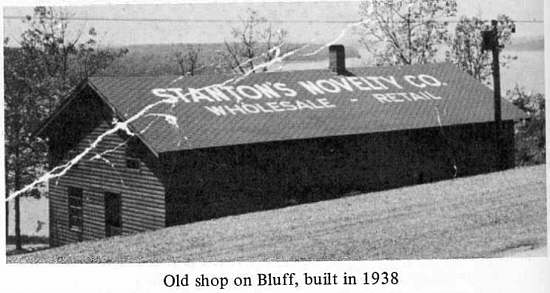 16 Old Stanton Shop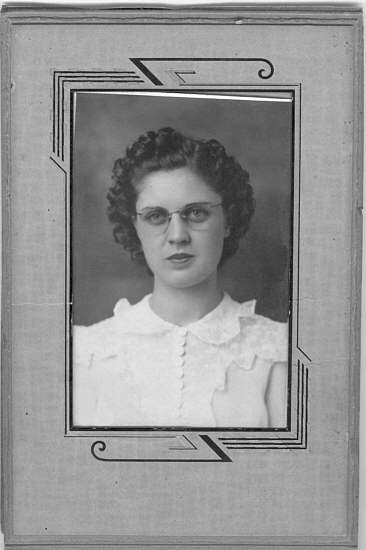 17 Pauline Vaughan Stanton
Lon and Pauline were married in 1940, beginning a partnership in marriage that lasted until his death in 1989. It was a business partnership, too, with Lon leading the creative force and Pauline handling the office details. Then, their lives - like everyone else - was interrupted when World War II started. Lon leased the business property to W. W. Gore, and with Pauline, left for Bridgeport, Connecticut in 1942. There he worked in the Methods Department of General Electric Co.
"We truly enjoyed our stay in Bridgeport where our first child, Betty, was born," said Pauline Stanton. "We made some wonderful friends there. But it never occurred to us that we would live anywhere but the Lake of the Ozarks when the war was over." It was discouraging, though, to receive the news that their factory had burned to the ground in 1943. It meant they would be starting all over again when they returned home. The war effort came first though, and in late 1944, the family moved to Kansas City where Lon was employed by Pratt-Whitney Co. until peace was declared. Then, it was back to the farm where Lon set up a saw mill and resumed his souvenir trade.
Lon and G. W. "Jud" Gore, W. W.Gore's son, had purchased a parcel of land in 1940 from Jake Houston. It was located down the road that runs between LeMans Kart track and Our Lady of the Lake Catholic Church. They called it "Houston Valley." In 1945, Gore sold Lon his interest in the property, and this was the place Lon chose to set up his manufacturing business again. Gore had kept horses, and his stable with a building added on became the nucleus of the company's plant. Since that time, addition after addition has been constructed to handle the growing business which now boasts more than 40 employees (photo 18).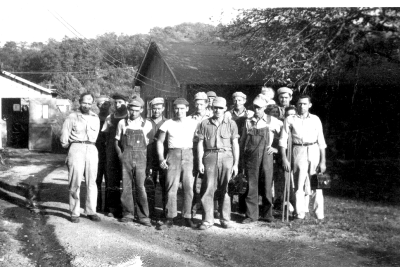 18 Stanton factory and employees at second location, Lon first on left
Selling and distributing the products took time away from Lon's primary interest - designing and making wood products. So, in 1946, he worked out an arrangement with the Blair Co. and then with J.B. Deere Co. to sell the cedar novelty items. It is an arrangement that continues today, although Stanton Manufacturing (formerly Stanton Novelty) Co. makes special custom orders of items requested by customers from throughout the United States and abroad - not necessarily in the souvenir category. "Winter and Spring were our busy times in those early days," Pauline Stanton recalled. "The Blair salesmen went out on the road in the fall and sent back orders as they received them."
Lon was innovative in his woodworking. Although he started with cedar items - and they were about all he could handle in the early years- he gradually expanded to designing articles made from oak, walnut, pine, sycamore and ash. Most of the wood is brought in as logs from central and southern Missouri. The pine comes from western United States. A walk around the plant may reveal duck and goose call tubes being carved from walnut, or beautiful cedar or pine boxes (color photo of box) specifically designed to hold expensive scissors, or walnut gavels, or a variety of made to order articles.
Cedar souvenir items continued to make up about 20 to 25 percent of the business. But today's discriminating shopper insists the souvenir be as useful as it is pretty. Some items become staples in the business; others are a one time only order, mass produced for a customer. The machinery in the Stanton plant has graduated from Lon's first prized lathe (now honored in a display case after years of dutiful service) to complex equipment. He invented equipment on occasion, to fill a particular need. And although the plant has its own maintenance department to keep the machinery running smoothly, it continues to add the latest manufacturing equipment available - such as a computer-controlled router. The employees are skilled craftsmen who are difficult to replace. Most are local people.
Now, two of Lon and Pauline's children, Betty Stanton Bentz and George Stanton, actively manage the business. It was a natural succession for Betty and George, who played daily as children at the plant, to graduate to working status as they grew older. But it wasn't forced upon them. Betty. trained to be a teacher. But after marrying David Bentz, who now is production manager of the plant, she chose to work in the company's office. George came into the company in 1970 after serving in the Vietnam War and took over the primary responsibilities after his father's retirement. His wife, Linda, also works for the company (photo 19). Lon and Pauline's third child, Jane Herbert, carried on the family's interest in education, and is a teacher in the Camdenton School District. She and her husband, Mike, are the parents of two children.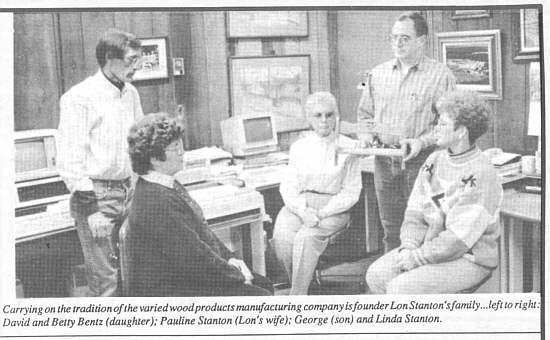 19 Stanton family at work
And the farm? It still calls them back for for a few days of R & R...a weekend of hunting or fishing, or just family fun. For many years the Stantons and their children enjoyed going there frequently to visit their grandparents (photo 20). The land is tilled by cousins, but the house is their private domain. It's their homestead. And this is one family that in 126 years, hasn't wandered far away from it."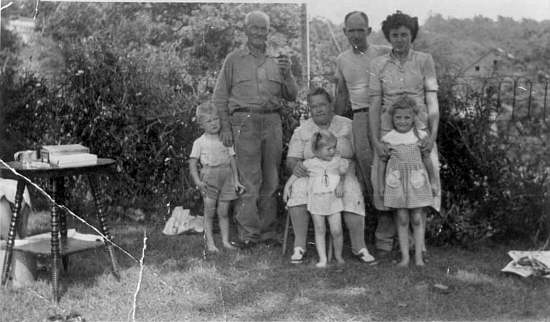 20 George D., George W., Roma, Jane, Lon, Pauline, Betty Stanton
You can read more about Stanton Manufacturing Company at their own website (http://www.stantonmfg.com/) from which some of the above material was written by George Stanton. This site has quite a few color photos of the cedar wood crafted products currently made by the company.
Lon's archery career was quite remarkable, and deserves a few more remarks to underline just how proficient he was in this sport. Lon was known as an expert marksman and teacher who wrote articles about the sport of archery (photo 21). The following is an article written by Pauline, for the book "Fiftieth Anniversary: Bagnell Dam" p. 152, published in 1981 by what was at that time the Union Electric Company, now known as Ameren: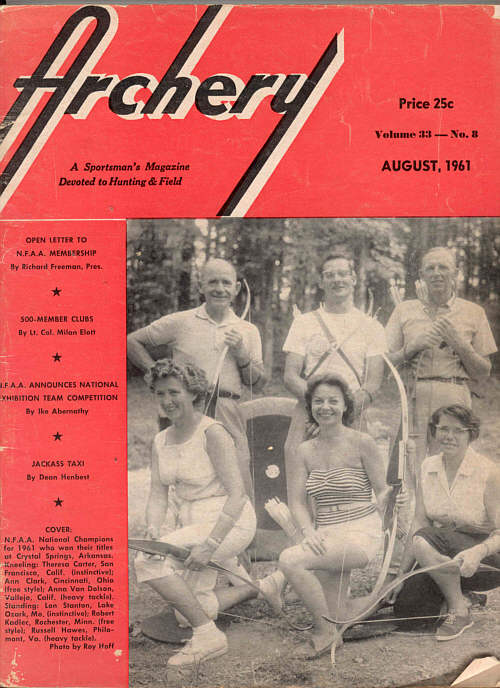 21 Cover of Archery Magazine
"Lake Ozark is home to a former State and National Field Archery champion, Lon Stanton. Lon captured the national title in the 1958 tournament held in Grayling, Michigan and again in 1961 when the National Tournament was held in Crystal Springs, Arkansas. He was runner up in the 1959, '60 and '62 Nationals. Lon first won the Missouri State Championship in 1955 and again in '57, '58, '60 and '61. Other titles include the Mid-West and Southwest Regionals. He won the first National Indoor Tournament held in the convention center in Las Vegas in 1962. Archery enthusiasts from near and afar have stopped by the Stanton home to talk archery, enjoy boating, hunting, fishing and the beauty of Lake of the Ozarks."
Lon passed away in 1989, a victim of lung cancer. His obituary is a summary of all the accomplishments of this amazing man (photo 22).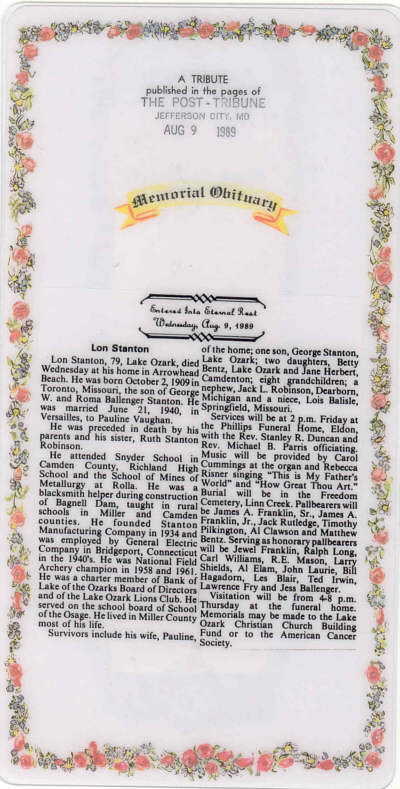 22 Lon Stanton obituary
Arthur and David (photo 23) this week discuss early times when electric or gas power generally was not available. This series of conversations between Arthur and David Bear was recorded in 1992 when Arthur was 82 years old and David 75 years old. They were born on a farm on Dog Creek south of the Osage River near Tuscumbia which was purchased by their great grandfather, George Bear, after he brought his family to Miller County from Ohio in 1857. It is still owned by a Bear descendent, Roy Bear, of Lees Summit Mo. Roy also is a great grandson of George Bear, the patriarch of the Bear descendents of Miller County. You can read more about the Miller County Bears at this link on our website: http://www.millercountymuseum.org/people/bio_b.html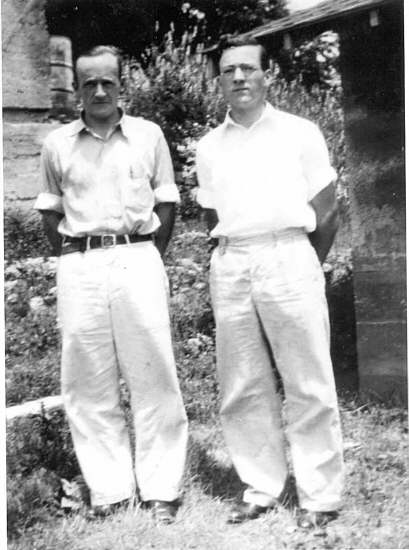 23 Arthur and David Bear
---
Arthur and David
David: After a short break we are back again to relate some more of our experiences, but before we go into the next session, I want to comment briefly on life at that time. One must remember that this was before television was invented. Part of this period was before radio was in use. I can recall that I was at good-sized boy before I heard a radio program. This program was a prize fight. Actually, this was the first loud speaker set that ever came to Tuscumbia. Dewey Kallenbach owned it, and he set it up outside of Hauenstein's store the night of the great fight. Many people gathered around it to listen. I don't remember who was fighting, but Arthur probably does. The reception was so poor that we didn't get much out of it. Much of our early lives was spent before the advent of radio, television, and antibiotics. Our lives back then were different from today. Think about it, how would life patterns be different without these innovations? Do you want to comment on this, Arthur?
Arthur: Well, I might say just a little about radio. When I graduated from high school in 1927, some of the boys were tinkering around with crystal sets. They were made from little or nothing.
>
(Here is a diagram from Wikipedia)
How it works (simple version)
Pictorial diagram showing parts and connections for a crystal radio. A crystal radio receives programs broadcast from radio stations. Radio stations convert sound into radio waves and send out the waves everywhere. Radio waves travel across the crystal radio antenna all the time. Radio waves make radio wave electricity flow between the antenna wire and the ground wire. This electricity is connected to the crystal radio by the antenna and ground wire. The crystal radio uses a tuner to tune the electricity to receive just one station. The tuner can be as simple as an adjustable one-slider tuning coil that resonates with the antenna because the antenna also acts like a capacitor. Then it uses a crystal detector to convert this radio wave electricity back to sound electricity. The detector can be made from a special rock of galena in a holder. It uses earphones to convert the sound electricity to sound you can hear in the earphones.
If conditions were right, they could get the Jefferson City station which was the nearest one to us, but that was about the extent of the reception. Two-or-three years later, we started getting more stations as they came into existence. You could brag about getting the station in Pittsburgh KOAA, or one in Dallas or Denver. Battery powered radios improved things, but only a few people had them. The fight you were talking about was probably Jack Dempsey against Gene Tunney. They fought two times. You would have been about the age then to get interested in prize fighting. I remember that Bob Stillwell and Glenn McCommons had crystal sets.
David: The crystal sets were very limited. The newer radios that came along were powered by batteries, but the batteries were not very good. Electricity didn't arrive in Tuscumbia until the late twenties. I am sure that electric radios existed before that. Am I right about the time of arrival of electricity, Arthur?
Arthur: I think it was in either '27 or '28.
David: Electricity revolutionized things greatly in our town. I remember that two men known as Spud and Perry came in and did most of the wiring in Tuscumbia. What they did sure wouldn't pass code today. At first the only use we had for it was in lighting. It took time for the appliances to come, but gradually we got washing machines, refrigerators, toasters, fans, radios etc. Think for a moment what life must have been like before that time. A few years before the arrival of electricity, Mom bought a gasoline powered clothes washer, which took the drudgery out of wash day. Now she moved to an electric one which would start every time. A little later a refrigerator replaced the ice box; then we purchased our first radio which was electric powered. The brand name was "Glory Tone." It was a table model with a rounded top. At first we got only a few stations, but this changed as more stations were built. Farmers in the area did without electricity for several more years. Rural electrification programs sponsored by the Federal government finally extended power lines into farming areas during the thirties. Prior to electricity, some farmers bought Servel refrigerators which were fueled by a kerosene flame. These worked on the heat principle similar to those in recreational vehicles today. Most farmers didn't feel comfortable with the expertise needed to keep these in operation, so they continued using springs where they were available. An example of this was the wooden box that Dad built in a spring just below our farmhouse. The water flowing out of the side of the bluff probably had a temperature in the fifties which was much better than keeping things in the farmhouse in the summer. The spring box had a lid on it to keep the varmints out. Sometimes farmers would lower their milk and butter into their well to keep it cool. Now these were the good old days. Certainly life was different. Just think of all the time you spend today listening to radio and TV, and the time we spend on other things that modern technology has given us, and imagine how life would be different without them. One difference was that people back then had more time for one another, for their neighbors, family activities, etc. People got much pleasure from their fellow human beings. The art of conversation was developed to a high state. Friendly repartee is a vanishing art, but it was an important part of our social life back then.
Thanks Arthur and David.
---
Last Saturday Judy and I took our mothers, Elva Boyd Steen and Susie Bear Pryor to the Old Bagnell Reunion which was celebrated at the Camp Bagnell Fish and Steak House (photo 24). Both our mothers had some ties to the old river town. You can read a very interesting and detailed history of Old Bagnell simply by clicking on our website at this location: http://www.millercountymuseum.org/communities/bagnell.html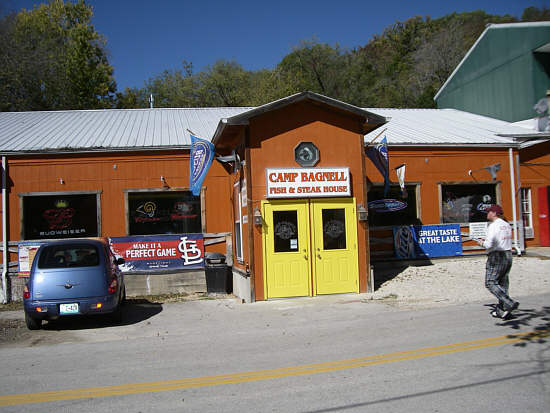 24 Camp Bagnell Fish and Steak House
Elva's grandfather, Geoge McDaniel, had a hotel and barber shop in Bagnell in the 1880's for a few years before taking the ferry across the Osage River to establish himself on a farm near the town of Kaiser. I wrote about George and the McDaniel family a couple of weeks ago in these Progress Notes to which you can refer by going to the archives at the bottom of this page. In addition, however, Elva and Holmes Steen, her husband, moved to the Bagnell area in the early 1940's and ran a turkey farm just a few hundred yards upstream from Bagnell. They later moved in 1947 on down the river a few miles to the farm and original home of John Adcock, a former steamboat captain for the J.R. Wells.
My mother's father, Madison Bear, ran a general store in Bagnell for about 12 years during and after the Bagnell Dam was being constructed. My mother wrote about her memories of that store which are uploaded on the website about Old Bagnell listed above. Madison's first store burned but his second store was located right where the seating area is in the current Camp Bagnell Fish and Steak House where our meeting was held Saturday. The neighborhood of Bagnell has changed much since the original days and I was never sure exactly where my grandfather's store was located. However, recently, I have talked to two people who lived in Bagnell, Gloria Behrens Irwin and Kathryn McGowin Ryan, who agree that the location of the Bear store was where the restaurant is located now.
Gloria is married to Jim Irwin, originally from Linn Creek, who was a Green Bay Packers and Milwaukee Bucks Sports broadcaster for many years. They have been in the area the last few weeks helping Gloria's parents, Ray and Brooksie (Bowlin) Behrens, sell their house and move to a retirement center. Ray and Brooksie were longtime Bagnell residents and Ray, up until a couple of years ago, was in charge of the Bagnell Reunion. He kept historical records and artifacts in great detail, many of which he has shared with the Miller County Historical Society for which we are very grateful. Just this last weekend, Gloria, at Ray's request, donated some more interesting historical items pertaining to Old Bagnell. The first was a framed color portrait of Brooksie Bowlin Behren's sister, Gladys Ellen Bowlin, who died tragically at the age of 2 due to diphtheria in 1914. The significance of the portrait is the exquisite framing and the unusual quality of the photographic technique which in those days would have been very expensive to obtain (photo 25). Also donated was an old dress which was made for Gladys and appears to be the one she was wearing in the portrait (photo 26). In addition, the Behrens' donated a friendship quilt given to Brooksie many years ago made by Bagnell women as indicated by the names sewn into the quilt (photo 27).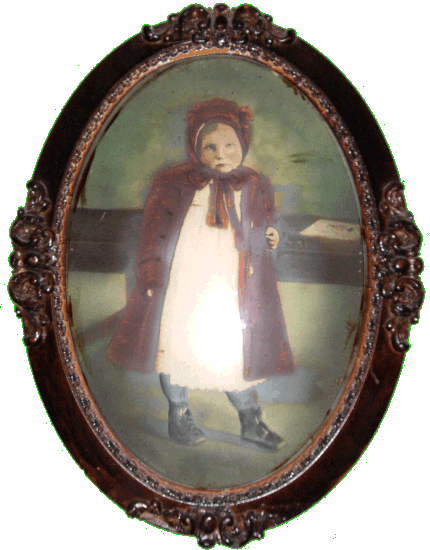 25 Gladys Ellen Bowlin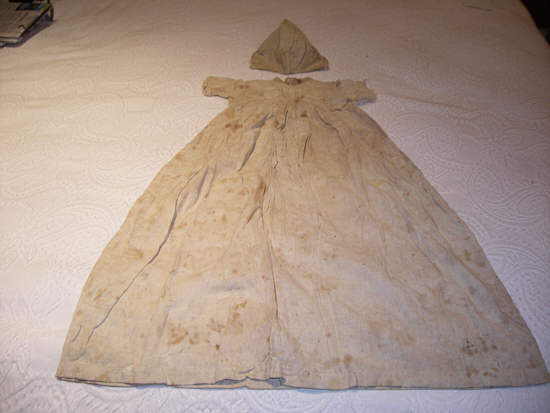 26 dress for Gladys Ellen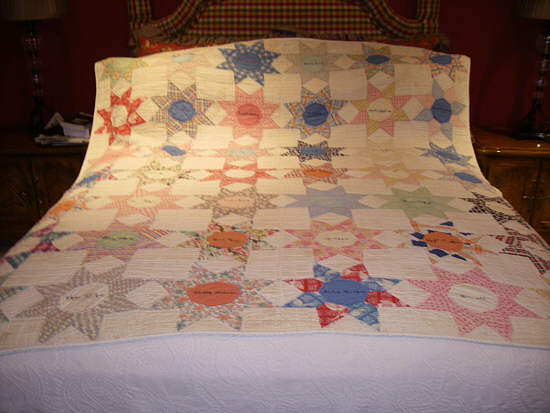 27 Friendship Quilt by Bagnell Ladies
We enjoyed meeting and talking with the people attending the reunion. One of them, Kathryn McGowin Ryan (photo 28), was the organizer this year; she reports the group has as a goal the placement of historical plaques at points of interest in Old Bagnell, especially where certain buildings and stores were located as well as the railroad structures. In the middle of photo 28 also is pictured Pat Schulte, owner with her huband Jerome, of the Camp Bagnell Fish and Steak House, to whom we owe a tremendous amount of thanks for their hosting of the event and the provision of delicious fried fish, ham and other dishes for our enjoyment at the meeting.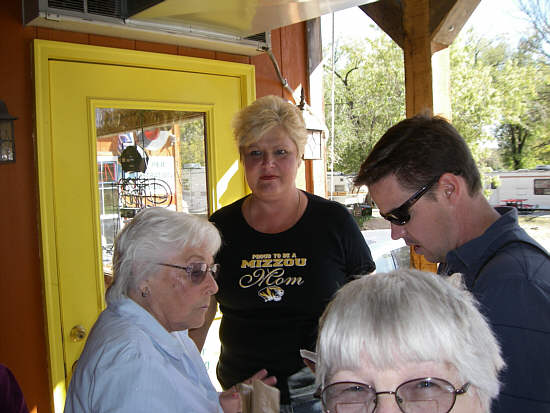 28 Kathryn McGowin Ryan, Pat Schulte, Brian Fleagle
Don't forget that next Saturday, October 27, we will have as guest at our Chile Dinner, Alan Wright (photo 29), noted Miller County Historian and author, who will introduce and sign copies of his new book, Murder on Rouse Hill (photo 30). Alan is a descendent of the Saline Creek Wrights of Miller County and is related to many citizens of the area. Presently, he lives in St. Louis where he is an executive in the Edward Jones Investment Company. The Dinner begins at 12:00 P.M. and extends to 3:00 P.M. A door charge of $5.00 is present as a means of supporting our building fund.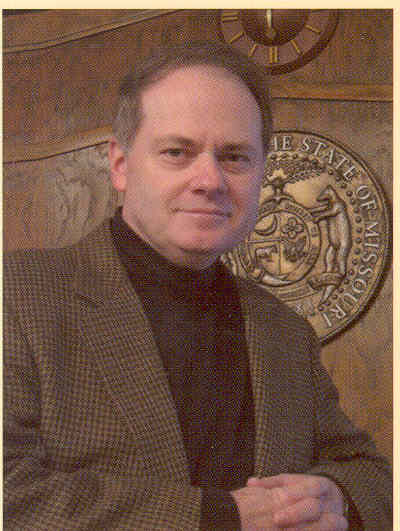 29 Alan Wright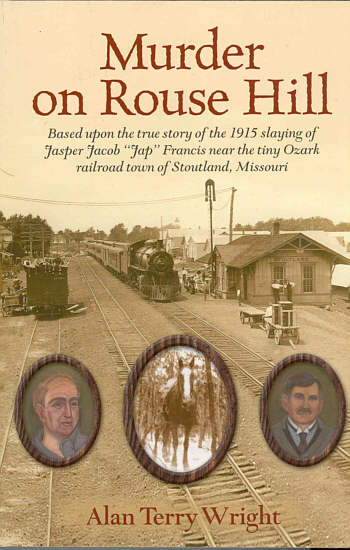 30 Book Cover
Alan has graciously agreed to donate all proceeds of any books sold at the signing to our museum building fund. So, by buying a copy of his book, Murder on Rouse Hill , will generate $19.95 to the fund. That way the buyer gets the benefit of owning a tremendously interesting historical story involving many local people as well as supporting our museum. A summary of the book is as follows:
"This tale of murder relates how, around noon, November 22, 1915, everyone in Stoutland, Missouri who could walk or ride rushed to view the mortal remains of Jasper Jacob "Jap" Francis, one of the area's leading citizens. Hidden in a brush pile on nearby Rouse Hill, the victim's body displayed the marks of a vicious killer. Yet six years later, a dozen lawyers, four doctors, one hundred witnesses, four jury trials, a Missouri Supreme Court decision and the only eyewitness-a Missouri fox-trotter horse named "Sam"-had not resolved the brutal murder. Nearly lynched by townsfolk and convicted in his first trial of murder with a sentence of life in prison the accused killer Charlie Blackburn received a shocking reprieve. Wright's recent interviews with the accused killer's family, the opinion of a renowned medical examiner and the report of a handwriting expert shed important new light on this nearly forgotten case. Wright's skillul weaving of the story line with gently humorous vignettes of rural living sets this book apart from typical "true crime" stories. His love for the history and lore of Missouri helps craft a tale that rings with authenticity. Alan Terry Wright's suspenseful tale of greed, fraud, political influence and cold-blooded murder will keep you riveted."
Our new building addition is almost completed except for some additional painting and other small tasks. This winter we will be setting up new displays which will be placed in series to create "walkways of history", which is a new and popular approach in museum designs presently.
Miller County Building Fund
P.O. Box 57
Tuscumbia, Mo. 65082
That's all for this week.