Monday, October 15, 2007
Progress Notes
This week I will continue the series of stories about the origin of the cedar wood craft industry in Miller County. I went to Iberia to talk with Herb Burnett (photo 1) who, with David Taylor, owned the original cedar wood product company started by Clem Kraml in 1945. The following information was given me by Herb according to how he remembered what was occurring in the business some fifty years ago.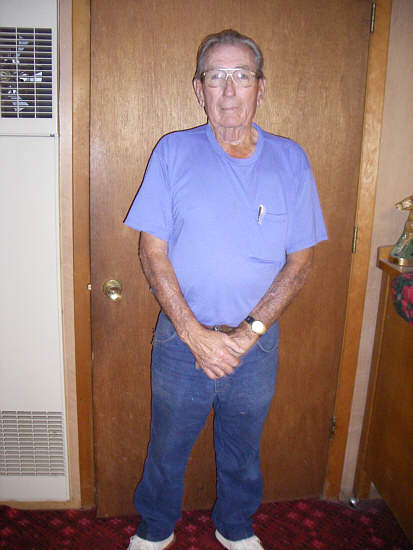 01 Herb Burnett
Herb said that at its peak the cedar novelty industry was one of Miller County's largest. He thought Pryor's had the most employees in Miller County estimating that at its maximum employed more than sixty or seventy. Raynor's Osage Wood Products was probably employing the close to the same number but when including its cedar paneling division may have employed more than anyone else. Brockman Wood Products hired about twenty five and Kraml thirty employees. John Deere Cedar Products also had employees but the number is uncertain, maybe thirty to forty.
The cedar wood craft making business in volume was very labor intensive and that is why eventually most of the companies doing that type of work closed because of the high expenses involved especially with insurance and labor wages going up each year. Japan in the post war era had cheap labor and that produced some competition for novelty items sales although the cedar industry survived that. However, in the last two decades cheap Chinese labor was too significant a factor to compete against and is the reason for the closing of several of the cedar craft industries in the last fifteen years. The Blair Company has survived the longest because of diversification into other areas such as leaded glass items and souvenirs made overseas. Through the years a number of cedar craft ware businesses sold their products to the Blair Company for resale including Kraml, Stanton's and Edwards' of Macks Creek.
Herb said that Lon Stanton and John Blair were exceptionally gifted craftsmen not only in wood but metal which was one of the reasons they succeeded.
Herb believes Pryor Novelty was one of the first to sell items locally at the Lake. He remembers that as early as the late 1930's his mother bought a small miniature replica of a "wishing well" at the Tuscumbia Picnic made by the Pryor brothers.
Clem Kraml, the original owner of the company, was a retired construction worker from St. Louis who had married a daughter of Doc Lamb of this area. So after retirement he came to the Iberia area and farmed for awhile. Soon though, he became bored of that and in 1945 began to duplicate as well as create cedar novelties such as he was seeing sold around the Lake area. Clem originally was from Austria having come to the United States by boat in 1915 at the age of 15. He migrated to St. Louis where he had relatives and worked there until his mid thirties when he married Miss Lamb and moved to Miller County.
Herb's father was from the Capps area of Miller County; his mother was a Stark from this area. Herb was raised in St. Louis where his father had gone to work. At age fifteen the family returned to Miller County where Herb began work at Fort Leonard Wood. He soon began to work for Clem Kraml in some construction work Clem was doing at Fort Wood. At the time Clem had partnered with Henry Thompson in construction projects at Fort Leonard Wood.
The story as to how Clem began making cedar craft items is interesting. According to Herb, in 1945 Clem went down to Tuscumbia to get some kindling from Pryor's and observed what was being made there. So he decided he, as a master carpenter himself, could do the same thing. Returning home, he set up in a chicken house with a long one and one half inch shaft turned by a "poppin' john" open crank John Deere engine. Off the shaft using pulleys and belts he ran several machines to cut and shape cedar wood into various souvenir items. He ran a small planer off a Model A Farmall he had purchased earlier for the farm. Tennyson Jarrett was Clem's first hired employee (photo 2). (As an interesting aside, Tennyson later was a barber in Tuscumbia having purchased the barber shop from Wes Condra.) In 1947, Herb joined Clem as a second employee working in the chicken house where the machinery had been set up. Soon, the work site was moved to a barn and later as business improved some buildings were built just for the making of cedar wood souvenirs. In this photo is an aerial view of the layout of all the buildings eventually built for the production of cedar ware products on the Kraml farm (photo 3). In 1960 Clem was stricken with cancer and eventually died in 1964. Then in 1966 Herb along with David Taylor bought the business from Mrs. Kraml. Most of their cedar products were sold to the Blair Company in Camdenton which distributed cedar craft as well as other items nationwide.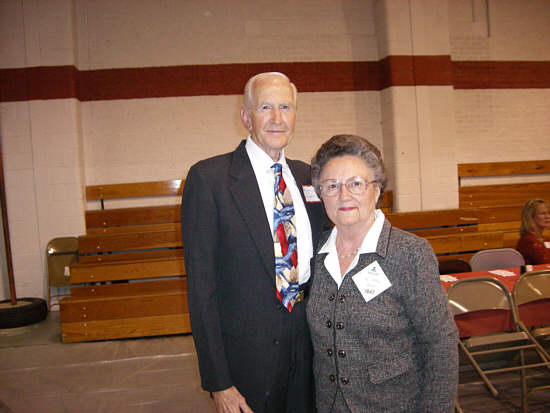 02 Tennyson Jarrett and wife Sue Helton Jarrett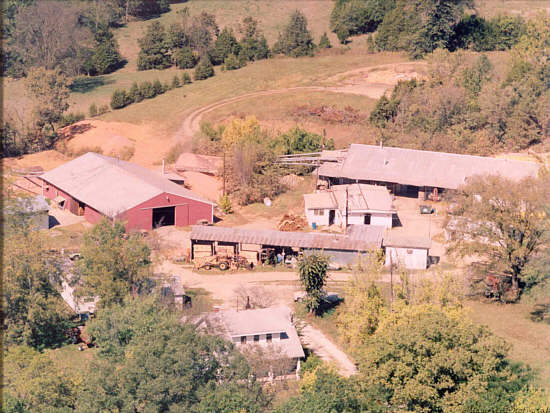 03 Kraml Wood Products
As time went on overhead expenses became a burden, especially insurance, workers'compensation, and minimum wage laws, then the loss of two buildings at different times to fire was another burden. In 2004 Herb and David decided to retire so they held a sale to disburse much of the equipment accumulated through the years and even now are selling special items individually to occasional buyers who come along. Herb says that his work at Kramls' was very satisfactory and provided for him and his wife financially very well. He feels his life was well spent having worked and learned from Clem Kraml who he believes was one of the most upright and moral men he ever met.
Although I didn't know it before talking with Herb, his mother, Florence, who was a Stark, was a sister to L.Z. (Zack) Stark, who married Kathryn (Katy) Bear, a daughter of George Bear Jr. a great, great uncle of mine. George Jr. and Katy's son, Harold Stark, was a well known radio announcer in Chicago back in the thirties and forties. So Herb and I mused a bit about how both the Stark and the Bear families had been proud back in those days to lay claim to being related to a "big time" Chicago radio personality.
Herb has a very interesting den in his house where he has collected some interesting items over the years. The photograph captions (photos 4 - 7) under each item are self explanatory except for one, the saw blade evener. I had not seen one of those before, but it was used to straighten out bent teeth on a saw blade so it would cut true without binding up in the wood.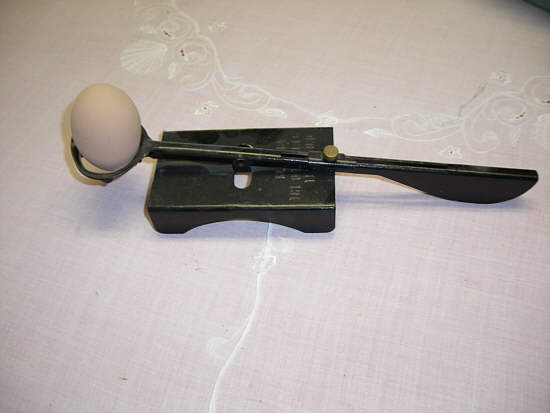 04 egg sizer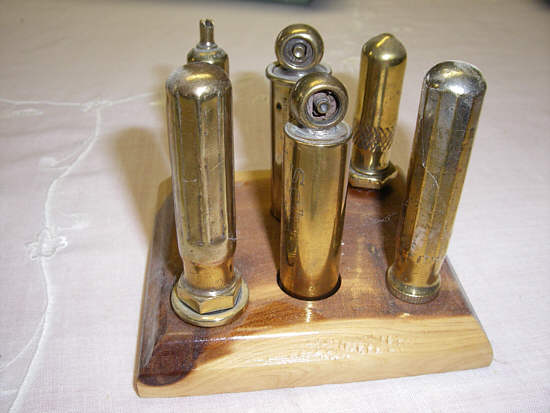 05 Model T tire guage and caps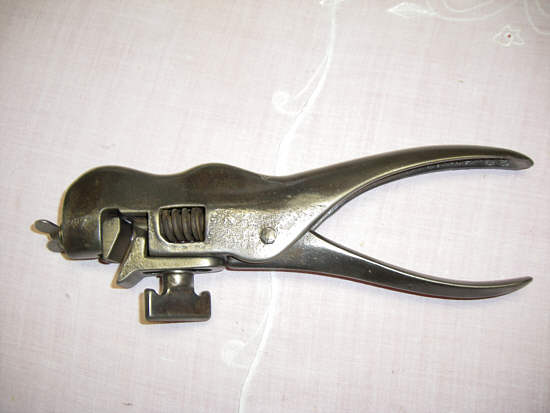 06 saw blade evener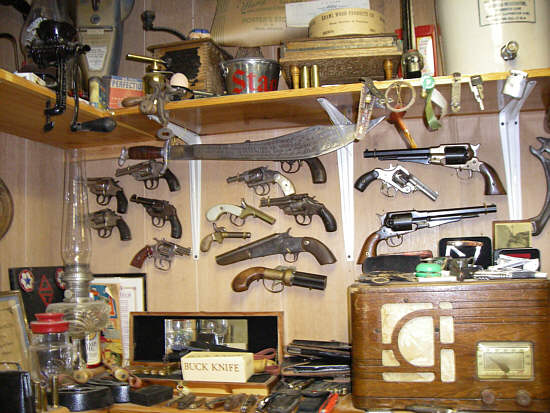 07 pistol collection
Herb through the years has been very active in the local Iberia Masonic Lodge. He was one of those very instrumental several years ago in arranging for the gift to our museum of an old roll top desk owned and used by the Iberia Masonic Lodge for many years before a new one was purchased to replace it. We are using the roll top desk today in our museum research library.
This week Arthur and David (photo 8) discuss some of the local people in Tuscumbia who most influenced them: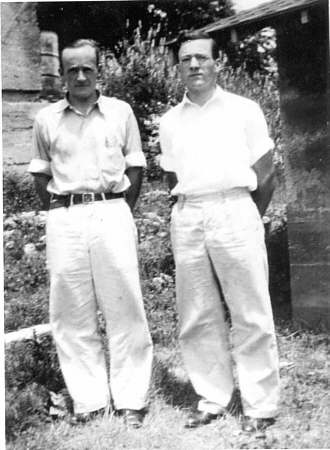 08 Arthur and David Bear
David: Arthur, let's talk about some of the people in Tuscumbia who influenced you as you were growing up.
Arthur: Tennyson Clay Wright (photo 9), known as T. C., probably had the greatest influence on me outside of my parents. I attended the last semester of the 8th grade in Tuscumbia, then on to high school where T. C. was the superintendent. He had a long tenure as superintendent, and was there for many years after I graduated. He was a gifted man. He taught vocational agriculture and also other classes when needed. It was a small school with only three teachers. My first year there, I had Joe Kallenbach, Stella Kallenbach, and T. C. Joe left the following year, and I can't remember who replaced him, but T. C. was there a long time. About once or twice a week we would have chapel, and he would usually read a favorite verse or verses of Scripture, trying to teach us lessons in character. He encouraged us to learn how to "think". One saying of his was, "Those who think will always govern those who toil." I don't know who first said it, but he went over this time and again. Chapel was scheduled for twenty minutes, but often it would last an hour. He didn't always break it off for the next class. Sometimes we would miss a whole classroom period. T. C. couldn't do that nowadays. Back then we had mostly Protestants in school, but there were a few Catholics. Charlie Tellman and his brother had a few children there, but they didn't seem to mind T. C.'s efforts. We all got along pretty good. Another man I admired very much was Walter Stillwell, an attorney in town and owner of an abstract of title business. He was a Presbyterian and superintendent of the Sunday School for many years. This was the church where we attended. He was an Elder on the church board which was called the session. He was a Christian man, very much reserved, but outspoken on issues that meant something to him. Tuscumbia had a community band which T. C. probably organized, and Mr. Stillwell was in the band, too. I played in the band a few years myself, probably five or six years. T. C.'s brother, Lawrence Wright, was in the band, and Bob Stillwell played. We had twenty-to-twenty-five in it. That was a good activity for those who participated in it. Let's see. Well, I think T. C. and Walter Stillwell were the two main persons.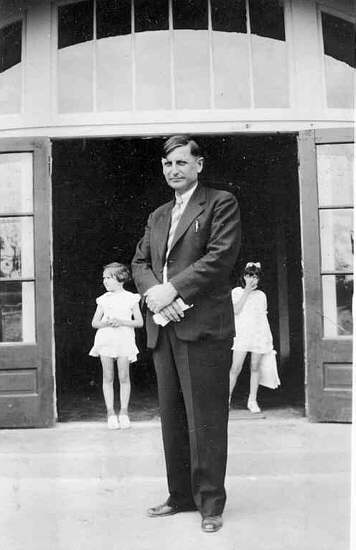 09 Tennyson Clay Wright
David: Arthur, I would like to say a word or two about T. C. Besides my parents and grandfather, David C. Bear, I owe a debt of gratitude to T. C. who did much to shape my basic beliefs and character. T. C. didn't know that. I'm sure he had me dubbed a failure and he had good reason to suspect it. I was a shy, but stubborn, child, poorly motivated to study in high school. Mom pushed me, but it didn't help much. She wanted me in the glee club, and often pressured T. C. to get me in it. One day he walked up to me on the playground and said "sing Doooooooo." I purposely used a monotone voice in order to mislead him. He just shook his head and walked off. He probably knew I was being recalcitrant. In chapel, he said frequently that if you have nothing to do, just sit and think. Arthur referred to this already. Being an unmotivated person, I did a lot of daydreaming about a lot of things. I would sit in study hall, doing nothing but staring around thinking about a lot of things, including girls. T. C. liked that. He referred more than once to me as a person who could sit and think. If he only knew some of the things I was thinking! In spite of my rebellious behavior, I was absorbing much of T. C.'s philosophy. I can still sing "do" in a monotone. T. C. was one of the most versatile men I have ever known. He taught vocational agriculture. He did most of the veterinary work around the area, and it was all done gratis. People just expected him to help if there were a sick animal around. Being a religious man, he preached funerals, organized choirs, conducted the community band, taught music in high school, and helped in all helpful community activities. He was truly a man of many abilities, and he gave of himself freely. He lived across the street from the high school where he also had several acres of land. He always had agricultural projects going, and he used these to teach the boys in his "ag" classes. From him I learned how to caponize chickens, castrate hogs and sheep, and many things necessary to running a farm. Each boy in the class had to have an agriculture project with careful records kept. One of the objects was to make some money. He was way ahead of his time on ideas concerning farming. I can recall back when I was young, the farmers each spring would burn off their pasture land to get rid of the dried grass. They thought that this was necessary to get good pasture growth in the summer. T. C. talked against this practice because it often started erosion and it destroyed the humus. He was ridiculed often for his beliefs. He believed in shallow plowing of corn. The farmers of the day believed in deep plowing. The boys in the vocational agriculture class nearly always reflected the views of their fathers, so many friendly arguments occurred in the classroom. Time proved T. C. right on most of the things he advocated and did. He believed strongly, as Arthur said, in character development. He thought that young people should go on to higher education. Many people did go on to college because of his teaching. His major goal, however, was for each person to be an honorable, upstanding citizen regardless of his vocation.
Thanks Arthur and David.
Arthur referred to Walter S. Stillwell (photo 10) in the preceding narrative in which he and David discussed the two men most influential in their lives, the other being Tennyson Clay Wright. Clyde Lee Jenkins in his History of Miller County Volume 2, referred to Walter Stillwell as "The most outstanding figure in the history of the county's legal profession…" (Judge Jenkins' History of Miller County Volume 2; p. 97). To me, as one who greatly respects the outstanding accomplishment of compiling Miller County history as was achieved by Clyde Lee, it seems important when Clyde Lee Jenkins (photo 11) makes such a definitive statement of opinion about someone as he did regarding Judge Walter Stillwell. So I thought I would gather some information about Judge Stillwell for this week's Progress Notes. I had an advantage in researching the story about Judge Stillwell as my mother's sister, Marie (Bear) Stillwell, married Robert Stillwell, Judge Walter Stillwell's son. Robert's two children, my cousins, Carol (Stillwell) Fritz and Raymond Stillwell (who himself is an attorney in Alton, Illinois), provided me with a great deal of biographical detail about their grandfather, Walter S. Stillwell.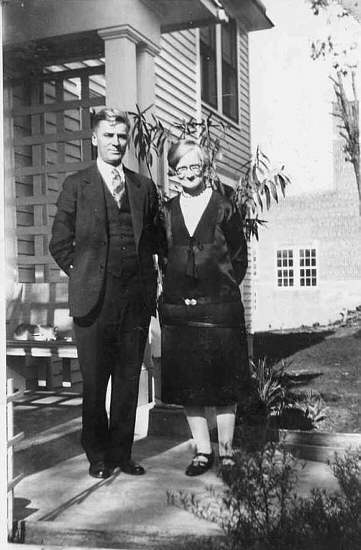 10 Walter and Lydia Fendorf Stillwell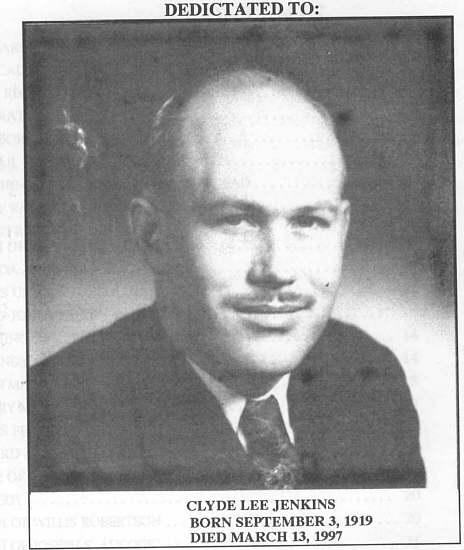 11 Clyde Lee Jenkins
Judge Stillwell was highly esteemed by his colleagues of the Judicial system both locally as well as throughout the state. So much so was he respected for his life and career that a very rare ceremony was held in the Miller County Circuit Court Room in Tuscumbia on March 8, 1954 in honor of his service to the community approximately one year after his death on January 18, 1953. In that ceremony a short biography of Judge Stillwell's life and career was summarized as follows.
Biography
Walter S. Stillwell was born at Harrison, Arkansas, June 27, 1879. He acquired his early education in the public schools of Missouri. He served in the Spanish- American War when he was l9 years of age. Before and after the war he studied law in a law office in Warrensburg, Missouri, and was admitted to the Bar in 1901. Upon being admitted to the Bar, he moved to Tuscumbia, Missouri, where he continued to live until his death.
In 1904 Judge Stillwell was elected to his first term as prosecuting attorney of Miller County and was reelected in 1906, 1910, 1924 and 1926. He was appointed Circuit judge of the 14th Judicial Circuit in 1930 and served in that capacity until January 1, 1933.
In addition to an extensive practice of law at Tuscumbia, Judge Stillwell also had other interests. He was associated with various persons in the operation of an abstract business at Tuscumbia at the time of his death including his son, Roger W. Stillwell. For many years he was a member of the board of directors of the Bank of Tuscumbia and served as president of that bank for the past 20 years prior to his death. He also served many years as a member of the Tuscumbia school board and of the Tuscumbia board of trustees. He was a very active member in the Tuscumbia Presbyterian Church, serving in various capacities.
Judge Stillwell was an outstanding citizen in his community and country. He assisted in all worthy public projects and activities and was considered a leader in his community. He was tireless in his efforts to promote the welfare of the community in which he lived, and it may be said that no one in his community was more highly respected and esteemed than was Judge Stillwell.
With the passing of Judge Stillwell, the Bar and the public generally have lost a valuable member and an outstanding citizen. He truly lived a full life and left a name emblazoned high upon the roll of those who have lived well.
Respectfully submitted,
Harry H. Kay
Jackson C. Stanton
C.C. Snodgrass
I thought it would be interesting to include a few quotes of the memories various members of the law community expressed about Judge Stillwell at this unusual ceremony held at the Miller County Courthouse back in 1954:
Mr. Charles D. Snodgrass:
Mr. Chairman, the Honorable Court, and the family of Judge Stillwell and friends: I have jotted down a few things I would like to say about the Honorable Walter Stillwell:
With profound sorrow and a deep sense of loss, the Miller County Bar, State Bar and National Bar records the Death of one of its members.
The Honorable Walter S. Stillwell, a prominent attorney, a mighty fine citizen, an upright, honest Judge and Lawyer, lived a full, useful and beneficial life for his county, state and nation. He served efficiently as Prosecuting Attorney of Miller County, as Judge of the 14th Judicial Circuit and as a leader in his profession and his community. He served many years as a school board member of Tuscumbia with distinction and always did an excellent job in whatever he undertook to do. He served his community in many capacities. He was a devoted husband to his wife and children and a prominent member of the Tuscumbia Men's Community Club, and, a few days before his sickness and last community work, he on his own, delighted in securing one of the largest attendances at a meeting of the Tuscumbia Men's Community Club, having served as chairman and member of the program committee on that occasion.
He brought to the Men's Club many wholesome and beneficial ideas and suggestions, all for the benefit of Tuscumbia and the community, county, state and nation. It was through his wisdom, ingenuity, experience, training, commonsense that Judge Stillwell was a leader and foremost worker in the various undertakings.
His accumulation of wisdom, gained through a long life time of efficient, sincere service to his community, his school, his church, his club, the Bar, the county, state and nation made him an outstanding leader in his undertakings. His many services as a businessman, as president and prominent member of the bank and other organizations, meant much to Tuscumbia and Miller County. In many problems confronting his community, his courage, tact, skill, experience and training enabled him to make contributions to all. His high conception of the basic aim of public relations in the enlightenment and safeguarding of a true democracy was a powerful force in helping his club, his bar, community, school, church, county and state throughout his exemplary life.
We, the members of the bar, his wife and family, his community, state and nation lost a valuable member, but his presence will long be felt by those of us who knew and worked with him. I thank you.
Mr. LeRoy Snodgrass:
Mr. Chairman, honorable court and ladies and gentlemen: As the junior member of the Bar I would feel that something was lacking if I didn't say just a few words. I do say I am the junior member of the Bar, I guess one of the youngest members of the Bar in Miller county, nevertheless I have known Judge Stillwell practically all my life, known him well since '27 or '28, and I have known him not only as a judge but as an individual. I have admired him throughout my life. He has been an example to me and to others that knew him. I can still see him walking up the street back and forth from work or wherever he might be; he was always straight, he stood erect, and there was no hump in his shoulders. That I admired of him. Because he was outstanding as a citizen in the community these other men have eulogized him greatly, not enough because his life was an example to us, his life did that for us. May the good Lord be with him. Thank you.
Probate and Magistrate Judge Charles M. Abbett:
Mr. Chairman, and Judge Curtis, I want to say that I knew Mr. Stillwell ever since he came to Tuscumbia, and I have always found him to be upright in everything, in the community, Church, court and everything that he ever did. I came into the Circuit Clerk's office in 1923. Coming off the farm, I didn't know too much, and ran up against some knotty problems, and Mr. Stillwell told me when I came in the office "I'll help you", and he did, anything that I ran up against, why I went to him for advice, and he certainly was one of my best friends. Thank you.
Jackson C. Stanton:
I am more or less a recent member of this Bar myself, having spent the most of my youth in Kansas City, but I found when I returned to this community in 1934 Judge Stillwell was here, and I had business with him as far back as 35 years ago. And in 1901 I remember reading, when I was a student at Iberia Academy that a young lawyer had appeared on the scene here at Tuscumbia, a native boy from the state of Arkansas, and that was Judge Stillwell.
His work here to this community was indispensable. The most trivial matters or questions that arose concerning the public interest, the public welfare and the people of this community were at his finger tips; he knew more about the records and files of this county, and I was amazed to find his capabilities and the accessibility that he had to those things. And a more gracious, kindly gentleman I have never met in my 50 years of public career. He was always ready to help in every instance. His fidelity and his zeal, his loyalty to his clients was the most outstanding and remarkable characteristic about the man. Many times in conferences with Judge Stillwell I have heard him say "Our duty does not just stop with the interests of our client; we dare not impose anything unjust on the opposition:, and to do that requires the greatest character known to the legal profession, not only to be loyal to your client but unwilling to oppress the weak in behalf of your own client. Such was the characteristic of Judge Stillwell.
Harry Kay:
Judge Stillwell and I were closely associated for many years, and I never knew a man whom I held in higher esteem. He was a gentleman in every respect. He was an able lawyer who was respected by friends and foes and by all courts in which he appeared. It is hard to conceive of a character which stood out in so many ways and was such an honor to the community, the profession of Law and the country. I feel a deep loss in his passing, and for the profession in which he was so outstanding I join in paying tribute to his memory.
My cousins Raymond Stillwell and Carol (Stillwell) Fritz have kept many mementos relating to the life of their grandfather, Walter Stillwell, including some of his office furniture, many photos, and interesting artifacts of various kinds. Following is a series of photos which record some aspects of his life. The most interesting to me was his experience in the Spanish American War. One photo is of him and his brother Ira in uniform taken many years ago (photo 12). Another photo is of his felt hat worn to protect from the hot Caribbean sun on which is written the names of fellow soldiers and friends who accompanied him to war (photo 13). A photo of the Court Room where Judge Stillwell tried and heard many cases is included in the family collection of photos (photo 14) as well as a wall plaque honoring their grandfather (photo 15).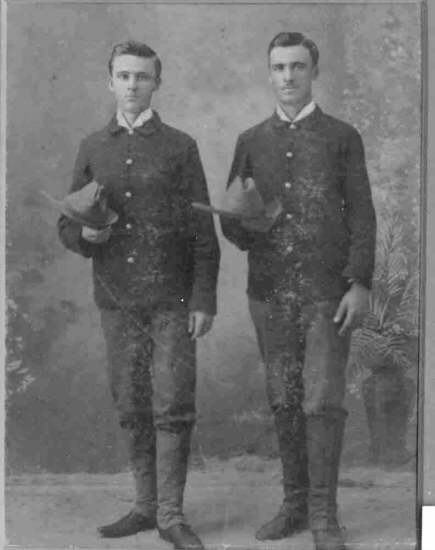 12 Walter and Ira Stillwell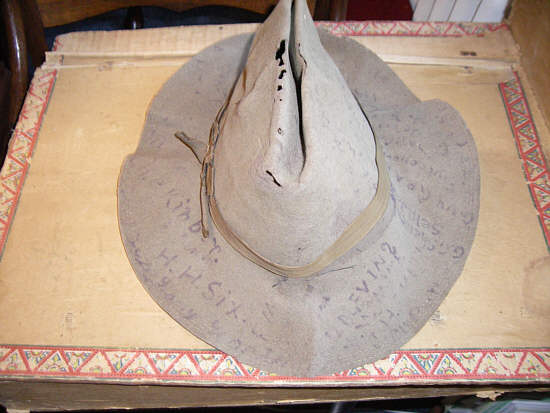 13 hat from Spanish American War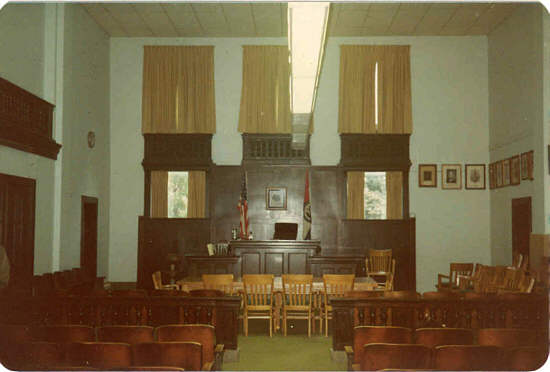 14 Tuscumbia Courtroom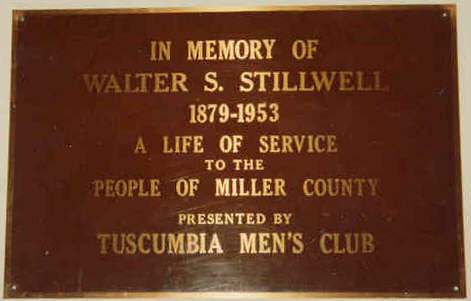 15 Placard in Courthouse
My personal memories of Judge Stillwell have to do with the Tuscumbia Presbyterian Church (photo 16) where he attended as did my family. Judge Stillwell always sat on the left side of the church a couple of rows up from my family, and my major memory of him was the brilliant white shock of hair he had at a time when he was in his late sixties. He was a quiet dignified man who was a leader in the church serving as elder for many years. The church had a beautiful stained glass paneled window behind the pulpit which I have never forgotten (photo 17). Sadly, through the years the congregation dispersed for one reason or another and the church building was abandoned leaving it to decay and gradually fall away a little more each year (photo 18)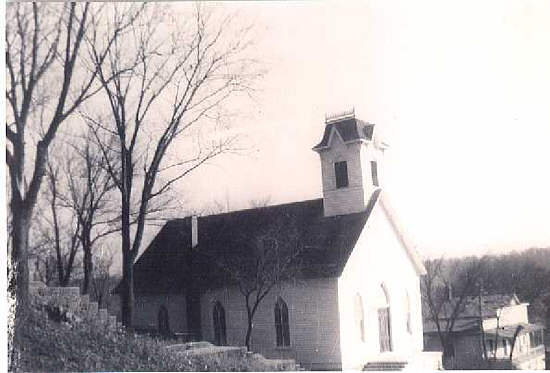 16 Presbyterian Church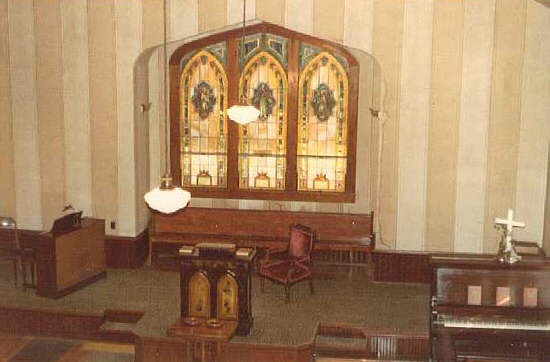 17 stained glass window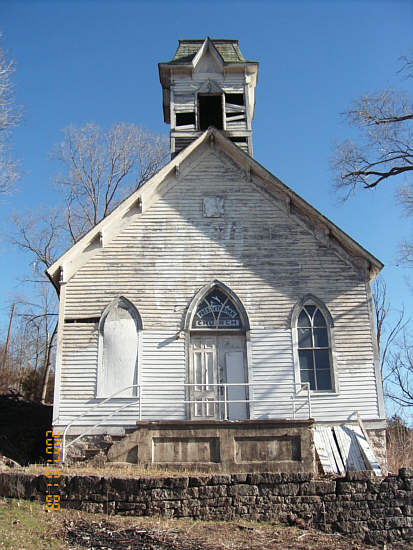 18 Presbyterian Church 2007
We are once again indebted to the volunteer services of local people in helping us with the new museum addition. Kenneth Wyrick (photo 19) donated us his electrician's services at even less than cost. Carl McDonald and Jim Clark (photo 20) also gave of their time to help Kenneth with the electrical work. Carl and Jim also jacked up the smaller log cabin on the property and placed some log beam supports to reposition the cabin at a more even level as over the last two or three years it had begun to tilt a bit.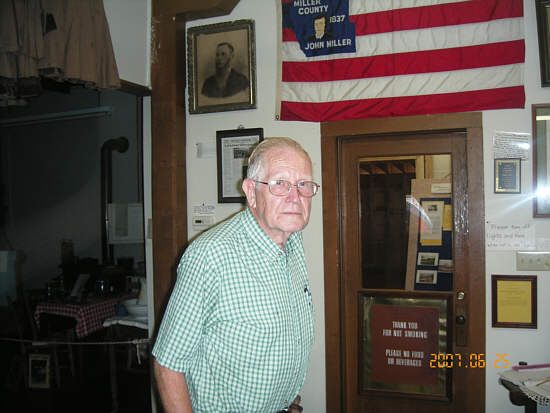 19 Kenneth Wyrick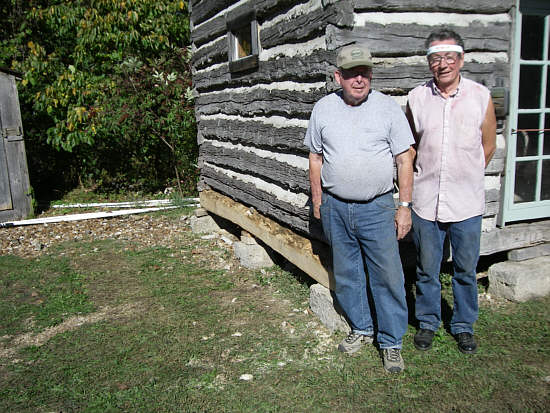 20 Carl and Jim
The last week was a busy one in which we attended and hosted a museum display at the Tuscumbia High School annual alumni meeting. Honored at the meeting was Miller County Museum board member and past long time teacher in the Tuscumbia school system, Wanda Wright. Alumni Association President Larry Flaugher presented the award (photo 21) for distinguished service and as part of the ceremony he asked to stand former students of Wanda's; then he asked children of those students who also had Wanda as a teacher, and then amazingly, even more stood when he asked to stand the grandchildren who were students. We are proud of the community service Wanda has given throughout her life and now even extending to serving on the board of our Miller County Historical Society and Museum.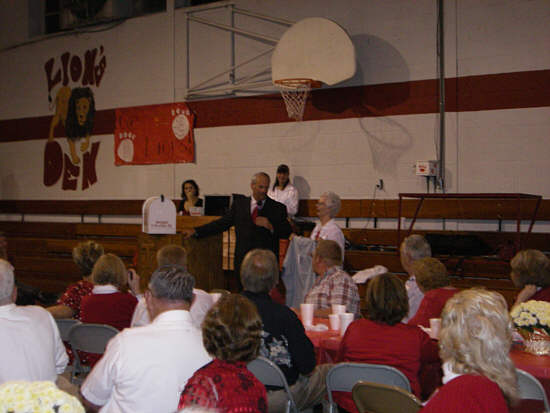 21 Wanda receiving award from Larry Flaugher
I took several photos of people who stopped by to inspect our museum display (photo 22) and was very pleased at the number of quilt raffle tickets we sold, proceeds of which will go to support our building program which is now almost completed. The class of 1957 was honored for their fiftieth year graduation celebration; however, a good number of the class of '47 had a reunion before hand (photo 23). Frank Schlesinger sang songs of the fifties in appropriate attire and hair (photo 24)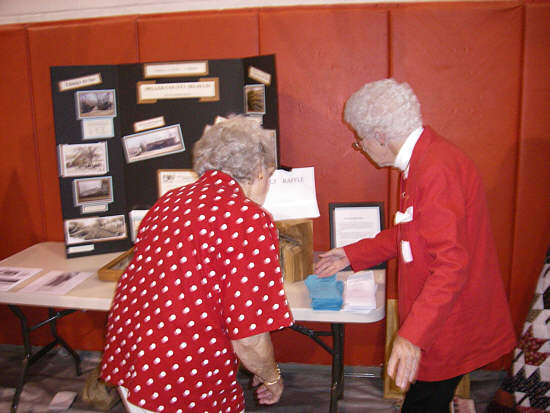 22 museum display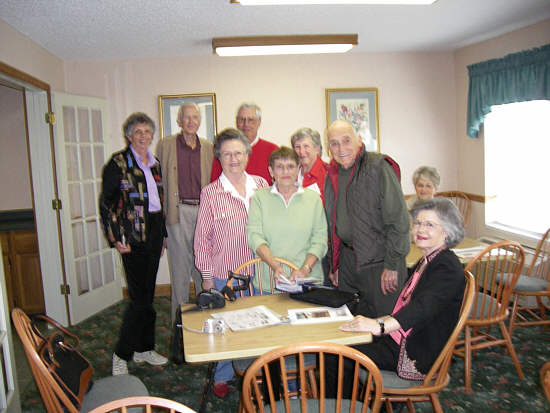 23 Class of 47 including friends; Sue Mace,Tennyson Jarrett,Sue Helton Jarrett,Elmer Brown,
Bonnie Bear Tyler,Marilyn Barron Bosso, Russel Condra, Shirley Condra,Doris Snodgrass Klein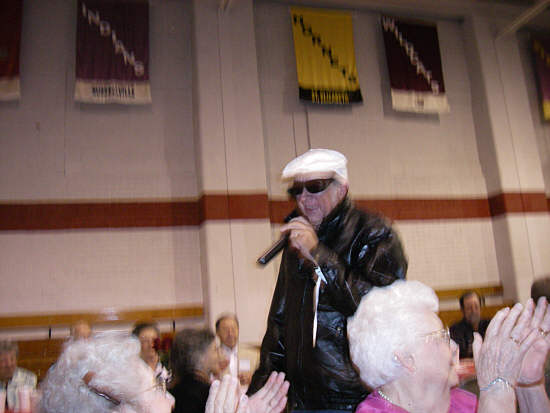 24 fifties rock with Frank
We held our first event in the new museum this past Sunday at which a pot luck dinner was enjoyed as part of our regular quarterly members' meeting. We just barely had time to finish the lower level to get ready for the event. The following photos give and idea of what the meeting room looked like before everyone arrived. Outside, backhoe landscaper, Layne Helton, was carefully laying rocks to make a neat wall at the entrance (photo 25). Layne also interrupted his busy schedule that day to bring in some chat to smooth out the driveway. The upstairs display room has been sanded and stained and varnished but we plan to put on another coat before it is finished (photo 26). The day of the event saw Jack Lupardus arrive first in his new/old classic Corvair convertible (photo 27). Ellis Bray sang a song he wrote himself for the meeting, "The Ballad of the J.R. Wells (photo 28). We even had a model of the J.R. Wells and an old steamboat pilot wheel on display for the song (Ballad) (photo 29). Joe Jeffries on base, Leo Barnhart on guitar, and Eddie Cotten on Banjo also included in photo 28 accompanied Ellis and stayed around to play some music later.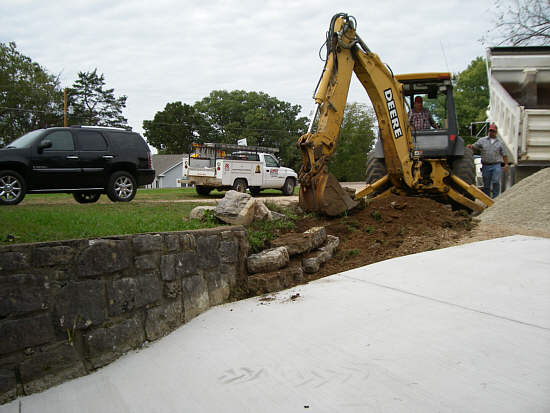 25 master back hoeman Layne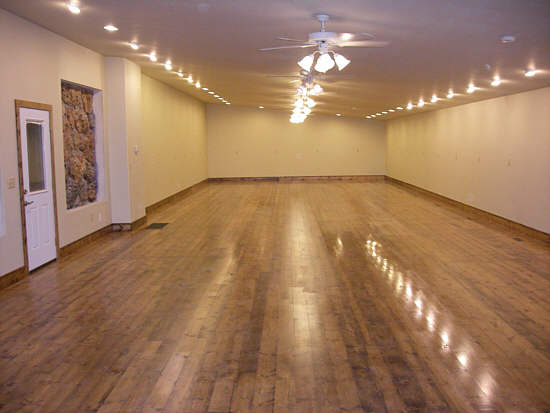 26 upper floor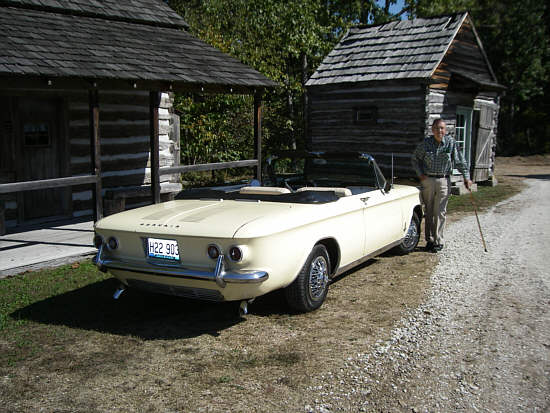 27 Jack Lupardus with new old Corvair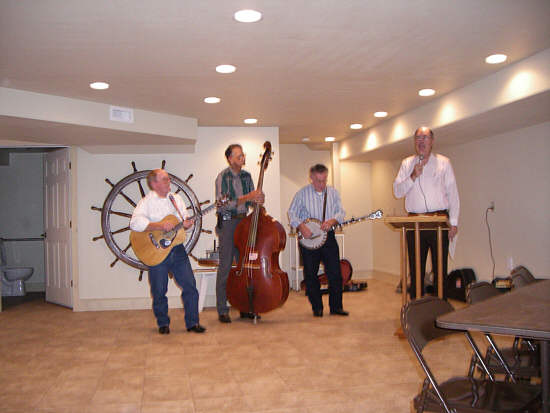 28 Ellis Bray with musicians Leo Barnhart,Joe Jeffries,Eddie Cotten
The Ballad of the J. R. Wells

Chorus:
Steamboat's a'comin! I bet it's the J. R. Wells.
There's a couple of bends between us, so I can't rightly tell, Let's go down to the woodyard to see if she stops by.
See the smoke and steam; hear that whistle scream. It's the J. R. Wells. Oh, my!

(instrumental interlude - repeat of last line)

Verse 1:
Out of oak and elm and a big fine boiler, they built the J. R. Wells; Right on the banks of the Osage River, below Tuscumbia's hill. They built her to be a workhorse, and on her they'd depend.
They built her to float on a foot 0' water, 'round the river's crookedest bend.

(Chorus, then interlude)

Verse 2:
With tiff and lead, and with grain and lumber, with venison, pork and furs,
They'd load up the Wells to steam down-river, through a hundred miles of curves, Down past the mouth of the Osage, [and] on to the Mighty Mo.
With salt and nails, with plunder and mail, she'd be back in a week or so.

(Chorus, then interlude)

From Warsaw to Linn Creek and Devil's Elbow, from Zebra to Shipley Shoal; From Bagnell on down to Osage City, the J. R. Wells would roll,
Headin' for the Big Muddy, the captain' d push his boat,
Sayin', "Open up the channel, boys, gotta keep the Wells afloat!"

(Chorus, then interlude)

Coda:
Steamboat's a'comin'! It's the J. R. Wells. Oh, my!

©E.M.Bray,2006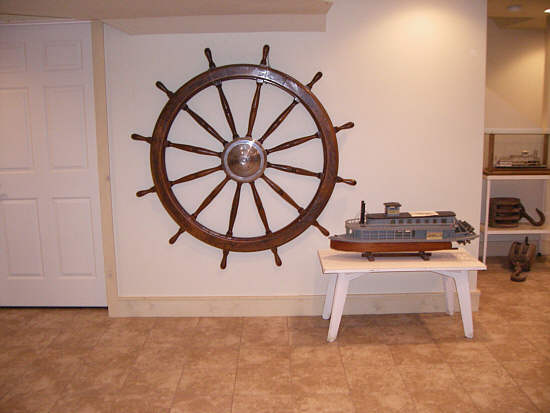 29 steamboat display
Our next event will be at the annual chile dinner at 12:00 p.m. Saturday, October 27 when we have as guest, Alan Wright (photo 30), who will introduce to us his new book Murder On Rouse Hill, (photo 31) a mystery about a true story which occurred in Stockton, Missouri many years ago as remembered and told to Alan by his mother Ruby who lived there at the time. Alan's roots go a long ways back in Miller County as he is the grandson of John Wright, the famous Miller County artist and engraver.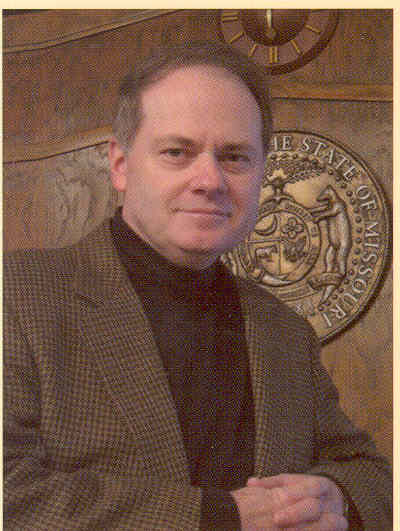 30 Alan Wright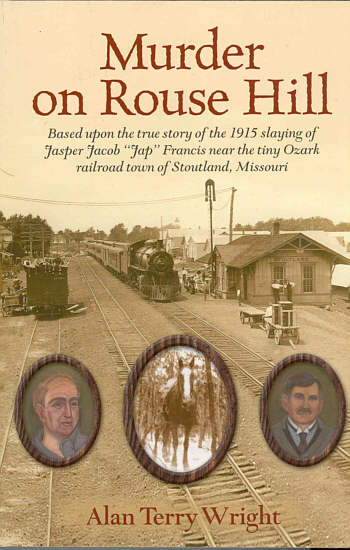 31 Book Cover
The mystery item for this week is entitled "what's he doin'" regarding the deer in the bottom of the photo (photo 32).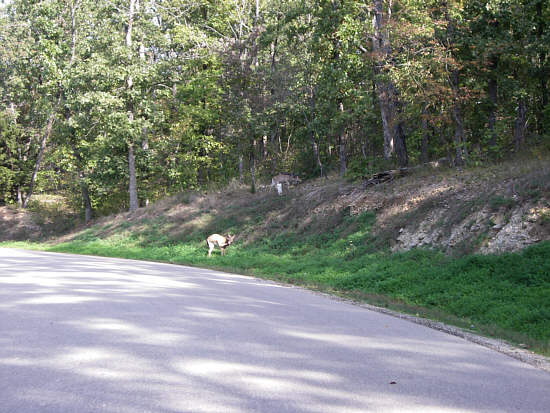 32 What's it doin'

If you magnify the photo you can see that the deer is chewing on its foot. It takes a long time in the woods to get a photo of a deer chewing on its hind foot.

We are looking for volunteers for the museum for next season for many categories of need. If you have some free time, even if one day a month, please email the museum director, Nancy Thompson, for more details (millercountymuseum@eldonpc.com). Or you can call and leave a message at the museum answering machine, 573 369 3500

.

Our fundraising drive for the new museum addition is still ongoing; even though we have the addition almost finished, bills are still coming in and we appreciate any amount you might want to donate. We still have to obtain financial resources for creating new and better displays especially for the new section. Our mailing address for donations is:

Miller County Building Fund
P.O. Box 57
Tuscumbia, Mo. 65082

That's all for this week.