Monday, October 08, 2007
Progress Notes
Last week Judy and I had the pleasure of taking some friends of ours, Jim and Terry Howard (photo 1) who are Kansas City area residents, on a short tour of Miller County. The Howards have a time share apartment at the Lake and for several years have enjoyed Lake recreational activities, but as many of those who vacation in this area, they had no knowledge of what was going on in that other world we have around here, the world made up of those who were born and raised and have roots in the tri-county area known as the "Extra Lake" region. So, I drove them first toward Brumley along highway 42 passing the entrance to the State Park and turning off on the Swinging Bridges gravel road. We passed by the Wright Cave (sometimes called Brumley Cave) (photo 2), which looks as if it may be in the process of being re-opened to the public, and traveled a short distance further to the two swinging bridges known as The Swinging Bridges of Brumley . These two historic suspension bridges, which are very close together, are located at the Mill Creek-Grand Glaize confluence. The larger of the two bridges, is the 400 foot Auglaize Bridge and spans Grand Glaize Creek or Auglaize Creek (photo 3), while the smaller Mill Creek steel suspension 100-foot bridge spans Mill Creek (photo 4). The bridges are at right angles to one another and 1,000 feet apart by roadway. Both of these bridges were designed and built back in 1931 by Joseph A. Dice, the legendary swinging bridge builder from Warsaw, Missouri. The bridges were built when the Lake of the Ozarks was formed and flooded the tiny creeks. It took eleven men only four months to complete the project, with the only "heavy equipment" being a stump puller and a team of mules to set the large towers. The bridges are now opened to "local traffic only". However, if your vehicle is less than five tons these one way bridges are traversable. The first of the two bridges, the Mill Creek bridge, is the shortest, but for first time "city visitors" is exciting enough, for when you roll down the windows and hear the "clickety clack" of the metal slats as the car wheels roll over them, you get the feeling that the bridge isn't all that tightly put together. Looking down on the scenic creek below to see the drop off from the bridge evokes a conflict as to whether one should race the car forward rapidly to get to solid ground as quickly as possible, or to take the logically safer approach of driving slowly such as not to knock anything loose or something worse. But after crossing the first bridge, the second one is several magnitudes of experience increased, because it is much longer and has wooden slats besides, some of which are in disrepair or missing. And the drop off to the Glaize (or I should say Auglaize) Creek below is of a different order of steepness and depth as well compared to the first bridge (photo 5). My guests were wavering between awe, fear, and excitement combined as we crossed the bridges but also were entranced by the native beauty of the surrounding area. One thing I didn't tell them was that Joe Dice, who built all but two of the swinging bridges in Miller County including the long suspension bridge over the Osage River at Tuscumbia, was a self taught bridge maker and "eye balled" a lot of his work, never having an engineer's degree or special training. So, when the State of Missouri in the early 1930's began requiring that all Missouri bridges be designed by a licensed engineer, Joe Dice decided to retire and built no more bridges. You can read more about Joe Dice and the bridges of Miller County written by board members Donna Carrender and Peggy Hake on our own website at the following link:
http://www.millercountymuseum.org/bridges.html
1 Terry and Jim Howard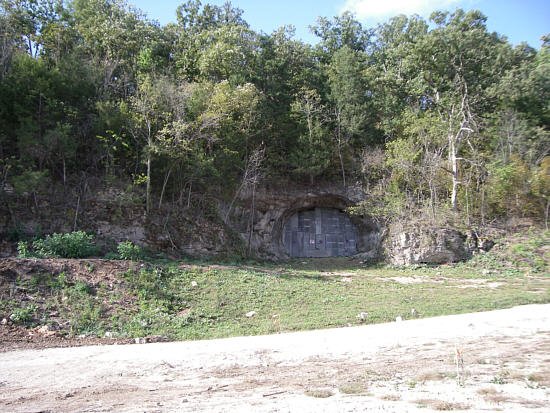 2 Wright Cave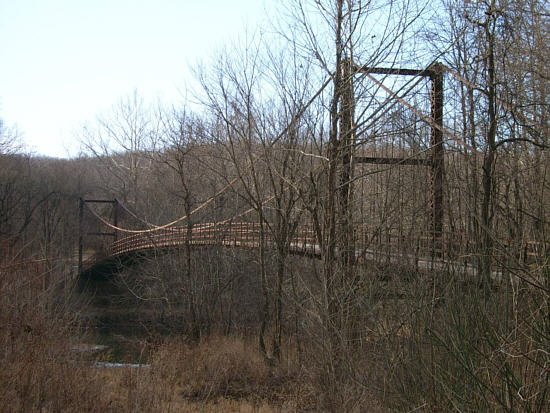 3 Glaize Bridge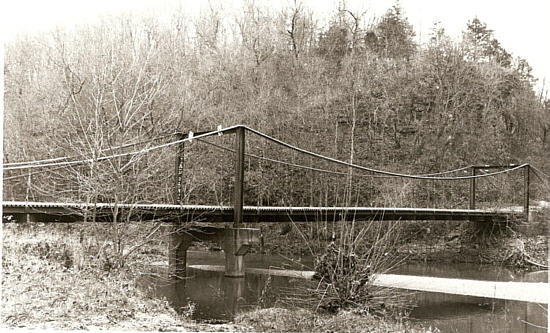 4 Mill Creek Bridge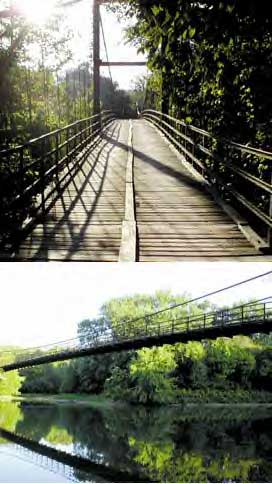 5 Auglaize Bridge
On our return we passed by the Wright Cave entrance once more. The entrance is boarded up so entry is not possible now. As noted above, construction in the area indicates plans may be in the works to open it to the public. I have been told that the Beabout family of the Brumley area plans to open the cave once again and establish a restaurant in the cave itself. Many years ago in the early 1900's an archaeologist named Gerard Fowke traveled through Missouri and other states exploring caves to acquire knowledge about the early native indigenous inhabitants before the Europeans arrived. The following is taken from a report on Missouri Caves by Mr. Fowke about this cave (which he calls Wright Cave):
"WRIGHT CAVE
A mile and a half west of Brumley, near Glaize Creek, is Wright, or Brumley, Cave. The entrance is 15 feet high and 40 feet wide. At 20 feet from the mouth the width contracts to 20 feet. The depth is 120 feet in daylight to a stalagmite floor. Dry cave earth extends for 35 feet from the entrance, at which distance it reaches tough, sticky clay; this continues to the stalagmite. Above the clay are growing stalactites. In front of the entrance were a few flint chips, but no indications of pottery or shell. A small implement, shown in figure 22, was found which is of interest because it was worked to a sharp point at one end of a narrow drill, while the other end widened into a squared form with a straight base which was dulled and polished from use as a cutting tool; the entire surface was polished from long service. An object of this kind would be highly suitable for mending moccasins and leggings. Finding this and nothing else strengthens the probability that this cave was used as a temporary camping place, but was never permanently occupied."
You can read more about Miller County Caves in the complete report by Fowke at this website, which also discusses many other caves of Missouri and elsewhere:
http://infomotions.com/etexts/gutenberg/dirs/1/8/9/3/18931/18931.htm
Continuing on up highway 42 toward Iberia we decided to show the Howards a typical Ozark cemetery. They had never seen a cemetery that was located on someone's farm; the only ones they knew about were the large public city cemeteries, so we turned right off highway 42 and drove up the William's Cemetery road to the old Williams cemetery (photo 6) located on the original Williams farm now owned by Greg Lee. This cemetery is the family cemetery for many of my wife Judy's family so we had familiarity with it and knew about most of the people buried there. In fact, the first tombstone our guests saw and which understandably puzzled them was this one (photo 7). They had many questions regarding the stories of several of the people buried there, especially John Williams, the patriarch of the Williams family in Miller County, whose tombstone is pictured in this photograph (photo 8).
6 Williams Cemetery looking south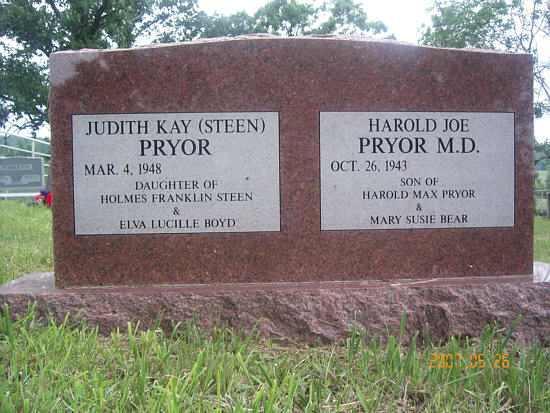 7 future burial site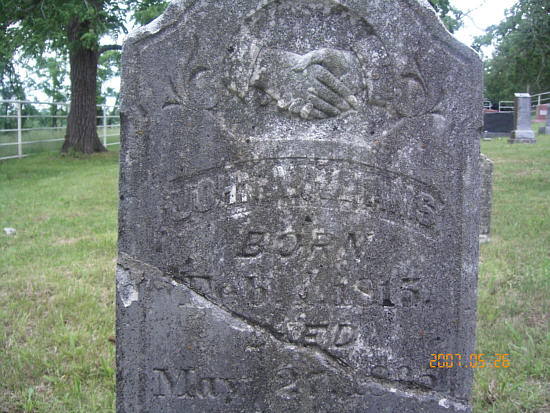 8 john williams
Getting back in the car again we took highway 42 on in to Iberia and turned north on highway 17 toward Tuscumbia. On the way we passed over the new bridge at Barren Fork creek (photo 9). You won't find a straighter piece of road very often in the hills around this part of the county than this one constructed to lead up to and from the new bridge. A lot of people have been killed on highway 17 because of the many curves and no shoulder room (but mostly because they drive too fast). I told them some of the history of highway 17 including what Clyde Lee Jenkins recorded in his history of Miller County of how in the beginning the road was nothing more than a path hacked out of the woods leading south from the Osage River down toward Iberia with trails leading to areas around the Glaize Creek. That seems like a long distance to cut your way through a forest to make a road but it was important to the early settlers that trails become byways good enough for horse and wagon travel. Some arguments ensued as to the routes chosen. In the page pictured here (photo 10) from Jenkins' book, you can read a formal plea filed by some landowners about one of the original routes proposed. Also note that one of the petitioners in this particular issue was John Williams, the owner of the farm where the Williams cemetery is located which we had visited with our guests. As Mr. Williams' farm was located some fifteen miles south of Tuscumbia and the Osage River, he had more than a mild interest in seeing that traversable roads were constructed south toward his farm and that of others in the area since at that time, the main route of commerce to Miller County was river traffic since roads were few and not maintained.
9 new highway 17 bridge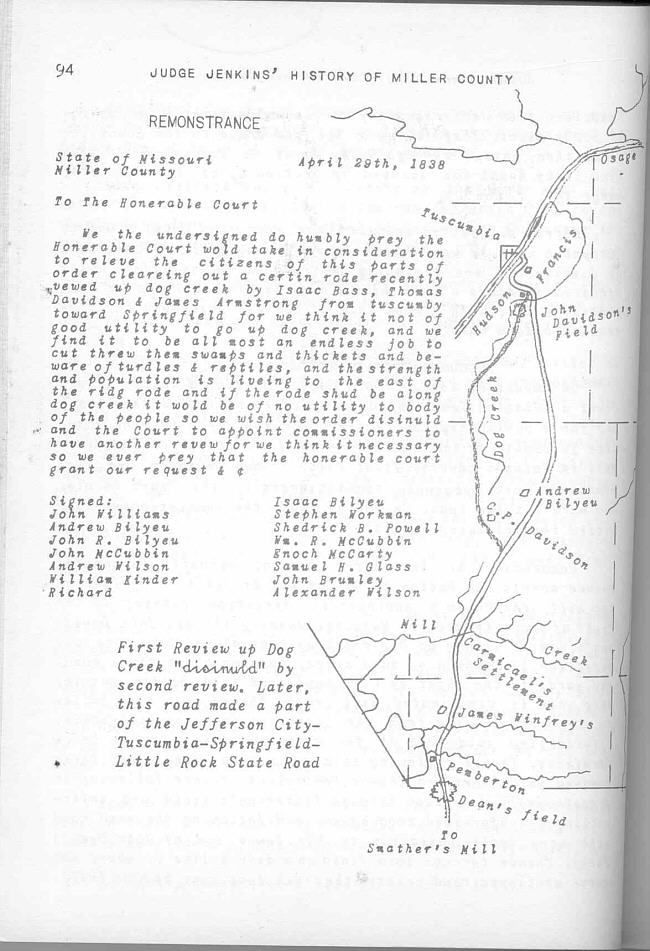 10 First Road South Clyde Lee Jenkins
Since Mrs. Howard was interested in quilting we took the couple to the home of Elva (Boyd) Steen, who has hand made more than two hundred quilts. In the photo (photo 11) Mrs. Steen is demonstrating some of her quilts which she stores by layering them on an elevated bed. She has graciously donated one of her quilts (photo 12) for our museum annual quilt raffle this year proceeds of which will be added to our museum addition building fund. We sold quite a few raffle tickets for this quilt two weekends ago at the Oma Noma festival at Lake Ozark where we had a museum display in the White House. The next display we will have of the quilt will be Saturday, October 13 at the annual Tuscumbia High School reunion in Tuscumbia. Also, a special opening of the museum will be available between five and six p.m. for those out of towners who would like to tour it as well as review our new addition which is almost completed.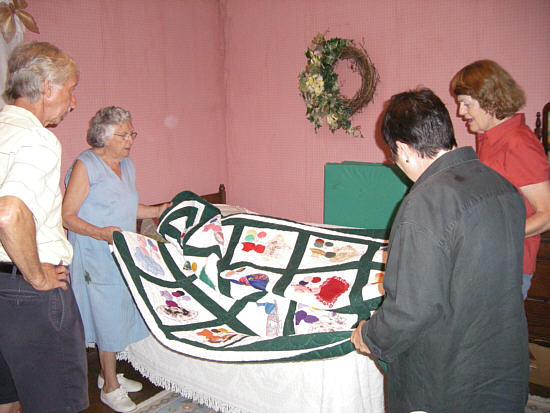 11 Elva's quilt storage bed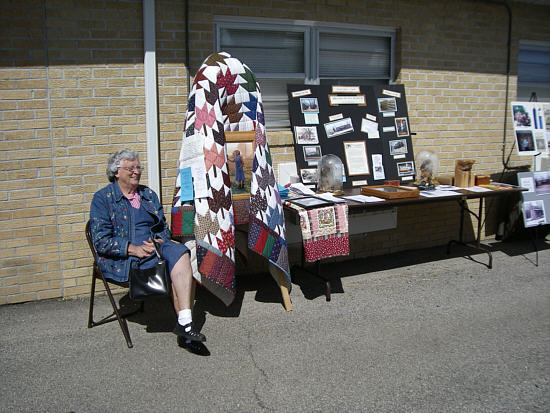 12 Elva Steen, quilt maker
On our way through Tuscumbia we detoured to the old jail and courthouse (photos 13 and 14). Ron Helton, a local Tuscumbia native, has purchased both buildings and is in the process of restoring them mostly because of his love of his home town and its history. However, he is anticipating operating a restaurant as well.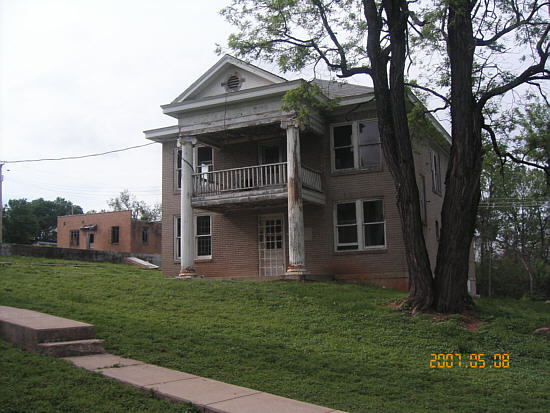 13 old jail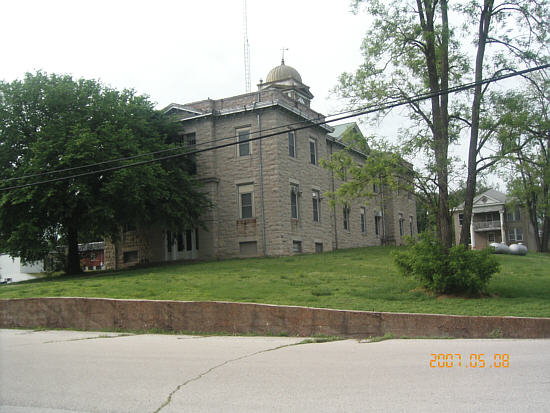 14 old courthouse
Upon reaching the Miller County Museum on highway 52, which is located near the new courthouse, we gave the Howards a short tour. The highlight of the tour was the telling by my wife Judy of the story of the Old Lupardus Cabin (photo 15) which has been relocated from the original Lupardus farm to our museum grounds. Judy's grandparents bought the Lupardus farm in the early 1940's and lived in the cabin for many years. The Howards spent at least an hour perusing the many artifacts and displays in the museum. One item which caught Mrs. Howard's attention and which she purchased as a memento of her tour of the museum was a souvenir cedar box with special engraving made just for our museum (photo16). This box and many other cedar craft handmade items have been donated to the museum through the years by Pryor Novelty Company (which is located about fifty yards south of the museum building along highway 52), most recently under the management of Tim Pryor, a son of one of the original owners.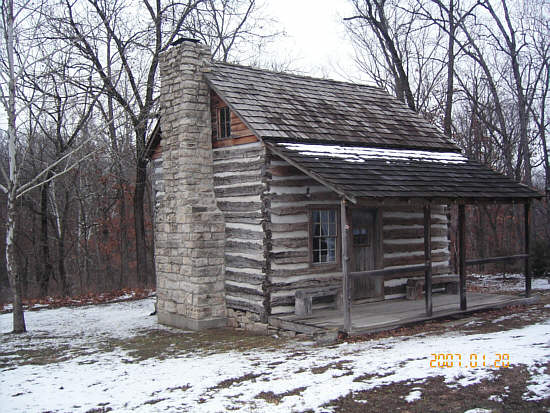 15 Lupardus Cabin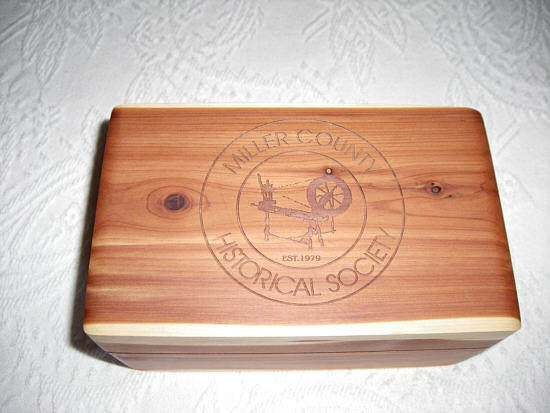 16 especially engraved for Miller County Historical Society
The cedar crafts of the Ozarks have a long history going back into the 1800's when chests, tables and furniture were made from the aromatic red cedar tree which grows abundantly in this area. For an example of the old time skills used for cedar craft are some of the pieces made by James Wright, father of Corrine Wright, one of our board members (photos 17 and 18). Others in this area who had wood making skills included Lon Stanton, Dewey Kallenbach, Barney Flaugher, his brother Harold Flaugher, Oliver Brockman, and Emil Kramyl to name just a few who come to mind. The coming of tourists to the Lake area beginning in the mid thirties presented an opportunity for some of those with an entrepreneurial mindset to think of the idea to start selling some of their crafts at local gas stations and small stores along the highways. The tourists were eager to buy such items because they were hand made here by native Ozarkians giving a number of locals an opportunity to supplement their at times meager farm income. Several small businesses evolved in the area devoted to hand crafting and selling cedar souvenirs such that as time went along it was reported that the cedar souvenir business here employed more local people than any other industry. Among these early entrepreneurs were the names of Kramyl, Stanton, Brockman, Raynor, Pryor, Deere and Blair. Because of the economic importance to the area of the cedar souvenir business I thought it would be interesting to present a summary over the next several weeks of the history of each of these families who were the local originators of crafting and selling souvenir products made from cedar.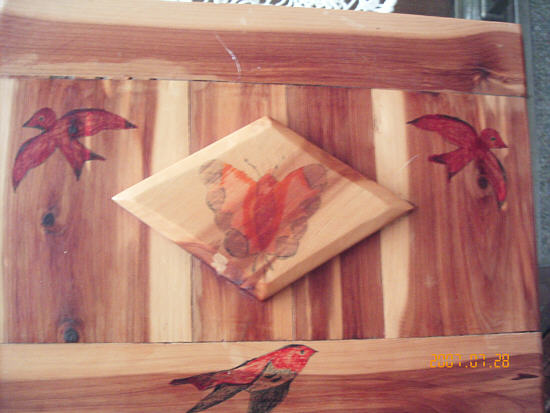 17 cedar box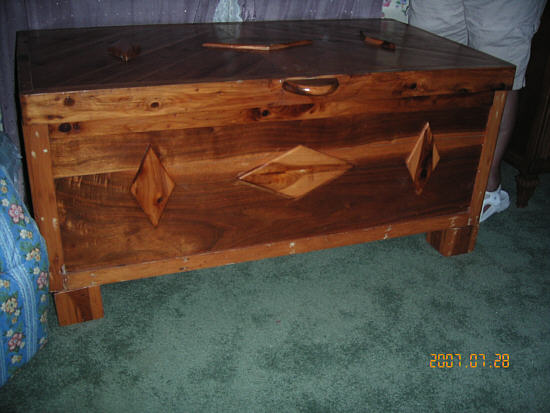 18 cedar chest
I will start with my family's part in this local industry. My mother, Susie (Bear) Pryor, who was there at the time (and before I was born) has written her own summary of the Pryor family's part in the unique to this area wood craft.
Pryor Novelty Company (Susie Pryor)
It was 1937 and the depression had been tough on the Pryor family down in Wright County, Missouri. The family included John, the father, who was a poor farmer, having lost his position as State Representative when the Democrats swept the elections nationwide in the early 1930's. John had three sons: Ansel, Fred, and Harold (photos 19 and 20). Ansel, the oldest son, had moved up to Miller County to work as Sanitation Engineer under the direction of the County Health physician, Doctor Garner. Ansel brought Harold, his youngest brother, up to Miller County to live with him and finish the last two years of high school since the family farm in Wright County was far away from any school and Harold had no means of transportation. Ansel, his wife Marie and their young baby girl Billie, Marie's mother, and Harold all lived in a tiny three room cabin behind the old Pickens House (formerly part of the Goodrich Estate) (photo 21) which was located on top of the hill near the school. Ansel told Harold he was going to have to work after school to help with paying the bills. Ansel's job as Sanitation Engineer took him around the county inspecting Restaurants, Schools, and other public places. He began to see things that put his mind to working. A Dam had just been completed that gave a way to cross the Osage River and made a huge Lake. They had put a highway across the top of the Dam and this created a mass of tourists coming down to see the new creation. It was called Bagnell Dam since it was close to a town called Bagnell. Ansel in his inspecting job was seeing all this growth that was taking place. Tourists began to come and both sides of the highway west of the dam started filling up with all kinds of businesses that sold things the owners thought tourists would buy. People living there started selling off part of their land where restaurants, souvenir shops, motels and fishing camps were built. It was called the Strip which led a good long ways out on the highway.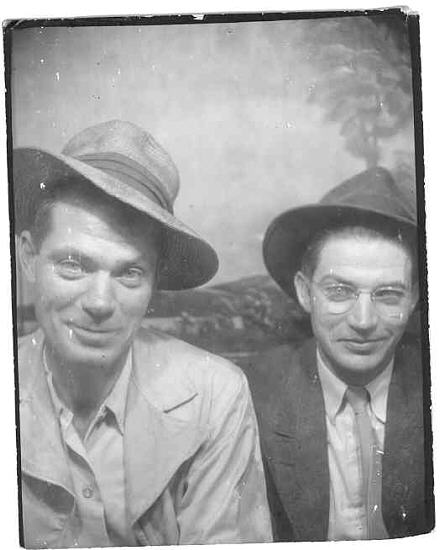 19 Ansel and Fred Pryor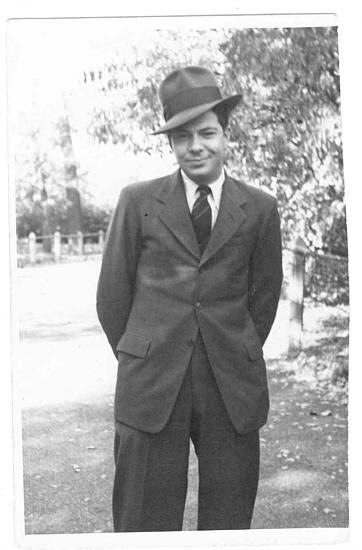 20 Harold Pryor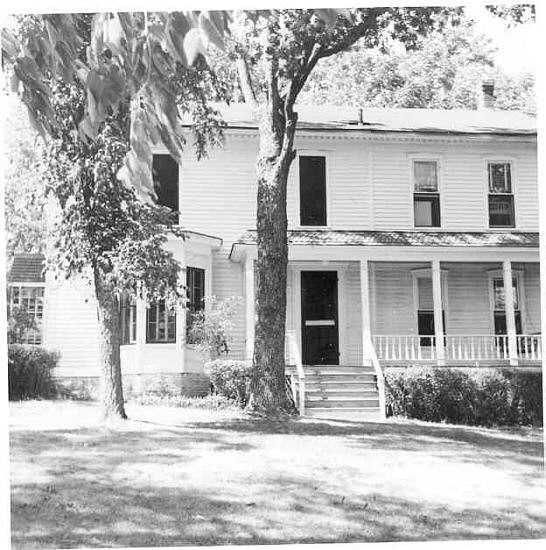 21 Pickens House
Ansel through his job was seeing all this so he talked it over with Harold and they decided to go down and look at what was going on. They both started thinking how much they would like to get in on this Even my Dad , Madison Bear, had their same thoughts. Since it all was near the town of Bagnell, Madison several years earlier had gone to Bagnell and built a general store that would appeal to tourists and local people. Several years later, my uncle, Bob Craven and his wife, Alma (Abbett), my mother's sister, came down from Granite City, Illinois where they had been working and built a restaurant, right there on the left after you drove off the Dam. Ansel and Harold bought some of the various types of souvenirs from the shops to get an idea of what appealed to tourists. That excited them and their spirits got on a high. They approached Dewey Kallenbach, who was a good local woodworker, and got some of his ideas on how to make souvenirs out of cedar, since Dewey had been doing that kind of thing as a hobby around town for years. Dreaming ahead, if they could pull this thing off, maybe they could make enough to move out of that small cabin and rent a larger place. Maybe they could even get Mrs. Pickens, that elderly lady who owned the place, to fix an apartment somewhere in her big house that had two bedrooms. Boy that made for an exciting plan. To do all that though they would have to have some money. Even if somehow the Bank down under the hill in Tuscumbia would loan them enough for a start there was much more to think about. First they would have to have a couple or so of machines to cut out pieces of wood and they would have to put together a saw mill to get the lumber. Another hugely important thing was where they could put all this stuff to start making and storing the souvenirs. It was too expensive to build a place so that was out. Then they thought about asking Mrs. Pickens if she would rent them her big empty barn and stable. Boy, that would be an answer to a dream. As we were finishing our Junior year in high school, Harold and Ansel stepped up the pace at getting things going. They had already figured out how to make several examples of souvenirs out of cedar wood. However, one, a replica of an old outhouse with the words "Relief Office" written on it and which later perennially was one of the best selling items (photo 22), interestingly enough, was not made of cedar. For those who don't know, the term "Relief Office" came from the fact that the depression was still going on in our part of the world back in the thirties and a lot of people didn't even have the money to buy basic food staples, so the county had set up a place where they could get some food and other necessary items just to survive. It was commonly called the "Relief Office". Other early cedar wood items included a small chest (photo 23), a pin cushion (photo 24), a steamboat pilot wheel (photo 25), and a wishing well (photo 26). The "outhouse" idea was originated by Ansel oddly enough from his work for the county. You see, back in the early1930s, Ansel was a sanitation engineer for the county, and one of his projects at the time was remodeling outhouses to make them more sanitary regarding waste disposal. He had fashioned a model outhouse to show people how they should remodel their privy. But people were poking so much fun at his tiny outhouse that Ansel decided he was in the wrong business. Now he had the opportunity to take his original outhouse model used in his work for the county and put it to work for him in a new business.
22 Relief Office




26 Wishing Well Bank




23 cedar chest large




24 Milk Stool Pin Cushion




25 Steamboat Pilot Wheel photo holder

photo of Susie Pryor




27 Pilot Wheel Sewing Kit



But first they had to go down to the local Bank and explain what their plans were. Then they had to go over to Mrs Pickens to see if she would rent the barn. They were now on their way for she agreed. Next they needed to cut some cedar and get a saw mill going to get the lumber as well as get all the necessary small supplies needed to make the cedar novelties. They got it all together and began making several examples of the cedar wood craft that locals like Dewey Kalenbach had been making for years and made them really shine by lacquering them with a brush. After getting a collection together of the first few cedar novelties they took them down to the souvenir shops at the Lake and were very happy with the response from the buyers. They all gave them orders to bring down to them. The boys were naturally thrilled about this with one trepidation, wondering if they could ever get enough made to fill all their orders. They knew now that cedar would sell so they ordered some more machines and more of everything they would need. Businesses began ordering enough that they even hired a couple of people from around town to help. Ansel quit his job as Sanitary Engineer and asked Fred, their brother, who was recently discharged from the Navy and living in Idaho, to come and help. All this was going on while Harold was finishing his senior year of school. Things were developing quickly with the building of more items and adding new ones to the line all the time which necessitated hiring more people. Harold could only work after school but as soon as he graduated he could work full time. Lucille, Fred's wife, and I made pin cushions stuffing them in a cedar replica of a steamboat pilot wheel (photo 27) to make a sewing kit. We even glued some pegs in the holes around the wheel to hold spools of thread. That was something else. They paid us a cent and half for each. For a while we lacquered by brush the cedar novelties but then they discovered a faster way by using a pressure spray. They erected a metal hood and applied the lacquer with a spray gun by holding the item on a stick and turning it round and round with the lacquer fumes being sucked out by a big fan that was attached to an opening on the outside. In another portion of the barn they fixed a separate room for an office and got a typewriter to put addresses on the labels for the cardboard cartons they packed the cedar novelties in for shipping. Harold had to do that because nobody else could type. He took typing in his last year at Tuscumbia High School which everyone thought was strange for a man but it paid off. Later my sister Bonnie (Bear) Tyler did that and after that was Pat (Wright) Jones and Francis (Thompson) Snodgrass.
By this time they saw the need to use the whole barn. They put the office and packing room in different sections separated from the manufacturing room by erecting walls so the cedar dust wouldn't settle on the finished novelties. There was another area where they had a large newspaper cutter because they wrapped each cedar novelty in a page of newspaper before they packed it in a cardboard carton so it wouldn't scratch.
After they got the Lake saturated with novelties, the boys bought a second hand car and filled it with all the car would hold and started down Route 66 selling cedar souvenirs to all the roadside service stations between St. Louis and Joplin. About this time we were spreading out to wider areas. Ansel began traveling further out into the country calling on large corporations like Woolworths and large chain stores. He even began flying out of St. Louis on the new type of airplane called the "Continental" going to big cities like New York and Los Angeles. He would call on the manager of the stores or the head person who picked out the items that they were going to list and each individual store was to choose from that list that they wanted to stock in their individual store. He called on them twice a year to show them our new cedar wood selections and also our new catalogs (photo 28). I never failed to wonder how a fellow like him raised poor in the country knew how to talk to those executives in those large companies.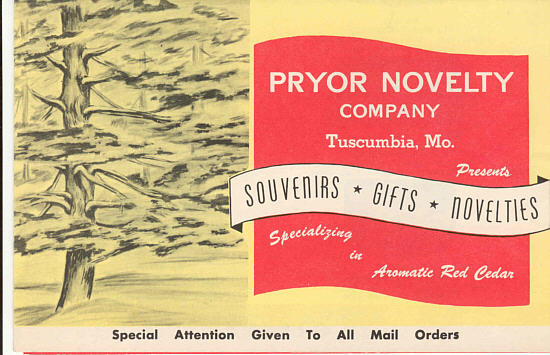 28 color catalogue
They still had space in the finishing area to build a large table which they used for packing orders. As the items were sprayed with the lacquer there was another person there to take them off the stick and place them on racks to dry. After they were dry they were placed in drawers or big cartons of their own kind and these drawers or cartons were close to another big table to make it handy for the people packing the orders. There were several different people working there at the packing table and each one had their particular job to make for a smooth operation. Each item was stamped with whatever the buyer requested to be stamped on the item. They made shipping boxes out of corrugated cardboard cutting to size and gluing together to make a carton in which to place the paper wrapped souvenirs. They then sealed the box, weighed it, and put the postage on the outside if it was going by mail; then it was placed by the door ready to be loaded in the old car Ansel had to deliver it. Later they bought a truck (photo 29) because so many boxes of cedarware were being taken to Eldon to be sent by parcel post, truck freight, or rail. But the truck wasn't bought right away, maybe not until the late 'forties.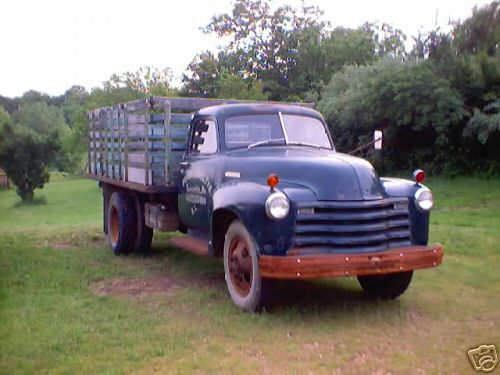 29 Chevrolet truck
The boys were beginning to make some money, more than they had ever dreamed possible coming as they did out of the poverty of the depression. But they didn't know very much about money. Everything was in cash in those days, stuffed in pockets or drawers and even falling down between car seats when they were on the road selling. I don't know why but about this time, only two or three years into the business, the IRS came to visit. The man said he was from the Internal Revenue Service. Harold thought that meant he was a "Revenuer" coming to look for illegal "moonshine". He wanted to see "the books". Well, there weren't any "books". He wanted to see records of income and expenditures. The boys had no idea what he was talking about. He stayed a few days looking around and talking to the boys. I think he thought they were sort of dumb and ignorant. He told them if they didn't start keeping records they would go to jail. But I think he felt sorry for them realizing maybe that they really were that uninformed and unsophisticated. Anyway, he left them with the "fear of God" about going to jail and right away they got some advice from a Jefferson City lawyer on whom to see to help them with "the books".
It was about at this time when World War ll broke out and they had to close down their business for awhile because so many were called into service. Ansel was too old to be drafted and also had a child. Fred had already been in the Navy and discharged and had children. Harold was examined for the draft but rejected. So none of the brothers went to war. When it was over the brothers decided to move out of the Pickens barn for now they had decided to expand. I was sorry because we had built a little house next to where the barn and stable had been located. I might add sadly that this little house burned down two months ago.
So, they built two large buildings out on Highway 52. The only structures there then were the Anchor Mill Hardware store and a couple of houses across the road, one of them being that of Homer Clay Wright, who was President of Anchor Mill then. One of the buildings was strictly for the manufacturing plant (photo 30) for they didn't want the cedar sawdust and shavings to settle on the finished product even though they were using blow fans and a ducting system to remove the shavings. They built Fred an office in that building for he headed up the making of the unlacquered novelties from the raw cedar. The other building (photo 31) was built to be separated from all the dust and shavings because it was where the lacquer was applied and the packing and shipping was done. Harold took care of that operation. At one end of the building they put an automatic finisher (photo 32) they had purchased which was an important new addition because of the speed with which the cedar souvenirs could be finished with the gloss of the lacquer application. The two smaller hooded booths that they had been using in the old barn for finishing were moved to this building also. They worked fine but not nearly as fast as the automatic one. The automatic finisher was fascinating to watch. The little cedar boxes went around on pegs attached to a long circular chain and something made the spray guns go off just at the right time as each box went by. I don't know how they did that.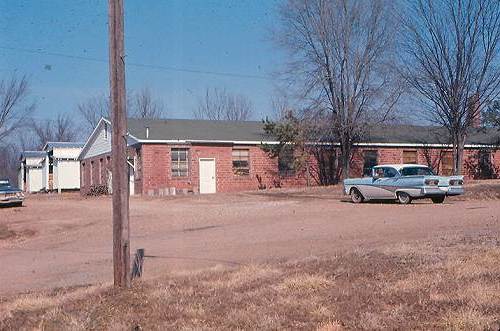 30 Manufacturing Shop from North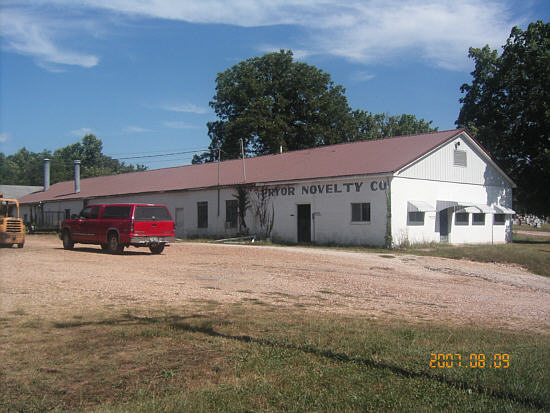 31 finishing and packing building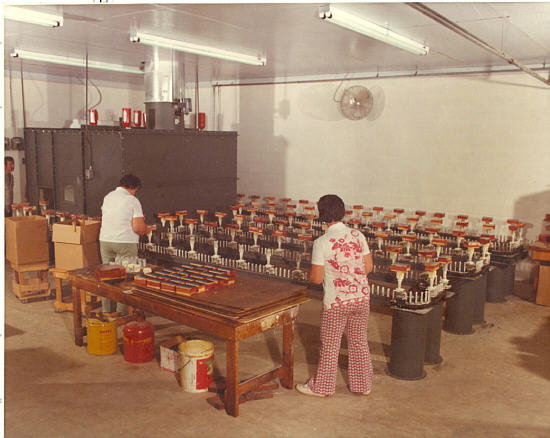 32 Automatic Lacquer Machine
Things progressed rapidly after that move in the late forties. The business continued to grow throughout the fifties extending well into the nineties. We had a good life in our home community of Tuscumbia and the boys were active in community activities serving on the town and school boards, and as members of the Lion's Club and the Men's Club and helping in the annual Tuscumbia Homecoming Picnic. They were able to give lots of jobs to local people through the years so they didn't have to go to St. Louis or Kansas City to find work. Sometimes we had as many as seventy or eighty employees working there. We sold shavings to the chicken and turkey farmers and to pet shops for litter. Nothing was wasted. People came by and picked up kindling free to start up their fires in the winter.
As they grew older the business gradually was turned over to Fred's children. My son had gone off to school to be a doctor and Ansel's daughter had married and lived out of town. Ansel, Fred, and Harold all passed away in the 1980's leaving the business to Max, Jim and Tim Pryor, sons of Fred. Eventually, Tim Pryor bought the others out and ran the business until just last year when it closed due to a general slowdown everywhere in the cedar souvenir industry. This was due to the cost of such a labor intensive enterprise especially regarding insurance and progressive increases in other overhead costs making the price of handmade cedar wood items too expensive to buy for the general public. Especially significant was the availability of low price gift shop souvenirs being made in China where labor costs are extremely low. The same squeeze is happening to the furniture industry in this country where our own oak and other natural woods are being shipped to China where furniture is made and then shipped back and sold more cheaply than what we can build here.
I have to say that it makes me sad to see the two old buildings and all the storage sheds weathering so much and not being used. I am even more sentimental when I see the old barn and stable up on the hill which is still standing but looking very old and tired (photo 33). So many memories I have but soon memories are all that will be left, I'm afraid."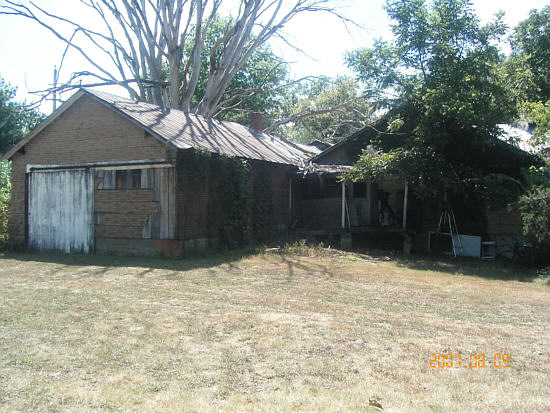 33 old converted stable
Thanks mom!
We are now finished with the pine wood floor of the new addition. In the photo you can see what it looked like when half of it was stained (photo 34). Jim Clark and Carl McDonald recently put up security outside lights. The heating and cooling units are in place. Some plumbing and a few other details remain to be done. This winter we will spend placing displays in the new area and revising the old area as well. We hope to have a grand opening next spring to show it all off. A preview can be seen if you attend our potluck quarterly meeting on Sunday, October 14 (and hear Ellis Bray sing his new song the Ballad of the J.R. Wells accompanied by the Joe Jeffries group) or our chile dinner Saturday October 27 at which time we will have guest speaker Alan Wright discuss his new book Murder On Rouse Hill. Alan is a native of Eugene, Mo. whose family roots are from the Wright family from around the Saline Creek valley.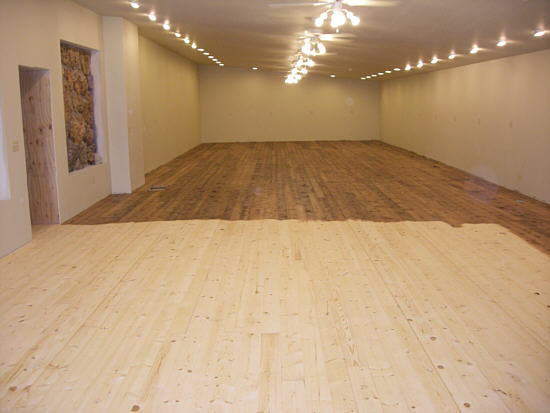 34 staining new floor
We are still in the midst of our fund raising drive to support the new addition's construction. Donations are continuing to come in which is very encouraging. If you would care to support our museum you can do so with a small donation of any amount; all are appreciated. Our address for donations is:
Miller County Building Fund
P.O. Box 57
Tuscumbia, Mo. 65082
We are also in need of volunteers for hosting the museum and other activities. If you would care to help us with that please call our number at 573 369 3500 and leave a message. We will get back to you promptly.
Here is the "what is that" feature for this week (photo 35).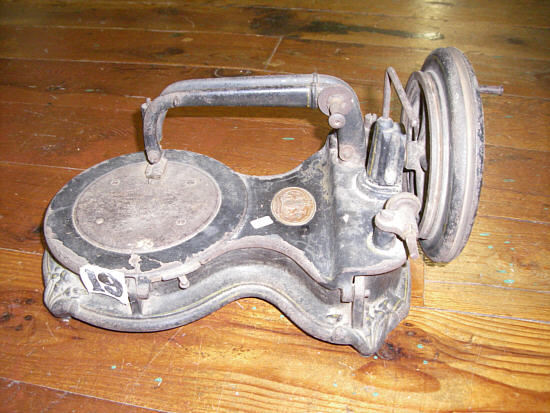 35 What's that
It is an old miniature sewing machine. I haven't seen one quite like this one as most have the arm more elevated. It is another in the collection of antiques we have placed in the "country home" display of the museum.
That's all for this week.