Tuesday, October 02, 2007
Progress Notes
Last week on Monday some members of the Cardwell family (photo 1) met at the museum to research some areas of their genealogy as well as to have a reunion of those who lived away from here. I was happy to have been at the museum then to meet them. Barbara Cardwell Hutchison and her daughter Kitts were present as well as her brother, Jim Cardwell (photo 2). I had known Barbara from years ago (mid 1950's) when she worked at a table opposite me when we were employed by my father at Pryor Novelty Company. She now lives in California, Missouri. Her half sister, Lena Brumley Kallenbach, with whom she shared the same mother, also worked at that same table. Jim Cardwell has lived on Rush Road a few miles north of Tuscumbia for more than forty years on a very historic farm which was homesteaded in 1812. I told him that soon I would like to visit him and get more details; the house he lives in was part of the original farm and was built at the turn of the last century. I also met Robert Hogue (group photo 1 above, third row, second person) whose mother was a Cardwell. His great grandfather was Archelain Hogue, whose farm was located near the Kaiser State Park, close to the farm of George McDaniel (photo 3), who was the grandfather of my mother-in-law, Elva Steen. You can see the locations of these two farms in this 1905 plot map (photo 4) You may have to save the photo to your computer and then reopen it to use the magnifying tool to view it best). The Hogue farm is in section 10 and the McDaniel farm in section 3. Robert Hogue's grandfather, Alonzo Hogue, many years ago had moved to Butler, Missouri where Robert was raised. Robert went to school in Butler with Ed Clapp, whose son Randy has been my accountant for more than thirty years. Even more interesting in the way of coincidences is that James Franklin McDaniel (photo 5), a son of George McDaniel, had moved from the Kaiser area to Butler in the early part of the last century to a farm which was adjacent to the Hogue home farm where Robert was raised. James Franklin may have chosen to move there from Miller County since his Uncle Jim McDaniel, brother to George McDaniel (see photo 6 of George and James), was already living there having moved from Illinois where the McDaniels' originated. Robert told me a story about one of James Franklin McDaniel's sons, Charley, that I had not heard before. Charley was a Korean War hero. He had stayed behind after a devastating attack on his squad by the North Korean Army to care for the wounded and dying and did not join the rest of the squad in its retreat. He failed to return to the squad afterward and was considered lost in battle, either killed or taken prisoner. The McDaniel family searched records for years after the war but nothing was discovered to indicate what had become of him. He was recognized posthumously for his courage and valor.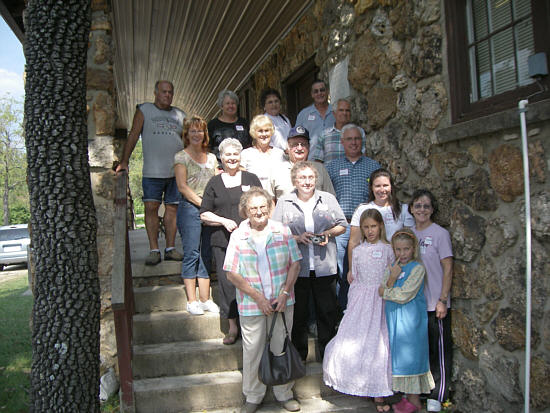 01 Cardwell FamilyTop Row:
Clifford Cardell (Lake Ozark); Mindy Cardwell McDowell (Hawaii);
Kathleen Eckert (Butler Mo.). J.R. Uber (Eldon)
2nd Row From Top:
Patti Cardwell Tappel (Jefferson City); Sue Cardwell Miller
(Jeferson City); James Cardwell
3rd Row Down:
Bonnie Alberts (Jefferson City); Robert Hogue (Belton Mo); dale Cardwell (Texas)
4th Row Down:
Ileen Everett (Butler Mo.); Alice Dugan (grandview Mo.);
Gillilan and Barbara Cardwell Hutchinson (California Mo.)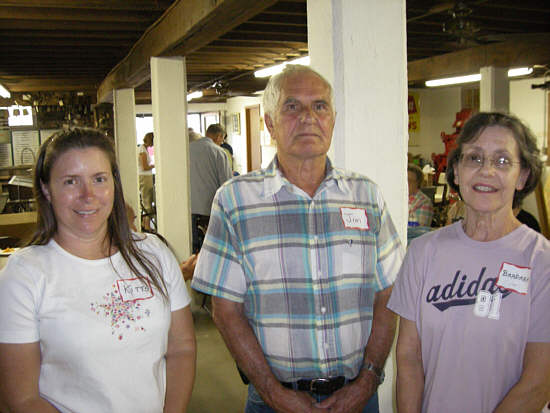 02 Kitts, Jim, Barbara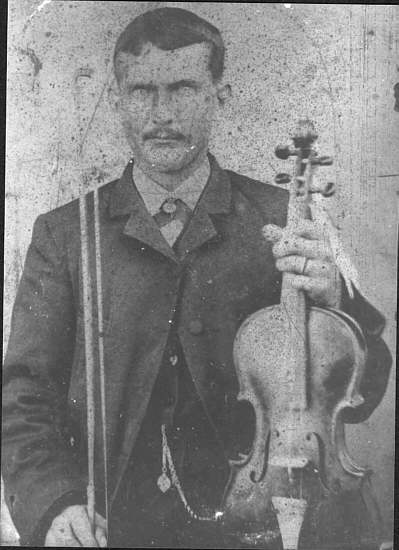 03 George Washington McDaniel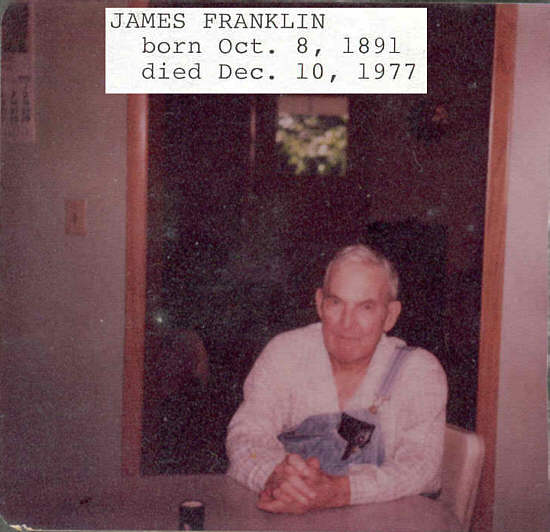 05 James Franklin McDaniel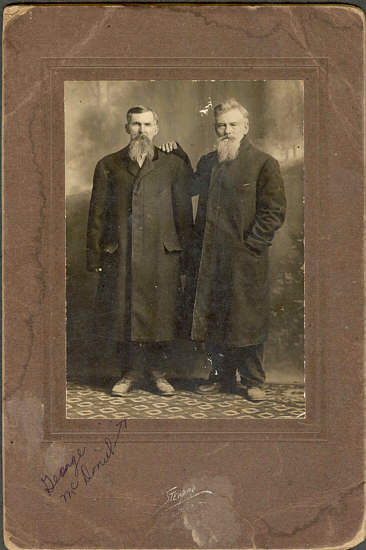 06 George and brother James McDaniel
The George McDaniel family history has been summarized in an interesting manner by his great granddaughter, Sue Steen, whose grandmother, Maggie McDaniel Boyd (photo 7), was instrumental in caring for her siblings after George's wife, Ann Liza died at an early age. The story of the McDaniels', like many stories of those days of more than a century ago, is one of hard times and tragedy. I think it is worthwhile to read Sue's narrative to get some idea of how demanding life was back then in Miller County for many of the folks who were our ancestors: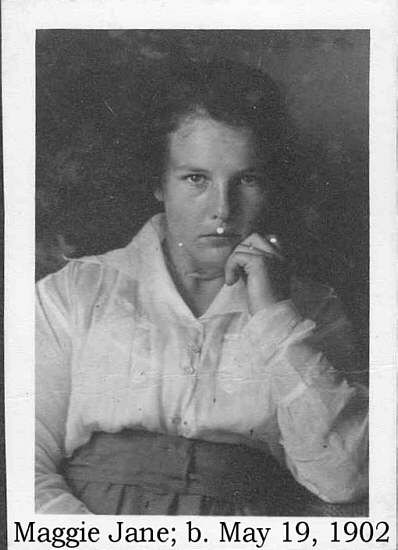 07 Maggie Jane McDaniel b.1902
George McDaniel Family
By Sue Steen:
George Washington McDaniel (see photo 3 above), 5th child of John (photo 8) and Elizabeth Henderson McDaniel (photo 9) married Ann Liza Colvin (no photo available), 2nd child of James Hamilton and Mary Elizabeth Shoemaker Roark Colvin (12th child of James H.) July 13, 1886. He was 28 and she was 15. George had come from Greene County, Illinois at age 14 (when his father died) to Des Moines, Iowa (where lived his mother) to Bates County, Missouri (where his older brother Jim lived) to Miller County, Missouri. He first settled in Old Bagnell where he operated a barber shop and a hotel. He cleaned and farmed several tracts of land before he settled on a farm in the Bear Creek community near Kaiser, Missouri where he spent the rest of his life. The farm had belonged to James H. Colvin, George's father-in-law. When James died his wife, Mary Elizabeth, divided the farm between their boys Dave, Ike and Allen. Dave was about to lose his part of the family homestead so George bought it and later bought forty more acres from a Mr. Jackson.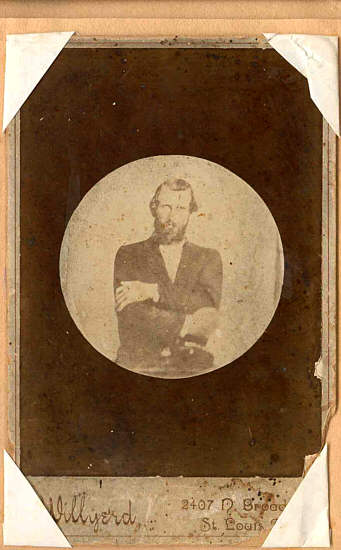 08 John McDaniel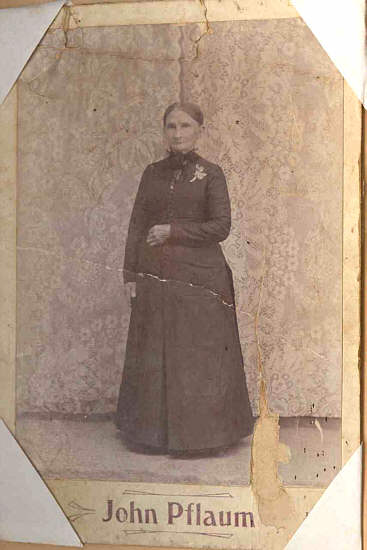 09 Elizabeth McDaniel
George and Ann Liza had 13 children between 1887 and 1913. They were John David, who died at about 9 months old; twins Ella and Buford who died at birth; James Franklin (see photo above); Charles J (photo 10); William Amos, who died at about a year and a half; Daniel Columbus (photo 11); Henry Clay (photo 12); twins Maggie Jane (photo 7 above) and Walker (photo 13); Minnie Belle (photo 14); Arthur (photo 15); and Earl Washington (photo 16 with family).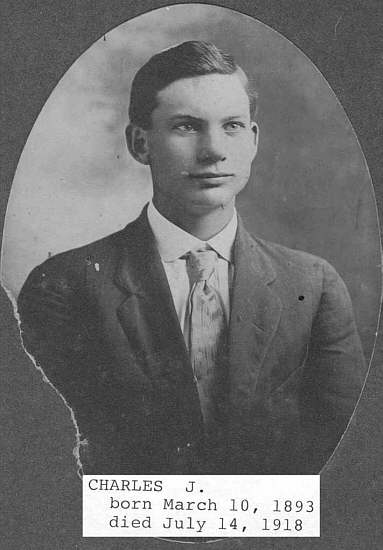 10 Charles J. McDaniel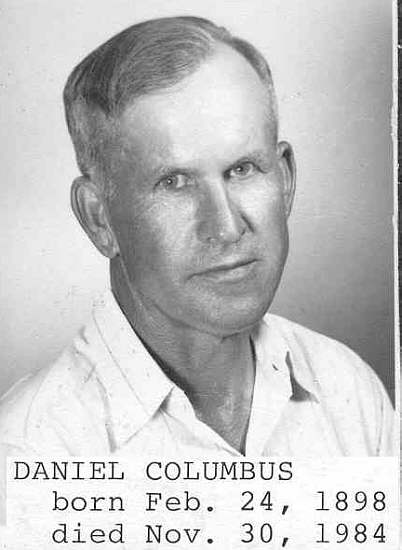 11 Daniel Columbus McDaniel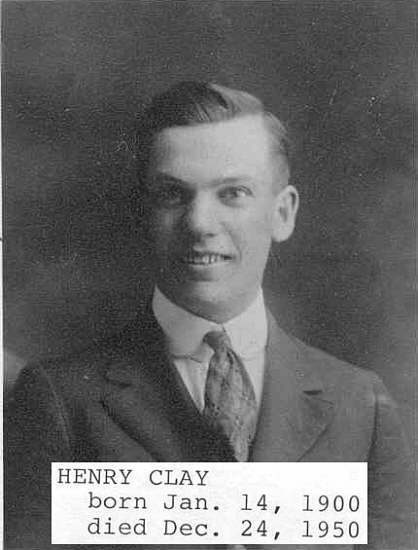 12 Henry Clay McDaniel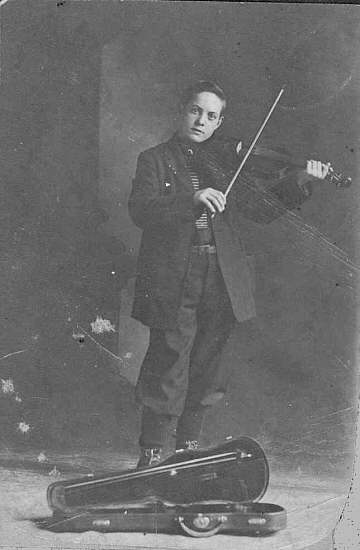 13 Walker McDaniel b. 1902, d. 1964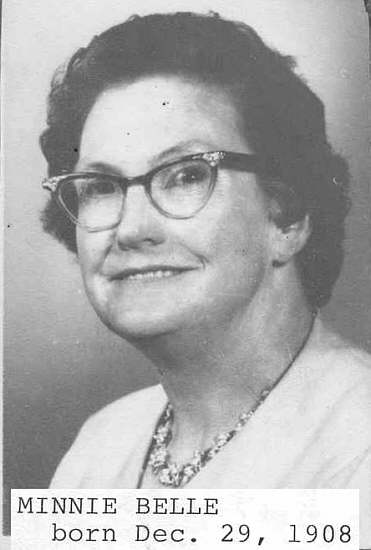 14 Minnie Belle McDaniel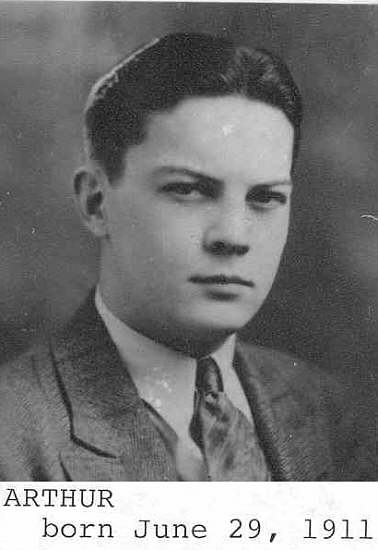 15 Arthur McDaniel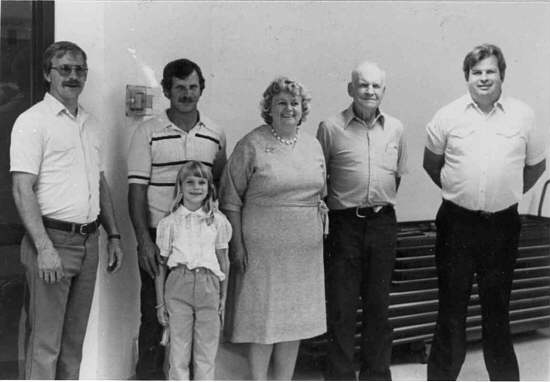 16 George,Dwight,Courtney,Jean,Earl,Gaylord McDaniel
Of the surviving twins, Maggie was born first and her twin, Walker, second. He was laid out on a blanket as dead but he revived shortly. Maggie was a stout little girl but Walker was a puny little boy. Because he was "poorly" Ann Liza took care of him and George took care of Maggie. She slept with her dad when she was a little girl growing up and he took care of her. Maggie and Walker spent lots of time playing together. She remembers pretending they were pigs---playing in a pile of leaves.
Maggie started school at Fairview (photo 16a), walking two or more miles with her brothers and the Colvin cousins. In the schoolroom was a wood stove---and water was carried from a spring a mile and a half from the school. She carried her lunch in a little syrup bucket. In the winter, sometimes she would wade in snow drifts and have wet frozen feet by the time she got home. Then they would have chores to do---drive the cows up, milk, gather eggs and etc.
16a Fairview School with names.
When Walker was about 7, George's sister, Mary Campbell from Calhoun, Illinois, came to visit. Seeing this family had their hands full she took Walker back with her to live. She brought him back in two or three years because she couldn't do anything with him and because he had been expelled from school.
Later, when Aunt Mary's daughter, Ella (Carlson) married and moved to the west coast, she took her cousin Walker with her to live. When Arthur got big enough, he also went there to live. So Walker and Arthur grew up on the west coast.
Walker got many whippings from his father. Maggie remembers a time that Walker sold his dad's turkey gobbler. He was probably 13 years old. George had gone somewhere for a few days and left the children by themselves. Walker took a notion to take George's old turkey gobbler to Kaiser to the store and sell it. George came home and missed his turkey gobbler---went to the store---there in the pen it was! He got his money back from Mr. Calkin and took his turkey home. Walker saw him coming and hid behind a door. George jerked him out and boxed his ears.
When George was an old man, he had Maggie send a registered letter to Walker asking him to come back home and take care of him. Walker never answered. Later he told Maggie that he had never forgotten or forgiven his dad for all of those whippings! In 1914 son Charley was working away from home on the river with a crew boat. The engine exploded and broke his leg, crushing part of it. The doctor took off part of his leg making it two inches shorter. George went after him and brought him back home from the hospital---and he took the measles. He lay sick for seven weeks (typhoid fever followed) during which time the rest of the family took the measles, including Ann Liza who was pregnant. She miscarried. The story goes that the measles "went in" and settled on her lungs. Maggie stayed in bed with the measles in the same room as her mother, keeping her face to the wall. The doctor came---but nothing could be done. Ann Liza died; her little twelve year old daughter, Maggie, sick in bed in the same room. The neighbor women made Ann Liza a new white dress for the burial and Maggie remembers them putting something on her face. The men made a wooden box to lay her mother in. They put the box in a wagon and pulled it with a team of horses to the Colvin Family Cemetery and there she was buried. She was 43.
Ann Liza had left nine children: James Franklin was 23 and married, Charley was 21, Dan was 16, Henry was 14, Maggie and Walker were 12, Minnie was 6, Arthur was 3 and Earl was 1.
Maggie---at 12 years of age---became "the woman of the house!" She says the hardest part of her mother's death was later---expecting to see her and she not being there.
After that Charley, Henry and Minnie got typhoid---all three of them REALLY sick. Charley was "out of his head with fever---crying and talking". Dan took care of him most, changing beds and etc. ' Little Minnie's mouth and throat was "covered with scabs (what they called Black Typhoid)". She couldn't eat or drink or speak a word and was expected to die. Dan and Maggie would swab her mouth out with peroxide. George was never sick. While Dan and Maggie nursed the sick George carried on with the rest of the household cooking, washing and caring for babies.
James Franklin was married---he came to help---and got sick also.
Maggie remembers Aunt Maude Colvin bringing chicken soup for them to eat. She and her son Ralph were going home and a copperhead snake bit Ralph in the foot. They came back to the McDaniels' home and George soaked it in kerosene. Green streaks were coming from it. Ralph was vomiting and was so sick---but he recovered.
Life was hard for this family in Miller County in 1914!
Charley got well and went to Bates County to live with his brother, James Franklin. Later he went into the military to serve in World War I; although his short leg should have kept him out. He was killed July 14, 1918 in France---the first from Miller County killed in action.
Maggie was cooking for the family at age 12. Soon after Ann Liza died, the neighbor men came to help butcher. Aunt Maude was coming to help Maggie fix dinner for them but Aunt Maude was late so Maggie just decided she could make the pies---and so she did! Three apple pies were baking in the oven by the time Aunt Maude got there. Meat and beans with cornbread or biscuits was their main menu.
Some of the things they did to preserve food was to butcher five or six hogs (the neighbors all butchered and helped each other). From this they would make a ten gallon jar of sausage---and have plenty of meat and lard. From cabbage out of their garden they made barrels of kraut. The apple orchard produced apples which were buried deep in the ground with potatoes and turnips. They always had eggs and milk and butter. Molasses was made.
Maggie and her dad did the laundry. She did the small things and George washed the overalls and heavy things. At first they just had a wash tub and wash board. Later they had a crank washing machine. They took it down by the spring where they had plenty of water to fill it. Maggie had a hard time getting clothes. The family just barely had enough to change into. As she began wanting to go to church and different places with her friends (about age 14), she had to have some clothes. So as she gathered eggs. She'd keep out some for herself---maybe a dozen at a time-- 'til she had five or six dozen. Then she'd take them to town and buy something to wear. Kaiser had a clothing store and grocery combined. Aunt Maude Colvin sewed some for Maggie after her mother died. Maggie's friend, Oma DeGraffenreid, had pretty dresses. One time Oma's mother told Maggie that if she'd get some cloth she'd make her a "pretty dress" too. Maggie talked her older brother Dan out of five dollars and bought the material. Mrs. DeGraffenreid made her dress. She wore it and kept it nice and it was later her wedding dress.
Albert Brant, a teacher, lived in the front room of their house. The McDaniel family was a musical one. Father George played a fiddle, James Franklin played a French harp (harmonica), Charley played a fiddle, Henry played a French harp and a Jews harp, Dan played a mandolin, Walker a fiddle, Maggie a French harp and a Jews harp, Minnie played the organ, Arthur a fiddle and Earl played a guitar, mandolin and sang. Walker and Arthur had some lessons; all the others played by ear. George McDaniel remarried twice. The first wife stayed about three weeks and had her brother come get her. Maggie went home with them, staying with and working for the brother and his wife---Mr. and Mrs. Anderson---all summer. Riding a horse, Maggie made a trip home to visit and found her family needed her so badly, especially little Minnie. She took the horse back and came home to stay until she was married. George's next marriage lasted three or four months.
It was a hard life on this farm in the Bear Creek community near Kaiser. George had lost just about everything he had during the horrible sickness of his family and death of his wife. He was a hard man to get along with, not very good about buying clothes and other necessities for his children growing up, and was awfully rough on his kids, whipping them a lot.
James Franklin was married, living in Butler, Missouri; Charley had been killed in WW 1; Dan lived at home and worked close in the community; Henry had married and dlvorced, moving back home with a crippling disease. Walker and Arthur had gone to live with relatives on the west coast. Minnie was ten and Earl was five.
December 31, 1918 Maggie left her family home (photo 17) with Willard Boyd to be married. She was sixteen."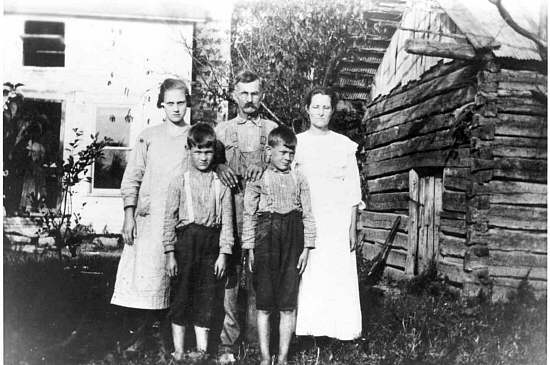 17 Minnie, Arthur, George, Earl and 2nd wife in rear of original log home
---
So, Sue's narrative about Maggie McDaniel and her family ends. But the coincidences to which I alluded above regarding last week's events in which a casual conversation I had with one of the Cardwell family (Robert Hogue) lead up to the Maggie McDaniel story do not. You see, although none of the McDaniel family could have predicted it, Maggie and her husband Willard Boyd purchased the old Peter Lupardus farm and lived for many years in the old log cabin built (photo 17a) by Peter Lupardus which a few years ago was moved to our museum site by board member Carl Mcdonald and several others (photo 17b). Maggie and Willard had willed the farm and cabin to their grandson, Gary Flaugher, who graciously donated the cabin to the museum, which now is one of our most important historical possessions because of the number of Miller County origin people whose ancestors lived in it over the years.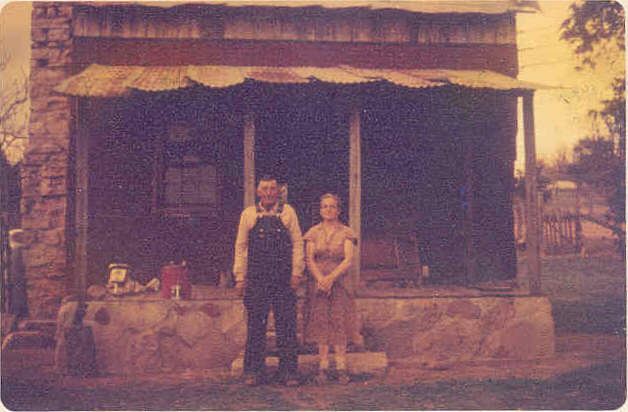 17a Willard and Maggie at their Lupardus Cabin home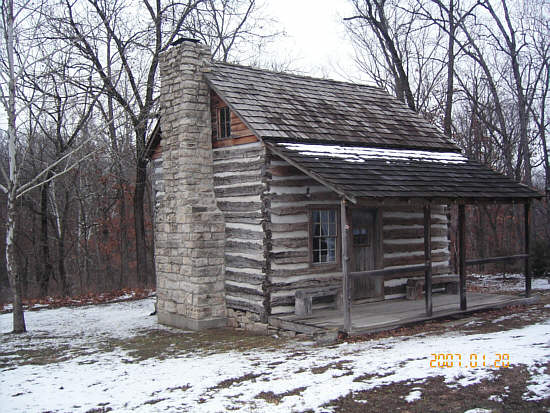 17b Lupardus Cabin
Last Saturday, September 29, the World's Largest Marble tournament was held in Kansas City (photos 18, 19). I was somewhat interested in it because for many years I had listened to my uncles and other relatives talk about how men and boys played marbles outside when a get together was going on usually on Sunday afternoons. The old time marbles game used a fair sized circle of ten foot diameter out in the yard or field. The game of marbles was so popular that it even made the cover of the Saturday Evening Post in this painting by Norman Rockwell (photo 19a). The Toy and Miniature Museum of Kansas City (photo 19b) has a huge collection of marbles and marble paraphernalia; this photo is just one example (photo 19c). If you want more details about how to play the game I refer you to this website:
http://www.landofmarbles.com/marbles-rules.html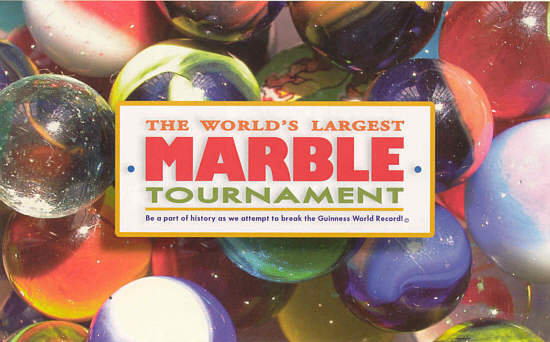 18 Marble Tournament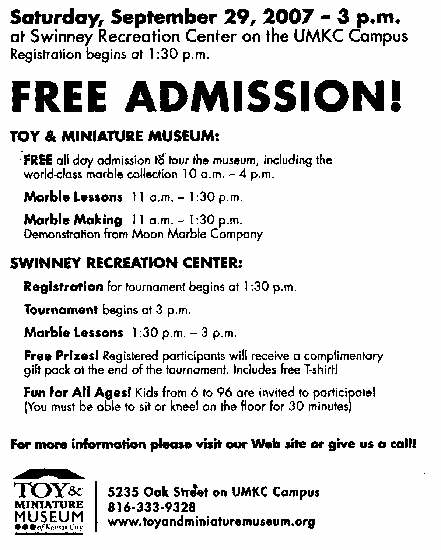 19 Marbles Tournament information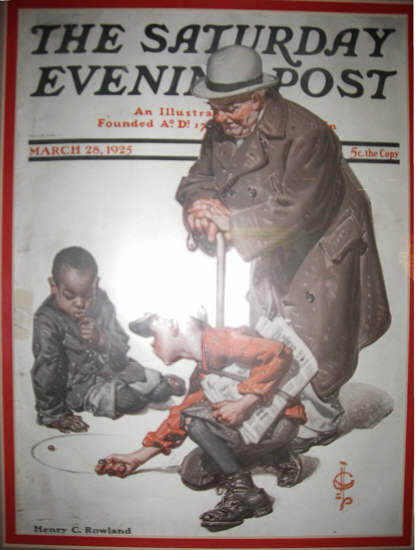 19a Post Cover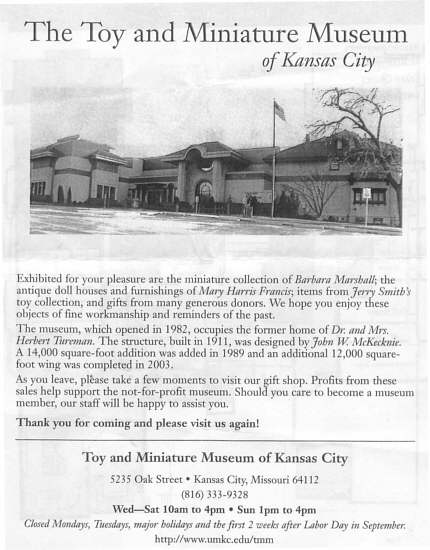 19b Toy Museum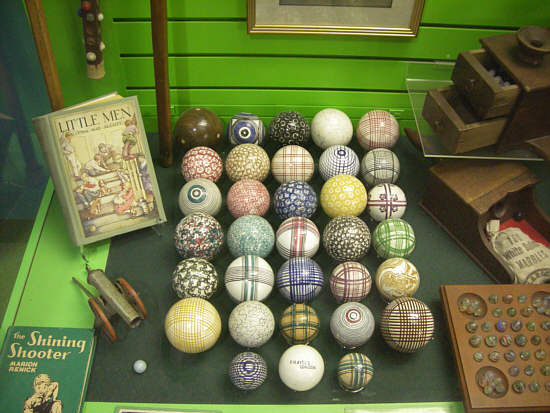 19c Marble collection
For a look at some of the types of marbles used take a look at this website:
http://search.cartserver.com/search/search.cgi?cartid=a-8546&category=instock&sm=2&maxhits=20&keywords=taw&bool=AND
However, the most entertaining narrative about marbles was written by Eldon native Bob Richards (photo 20) in his book, Up The Caboose (page 42) , which I recommended last week as being a very humorous and interesting commentary about Eldon in the early twenties of the last century. The following is a copy of what Bob wrote about Eldon style marbles as played in the mid 1920's: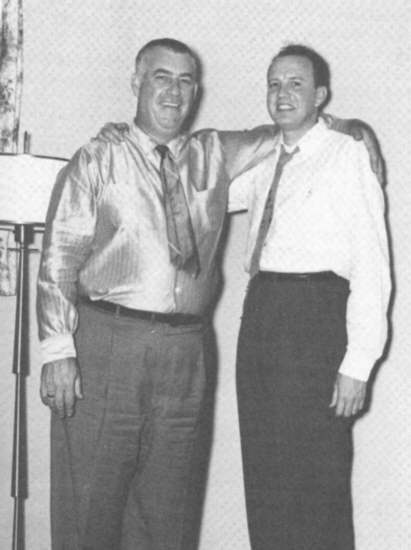 20 Bob Richards on right
"Little Finger Fibs Upside Down
Nearly seventy years ago, when spring winds softened, pussy willows blossomed and peeper frogs trilled their love songs, a craze seized the boys in Eldon. It was marbles mania, and the grade school campus teemed with earnest lads shooting marbles of all kinds. Glassies and crockies, flints and agates,breadbaskets and yardmasters, blue marbles and green. Some solid colored and some ringed like Saturn (photos of marbles). Beginners and the timid played for "funs." Serious devotees played for "keeps," and pocketed the marbles they knocked from the ring. In that simpler time, marbles signified boyhood wealth. The preteen coin of the realm. The juvenile medium of exchange. Marbles were traded for almost anything worthwhile: sling shots, pegging tops, spool tractors, lucky rabbit feet, buckeyes, beanies, jackknives, Mexican jumping beans, live flying squirrels and willow whistles. You could even bestow upon your favorite girl a sparkling taw of exceptional beauty. A valuable flint might be used to bribe the class bully, so he wouldn't beat you up. Marbles were assigned specific values. Glassies ranged in value from 10 for the small to 40, 60 and 80 for the larger ones. Large marbles were called breadbaskets, yardmasters and alleys. Flints and agates rated higher in value than glassies. A flint of exceptional coloring might be valued as high as 500, especially if the owner was a good salesman. In terms of marbles economics, the most prosperous boys were the "sharks." Sharks came to school with only a trusty taw and four or five marbles for starters. They returned home after classes with their pockets bulging-the accumulated loot from playing keeps with the "fish," before school, during recesses and after school. A fish was a boy who went to school loaded with marbles and returned home with empty pockets.
Dan Delaney Burris was a prize fish. Dan had a very liberal allowance bestowed on him by his father, Laney Burris, owner of a prosperous moving and hauling firm. And Dan came to school every day loaded with shiny new marbles. Dan was a crack shot but had the unfortunate penchant of challenging boys who were just a little better. The game, Eldon style, was played this way: first, two boys were required, each with an itch to prove he was the better marble shooter. Then a ring was scratched into a level patch of bare, packed earth. Marbles to be contested were placed in the ring. Ten or 12 feet away, a line was drawn oblique to the ring. This line was called taws. Each boy tossed his shooter, or taw, at the line, called "legging up to taws." The one closer to taws got to shoot first. The object was to get your taw into the ring and knock out as many marbles as you could. The cautious player "babied up"; that is, rolled his shooter to the ring. The daring "plunked" by flipping his taw on the fly all the way to the ring. Plunking took great skill and the nerve of a Las Vegas high roller.
Like all other boys' activities in Eldon, at that time, rules of conduct were handed down from older boys. There was no adult supervision, except for an occasional token walk around the school yard by the principal to discourage boys from playing for keeps….which it didn't.
Rules were loosely prosecuted. Many times, enforcement depended on the enforcer's reputation for fisticuffs. Here are some of the laws: If your taw came to rest against another marble in the ring, your opponent yelled, "Little finger fibs upside down." And you had to flip your taw with your little finger held upside down. Try it some time.
Boleys (steel ball bearings) were not allowed. Except when the boley user was a head taller and thirty pounds heavier than his opponent.
"Knucks down" meant the shooter had to keep his knuckles on the ground while flipping his taw.
Thrusting the hand forward when shooting was termed "fudging." Fudging nullified the shot and the fudger lost his turn.
When your taw was blocked from a fair shot, you could take "rounders" to a more favorable position. Rounders could not be taken if your taw was in the ring.
Eldon grade school of the 1920s produced a long list of crack shooters: Hoot Allen, Jack Artz, Ab Crum, Dan Burris, Raymond Bowden, Cotton Reichel, Max Bowden, Clint Shiffer, George and Howard Barker, J. R. Kays, Don Kelsay, Gene Ousley, Bill and Ernie McKinley, Dick Stickley, Cornie Shackleford, Hobe Simmons, Ray Woods, Lefty and Charley Turnquist, and many others.
Ralph (Slats) Kelsay was an ace, without peer as a plunker. It was a thing of beauty to watch Slats plunk from taws, to see the long, graceful flight of his shooter, to hear the sharp click as his taw struck a marble in the ring, and sat there spinning in the dust. My good friend, Jack Artz, was a shark who regularly cleaned the fish. He was a master psychologist, playing the fish with consummate skill until the last marble was extracted. He soft-soaped me into betting my prized flint against a ring full of breadbaskets. My head told me not to be a sucker; but my heart was filled with greed and the hope of gaining a fortune in marbles in one swoop. And, on top of that, the thrill of conquering Eldon's best kid marble shot beckoned with soft persuasion.
Naturally, I lost. Sixty years later, Jack has shoe boxes full of marbles in his Springfield, Mo., home, the swag of a well-spent childhood. I wonder if he still has my flint.
There were several years of marbles mania. But, as they must inevitably, times changed. The madness for marbles faded away the year our class was graduated from grade school. That last spring, when Eldon's schools were bursting at the seams with children of men building the Bagnell Dam, you seldom saw kneeling boys shooting yardmasters at breadbaskets. Rarely was heard the cry, "Little finger fibs upside down." A way of life for small boys had become a memory of the way it was."
---
This week's "What Is It?" is something we aren't sure about ourselves. We came upon this photograph (photo 21) of a crowd of people dining in the old Tuscumbia High School Gym which places the date of the event before 1961 when the present gym was finished and placed in use. We would like to know if anyone recognizes some of the people pictured and if anyone knows what was the purpose of the event. While you are looking at the photo notice the balcony above the diners' heads. Another balcony was also present on the other side of the gym. These balconies won some games basketball games for Tuscumbia throughout the years since any one over six foot who jumped up to shoot a jump shot was likely to crack his head. Eventually, the balconies were removed shortly before the new gym was opened. If you know any of these people just email me what information you have at my email address at the bottom of the page.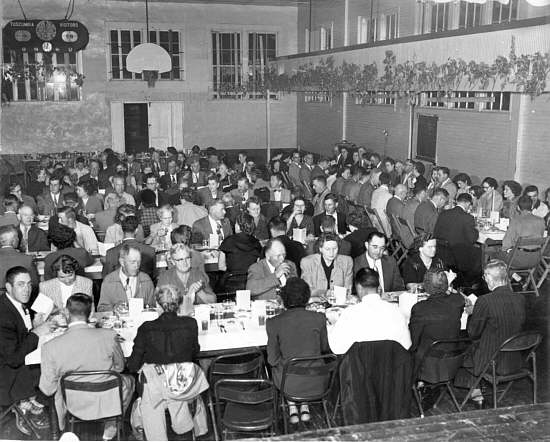 21 Tuscumbia High School Gym Event
Last week Arthur and David Bear talked about old time medicine and old time doctors of Miller County. One thing mentioned was that although the doctors were sincere and did their best, they were handicapped by the lack of scientific knowledge which the medical profession possesses today. Sometimes treatments and medicines were given without much scientific evidence of their efficacy. Occasionally, unscrupulous people claimed to be doctors but were nothing more than charlatans and quacks. A huge industry also was present in the pharmaceutical area where many medicines were touted for their curative effect when in reality no studies had been done to prove their worth or effectiveness. Sometimes hucksters traveled from town to town to hawk their products to unsuspecting audiences who were sick and looking for a cure. In our museum we have some of the pamphlets distributed by these types of pharmaceutical houses and traveling medicine men. In some cases perhaps the purveyors of these products of treatments and medicines may have believed in what they were selling, but in many instances the claims made for these medicines were so outrageous that it is difficult to think the people making them were anything more than shysters. One of these pamphlets written by a Doctor Pierce is pictured in the following pages (photos 22-27) in which the contents of Dr. Pierce's "Favorite Prescription" are described as well as what is claimed the medicine would cure. You will notice most of the ingredients are of herb and plant origin. Sometimes these medications had some utility, but for the most part, they were of no value. But much of this type of medicine was sold as is witnessed by the size of the hospital in which Dr. Pierce practiced as demonstrated on the last page of his booklet (photo 27 below).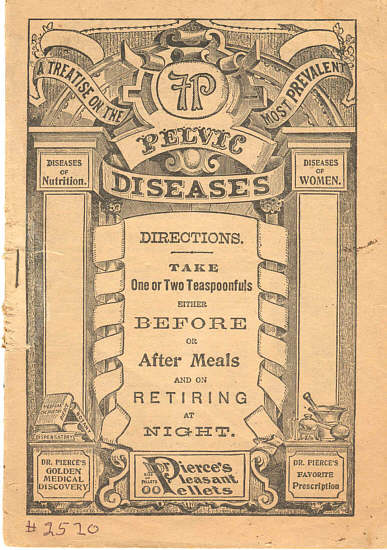 22 Dr. Pierce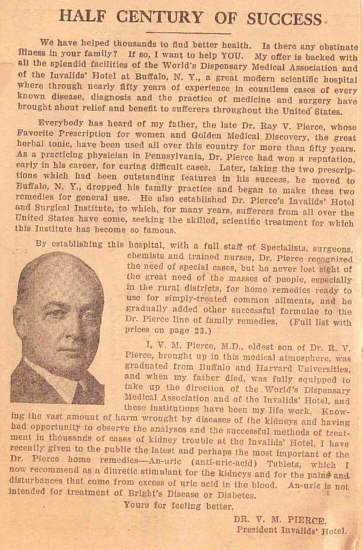 23 Dr. Pierce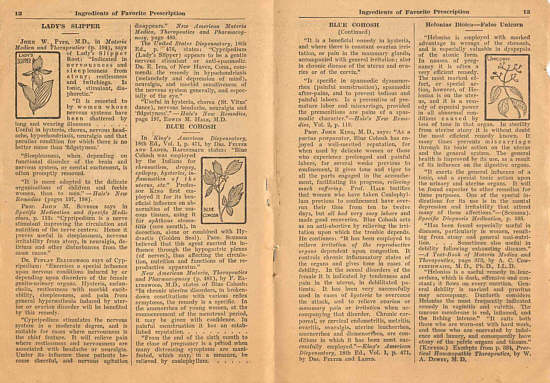 24 Dr. Pierce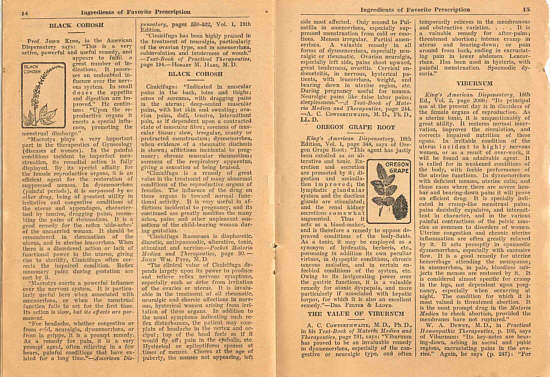 25 Dr. Pierce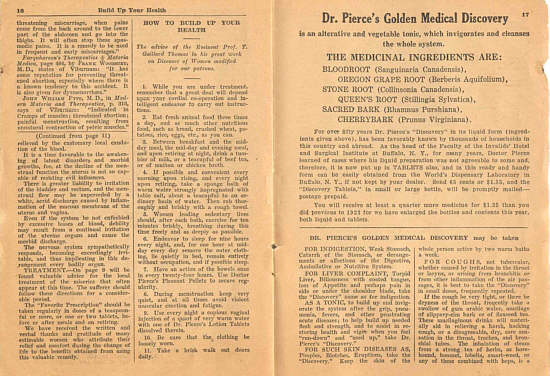 26 Dr. Pierce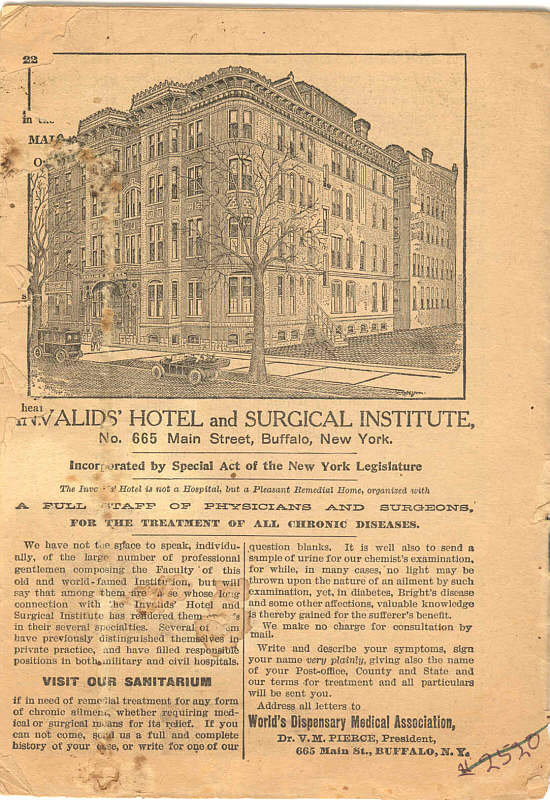 27 Dr. Pierce
Construction progress on the new addition to our museum continues unabated. This week we are laying the wide pine planks for the upper level floor. The planks are of knotty pine and will be stained a darker color than what is pictured in the photograph (photo 28). Also, we are very appreciative of the help of Lewis Wall who obtained some aged barn oak from a generous donor which we will use for decorative trim around the outside doors as well as some of the displays in the museum.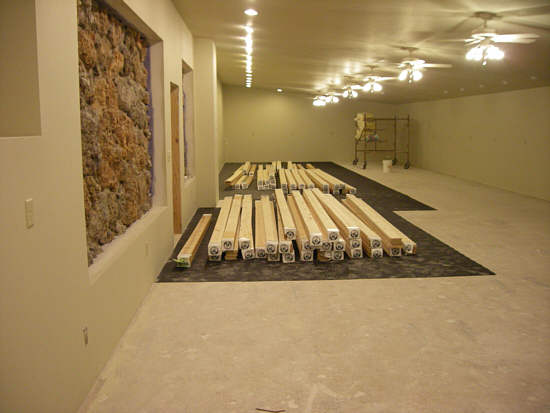 28 Wide Pine Planks
Contributions to our building fund are continuing to come in for which we are very appreciative, especially since we have had cost overruns due to the need for a new roof for the old part of the museum. Therefore, we are still soliciting donations to help us fund the building program. If you would care to contribute, and any amount no matter how small is appreciated, please mail your gift to the following address:
Miller County Building Fund
P.O. Box 57
Tuscumbia, Mo. 65082
Also, we are in need of volunteers to help us in the set up of displays in the new building as well as hosting visitors for next year's season. If you would have the time and interest in either of these areas of assistance, please call museum director, Nancy Thompson, at the museum: 573 369 3500. Because this is the off season, the phone may be on "leave a message" mode, but if you leave your name and phone number we will be in contact with you.
That's all for this week.