"Dear Joe,
My ancestor Andreas Messerschmidt came over in 1751. He settled in Pennsylvania and was of the Lutheran persuasion. Later, he and his sons moved to Virginia and subsequent to that moved to Missouri, Nebraska and Kansas. Grandfather Hiram Messersmith (Americanized spelling) married a Rowden girl. They lived near Iberia and had a big family. He was a Union soldier in the Civil War in the 12th Missouri Cavalry and is buried at the Tuscumbia Cemetery in the family plot. His wife and daughter are buried there too. Grandmother died in the flu epidemic. Her daughter, FidelIa, came from Kansas to see her but also caught the flu and died. I had a footstone put at Grandpa's grave to show he was a Soldier in the Civil War. His two sons were my father Charles and and his brother James. Both were teachers and James was principal at Tuscumbia High School later becoming county superintendent of schools as well. My father was county assessor four terms. He was a member of the Tuscumbia Christian Church and taught the Adult Bible class for many years. He died of cancer in 1939. Several years later my mother Minnie married Victor Nixdorf who died three years later. Some years later she married Fred Klindt and moved to live near Eugene. My mother and Charles Messersmith, my father, had seven children of which four survived (I, John, Betty Lou, and Juanita). During much of my childhood, we lived at the corner of highway 52 and High Street. We moved there from Iberia when I was in the first or second grade. My father operated a café at that location. The old school house (photo 21) was located on the north side of what is now highway 52 but closer to the corner than the present school. The high school boys were the janitors. I remember my brother John bringing in wood for the big potbellied stove in the bad winters. Little children who came in from the rural areas would be so very cold. John would wash their little hands with snow. I thought that was odd. Soon after moving to Tuscumbia the new school was built which is the one standing now, although with significant structural additions. Gardie Swanson was my teacher the third grade then Alma Kalllenbach was the teacher from fourth through eighth grade. The lower grades were taught on the first floor. For high school we moved upstairs.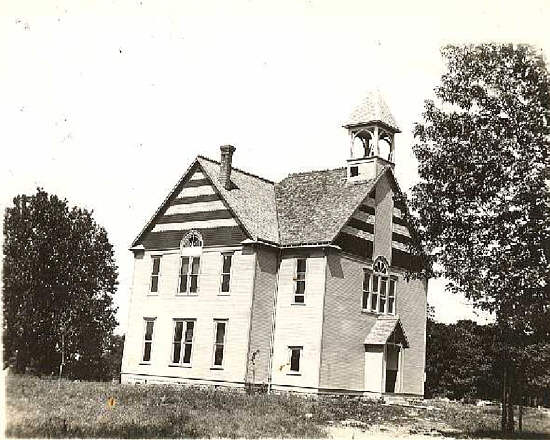 21 old school 1920
The man I married, B.B. Gray, came to Tuscumbia with the bridge building company and we married in 1935. We moved from State to State for six years then went to Panama Canal Zone where we lived for the next thirty years.
My younger sister, Betty Lou, married Ellis Smith. For a few years they operated the same Hillcrest café started by our father, Charles Messersmith. This restaurant and general store had several other owners after my father passed away in addition to my sister including Madison Bear, Arthur Bear, Tolliver Lawson, Earnest Abbett, and Roscoe Dake. My other sister, Juanita Messersmith Stillwell, was Miller County Centennial Queen in 1937."