Sunday, August 05, 2007
Progress Notes
The title given to my weekly President's Page narratives is "Progress Notes." I thought this was an apt term to use especially since one of the regular features of the page are updates on the new construction of our addition to the museum building. However, those who have a medical background will know that the term also is used to describe the daily entries physicians make in the medical record charts of their hospitalized patients while making rounds on the medical and surgical wards. These notes traditionally were written in longhand, were brief, and characterized by many abbreviations particular to the field of medicine. And, oh yes, they mostly were unable to be read (just kidding…. well almost just kidding). The notes always mentioned the overall state of the patient that particular day and then detailed any important physical and laboratory abnormality (or normality when pertinent). The "Vital Signs" were usually always mentioned because they were one of the most important ways of assessing a patient's overall state of health at a particular point in time. Pulse rate, blood pressure, and temperature were the three measurements which the Vital Signs recorded. Certain laboratory tests were always noted. On the Surgical Ward the most often cited test was the "hematocrit" which gives a percentage of red blood cells found in whole blood, something surgeons wanted to know in the post operative patient. The internist was more interested in things like the "blood urea nitrogen and the electrolytes" which gave an approximation of the metabolic state of the patient. A statement usually was made as to whether the patient was "progressing" or "deteriorating". Finally, something was written as to what was planned for the patient that day such as any tests or procedures. But I don't want to carry this analogy too far; one might get the wrong idea. Our museum is not a sick patient; it is more like a person who has reached a stage in life in which a "face lift' is being performed. And I can say with great enthusiasm that the "face lift" we are giving the Miller County Museum is outstandingly attractive and "progress" is really the apt word to describe how well things are going regarding the construction of the new facility.
As a follow-up of this discussion of physicians' use of progress notes in patient charts, I share some information I received last week about two Eldon doctors: Dr. Edward Coleman Shelton and his son, Dr. Edward Olney Shelton. We are constructing on the website a page devoted to Miller County physicians of the past. I have been collecting information from here and there as have others for this project. So I traveled to Rolla to talk to David Shelton, Dr. Olney Shelton's son. David married Sandra Bear, daughter of Arthur Bear, who owned a grocery store in Eldon for many years at First and Maple called the Sanitary Market. Arthur was my mother's brother, so this was a family visit as well and my mother accompanied me to visit her niece Sandra and nephew in law David (photo 1). David and Sandra have two sons who are physicians also, Mark, a cardiologist, who practices in Springfield, Illinois; and Jay, an anesthesiologist, who practices in Jefferson City. Jay and two of his partners recently purchased the old Wiley Berry farm (coincidentally from my Pryor relatives) which abuts up to the eastern side of the Museum's property. When we began our planning for the Museum expansion, Jay and his partners were willing to donate an acre of their land for the building site. However, we decided to join the new addition to the old building so the acre wasn't needed. But we were very grateful to Jay and his partners for giving us that opportunity. David has written the biographies of his father and grandfather in preparation for the physician's page we have planned, but I will let you read them now ahead of time: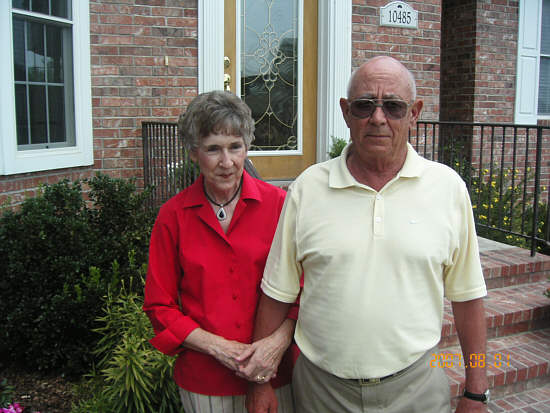 Sandra and David
Dr. Edward Coleman Shelton (1872-1945) (photo 2) completed a degree in medicine from the Beaumont School of Medicine in St. Louis which later became the St. Louis University School of Medicine. His practice began in Gladstone, Mo. in the mid 1890's. Gladstone, a small community near Gravois Mills, was covered by the Lake after the Bagnell Dam was built so Dr. Shelton moved with his family to Eldon. His medical practice consumed most of his time, as his office hours were 8 a.m. to 5 p.m. six days a week, with 9 a.m. to 12 p.m. hours on Sunday. He also had evening hours from 7 p.m. to 9 p.m. on the weekdays. In addition, he often made house calls at night. During the early years of his practice he traveled by horse and buggy. Frequently, a family member would ride with him to hold a lantern in order to guide his way on the country roads. Since he practiced until 1945, he was able to experience many new developments in the progress toward modern medicine. Dr. E.C. Shelton was a perfect example of a dedicated country doctor.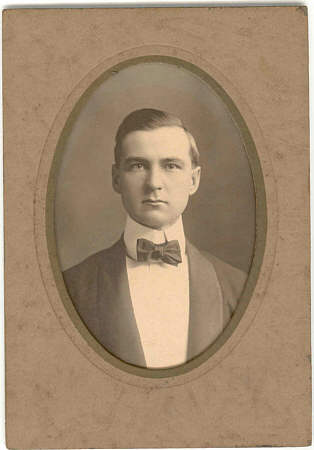 Edward Coleman Shelton M.D.
Dr. Edward Olney Shelton (1903-1982) (photo 3) was graduated from the University of Kansas in 1932. His internship was served at St. John's Hospital in St. Louis. This was the era of the great Depression, so Dr. Shelton joined the CCC (Civilian Conservation Corp) and began his practice with it in Arkansas. After a period of six months, he and his wife moved to Eldon, and he formed a partnership with his father, Dr. E.C. Shelton. His office hours were the same as his father's: 8 a.m. to 5 p.m. six days a week, and 9 a.m. to noon on Sunday. Evening hours were 7 p.m. to 9 p.m., and there were often house calls at night. After the death of his father, he did reduce the number of evening office hours. The charge for an office visit was $2.00 and the fee for setting a broken limb was $5.00. House calls were $3.00 to $5.00, depending on the distance involved. From 1942 to 1945 Dr. Shelton served in the Army during WWII as a field surgeon. He entered the military as a captain at 39 years of age and was later promoted to major. The young men under his command respectfully referred to him as "Old Doc". Dr. Shelton was a member of the staff of both St. Mary's Hospital and Memorial Hospital in Jefferson City. He also served on the Eldon School Board for several years. Some of his medical office instruments and medicines are pictured here: (photo 4)
| | | |
| --- | --- | --- |
| Edward Olney Shelton M.D. | | From the office of Dr. Olney Shelton |
Nancy Thompson, our museum director, and I attended a meeting of the Missouri State Genealogical Association Conference this week in Jefferson City. We were especially happy to attend because our webmaster for the Miller County Museum internet site, Wayne Johnson, was receiving the "Distinguished Service Award" because of his volunteer service to members of the society and other related organizations. We are greatly indebted to Wayne for helping us establish our website. He is an encyclopedia of information about the technical details of computers, managing information and running a website. I had to ask Nancy for driving directions to get to the right hotel for the meeting because, although I used to know Jeff better when I was much younger, all the new highway construction has changed how you enter the city. When I was a boy, I used to visit my grandparents (photo 5) on my father's side who lived in an apartment across from the prison (photo 6). I remember watching the change of guards at three p.m. every afternoon of the watch tower on top of the prison wall (photo 7 and 8). A swinging ladder would come down to allow the guards to ascend or descend to and from the tower. My grandparents were from Wright County east of Springfield but for a time in the early forties my grandfather worked as an usher at the prison, a job he got probably because of politics. He had been a State Representative at one time from Wright County but lost his seat in the Democratic sweep that occurred in the early thirties when Roosevelt won the Presidency. However, for a time in the early forties a Republican, Forest Donnell (photo 9), won the governorship and was kind enough to help him get the job. Wright County had been hard hit by the depression which occurred earlier and my grandfather didn't have much of a farm; he never could make a good living on the rocky ridge farm he rented near Hartville. In fact, my father came up to Miller County to Tuscumbia in the mid thirties to live with my uncle, his brother Ansel, because of the tough times back home in Wright County. My Uncle Ansel held the position of Sanitation Officer of Miller County where he worked closely with Dr. Garner, the Miller County physician in charge of the Miller County Health Department. Governor Donnell was scheduled to come to Eldon to give a speech at the Lincoln Day Banquet and when my grandfather heard about it, he came up to Tuscumbia wearing his suit and had my uncle and father put on their best clothes and they went to Eldon to the place where the governor was speaking. After the speech, my grandfather went up to shake the governor's hand and took the opportunity then to ask for a job of some kind for which the governor kindly arranged for him to obtain. One of the jobs my grandfather had at the prison was to find and confiscate all the handmade weapons secretly made by the prisoners. He gave me a shoe box of several of these weapons which I still have. Governor Donnell served as governor between 1941 and 1945 and was the only Republican Governor in Missouri before or after for many years. His election at that time probably was related to the collapse of the Thomas Pendergast (photo 10) political machine and he was the only major Republican elected statewide in the 1940 election. Democrats tried to delay seating him for six weeks until being forced to do so by the Missouri Supreme Court in what would be called the "Great Governorship Steal." However, Democrat Governor Lloyd Stark (photo 11), who was still in office as the current governor, did not support the move to try to prevent Donnell from taking office.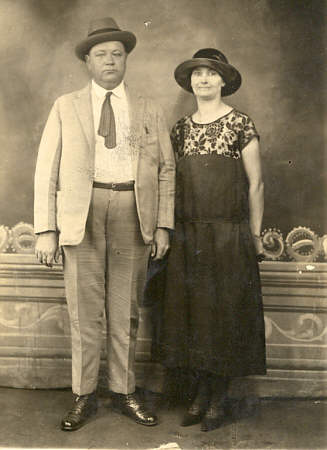 John and Emma Pryor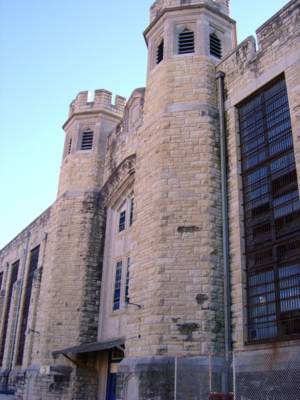 Missouri State Penitentiary
| | | |
| --- | --- | --- |
| guard tower | | Guard Tower Enclosure |
| | | | | |
| --- | --- | --- | --- | --- |
| Governor Forrest Donnell | | Thomas Pendergast | | Governor Lloyd Stark |
Any discussion of the Missouri State Penitentiary has to acknowledge one of our most successful Miller County natives, Donald Wyrick. Donald was born and raised in Miller County and was known and liked by about everyone who knew him. Donald steered amphibious landing craft onto the beach of Guadalcanal at the end of World War II. After the war he came back to Tuscumbia and worked for awhile at Pryor Novelty Company where I remember seeing and talking to him quite a bit. But Donald had aspirations for something more. Starting as a guard he worked his way up through the Missouri State Penal system. I remember when he became warden of the Ozark Correctional Center at Fordland Missouri. Then he was promoted to warden of the Missouri State Penitentiary in Jefferson City where he became the warden with the longest tenure in the history of the prison. After that, he was made Director of Adult Institutions. His career with the Missouri State Penal system covered the time span from 1959 until 1985. The following quote is taken from an article by Jeanette Batz (Link to Article):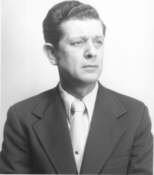 donald wyrick

"Wyrick was tough himself, paternalistic, as impulsive as the inmates and often surprisingly fond of them. His initials were carved by inmates into a handmade leather wallet he carried for 16 years; he used to bring his kids to the pen for piggyback rides on the inmates' broad shoulders; he also brought his dog, a German shepherd-Doberman mix named Hitler by his first owner. Wyrick never changed the name. "Never had a thought of fear in my life," he remarks, describing with relish the time he was taken hostage in the prison yard. "Sept. 19, 1959, 1:30 p.m. I'd been watching these three or four inmates moving from person to person, and then I saw 'em digging something out of the ground. I went to a couple other officers and said, "Let's go get those guys and shake 'em down.' They said, "Wait till they do something,' but I wasn't gonna." He went after one of the men, and three others emerged to block him. "One put a straight razor under my jaw, one put a big knife in my ribs, and Rollie Laster put a homemade gun against my back. He and six other guys had gotten life for killing an inmate, a snitch, in the 1954 riot; they caved his head in with a sledgehammer. Rollie'd kill you in a flat minute. In later years we got to be friends, though. He'd aged, mellowed -- I saw it happen hundreds of times. Anyway, the tower officers saw what was happening, and two or three guys came down with shotguns, shot a couple of 'em. One of 'em, I took care of him myself, knocked his teeth out. He picked 'em up and put 'em in his pocket. That's the way things were in those days."

Donald was one of those people who were uniquely made for the position in which they found themselves. He was the warden in one of the most tumultuous eras of our history regarding racial conflict and it was his leadership that led the Missouri State Prison successfully through those extremely difficult times of racial tension especially in our prisons. After he retired, he would work part-time as a prison hospital security officer. Author Batz, who wrote the article about Donald cited above, visited him at his apartment near Jefferson City in 2000 when she snapped this photo (photo 12) of him. She writes: "Wyrick says he often runs into inmates when he works security for the hospital, and he says they beg him to come back. "Nobody knows where they stand anymore," he explains. "I spent time with those inmates, making them do what they were supposed to do. I'd run home, grab a sandwich and then go back for the evening, listen to maybe 50 inmates' problems. They don't do that anymore. They don't have somebody they can come to who will make a decision."

Donald Wyrick was tough, but he had compassion. And that's why he was able to navigate through those tough times with such hardened prisoners in the "Big House". His daughter, Carol Wyrick, who herself recently retired from the field of correctional work, has completed a biography of her father. She has already sold most of the first printing. I am eager to get a copy of her book to learn more about Donald's career. We were all saddened by his recent death a couple of years or so ago.

pretty boy floyd

One other interesting fact about the Missouri State Penitentiary is that it housed in 1925 until 1929 one of America's most infamous gangsters, "Pretty Boy Floyd" (photo 13). Rumors have persisted to this day that Floyd, who was raised in Oklahoma, was in Miller County once in awhile because of family ties in the Dog Creek area. I have heard several "tales" about Floyd in Miller County but it is difficult now to verify them so many years after they were said to have happened.

Last week I was given a photograph (photo 14) by Corrine Gilliam which originally was in the possession of the mother of Lewis Wall in which several men were posing with various types of shotguns; the dress suggested the photo was taken around the turn of the last century. Lewis is able to identify almost all the men in the photo. If you are interested in knowing the names, email me and I can send them to you. At first I wondered if they had been attending a Grand Army of the Republic meeting (made up of Union survivors of the Civil War). But those events usually were attended by much older men than the ones in the picture. Someone suggested perhaps they had just been to a shooting sporting event. While target shooting with shotguns occurred in the nineteenth century, the targets sometimes being made of glass and thrown by a designated person, no one in the Ozarks would have wasted the money to buy such targets. Live turkey shoots were held at times dating from the earliest history of our country, the turkey being tied behind a log with just its head revealed, or perhaps chased down a runway to be shot as a moving target. However, a more common form of what was called a turkey shoot didn't involve a live bird. A target board or paper was nailed to a post and the shooter whose pellets came closest to the "X" in the middle of the target won the prize which usually was a turkey. I remember going to these events as a boy and they are still popular forms of raising money for various organizations. But as Lewis Wall pointed out to me, one of the men in the photo is holding a banjo and the other has a sword by his side. Lewis remembered that in the old days, sometimes photographers would come into an area and offer to take pictures of people for a fee. Perhaps, Lewis surmised, the men wanted to show off their most prized possession, that usually being their gun, but for two of them perhaps the prized possession was the banjo and the sword.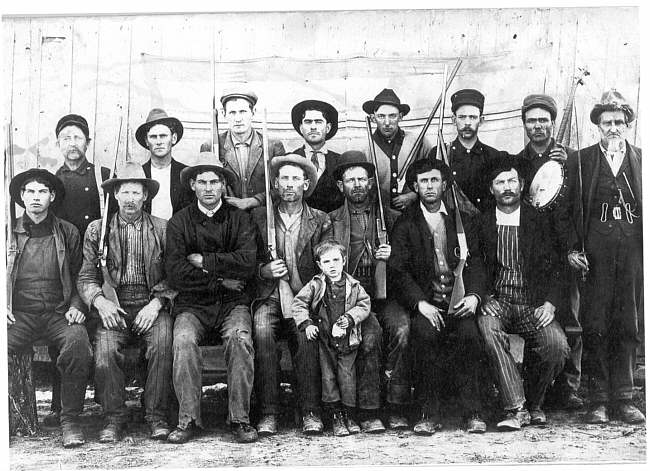 Posing at Faith
In February of 1992, Arthur and David Bear were taped having a conversation about life on their home farm on Dog Creek south of Tuscumbia in the early years of the last century, around 1915. Arthur passed away last year at the age of 96. David is now 90 years old. Here is a photo of them when they were young men (photo 15). I will include a portion of that recording over several consecutive weeks. It is an actual eye witness account of how life was in those days long ago in rural Missouri (and not just farming; wait until we come to the section a few weeks from now where they talk about Saturday nights in Tuscumbia).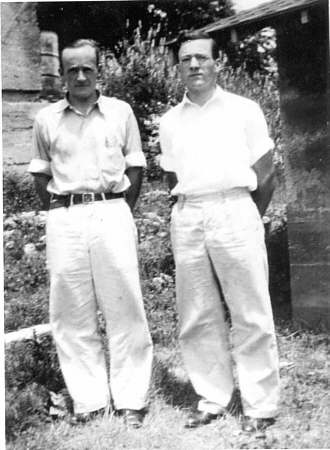 Arthur and David Bear
David: Arthur, tell me about how you used to harvest the corn crop.
Arthur; Well, it was very primitive by today's standards. I recall the drudgery of getting in the corn crop…. how the corn cutters would go through with long bladed corn knives, something like a machete, I guess, and cut each stalk individually and let the stalks lie in their arms until it became heavy and then carry it to where they were building a shock. Cutting each stalk individually and putting it into a shock took a long time in the fall of the year. Later, someone had to go to the field, take the shock apart, and break off each ear and toss it in the wagon. This was a slow process. It took a long time to fill a wagon. After being loaded, the corn was hauled to the crib and shoveled in with a large shovel called a scoop. So, farming at this period required not only a lot of muscle power of animals, but of farmer and laborers as well. Compare that with the huge modern machines and we can see what tremendous progress has been made to take the real hard physical labor out of farming.
David: Arthur, tell me how you brought the hay in.
Arthur: Well, we built large stacks of hay in the fields and left them there until it was needed (photo 16). We also put hay in the barn loft. To do this, loose hay was put on a wagon that had a wide hay frame on it. I remember being on top of it to tamp it down. Then we would take it to the barn up by the house. The loft of the barn had a tramway running the length of the barn at its apex, and an open door so the hay could be lifted up to the door and run on the track to where it was to be piled. The lifting of the hay was done by horse power by using a hay fork, and lifting it by ropes and pulleys. I would get on the north side of the barn and hitch an old mare to a long rope. On the south side of the barn was the wagon load of hay. Dad would be on the south side of the barn with the hay and hay fork. Dad would shove the fork down in the hay where it would clamp a big pile and then he would holler for me when he was ready. I would then start the old mare and haul the hay up into the barn (photo 17)
| | | |
| --- | --- | --- |
| Gathering hay in field | | Putting hay in barn loft |
David: Somebody had to be in the loft to dump it?
Arthur: Yeah, it took three people; one on the wagon, one in the loft and one (could be a boy) to drive the old mare.
David: I saw my first car when I was four or five years old. One of the earliest machines I remember seeing was a wheat threshing machine (photo 18) pulled and operated by a large steam boiler (photo 19). Charlie (Bill) Abbott owned the equipment. He would go from farm to farm traveling at a speed of about two miles per hour. It would enter the field and set up at a spot picked by Charlie. The thresher had two components: the boiler and the separator. On the road the separator was towed by the boiler, but in the field, the position of the two changed. The separator was then connected to the boiler by a huge belt which transferred the power from the boiler to the separator. The fuel for the boiler was wood which had been previously cut someplace nearby. Prior to the arrival of the thresher, the wheat had been cut with a wheat binder. The binder also tied the wheat stalks into small bundles (about an armload) and dropped them on the ground. These bundles were then gathered and put in shocks to dry. When the threshing machine came a few weeks later, several farmers in wagons with hay frames on them would load up the bundles of wheat and haul them to the threshing machine. At the machine, the wheat bundles were tossed into the separator by someone using a pitchfork. The separator had a string cutter to cut the binder twine before the wheat went in to the separator. As the bundles of wheat went through the separator, the grain would come out in a chute at the bottom where someone would be holding a sack to catch it. The blower blew the straw and chaff into a big stack. It was blown through a metal pipe about eight inches in diameter. A large number of people was required to perform all the jobs of threshing. These were hard working days for the farmers and it usually came on a very hot day. It was a great day for small kids. I was too young to work, so I watched in awe. The women always had a tremendous spread of food. Mom and the neighborhood women had many kinds of meat, pies, cakes, canned fruit, pickles and many other items. These great banquets will be in my memory as long as I live, and I suppose you remember all this too, Arthur.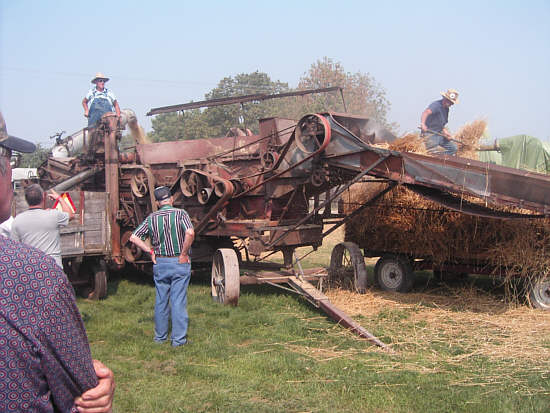 Old Threshing Machine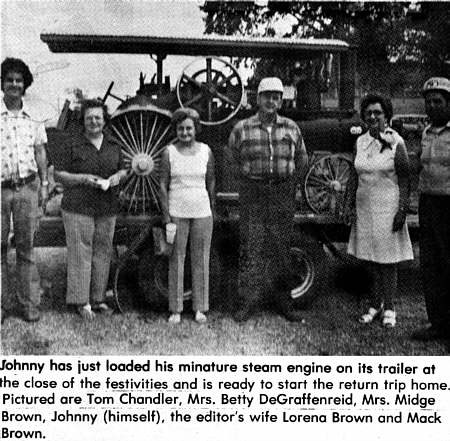 DeGraffenreid steam engine
Arthur: Yeah, I sure do.
Next week Arthur and David will discuss making molasses and "hog killing time."
We at the Miller County Museum could not get along without the help of the community and its volunteers. For example, the other day, Clifford Hill (photo 20) of Eldon was passing by and noticed that the Museum sign along the road was obscured by tree branches hanging over it. So he took his chain saw and trimmed the branches so that now the sign is easily visible from the highway (photo21).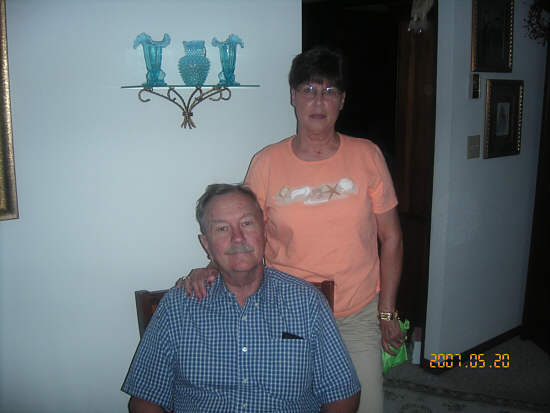 Clifford and Pat Hill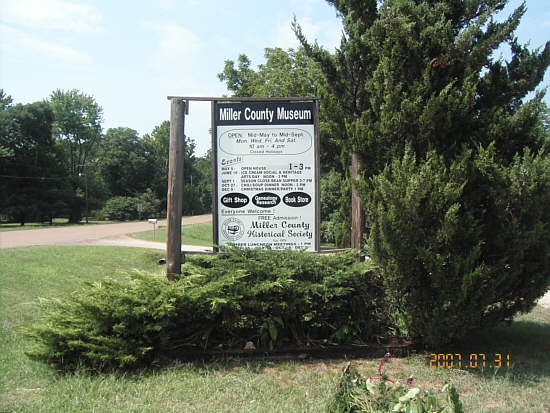 branches trimmed
Construction at the museum addition is now ready for the drywall to be placed. In about three weeks the roofing crew will be here to place a new roof over the original building to prevent any leaking from spilling over into the new section which joins it. The new roof is an unexpected expense but recent heavy rains revealed we were not completely sealed so it is better to do it now than later after damage may have occurred. So although contributions to the building fund have really been terrific, we still need to continue the funding drive to completely cover all expenses. If you would care to help us, please do so, and don't worry about how small the amount because it all helps.
Contributions can be mailed to :
Miller County Museum Building Fund
P.0. Box 57
Tuscumbia Mo. 65082
The "What was that thing used for?" unknown is pictured below (photo 22). I have taken this item to presentations and found that those above sixty five years in age who were born and raised on a farm usually recognize it.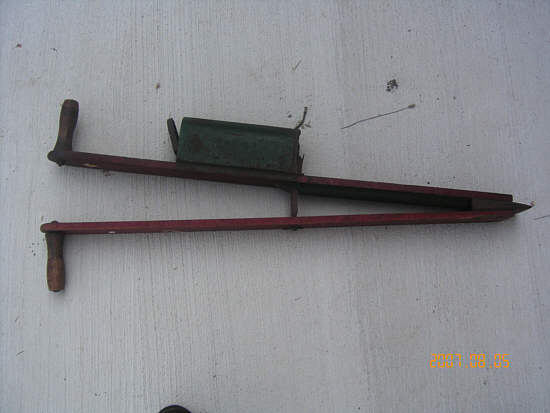 corn planter
The unknown item is a corn planter. Whenever a row of just sprouting corn had a few bare areas, the planter was used to place the seeds in those spots. It was much more practical than hitching up the horse and trying to spot plant in those isolated areas. Another kind of corn planter (kindly displayed for us by Harold Flaugher) which was used for a row which was barren for some distance is pictured here (photo 23). It had wheels and a little plow and a lever at the rear which buried the seed. The ingenuity of our forefathers in coming up with useful tool and machine designs is remarkable.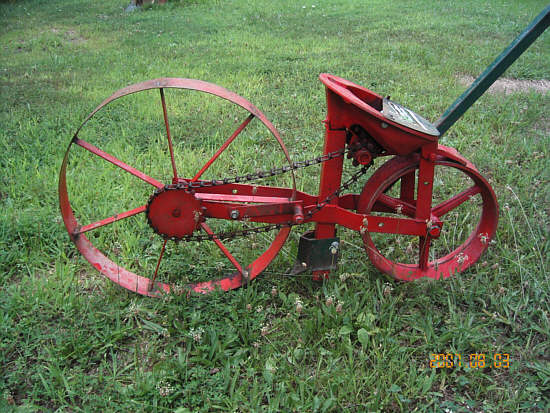 corn planter
We are all very proud that long time board member Carl McDonald's son (photo 24) is setting up a medical practice in Laurie, Missouri at the Lourie Clinic (573 374 5263). Dr. McDonald, a graduate of Miller County R III School in Tuscumbia, has been in practice in Georgia for the last twenty years having been graduated from The College of Osteopathic Medicine in Kirksville, Mo. but now is returning to the home area. We wish him and his family much success in their new home in the Lake area.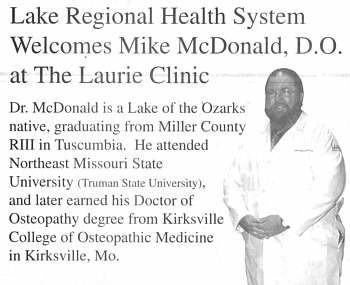 Dr. Mike McDonald
That's all for this week.