Friday, July 20, 2007
Progress Notes
The last week has been another very eventful one for us at the Miller County Historical Society. First, on Monday we were honored when Eldon Walmart executive Kathy Hicks drove down to Tuscumbia to present to us personally a check for five hundred dollars which was given for the purpose of allowing us to purchase critically needed items for our research library (photo 1). The opportunity for research has always been a strong draw for our museum and as a result of increased public awareness new research material is being donated all the time. We recognize the need to upgrade our storage and display methods to meet accepted archival standards in order to preserve these items for researchers and future generations. We anticipate a significant initial investment with on-going needs as our collection grows. Miller County people have an unusually strong desire to preserve and protect their history and heritage. We hope to offer an archival service to fill this need. The Walmart donation is a very welcome supplement to the funds we will be allocating to these objectives.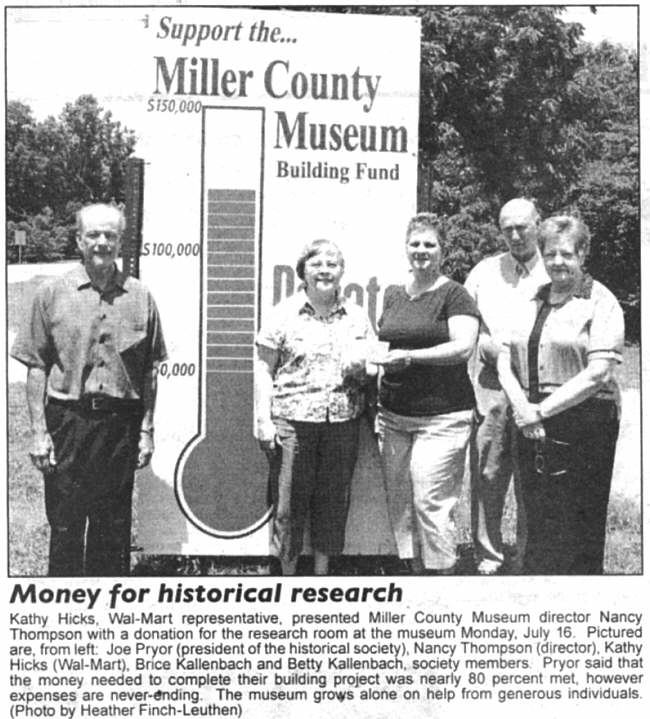 Wal-Mart Donation
The Vernon Publishing Company Heather Finch-Leuthen) photographed the ceremony in which we received the Walmart donation in front of our barometer sign which in itself is another happy story to tell this week (photo 2). As of this week we have reached more than eighty percent of our goal of 150,000 dollars in donations and fortunately are about eighty percent completed in our construction program of our new addition. The concrete ramp was laid the first of the week by the Alpha company (photo 3). Of the fellows who were doing the finish work on the freshly laid concrete were Damon Slone and Jeff and James Cox, local guys who were Tuscumbia graduates (photo 4).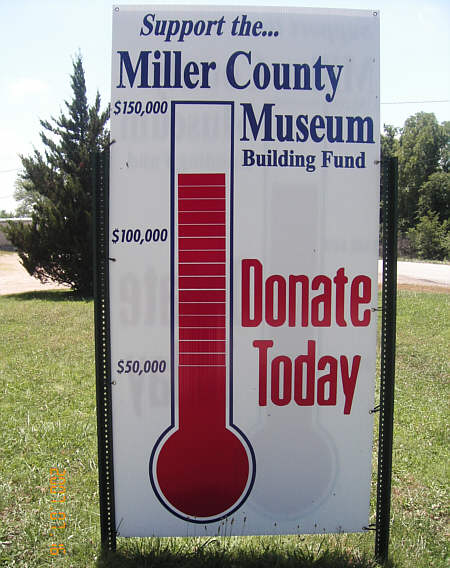 Barometer on July 16, 2007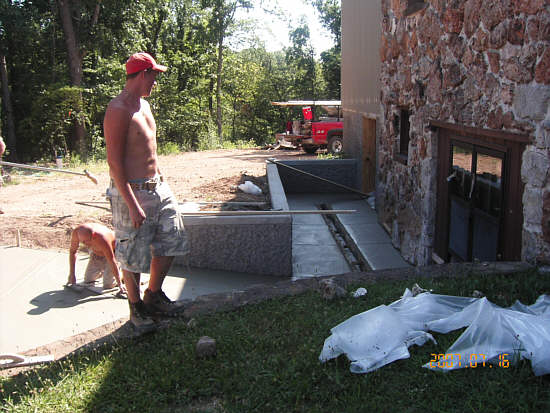 Damon Slone, James Fox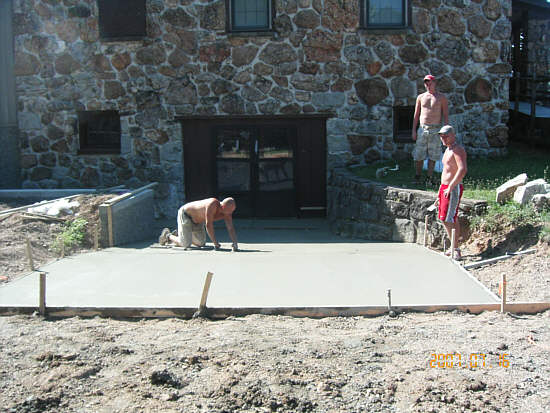 Damon Slone,James and Jesse Cox
Then on Tuesday we participated in the Miller County Fair Parade in Eldon with our float which highlights the Kallenbach farm wagon constructed by blacksmith John Kallenbach in the late 1800's. The theme of our float this week was "Goin' To The Fair". We had the wagon full of garden and field produce, sacks of grain, and other items to sell or show at the fair. Riding the wagon were Sharon Holder and assorted children of the Steen family as well as members of the Hill Country Museum Band playing old time music. The float was a big hit with the judges who gave us a blue ribbon first place award (photo 5) and fifty dollars cash which we will certainly add to our building fund. I am posting all the photos with the kids so they can see themselves on the internet. (photos 6-11).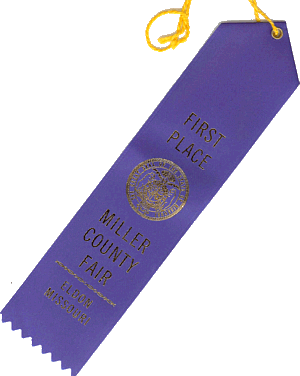 First Place Ribbon Miller County Fair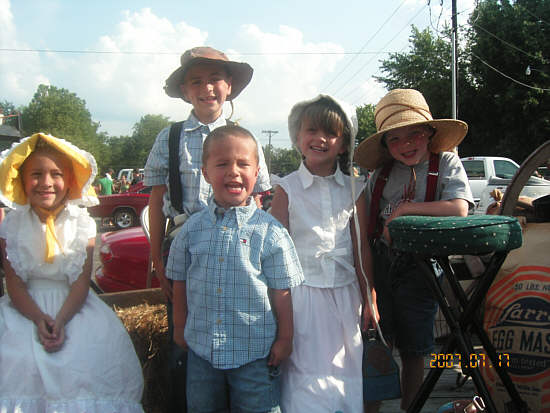 happy farmers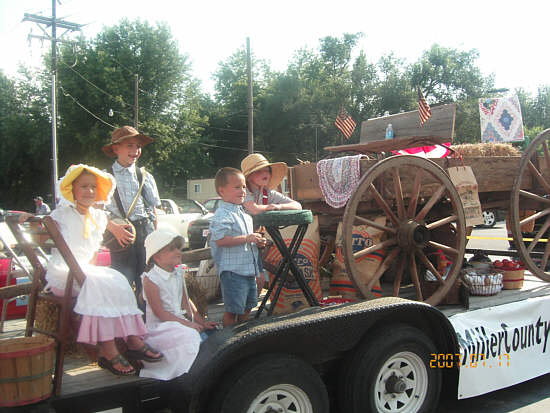 Look at all those people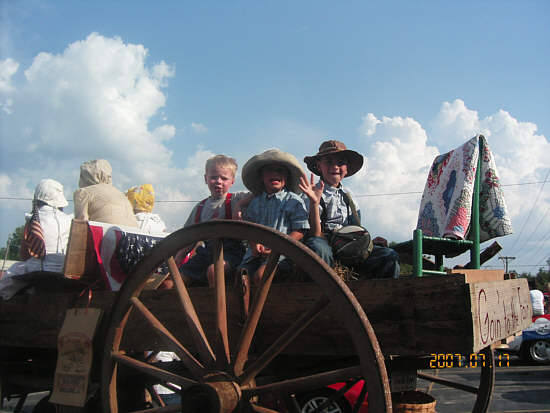 Hi mom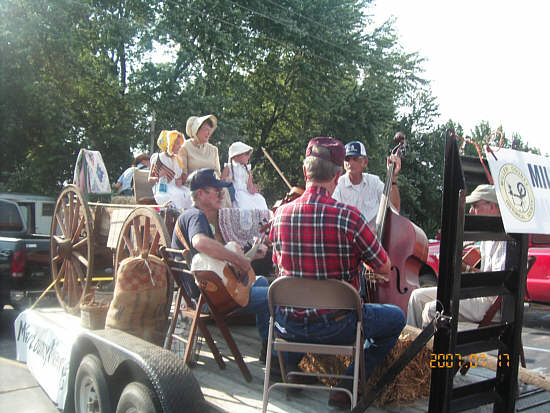 our own band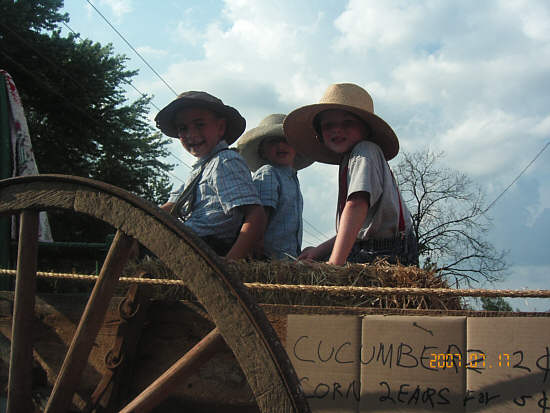 there she is again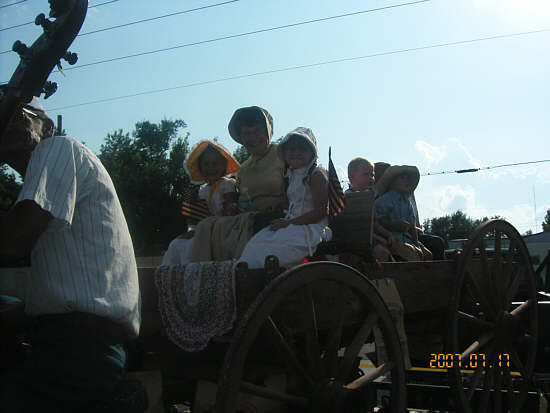 days end
Everyday the highlight is going to the Post Office to talk with Cletus Burris, our local Postmaster (photo 12). Cletus went to the School of the Osage and rode the same bus as my wife and her sisters since he and his family were neighbors to my wife's family (Steen) on the Old Bagnell road, or as we sometimes called it, the Hall's Store road. Cletus is helping us with our building program fund drive by receiving the mail with the donations and placing the letters in our mail box at the Post Office. Everyday he and we await the mail with anticipation wondering who is going to respond to our fund drive. Cletus is an easy going friendly guy who is really liked by everyone.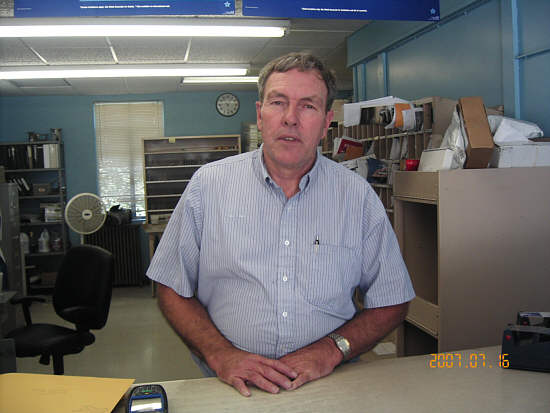 Cletus Burris
If you would care to help us with our museum building addition we welcome donations of any amount; the smaller ones really add up no matter how small. And we really are encouraged when we get your donations because it is a way you are letting us know you are paying attention and care about the museum and its place in telling the story of Miller County.
Our address is:
Miller County Museum Building Fund
P.O. Box 57
Tuscumbia Mo. 65082
Visiting our museum this week was the Hammons family (photo 13). John and Bernice Hammons are from Nebraska and recently purchased property on highway 52 south of Tuscumbia near Dog Creek. They came to visit the museum July 13 with their daughter and her family (Tara and Emanuel Vasquez and children) who were on their way back to Nebraska after vacationing in Florida. We were delighted that they visited us and let us get to know them. We welcome them as new residents of the community.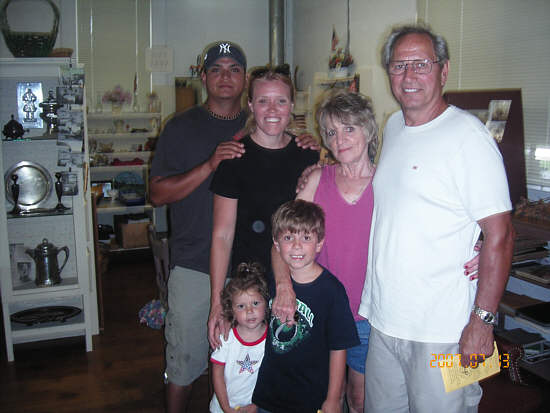 John and Bernice Hammons,Emanuel and Tara Vasquez
The summer weather has turned hot and dry but with lots of sunshine making a drive in the country attractive. A few days ago Judy and I took a drive to the southeast part of the county south of Iberia. We passed by the Mt. Gilead and Bray's Advent Christian Churches. Mt. Gilead (photo 14) was one of the "New Light" churches started by the very well known preacher of the early last century, Charles Sooter (photo 15). Bray's Advent Christian Church (photo 16) which was established in 1879 is associated with a large very well cared for cemetery named Union Cemetery (photo 17). You can read more about these churches as well as many other older Miller County churches on our church website page.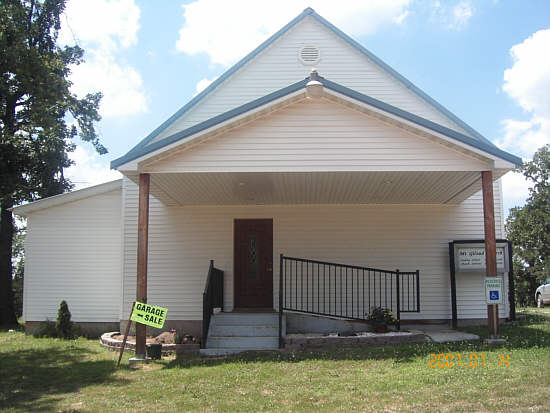 Mt. Gilead Church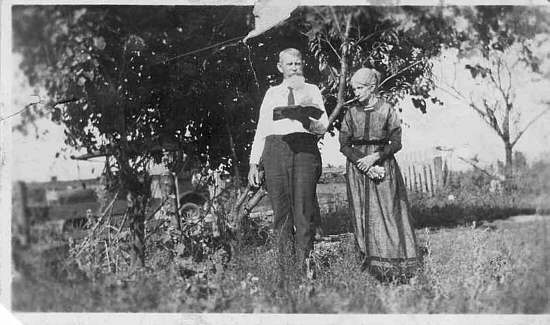 Charles Sooter and Harriet (Pinkney) Sooter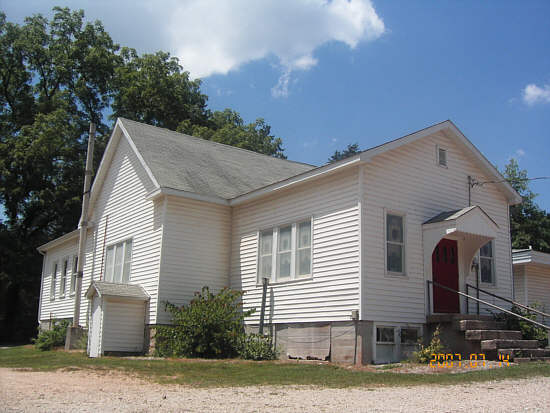 Brays Advent Christian Church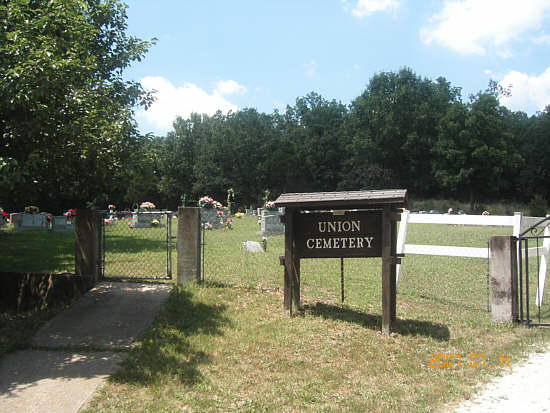 Union Cemetery
On way back home we turned off highway 17 onto highway 52 just a short distance south from the Osage River bridge at Tuscumbia and turned right on the Bear School road. There we visited the old Bear School which is still standing (photo 18). It is typical of the numerous one room school houses which used to be very prevalent in our county before consolidation occurred in the early 1950s. . Clyde Lee Jenkins' History of Miller County records that the school was built in 1885 on land donated by George Bear costing about 280 dollars and was of frame construction. I think the second building was built on September 12, 1910 according to an inscription scratched in the concrete wall (photo 19). However, Jenkins' history begins his list of teachers at Bear School in 1874, so it is unclear whether the first school was built earlier than 1885, perhaps at another location. This school is very typical of most of the one room school houses in Miller County at that time. The room was sparse without a library or inside services of any kind (photo 20). Outside were found the pump for water and the toilet facility (photos 21 and 22).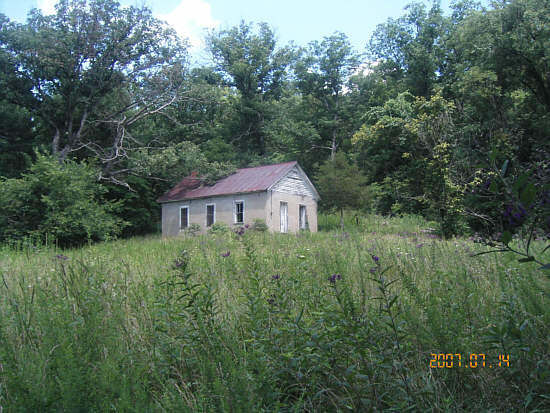 Bear School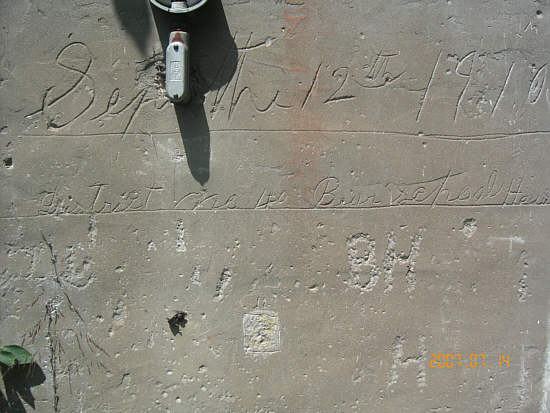 inscription on wall Bear School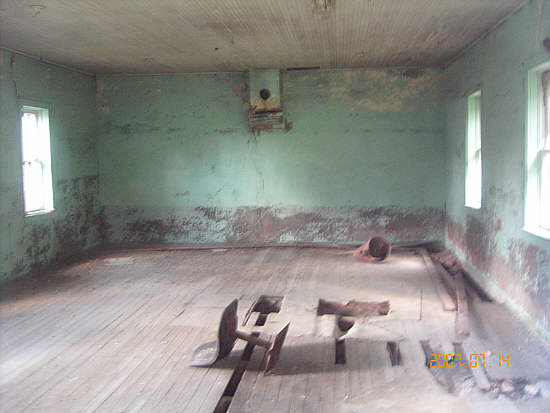 Inside Bear School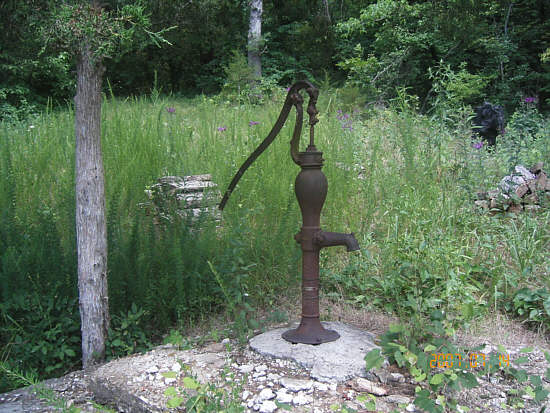 pump Bear Shool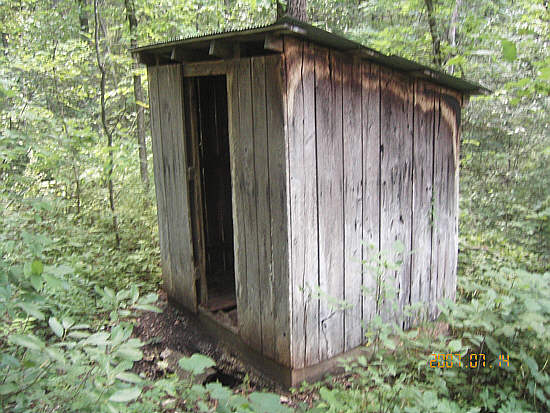 outside toilet Bear School
A listing given by Jenkins of teachers at Bear School from 1874 to 1901 is as follows:
F.W. Campbell
Andrew Bear
John A. Roark
Hiram H. Tinsley
Perry T. Nixdorf
Rodelphus Goodman
Lucy C. Hawkins
Sarah M. Burks
Besse B. Brown
Charles George
James P. Wright

Nanie Anthony
H.T. Anthony
John L. Watson
Josie Scherberth
J.L.Watson
Eva Bear
Mattie Bacon
Otis Orville Jenkins
Cora Wickham
George Palmer
Dora Bear
Some of the teachers taught a few years, transferred somewhere else, and then returned. For example, Andrew Bear is recorded as having taught at four different periods of time (1875-1876; 1876-1875; 1882-1883;1891-1892).
Resident taxpayers in 1871 were J.H. barton, J.M. barton, Nancy Birdsong, George Bear, Simeon Bear, Anddrew Bear, John Bear, Richmond Bilyeu, B.t. Cooper, John Davison, J.F. Dobson, G.W. Martin, John Zumalt, Isaac Zumalt, M. Wyrick, John Schuberth, J.S. Stephens, and John M. Roades.
An old photo of the Bear School taken in 1905 reveals that in that year eight Bear children attended: Dora, Florence, Edith, Ella, Katie, Andrew, Madison, and Clarence. A more recent photo of 1915 is copied here (photo 23)
Bear School 1915
Teachers after 1900 included Emma Ripka, Marie (Bear) Stillwell and more recently Eula Fischer. The consolidation of country schools in the 1950's closed all the county's one room schools after which the students transferred to nearby towns and communities which had larger schools and high schools. This was accomplished under the supervision of C.D. Snodgrass who was County Superintendent of schools at the time. According to Syvia Long, one of the county's one room school teachers early in her career, Superintendent Snodgrass, a well known Miller County attorney, was one of the most caring and concerned County Superintendents Miller County ever had. He encouraged student attendance and rewarded students who completed eight grades successfully by holding graduation ceremonies in Tuscumbia by the courthouse. Refer to the old photo of one of the eighth grade ceremonies at the Courthouse as well as the accompanying narrative written by Sylvia Long (photos 24 and 25).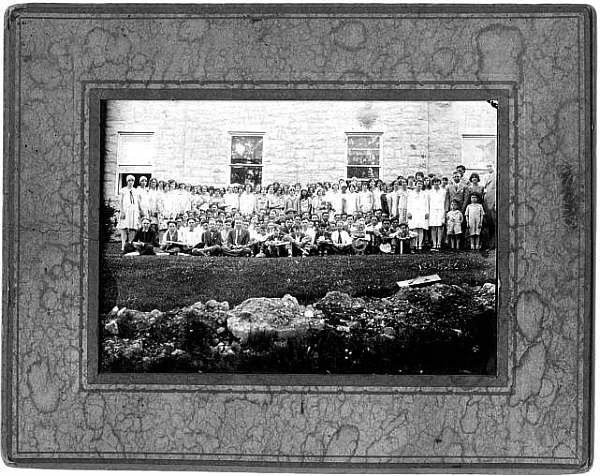 1929 8th grade county wide graduating class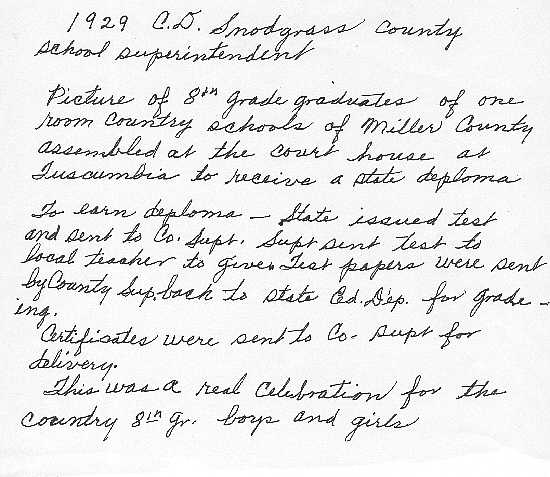 C.D. Snodgrass supt. country schools written by Syvia Long
We were honored last week when Lillian (Fogleman) Thomas loaned us a complete set of the Tuscumbia Autogram weekly printing of excerpts of the C.B. Wright diary. Mr. Wright began writing his diary in 1912 and continued it up until the early thirties of the last century. He had been a former steamboat captain for the Anchor Milling Company and later was an executive officer in the company. He was married to May Hauenstein, a daughter of Phil Hauenstein, who was one of the original owners and developers of the Anchor Milling Company. Lillian has through the years kept in her files interesting articles from the Autogram going back to the early part of the last century.
What was interesting to me about the collection of the C.B. Wright diary entries in the Autogram , which she had very neatly filed in two three ring binder books, was an unrelated Autogram article describing a "Minstrel Show" produced by the Tuscumbia Lions Club in the early 1950's. I had forgotten about this old tradition of the Minstrel show since, because it unfortunately was replete with pejorative racial overtones, it deservedly was dropped from the American culture in the mid 1950's when racial insensitivity began to be recognized and avoided by the American people. But the thing that really awoke memories for me were the photos which revealed that I had, as a young boy of about ten years of age, been a part of the show itself, black face and all. You see, one year for Christmas my parents gave me a ventriloquist dummy (photo 26) duplicating the dummy named "Jerry Mahoney" used by the then popular ventriloquist, Paul Winchell. The dummy was being sold out of the Sears and Roebuck catalogue. The box in which the dummy was delivered (photo 27) had a little booklet describing how to be a ventriloquist. So I practiced and practiced until I could "throw my voice", at least good enough to amuse a few relatives (well, anyway my sister and mom). I also learned how to speak in a voice that was completely different than that of a young boy whose voice had not yet changed. At any rate, I started doing some acts at school and before long I was being asked to go here and there and do a little show for people. That's why I was in the Lions' Club Minstrel Show. I'm not proud now that it was something which disparaged black people, but to really be honest, I had very little idea that it was wrong; in fact, no one seemed to recognize that it was wrong. That's hard to imagine these days… hard for me to imagine. But it happened. I am attaching to the website a copy of the article and some accompanying photos (photos 28 - 31). The photos are of poor quality because of the age of the paper itself but you can certainly observe that no black paint was spared. The following is a further discussion of those old Minstrel shows as discussed in a section about Minstrels taken from the internet resource Wikipedia: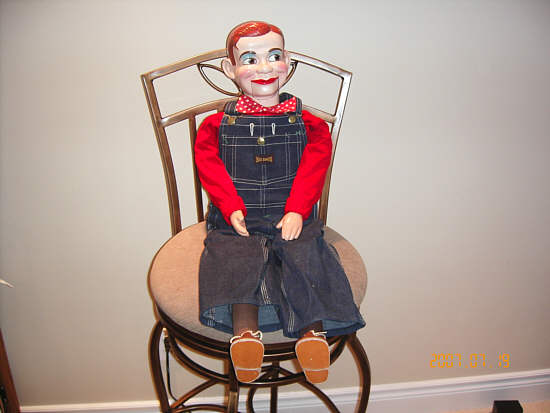 Jerry Mahoney circa 1951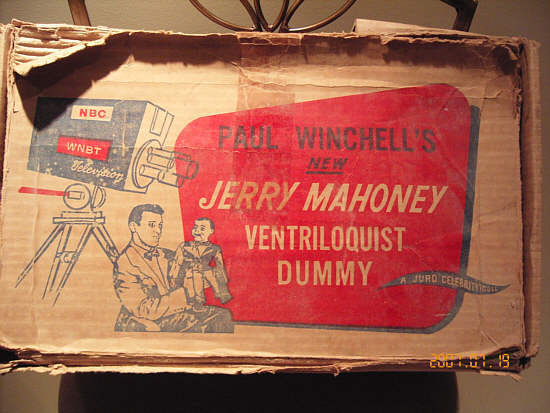 original box
Minstrel Show Narrative




Minstrel show photo and narrative

Minstrel Show I am sitting on the left in checkered shirt




"The Minstrel show, or minstrelsy, was an American entertainment consisting of comic skits, variety acts, dancing, and music, performed by white people in blackface or, especially after the Civil War, African-Americans in blackface. Minstrel shows portrayed and lampooned blacks in stereotypical and often disparaging ways: as ignorant, lazy buffoonish, superstitious, joyous, and musical. The minstrel show began with brief burlesques and comic interactions in the early 1830's and emerged as a full-fledged form in the next decade. By the turn of the century, the minstrel show enjoyed but a shadow of its former popularity, having been replaced for the most party by vaudeville. It survived as professional entertainment until about 1910; amateur performances continued until the 1950's in high schools, fraternities, and local theaters. As African Americans began to score legal and social victories against racism and to successfully assert political power, minstrelsy lost popularity."

Minstrel Show photo and narrative



Finally, we have this week's entry in the "do you know what this thing was used for in Miller County years ago?" (photo 32)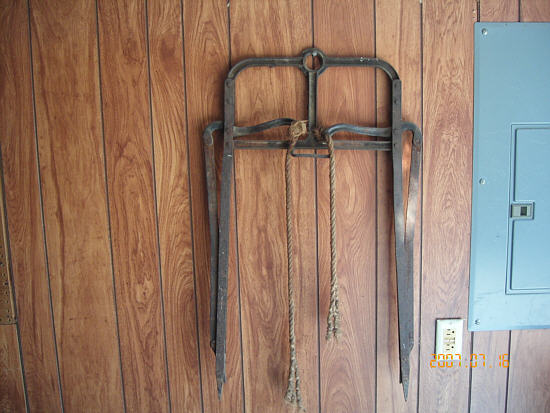 What's this?
Well, it is a hay fork used by hand to pull a big bundle of hay out of a hay stack to move to one place or another. In those days no hay bailers had been invented for the storage and movement of hay converted to a bale by a machine; so one saw stacks of hay here and there for which the transfer of the hay had to be by hand or crafty little devices such as the one shown here.
Well, that's all for now.