Thursday, July 05, 2007
Progress Notes
Tuesday July 3 was an astounding one for the Miller County Historical Society. The Citizen's Bank of Eldon donated five thousand dollars to the building fund. The check was presented during a small ceremony at the bank in which I and Betty Kallenbach, our treasurer for the Miller County Historical Society participated (photo 1). Betty was instrumental in explaining our building program to the Bank leadership and the members responded very enthusiastically. Don Vernon was the official who presented us the check for this large sum. The Citizen's Bank is one of the historical institutions of Eldon. William Harrison (photo 2), an early Miller County businessman, was the first cashier at the Bank of Eldon and later became involved in the Citizen's Bank of Eldon. His son, Ross Harrison, was a finance commissioner of the State of Missouri in the 1930's and his grandson, Donn Harrison, also became affiliated with the Citizen's Bank of Eldon. The longtime roots of the Citizen's Bank and its place in being an important part of the history of Miller County gives it a perspective which appreciates the efforts of the Miller County Historical Society to preserve the history of our forebearers and the contributions they made to the growth and development of our county. The wonderful outcome of this donation is that it is automatically matched by an anonymous source so that, in reality, this donation is adding ten thousand dollars to our building fund. However, as is usual in endeavors of this size, unexpected expenses have arisen such that we will need every dollar we can earn. So, if any of our supporters who are reading this page have been thinking about joining the many others who have participated in donating to our building fund, please don't hesitate to do so. Gifts as large as given us by Citizen's Bank are infrequent. However, we appreciate the small gifts too because they add up and, additionally, no matter how much is given, the moral support we get from receiving any donation is tremendous!
Our address is:
Miller County Museum Building Fund
P.O. Box 57
Tuscumbia Mo. 65082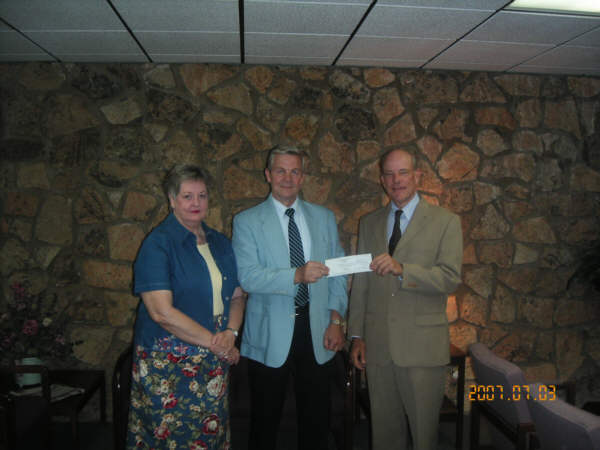 Betty Kallenbach,Don Vernon,Joe Pryor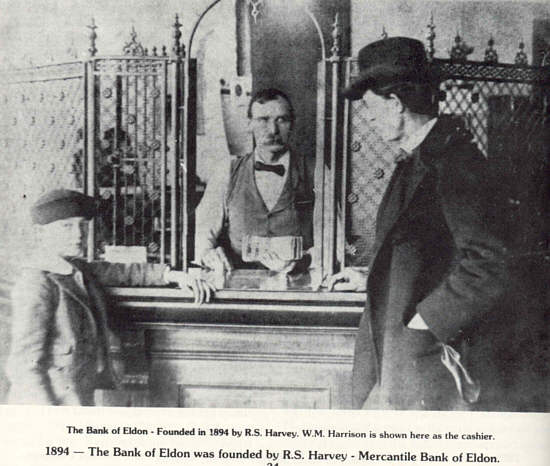 William Harrison
We plan to have a special area reserved in the museum to recognize all those who have financially supported our building program because we very much want to recognize and honor all who contributed.
Tuesday, July 3 the Miller County Historical Society participated in the Eldon Independence Day Parade sponsored by the Chamber of Commerce. Our float was provided by Brice and Betty Kallenbach (photo 3) which consisted of an old farm wagon made by Brice's grandfather, John Kallenbach, in the late 1800's. The wagon was driven weekly to Olean from the Kallenbach farm located in the Saline Creek valley to carry grain for grinding at the Gattermeir roller mill and to return with produce and other articles for use at home. Many times John Kallenbach carried neighbors' produce to Olean and brought back needed items for their use as well.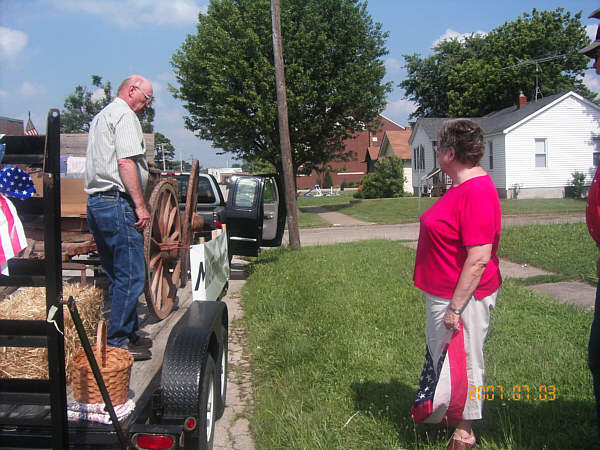 Brice and Betty Kallenbach
The effort involved to bring and decorate the wagon was well worth it because we had the honor of being awarded a blue first place ribbon (photo 4) for having the best float of the parade. Again, we have the Kallenbachs' to thank because they went to the work of getting loaded up on a trailer the old wagon and taking it to Eldon and decorating it after which Brice pulled it with his pick up truck. Others contributed significantly to the parade effort including our musicians Clifford Hill (fiddler), Joe Jeffries (base) and Norman Enloe (guitar). I also played guitar with the guys as we rode in the trailer which carried the wagon in the parade (photo 5). Also riding on the wagon were Sharon Holder, Hannah Holder, Liza and Lily McHugh who were wearing 19th century clothing including bonnets (photos 6 and 7). They threw candy out to the crowd lined along the streets (photo 8). The trailer had a large placard at the end which had written "Miller County Historical Society" (photo 9) while the sides of the trailer had a placard with our web site (millercountymuseum.org).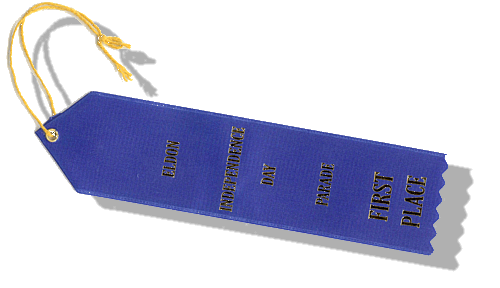 Blue Ribbon Eldon Independence Day Parade 2007
Musicians Norman Enloe, Joe Jeffries, Clifford Hill, Joe Pryor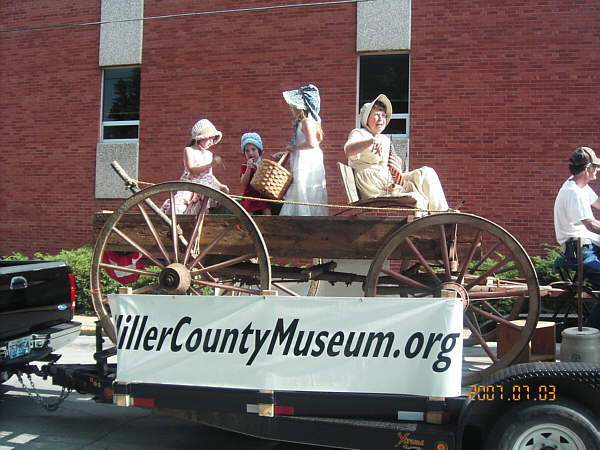 Lily,Liza,Hannah,Sharon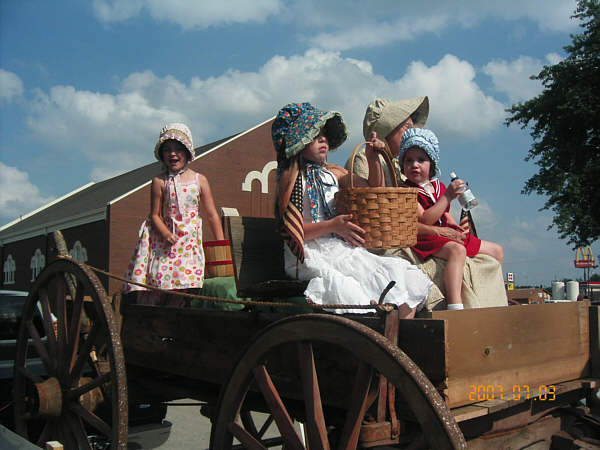 Lily McHugh, Hannah Holder, Sharon Holder, Liza McHugh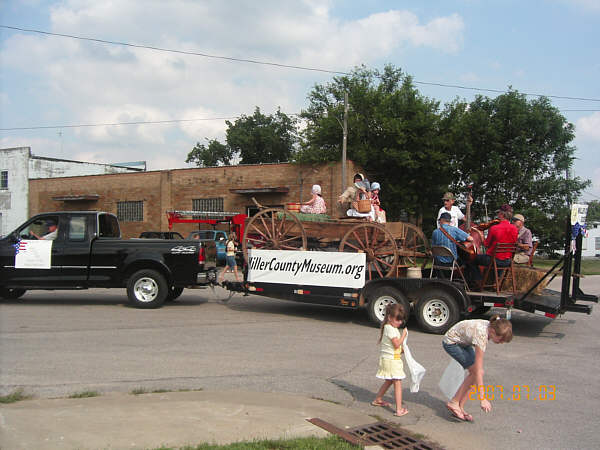 Throwing Candy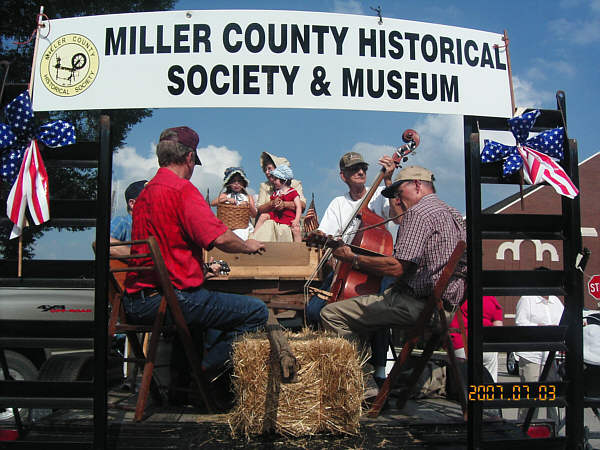 Float Rear
While participating in parade activities I met Jessica Mejia of Eldon, this year's Dogwood Festival Queen (photo 10) who was an honored guest riding in a special car in the parade. She is a delightful young lady with loads of personality. This year was the 57th anniversary celebration in Camdenton of the Dogwood Festival. The first one, in 1950, was won by Machir Vincent, with third place going to a cousin of mine, Carol Cunningham (photo 11). Machir and my cousin were very good friends and I remember seeing them together a lot when as a young boy I visited my Aunt and Uncle Lou Cunningham in Camdenton.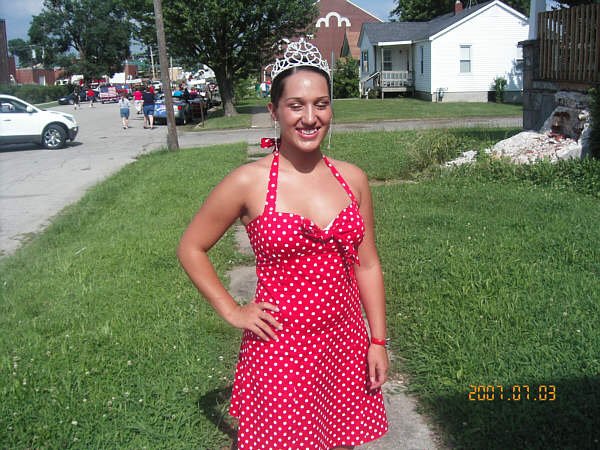 Jessica Mejia Dogwood Festival Queen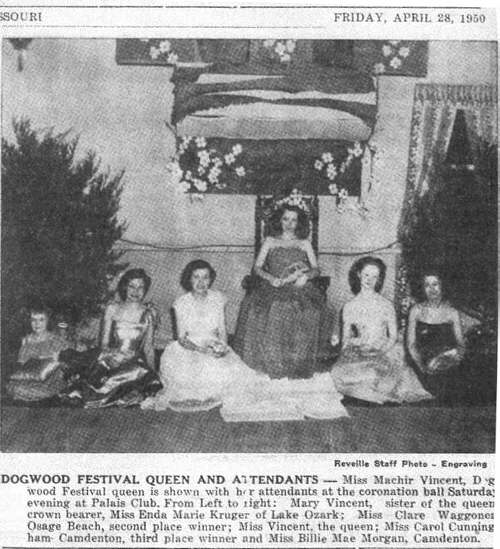 First Dogwood Festival Queen
The heavy rains recently have really brought in a lot of water to the Lake causing Ameren to open the flood gates (photo 12,13). I certainly hope we don't have a flood downstream. Growing up in a river town like Tuscumbia I remember well how devastating the floods were to the bottom land crops this time of year. Down town Tuscumbia got flooded often before the dam (photos 14,15, 16) and it was thought that some flood control might be obtained after it was built; however, the biggest flood on record occurred in 1943, twelve years after the dam was completed. Since steamboats no longer were being used for commerce, the Anchor Milling Company decided to transfer all operations out of the river bottom and move up onto the hill top. Our museum is now located in the first of the buildings Anchor Mill built on top of the hill, the old hardware store (photo 17). My grandfather Madison Bear's house (photo 18), originally built by Phil Hauenstein, was one of those heavily damaged by the flood of '43 (this house is in the middle of photo). The flood waters continued to rise (photos 19,20) and even reached the second floor damaging very old furniture that my great great grandfather George Bear had made. The family piano, which had been hoisted by pulleys up to the ceiling in anticipation of the flood, which never in history had gotten as high as the second floor, broke loose and was ruined. After that flood grandfather Madison decided he wanted no more from the fickle Osage and decided to move to a log house higher up on the hill just above the old Brockman Hotel. It is still standing and even has been beautifully restored (photo 21). This house originally had been built by a Chiropractor from Chicago, Dr. Thompson, who had moved into town back in the 1920's. He was best known for being able to cure hiccups. Before he built the log house, Dr. Thompson had rented a room from my grandparents in the old Hauenstein House before Madison my grandfather sold it. My mother remembers one of Dr. Thompson's patients named "Norma." Mom said Norma visited Dr. Thompson everyday for a treatment which kept her from hiccupping the rest of the day. Otherwise it was said that she hiccupped constantly all day long.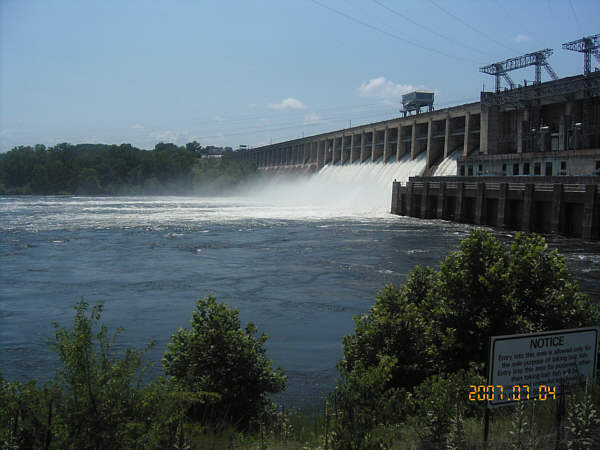 Dam gates all open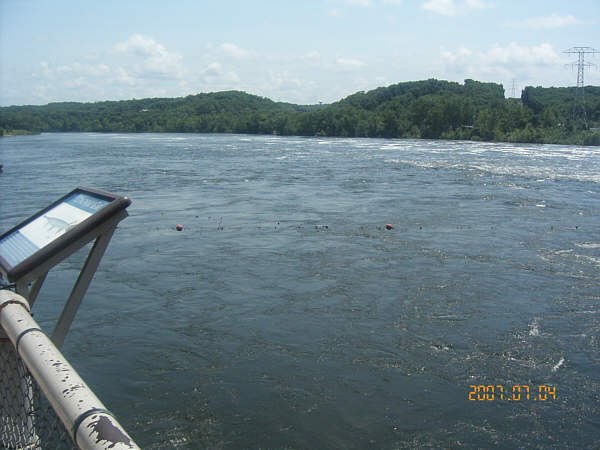 Mighty Osage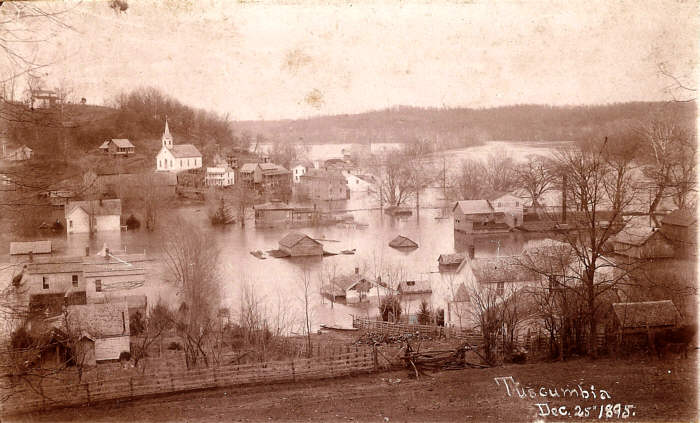 Flood in 1895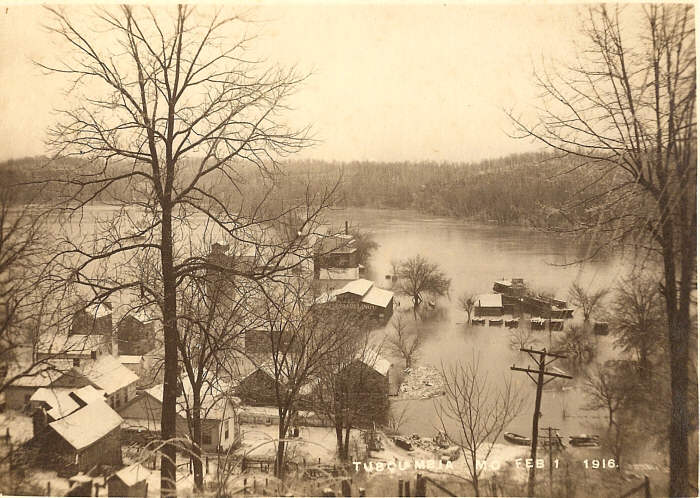 Flood of 1916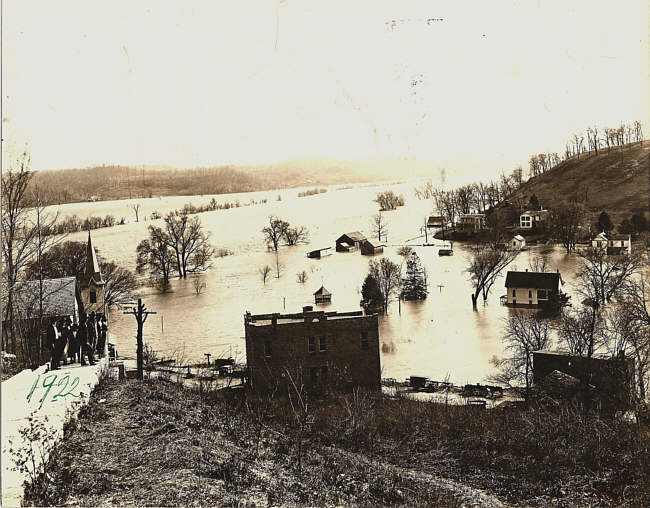 Flood of 1922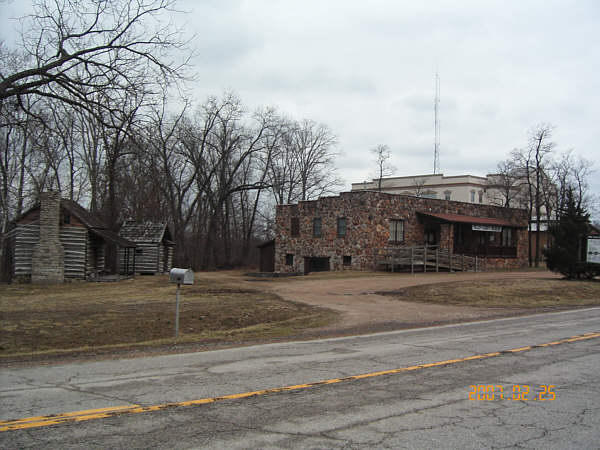 Museum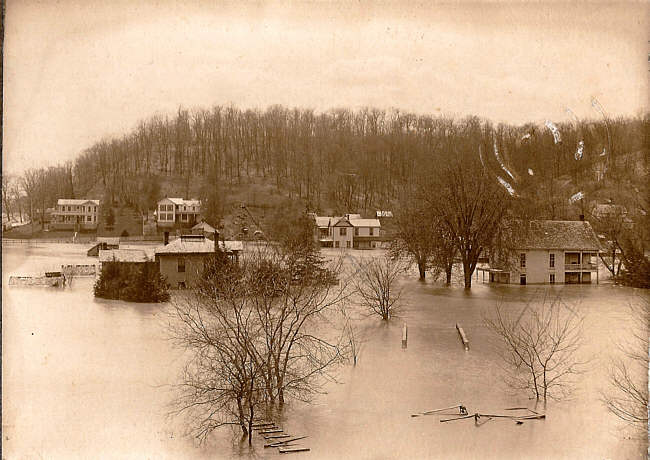 Bear house in middle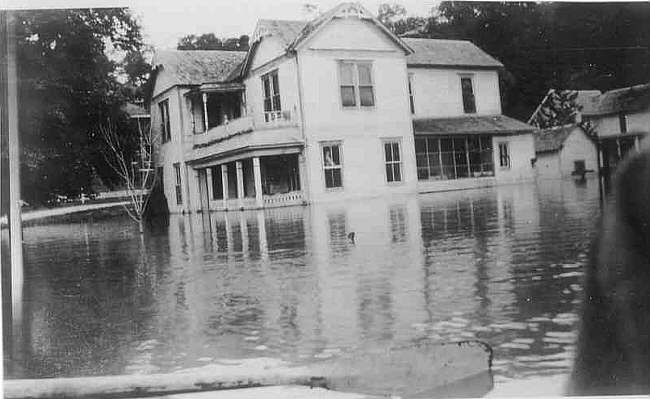 Bear Home In Flood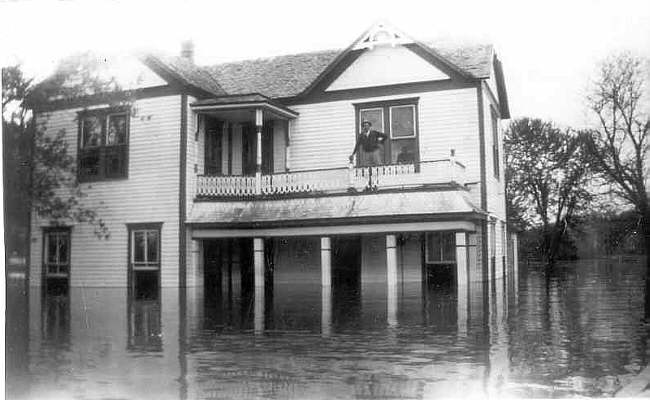 Bear Home In Flood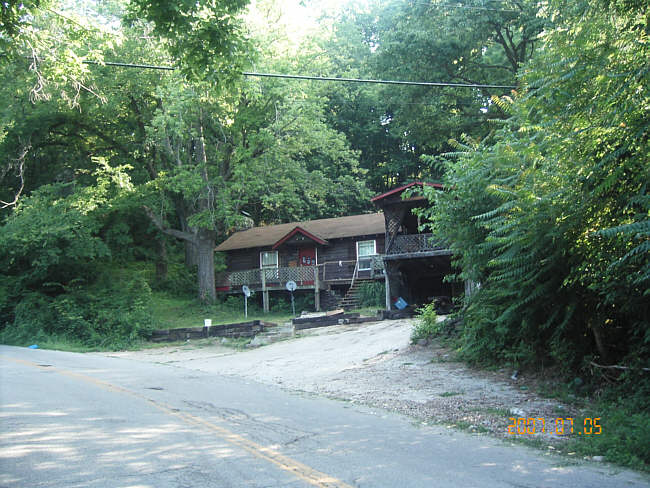 Madison Bear House
Blackberry season is with us this week (photos 22,23,24). My mother in law, Elva Steen, has plenty of blackberry patches and always has a cobbler on the table this time of year.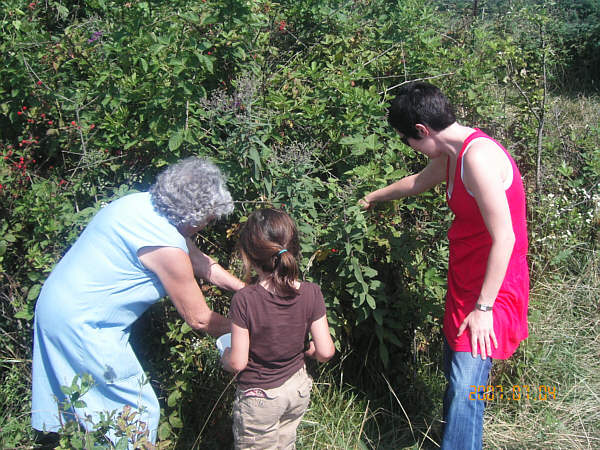 reach further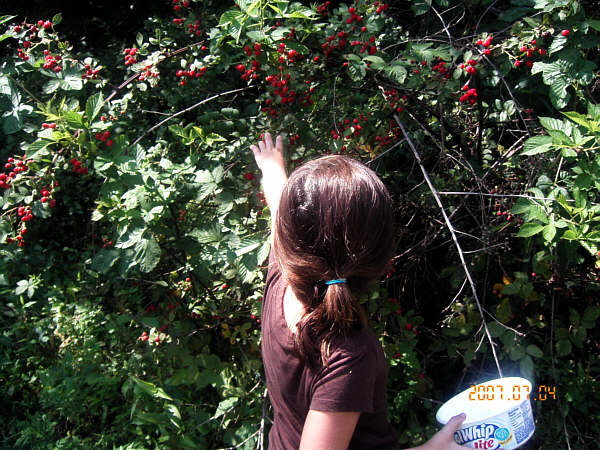 Two days too early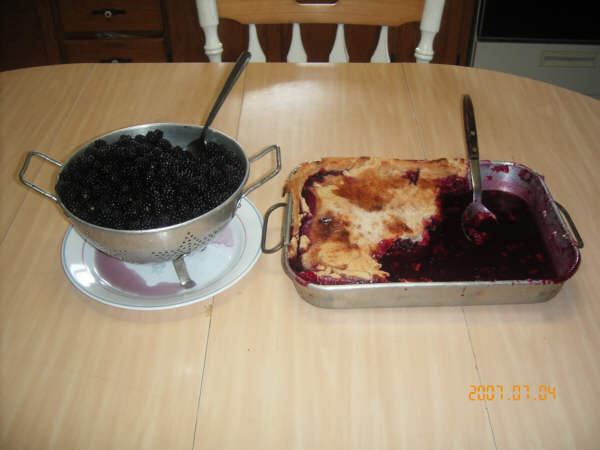 Worth The Effort
Every once in a while, when I am at the museum and have my camara I will take pictures of our volunteers. This week I took pictures of volunteers Nancy Thompson, her granddaughter, Abbe Piccolo, and Celeste Christiansen. Nancy is also our volunteer research specialist, web site director, and museum consultant. Celeste is a new member who has been so wonderful in demonstrating her excitement and enthusiasm about the museum and our building program. (photo 25)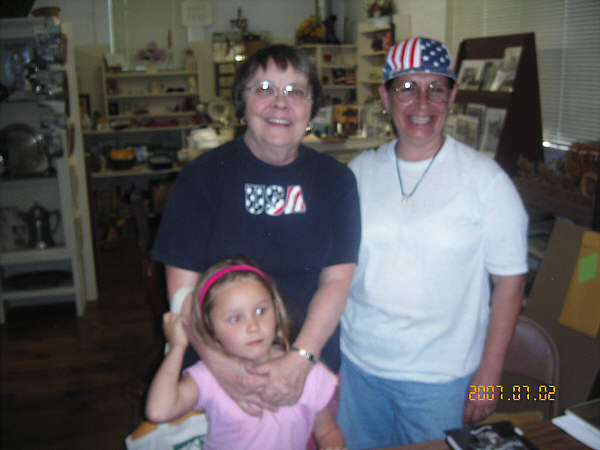 Nancy Thompson and grandaughter Abbe Piccolo, Celeste Christiansen
Sunday, July 8 at 1:00 p.m. is the date for the next quarterly meeting of the Miller County Historical Society which is being held in the dining hall of the lower level of the museum building in Tuscumbia. All are invited to this potluck dinner event. The business meeting will be brief because we want to have plenty of time to enjoy the gospel song singing of our local Miller County native, Frank Schlesinger (photo 26). Frank has a unique stage presence along with his excellent stylistic way of singing. For those interested in old time church history, Frank is an original of that background having been raised and brought up in the historic Mount Zion Christian Church south of the river on highway 17(visit the page on our web site which gives the history of this old church).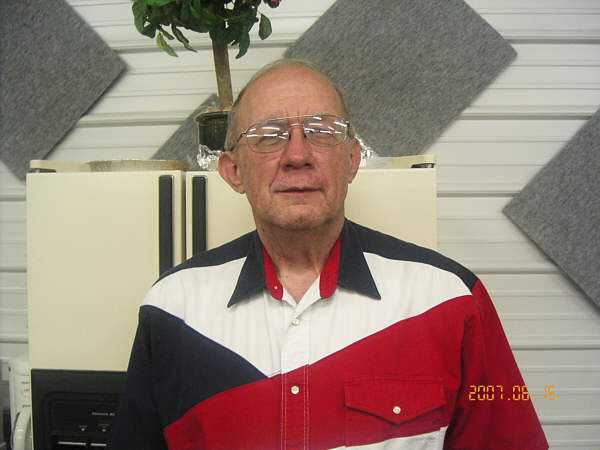 Frank Schlesinger
We celebrated the Independence Day by enjoying the Lloyd Belt annual fireworks display at the Eldon Airport. It's hard to take pictures lying on your back (Photo 27).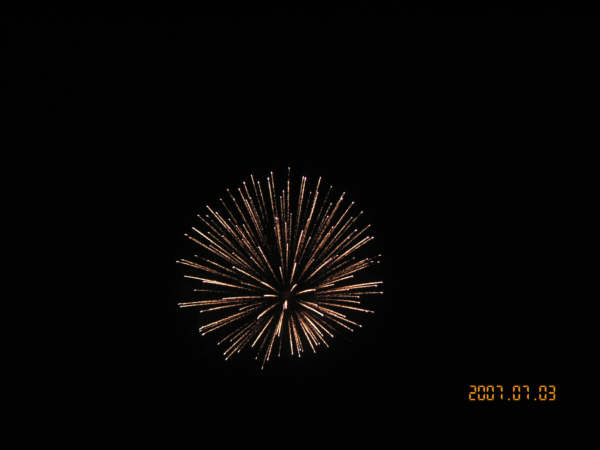 Fireworks
That's all for this week. See you at the museum potluck dinner this Sunday.