Wednesday, June 27, 2007
Progress Notes
Last weekend Judy and I went to Kansas City ( photo K.C. Street Scene) for a wedding. The streets of the Country Club Plaza were beautifully decorated with many spring flowers (photos of flowers) We took the opportunity to visit the new Bloch addition to the Nelson-Atkins museum (photo of Bloch Museum). Our interest was inspired not only by what had been written about it but also by the fact that the exterior of our new addition (photo of new addition) is similar in design to that of the new Bloch building at the Nelson. Both structures are rectangular with simple exteriors without windows and have muted colored siding. Admittedly the Bloch building's siding is light permeable as can be best appreciated after dark. But we appreciate the ideas of architect Kent Holder in designing a structure that is on the cutting edge of current museum architecture. The absence of windows helps reduce light damage to sensitive display items as well as purposefully being architecturally simple in design to allow the emphasis to be placed on what is inside and less on the building design. Now I guess you know I'm being a bit tongue in cheek to compare us to the Bloch addition to the Nelson in K.C.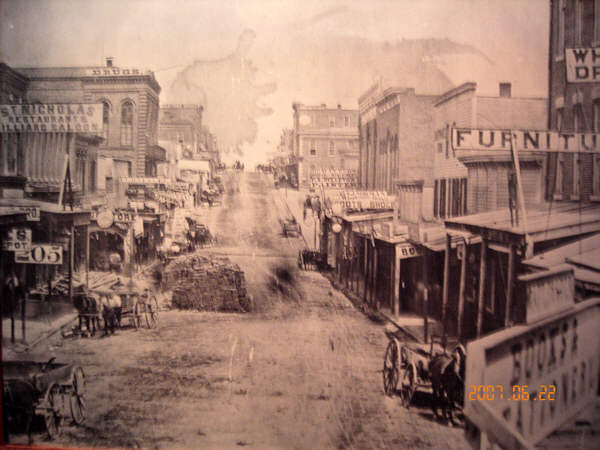 K.C. Street Scene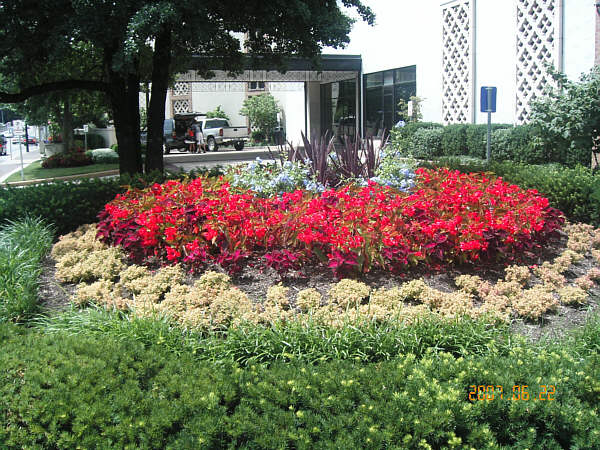 Flowers at Country Club Plaza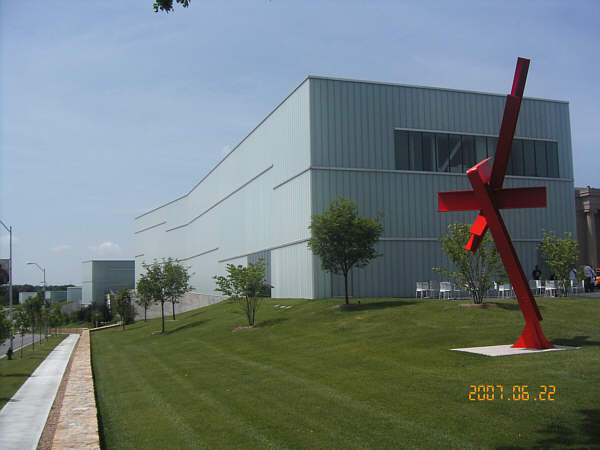 Bloch Museum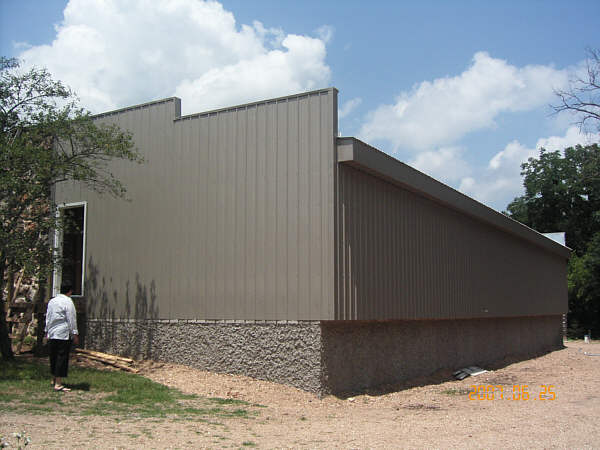 Recent photo of building addition.
However, in our building we have maintained in a subtle way some of the design of the old stone building, especially the way the roof line steps down rather than sloping which is commensurate with the way in which the roof line of the old building was constructed. Another tribute to the old building is the three large framed openings on the inside west wall of the new building in which the field stone masonry of the east wall of the old building is featured. Refer back to the Progress Notes of June 21 for a little history of the construction of the old museum building as well as the discussion a little further in this narrative.
I am thrilled with the way our building is coming along. We now are putting in the electrical work which is being done for us by Kenneth Wyrick of Tuscumbia (photo of Kenneth Wyrick). Kenneth is a very well known electrician in the area and is a graduate of the Tuscumbia school system. I remember Kenneth when he played basketball for a very successful Tuscumbia team when he was in high school. As a student I played against him once in a while when he was on the town team which itself was very successful. Kenneth had long arms and could steal a basketball as sneakily as anyone I ever saw. Those long arms were helpful yesterday when he was on a ladder wiring the spot light canisters in the ceiling of the museum.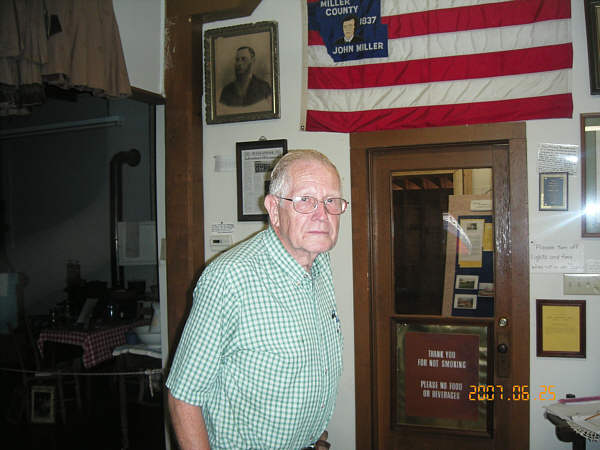 Kenneth Wyrick
We are very pleased that donations continue to come to us for the new addition. The barometer sign along the road outside the museum continues to climb (photos of barometers) If you would care to participate in the funding of the new addition, please send your donation to:
Miller County Museum Building Fund
P.O. Box 57
Tuscumbia Mo. 65082
| | | |
| --- | --- | --- |
| Barometer as of 04-24-2007 | | Barometer as of 06-27-2007 |
While in K.C. we also toured the Arabia museum which features artifacts removed in 1988 from the large steamboat, Arabia, which sunk in 1857. We also have a steamboat exhibit in our museum which is quite detailed due to the several steamboats operated up and down the Osage River by the Anchor Milling Company over one hundred years ago. The Arabia exhibit is very interesting because it reveals the kind of articles and goods people were buying and using in days long ago. One of the Anchor Milling Company's boats, the J.R. Wells (photo of J.R. Wells), also sunk in the early 1900's on the Missouri River near St. Joseph. According to Bamber Wright, descendent of the family which owned Anchor Milling Company, an attempt was not made to recover the boat. Although the boat had been sold to another company before that time, much interest in the accident was engendered in Tuscumbia by the event. According to the Arabia authorities, more than two hundred steamboats sank on the Missouri River during the years they were being used for commerce.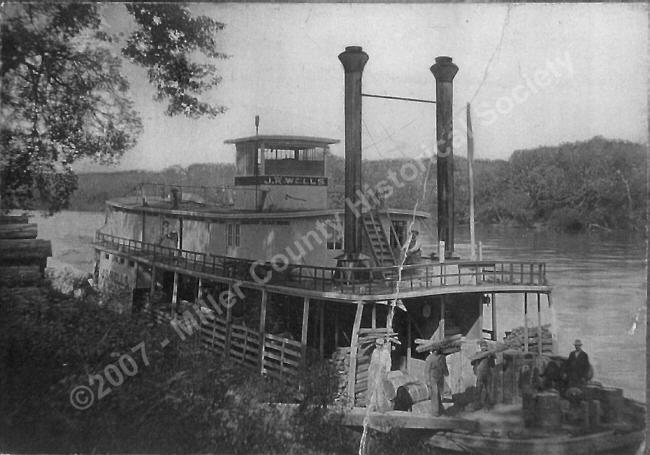 Steamer J.R. Wells
The Charley McDowell family built the building which now houses the Miller County Museum for the Anchor Milling Company in 1943. It was made of native field stone. According to Charles M. McDowell, Charley's son, the original McDowell in this area was John McDowell who homesteaded land where now is located the Factory Outlet Mall on highway 54 in Osage Beach, Mo. The original log cabin is still standing although it has had siding placed on it in recent years. Mr. McDowell was a farmer as was his son William Riley who had a total of thirteen children, four of whom became stone masons. Their names were Otto, Gordon, Bill, and Charley. A cousin, named Arthur McDowell also was a local stone mason. Charley may have been the McDowell who left a larger fingerprint of buildings made of stone in the area than anyone else in the early part of the last century. Most of the buildings were of sandstone but a number of them were made of field stone. In the Tuscumbia area Charley built the Anchor Milling Company Hardware store (where now is housed the Miller County Museum) on highway 52 in 1943 using native field stone (photo Anchor Milling Hardware Store). In 1951 he built a general store run by Garland and Edna Adcock just south of the river at the junction of highway 52 and 17 on property which belonged to Clyde Hawken. This building is now owned by Wes Horton who remodeled it and named it the "Red Oak Inn" (photo of Red Oak Inn). Among the houses Charley built in Camdenton was one next to the school in which lived my Uncle Lou and Aunt Lois (Pryor) Cunningham back in the thirties and forties of the last century. Charles reports that Charley never walked but ran, and so did everyone else who wanted to work for him. He always finished the jobs on time and on budget. Charles, who worked for his father, remembers the work as very hard requiring the use of hand tools to cut the stone and brawn and sweat to carry and place them. Patsy (Adcock) Wickham, daughter of Garland Adcock who ran the stone general store south of Tuscumbia, remembers Charles as a young teenager helping his dad. Patsy says Charles was as tireless a worker as his father and never seemed to need to rest. Charles later became an electrical engineer after studying at the then named Rolla School of Mines as well as the University of Michigan after which he worked in the defense industry most of his adult life.
Anchor Milling Company Hardware Store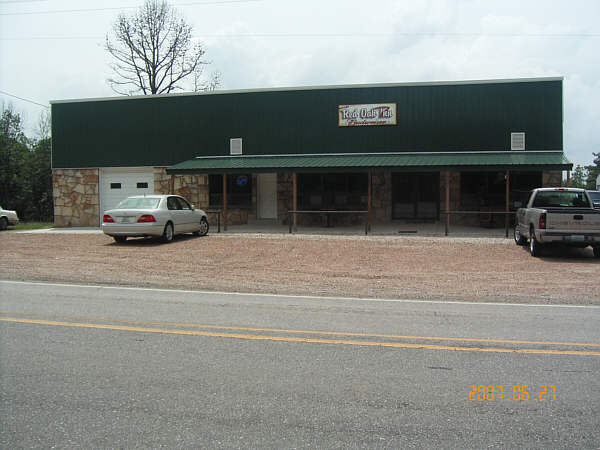 The Red Oak Inn
The building built south of the river by the McDowells' for Clyde Hawken, but as noted earlier now owned by Wes Horton, replaced an older building made of logs which was also a general store (photo of original store). It was owned by David Helton, grandfather of Bennett Helton, who is in charge of the concrete work for our new museum addition.
After Garland and Edna Adcock retired from the management of the McDowell built store in the early 1980's the building was used for an antique store and then an auto body shop. About two years ago, as noted in an earlier paragraph, Wes Horton (photo of Wes), who owns several large farms in the area as well as having a very busy logging service, bought the store from Kenneth Wickham, the then current owner, and remodeled it for the purpose of starting a restaurant which as stated earlier he named "The Red Oak Inn". The restaurant has become very popular bringing visitors from many miles away to dine on very good country cooking in which Wes and his wife Connie have specialized. Wes went to the Tuscumbia school and was in the same class as my sister. Wes has one of the most friendly smiles you'll ever see, and he has had it all his life. My mom, who was the class room mother for a few years remembers, how enthusiastically Wes would sing songs at school. My wife and I dine at the Red Oak Inn often and enjoy talking with Wes and many of the local folk who come there.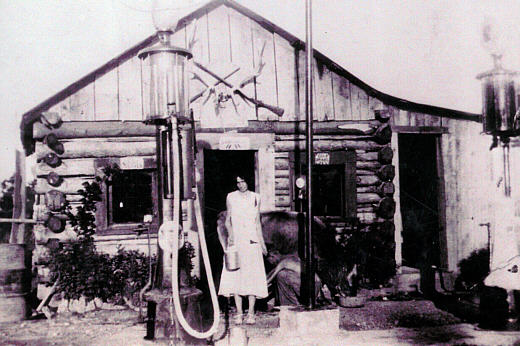 1939 Photo of Log Store on Corner of Hwy 17 and Hwy 52
In 1939, this log building (grocery store and gas station) used to stand on the very same location where Red Oak Inn is built today. The building was built prior to the 1930ís. During this time, it is believed this business location was owned by David Helton (Bennett Heltonís Grandfather), who also owned a river bottom farm right above the river bridge. This building also contained living quarters, which was occupied by Mrs. Ella Beard and two of her young children. It is believed Mrs. Beard operated this business for their room and board. Mrs. Beard was also the mother of Jean Lupardus, wife of Harley Lupardus of Ulman. It is believed the old building was torn down between 1948 and 1952. During this time Garland Adcock built a new cobblestone building containing a gas and service station, grocery and liquor store, and living quarters for his family. There have been several businesses at this location prior to Wes Horton, making it the beautiful Red Oak Inn, as we know it today. Picture taken 1939.
Narrative and photo from Jack Lupardus added.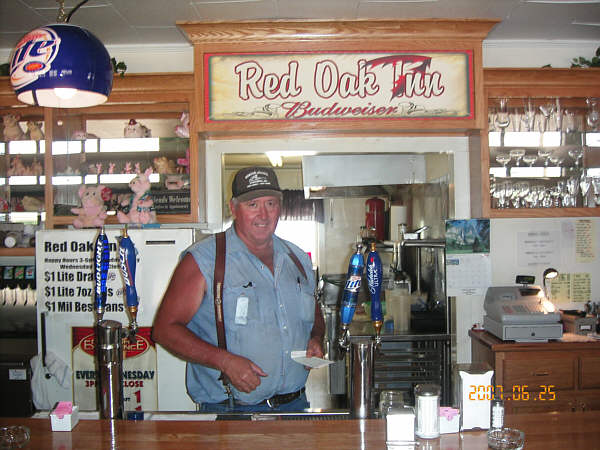 Wes Horton

On our visits to the K.C. museums we saw many interesting paintings, many of them modern and post modern in category, some surrealistic, and by many famous artists. But we in Miller County have an artist of our own we can celebrate. His name was John Wright (photo of John Wright), about whom I spoke briefly last week regarding his talent at glass etching and landscape paintings. John was born in 1868 and was a man of many talents. In addition to his artistic talent for painting landscapes and murals, he also was a poet and musician. For extra income he painted houses, put up wall paper, built churches, and farmed. He even designed a printing press which his brother James Wright used to put out the local county paper for years. Early in his life, John and some other local Tuscumbia natives toured South Missouri and Northern Arkansas doing acrobatics (photo of John in acrobat uniform), musical numbers, and a ventriloquist act by John himself. To tell the complete story of John Wright would require more space than we have available here. Later this year we will devote more space to John and his interesting life

.
| | |
| --- | --- |
| John Wright, Painter | John Wright in Acrobat Uniform |
John's daughter, Francesca (photo of Francesca), in later years moved to New Mexico and became a very famous painter of impressionistic paintings of beautiful vistas of the New Mexico landscapes. Her autobiography, released last year (Wildwood Days: Universe, Inc.2006) is a wonderful story of her life in the hill country south of the Osage River in Camden County where John and his family were living at the time. Especially the book is descriptive of the life and talents of her father John Wright. Francesca describes in detail many of the ways in which she was influenced by her father; for example, how she learned to mix berries and bark to make the paint for artwork on canvass. Our museum has a painting by Francesca on display which features a log cabin on Dean creek where she spent her early life (photo of log cabin).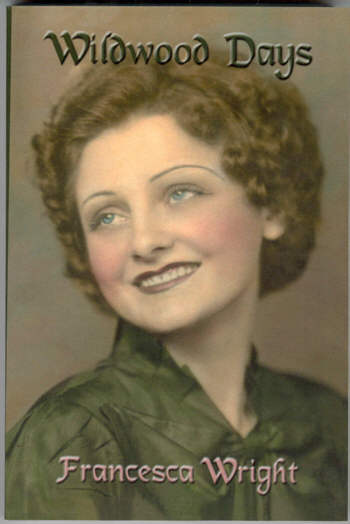 John's daughter, Francesca Wright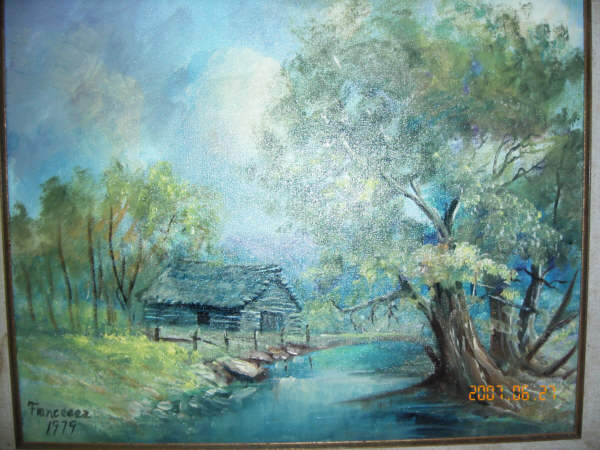 Log Cabin on Dean Creek, by: Francesca Wright
I had the opportunity to scan several paintings by John Wright made available to me by his granddaughter, Helen (Pemberton) Wall, (photo of Lewis and Helen Wall) who has worked with our museum for many years and is a former board member. Several of these are included with this narrative (photos of paintings). John also made a hickory rocking chair for C.B. Wright, his brother, which is on display in our museum(photo of rocking chair).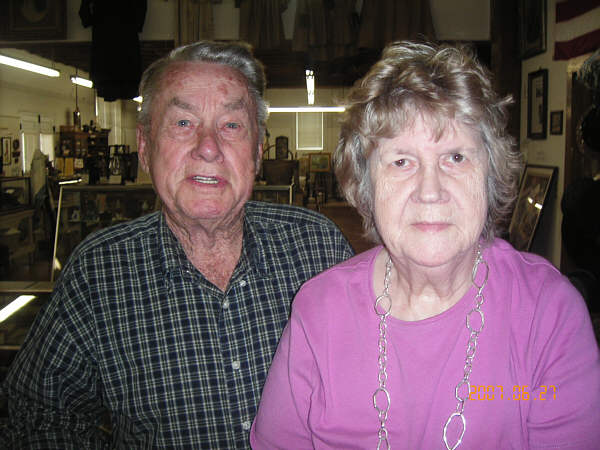 Lewis & Helen Wall
| | | |
| --- | --- | --- |
| Pikes Landing at Tuscumbia | | Still Life |
| J.R. Wells House | | Hickory Rocking Chair for C.B. Wright |
We are planning to enter a float in the upcoming Eldon Community Fourth of July Parade which actually will occur on Tuesday July 3 beginning sometime after four p.m. So come out for the parade and wave to us as we pass by. You will know it's us because we will be pulling an old wooden farm wagon and will have a banner with our name: "Miller County Museum" attached. We plan to have some of our musical friends ride with us to play some hill country music as we traverse the parade route. Hope the weather is favorable.
That's all for this week.