Monday, May 28, 2007
Progress Notes
The amount donated for our building fund now is reaching one hundred thousand dollars. We are waiting for the rain to stop so we can begin the roofing and interior walls. Response to our funding drive remains steady and enthusiastic. It is very exciting to those of us working on the campaign to receive once in a while the nice notes about the museum or the website that accompany the donations in the envelopes. If you would like to donate to the building fund please note that any amount is appreciated no matter how small you think it is. A lot of people are interested in the museum so it really adds up quickly even with small donations. And remember, each donation is matched by an anonymous donor, so your donation is automatically doubled once we receive it.
Our address for receiving donations is:
Miller County Museum Building Fund
P.O. Box 57
Tuscumbia, Missouri 65082
This last weekend many people traveled around Miller County to visit the cemeteries where their loved ones of the past are buried. The pilgrimage to honor one's ancestors I'm sure occurs rather universally throughout the country, but in some ways, I think it is different in the rural areas of America. For example, in Miller County more than one hundred thirty cemeteries can be listed and relatives of persons buried in the cemeteries may have several cemeteries to visit Memorial Day. Even in those cemeteries which have a family name, sometimes relatives may be buried with a spouse in another cemetery a few miles away. Originally, the cemeteries were located on the family farm and may have contained only a few graves; some, no doubt are lost forever and won't be found again, having been recaptured by the surrounding woods and vegetation. The family cemetery where most of my relatives of the past are found is the Bear cemetery south of the Osage River about a mile east on highway 52. My wife's family cemetery is the Williams Cemetery which is located four miles south of Iberia on highway 42. Both these cemeteries are located on the farms where the original family settled on arriving in the county. In each case, the patriarch of the family came to Miller County well before the beginning of the Civil War. John Williams is my wife's great great grandfather, and his farm had the slave cabin which now sits on the site next to the museum in Tuscumbia. The tombstones of John and his wife, Mahala, are very old but the engravings still can be read (see photos of John and Mahala's tombstones). One interesting feature of the Williams family graveyard is the presence of about fifteen stones or rocks placed in the ground in rows (see photos). Some say these were stones to indicate the burial place of infants born at birth. In those days, tombstones were not easy to obtain or afford.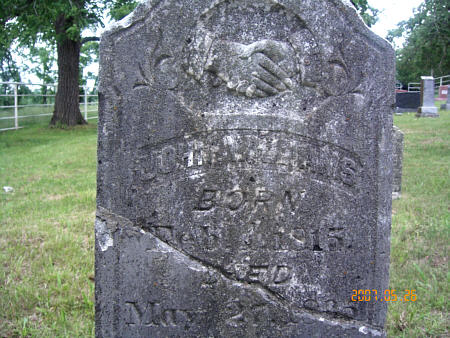 John Williams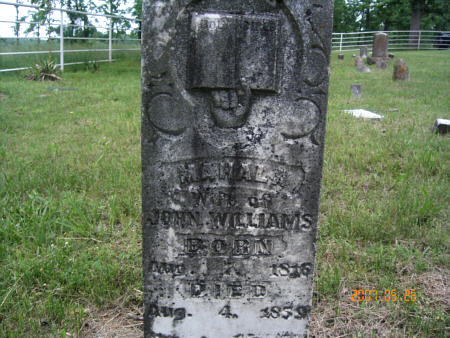 Mahala Williams, wife of John Williams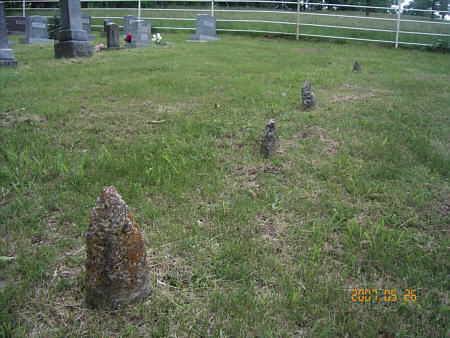 Rock Markers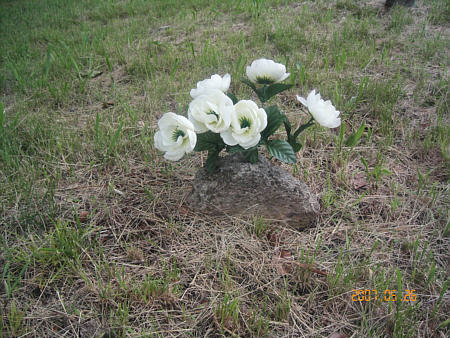 One Special Rock Marker
The Bear cemetery is located near Dog Creek (see photo) just off highway 52 going toward St. Elizabeth. It is located on the old Simeon Bear farm and is where many of my relatives on my mother's side are buried including our patriarch, my great great grandfather George Bear and his wife Elizabeth (see photo). The original tombstone for George Bear became so weathered (see photo) that it was replaced a number of years ago. My great grandfather, David C. Bear also is buried here.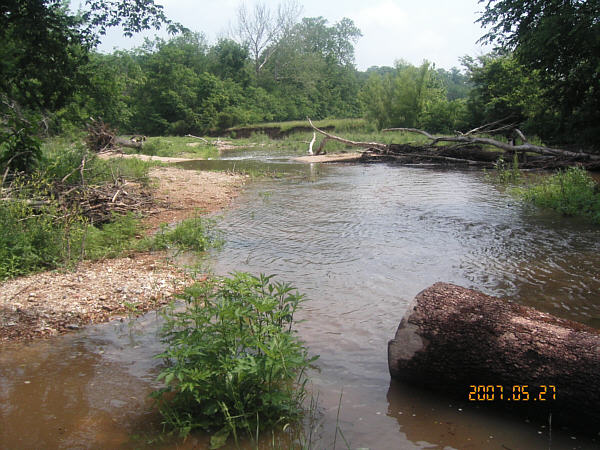 Dog Creek
These cemeteries are typical of many throughout the county and as we passed by some of the other cemeteries this weekend we observed they had their share of visitors laying wreaths and decorations just we were in our cemeteries. But while we have much in common in terms of the kind of people were our ancestors, their homes, and where they were buried, I also know that each one had his/her story which would have had its own unique twist or turn to be found out only if we maintain our cemeteries so their life histories might better be explored, researched, and remembered.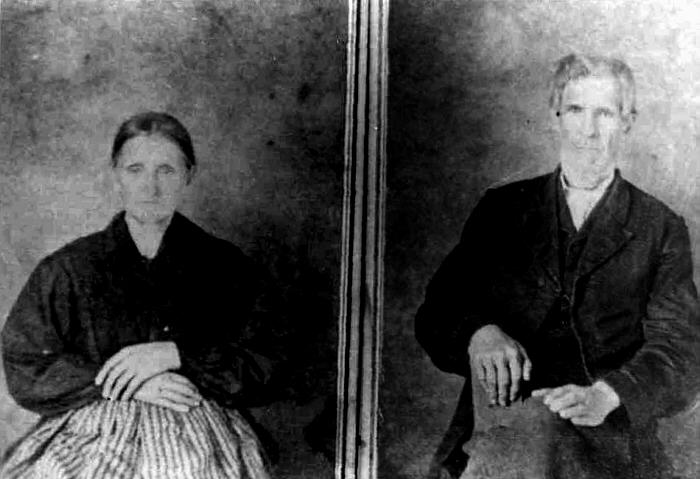 George & Elizabeth Bear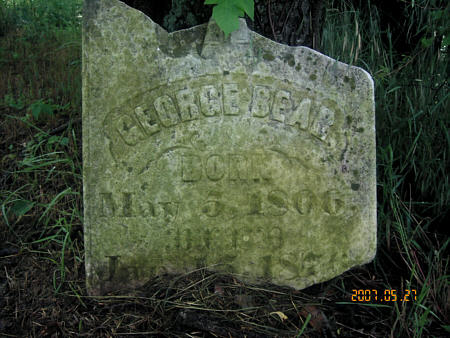 George Bear Tombstone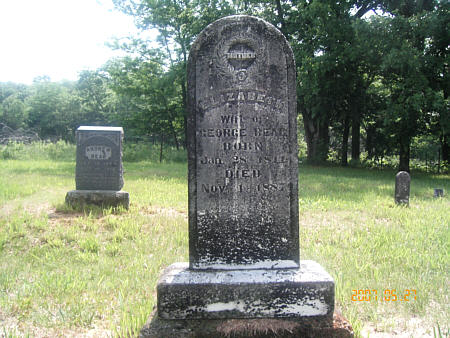 Elizabeth Bear Tombstone
Last Saturday Judy and I participated in the Williams Cemetery annual meeting held at the Christian Church in Iberia. Afterward, Don and Andy Pemberton and Don's sister Jean Keeth and her husband G.R. Keeth (see photos) accompanied us to Tuscumbia to visit the museum. While there, G. R. Keeth told me that his brother, Eugene Keeth did quite a bit of carpentry work for the museum and helped maintain the large sign along the highway. One project of particular interest was to construct an authentic rural outhouse to fit in the space between the two log cabins at the museum site. The typical outhouse was made of oak, so was heavy and didn't really need much anchoring except on Halloween Night. Inside, some were made with two holes in the bench seat. I had always been curious about that since I couldn't imagine very comfortably, at least, how often it would happen that two holes would be needed to be utilized at the same time. Also inside were placed copies of a Sears and Roebuck catalogue or sometimes, shelled corn cobs. This outhouse can be inspected now as it is open to the public for any visitor who has never seen one. For the construction crew now on site building the new addition, we have rented a commercial toilet which is situated in front of the authentic wooden outhouse which Mr. Keeth made. Because of that, I could not get a full view camera shot of the wooden outhouse (see photo). However, in the particular case of these two authentic cabins on our museum site, neither had an outhouse. My wife and her sisters who stayed overnight often with their grandparents in the larger log cabin report no outhouse was available; the cabin best could be described as having "two rooms and a path", certainly no bath.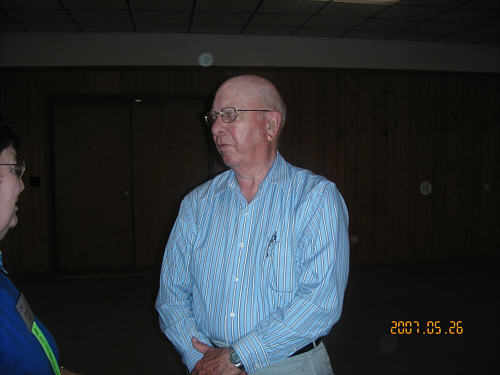 Don Pemberton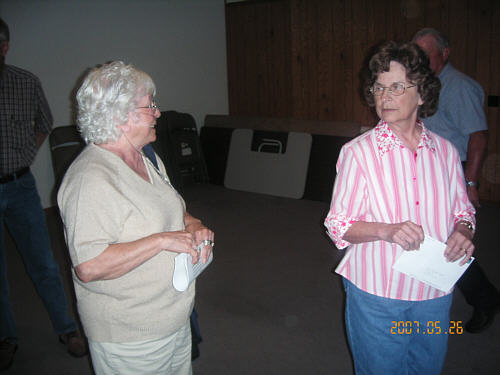 Joan Keeth, Marilyn Whitaker
Glyna Nickels & Andy Pemberton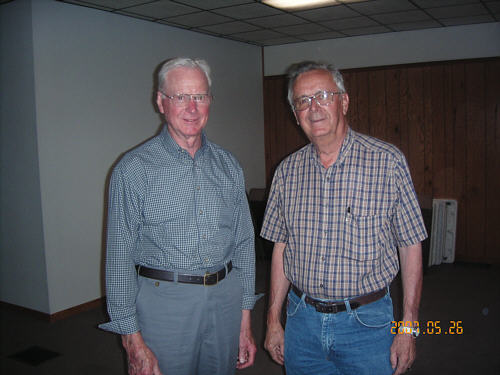 Gus Nickels & G.R. Keeth
The public seems to have been interested in times past in old time outhouses since I remember that the first novelty item my father and his brothers made in their cedar wood workshop in Tuscumbia was a miniature cedar outhouse replica which was one of the best selling items to tourists who came to the Lake area. I remember that the inscription on the miniature replica said: "Relief Office".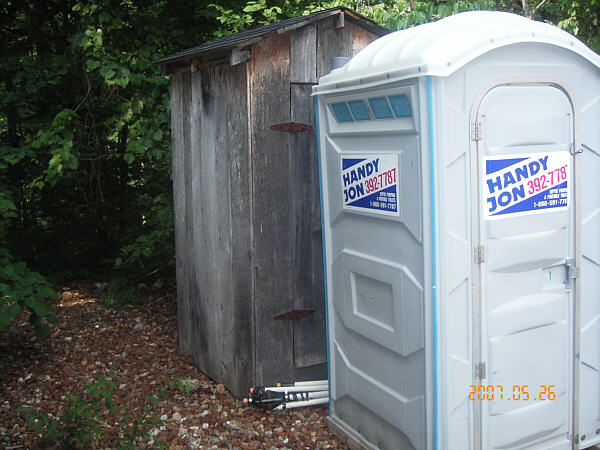 Juxtaposition of Outhouses
I apologize for the juxtaposition of an essay on outhouses with the more serious discussion of the day we give respect, reverence and honor to our ancestors, but this is just the way the day unfolded and is duly recorded in this space.