Friday, May 25, 2007
Progress Notes
Tuesday morning I talked with museum hosts Juanita Clement and Arlene (Lupardus) Helton who were the volunteer staff for that morning. Juanita's son Ron and Arlene's husband Bennett are partners in the Alpha company which performed all the concrete work for our new addition. Both are Tuscumbia school graduates. Arlene is a direct descendent of Peter Lupardus, whose cabin home is located on the museum property. The construction project advanced this week from floor to walls (see photos). We continue to receive donations daily in the mail for our addition. I have gotten to know Cletus Burris, our local postmaster, rather well since I have been the one usually to pick up the mail. Cletus was raised close to where my wife Judy was raised over on the Tuscumbia Bagnell road.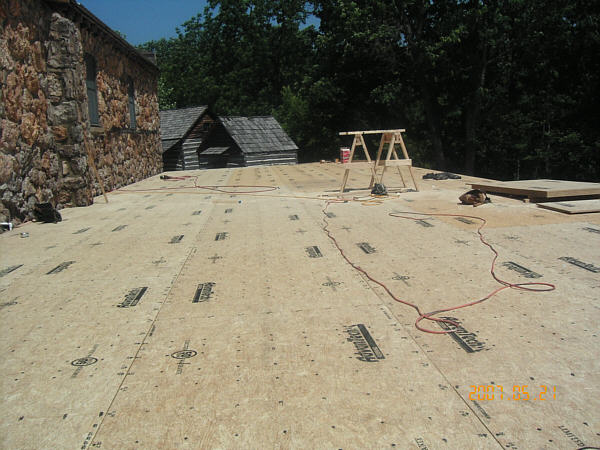 May 22, 2007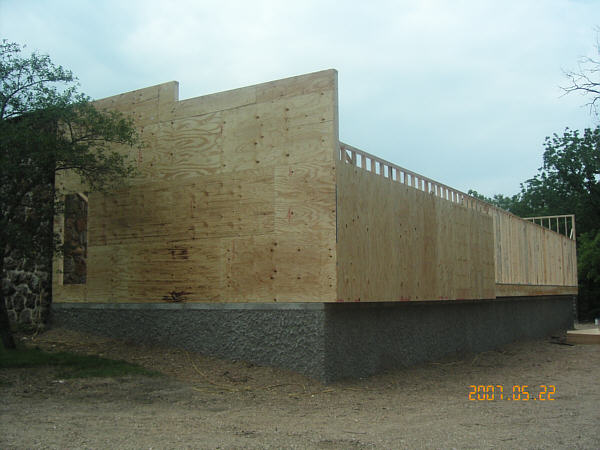 May 25, 2007
This morning I visited Marshall and Janice (Hensley) Humphreys (see photo)at their farm south of the river near the old Keyes School. As part of a history we are writing about Miller County Physicians of the past, I wanted to talk with Marshall about his father, Dr. Marshall Humphreys,(see photo) who was a physician in Tuscumbia from 1937 until his untimely death in an automobile accident in 1972 in Mississippi. No doubt exists that Dr. Humphreys' arrival to our county was very important since he established a full service hospital providing emergency care, surgery, obstetrical deliveries and child care with up to date medical equipment and experienced nursing staff. Dr. Humphreys was born Sept. 14, 1912, at Galt, the son of Mr. and Mrs. Marshall E. Humphreys, Sr., and attended public schools there. He graduated in 1933 from Trenton Junior College before entering the Kirksville College of Osteopathy and Surgery where he was graduated in 1937. He took his internship at the Laughlin Osteopathic Hospital in Kirksville.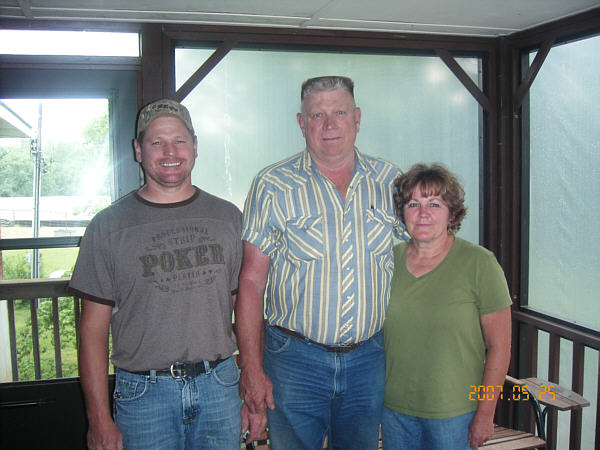 Michael(son), Marshal, Janice Humphreys
He and his wife, the former Miss Margaret Whitfield of Trenton, were married April 22, 1932 in Iowa. Following his graduation they moved to Tuscumbia in 1937 and he established his office in the second story of what was then the Tuscumbia Bank building. Dr. Paul Howard, Dr. Humphreys' son-in-law, told me that Marjorie, Dr. Howard's wife, was about four years old at the time, and it was her pleasant task to lead visitors to the clinic through the correct door to the stairway, and to assist them again on leaving, for which she requested the favor of a nickel.
Dr. Jones of the Ulman area and Dr. Humphreys had gone to school together and were close friends. In fact, Dr. Jones, who arrived in Miller County, first, advised Dr Humphreys of the need for a physician in Tuscumbia which provided the incentive for Dr. Humphreys to come here. Dr. Jones' wife's name was Marjorie, and it so happens that Dr. Humphreys' first daughter was named Marjorie. But Dr. Humphreys' wife's name was Margaret, and it so happens that Dr. Jones' first daughter was named Margaret. My mother-in-law, who was from Ulman, told me that a number of people thought the names were given as a sign of the friendship between the two families. I asked Marshall what he knew about this story but he hadn't heard about it.
Dr. Humphreys was also on the staff of Charles E. Still Hospital, Jefferson City, and the Pulaski County Memorial Hospital, Waynesville. He was a member of the American Osteopathic Assn., the Missouri Osteopathic Assn., president of the Bank of Tuscumbia, a former president of the Tuscumbia R-III school board,(see photo) and president of the Tuscumbia Lions Club.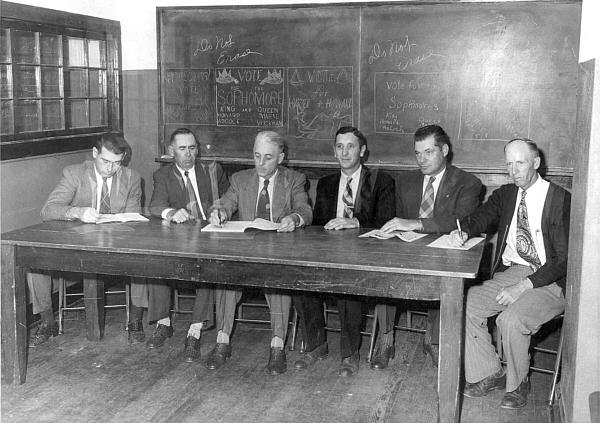 school board doc, George barron, garrett berry, frank martin, ansel pryor, herman abbett.
He was a member and elder of the Tuscumbia Christian Church. Dr. Humphreys was also a member of Hickory Hill Lodge 211, AF & AM, and of the Abou Ben Adhem Shrine of Springfield, Jefferson City Elks Lodge 513, and the Eldon Golf and Country Club.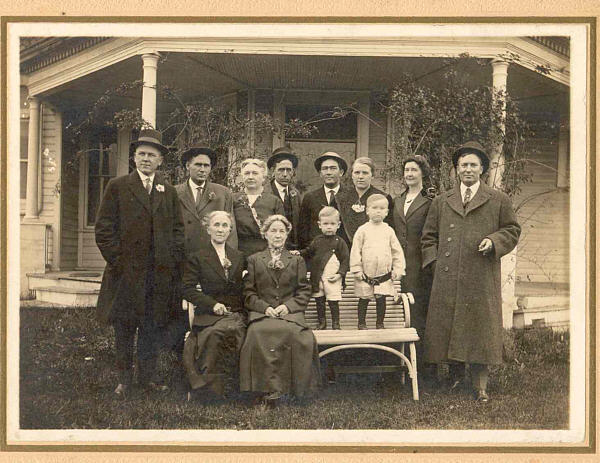 family picture, marshall and phillip, marshall sr. uriah.
The name Marshall E. Humphreys actually began with Dr. Humphreys' great grandfather, skipped his grandfather, and then returned with his father, who began the direct name descendency again naming Dr. Marshall, Marshall E. Humphreys Jr. The Marshall, with whom I visited today, Dr. Marshall Humphreys' son, is Marshall E. Humphreys the third, and his son and grandson are the fourth and fifth in direct lineage with this name.
Dr. Marshall had four brothers, Phillip, the oldest, twins Alfred and Arthur, and Stanley, who also was a physician and joined Dr. Marshall in Tuscumbia a few years after Dr. Marshall arrived.(see family photo) Dr. Stanley married a local girl, Kathleen Fendorf; unfortunately, Dr. Stanley suffered an untimely death from a heart attack in 1967.
Doc as young man.
As noted above, soon after moving to Tuscumbia, Dr. Humphreys established an office in the second story of the Tuscumbia Bank building. He had only two office rooms, but later acquired the use of the entire second story where he cared for a few patients overnight when needed.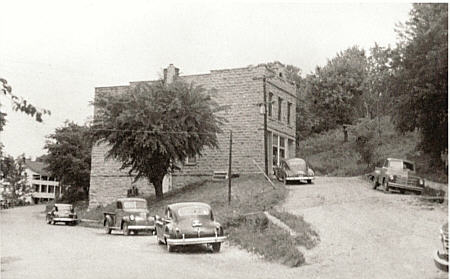 Dr. Humphreys' Office in Tuscumbia Bank
In 1939, he built a new home (see photo) on the hill near the school where he built a small facility for seeing patients. In 1948 he purchased the nearby Pickens residence (see photo), formerly known as the Goodrich home, and remodeled it into a small hospital and clinic. Then in 1953 he built a completely new and modern hospital and clinic adjacent to the Pickens structure where he practiced until the last few years before his death in 1972. In those last years, according to Dr. Paul Howard, his son-in-law, Dr. Humphreys decided to close the hospital to full medical services due to the onerous burdens created by the new medicare program. However, he continued to practice surgery at Charles Still Hospital in Jefferson City. During those intervening years, Dr. Howard continued delivering babies and offering some medical services at the Tuscumbia facility.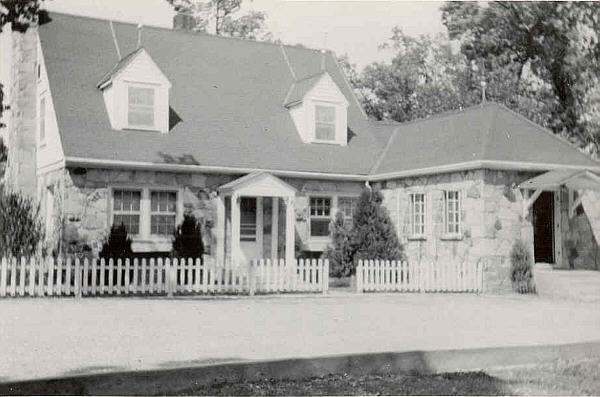 House on the hill, 1939.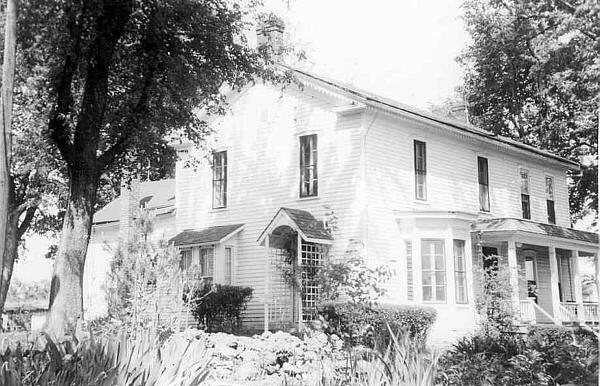 Pickens House converted to a hospital
One of the most famous cases Dr. Humphreys treated occurred about forty years ago when an employee of Max Allen's Reptile Gardens, Ed McDaniel of Eldon, was bitten in the back of the middle finger of the right hand by a Black Mamba snake, whose bite can cause death within hours. However, due to quick emergency treatment on site as well as at the hospital, and the foreknowledge of where to obtain an emergency shipment of antiserum, Ed's life was saved, although not without quite a bit of pain, swelling, and worry. The case was so unusual that the story was carried nationally by the Associated Press.
The Humphrey's Hospital treated a large number of patients in the years it existed in Tuscumbia and several physicians worked there over the years including Dr. Ridgeway, Dr. Fred Schekorra, Dr. Ludy, Dr. Stanley and others. As I was going through some old pictures the family had saved, I found an old postcard of the Tuscumbia Suspension bridge which Mrs. Robert M. Marshall had sent to Dr. Marshall's great grandmother, Mrs. Uriah Humphrey. I wondered how the Bob Marshall's (he was a former steamboat captain and partner in the Anchor Milling Company) knew the Humphreys family up in Galt Missouri. Marshall said that both couples regularly went to south Texas for the winter and may have met down there, although he wasn't sure. At any rate, I found that an interesting coincidence.
Marshall Humphrey III, with whom I visited today, managed the family farm after returning from service in Vietnam in 1969. The major farming program involved turkey production for the market but more recently has oriented itself toward producing turkey "layers". The farm also over the years has been involved in cattle and swine breeding and raising as well as cultivation and harvesting of crop land. To help him, Marshall has the help of an extended family including Marshall 1V and v as well as Janice, his wife, and several grandchildren.
Marshall and I had known each other in the years we attended Tuscumbia School together before I left the area to live in Kansas City. Today, we recalled previous times when we had played golf on the old nine hole sand green in Eldon, explored caves, and played basketball and sleighed down the Courthouse's steep and long hill toward Crackerneck street.
This weekend we will be visiting several family cemeteries and I will bring back to this page some of the interesting stories I hear.
Joe Pryor