May 16, 2007
Progress Notes
I had been gone the last five or six days but on my return yesterday learned the exciting news that our fund raising program once again has enjoyed a fabulous response by the community. Over the last two weeks we have raised another ten thousand dollars (five thousand in donations plus five thousand in matching funds) to go toward the expense of building our new museum addition. (See barometer photos displaying the increase). We actually are almost at the two thirds mark on reaching our goal of one hundred fifty thousand dollars. The donations many times have been small but when one considers that each donation is matched by an anonymous donor, it doesn't take long to see a real increment in the total value of the building fund. So keep those donations coming in, no matter how small, because each one is being doubled on receipt. Donations to the Miller County Museum Building Fund can be mailed to:
Miller County Historical Society
P.O. Box 57
Tuscumbia, Mo. 65082
| | | |
| --- | --- | --- |
| Barometer as of 04-29-2007 | | Barometer as of 05-16-2007 |
Our construction is running ahead of schedule again this last week due to inventive scheduling around the periods of inclement weather. Now that all the concrete and excavation work is finished Paul Holder and his construction crew today began framing in the walls of the lower floor. (See attached photos). We are now engaged in the process of the planning of interior design according to certain museum requirements so that our museum will meet the standards recommended for maintaining and preserving artifacts as well as offering ample space for research and office facilities.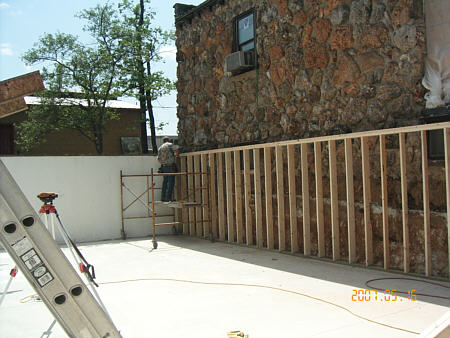 Construction, May 16, 2007 - Wall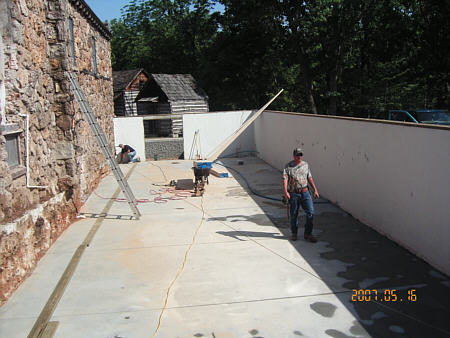 Construction, May 16, 2007 - Floor
Yesterday, Sharon Holder and I made a presentation to the Eldon Lion's Club. Sharon wore a period dress and presented the history of the two cabins located at the museum site. I gave a talk oriented toward a number of old photos I have collected of various points of historical interest around the county. These included photos of steamboats, old mills, bridges, schools, stores, and buildings of various types. Many of the attendees were of longtime Miller County roots and had much to offer in conversation. Jack Dawson, retired Eldon dentist, recounted his days as a student at Brumley High School. He was graduated the same year as Sharon Holder's father, Holmes Steen. Jack remembered John K. Bear, son of Absalom Bear, who was his math teacher at Brumley high school. John had been an educator in the county for several years having served as chairman of the Hickory Point elementary school before going to Brumley. Ruby Spearman, of the Hickory Point area, has an old record book of the minutes of the Hickory Point School Board when John was chairman.
After being graduated from Brumley High School Jack pursued more education at the Iberia Academy where he boarded for only a few dollars weekly. He mentioned he was in the same class as my Uncle David Bear as well as Don Pemberton, both of whom are MCHS members. Jack also remembered Dean (Umstead) Dowling who recently moved back to Eldon after a long career of teaching in some of the western states. Dean, who now is ninety seven year of age, is a distant cousin of mine as her mother was a second cousin of my grandfather, Madison Bear. She has many wonderful and interesting stories to tell of her life. We all agreed that the Iberia Academy had been a very important influence on the lives of Miller County residents during its existence in the last part of the nineteenth and first half of the twentieth century. The reason for this success more than any other was because school director, Professor George Byron Smith, with the help of his wife Mabel, was so adept at directing the school. Many Miller County residents went on to other higher institutions of learning well prepared because of the efforts of Professor Smith. Jack remembered one anecdote about Professor Smith which indicated a mischievous aspect to his personality: Jack recounted that a couple of boys had been sneaking out the school horse and buggy for a ride once in a while. One night, the professor, forewarned, suspected they were about to repeat their trick so he hid in the back of the buggy under some blankets and once under way scared the daylights out of the boys as he rose up covered head to toe by the blankets to yell some unearthly epithet which quickly caused a sudden exit from the carriage by the boys as well as scared the horses such that the professor had to turn his attention to controlling them. But the boys never knew what it was that had come up from nowhere behind them as they had hightailed it back to the dormitory without ever looking back. Read more about the Iberia Academy in our website under the "Cultural" heading where "schools" are featured.
With the increased interest in the museum over the last several months we have been receiving more items to be considered for donation to the museum than ever before. All of them are of interest but we don't have the room for everything we receive to be displayed. So we have set up some guidelines for materials appropriate for the museum to accept for display. If any of our supporters have an item to be considered for donation, write us a letter describing what it is and how it relates to Miller County history so that a special committee we have established can evaluate the proposed gift to decide if it meets certain requirements. Following this procedure can save an unnecessary trip to the museum if the item is one that we could not use.
This coming Saturday and Sunday, May 19 and 20, Sharon Cogdill will host a Mother/Daughter luncheon and tea on the museum porch. The menu consists of sesame and rice stick appetizers, followed by a choice of asparagus spears with roasted garlic wrapped in proscuito, or a chicken salad sandwich. Mixed vegetables will accompany the meal. Dessert will consist of fruits and an assortment of various sweets. Beverages will include iced or hot tea. A five dollar donation to go to the building fund is suggested which will be matched by an anonymous donor.
We are pleased to announce the addition of four new members to our Miller County Historical Society Board (see photo). These include Wanda (Warren) Wright, Donna (Shockley) Carrender (unfortunately, Donna's car had a flat today and she missed being in the photo), Joe Cochran, and Jim Clark.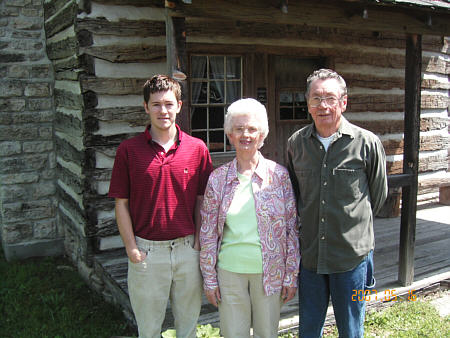 Joe, Wanda, & Jim
I'll be updating Progress Notes frequently so check in off and on to see what's going on down at the museum in Tuscumbia.