May 6, 2007
Progress Notes
The open house yesterday at the museum was very successful. We had a diversity of visitors from all parts of the county and received several donations for the building project as well as several new memberships placed. The weather was good allowing us to have an introductory table outside to greet guests as they arrived and to offer them cookies, pastries, and drinks on the porch. Earlier in the morning I went to the junction station (Highway 52/17) and bought Pizza for the board members who had arrived to set up the tables and fund raising displays. At the station I talked for awhile with Kay Hamacher who is working there. Jimmy Skiles dropped in to gas up before driving to Iberia. He is the famous Miller County fiddler who, among his many venues, played the fiddle for the famous Lake of the Ozarks Square Dance group back in the early fifties. The Dance team appeared on Ted Mack's Amateur Hour, made more than twenty films for the Grand Old Opry, and had a run over several weeks at a major New Orleans hotel. Jimmy had to lay up the fiddle eight years ago because of arthritis and carpal tunnel syndrome of the hands.
On returning to the museum I had a nice visit with many of the visitors. Wallace Vernon and Ginny Duffield from the newspaper had arrived and were enjoying talking with other members and guests. Visiting from the Blue Springs Rocky Mount area was John Schupp who told me his farm was next to the old Holder farm, owned in the past by ancestors of Paul Holder, who is in charge of our building project. Jim O'Donnell from up toward the Moniteau County line came down to inquire if Carl McDonald was around since he wanted information on how he could renovate an old log cabin on his farm. Ron Calvin, President of the Lake Ozark Rotary, dropped in wanting to know more about the museum and our building program. He has invited me to speak to the Rotary May 29. Marcie Shamblin, who just moved to Eldon two weeks ago coming from New Mexico, reported she had read about our museum in the Advertiser and wanted to come visit. She has worked with museums in New Mexico and is eager to volunteer with us. Mary Ann Lindenbusch, a long time member from St. Elizabeth dropped by. Wanda (Ferguson) Nichols visited. She lived many years in Waynesville (but was born in the Iberia area) and went to school there with an uncle of mine, Wayne (Bud) Tyler, who married my mother's sister, Bonnie Bear. Wayne is a distant cousin of Barney Tyler who was Miller County Sheriff years ago. Dr. Paul Howard and Margie came by to visit. Dr. Paul gave me a copy of an Arizona newspaper which was featuring the Lake area. One of the places it recommended visiting was our museum here in Tuscumbia.
During the open house yesterday we felt sadness and sympathy for Layne Helton, who is our excavating subcontractor for the museum addition. He came by to tell me that his mother had just passed away this morning. Funeral arrangements have not been announced as yet since Layne was trying to notify relatives including his sister Joyce. Layne has been especially helpful to us in the building process, has worked late some nights, worked in inclement weather, and even this morning early came over to spread gravel at the north entrance. He has had a natural interest and concern for our building project being a native of the area and having gone to school in Tuscumbia. He and I were one year apart in school. Our hearts and prayers go out to Layne and the family.
Very early yesterday morning the construction crew had removed all the concrete forms and opened an entrance on the north end for a doorway. The concrete was etched to give it a pleasant appearance on the facade. About midmorning a couple of the workers on the crew came by and graciously removed a worn out heavy metal file for us to take to the dump. The next steps for the construction process will be to pour the concrete floor, finish the plumbing for water and sewer, and then progress to framing.
May 05, 2007

Progress Notes
This week has seen much progress in our construction at the museum (see attached photos). I was at the museum late Thursday and took the picture of Layne and Dink who had worked hard in the rain to get the temporary water and sewage finished for our open house Saturday. Then I went back today and saw that Bennett Helton and Ron Clement had returned to pour the walls. Now things will start to come into place in a hurry since Paul Holder and his crew can start the building progress. I talked with Matt Beanland tonight at the site and he said the new well and capping of the old well came in well under his estimate. His family has been in the well business for well over a hundred years in this area.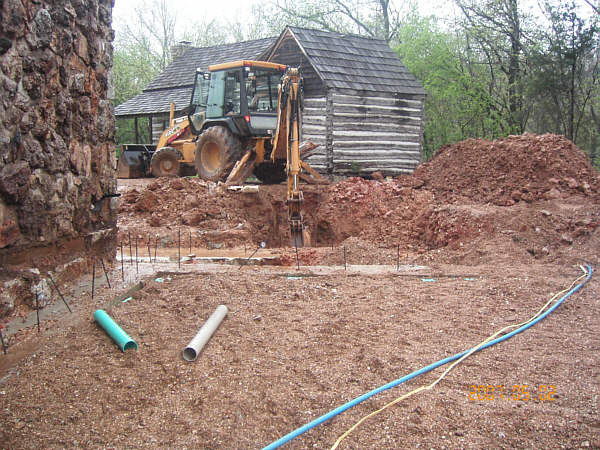 Monday's Work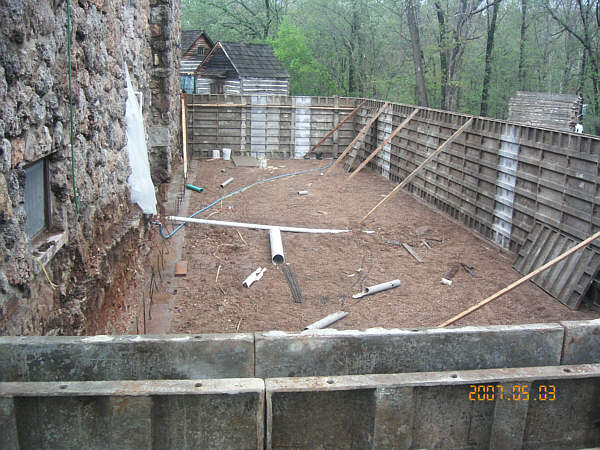 Wednesday's Work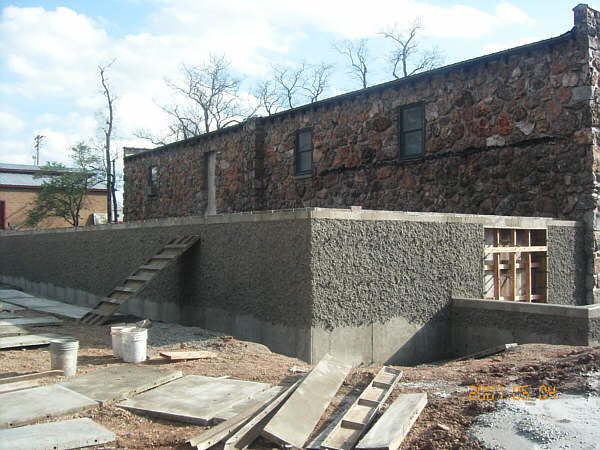 Friday's Work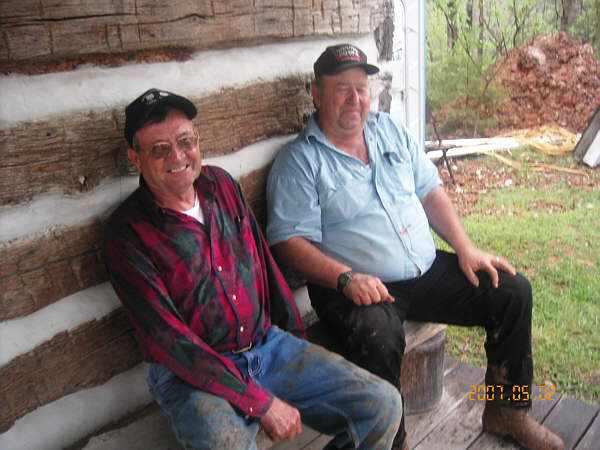 Our Tired Friends


Joe Pryor